19+ Best Healthy Pancake Recipes for Weight Loss
Skip the diet-derailing stack at your favorite diner and whip up these tasty, healthy pancakes at home.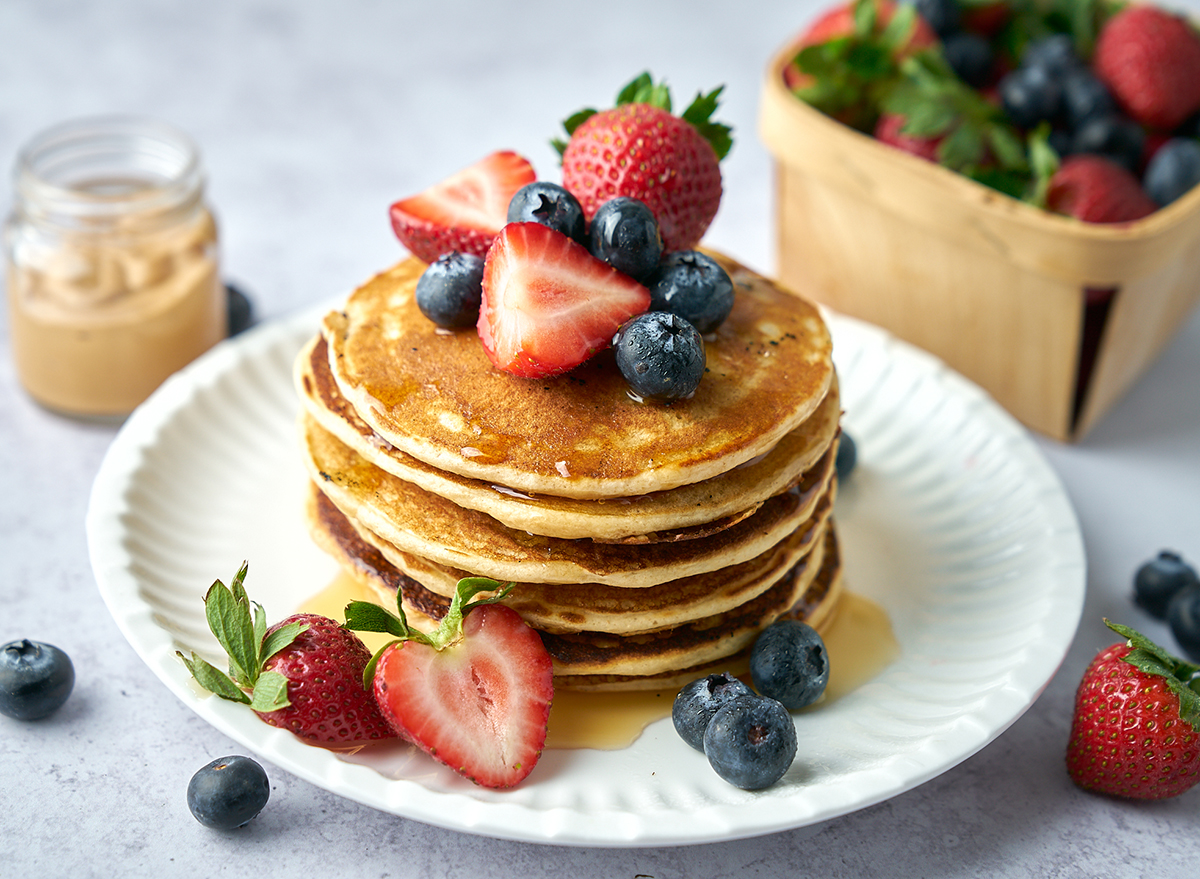 They may look and taste indulgent, but these healthy flapjacks can help you achieve the summer body you crave. And when you consider that some restaurants pack over 1,000 calories into their recipes, it's clear to see why. But you don't have to give up your a.m. flapjack indulgence to trim down; just take out your spatula and frying pan and whip up one of our healthy pancake recipes at home!
Whether you're gluten-free, Paleo, vegan, or just looking for some interesting, healthy recipes to shake up your morning, we've got you covered. Check out these pancake recipes and treat your tastebuds without derailing your weight loss efforts.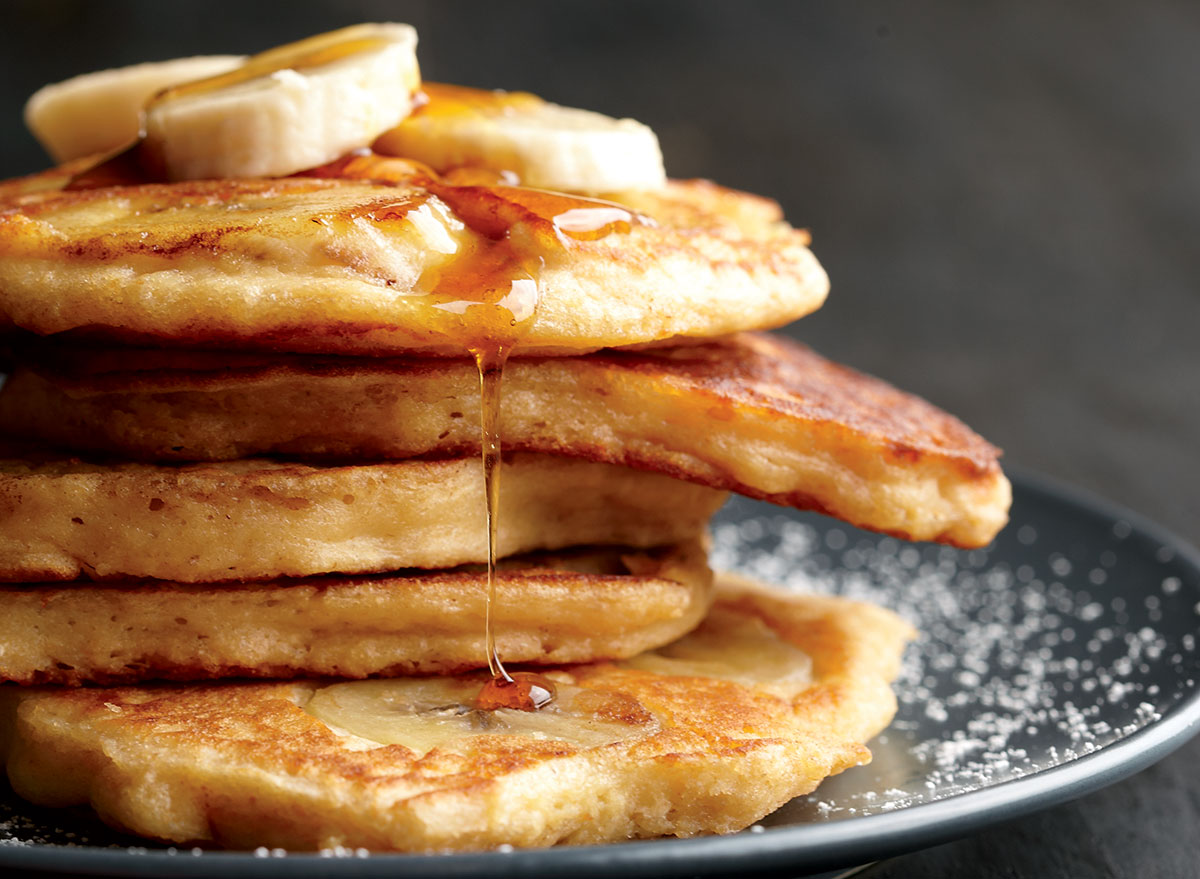 Using yogurt and cottage cheese in these pancakes does two things: It brings extra protein to the breakfast table, and it helps produce the lightest, moistest pancakes you've ever tasted.
Get our recipe for Banana Pancakes.
Blueberry Lemon Ricotta Pancakes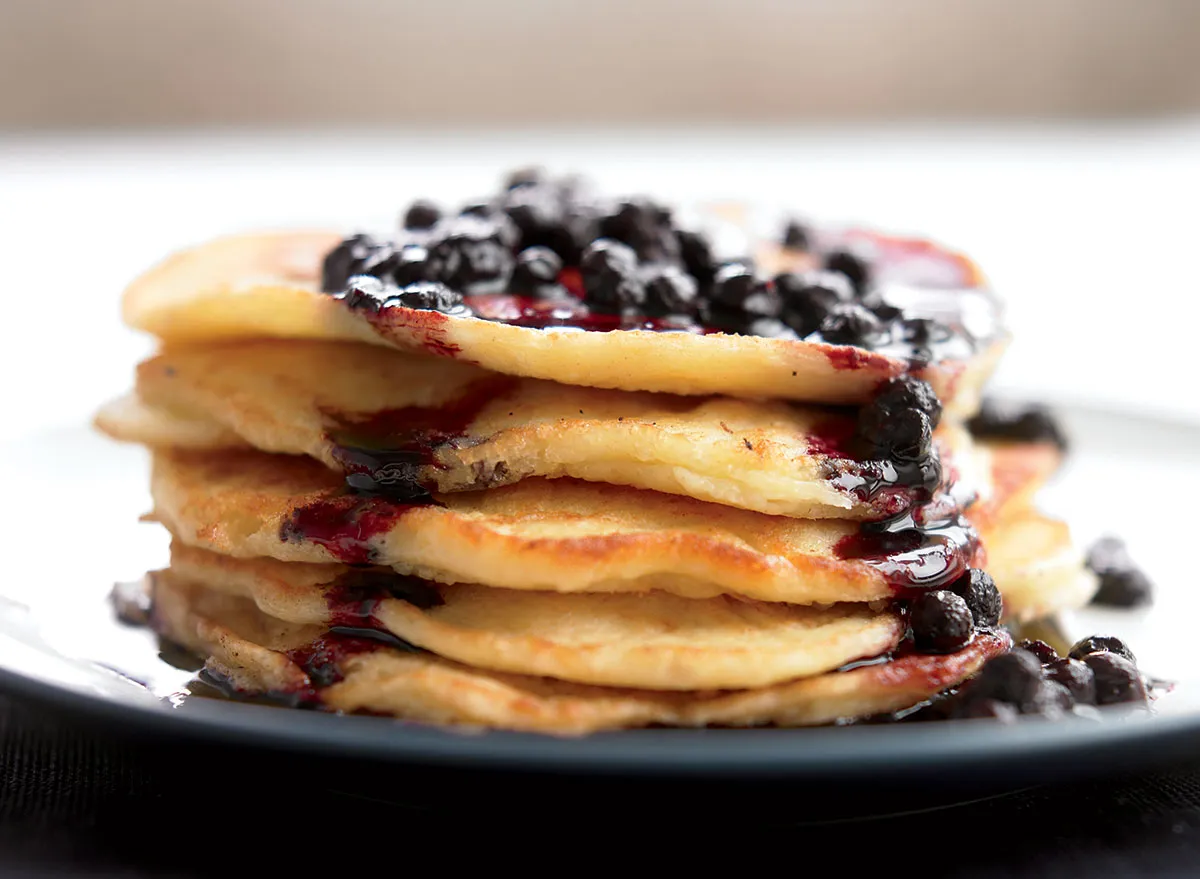 Once you try this simple and healthy blueberry compote, you'll never go back to a lackluster syrup again. Can you think of any maple syrup that's grocery or farmer's market bought that's also a superfood? Exactly—case closed. This recipe proves that indulgence has never been so healthy!
Get our recipe for Blueberry Lemon Ricotta Pancakes.
Oatmeal Pancakes With Cinnamon Apples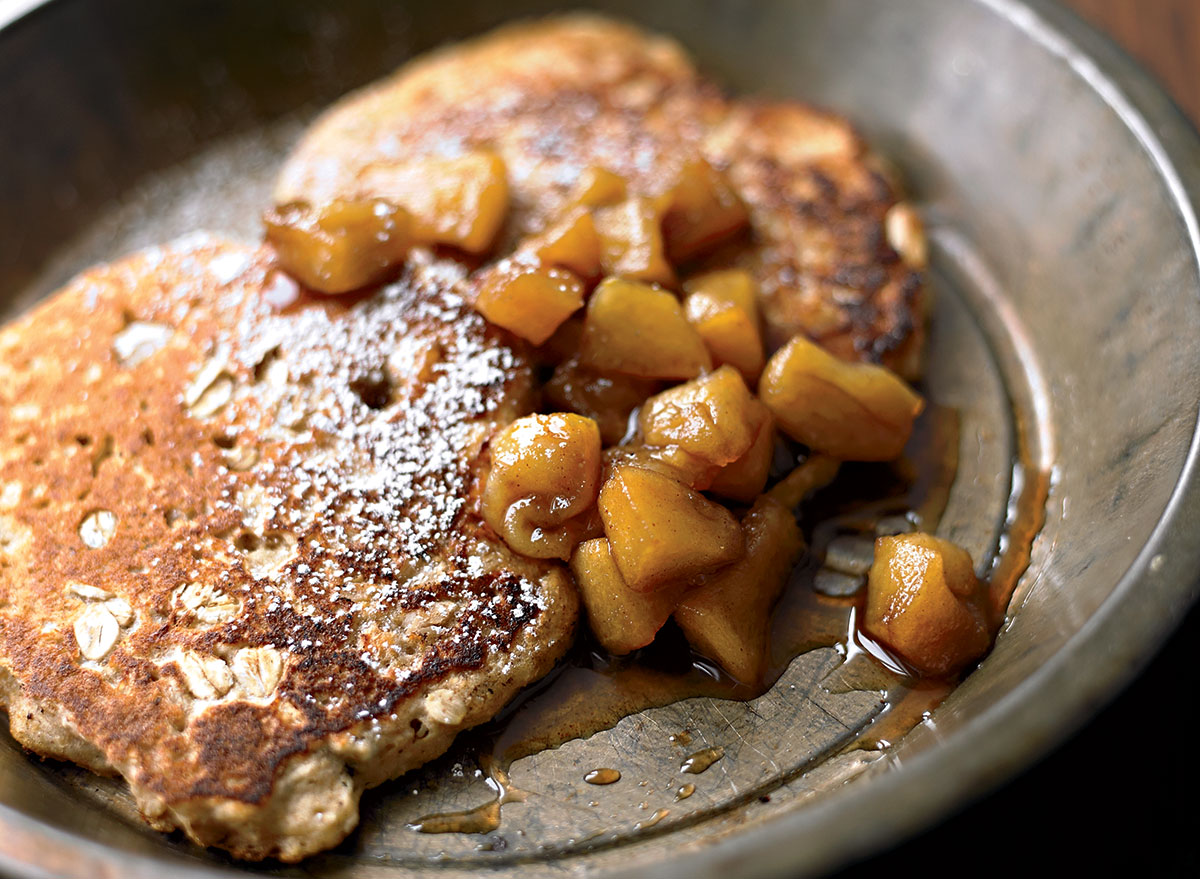 Banish the Bisquick! The ubiquitous dry mix is fine in a pinch, but if you could make healthier, more delicious pancakes by spending an extra 2 minutes at the mixing bowl, why wouldn't you?
Get our recipe for Oatmeal Pancakes With Cinnamon Apples.
Japanese-Inspired Egg Pancakes With Spinach and Green Onions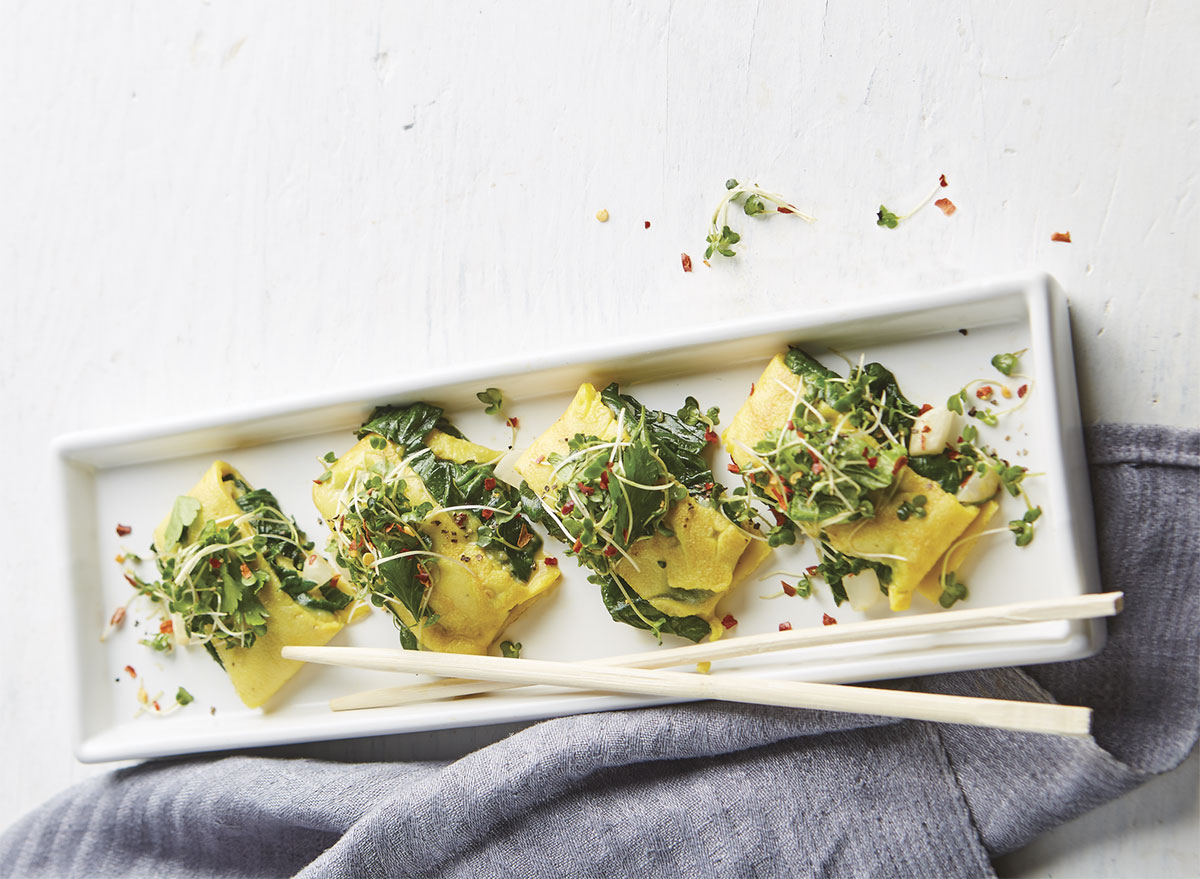 Eggs truly are a versatile food, and in this dish, we put our twist on Japanese egg pancakes. In this recipe, you'll find the egg pancakes stuffed with spinach, green onions, radish, garlic, and some rice vinegar, all sitting atop a bed of microgreens.
Get our recipe for Japanese-Inspired Egg Pancakes With Spinach and Green Onions.
Lemon-Poppy Seed Multigrain Pancakes With Blueberry Compote
This pancake recipe adds oats and flaxseed meal into the ingredient list for a whole-grain experience that delivers a full six grams of fiber. And with blueberries, maple syrup, and lemon juice, these pancakes are bursting with flavor.
Get our recipe for Lemon-Poppy Seed Multigrain Pancakes With Blueberry Compote.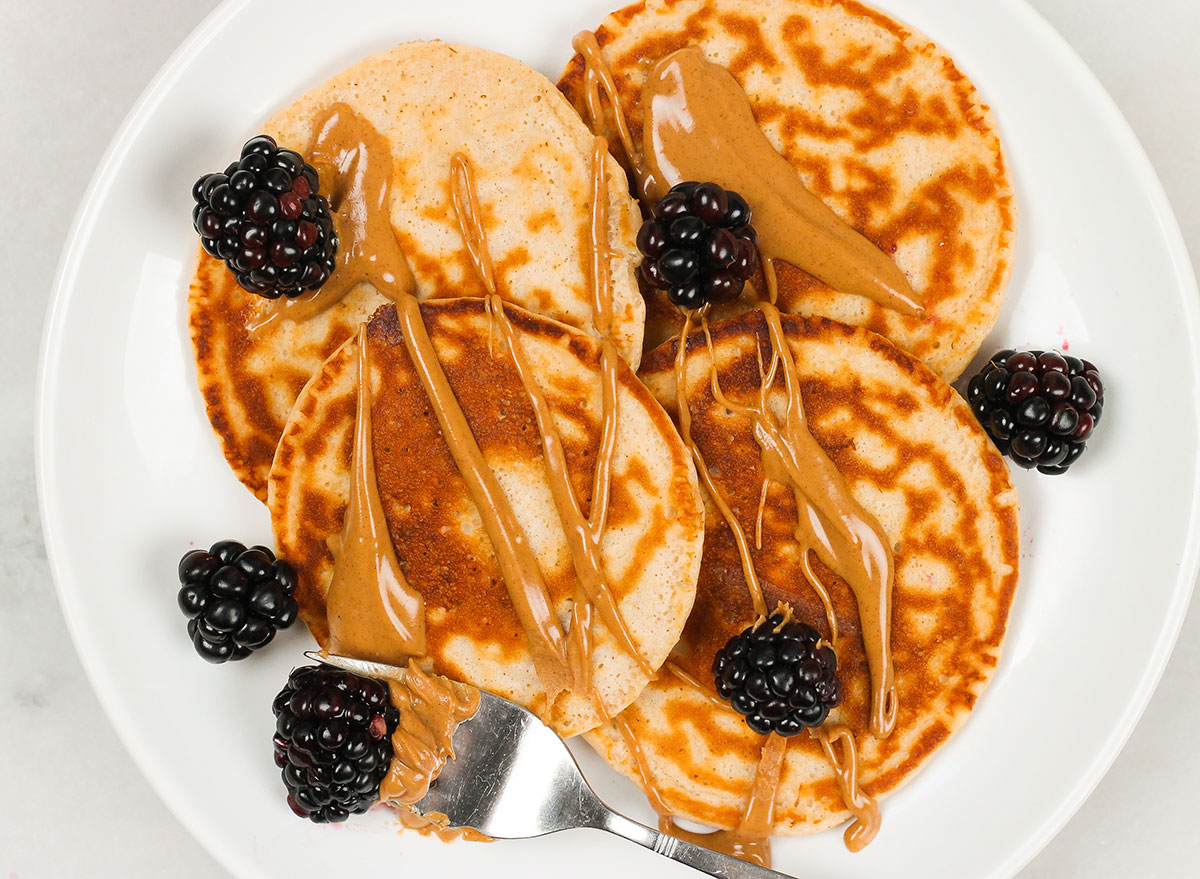 Protein pancakes are much more satiating than a basic stack of flapjacks, and they can be a great meal prep option you can make ahead of a busy week. So when you're in the market for healthy pancake recipes that give you a protein boost, these are your new go-to.
Get our recipe for Protein Pancakes.
Chocolate Protein Pancakes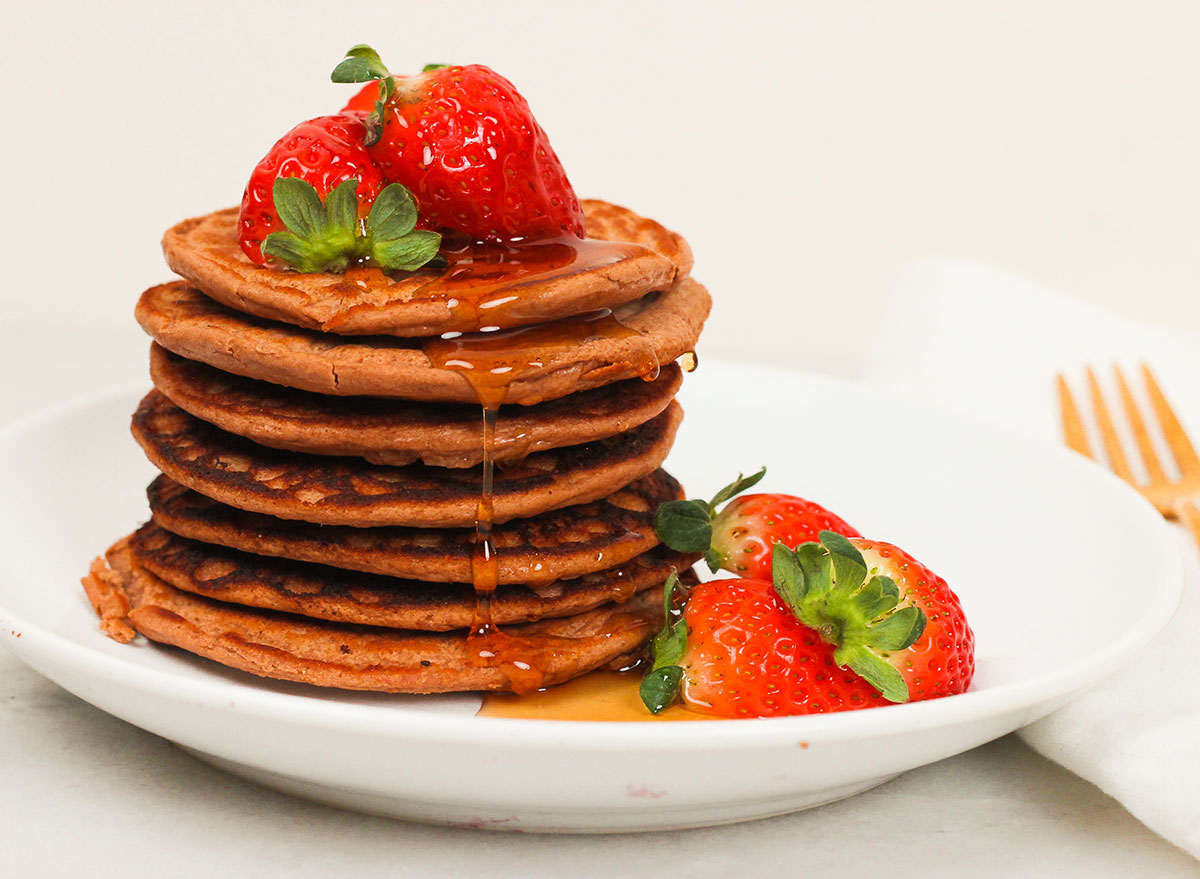 Have a bit of a sweet tooth? Turn our protein pancakes into chocolate pancakes instead! Substitute the plain protein powder with a chocolate-flavored one, then add in 2 teaspoons of cocoa powder.
Get our recipe for Chocolate Protein Pancakes.
What's great about this recipe is that it is very easy to make. You're going to use ingredients that aren't necessarily typical of pancakes, but once you round up the almond flour, coconut flour, and collagen peptides, everything else you'll need you can easily find in your kitchen.
Get our recipe for Keto Pancakes.
Plant-Based Whole Grain Pancakes with Cashew Butter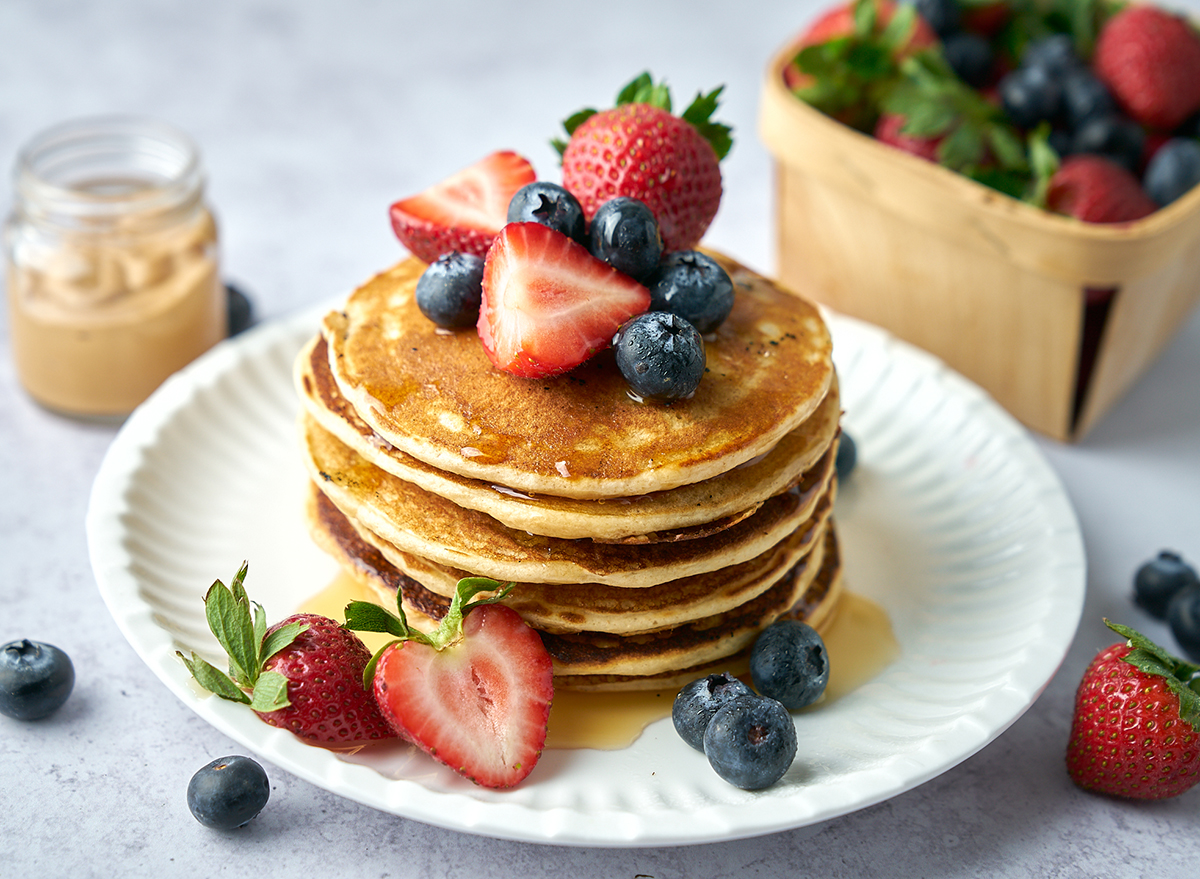 This whole grain version of pancakes is fortified with a few ingredients that are perfect sources of nutrients when you're following a plant-based diet. This meal packs 14 grams of protein into each serving, so it's the perfect breakfast for mornings when you need extra fuel. It's one of those healthy pancake recipes you're going to want to make over-and-over again.
Get our recipe for Plant-Based Whole Grain Pancakes with Cashew Butter.6254a4d1642c605c54bf1cab17d50f1e
Whole30 Banana Bread Pancakes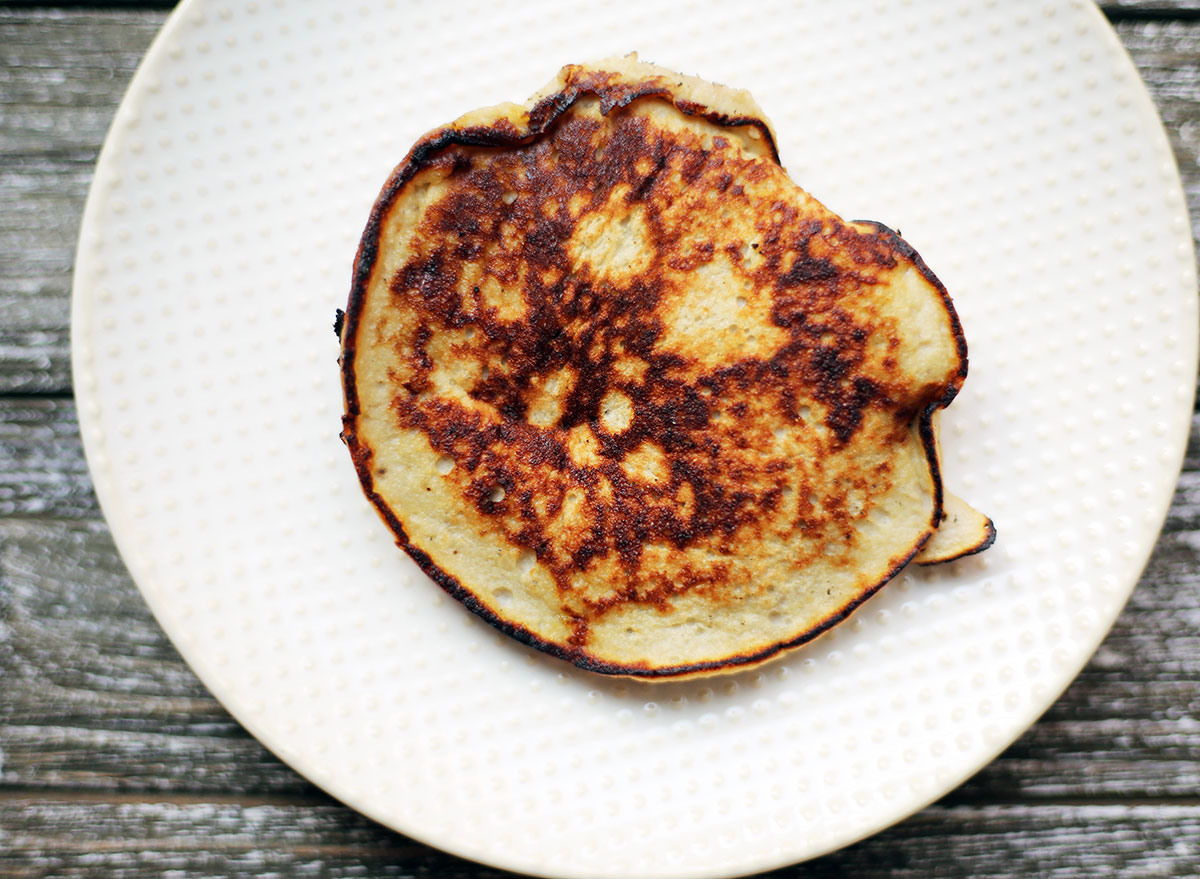 Feed these Whole30 banana bread pancakes to friends or family without telling them the ingredients and they'll never guess that they're gluten- and dairy-free. They have the gorgeous golden brown edges of traditional pancakes, and a light and fluffy texture to boot.
Get our recipe for Whole30 Banana Bread Pancakes.
Copycat Cracker Barrel Pancakes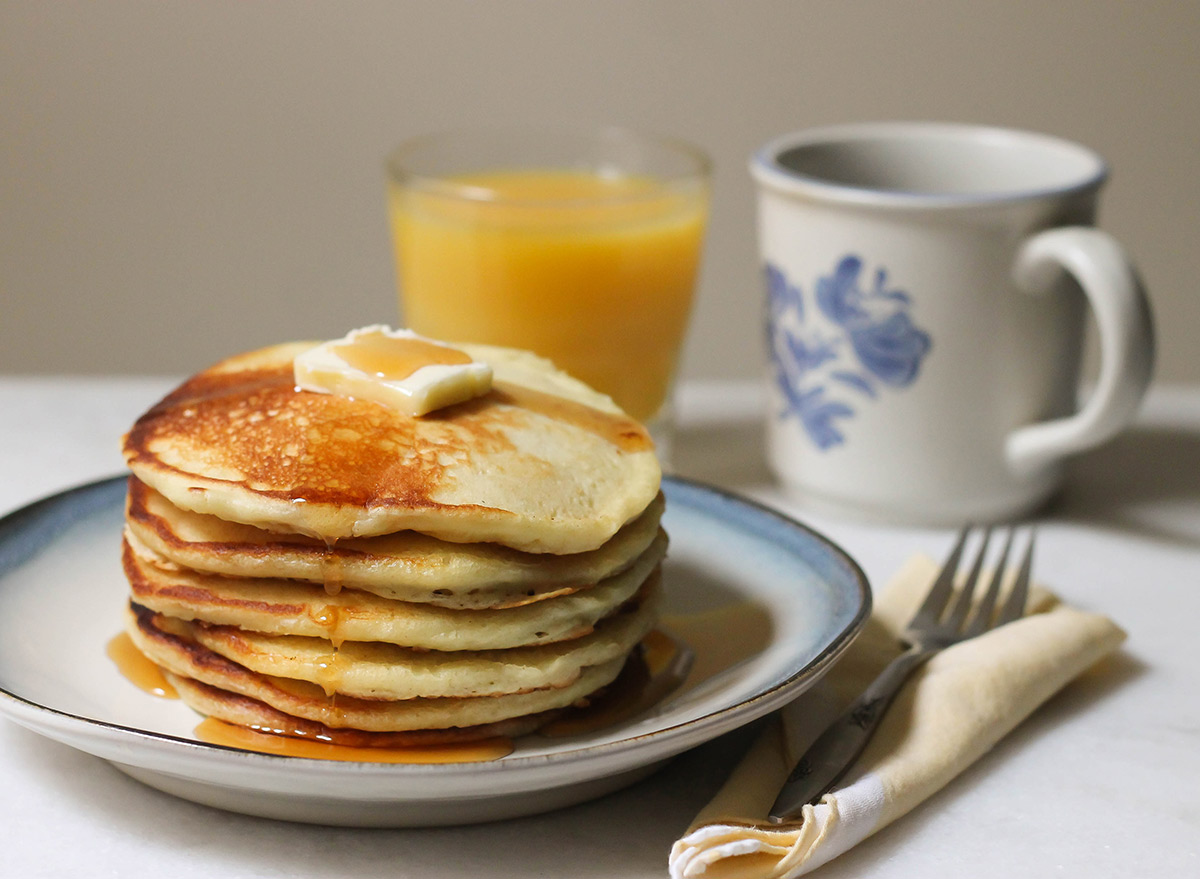 A stack of flapjacks from Cracker Barrel may not sound like it should live on a list of healthy pancake recipes, but when you make your own version of it at home, you'll have the chance to slash the calories—and the size of the pancakes!
Get our recipe for Copycat Cracker Barrel Pancakes.
Flaxseed Buttermilk Pancakes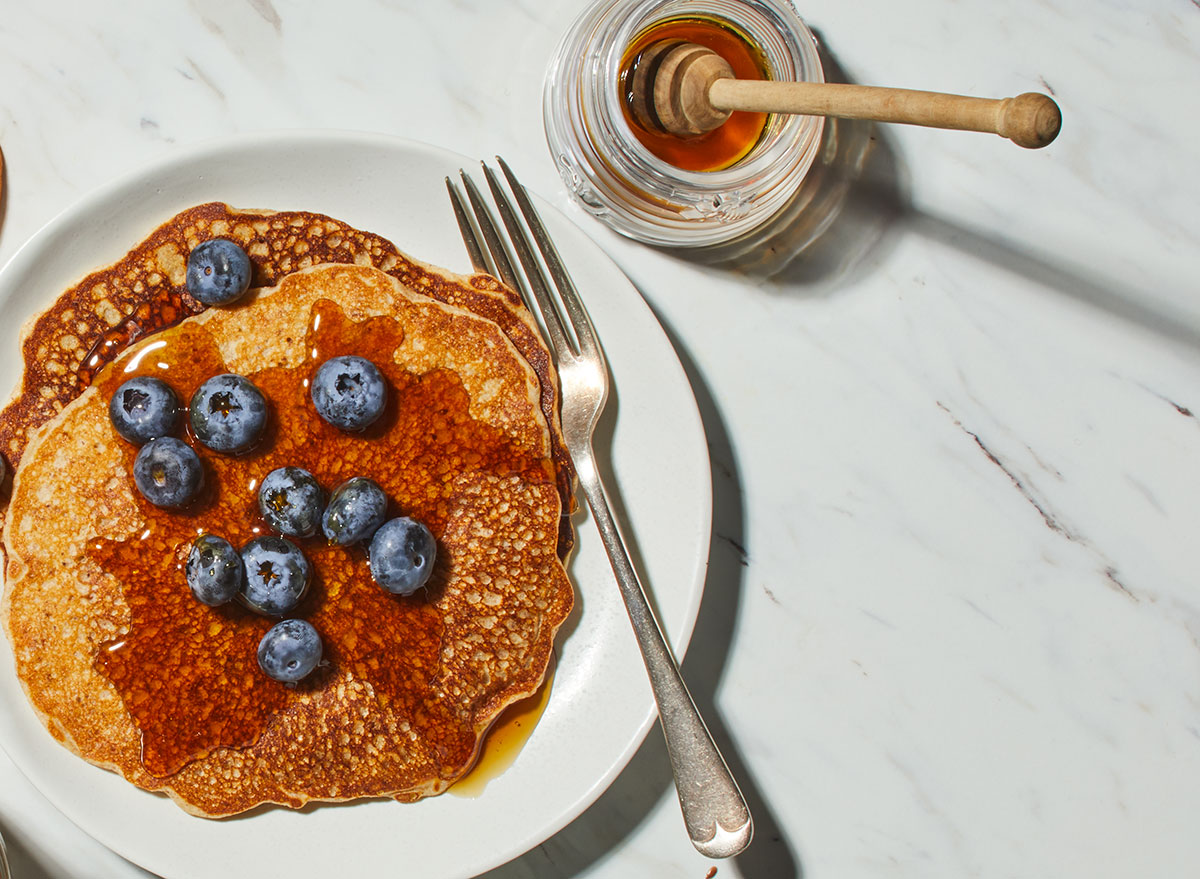 Healthy pancake recipes? No, that's not a misnomer. With this easy recipe, you can have a satisfying, satiating breakfast, without leaving the comfort of your home.
Get our recipe for Flaxseed Buttermilk Pancakes.
Old-Fashioned Whole Wheat Apple Pancakes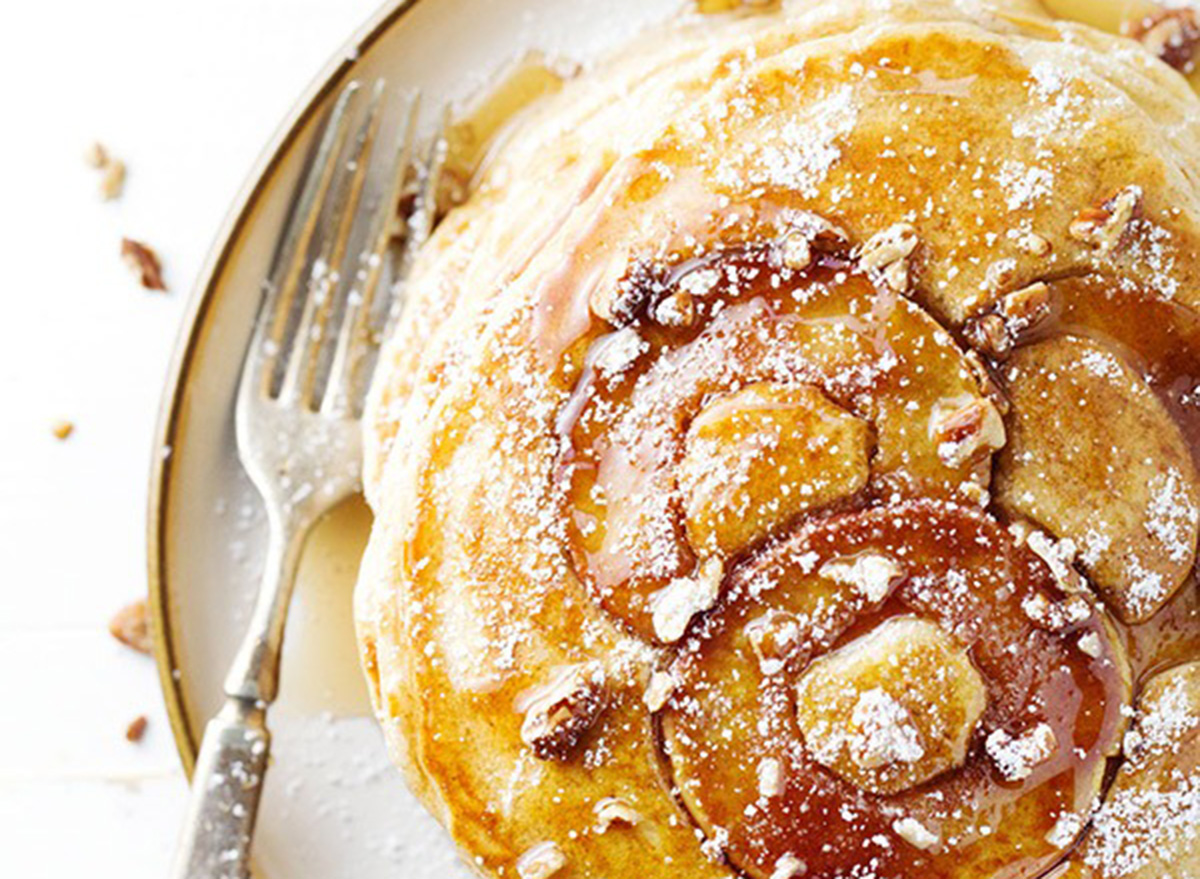 Fluffy, satisfying and stuffed with apples, these healthy pancakes are sure to make your taste buds tingle! While they're a bit higher in sugar than we typically like to see, a lot of it comes from the apples, so we're giving them the green light.
Get the recipe from Pinch of Yum.
Sweet Potato Pancakes with Coconut Cream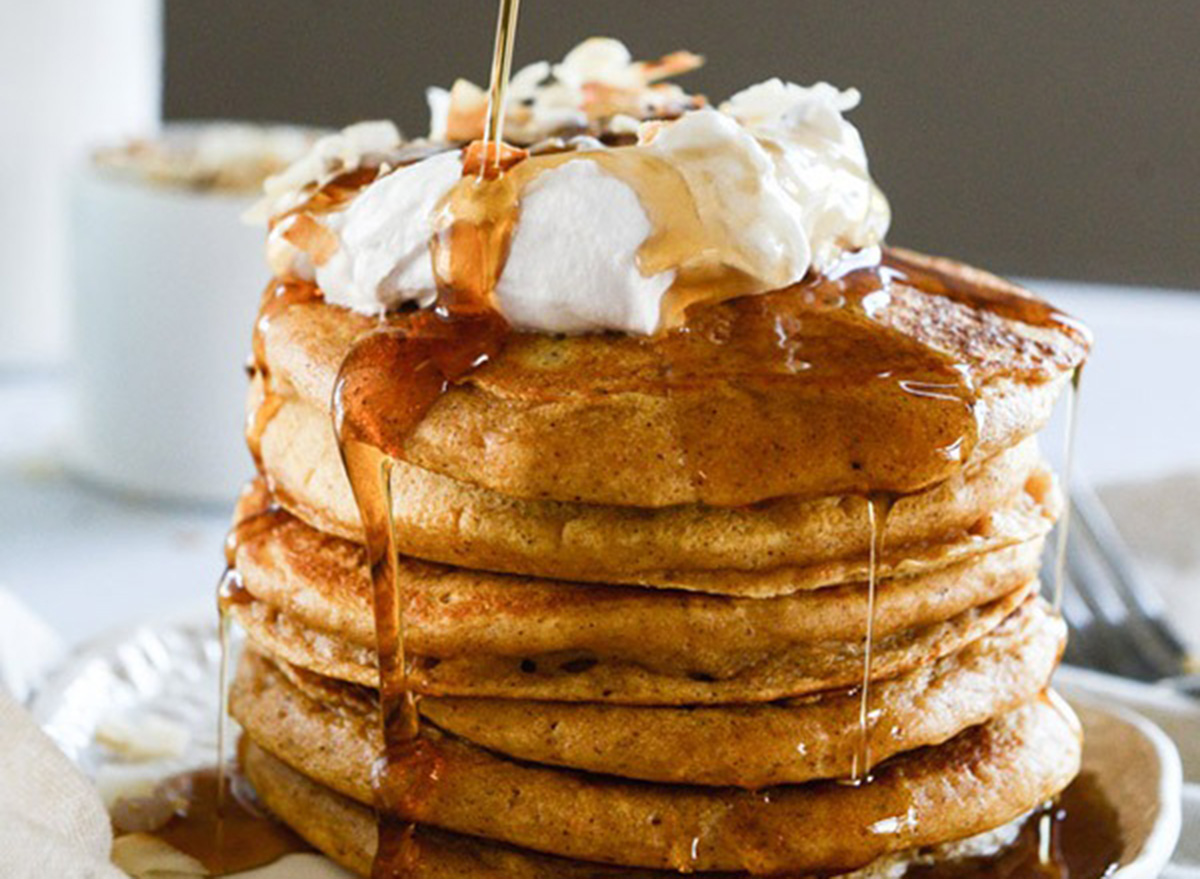 These fluffy, slightly sweet pancakes are topped with coconut cream and toasted coconut (instead of syrup), which helps keep the sugar count low without sacrificing flavor. Need another reason to whip these up? They're made with an entire cup of mashed sweet potatoes, which are a great source of vitamin A and potassium. If these can't convince your kids to eat their veggies, we're not sure what will.
Get the recipe from How Sweet It Is.
Buckwheat Pancake with Roasted Tomato Salsa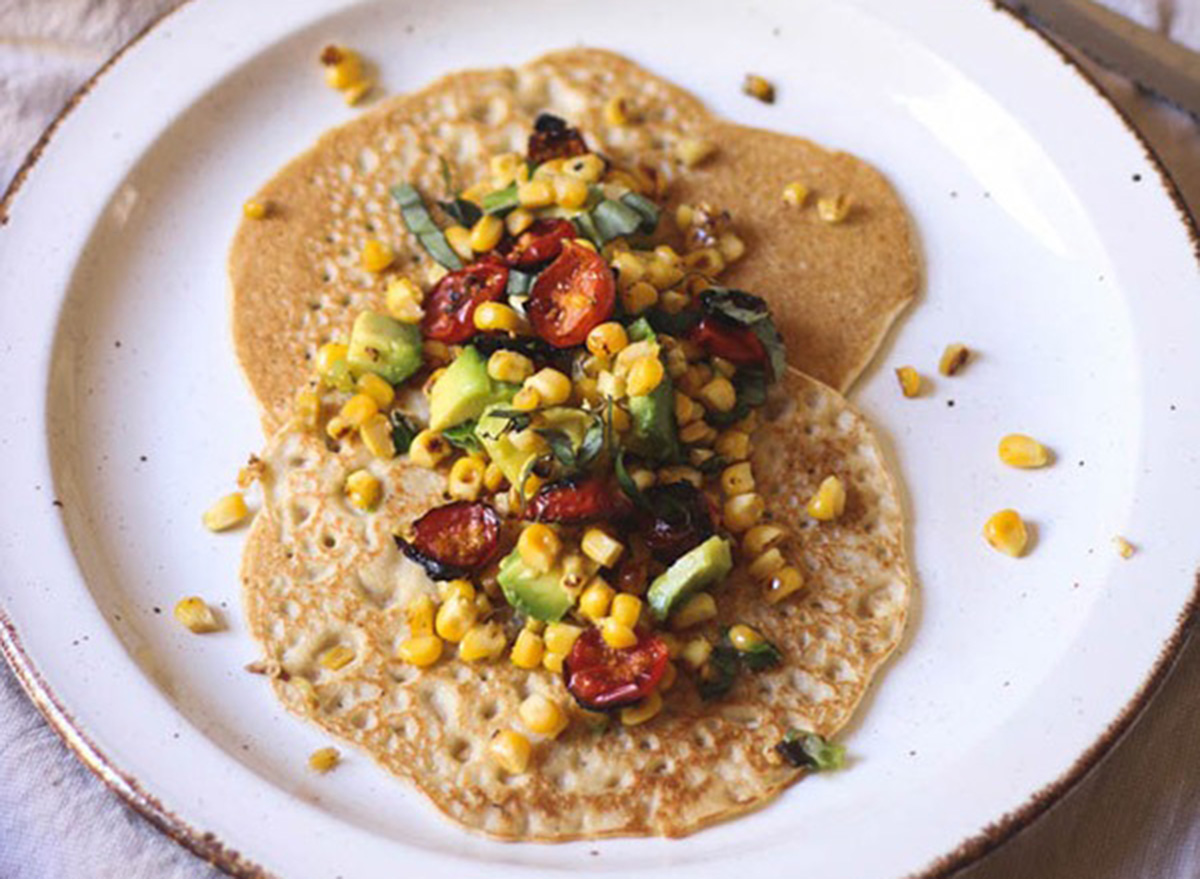 If you prefer savory over sweet flavors, this pancake and salsa duo is sure to be your new a.m. go-to. The buckwheat pancakes are super thin, making them perfect for wrapping up the tomato, corn, onions, and avocados. If you happen to have leftovers after breakfast is through, serve some of the veggies with grilled chicken atop brown rice for a quick, nutritious dinner. Gotta love double-duty meals!
Get the recipe from To Her Core.
Peanut Butter- Chocolate Pancakes
When chocolate and peanut butter join forces, you know the end result is going to be mouthwatering—and these healthy pancakes do not disappoint. This traditionally decadent dish is made healthier by choosing for whole wheat flour over white and natural peanut butter in lieu of a sugary topping.
Get the recipe from Gimme Some Oven.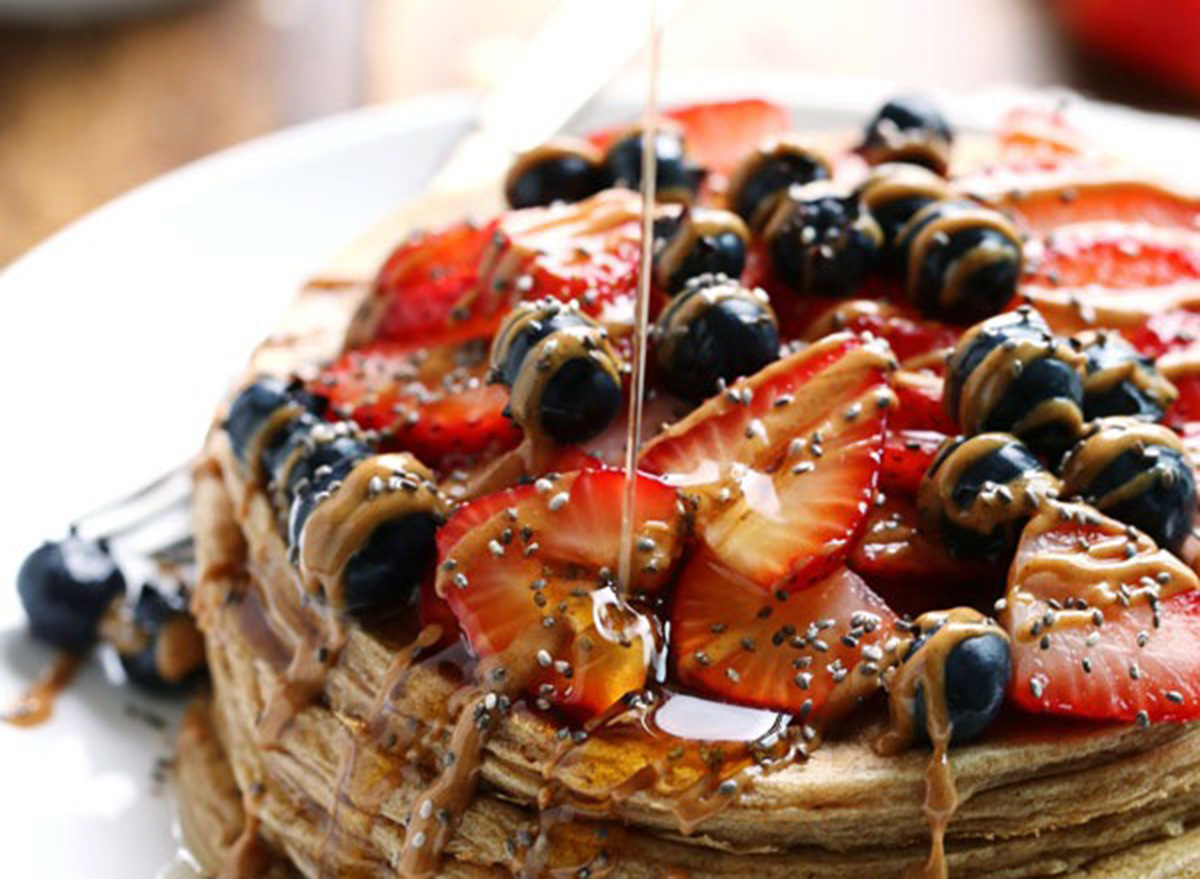 The combination of cottage cheese, milk, and eggs help keep these decadent-looking healthy pancakes low-cal, low-sugar and loaded with protein. Gotta love that! Plate and top with fruit, almond butter, chia seeds and a bit of maple syrup to add a boost of vitamins and antioxidants while taking the flavor to the next level.
Get the recipe from Pinch of Yum.
Whole-Wheat Oatmeal Pancakes
These hearty, protein-packed healthy pancakes are simple enough to serve as a base for tasty add-ons like almonds and fruit, but tasty enough to enjoy solo, too. The best part? Making them is really easy and the recipe doesn't call for any hard-to-find ingredients.
Get the recipe from Sally's Baking Addiction.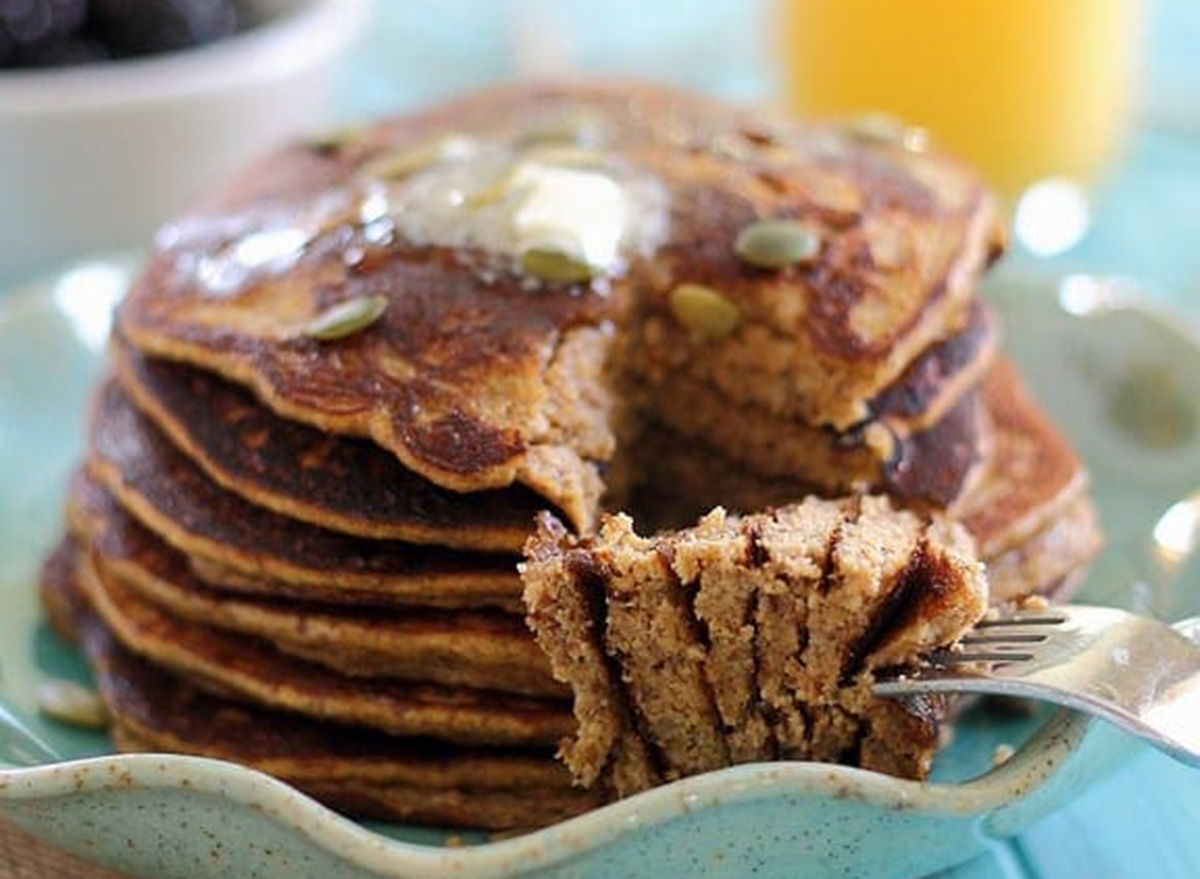 A Paleo pancake that actually tastes like a real pancake!? Sign us up! Thanks to the addition of canned pumpkin, these flapjacks pack more than a day's worth of vitamin A and a solid hit of belly-filling fiber. Sure, they're a little high in sugar, but most of it is the naturally occurring variety from the pumpkin puree and honey, so we still consider these to be waist-friendly.
Get the recipe from Running to the Kitchen.
Any recipe that sneaks greens into breakfast—a meal that traditionally lacks veggies—is a winner in our book. Think of these as zucchini bread in pancake form, without the high sugar count. Topped with blueberries, a drizzle of honey and cottage cheese for an extra hit of calcium and protein. This vitamin-filled breakfast will keep your energy high all morning long.
Get the recipe from Pinch of Yum.
Strawberry Lemon Poppyseed Pancakes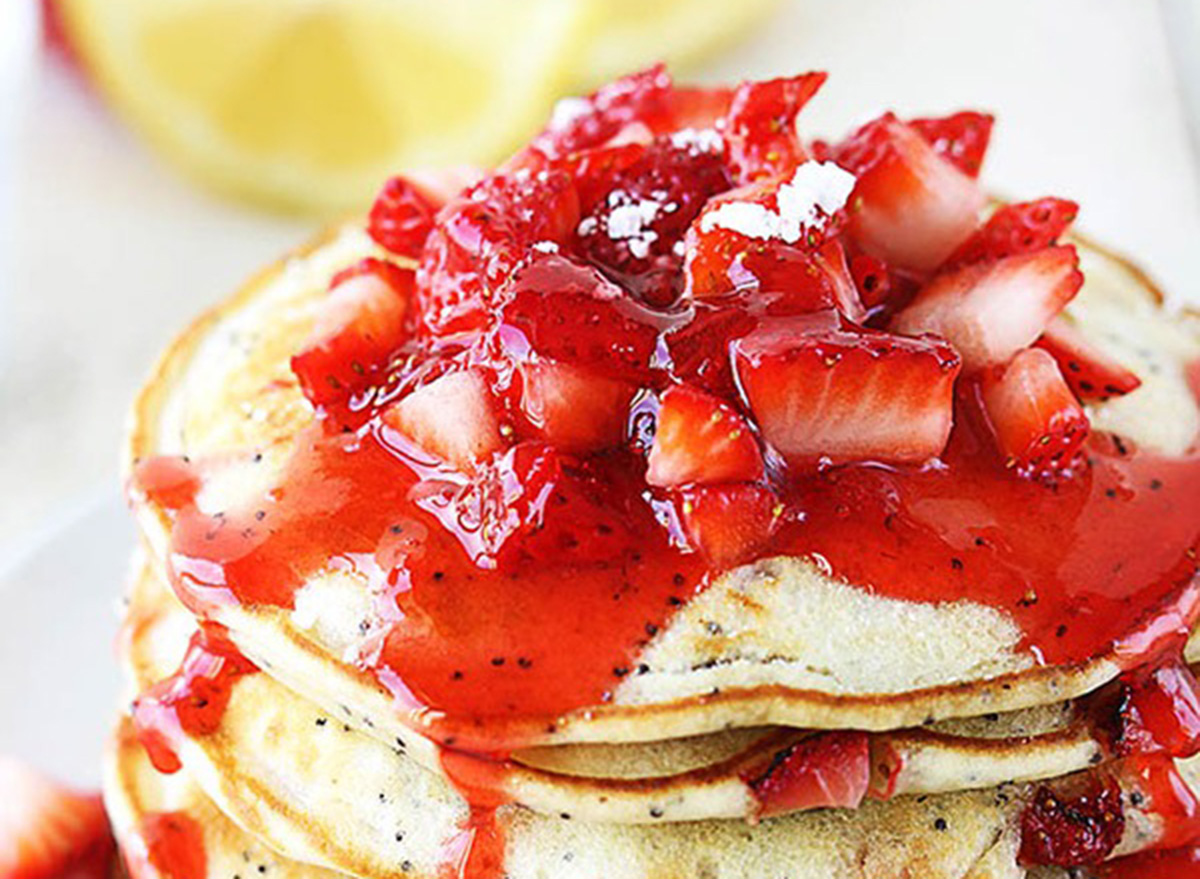 Fresh strawberries, juiced lemons, and a few poppy seeds take these classic, fluffy buttermilk pancakes to a whole new level of delicious! Since these healthy pancakes are more caloric than some of the other recipes that topped our list, be sure to go easy on the syrup so you don't feel weighed down.
Get the recipe from Le Creme de la Crumb.
Gluten-Free Vegan Pancakes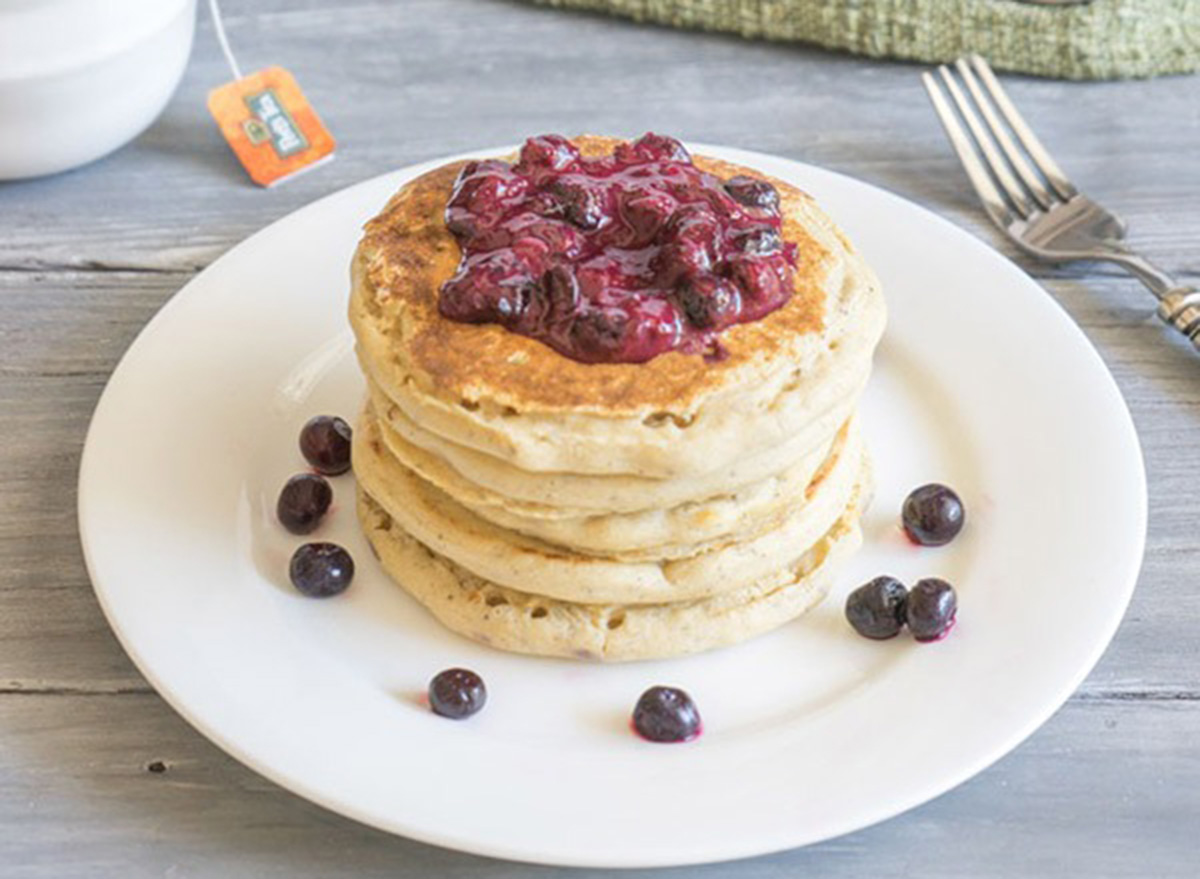 If gluten bothers your belly, whip up a batch of these low-cal, wheat-free pancakes made with almond flour and ground flaxseed. They're the perfect base for antioxidant-packed berries, maple syrup, nuts and whatever else you crave!
Get the recipe from One Ingredient Chef.