Gluten-Free Mushroom Carbonara
Yes, you can enjoy your favorite pasta dishes if you're gluten-free!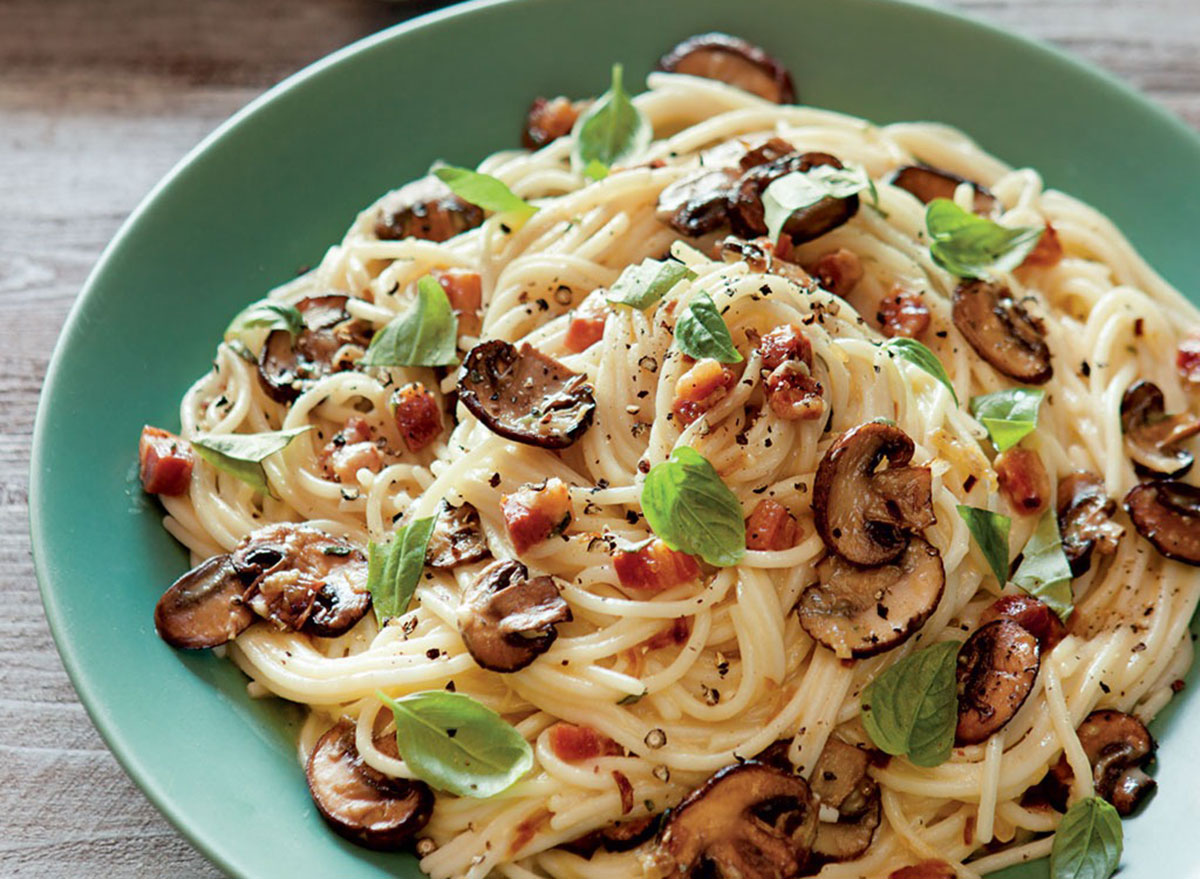 With a decent gluten-free pasta, you can make any of your favorite dishes—including a creamy mushroom carbonara. The base of this mushroom carbonara is cheese, egg, and dry white wine. It's a great recipe to use up your leftover white wine—or an excuse to open a bottle and enjoy a glass of white while you cook!
This recipe was provided by Kristine Kidd, author of Weeknight Gluten-Free.
Makes 2 servings
Ingredients
Pancetta, 1 1/2 oz (45 g), chopped, or 1 tablespoon olive oil
Cremini mushrooms, 1/2 lb (250 g), sliced
Onion, 1/2, finely diced
Fresh sage, 1 tablespoon minced
Red pepper flakes
Kosher salt and freshly ground pepper
Gluten-free spaghetti, 6 oz (185 g)
Large eggs, 2
Parmesan cheese, 3/4 cup (3 oz/85 g) freshly grated
Dry white wine, 1/4 cup (2 fl oz/60 ml)
Fresh flat-leaf parsley or basil leaves, 1/4 cup (1⁄3 oz/10 g) torn
How To Make It
Place a large nonstick frying pan over medium-high heat. Add the pancetta and sauté until beginning to brown, about 3 minutes. Add the mushrooms, onion, sage, and a pinch of pepper flakes. Sprinkle with salt and a generous amount of black pepper. Sauté until the mushrooms are tender, about 8 minutes. Remove the frying pan from the heat.
Add the pasta to a large pot of boiling salted water and stir well. Cook, stirring frequently, until al dente, about 8 minutes. Meanwhile, in a small bowl, beat the eggs with a fork and mix in the cheese.
Remove 1/2 cup (4 fl oz/125 ml) of the pasta cooking water and reserve. Drain the pasta. Add the wine to the frying pan with the mushroom mixture and boil until reduced by half, stirring up the browned bits, about 1 minute. Remove the pan from the heat. Add the spaghetti to the frying pan. Gradually whisk 1/4 cup (60 ml) of the reserved pasta cooking liquid into the egg mixture. Add the egg mixture to the frying pan and stir until it coats the pasta and is creamy, not wet and runny. If the egg mixture does not become creamy, set the frying pan over very low heat and stir constantly just until it becomes creamy, watching carefully (do not boil).
Immediately remove the frying pan from the heat. If needed, mix in enough of the remaining 1/4 cup (60 ml) pasta cooking liquid to form a silky texture. Divide between 2 warmed bowls and serve right away.
Eat This, Not That!
Inspired by The New York Times best-selling book series, Eat This, Not That! is a brand that's comprised of an award-winning team of journalists and board-certified experts, doctors, nutritionists, chefs, personal trainers, and dietitians who work together to bring you accurate, timely, informative, and actionable content on food, nutrition, dieting, weight loss, health, wellness, and more.
Read more about Eat This