17 Delicious Grilling Recipes That Aren't Burgers
These sizzling recipes will take your cookout to the next level.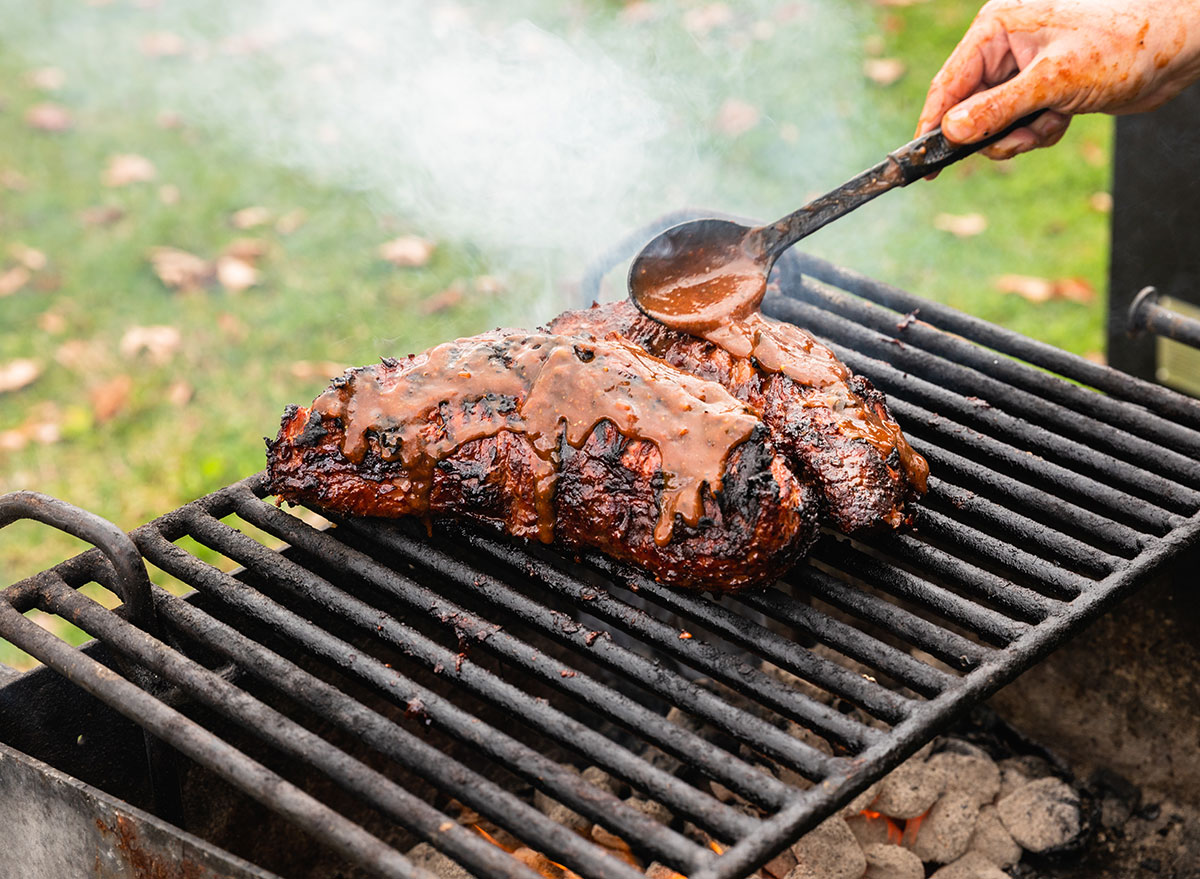 Everyone loves a good old-fashioned, all-American cookout. But the traditional hamburger and hot dog combo threatens our waistlines—and, frankly, it's getting old! So, we've compiled a list of recipes that are sure to shake up your next cookout and help you stay slim during the summer months. We'll walk you through everything from grilled apps to mains and even grilled desserts. And if you or your family can't shake that craving for burgers, then make sure to discover these 40 Popular Burgers—Ranked! before you eat another patty again!
Grilled Guacamole
Guacamole is a fan favorite, and it makes an ideal, nutritious appetizer when paired with a healthy chip. Add a surprising twist to your guac this summer by first throwing your avocados on the grill.
Get the recipe from Garden Betty.
Grilled Watermelon Salad
They say presentation is everything. These light bites feature grilled watermelon sprinkled with feta will bring both color and flavor to your cookout!
Get the recipe from amourfou(d).
Grilled Chipotle Lime Sweet Potato Fries
Like hamburgers and hot dogs, french fries are another iconic American food. But their high fat and sodium content make them unfavorable for a healthy diet. This recipe provides a skinny twist on fries by swapping white potatoes for sweet potatoes and the fryer for the grill.
Get the recipe from Peanut Butter And Peppers.
Grilled Strawberry Shortcake Kebabs
Ok, we'll admit it. Strawberry shortcake isn't the healthiest, but it's a classic American dessert. Try this easy grilled version of America's favorite for the ultimate cookout dessert.6254a4d1642c605c54bf1cab17d50f1e
Get the recipe from Cait's Plate.
Grilled Pears with Cinnamon Drizzle
Another popular grilled fruit item is the pear. Spiked with cinnamon—a spice that's been proven to boost metabolism—this dessert is a great way to end your meal.
Get the recipe from A House In The Hills.
Grilled Polenta Bites
Low in saturated fat but high in fiber, polenta makes an excellent grill base for a savory appetizer. Featuring roasted red peppers and thyme spread on a bed of grilled polenta, these bites are sure to keep your family happy until dinnertime.
Get the recipe from A Beautiful Plate.
Grilled Romaine and Corn Salad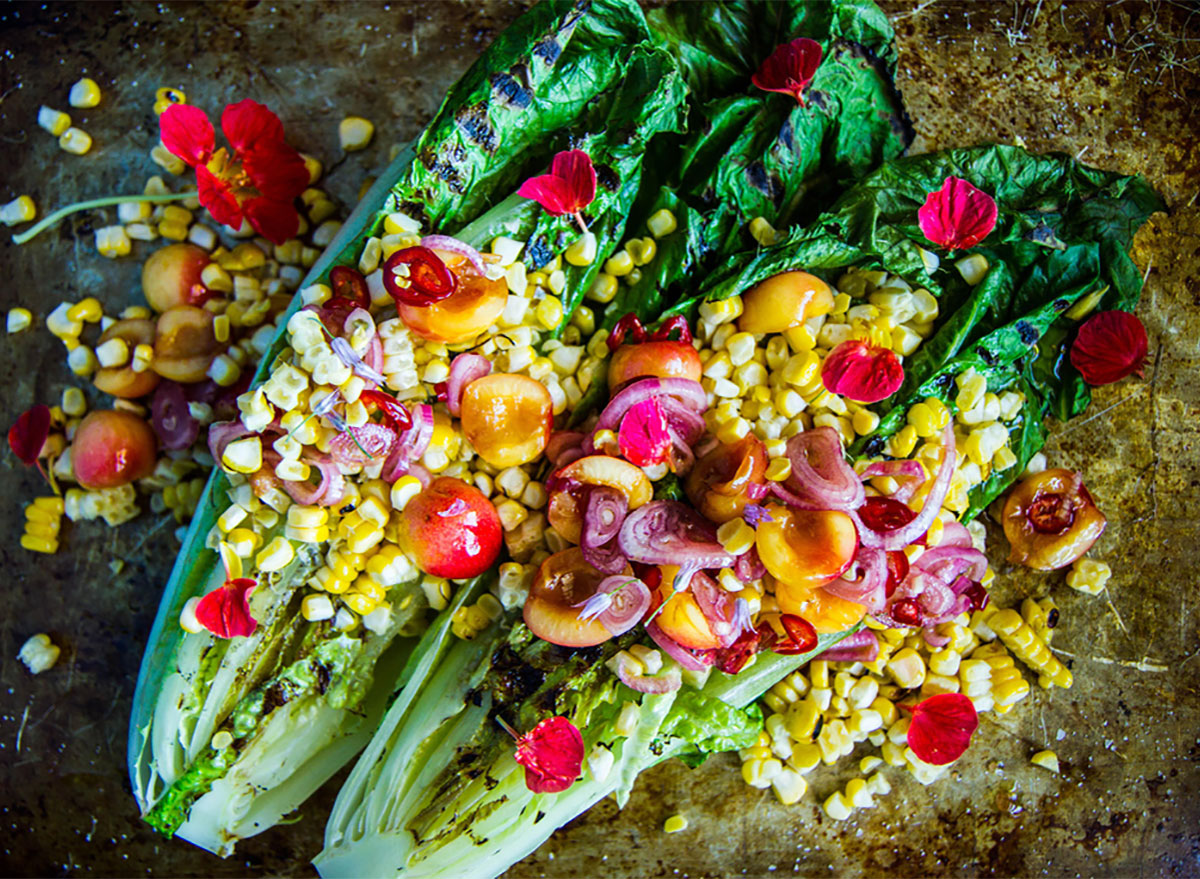 Have you heard? Grilled greens are all the rage! Throwing your greens onto the grill will help preserve those vital nutrients and add an extra flavor punch to take your meal to the next level. Try this recipe for grilled romaine with corn and pickled shallots.
Get the recipe from Heather Christo.
Grilled Tuna Skewers with Salsa Verde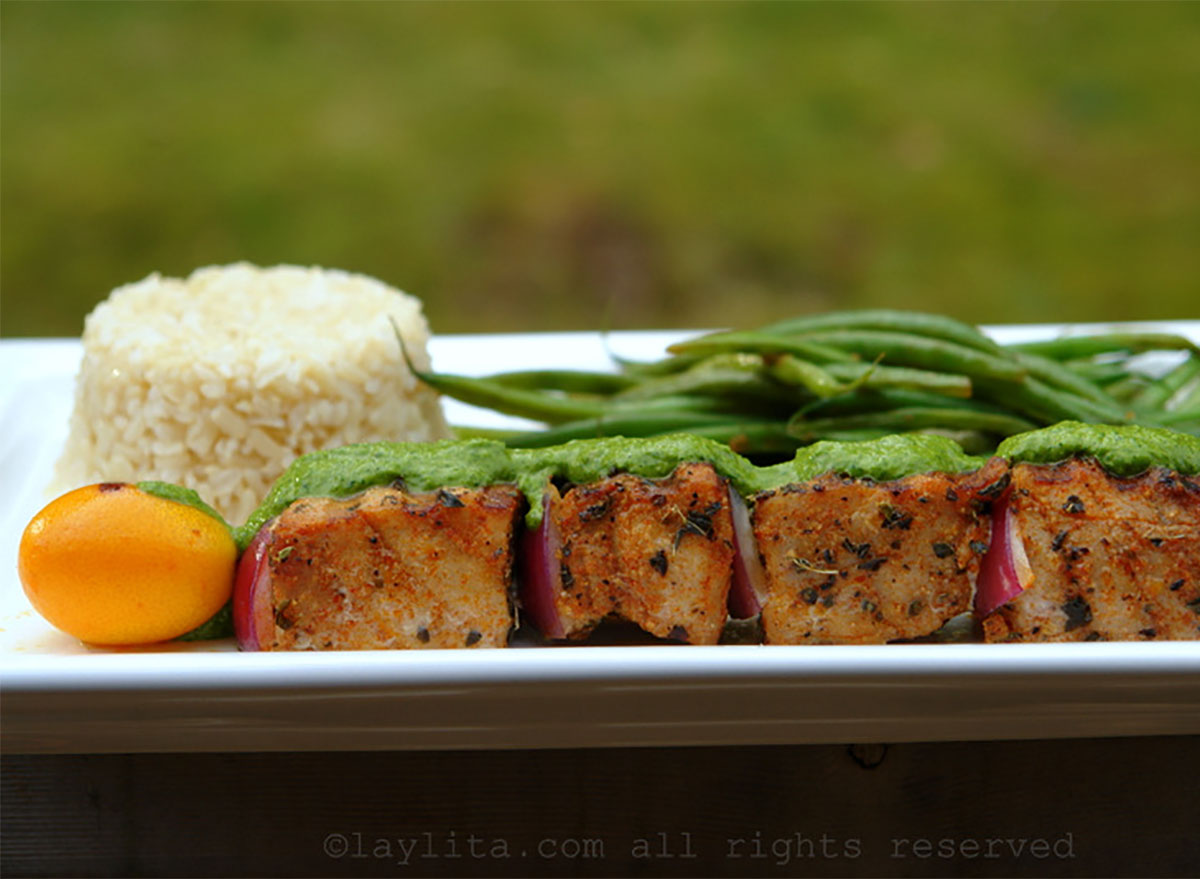 Red, white…and green? This grilled tuna recipe with salsa verde is a great way to spice up your cookout. Plus, the tuna is a delicious way to sneak in those healthy fats that are oh-so-important for your diet.
Get the recipe from Laylita's Recipes.
Grilled Paleo Pizza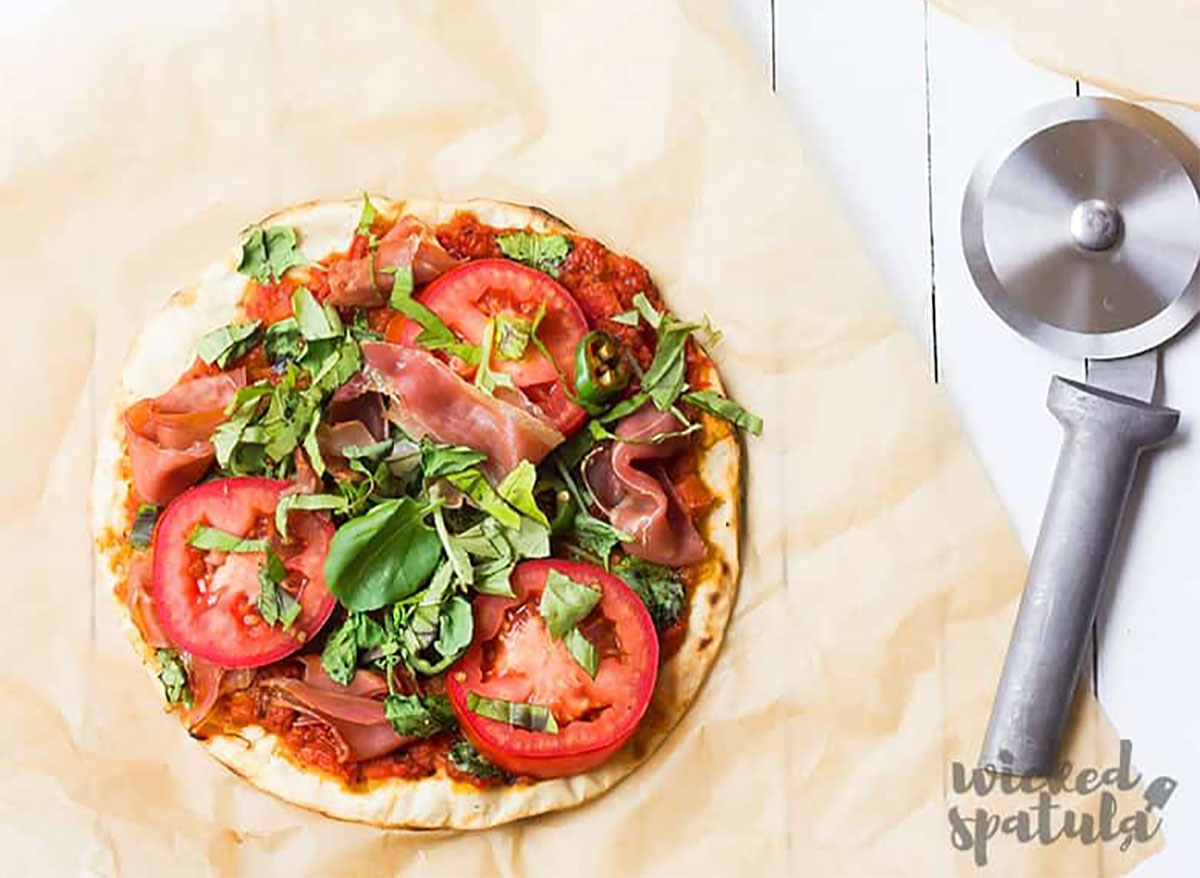 Oh, yes. You heard right. Pizza! This pizza base features coconut flour and tapioca starch for a healthy pizza dough alternative. Toss the dough right down on the grill and let your guests choose their toppings for a fun, interactive meal.
Get the recipe from Wicked Spatula.
Grilled Fish Tacos With Lime Cabbage Slaw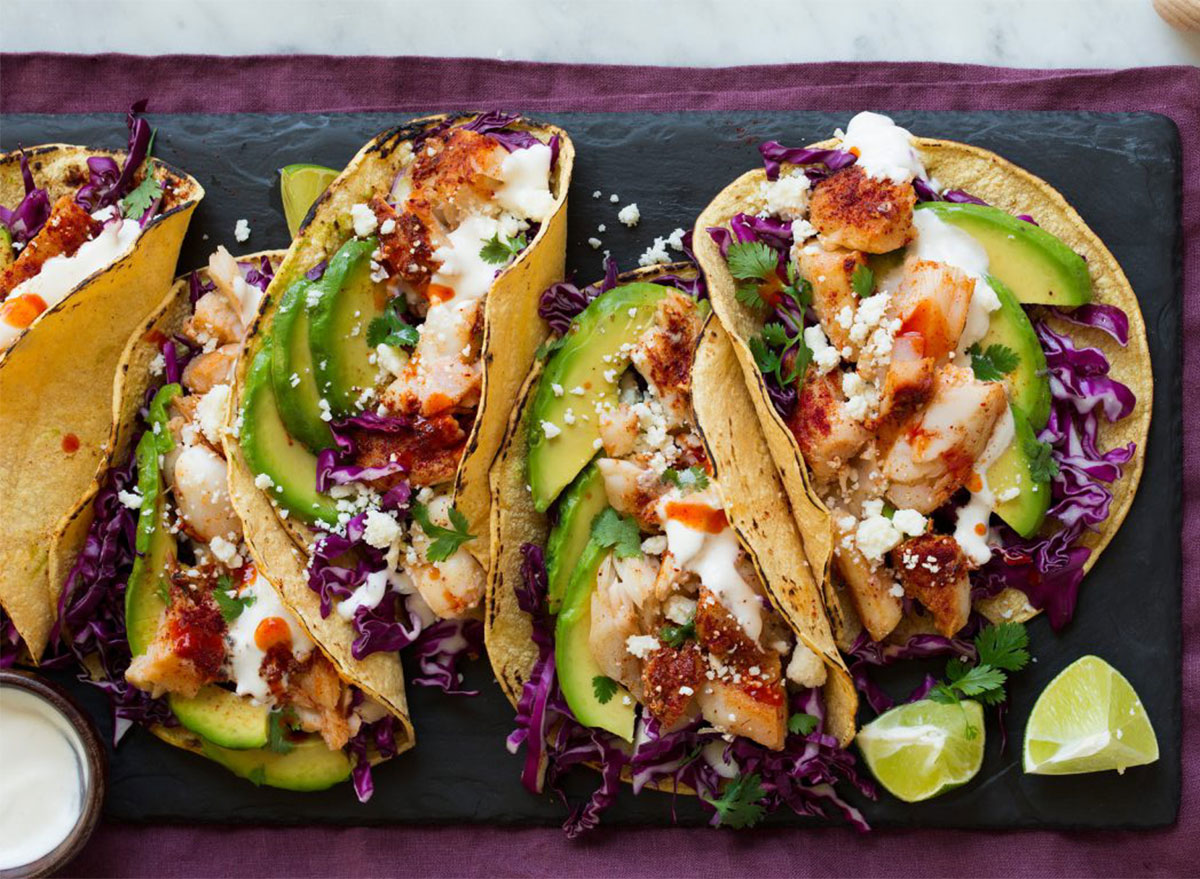 Fish tacos are a foodie favorite. Most menus, however, feature fried fish and heavy flour tortillas. For a lighter, less-fatty alternative, this recipe proposes grilling your fish, wrapping it in corn tortillas, and pairing it with tangy lime cabbage slaw.
Get the recipe from Cooking Classy.
Grilled Tofu Tacos
Don't worry, vegetarians, we didn't forget about you. Tofu works great on the grill and also tastes amazing in a corn tortilla!
Get the recipe from Love and Lemons.
Grilled Buffalo Chicken Lettuce Wraps
You'll get a kick out of this recipe—literally. Spicy foods are one of the best ways to speed up your metabolism. These spicy buffalo chicken lettuce wraps offer a low-carb grill option that will set your metabolism on fire!
Get the recipe from Joyful Healthy Eats.
Grilled Moroccan Meatballs
Even if we're tired of hamburgers, we have to admit: Cookouts aren't complete without the meat. For a creative way to serve up some meat, try these spiced meatballs with lean ground beef and low-fat yogurt sauce.
Get the recipe from Once Upon A Chef.
Chipotle Orange Chicken
This chicken puts a sweet and spicy spin on classic grilled chicken. But don't worry about those extra sugar calories. This recipe calls for healthy sweets like agave nectar and honey to add flavor to the dish.
Get the recipe from Elana's Pantry.
Grilled Chocolate Chip Zucchini Bread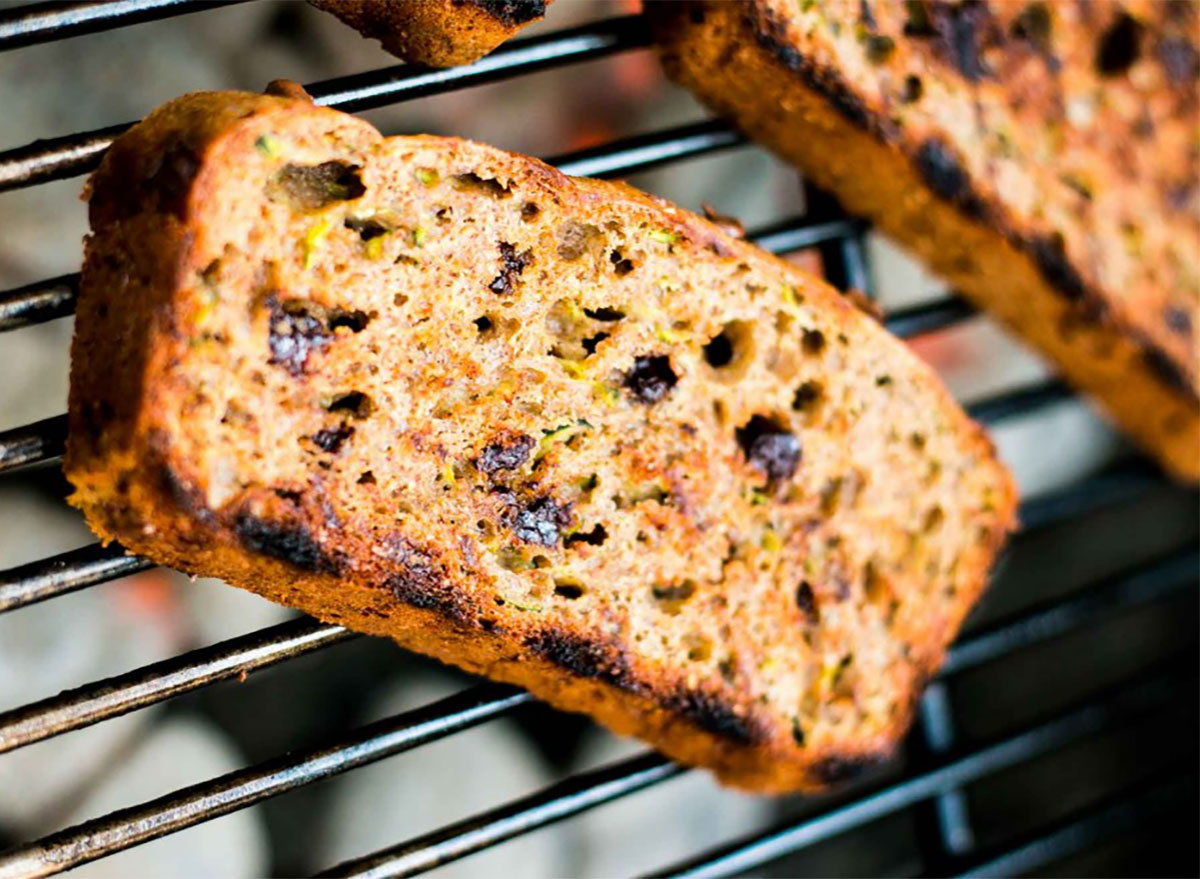 Bread gets a bad rap in the nutrition world, but this dessert bread, made with whole wheat flour and maple syrup, lets you indulge guilt-free.
Get the recipe from Amy's Healthy Baking.
Grilled Fruit Kabobs with Coconut Honey Dip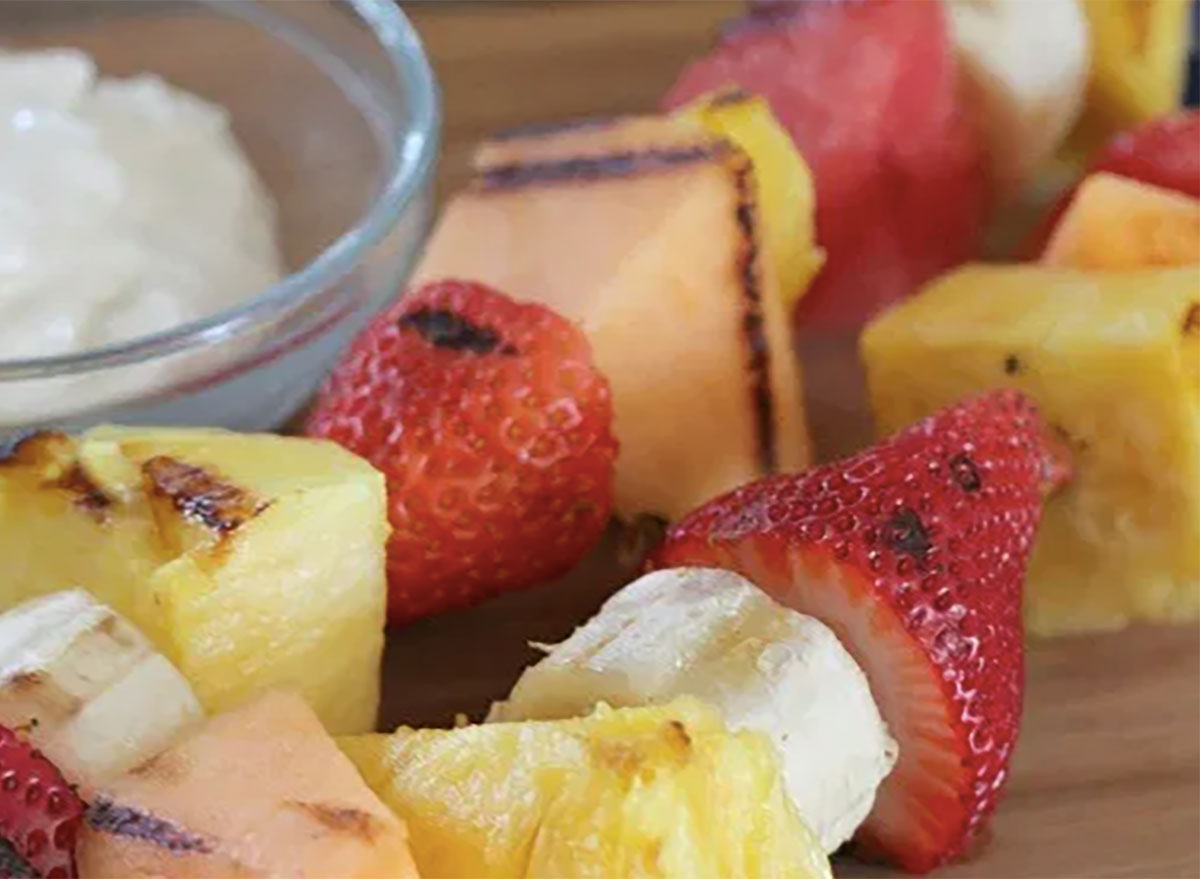 Kabobs aren't just for meat! For a light and nutritious dessert, skewer the fruit of your choice and place it on the grill.
Get the recipe from Pretty Handy Girl.
Healthy Campfire Banana Boats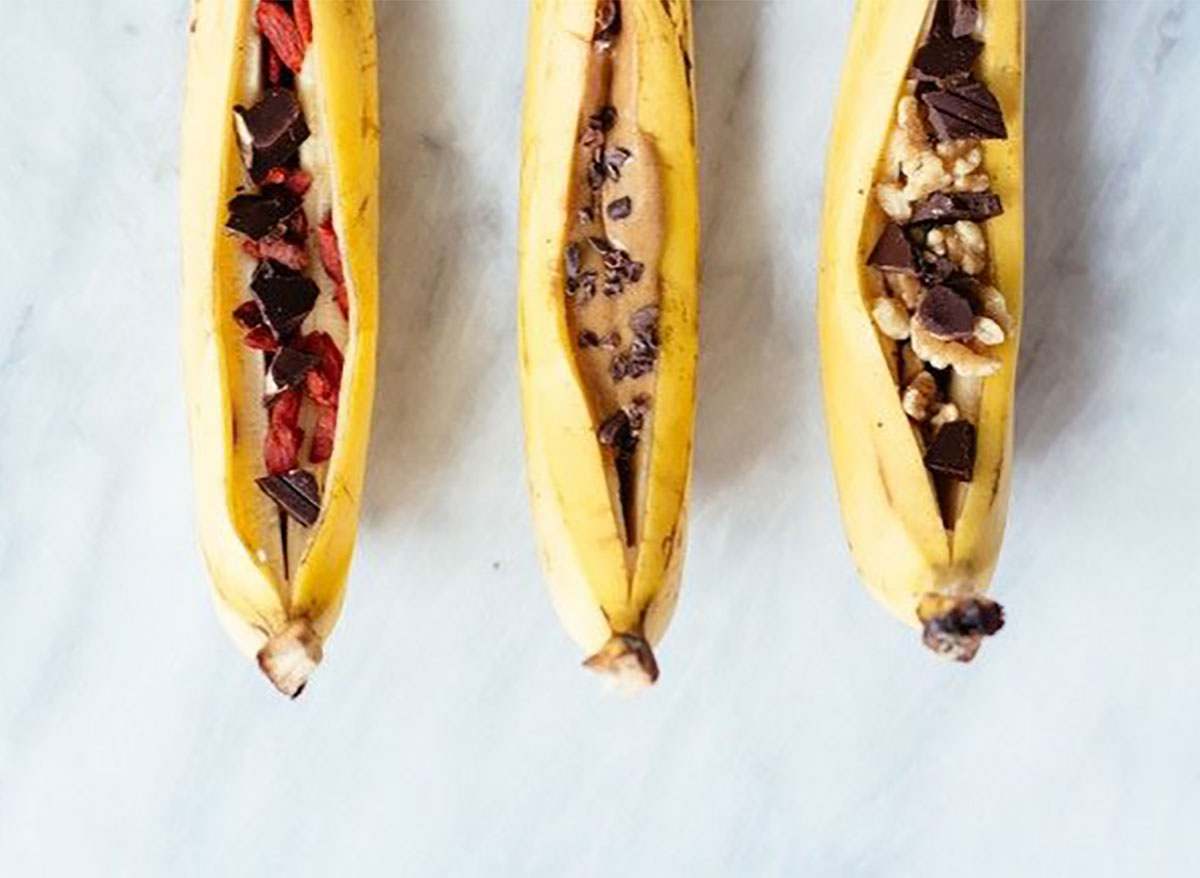 Banana boats are the lesser-known sister of s'mores. This twist on the classic campfire dessert swaps chocolate for dark chocolate and marshmallows for coconut, all without sacrificing flavor!
Get the recipe from Nutrition Stripped.
And while you're trying out these recipes, be sure to make use of these 52 Life-Changing Kitchen Hacks That'll Make You Enjoy Cooking Again.