An Apple and Bacon Infused Grilled Cheese Sandwich Recipe
It's a sweet and salty twist on America's simplest sandwich.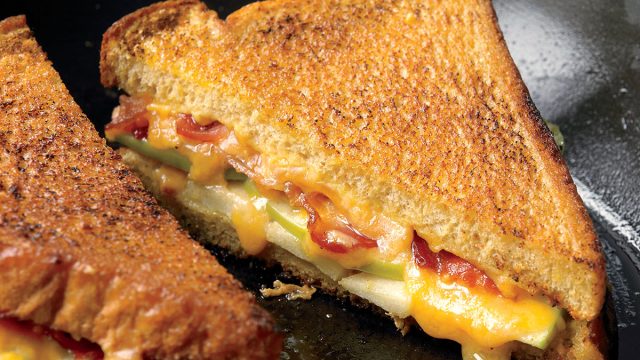 Funky versions of America's simplest sandwich have been popping up at national restaurants and quick-service chains more and more in recent years. Problem is, when restaurants start to get creative, it usually spells trouble for your waistline. You don't want to end up turning a light lunchtime bite into a sandwich that packs as much saturated fat as multiple scoops of ice cream, right? We're all for innovating, but if you're going to do it, make sure you do it right. That's where our grilled cheese recipe with a twist comes in to play. The curious combination of sweet apples, crispy smoked bacon, and sharp cheddar cheese in this sandwich recipe isn't just delicious. It also contains less than half the calories of most of the other grilled cheese sandwiches out there.
Nutrition: 330 calories, 15 g fat (6 g saturated), 790 mg sodium
Serves 4
You'll Need
1 Tbsp butter
8 slices whole-grain bread
1 Tbsp Dijon mustard
6 oz shredded sharp Cheddar cheese
1 Granny Smith apple, peeled, cored, and sliced
8 strips cooked bacon
How to Make It
Heat the butter in a large skillet or nonstick sauté pan over low heat. Slather 4 slices of bread with the mustard, then divide the cheese, apples, and bacon among them.
Top with the other bread slices and add to the hot pan.
The key to a great grilled cheese (i.e., crispy crust, fully melted cheese) is patience, so cook these sandwiches slowly until each side is deep brown and crunchy, about 10 to 12 minutes total.
Eat This Tip
We love a classic grilled cheese made with Kraft Singles as much as the next person, but why limit yourself to that when so many other great combinations are out there waiting to be discovered? Here are a few worth trying.
Gruyère or other Swiss cheese and caramelized onions (think French onion soup on bread)
Blue cheese, arugula or frisée, and fresh figs or a nice fig jelly spread
Fresh mozzarella, tomato, and basil or a bit of pesto sauce
Pepper jack cheese, avocado slices, and salsa
Brie, sliced ham or sliced turkey, and sliced pear
Cheddar and black olive spread or a sun-dried tomato spread
RELATED: The easy way to make healthier comfort foods.