Hawaiian Poké & Poké Recipes—Explained
Before we jump into the ins and outs of this growing protein trend, you should know one thing: Poké and Pokémon are totally unrelated.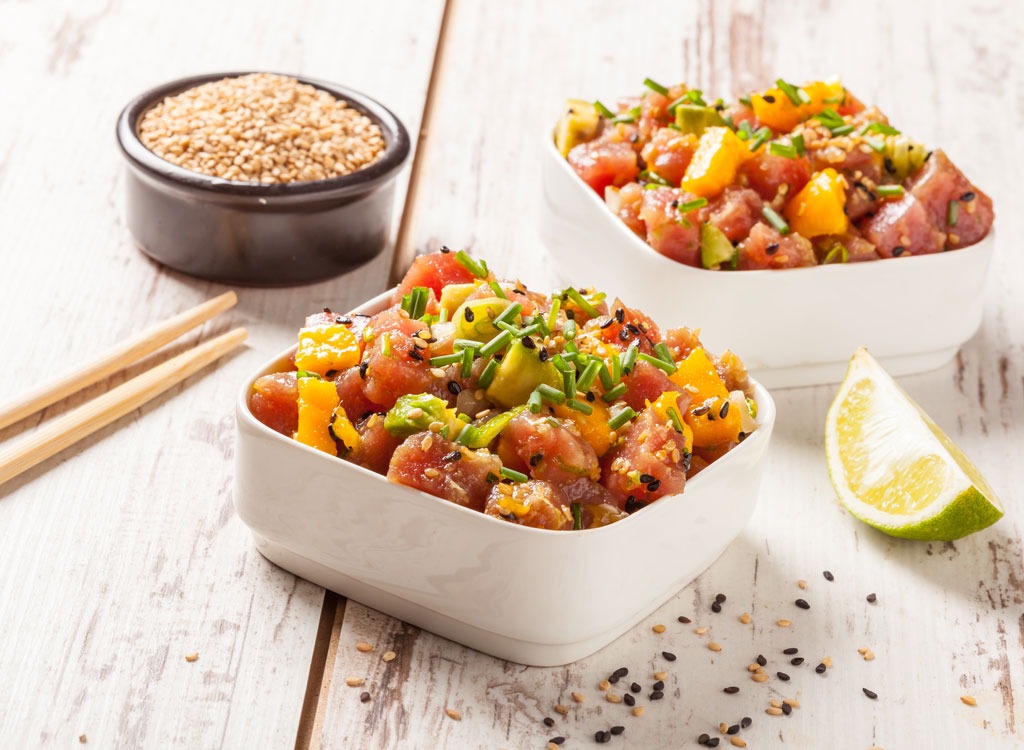 They do have one thing in common, though; they're both ridiculously popular. But that's where the similarities end. While the Pokémon video game series hails from Japan, poké, (pronounced poh-keh not poke-ee), is a classic chopped raw fish salad, first created in the late 1970's by Hawaiian fishermen.
"Originally used as a quick snack during work, fishermen would fillet their fish and top them with a variety of native Asian seasonings for an easy and delicious meal," explains Jack Liang of the New York City-based restaurant PokéSpot. "It differs from sashimi and ceviche in that it's pure sushi grade fish that's diced, rather than thinly sliced," Liang tells us. Another difference: The flavor profile tends to be bold and savory, rather than acidic like ceviche. "And while [other raw fish dishes] are often seen as appetizers, poké bowls—which are filled with things like roasted seaweed, rice, mango, and vegetables—hit all the qualifications for a full meal: a protein, a starch, and a vegetable."6254a4d1642c605c54bf1cab17d50f1e
Since its humble boat beginnings, the dish has greatly grown in popularity, with new and updated versions of the dish regularly popping up. Now, the dish is to Hawaii what the croissant is to Paris; it can be purchased everywhere from gas stations and restaurants to delis and supermarkets throughout the islands. It's even made its way to the mainland. Sure, you can get traditional poké dish in an American eatery, but many outlets also serve modern spins on the classic dish that are heavily influenced by other Asian cultures and recent nutrition trends, like substituting zucchini noodles for starchy rice.
"As poké made its way across the Hawaiian Islands and to the shores of the U.S., it took on a new life," Liang says of the dish's evolution. "It was no longer just a convenient snack, but rather a new, customizable twist on the sushi experience." Liang notes that the dish is 'customizable' because, like many other poké eateries, PokéSpot allows customers to mix and match ingredients to create their own bowls, in addition to their set menu items.
As any health-minded Chipotle lover knows, "customizable" is a culinary buzz word that can mean both good and bad things for your waistline. If there's a local poké spot you've been interested in trying, there are a few things you should keep in mind to ensure a healthy order. First, shy away from sugar- and fat-laden sauces like spicy mayo and aioli; and second, ditch the white rice. It will just spike your blood sugar and leave your stomach rumbling. Instead, opt for dishes built on a bed of veggies, zoodles (zucchini noodles), or brown rice. Another thing to keep in mind: Farmed or "sustainable" salmon and "hamachi," (a term used to described farmed yellowtail tuna) provide less health-protective omega-3s than their free-swimming counterparts. Ask your server where the fish is sourced before placing your order.