The Ultimate BLT Sandwich
This sandwich cuts the calories without losing any of the flavor.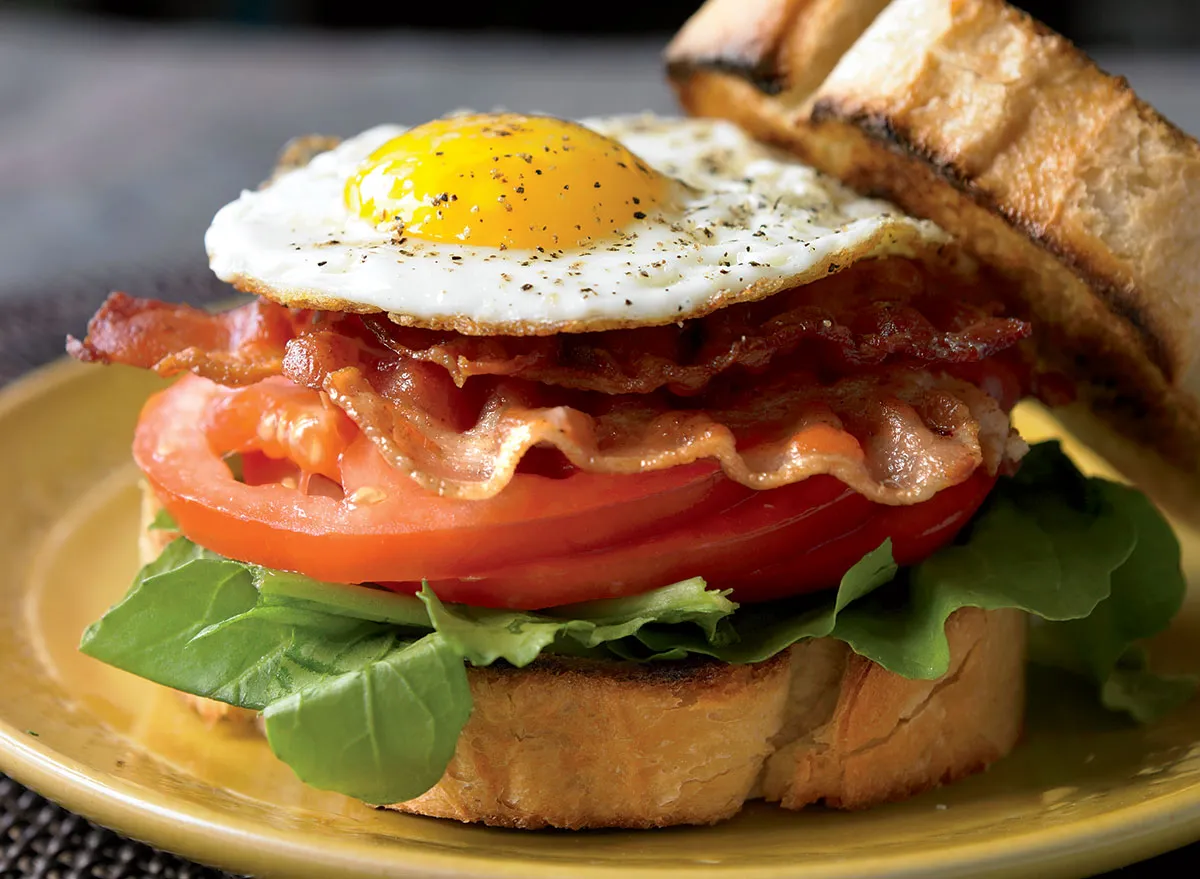 Is there any combination as rewarding and perfectly calibrated as a bacon, lettuce, and tomato sandwich? With the crispy, smoky bacon playing off the cool crunch of the lettuce and the acidic sweetness of ripe tomato, it's a top contender for Last Meal on Earth status. Bog down the BLT with bulky, sweetened bread and a sea of mayo, though, and the appeal vanishes—just as the caloric toll rises.
Instead of being slathered in a sea of sauce, we chose to crown our BLT with a soft, oozing fried egg—the only condiment you need. It adds gooey goodness and a punch of protein you'll be glad to have.
Nutrition: 450 calories, 20 g fat (6 g saturated), 840 mg sodium6254a4d1642c605c54bf1cab17d50f1e
Serves 1
You'll Need
1 egg
2 slices 7-grain or sourdough bread, lightly toasted
Handful of arugula (There's been much debate over the perfect lettuce for a BLT. Some prefer the crunch of iceberg or romaine, others like leaves with a peppery bite, like watercress or arugula. It's your choice.)
3 thick slices of tomato
4 strips of bacon, cooked
Salt and black pepper to taste
How to Make It
Heat a small nonstick skillet over medium heat.
Coat with olive oil cooking spray and add the egg.
Cook sunny side up until the white is set but the yolk is runny.
Line the bottom half of the bread with the arugula, followed by the tomato slices and bacon.
Set the cooked egg carefully on top, and season with a pinch of salt and plenty of fresh cracked pepper.
Top with the second slice of bread.
Eat This Tip
Most people cook bacon in an overcrowded pan, which yields inconsistent results. Make life easier (and tastier) by using the oven instead.
Lay bacon out in a baking dish at least 2" deep and bake in a 400°F oven for 10 to 12 minutes, until the meat just begins to brown and crisp around the edges (bacon, like other meat, will continue to cook after you remove it from the oven). Not only will the bacon be perfect every time, but the fat will also render out more thoroughly this way, meaning your bacon doesn't just taste better—it is better.