The Best Healthy Breakfast Enchiladas Recipes
Enchiladas aren't just for dinner. We use the classic Mexican dish as inspiration for a veggie-rich version.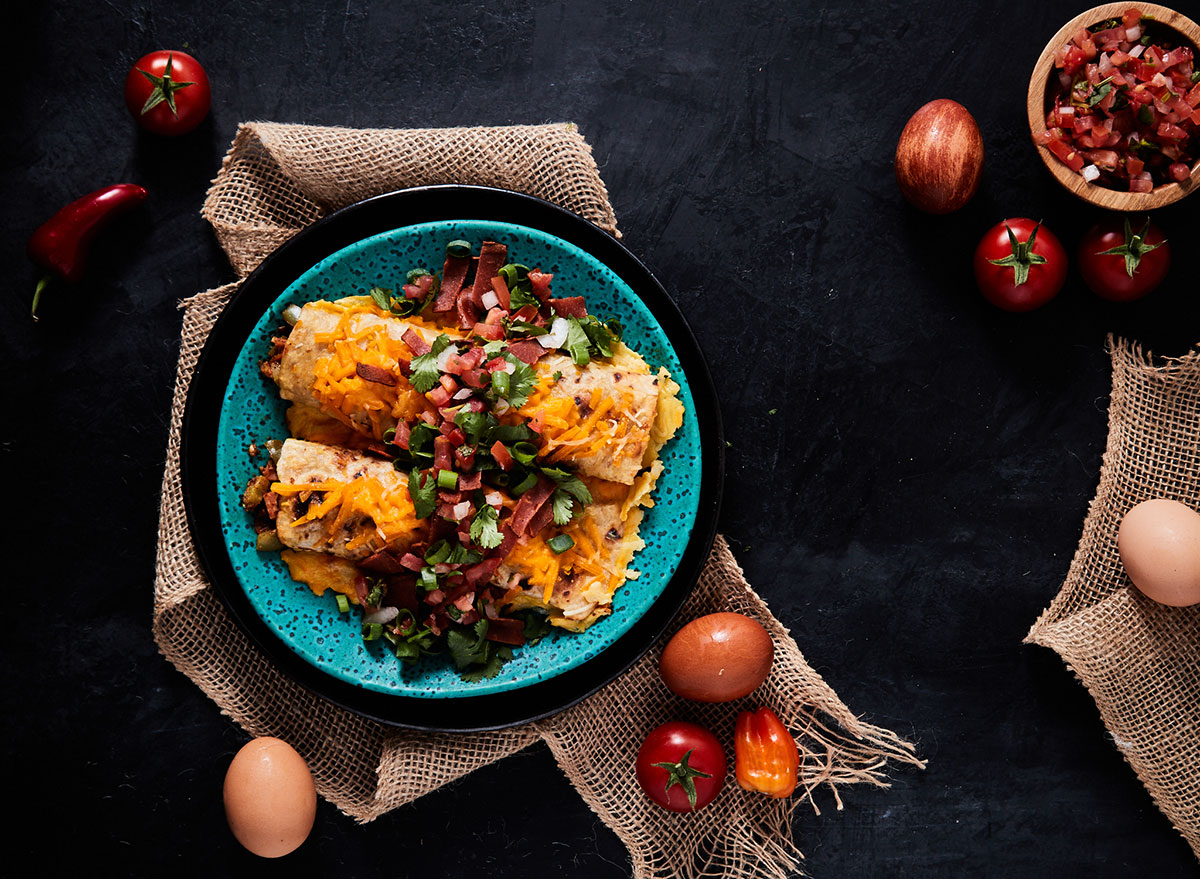 Put down the cereal. Throw away the frozen toaster waffles. And step away from the bagel. These are among The Worst Breakfast Foods You Should Never Start Your Day With because they're lacking any satiating nutrients—in fact, they're basically lacking any nutrients at all!
While we're always in a rush in the morning and feel like we're locked into these easy, grab-and-go breakfast foods, there is a way to get a nutrient-dense, veggie-rich breakfast without several days of stress. Just meal prep these breakfast enchiladas.
There are very few breakfast options that can fill you up with 11 grams of fiber (that 40% of your daily value) and 28 grams of protein, and this is one of them.
Not only will a high protein breakfast like this keep you full, but it will also fill you up with veggies—often a rarity in our morning meals. Did you know that 1 in 10 Americans don't meet the daily recommended intake of vegetables? It's only 2-3 cups of veggies per day, or at least one serving per meal. We sneak in onions, bell peppers, and tomatoes in these spicy, smoky wraps so you can inch closer to that recommendation. Vegetable intake has been linked to lower body weights, lower incidence of cancer, and lower risk of chronic diseases, like cardiovascular disease.
So set aside some time on Sunday, clear space in your fridge and get to wrapping up these healthy breakfast enchiladas, courtesy of Lose Weight Like Crazy Even if You Have a Crazy Life!
Makes 4 servings (1 enchilada each)
Per serving
: Calories: 413, Total Fat: 22g, Saturated Fat: 7g, Cholesterol: 270 mg, Sodium: 1,464 mg, Carbohydrates: 25g, Fiber: 11g, Sugars: 5g, Protein: 28g
Ingredients
Nonstick cooking spray
1 Tbsp. extra virgin olive oil
1 cup chopped onion (approx. 1⅓ medium)
1 cup chopped green bell pepper (approx. 1⅓ medium)
2 cloves garlic, finely chopped
1¼ cups chopped tomato (approx. 2¼ medium)
1 tsp. chili powder
½ tsp. sea salt (or Himalayan salt), divided use
4 (6-inch) whole-grain tortillas
6 slices ham (nitrate- and nitrite-free), chopped
1 cup shredded cheddar jack cheese, divided use
4 large eggs
1 cup unsweetened soy milk
2 tsp. all-purpose flour
2 slices turkey bacon, cooked, crumbled
½ cup sliced green onion (approx. 4 medium stalks)
¼ cup chopped fresh cilantro
Special Equipment:
Nonstick cooking spray
Aluminum foil
How To Make It
Preheat oven to 350°F.
Lightly coat medium baking dish with spray; set aside.
Heat olive oil in a large skillet over medium-high heat until fragrant. Add onion, bell pepper, garlic, tomato, chili powder, and ¼ tsp. salt. Cook for 5 to 7 minutes, until bell peppers are tender, and tomatoes have broken down into a sauce.
Fill each tortilla with a quarter of the onion mixture, a quarter of the chopped ham, and 2 Tbsp. cheese. Roll them up and place, seam-side down, in X baking dish.
Place eggs, soy milk, flour, and remaining ¼ tsp. salt in a medium mixing bowl; whisk to combine.
Pour egg mixture over enchiladas.
Top enchiladas with remaining ¼ cup cheese, bacon, and green onion; cover with aluminum foil and bake for 35 minutes. Remove foil; continue baking an additional 10 minutes until eggs are set.
Serve an enchilada on each of 4 plates.
Divide cilantro evenly among each enchilada and enjoy!
Recipe Note: To prep these enchiladas in advance, pour the egg mixture over the enchiladas, then cover with aluminum foil and refrigerate overnight. Preheat oven, then proceed to step 6 when ready to bake.6254a4d1642c605c54bf1cab17d50f1e
For more healthy eating news, make sure to sign up for our newsletter!
Autumn Calabrese
Autumn Calabrese is Beachbody's top Super Trainer, author, and creator of the 21 Day Fix, and Ultimate Portion Fix, and host of the online cooking show FIXATE.
Read more about Autumn