How to Host a Stress-Free, Healthy Dinner Party
Here's how to plan a dinner party that everyone—including health-conscious foodies, vegans, and those with gluten and lactose allergies—can enjoy!
Everyone has that one annoyingly impressive friend who can make a delectable chocolate souffle in his or her sleep and can throw a dinner party for ten with less than a day's notice. This article isn't for those who aspire to pull off similar feats. While those skills are undoubtedly impressive, some of us need a different knowledge base for our kale-loving healthy foodies, vegans, and people who have gluten allergies and lactose sensitivities. After all, being able to throw a dinner party that accommodates everyone's diet is what makes someone a true "Martha."
My friend, Daniel, is that modern day Martha. Living in Queens and working New York City have bestowed him with an eclectic group of friends with an even more diverse set of dietary limitations. He has friends who are vegetarians, are lactose-free, and are Kosher, yet he somehow manages to have them all over for birthday celebrations and Thanksgiving without ever having had a major meltdown. No EpiPens have ever been used at one of his gatherings and no guests have ever gone hungry. Talk about triumph!
But how the heck does he do it? So many people struggle to pull off this type of culinary feat! He must know something we all don't. After chatting with him about some of his strategies and digging through countless forums on the matter, I uncovered some nuggets of intel that everyone who enjoys entertaining should definitely know. Read on to find out a few simple ways to pull off a totally stress-free, dinner party where everyone—no matter what they can and cannot eat—will feel welcome, comfortable, and, well-fed! You'll also find some recipes ideas to help you bring everything together. And if you need some help selecting some crowd-pleasing wines, too, consider uncorking some of these 16 Wines For Weight Loss.
First, Some Helpful Hints…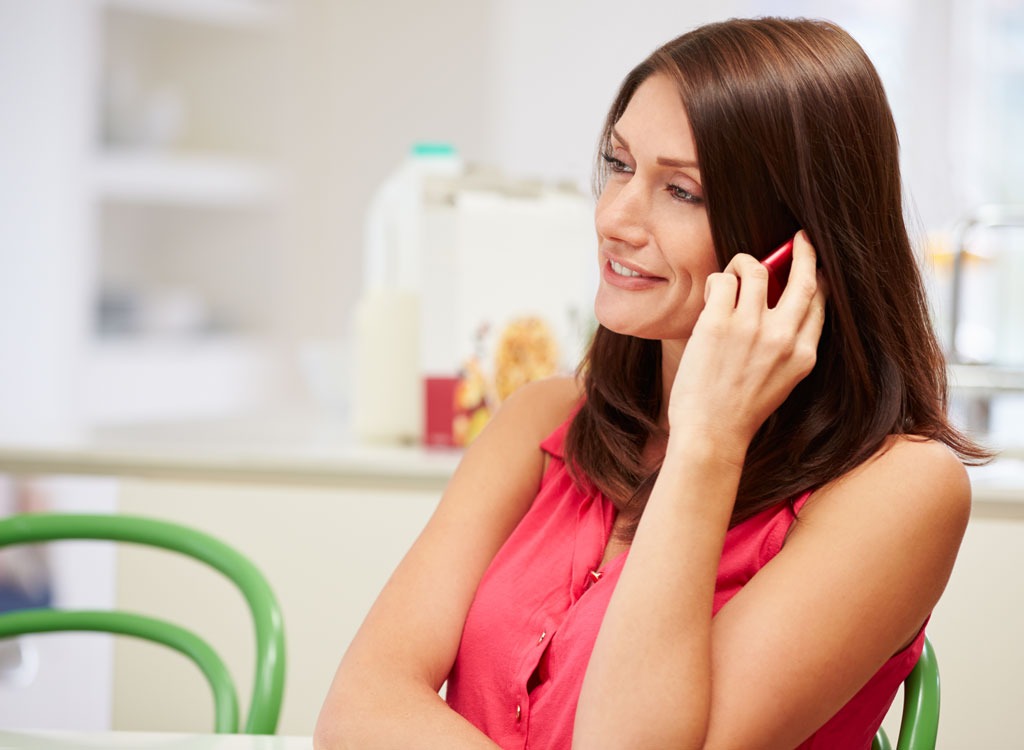 Daniel's #1 entertaining rule: Do your homework. If you're not if someone has allergies or dietary restrictions, ask! And if their reply leaves you confused and searching your brain for dishes they'll be able to eat, ask them what they can eat. Not only will their response open your eyes to tons of culinary possibilities, it will likely help to dissipate the stress of learning about their restrictions.
Ask For Suggestions— & Recipes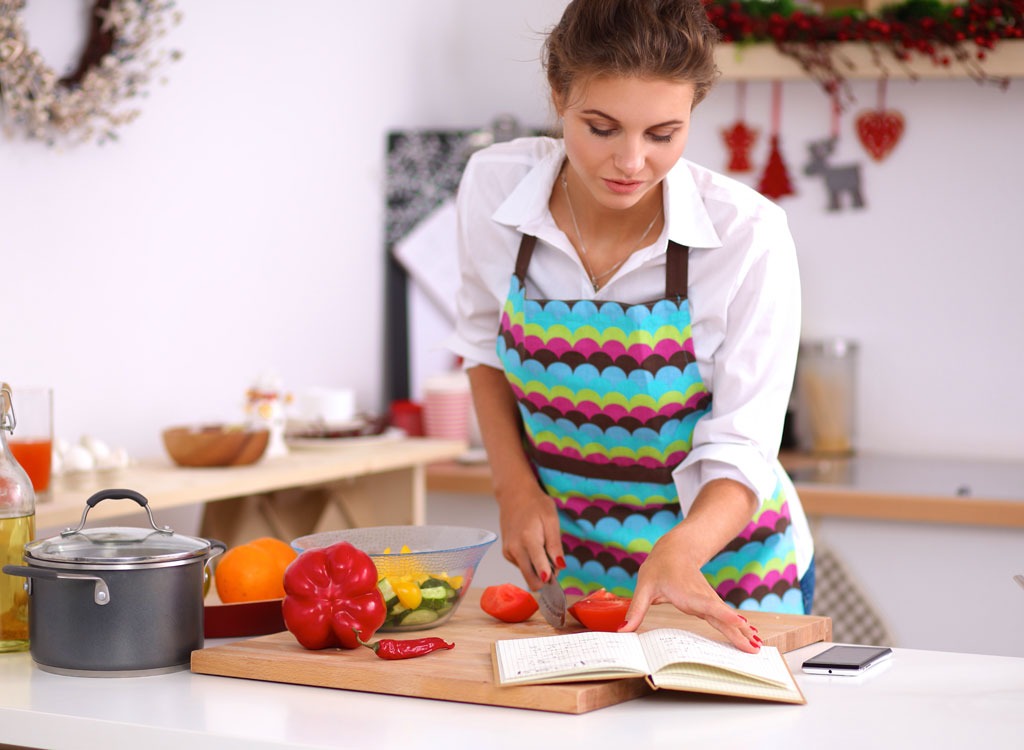 If you have a dinner guest with a number of different restrictions or health issues you're not sure how to cook for, ask him or her to contribute a dish to the meal or give you a recipe they think everyone could enjoy. This is one of the easiest ways to eliminate the stress in the days and weeks leading up to the event. (Psst! Looking for some vegetarian meal ideas? Don't miss these 20 Protein-Packed Vegetarian Meals.
Don't Cook Multiple Entrees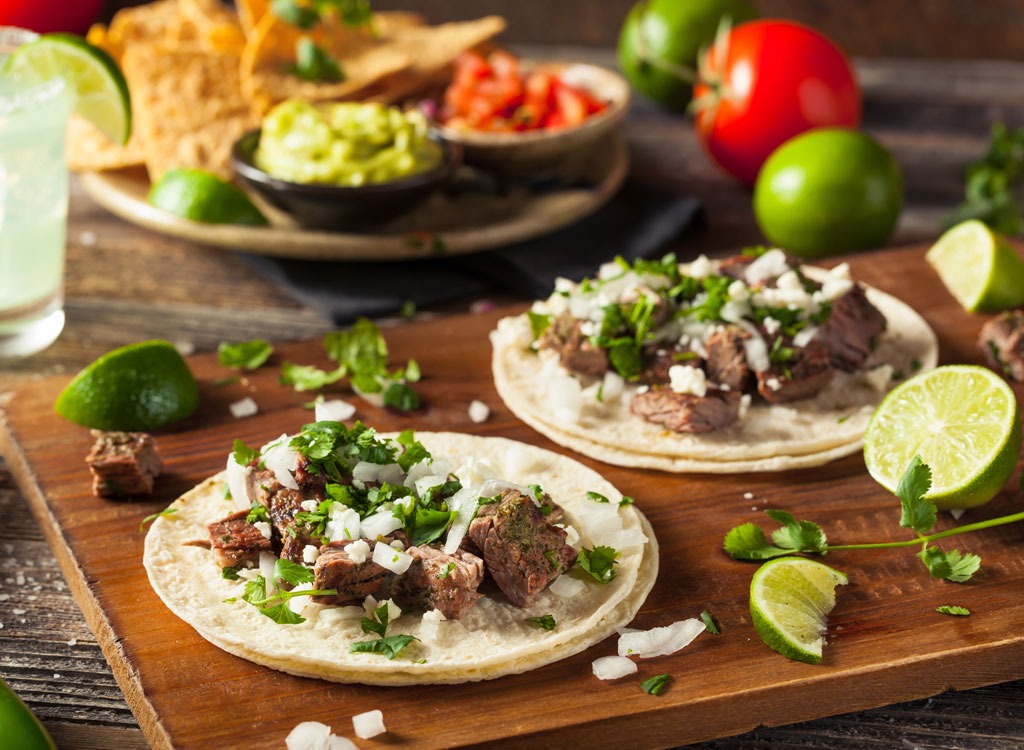 While your first instinct may be to just make multiple entrées to appease all of your guests, don't do that. You'll drive yourself crazy. When your guests arrive you want to be in a laid-back good mood; this sets the tone for a fun, relaxing evening. Instead, pick a main dish that everyone can eat or plan to whip up something that's customizable, like make-your-own tacos or burrito bowls, or even a soup. You could make a veggie stew, for example, and serve cheese, shredded chicken, and noodles or quinoa on the side to allow for everyone to ladle to their liking—without the fear of cross-contamination.
And Use Some Vegan-, Gluten- & Dairy-Free As Your Base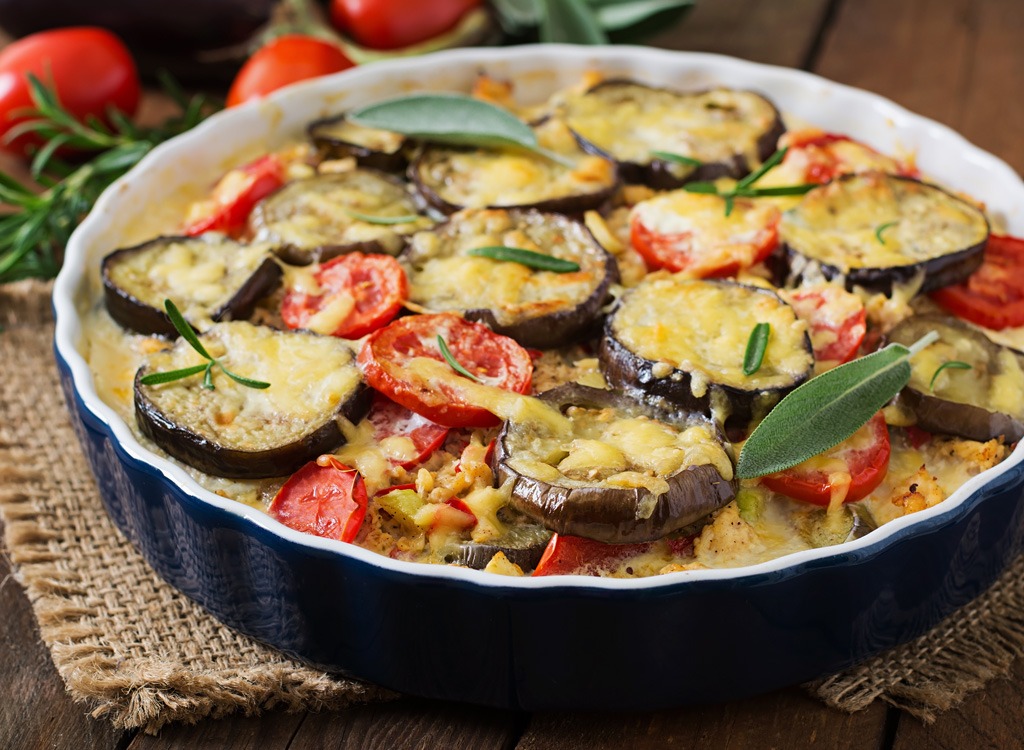 Not into the idea of doing a customizable dish? Cook a naturally vegan- and gluten-free dish as your entrée (think: braised lentils and vegetables or zucchini noodles with pesto and tomatoes) and serve meat, cheese and gluten-filled things on the side, so those who want them can mix them in. This way no one feels singled out and everyone can still stick to their diet.6254a4d1642c605c54bf1cab17d50f1e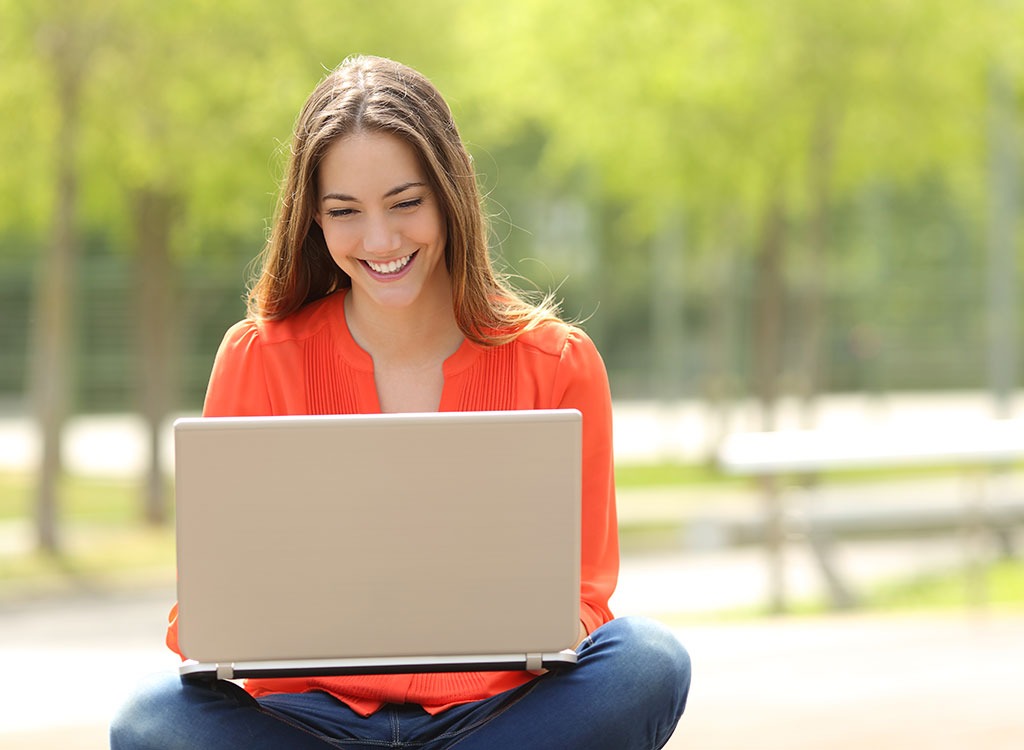 If you have friends with especially confusing restrictions, consider sending them the recipes you plan to make ahead of time, to ensure they'll have something to eat. If it turns out they aren't up to snuff, ask them if there are any simple changes you can make to the recipe so that they'll be able to eat it. Hopefully, this can prevent you from having to go back to the drawing board altogether.
Communicate What's in Each Dish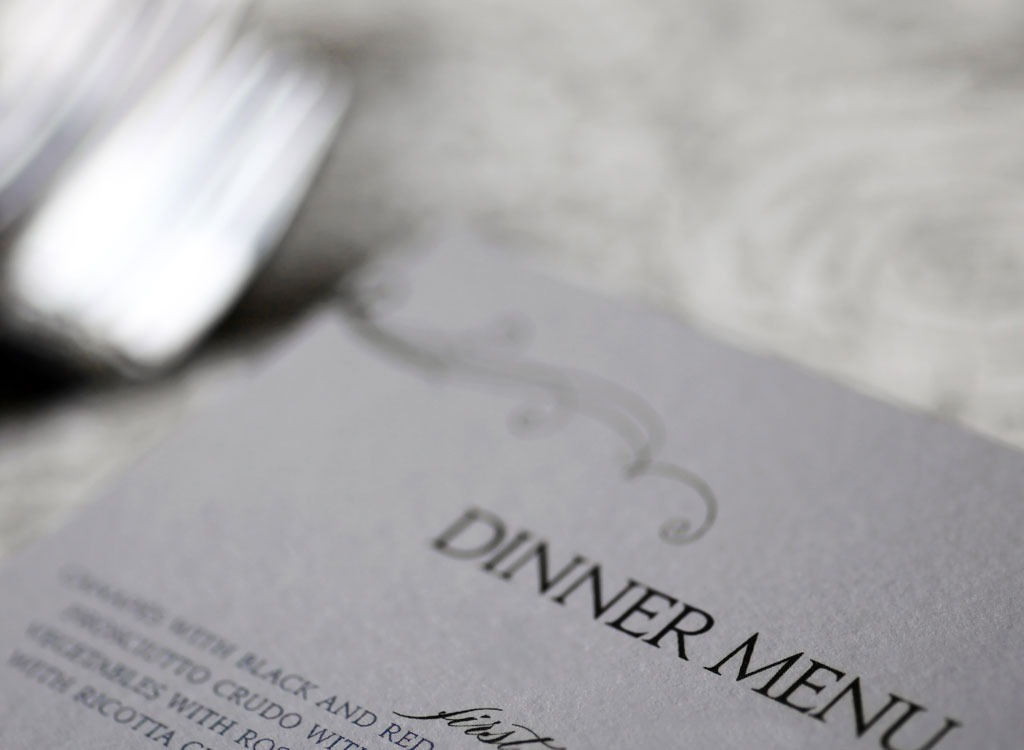 "Does this have butter in it?" "Are the cookies gluten free?" "Were the veggies prepared on the same tray as the chicken?" If you don't want to hear questions like this all evening long, it's in your best interest to print off some menus, relaying what's in each dish, or simply noting which things are gluten-, nut-, dairy-free, and so on.
If a roasted chicken or pot roast is typically your go-to entertaining dish, you can still serve it—even if you have a number of vegetarians coming over for dinner. These types of set-it-and-forget-it meat dishes are super simple and leave you with lots of time to make a number of complementary side dishes—like a quinoa salad, roasted veggies, and a bean or lentil dish—that will cater to all of your guests eating restrictions. (To keep things even simpler, choose side dishes that bake as the same temp as the meat, or can be whipped up in a crock pot.) You don't want the vegetarians and vegans to be left with a few scraps of salad, do you?
Watch for Cross Contamination
The most important thing to be aware of when cooking for people with allergies and restrictions: cross-contamination. For example, don't use the same frying pan you used to fry bacon to saute veggies if a vegetarian will be in attendance. It' also important to watch for hidden ingredients. If packaged sauces, cheeses or flavoring are being used to make your meal be sure to double check—and then check again—that they are free of gluten, nuts and anything else your guests may need to avoid.
Don't Take Things Too Seriously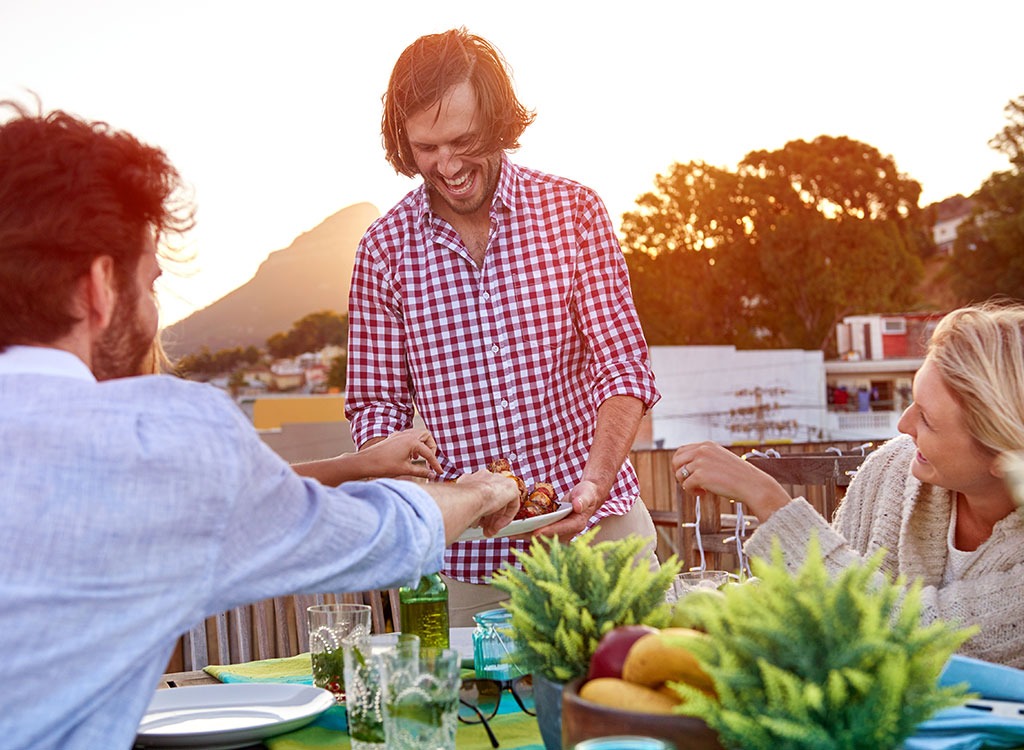 More importantly, don't take your dinner party too seriously. Nobody will care if your gluten-free, dairy-free, vegan casserole is a bit brown around the edges. And who cares if all you could drum up for dessert was fresh fruit? No one. Seriously! Your friends aren't there to critique your food or cooking prowess, they are there to spend time with you, nibble on some free grub, and have some fun! So don't sweat the small stuff.
Now, Some Restriction-Friendly Recipe Ideas…
APPETIZER: Quinoa-Stuffed Mushrooms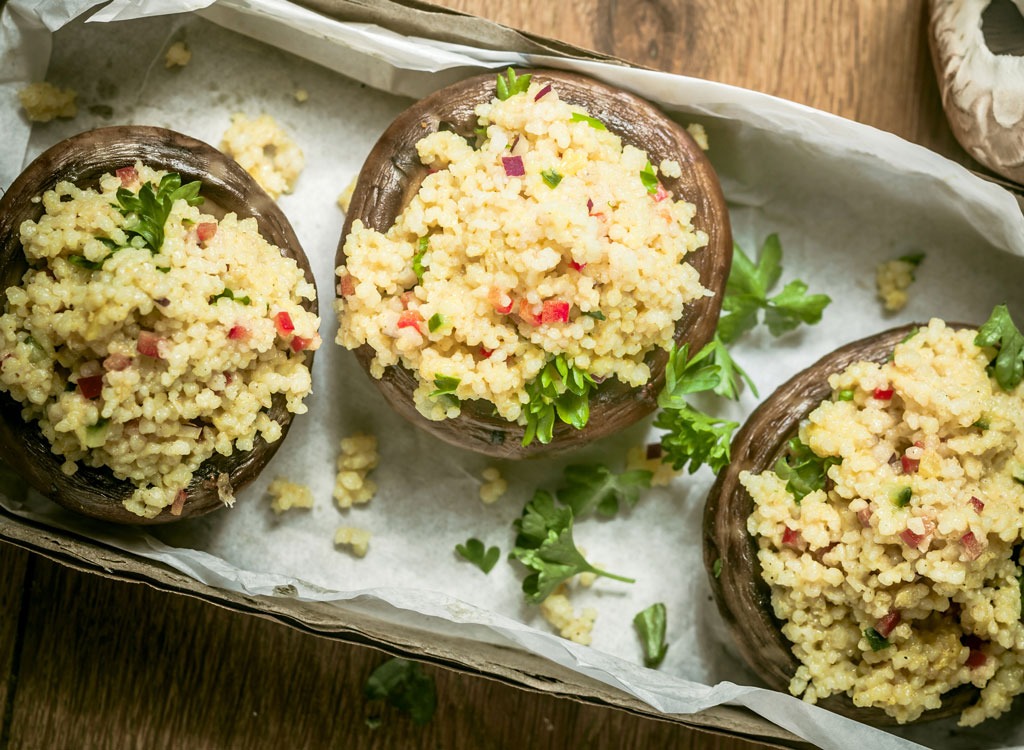 Dairy-free, vegan, gluten-free, paleo-friendly
Stuffed mushrooms are a classic crowd-pleasing app that can easily be made gluten-free and vegan. Instead of relying on stuffing ingredients like crab, cheese, and breadcrumbs, fill up the mushrooms with things like roasted red peppers, sun-dried tomatoes, baby spinach, and cooked quinoa. If you find a recipe you like that calls for cheese, just serve it on the side. This way, everyone can nibble to their liking.
APPETIZER: Roasted Chickpeas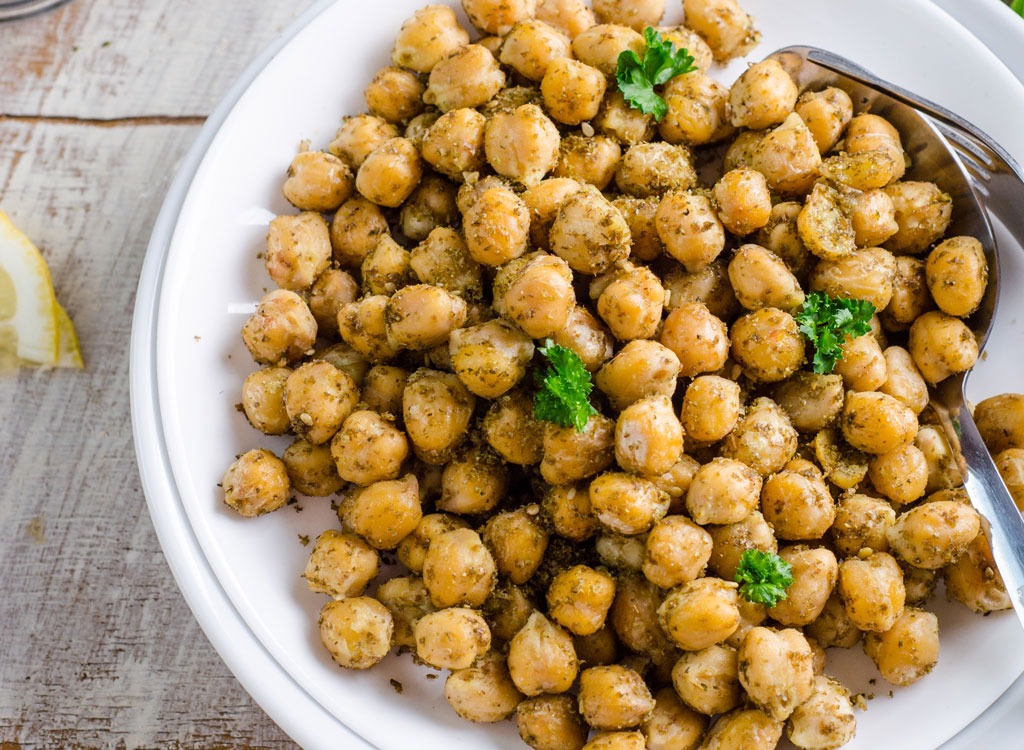 Dairy-free, vegan, gluten-free
Nut allergies are more popular than ever, which is a shame for hosts and hostesses because a bowl of nuts or trail mix is like, the easiest appetizer table addition, like, ever. If you have someone with a nut allergy in attendance, or simply want to serve something that's naturally dairy-free, vegan, and gluten-free consider buying or making roasted chickpeas. The Good Bean sells bags of the roasted snack, in flavors like smoky chili lime and cracked pepper (buy them online here) or you can easily make a batch at home if you want more control over their flavor profile. Food blogger, Jeni Potter Scott, of The Bakerette, has some great suggestions for making a plethora of different flavors. Snag her tips and recipes here.
APPETIZER: Veggies & Cauliflower "Hummus" Platter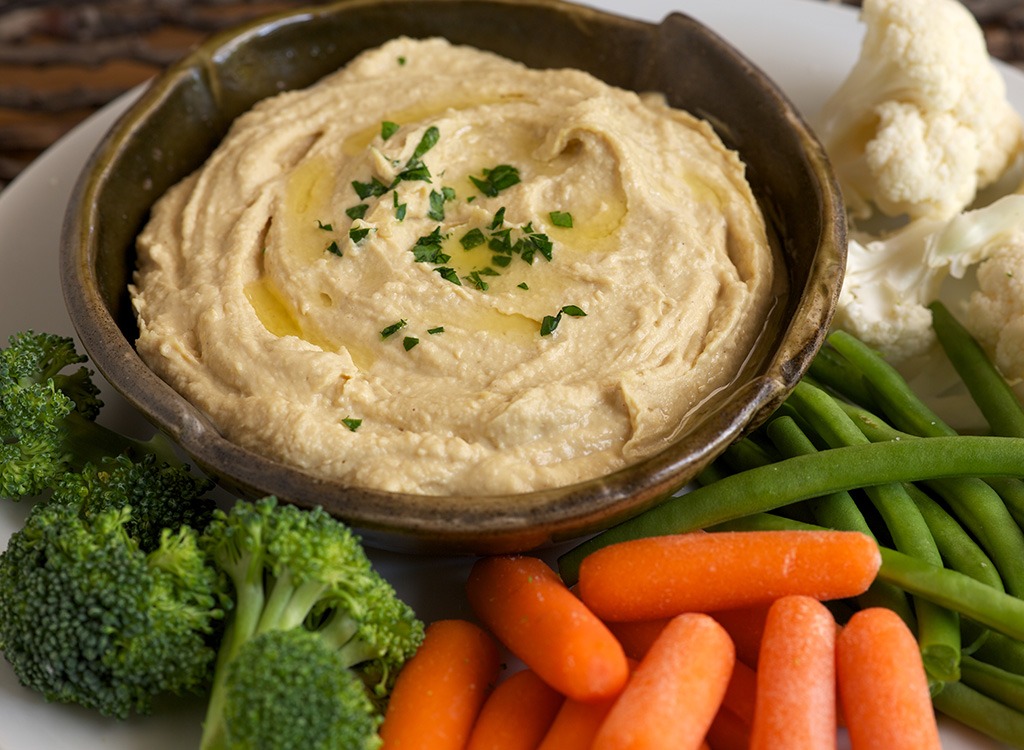 Dairy-free, vegan, gluten-free, paleo-friendly
Veggies with hummus is a pretty safe appetizer no matter who's coming over—unless, of course, you have friends who are following the paleo diet, a plan that shuns legumes and beans. While a Greek yogurt-based dip may seem like a simple solution, don't forget: the paleo forbids dairy, too. Which is why we suggest making a batch of cauliflower "hummus." It has the creamy goodness of regular hummus but can fit into just about everyone's diet. All you need to whip up a batch is cauliflower, olive oil, tahini, salt, cumin, garlic and lemon juice. Snag step-by-step instructions from The Endless Meal.
MAIN: Make-Your-Own Burrito Bowl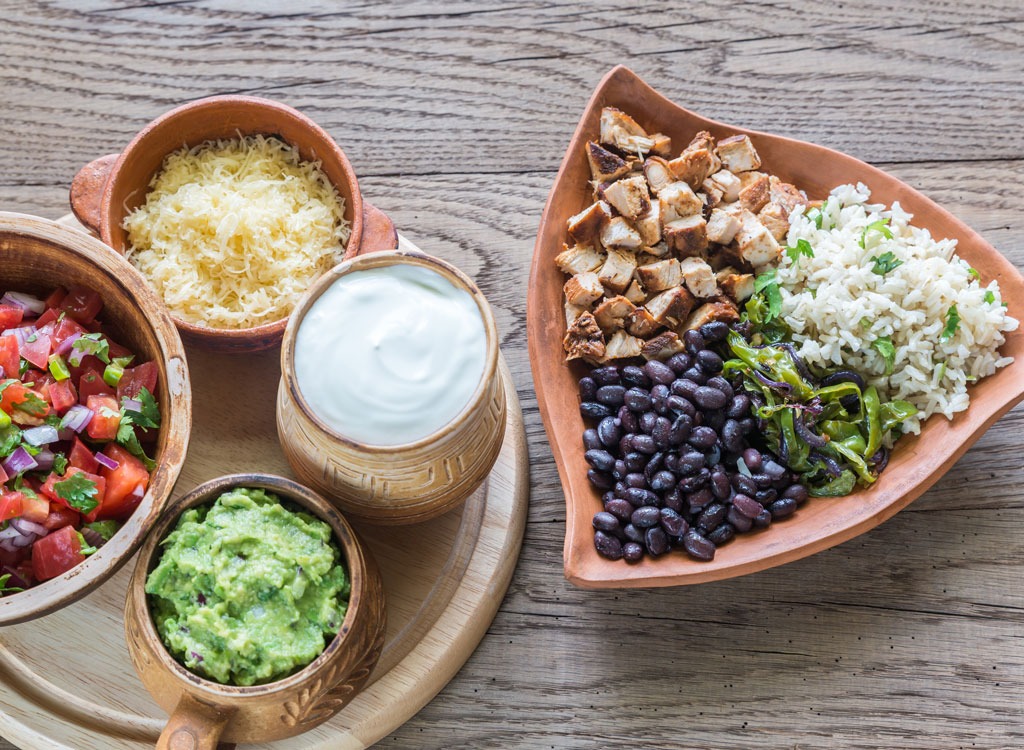 Dairy free, vegan, gluten-free, paleo-friendly
Take out your sombreros and cue up the Enrique Iglesias station on Spotify, because it's fiesta burrito bowl night at your house! Setting up a make-your-own burrito bowl station is super simple—and sure to be a crowd-pleaser. You'll need various base options, a host of different veggies and proteins, as well as all the traditional toppings. Below you'll find some of our suggested ingredients to set out, but you can really go with anything you think your guests would enjoy! It's all about mixing and matching and creating something unique and tasty.
Bases:
Quinoa
Brown rice
White rice
Cauliflower rice (for those who want a grain-free bowl)
Baby spinach (for those who want a grain-free bowl)
Chopped Veggies:
Peppers
Onions
Corn
Tomatoes
Jalapeños
Proteins:
Black beans
Tofu
Cubed or shredded chicken
Steak
Chorizo
Toppings:
Salsa
Pico de gallo
Fresh, chopped cilantro
Shredded cheese
MAIN: Tuscan Vegetable Soup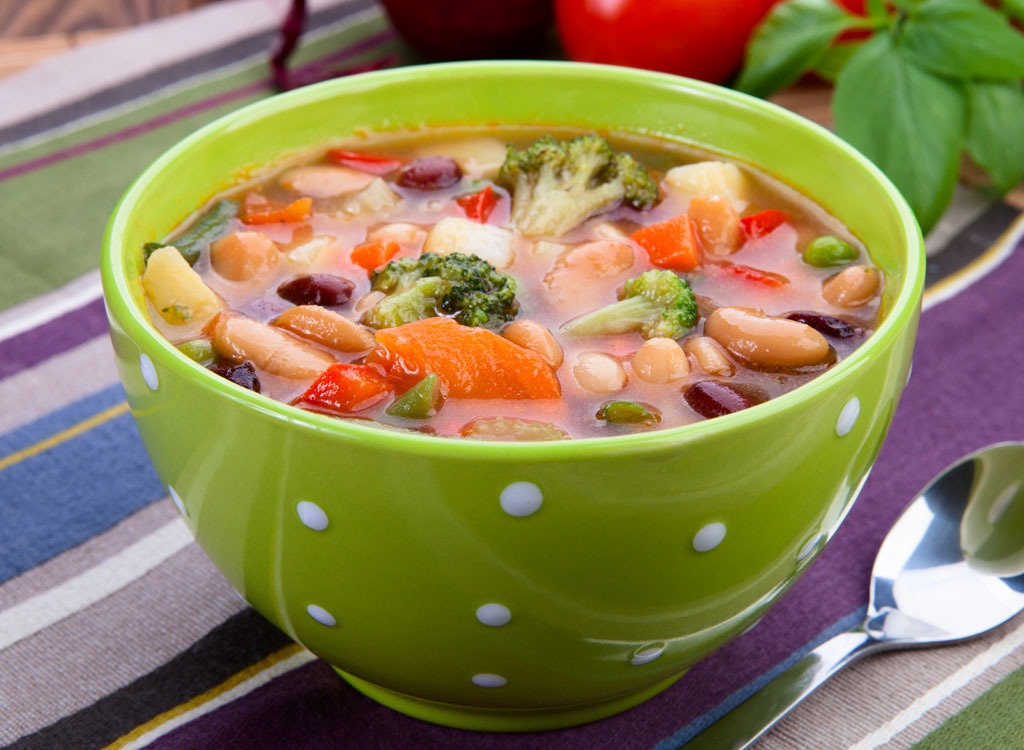 Dairy-free, vegan, gluten-free
In the cooler months, consider serving soup as an entree. Something classic like a Tuscan vegetable—complete with tons of veggies and various beans—serves as the perfect base for add-ins like cheese and mini meatballs. Serve with a big, colorful salad and sourdough (a type of bread many celiacs can consume without ill effects). If you're worried that won't be enough food, amp up the offerings with garlic-herb shrimp skewers, roasted artichoke hearts, and grilled eggplant with some pesto.
SIDE: Roasted Veggies & Tofu
This is the perfect side dish for all of you out there who plan to make a meat entree despite the fact that vegetarians will be at your dinner. The tofu will help to boost the staying power of the veggies so your meat-free guest won't go hungry. Need some direction? Give this recipe from The Steamy Kitchen a try.
SIDE: Ancient Grain Salad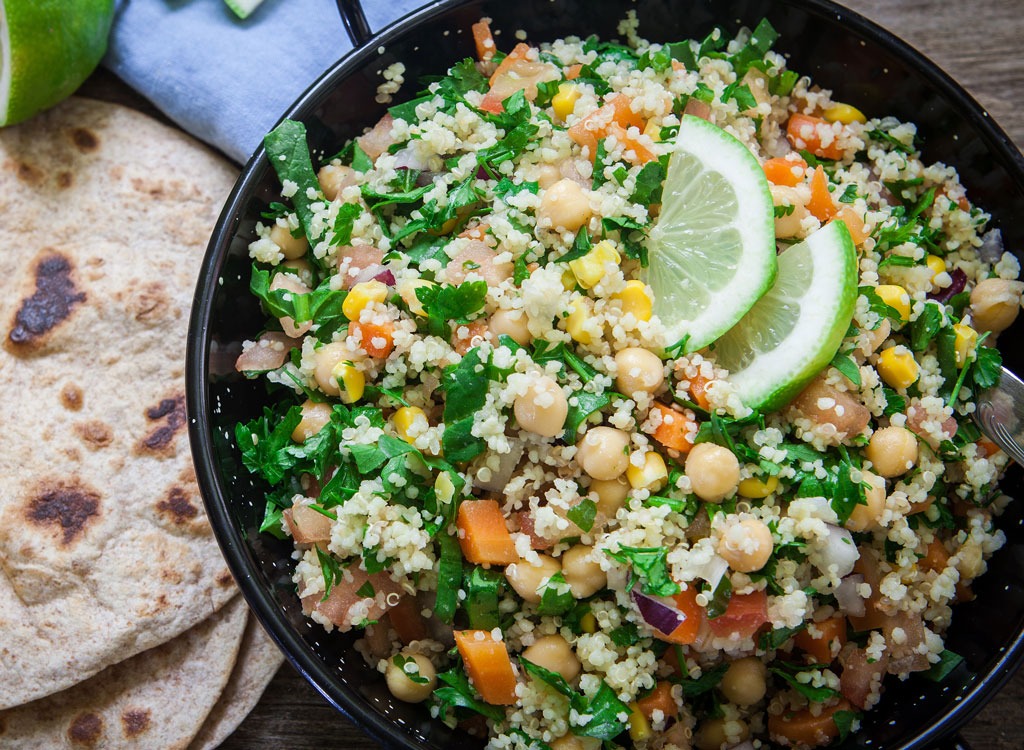 Vegan, gluten-free, paleo-friendly
Easy to make and super versatile like pasta salad, a quinoa salad is the perfect side-dish when you have vegetarians and gluten-free dieters in attendance at your dinner party. It's filling, colorful, filled with veggies and can be customized for a variety of cuisines. Prepping an Italian-themed meal? Toss, fresh basil, mozzarella, tomatoes and a balsamic dressing over the quinoa. Serving Greek? Combine the grain with cucumber, red onion, feta, and a lemon vinaigrette. The options are truly endless. Looking for even more delicious ancient grain recipes? Dig into these 30 Quinoa Recipes for Weight Loss.
DESSERT: Fresh Fruit & Dairy-Free Chocolate Platter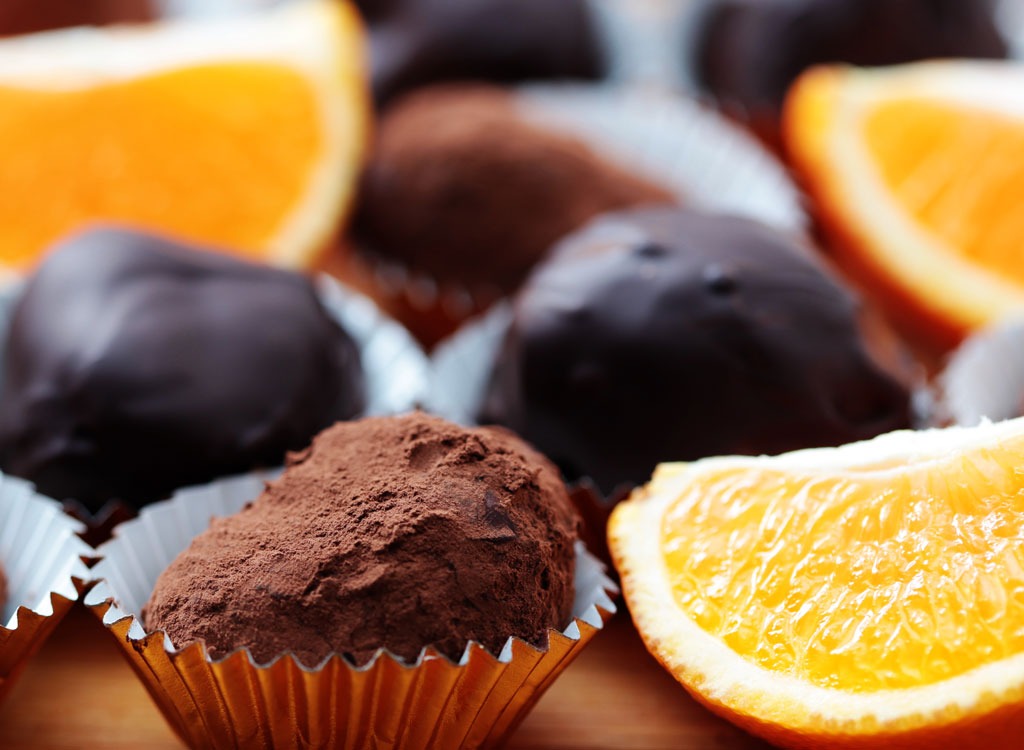 Dairy-free, vegan, gluten-free, paleo-friendly
One of the easiest—and healthiest—desserts in dinner party land is a fruit and chocolate platter. If you have a vegan or someone with a lactose allergy in attendance, look for dairy-free chocolates or truffles. There are several on the market but many of them are made in the same facility as milk products so you may want to learn a bit more about the severity of your guest's milk allergy before telling them they're okay to get their chocolate on. And if you can't find any dairy-free options, don't sweat it! Pick up a carton of sorbet or make one of these 21 Vegan Desserts Anyone Can Enjoy.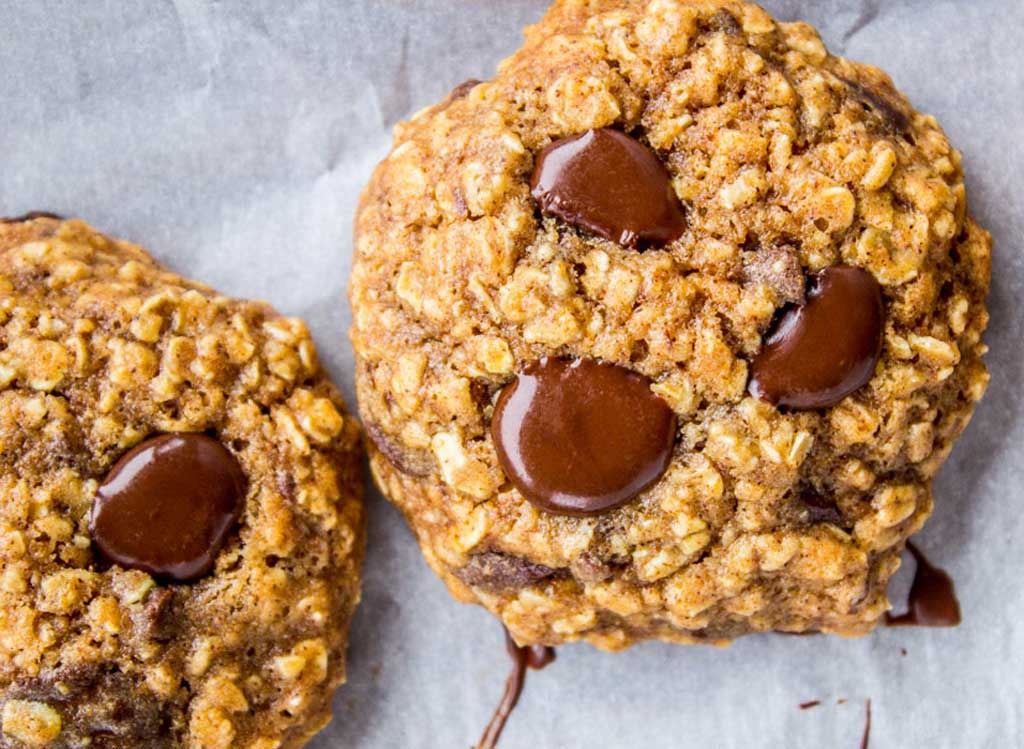 Dairy-free, vegan, gluten-free, paleo-friendly
Surprisingly enough, if you Google "gluten-free vegan cookies" a million delicious-looking recipes pop up on the screen. Pick one that looks good to you and add them to your dinner party lineup! While some of the flour alternatives may seem difficult to find, you may be surprised with what your grocery store has in stock. And when all else fails rest assured that many of them can be purchased online.
Infographic courtesy of: Amy Sly