A Fiery, Protein-Packed Eggs Diablo Recipe
With green peppers and fire-roasted tomatoes, this breakfast recipe is bursting with flavor.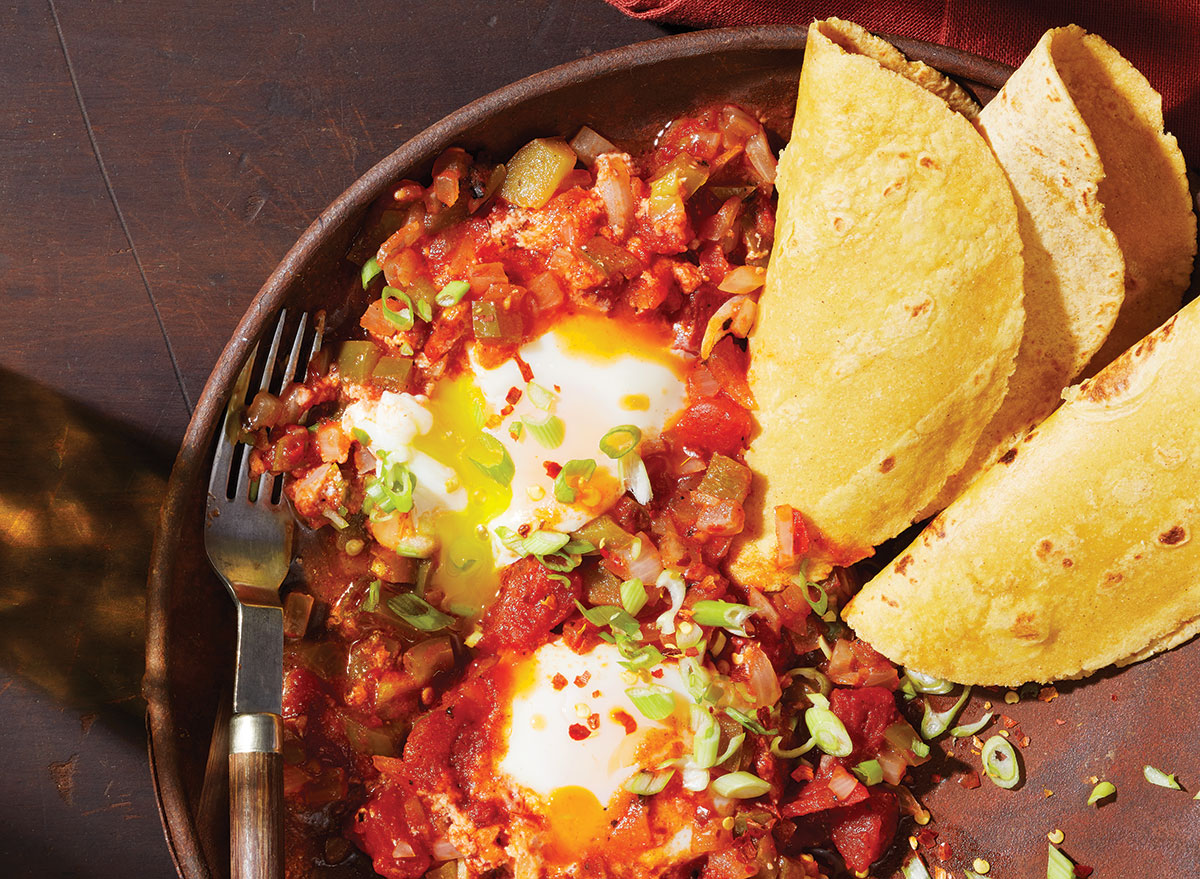 Sure, you could make hard-boiled or scrambled eggs for breakfast, but if you really want to kick things up a notch, why not try this recipe for eggs diablo? With crushed red pepper and fire-roasted tomatoes, along with green peppers and onions, this dish is bursting with flavor and nutrition.
At just 346 calories, each serving of this dish will give you a filling 17 grams of protein and seven grams of fiber. And the best part is, it's vegetarian, too. So if you're looking for a protein-heavy, hearty breakfast that doesn't include meat, this is a great recipe to add to your collection. (Hey, not every weekend breakfast can include bacon.)
And while this dish looks like it took plenty of time to perfect, it's actually not too complicated to replicate at home. You don't even have to turn the oven on, either. All of the ingredients cook stovetop, and the eggs diablo recipe will only take about 25 minutes to prepare, including prep time. You'll impress your breakfast and brunch guests, without spending all morning in the kitchen—now that's a win-win.
Nutrition: 346 calories, 14 g fat (4 g saturated), 350 mg sodium, 7 g fiber, 8 g sugar, 17 g protein
Makes 4 servings
Ingredients
1 Tbsp olive oil
1 medium onion, chopped
1 medium green bell pepper, chopped
1 Tbsp minced garlic
1 14.5-oz can no-salt-added fire-roasted diced tomatoes, undrained
1 8-oz can no-salt-added tomato sauce
1/2 tsp crushed red pepper flakes
8 eggs
2 Tbsp sliced green onions (scallions)
8 corn tortillas, warmed
Salt and black pepper to taste
How to Make It
In a large skillet, heat oil over medium heat. Add the chopped onion, pepper, and garlic. Cook for 3 to 4 minutes, stirring occasionally until vegetables are tender. Add tomatoes, tomato sauce, and red pepper flakes. Cook for 5 minutes, or until sauce is bubbling around edges.
Form a small indentation in the sauce. Break an egg into a cup and slip into sauce; repeat with remaining eggs. Cover pan and cook 3 to 5 minutes, or until egg whites are completely set and yolks start to thicken.
Sprinkle eggs with green onions. Serve with corn tortillas. Season with salt and pepper.
Eat This Tip:
Peppers are packed with vitamin C, and contain a metabolism-boosting compound that can help you scorch calories.
Eat This, Not That!
Inspired by The New York Times best-selling book series, Eat This, Not That! is a brand that's comprised of an award-winning team of journalists and board-certified experts, doctors, nutritionists, chefs, personal trainers, and dietitians who work together to bring you accurate, timely, informative, and actionable content on food, nutrition, dieting, weight loss, health, wellness, and more.
Read more about Eat This