Protein-Packed Healthy Flaxseed Buttermilk Pancakes Recipe
Upgrade your morning breakfast routine.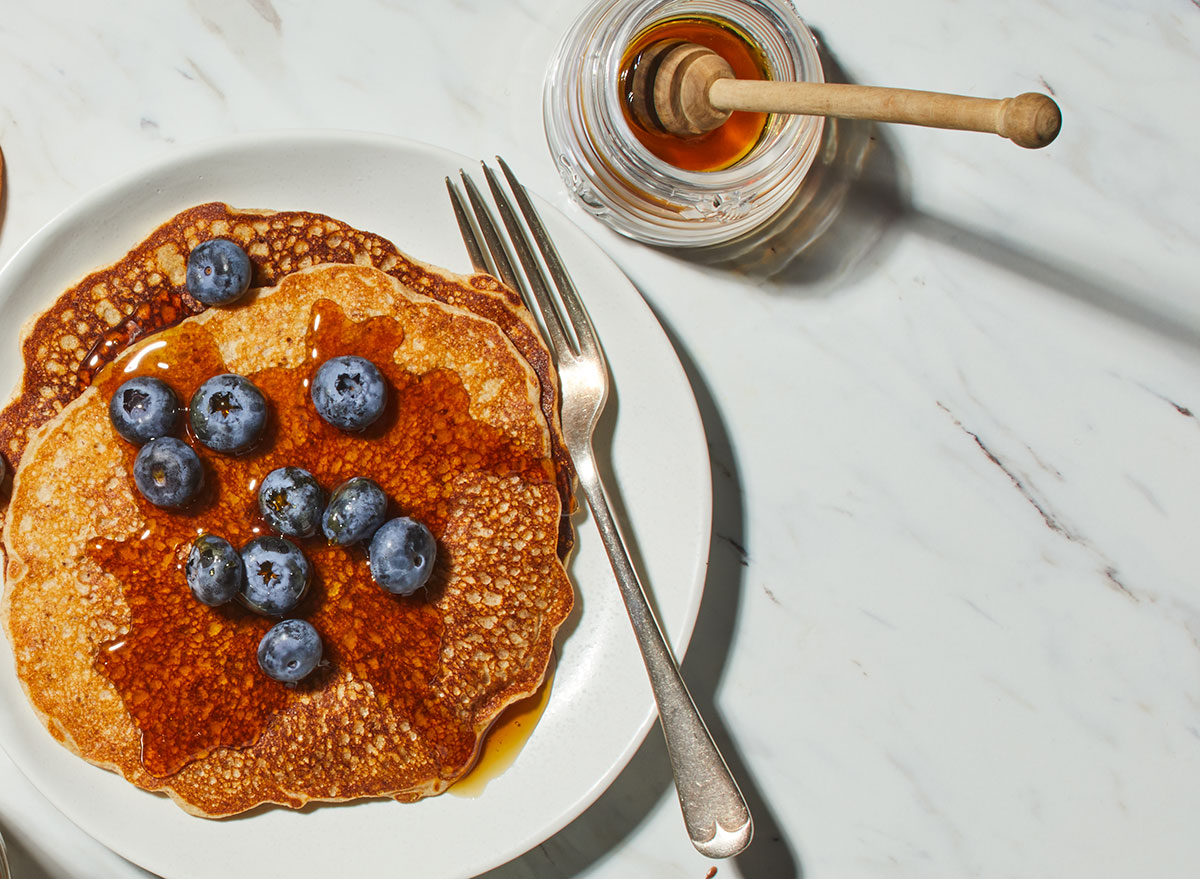 Healthy pancakes? No, that's not a misnomer. With this easy recipe, you can have a satisfying, satiating breakfast, without leaving the comfort of your home.
Made with whole wheat flour, ground flaxseeds, and Greek yogurt, these flaxseed buttermilk pancakes have a whopping 14 grams of protein and six grams of fiber. And that's without any meat added on to the meal! Vegetarian meals can be plenty high in protein, too, even at breakfast, and this recipe is no exception.
And while this recipe will take a little more time than using instant pancake mix from a box, it's totally worth the extra effort and elbow grease. (And it's really not that much extra work—just a bit of whisking and stirring before the batter hits the pan.)
Once you've tried this healthier take on your morning flapjacks, you might just be a convert to the wonders of flaxseed. You'll get all the fluffiness of a short stack of pancakes, with the added benefit of satiating fiber and protein. Plus, you can still top these griddle cakes however you like. And if that happens to include chocolate chips instead of fresh fruit, well, we won't tell.
Nutrition: 387 calories, 20 g fat (9 g saturated), 693 mg sodium, 6 g fiber, 14 g sugar, 14 g protein
Makes 4 servings
Ingredients
1 1/2 cups whole wheat pastry flour
1/3 cup ground flaxseeds
2 Tbsp sugar
1 tsp baking powder
1/2 tsp baking soda
1/2 tsp salt
2 cups buttermilk
1/4 cup water
1/4 cup plain low-fat Greek yogurt
2 eggs
3 Tbsp unsalted butter, melted
Pure maple syrup and/or fresh blueberries (optional)
How to Make It
In a large bowl, stir together pastry flour, ground flaxseeds, sugar, baking powder, baking soda, and salt. In a medium bowl, whisk together buttermilk, water, yogurt, eggs, and melted butter. Add buttermilk mixture to flour mixture, whisking just until mixed.
Heat a large nonstick skillet or griddle over medium-high heat. Spoon about 1/3 cup batter per pancake onto the hot skillet. Cook about 2 minutes on each side, or until pancakes are golden; turn over when surfaces are bubbly and edges are dry. If desired, serve with syrup and/or blueberries.
Eat This, Not That!
Inspired by The New York Times best-selling book series, Eat This, Not That! is a brand that's comprised of an award-winning team of journalists and board-certified experts, doctors, nutritionists, chefs, personal trainers, and dietitians who work together to bring you accurate, timely, informative, and actionable content on food, nutrition, dieting, weight loss, health, wellness, and more.
Read more about Eat This