13 Healthy Foods You Didn't Know You Could Get at CVS
Hidden among the deodorant and tissues are some surprisingly affordable health foods.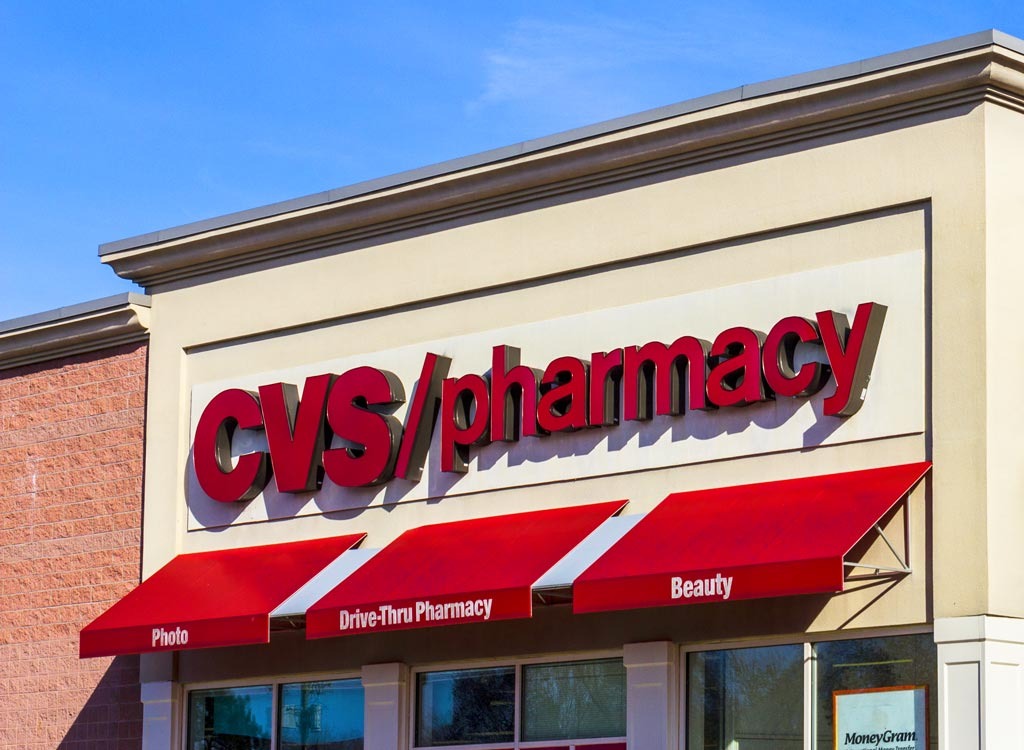 Despite conventional wisdom, you don't have to go to a specialty health food store to stock up on good-for-you kitchen staples. You also don't have to spend an arm and a leg. Thanks to innovative drug stores like CVS, you can now do some of your food shopping next time you duck in to pick up a birthday card or shampoo.
Not sure what's actually worth buying? We scoured the shelves of CVS and came up with a list of 13 nutrition-packed products you shouldn't overlook. From uber-cheap store-brand nut butters to products from Annie's and Larabar, we've uncovered the best of the lot. And if you're looking for more save cash on your weekly bounty, don't miss these 50 Best-Ever Supermarket Shopping Tips.
Gold Emblem Abound Unsalted Pistachio & Almond Blend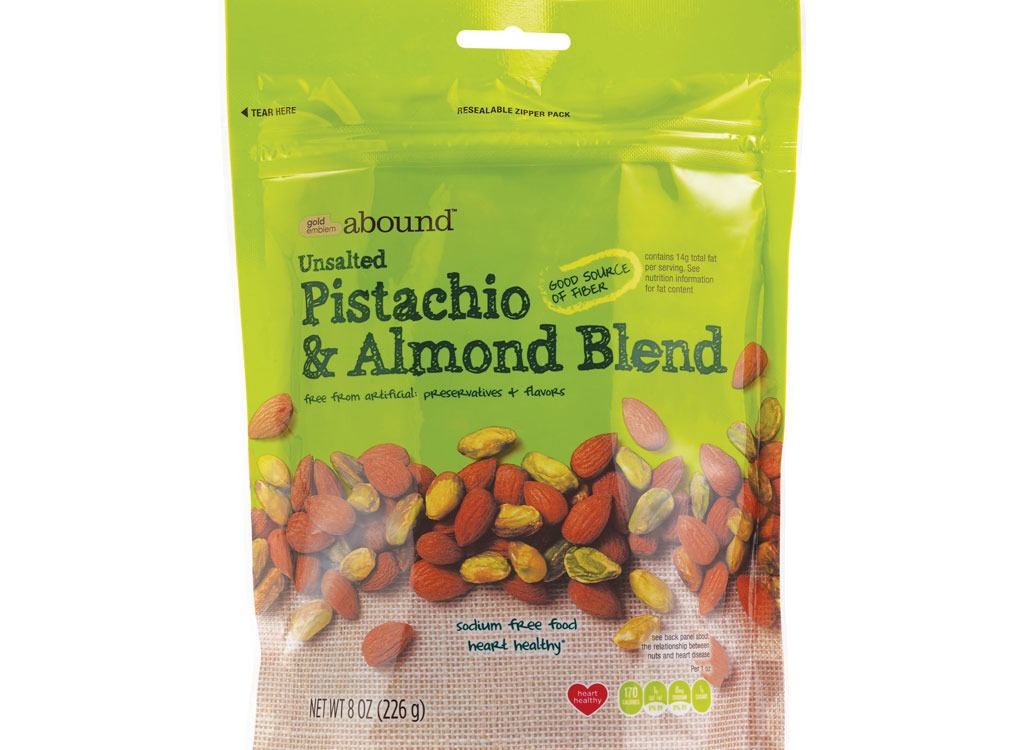 Price at most stores: $6.99
A handful of almonds packs a serious fat-burning punch: One study of overweight adults found that eating about a quarter-cup of the nut for six months led to a 62 percent greater reduction in weight and BMI. But noshing on raw almonds can be a drag. We're fans of this blend because the pistachios contribute some much-needed flavor while shelling out health benefits of their own. The mighty green nut is packed with fiber and protein, as well as vitamin B6, a nutrient that helps the body metabolize fat and convert food into energy. To add even more fat-burning foods to your diet, nab some of these 40 Best Fat-Burning Foods.
Annie's Shells & White Cheddar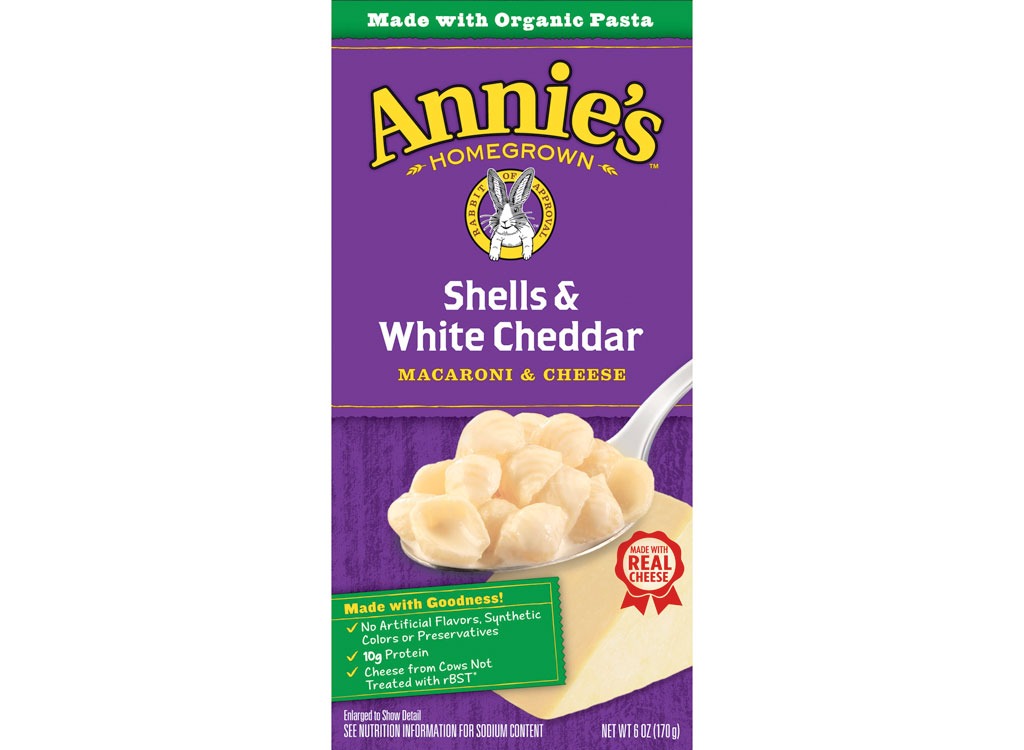 6254a4d1642c605c54bf1cab17d50f1e
Price at most stores: $2.67
Paired with a salad or some steamed veggies, this first-to-market all-natural white cheddar pasta makes for a great dinner when you're in a pinch. Since it's made with whole wheat, a one-cup serving has 10 grams of protein. That's pretty impressive for a comfort food.
That's It Bar, Apple Banana
Price at most stores: $1.99
Registered nutritionist Laura Burak MS, RD, CDN, says these dried-fruit bars are a snack she feels good about feeding to her kids. Paired with some nuts or a string cheese, they make a great grown-up snack, too.
Gold Emblem Abound Almond Butter
Price at most stores: $7.29
Selling for half the price of big-brand almond butters, CVS's store-brand variety is a steal! Although we don't love that they add sugar and palm oil to the jar, if you're on a budget, this may be a product worth trying. Looking for a more creative blend, like cashew or pistachio butter? Don't miss these 20 Best Nut and Seed Butters You Can Buy Online.
Gold Emblem Abound Fuji Apple & Cinnamon Freeze-Dried Fruit Crisps
Price at most stores: $1.49
Throw this no-sugar-added snack into your glove compartment or desk drawer, so you're always prepared with something sweet to eat when cravings strike. Many of these high protein snacks are also worth stocking up on.
Gold Emblem Abound Peanut Butter & Dark Chocolate Nut Bar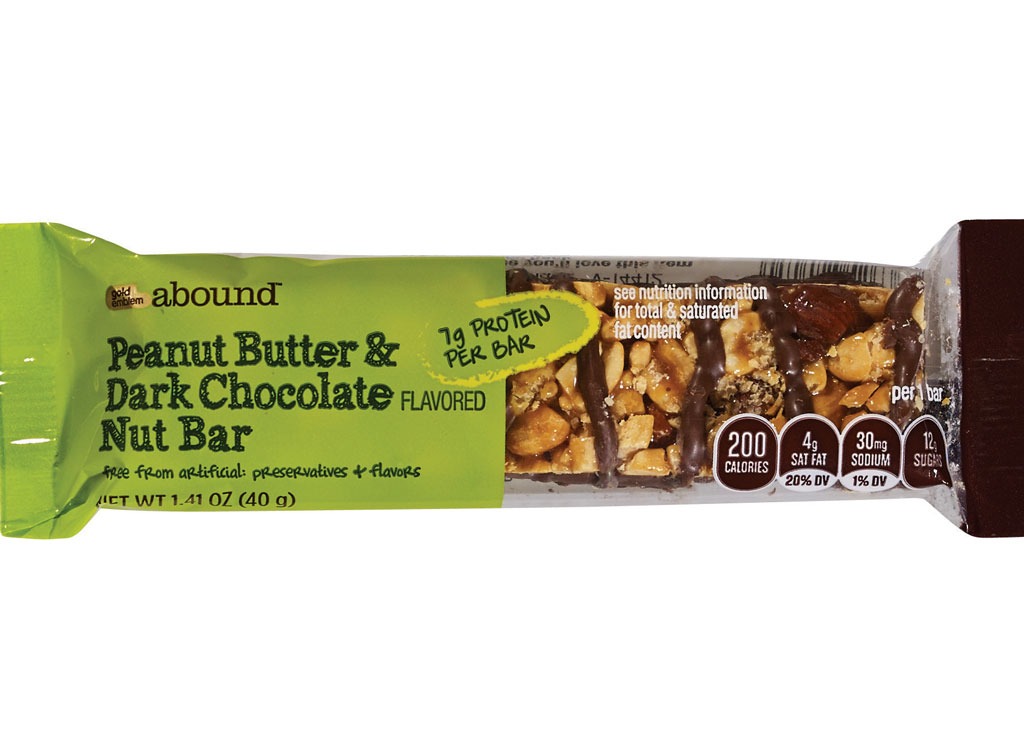 Price at most stores: $1.67
Walk past the candy aisle and track down this delicious chocolate-drenched bar. For 200 calories—the perfect amount for a snack—you'll also get 7 grams of protein and 3 grams of fiber.
Gold Emblem Abound Pure Brazilian Coconut Water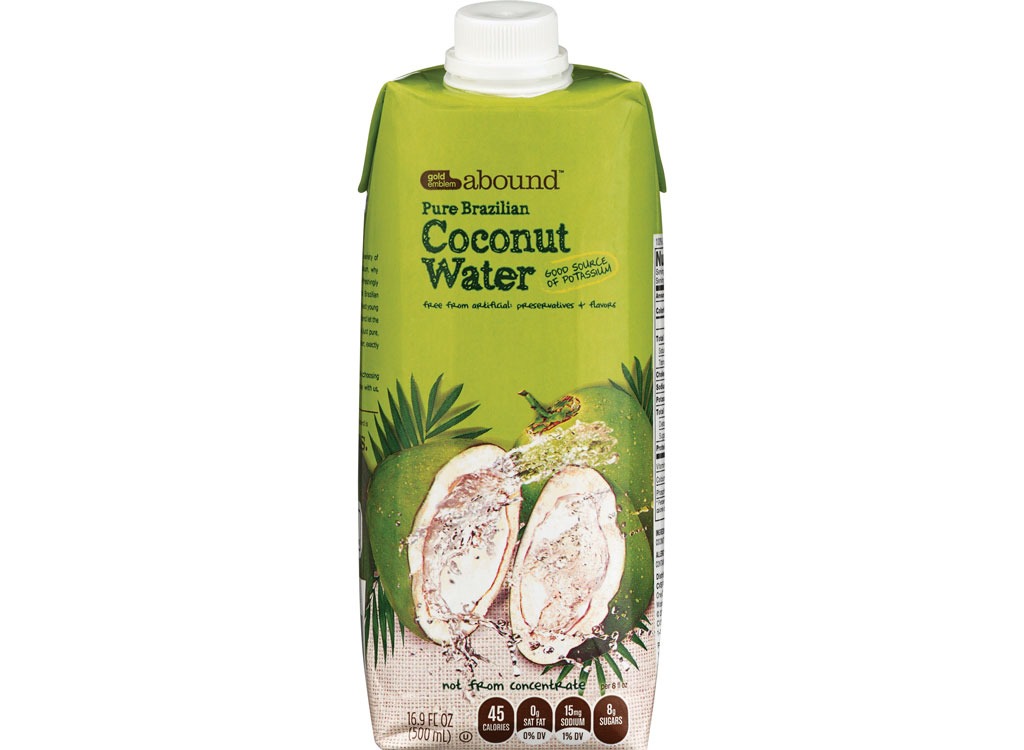 Price at most stores: $2.49
It's time to ditch the Gatorade and all of its excess calories. After your next workout, run into CVS and pick up a bottle of this coconut water instead. A single 45-calorie serving provides 14 percent of a day's potassium, along with a reasonable 8 grams of sugar. Both nutrients are much-needed after a tough workout. For even more ways to refuel after you break a sweat, check out our report 20 Trainers Reveal What They Eat After a Workout.
Earnest Eats Hot & Fit Cereal, Mayan Blend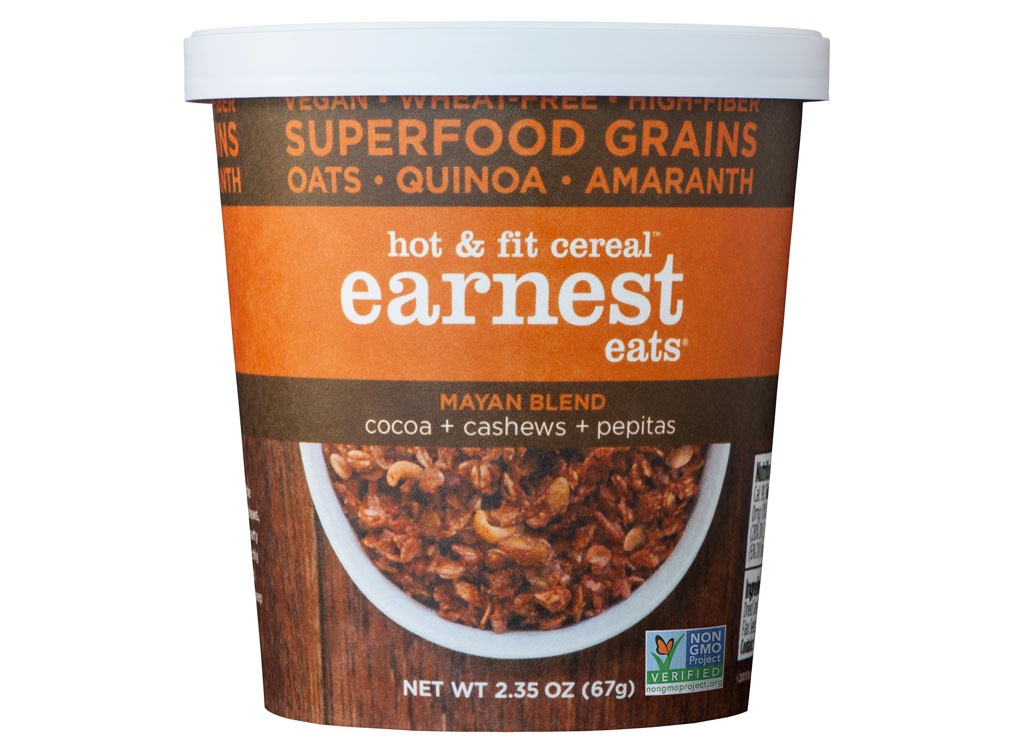 Price at most stores: $2.27
This hot-cereal blend is perfect for hectic mornings when you don't have time to prepare breakfast. Stash a few in your desk for a 290-calorie morning meal with an impressive 7 grams of fiber and 9 grams of protein. For more healthy ways to kick off your day, don't miss these 17 Breakfast Ideas Diet Experts Love.
Larabar Bites, Chocolate Macaroon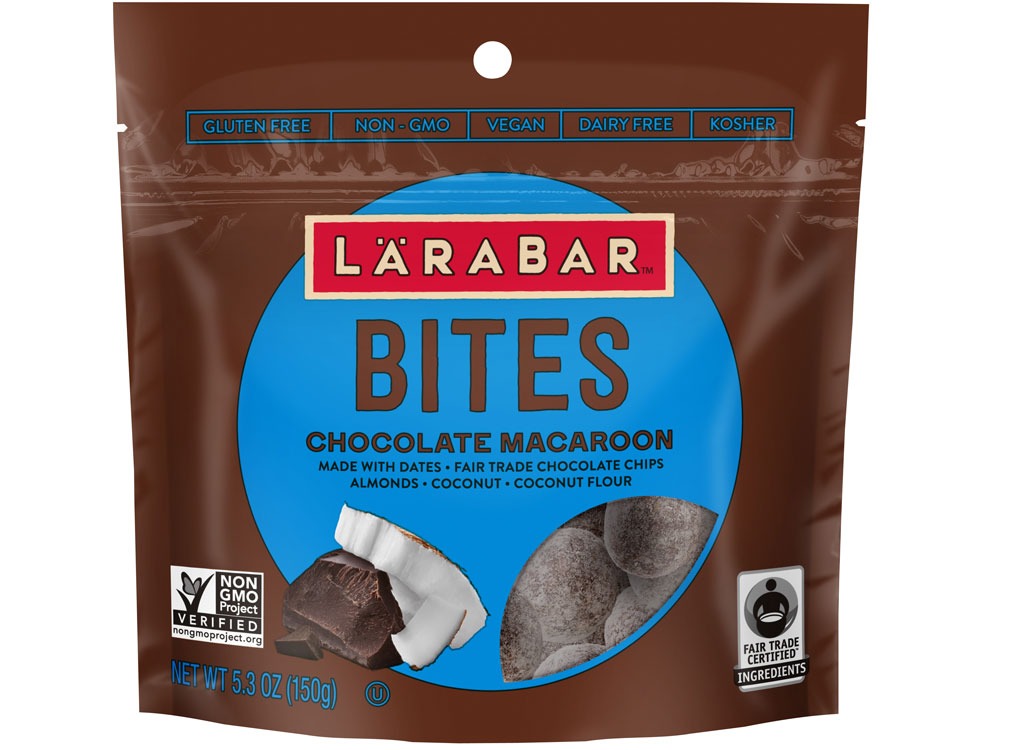 Price at most stores: $5.79
This healthy dessert alternative is made with dates, chocolate chips, almonds, coconut, and coconut flour—that's it! Pair one or two with a cup of green tea and a small bowl of berries for a snack that only tastes indulgent.
Gold Emblem Abound Barbecue Quinoa Chia Chips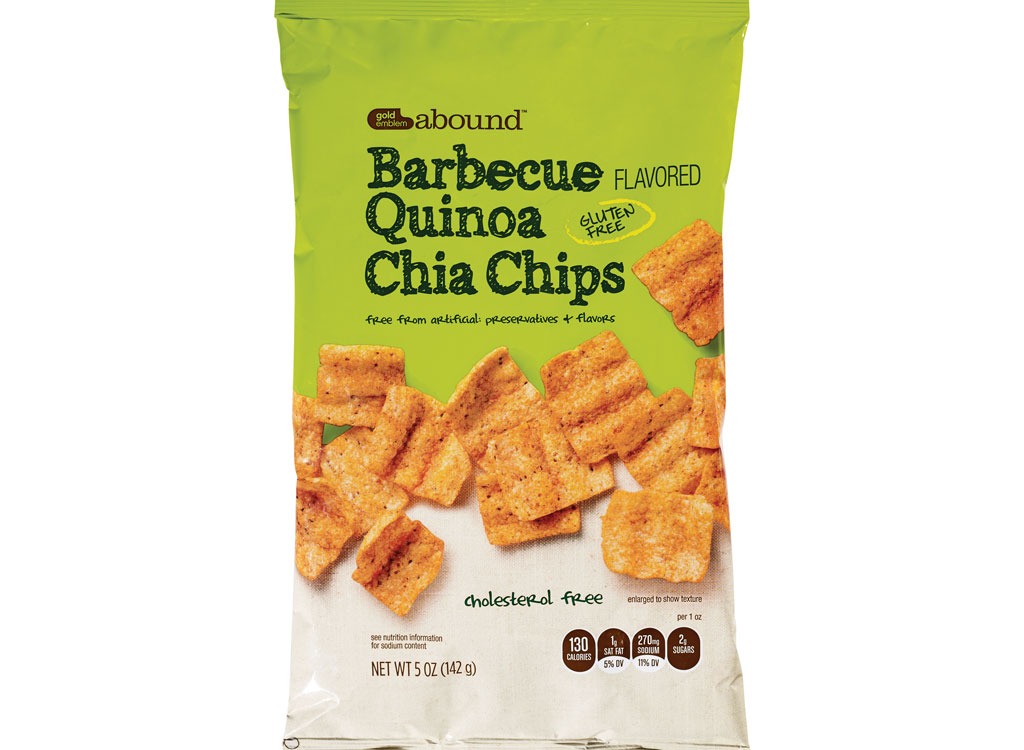 Price at most stores: $3.19
If you're going to eat a chip, you may as well try to sneak in some nutrition. This gluten-free bag of goodness does just that by adding superfoods like chia and quinoa to the recipe.
Gold Emblem Abound Heavenly Light Popcorn
Price at most stores: $2.99
This light and crunchy popcorn is a crowd-pleasing favorite. Fans of the whole-grain treat say that despite its low-sodium count (150 milligrams per serving), it's super-flavorful. What more could you want from a wholesome snack?
BarkThins Dark Chocolate Almond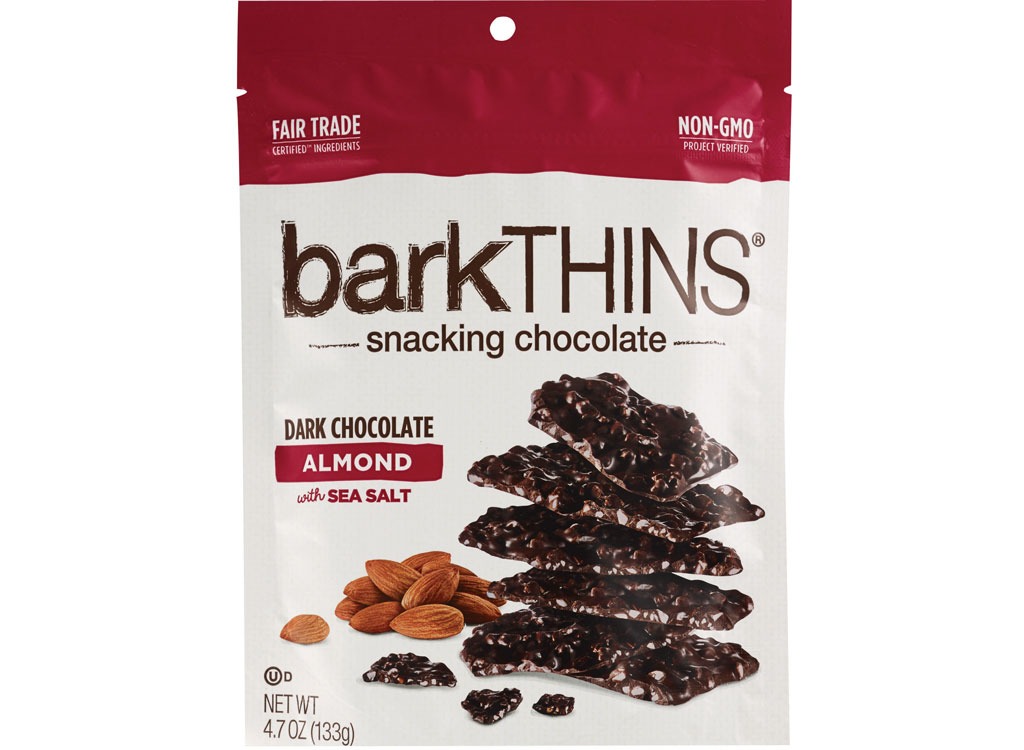 Price at most stores: $4.99
Any candy that contains a source of protein will be better for you than one that's filled with carbs, like pretzels or rice crisps. That's because the protein will help slow down the absorption of sugar and provide your body with a bit of nutrition. A serving of BarkThins Dark Chocolate Almond has 220 calories, 11 grams of sugar, and 4 grams of protein. Compared to many other sweet treats, that isn't half bad. For more better-for-you-ways to quell your sugar cravings, don't miss these 25 Nutritionist-Approved Ways to Satisfy Your Sweet Tooth.
Gold Emblem Abound Mixed Fruit Crisps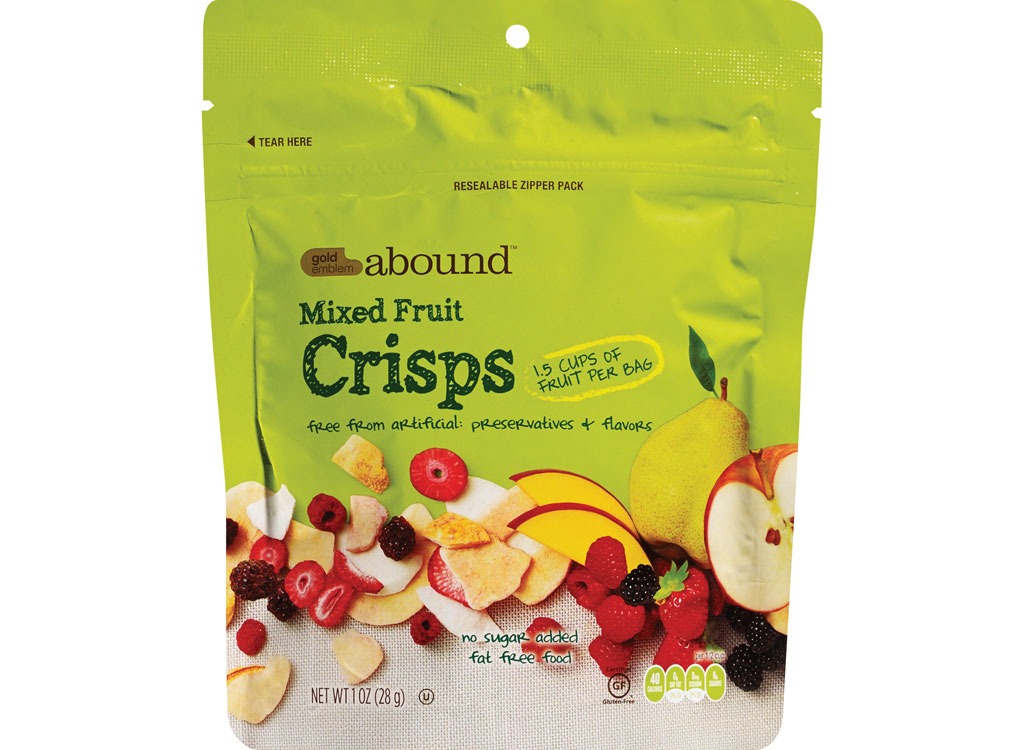 Price at most stores: $3.99
We love that this snack has the texture of a potato chip with all the nutrients of a fruit salad. You won't find any junk inside the bag, either. It's made solely of freeze-dried Fuji apples, freeze-dried Asian pears, freeze-dried strawberries, freeze-dried blackberries, freeze-dried mangos, and freeze-dried raspberries. Can you say, "yum"!?