Eat This, Not That! at Walmart
You don't always have to spend more to get healthy food! Believe it or not, Walmart's Great Value brand really does have some great value for your waistline.
Many people (incorrectly) assume that store brand goods—often referred to as private label—are inferior to those of name brands. Let us clue you in on a little secret: they're not! Private label products are often made in the same facilities that produce the name-brand stuff, meaning it's the same quality—or sometimes even better—than the pricier versions.
This holds true for Walmart's Great Value brand, too. The retailer's store brand is full of healthy foods like frozen fruits and veggies, but there are other hidden gems you might not know about. See which swaps will save you money (and extra inches on your waistline!) and keep the smart moves going with these 17 Simple Ways to Save $255 a Month on Groceries.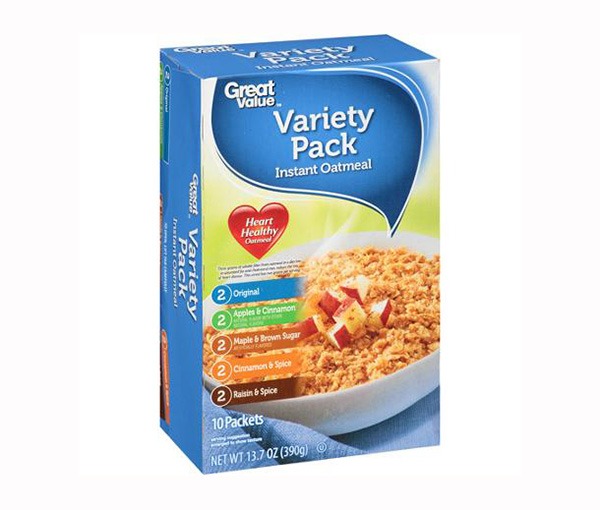 Eat This!
Great Value Instant Oatmeal Spice Variety Pack
Not That!
Quaker Instant Oatmeal Cinnamon and Spice
Oatmeal is always a pretty solid breakfast, but the nutrition changes once you add in the extras. In this case, the Great Value brand is the better choice. At only 100 calories a packet, the GV Oatmeal boasts dried fruit and 4 grams of protein with zero sugar. In comparison, each Quaker packet has 160 calories with 8 grams of sugar. If you have a little time at night and don't have to rely on instant packets, whip up some of these 50 Best Overnight Oats Recipes!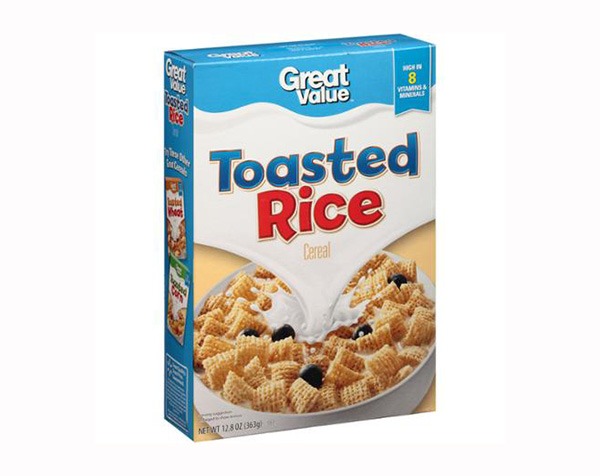 Eat This!
Great Value Toasted Rice Cereal
Not That!
Cinnamon Toast Crunch Cereal
Not all cereal is created equally, but some are definitely better than others. Take the Great Value Toasted Rice Cereal, for example. Each serving of crunchy breakfast treat comes in at 100 calories with only two grams of sugar. The Cinnamon Toast Crunch cereal contains 130 calories in a smaller serving with 9 grams of sugar. If you still want the taste, sprinkle a bit of cinnamon on your cereal—you'll get the taste of cinnamon toast without the added sugar and calories.
Eat This!
Great Value Whole Wheat Penne Pasta
Not That!
Ragu Pasta Old Style Elbows
Think generic products only contain chemicals and processed ingredients? That might be true for some, but Great Value's Whole Wheat Penne Pasta only contains one ingredient: Whole Durum Wheat Flour. Each serving contains 210 calories with only 1.5 grams of fat and 41 grams of carbohydrates. On the other hand, the Ragu Pasta Old Style Elbows has the same amount of calories and carbs per serving but is made with enriched ingredients. For an even healthier choice, opt for energizing, nutrient-rich pulse pasta; pulses are essentially beans. You can find out your options with these 10 Pulse Pastas You Need in Your Life.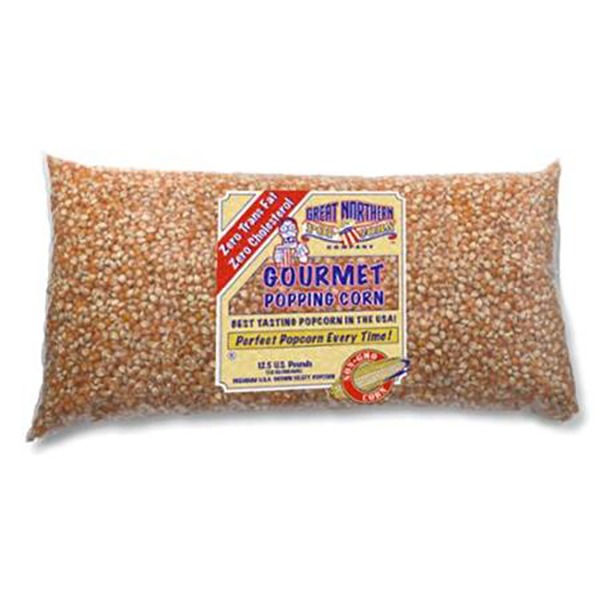 Eat This!6254a4d1642c605c54bf1cab17d50f1e
Great Northern Gourmet Popping Corn
Not That!
Orville Redenbacher Pour Over Movie Theater Microwave Popcorn
There's nothing more relaxing than settling down on the couch to watch a movie and eat popcorn. But the popcorn that you prepare yourself on the stove is much, much healthier than traditional microwave popcorn. Take the Great Northern Gourmet Popping Corn, for instance: The popcorn comes in at 130 calories and 1.5 grams of fat in a hefty serving. In contrast, the Pour Over Movie Theatre Microwave Popcorn has 180 calories in a serving with 14 grams of fat. And that butter? All chemicals—not to mention that prepackaged microwave popcorn is one of the worst foods on the planet that you can eat.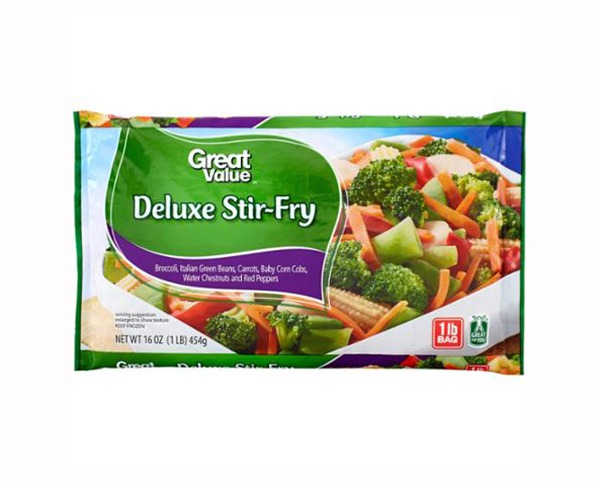 Eat This!
Great Value Deluxe Stir-Fry
Not That!
LaChoy Stir-Fry Vegetables
Great Value's selection of frozen veggies is vast—there are a variety of styles, all for super low prices. For example, the frozen Deluxe Stir-Fry comes with carrots, broccoli, Italian green beans, water chestnuts, red peppers, and baby corn for only 25 calories a serving. LaChoy's canned varieties are similar in calories and ingredients, but canned goods are nowhere near as healthy for your body.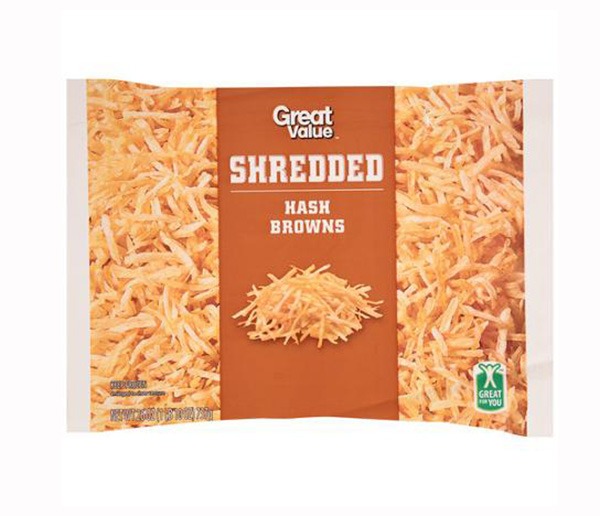 Eat This!
Great Value Shredded Hash Browns
Not That!
Kraft-Velveeta Hash Browns Cheesy Potatoes
Again, the Great Value option is made with only one ingredient—potatoes—at 70 calories a serving. The Kraft Cheesy Potatoes, on the other hand, are made with processed ingredients out the wazoo—like liquid Velveeta (not cheese)—and double the calories and fat per serving. You're better off melting a bit of your own cheddar cheese over the GV version to save on fat, calories, and fun. While extra ingredients are on your mind, discover these 23 Worst Food Additives in America.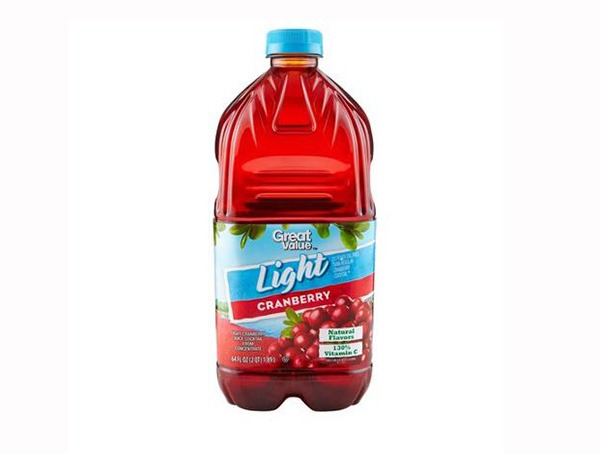 Eat This!
Great Value Light Cranberry Juice
Not That!
Welch's 100% White Grape Juice
While juice isn't always the best beverage to drink—it's made from sugar-laden fruit, after all—it is a nice thirst quencher to have once in awhile. (Bonus: Cranberry juice is one of the 20 Foods to Boost Your Vagina Health!) This GV version has 40 calories in a serving with 9 grams of sugar. That may seem like a lot of sugar, but the Welch's variety has over double the calories at 170 a serving with a whopping 34 grams of sugar. Pass the Great Value, please.
Eat This!
Great Value Greek Nonfat Yogurt
Not That!
Yoplait Greek 100 Calories with Fruit
Yogurt is always a good sweet snack, but they're not all created equal. The Great Value fat-free version has almost half of the sugar of the fruity Yoplait versions. The reason: the added ingredients. Instead, go for the plain GV version and then add some fruit or honey for added sweetness.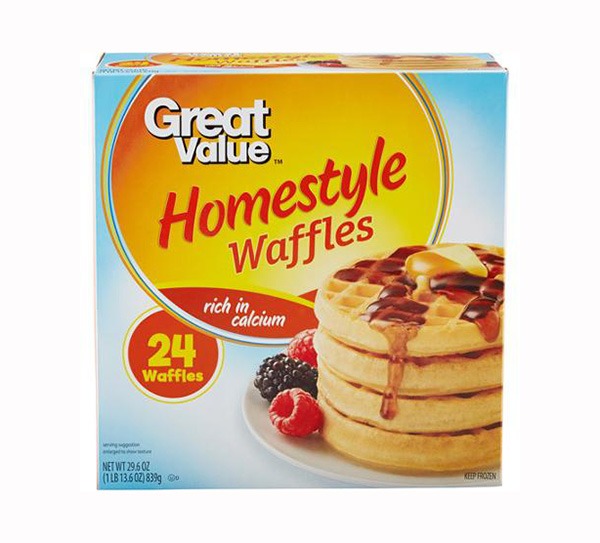 Eat This!
Great Value Homestyle Waffles
Not That!
Kellogg's Eggo Strawberry Waffles
While both the Great Value and the Eggo Waffles are the same in calories, there's a big difference in the amount of sugar in each. The strawberry waffles have more than triple the sugar of the GV homestyle waffles—and that's without any extra topping. Your best bet? Stick with the plain and add fresh fruit to the top for added nutrients and taste. Or now that you have a good base, get creative with these 20 Healthy Ways to Trick Out Your Waffles!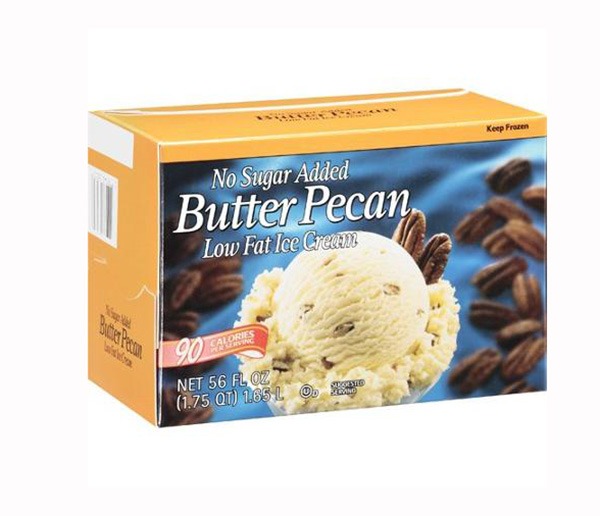 Eat This!
Great Value Low Fat Butter Pecan Ice Cream
Not That!
Breyer's Original Butter Pecan
If you're purely looking for low calories and sugar in your ice cream, then the Great Value version is the way to go. A serving only contains 90 calories with 2 grams of fat and 5 grams of sugar. The Breyer's, on the other hand, has double the calories, sugar and fat.