51 Healthy Overnight Oats Recipes for Weight Loss
These easy oatmeals take only minutes to prep the night before.
If you're looking for a low-effort breakfast that's extremely healthy and can even help you lose weight, you've found your solution with overnight oats.
Unlike oatmeal, which is cooked in boiling water on the stove or zapped in the microwave, overnight oats are not cooked at all. They're actually just rolled oats that are left to soak in liquid overnight in the fridge.
A breakfast that basically cooks itself while you sleep? Where do we sign up?
Because you'll be using rolled oats, which are already pre-cooked, allowing the oats to soak in a liquid overnight is enough to soften the grain to the same texture as would cooking.
People are raving about overnight oats because they are easy to make, don't require any cooking or extra pans to wash, they take a fraction of the time to put together, and they're perfect for meal prep.
Have we sold you yet?  If not, we found some awesome health benefits of your new favorite breakfast along with some tips for how to make the best recipe and best practices for storage.
For more, don't miss these 91+ Best Healthy Breakfast Recipes for Weight Loss.
Are overnight oats healthy?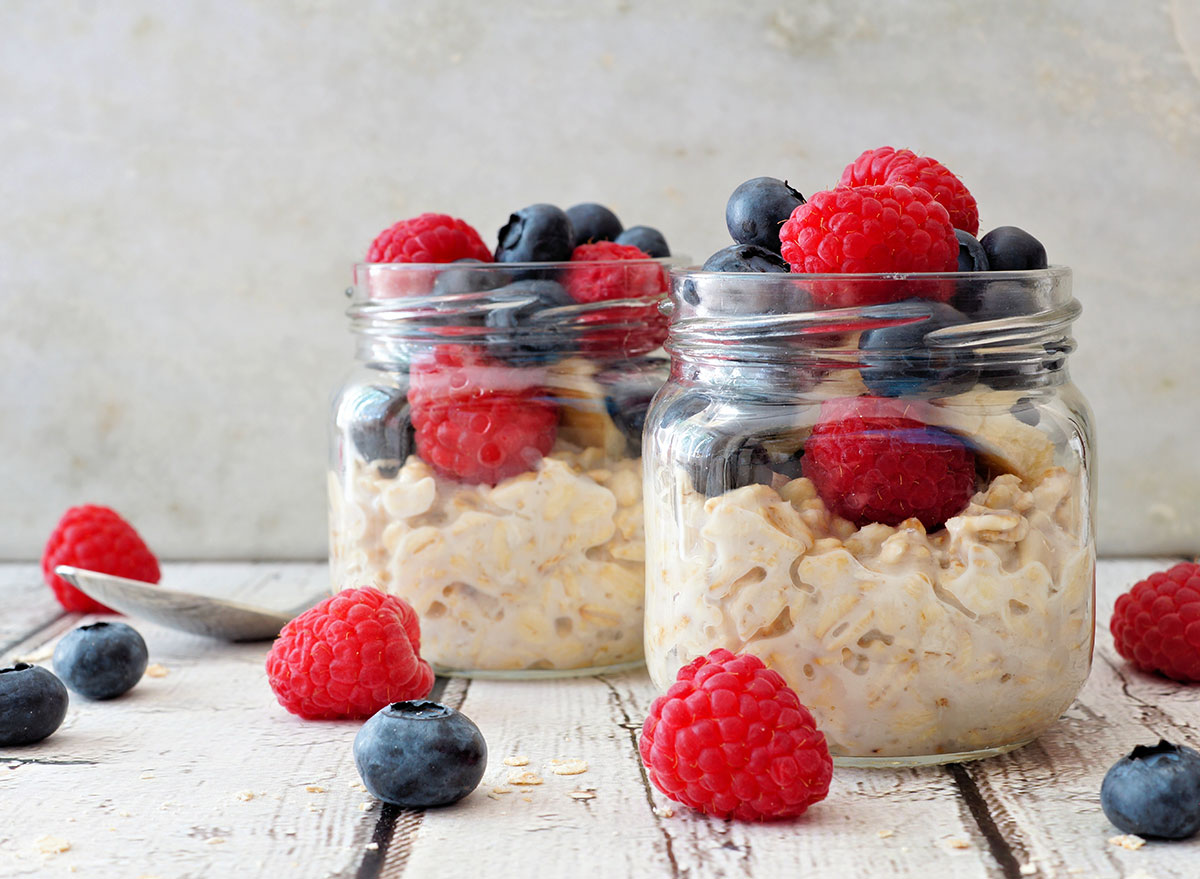 There are countless health benefits of overnight oatmeal. A cup will help you feel full and satisfied. People who eat oatmeal for breakfast feel full for longer and consume fewer calories at lunch than when they consume corn flakes, according to an Annals of Nutrition and Metabolism study. Overnight oats are good for your gut health. Uncooked, rolled oats that you use in overnight oats contain 8.5 grams of resistant starch. Cooked oatmeal, on the other hand, only contains 0.3 grams of resistant starch. Resistant starch is a type of prebiotic fiber that your body doesn't digest. Instead, it passes through your digestive system untouched until it reaches your gut, where it is fermented by your gut bacteria and helps to promote a healthy gut environment. Oats are high in fiber. A half a cup of rolled oats (the standard serving size for overnight oats) contains 4 grams of fiber. That's equivalent to 14 percent of how much fiber you should eat per day. Fiber benefits include keeping your digestive system regular, keeping you full, and protecting your heart. Oatmeal is good for heart health. A specific oat fiber called beta-glucan has been shown to reduce cholesterol levels by 5 to 10 percent, according to a study in the Journal of Nutrition and Metabolism.
Although overnight oatmeal has health benefits, how healthy your overnight oats can be depends on how you make them. Make sure you're not adding some of the worst overnight oat ingredients to them, like added sugars, and flavored milks.
A well-balanced breakfast should contain carbs, fat, protein, and fiber. Balance out carb-heavy oats and ensure your overnight oats are healthy and can help you lose weight by choosing one of our hand-picked recipes below that contain healthy fats (nuts or nut butter), protein (protein powder, dairy milk, yogurt, nuts), and fiber (seeds, whole fruit).
How to make overnight oats.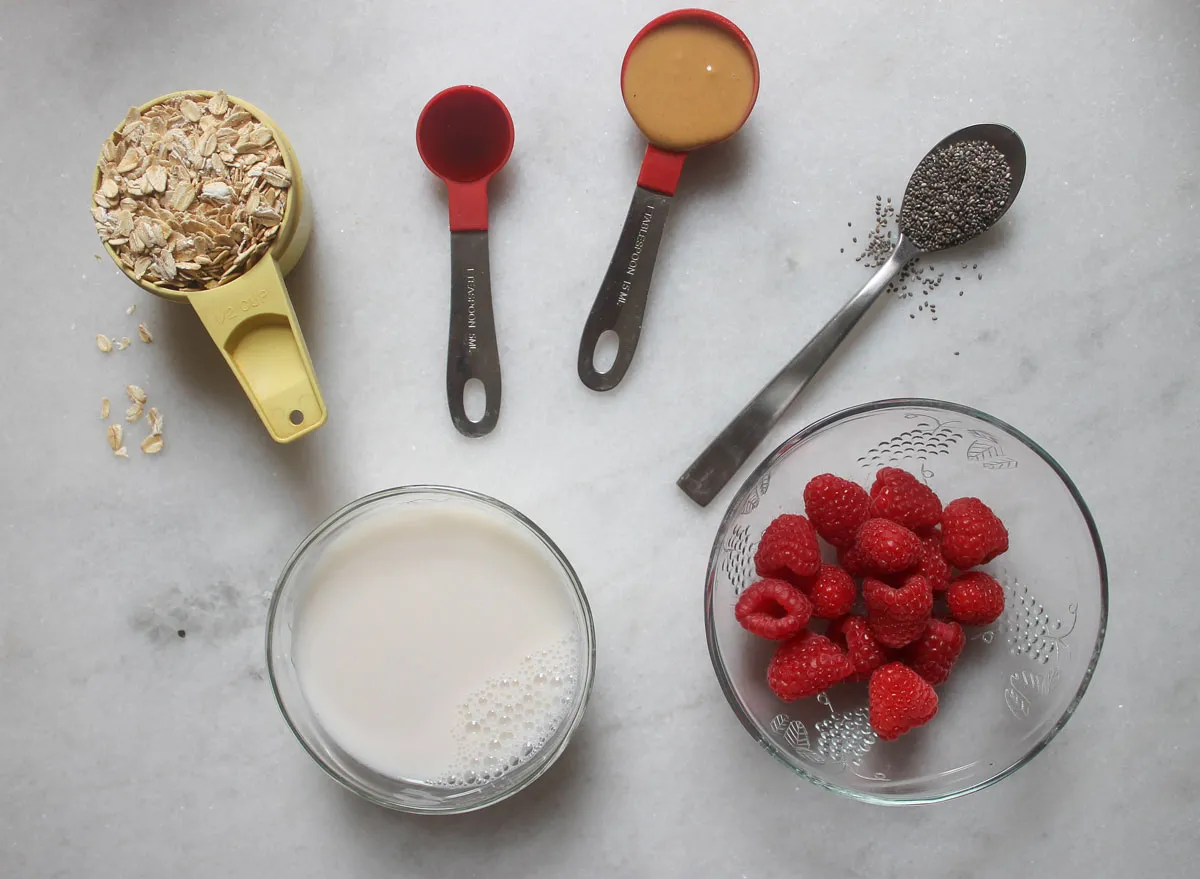 Making overnight oatmeal is easy and can be broken down in a few, simple steps.
Pick your flavor combination. What are you in the mood for? (The possibilities are endless, which is why we've rounded up some recipe inspiration below!) You can throw in some seeds, add-ins like protein powder or Greek yogurt, flavorings, fruit, and other ingredients.
Mix your oats, mix-ins, and liquid in a jar. Fill a Mason jar or small plastic or glass container with a 2:1 ratio of rolled oats* to a liquid, like nut milk or water. If ratios aren't for you, you can also try the technique of pouring your favorite milk to cover the oats, waiting until the bubbles stop, and then topping off the blend with another splash of liquid to make sure the oats are entirely covered.
Stir it up and let it soak. Give your mix a stir, and throw it in the refrigerator to let it soak overnight (7-8 hours). (If you're in a rush, your overnight oats will also be ready in 4-5 hours.) While you're sleeping, the flavors fuse together, so all you have to do is eat it in the morning—no cooking required!
If you like eating hot oatmeal, you can also eat your overnight oats warm by popping them in the microwave for a minute or so. Check out our favorite mouthwatering overnight oats recipes coming up that will keep you on track toward your better-body goals.
*NOTE: You can also use instant oats instead of rolled oats. This swap allows your overnight oats to be ready quicker because instant oats are partially cooked even more than rolled oats.
How to store overnight oats.
Overnight oats should be stored in the refrigerator in an airtight container immediately after you mix them.
You might be wondering: "Why do I have to refrigerate overnight oats if I used all non-perishable foods to make them?"
While it may seem odd to refrigerate a mix of oats, water, seeds, nut butter, dried fruit, and spices, "keeping the oats stored in the refrigerator is a critical step in keeping the food safe," says Erin DiCaprio, PhD, a food safety specialist at the University of California Davis.
"Oats are not pasteurized, meaning that there could be microbial pathogens present in the oats," DiCaprio tells us. Typically, you can keep oats in dry storage because "the low moisture content of the oats prevents the pathogens from growing at room temperature."
However, the story changes when you add milk, water, or nut milks, which DiCaprio explains provides the oats with "water that can allow for these pathogens to increase in numbers if stored at room temperature," which may lead to foodborne illness.
"Storing the oats in the refrigerator will prevent or at least slow down the growth of pathogens if they were present in the oats," notes DiCaprio.
When it comes to how long you should keep your meal-prepped overnight oats, DiCaprio recommends following the standard USDA guidelines for storing leftovers. That means you should keep overnight oats for no more than 4 days in the refrigerator.
While overnight oats will be safe to eat for 4 days, one thing to keep in mind is that the oats will progressively soften the longer you keep them. So as long as you're OK with eating soggy oats on day 4, you should be good to go! You may also notice that the liquid separates from the oats. Be sure to stir the mix again before consuming.
We recommend eating overnight oats in 2 days for optimal flavor and texture.
Next, we've rounded up our favorite healthy overnight oatmeal recipes. Get inspired by these healthy overnight oats ideas so you can meal prep a satiating breakfast.
Peanut Butter Overnight Oats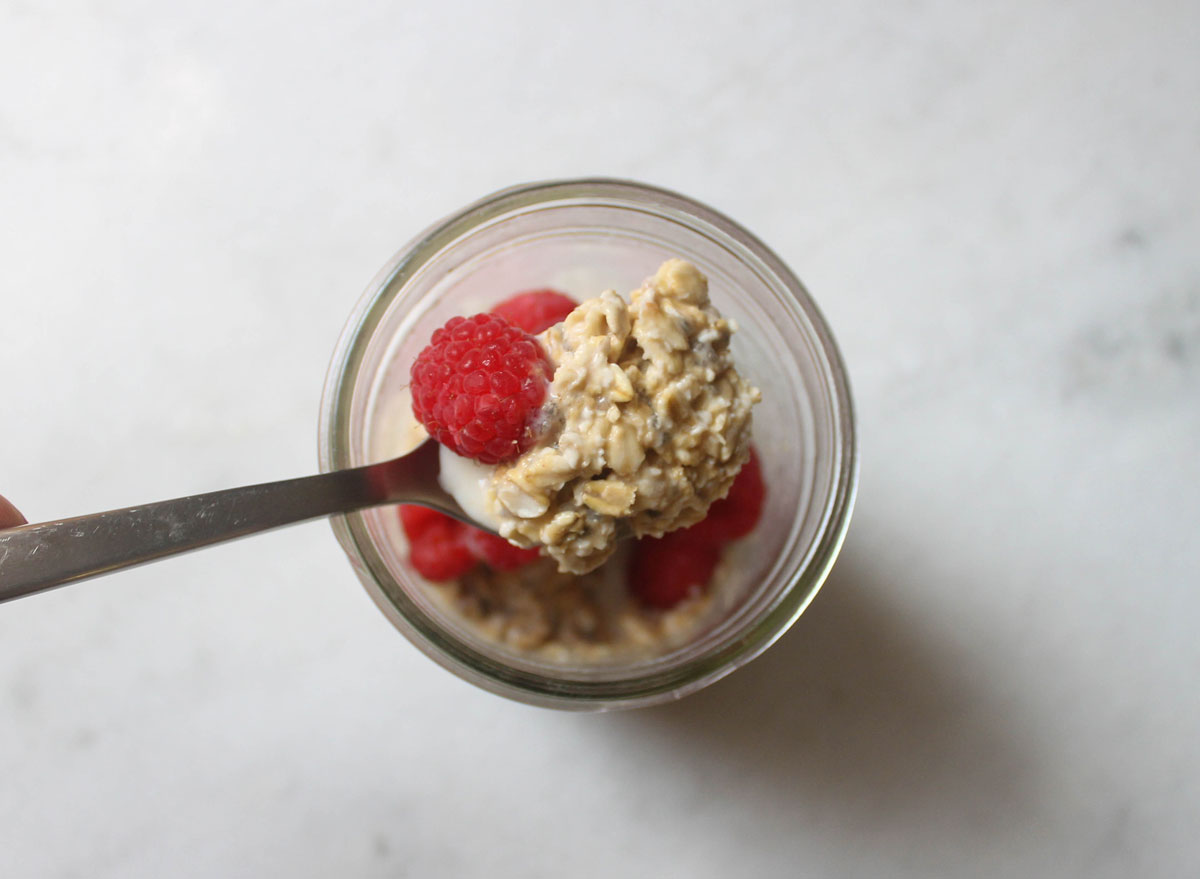 This Mason jar breakfast is perfect for the peanut butter lovers out there. Plus, this is the easiest overnight oats recipe you can make, so it's a great way to try your hand at making the simple healthy breakfast.
Get our recipe for Peanut Butter Overnight Oats. 
Keto Overnight Oats with Berries and Cream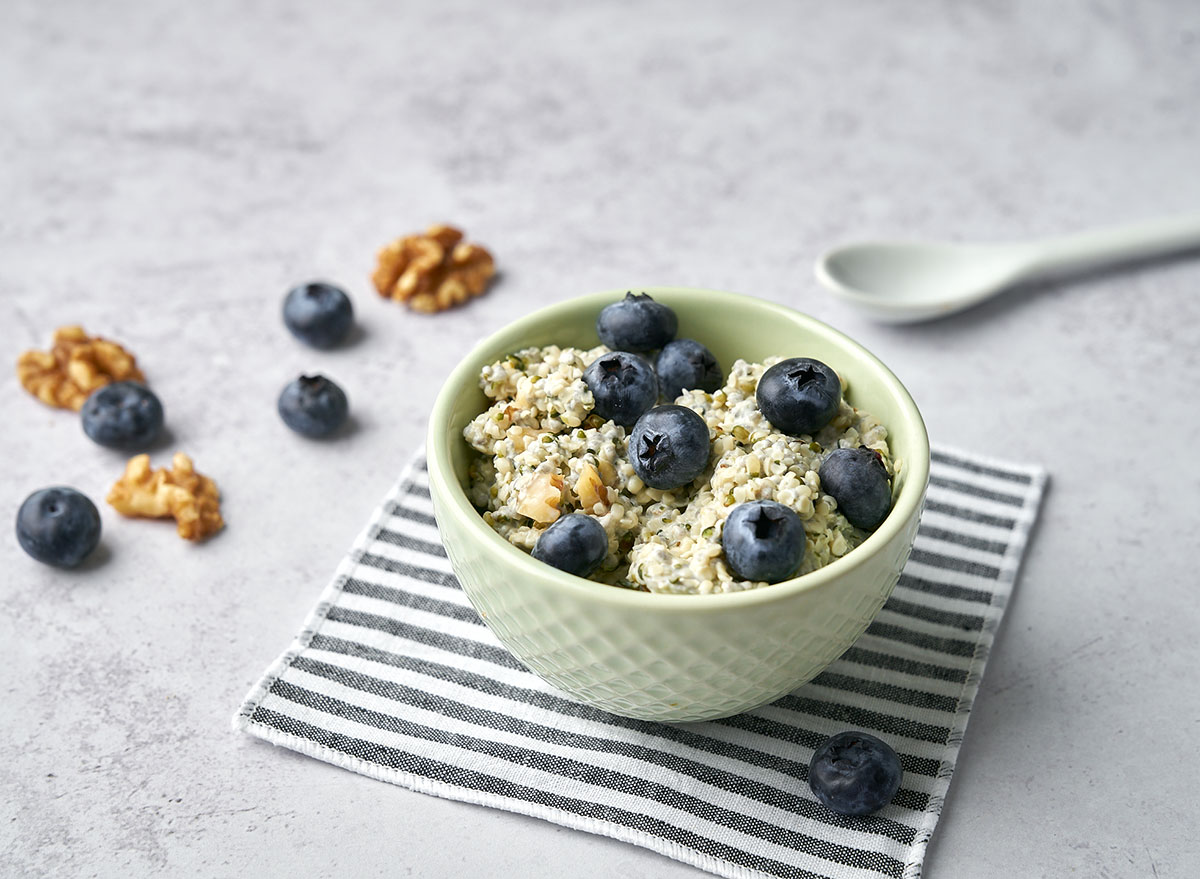 If you're on the Keto diet, but you're still looking for your overnight oat fix, this recipe should be your go-to. The recipe uses hemp hearts, walnuts, and chia seeds as the base to keep it keto-friendly and also incredibly filling and delicious.
Get our recipe for Keto Overnight Oats with Berries and Cream. 
Mango-Ginger Overnight Oats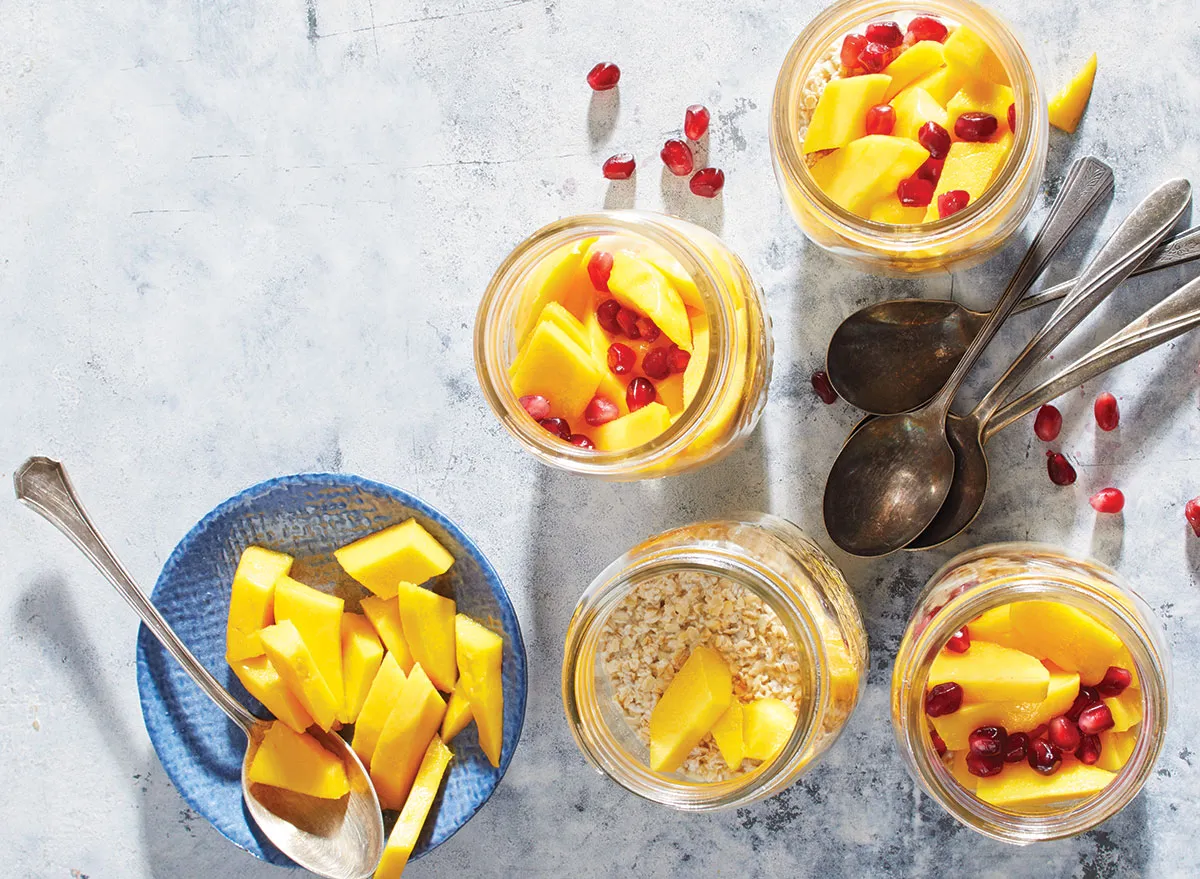 Thanks to mango and pomegranate seeds, this recipe is bursting with flavor. It's a fun way to use fruit beyond strawberries and blueberries in your overnight oats.
Get our recipe for Mango-Ginger Overnight Oats. 
Cinnamon Roll Overnight Oats
With a whopping 15 grams of fiber, this recipe is sure to keep you satisfied. Plus, you know, it tastes like a cinnamon roll, so you'll love this sweet breakfast idea.
Get our recipe for Cinnamon Roll Overnight Oats. 
Pumpkin Pie Overnight Buckwheat and Oats
Who doesn't love pumpkin pie? And pumpkin pie for breakfast—even better! The buckwheat adds some incredible texture to this recipe, really upping the overnight oat game. You're going to want to put this recipe into your breakfast rotation.
Get the recipe from Nutrition in the Kitch.
Strawberry Cheesecake Overnight Oats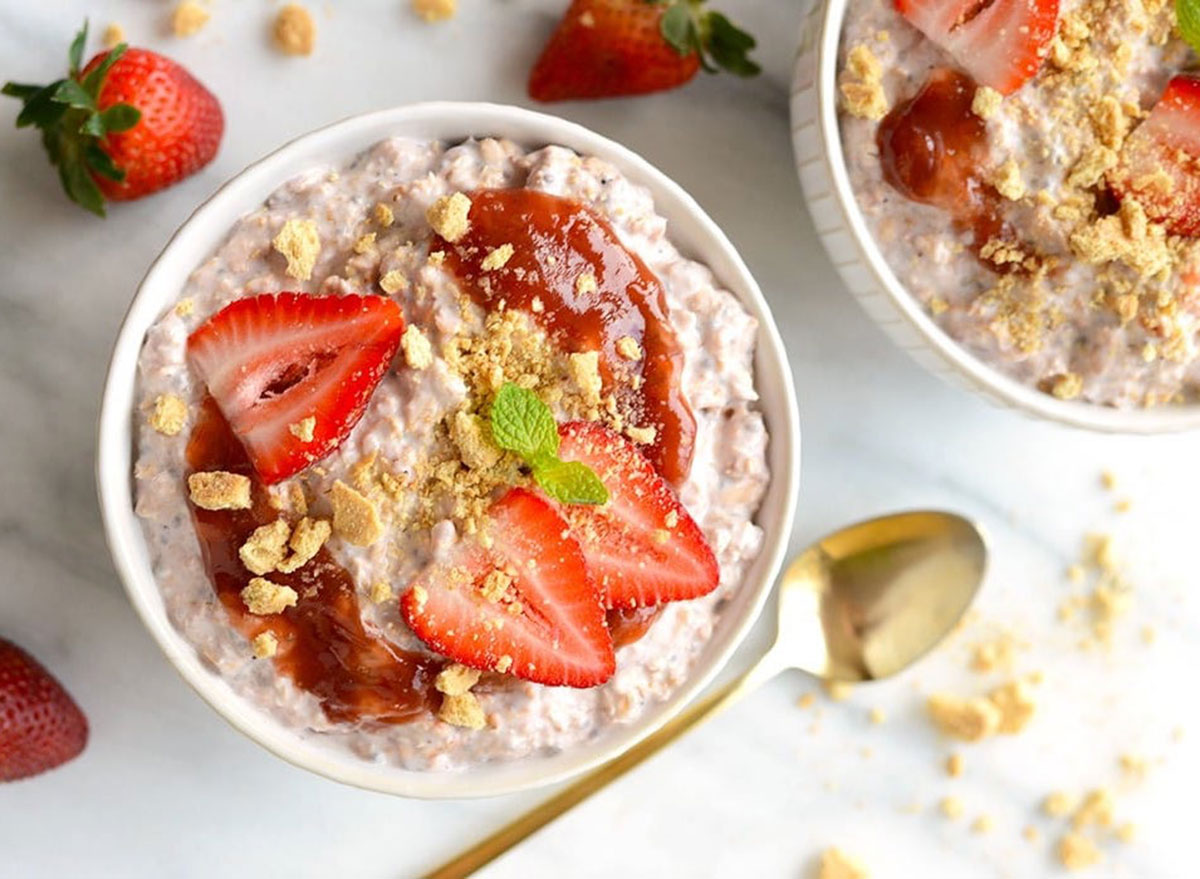 Sticking on the dessert for breakfast trend, this strawberry cheesecake overnight oats recipe is absolute perfection. You won't believe how low in calories this recipe is given the fact it tastes like you're diving into a slice of cheesecake. Topped with graham crackers and strawberry jam, there's truly nothing better.
Get the recipe from Fit Foodie Finds. 
Spiced Pear Overnight Oats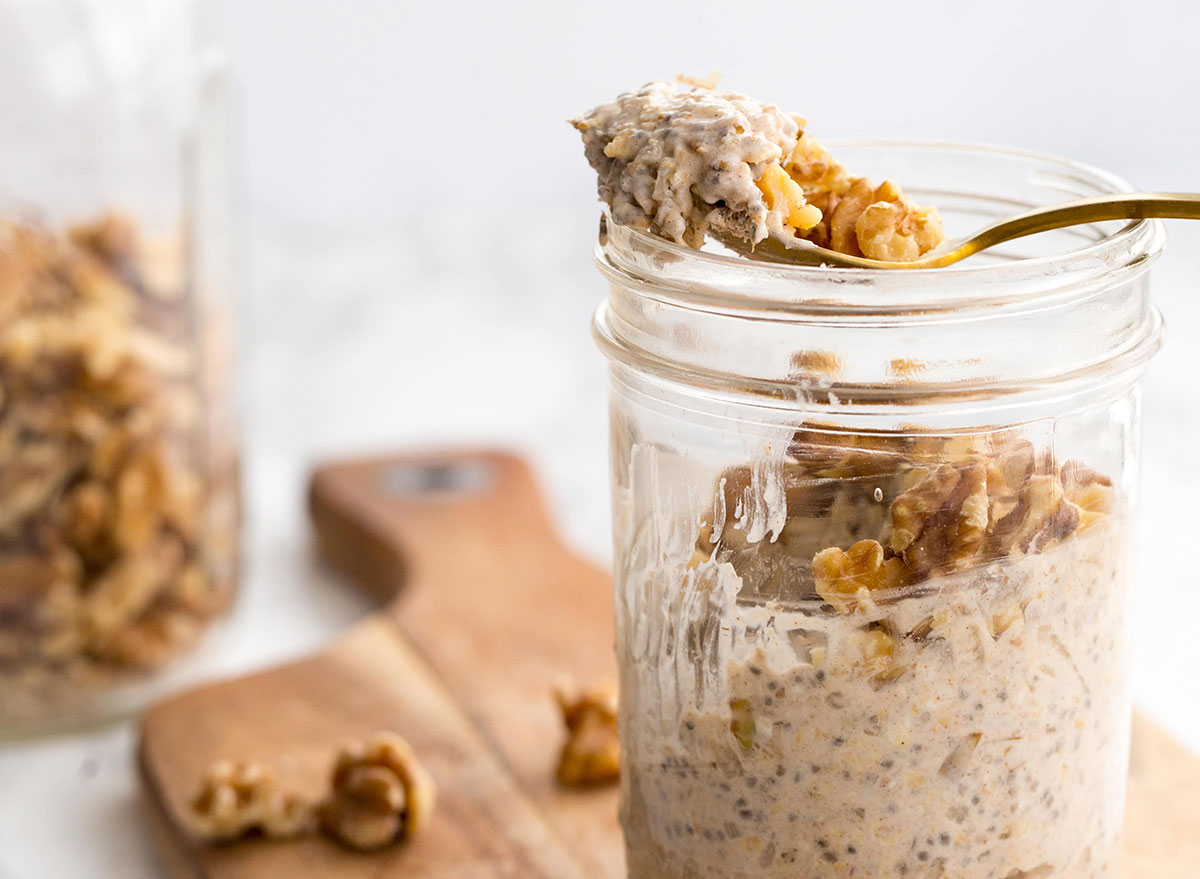 There's just something about adding fresh fruit to overnight oats. It brings a freshness and lightness that we all look for in a breakfast. Keeping with the simple and classic flavors of cinnamon and maple, pear provides that perfect addition. This recipe is just as delicious as it is easy.
Get the recipe from Inspiralized.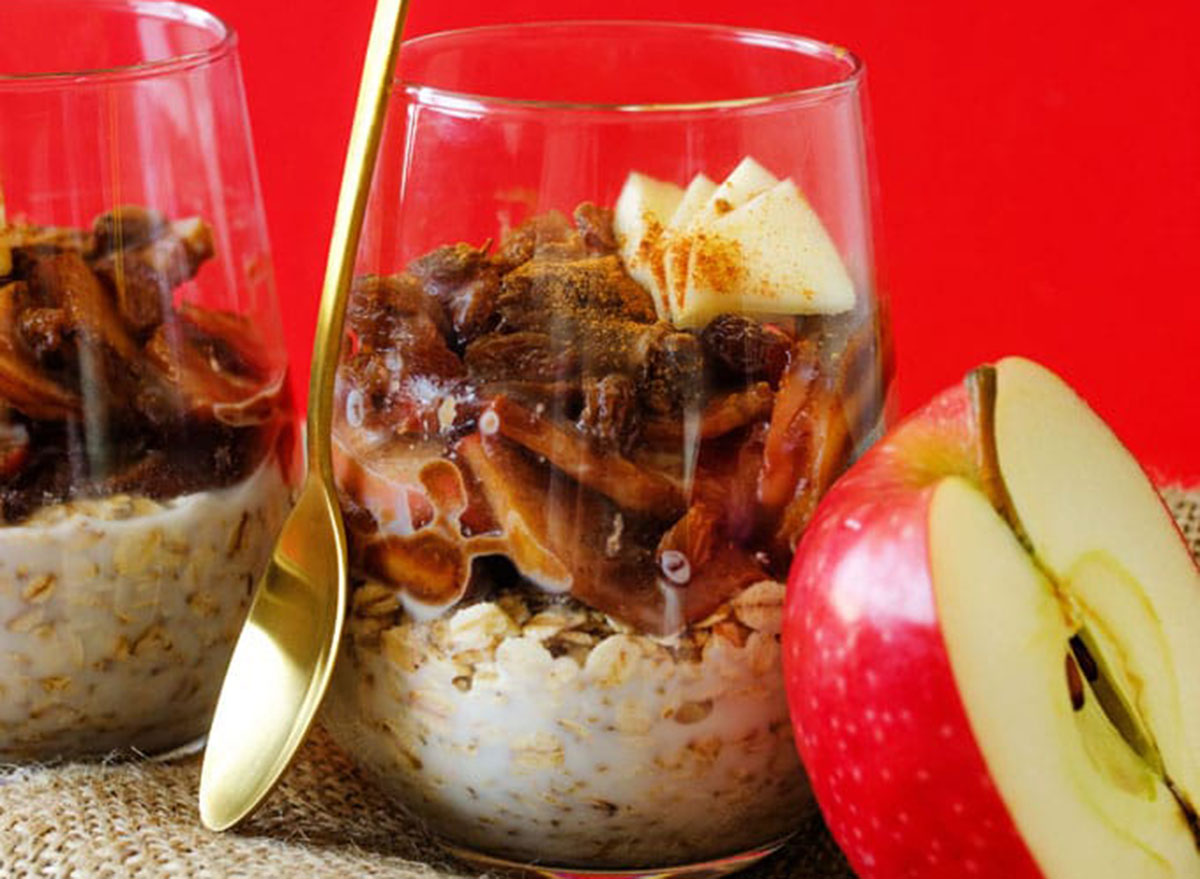 Bet you never thought to cook the apples before popping them in your oats recipes to sit overnight. This recipe truly has it all and in just 15 minutes are ready to put in the fridge and can stay there for a few days. Did somebody say meal prep?
Get the recipe from Live Eat Learn. 
Coffee, step aside. With this breakfast, you can get your caffeine boost without even drinking your morning cup, and with a salted date caramel drizzle on top, you'll be wanting to make this every day. Plus, did we mention it's less than 250 calories?
Get the recipe from Fit Foodie Finds. 
Pumpkin Spice Latte Overnight Oats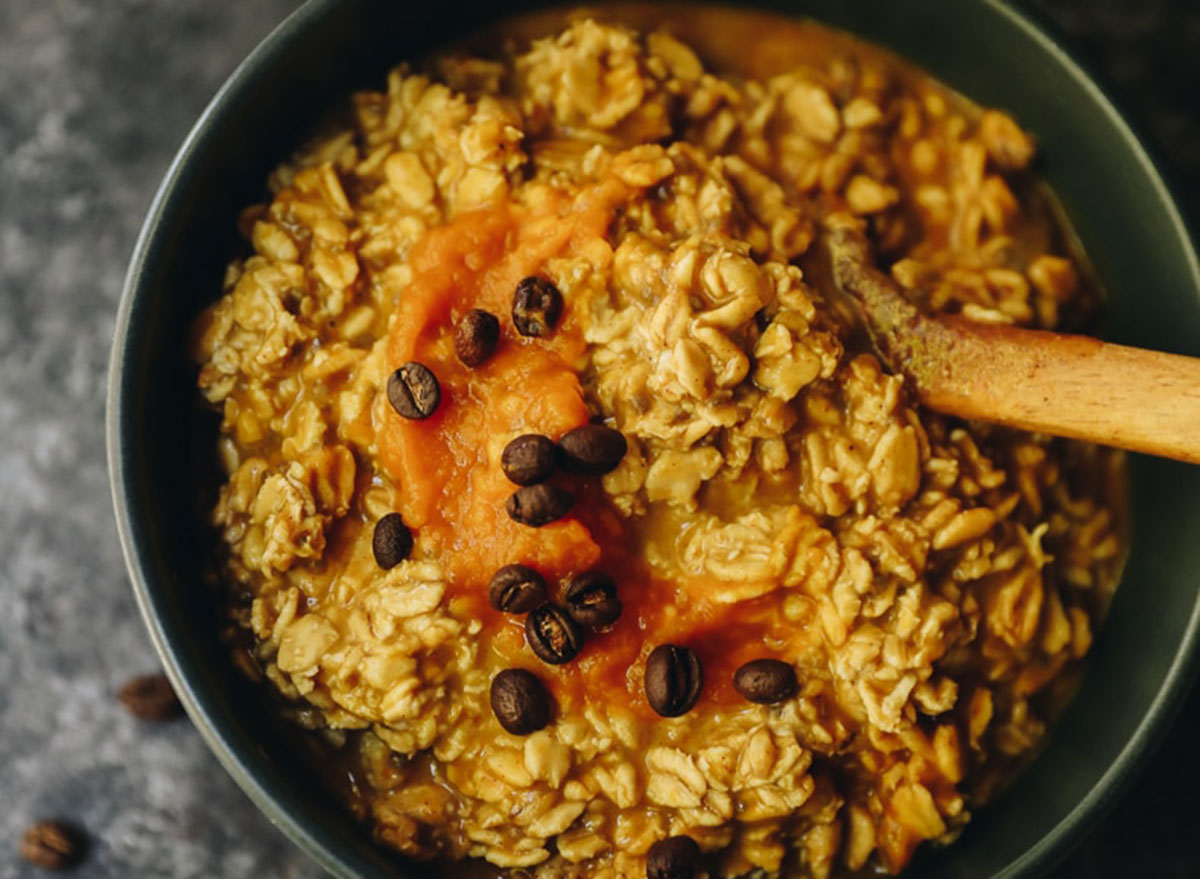 Pumpkin Spice Latte's in oat form? This is a new trend you probably didn't see coming. And it's no longer just a flavor for fall. Enjoy these Pumpkin Spice Latte Overnight Oats at any time of the year.
Get the recipe from The Healthy Maven. 
Neapolitan Overnight Oats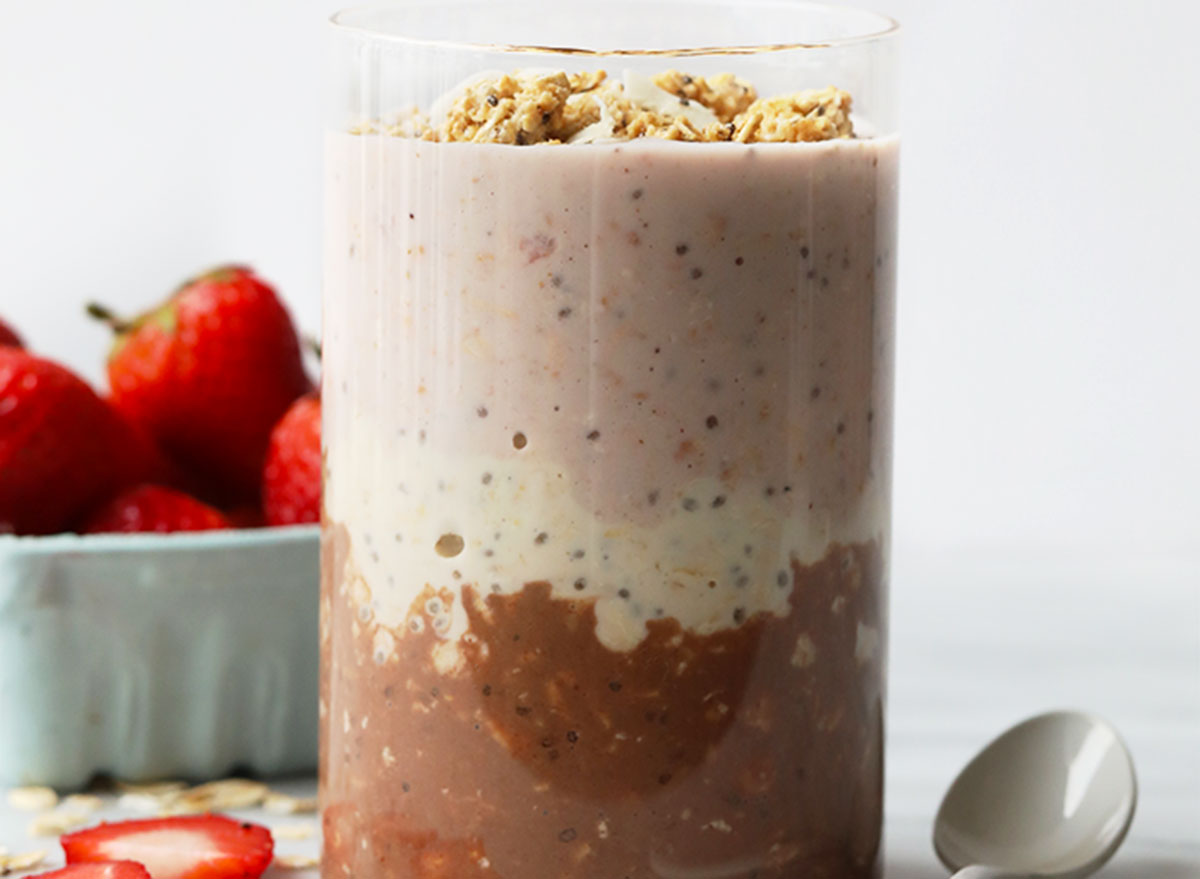 The combination of chocolate, vanilla and strawberry is a classic. There are simple and healthy ways to replicate the Neapolitan flavors that will make you feel like you're having ice cream for breakfast.
Get the recipe from Fit Foodie Finds. 
Chocolate Covered Strawberry Overnight Oats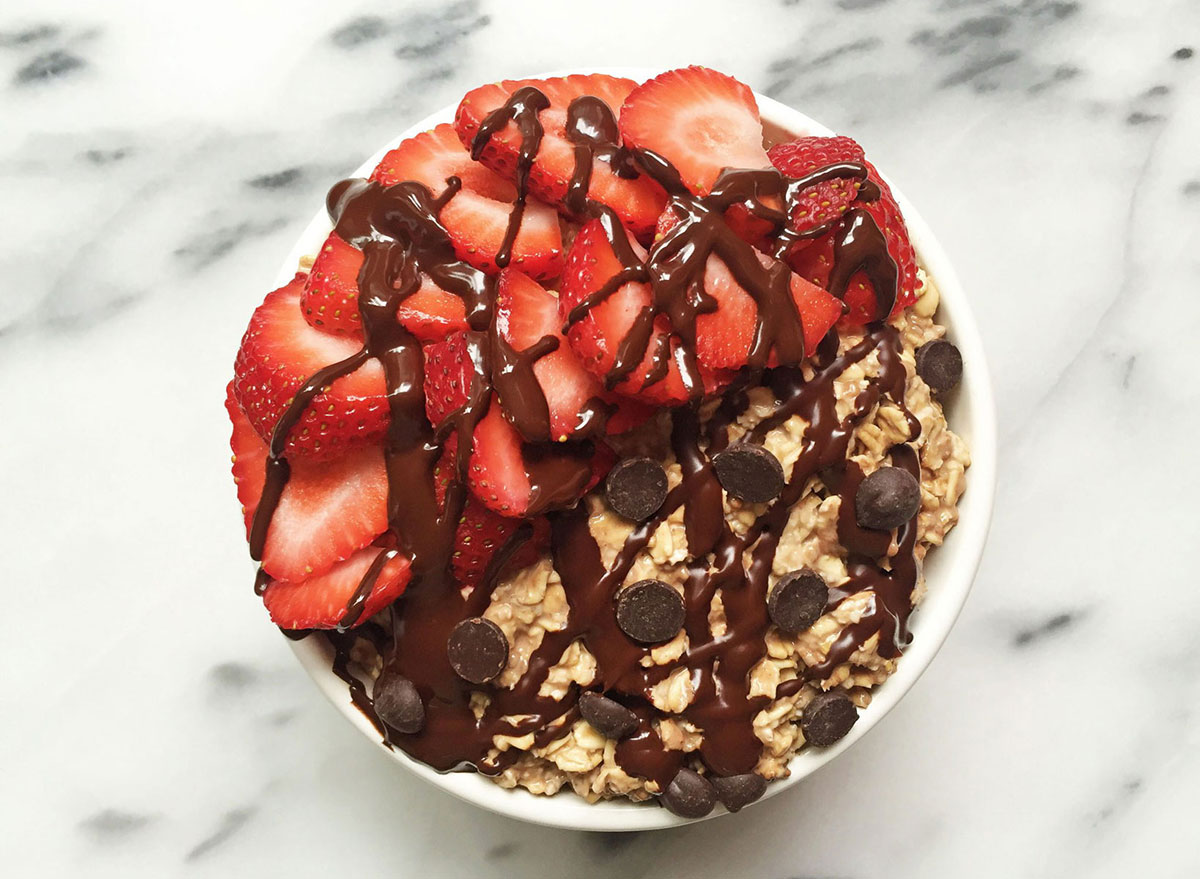 You won't even miss your daily muffin when you start your morning with this fruit- and chocolate-filled creation.
Get the recipe from Rachl Mansfield.
Strawberry Chia Overnight Oats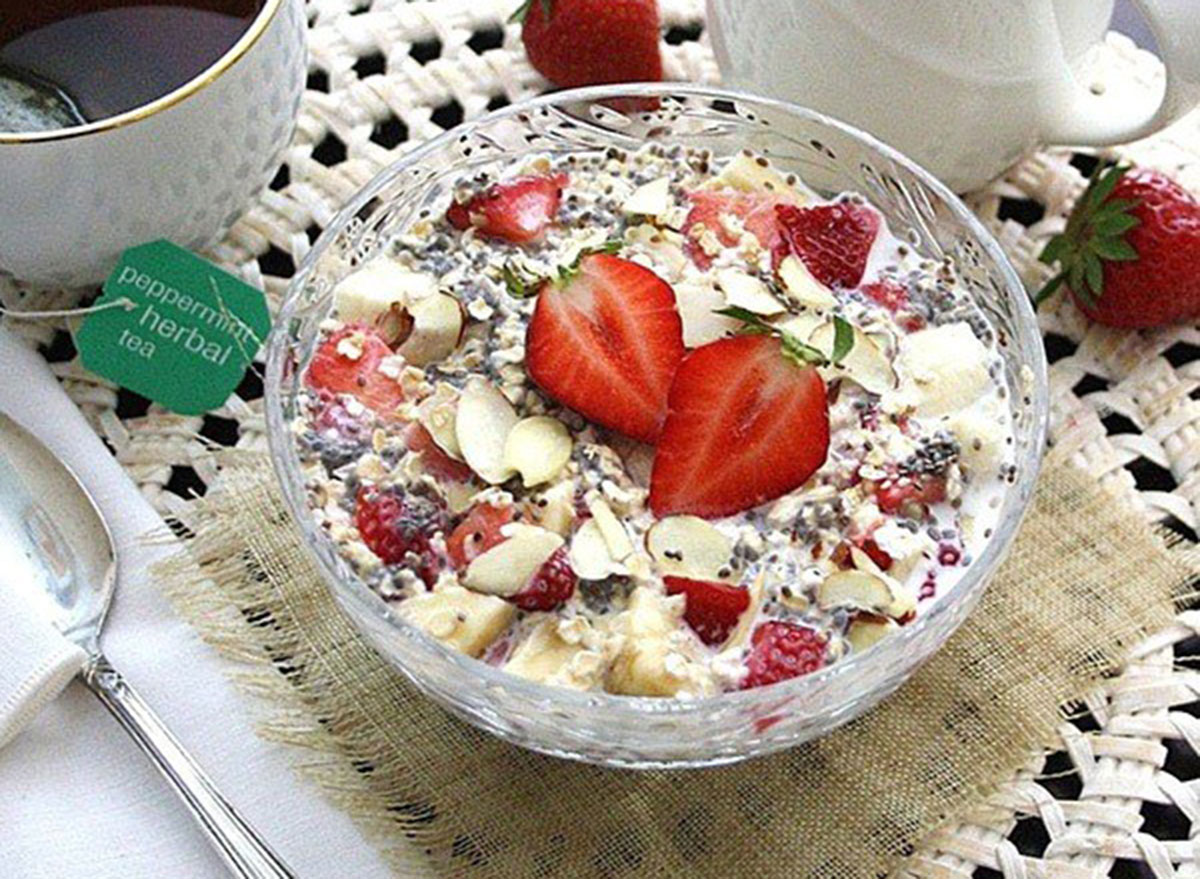 Almonds add a nice crunch to this sweet and satisfying breakfast. Plus, the nut contains belly-filling protein and magnesium, a mineral that helps regulate blood sugar. The more stable your blood sugar levels are, the easier it is to keep cravings, which often lead to overeating and weight gain, at bay.
Get the recipe from Inspired Edibles.
Chocolate Peanut Butter Fudge Overnight Oats
If you have a sweet tooth, this dish is sure to satisfy. Made with chocolate, peanut butter, pumpkin puree, and banana, these creamy low-cal oats could pass as a sinful dessert.
Get the recipe from The Breakfast Drama Queen.
Blueberry-Cashew Cream Overnight Oats
This overnight oats recipe calls for two nutritional superstars: flax and chia seeds. Both are good sources of belly-filling fiber and selenium, a dietary mineral that may lower the risk of heart disease and cancer.
Get the recipe from Naturally Sassy.
Lemon, Thyme, and Honey Overnight Oats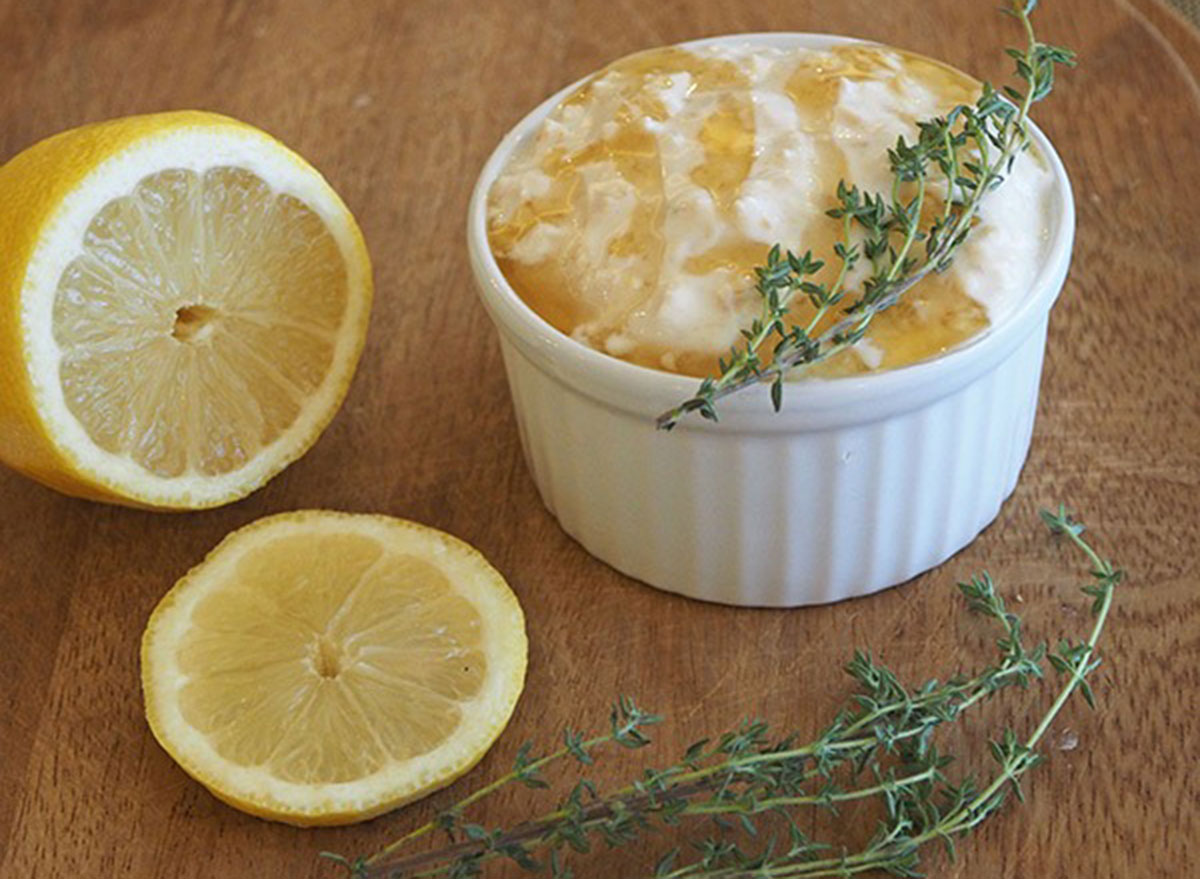 While it may look like a five-star dessert dish, this oatmeal is comprised of only good-for-you ingredients like oats, milk, yogurt, thyme, and lemon.
Get the recipe from The Breakfast Drama Queen.
Cocoa Nib and Pomegranate Overnight Oats
Pomegranate seeds are an oft-overlooked addition to morning oats. The sweet seeds pair nicely with the crunchy, bittersweet cocoa nibs in this easy-to-make breakfast.6254a4d1642c605c54bf1cab17d50f1e
Get the recipe from Oh My Veggies.
Gingerbread Chocolate Overnight Oats
Whoever said gingerbread should be reserved solely for Christmas? Not us! This recipe is easier to whip up than the holiday cookie (and it's low-calorie, too).
Get the recipe from Lauren Kelly Nutrition.
Flax, Blueberry, and Vanilla Overnight Oats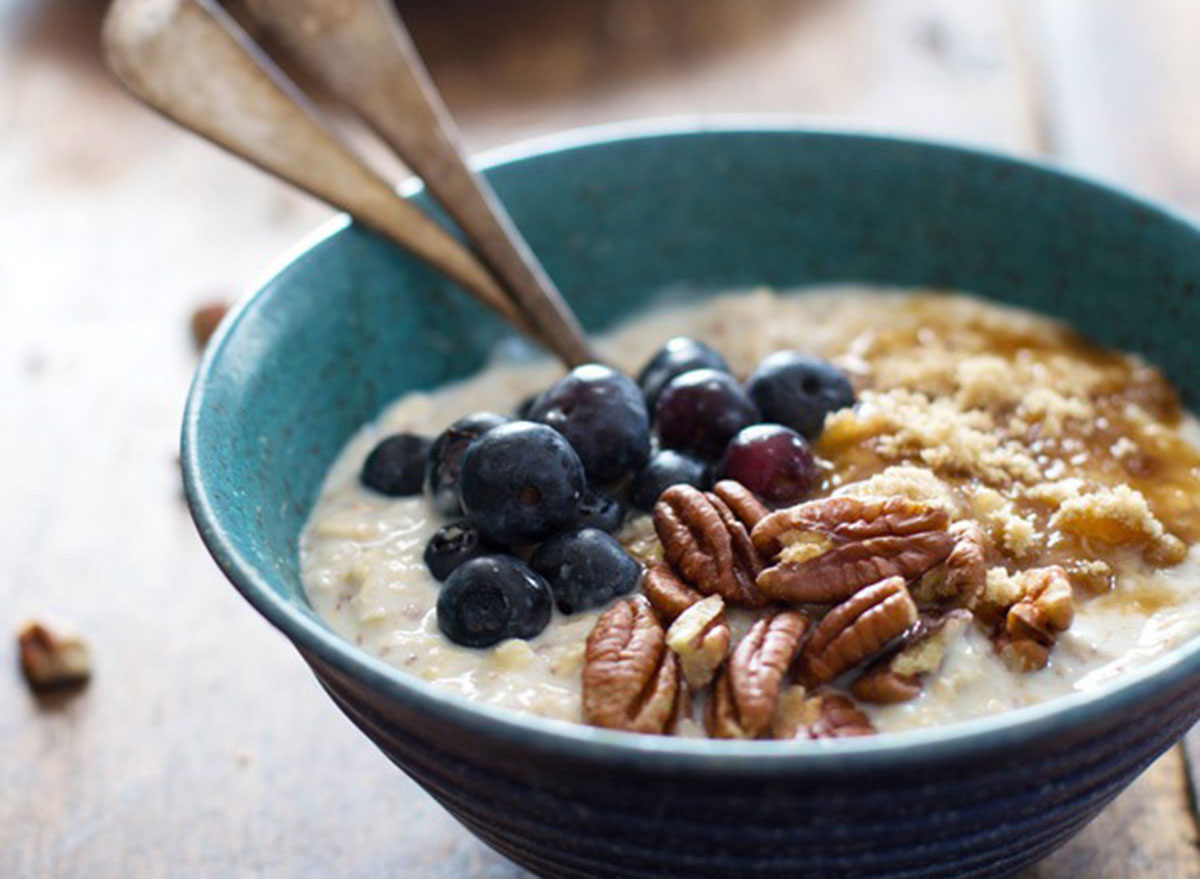 Loaded with disease-fighting antioxidants and stomach-filling fiber, blueberries are a great addition to your morning breakfast bowl.
Get the recipe from Pinch of Yum.
Peanut Butter and Jelly Overnight Oats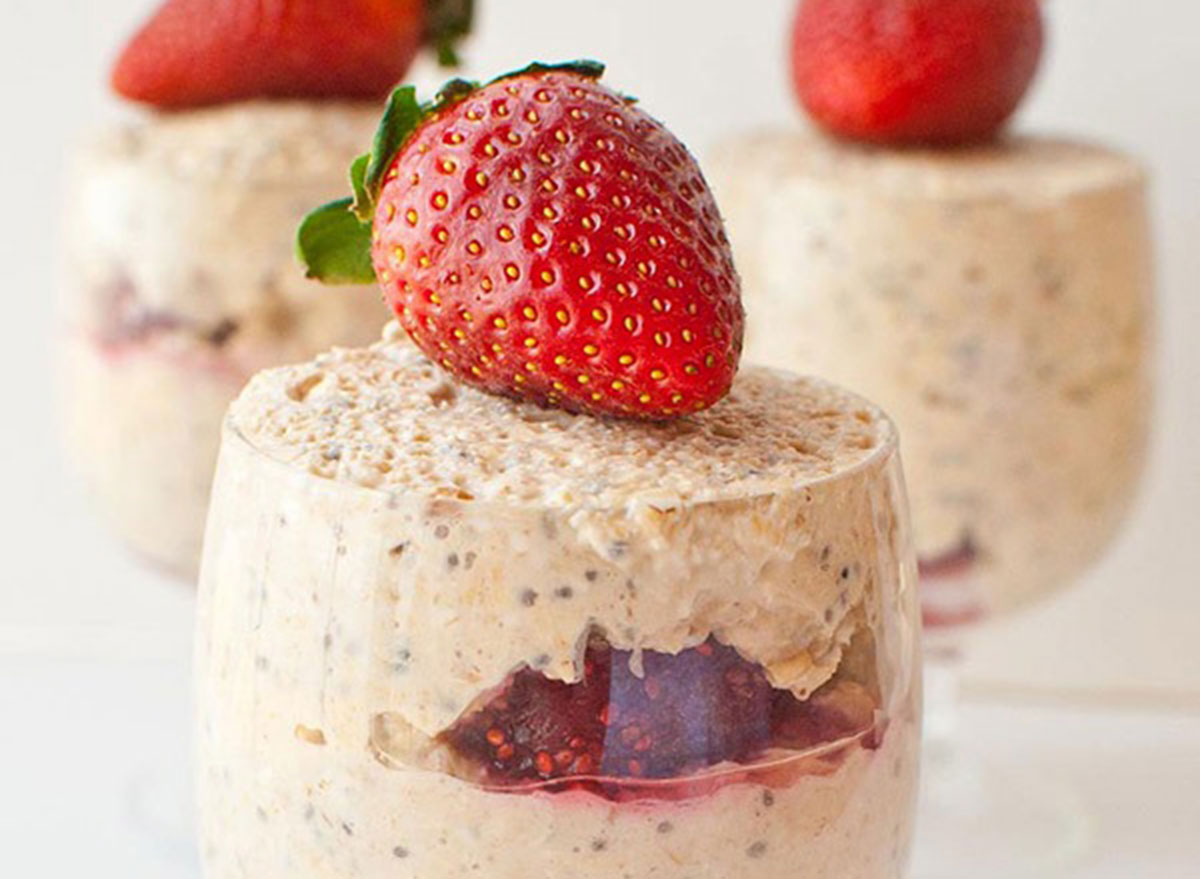 You won't even miss your go-to sugary cereal when you start your morning with this creative play on the classic PB&J.
Get the recipe from Slim Pickin's Kitchen.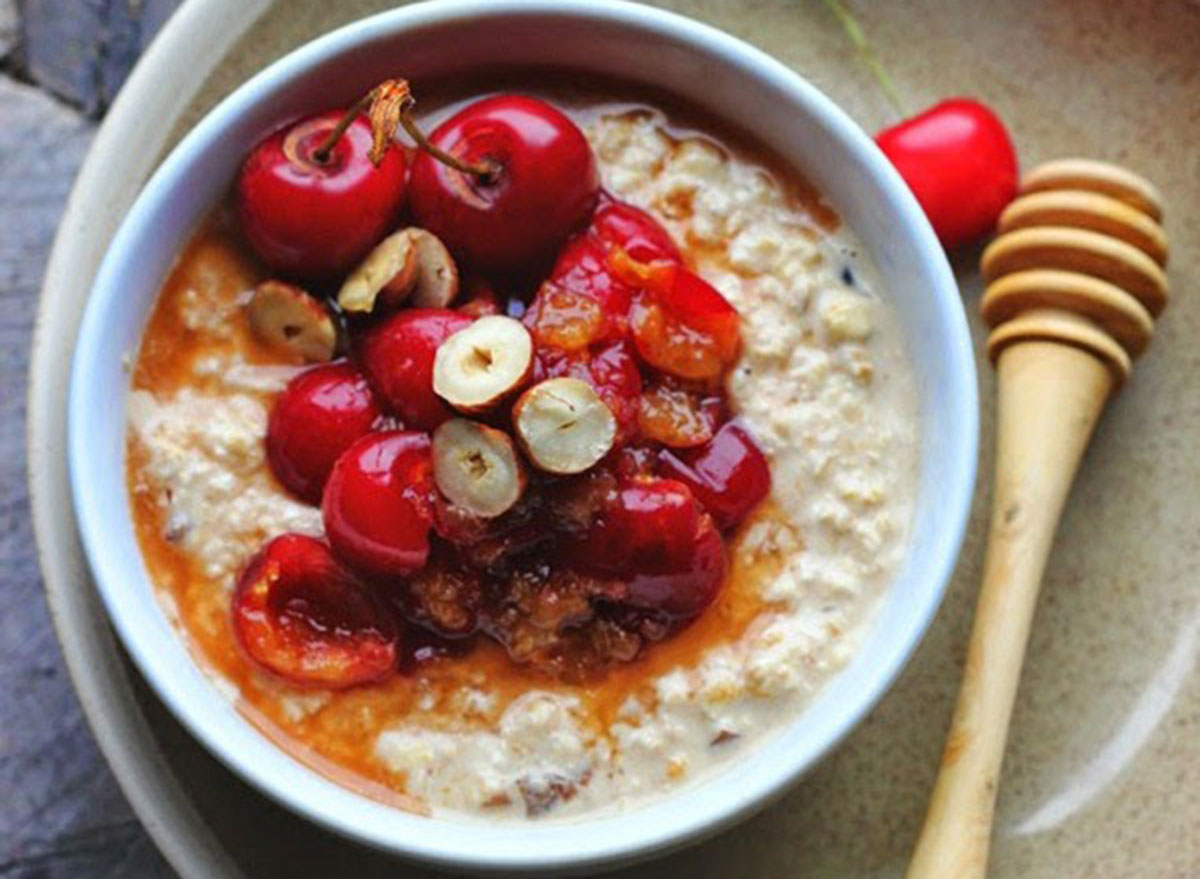 This warming breakfast is anything but boring or blah. The healthy and satisfying combination of rolled oats, chopped hazelnuts, apricots, and cherries will satisfy your taste buds and keep your belly from rumbling before lunchtime, too.
Get the recipe from Happy Hearted Kitchen.
Pumpkin Persimmon Overnight Oats
Persimmon, pumpkin, ginger, nutmeg, and cloves. It's not often you find all these ingredients together in a breakfast bowl, but we're loving the fruity play on classic fall and winter flavors!
Get the recipe from Keepin' It Kind.
Slow Cooker Peach Overnight Oats
The combination of peaches and protein-rich nuts will liven up your oatmeal bowl and keep hunger at bay all morning long.
Get the recipe from Yummy Healthy Easy.
Pumpkin Pie Overnight Oats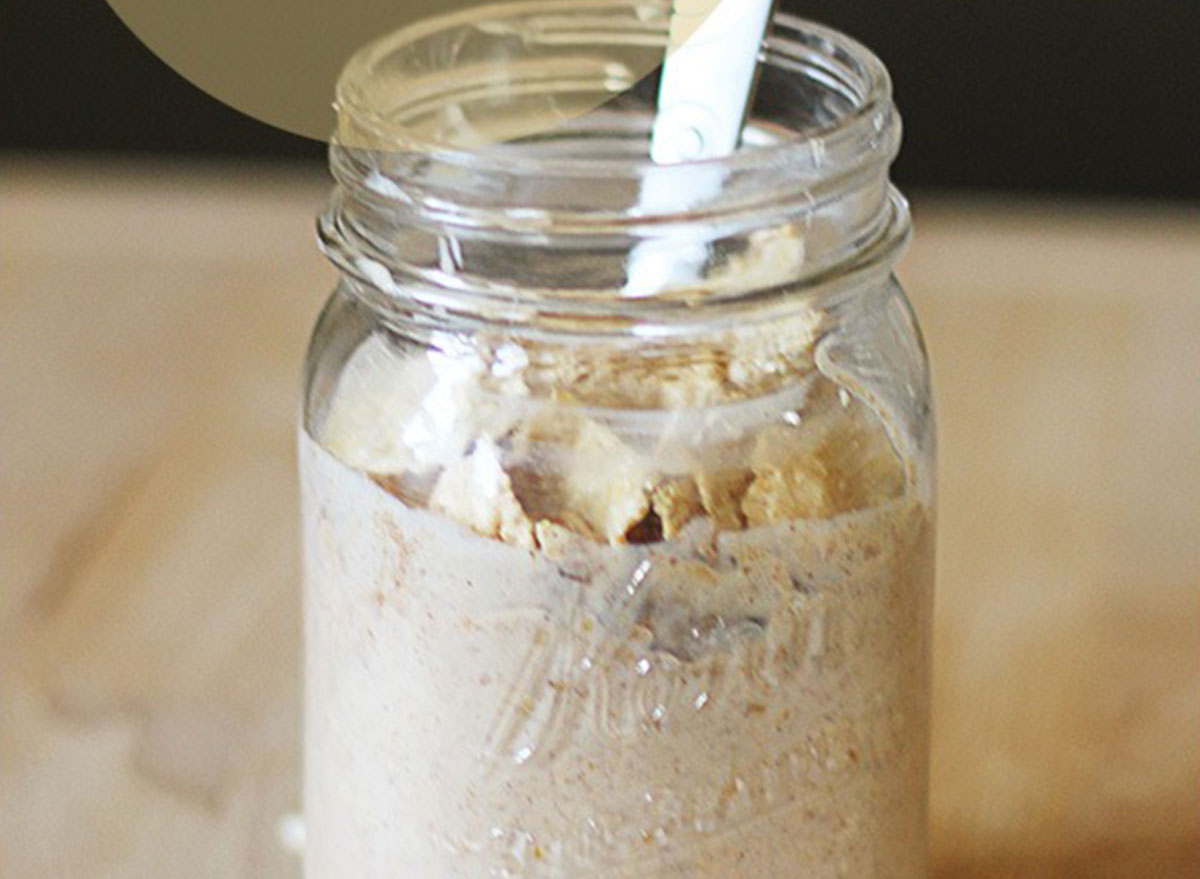 Nothing says fall like warm pumpkin oatmeal—and thankfully this is one recipe that will help you keep your weight in check. The addition of Greek yogurt boosts the protein count to ensure you'll stay satiated until lunch, while the cinnamon amps up the flavor and keeps your blood sugar levels even.
Get the recipe from Creme de la Crumb.
Apple Cinnamon With Maple Cream Overnight Oats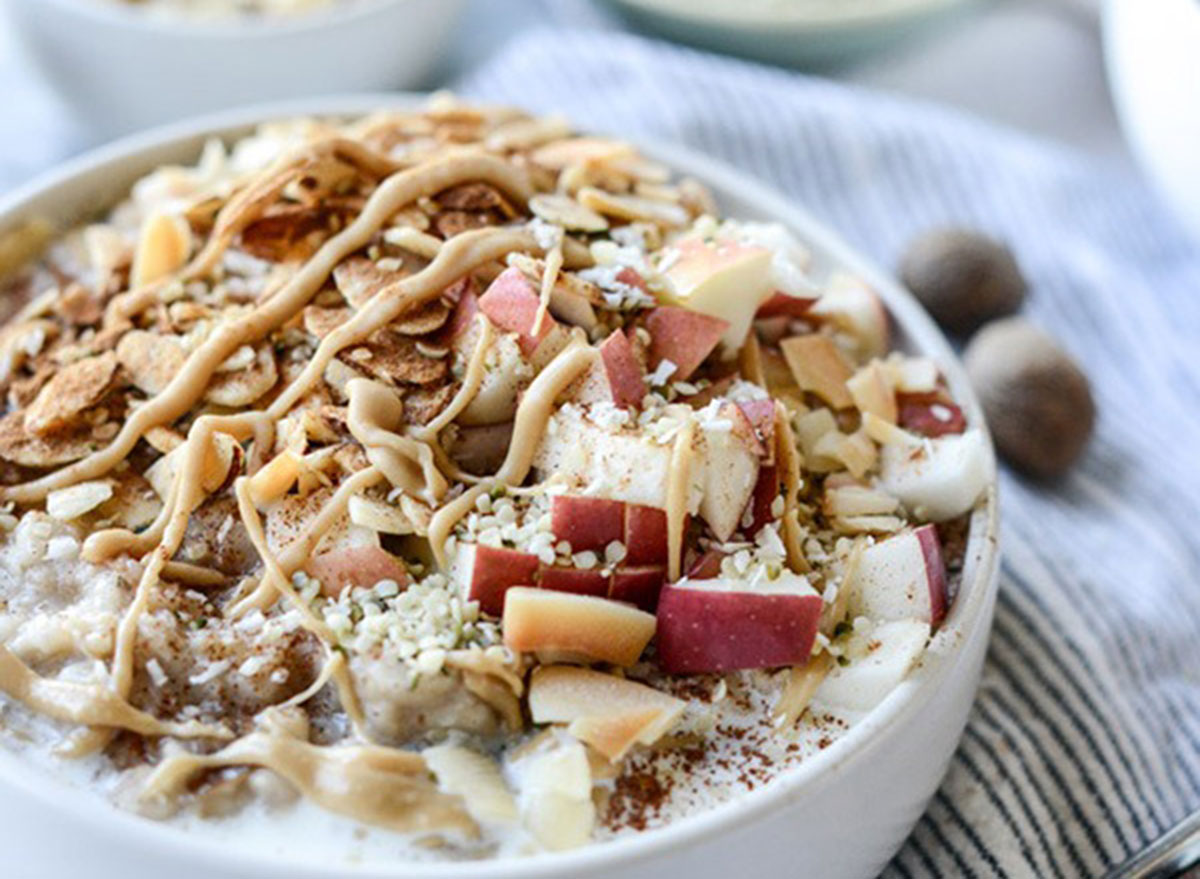 Skip those nutrient-devoid Apple Cinnamon Cheerios, and fill up with a warm bowl of these similar-tasting oats instead. Unlike the majority of recipes on this list that sit in the fridge overnight, the flavors in this dish fuse in a slow cooker as you snooze. The aroma of apples, brown sugar, and vanilla are sure to make waking up a little more tolerable.
Get the recipe from How Sweet It Is.
Blueberry Muffin Overnight Oats
Though this recipe carries about the same number of calories as a blueberry muffin, thanks to its sky-high protein and fiber count, it's far better for your weight loss goals. Plus, the fresh blueberries can help you burn belly flab. In one 90-day trial conducted by the University of Michigan Cardiovascular Center, rats fed a blueberry-enriched diet showed significantly reduced abdominal fat than the control group.
Get the recipe from Creme de la Crumb.
Double Chocolate Brownie Batter Overnight Oats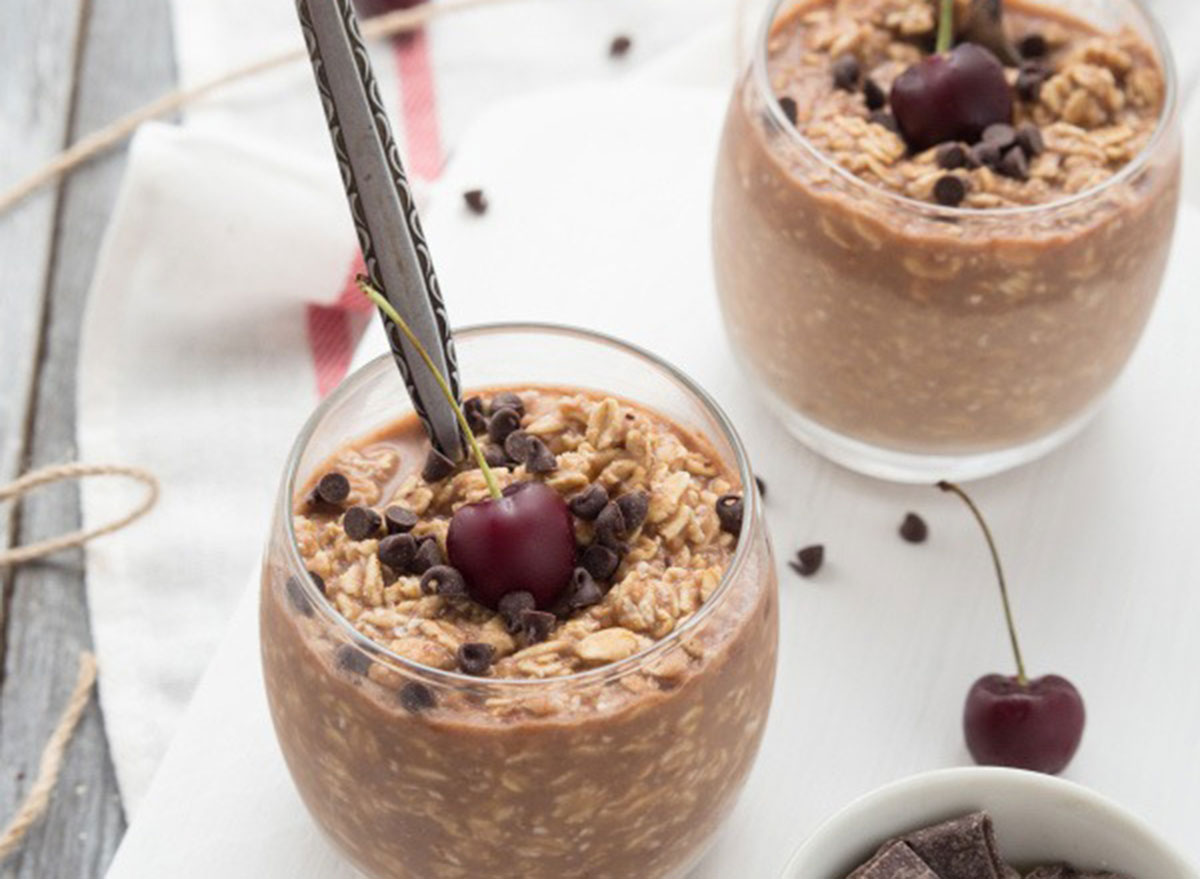 With just 15 grams of sugar per serving, this "brownie" may be one of the best bets for your breakfast bowl—especially if you're craving something that's both sweet and satiating. With 10 grams of fiber, it's sure to tide you over until lunch.
Get the recipe from Chelsea's Messy Apron.
Cherry Chia Overnight Oats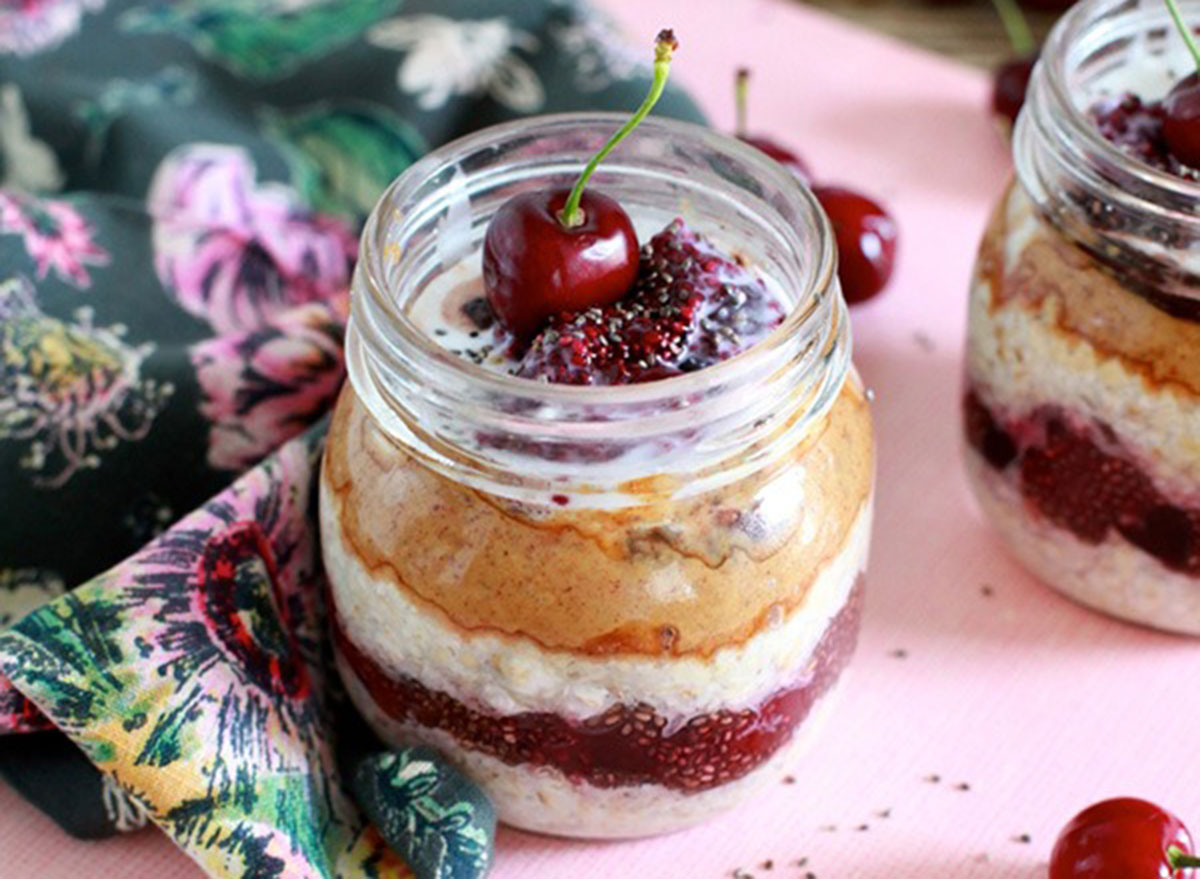 Low-sugar, high-protein oatmeal? It's not only possible, but it's beyond delicious. You won't even miss the added sugar, thanks to the addition of fresh sweet cherries and creamy almond butter, a top source of healthy fat and protein.
Get the recipe from Nutrition in the Kitch.
Toasted Pistachio and Pineapple Muesli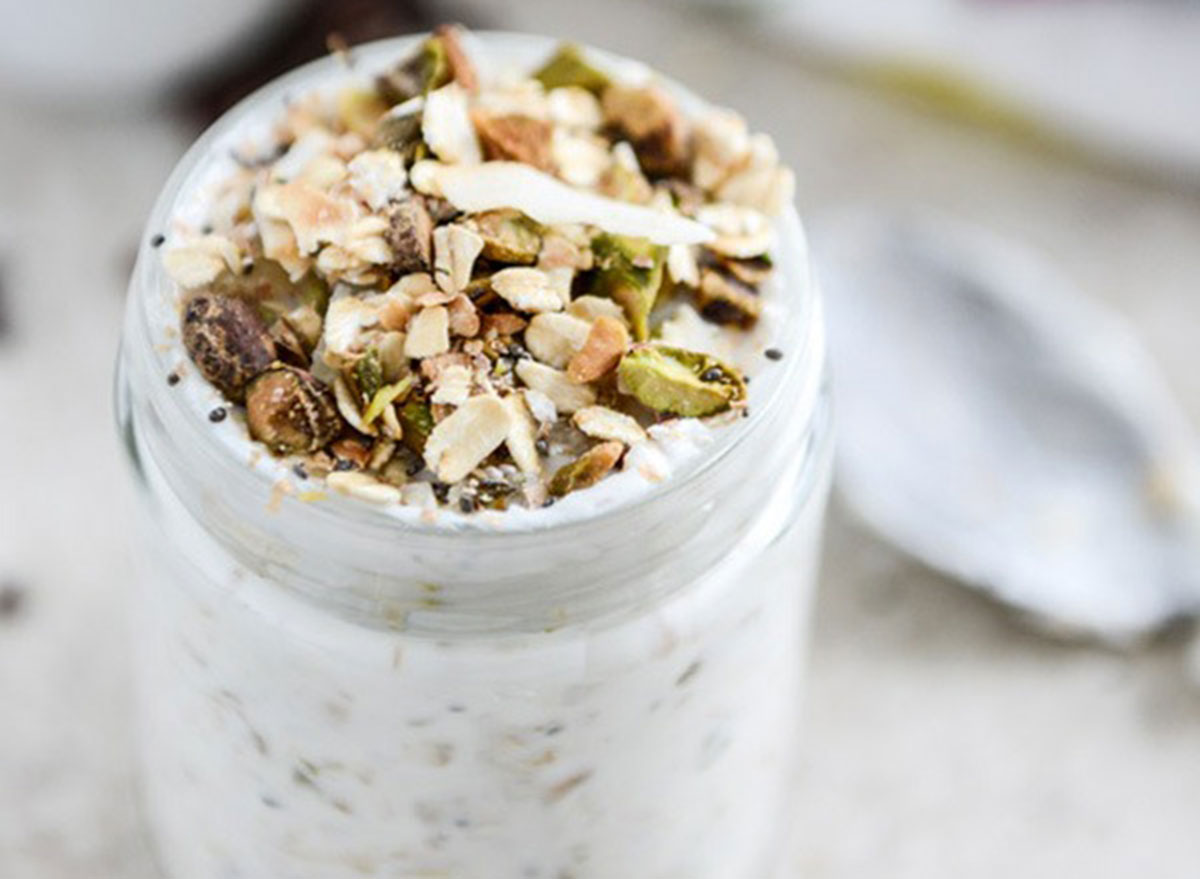 It might look a bit scary, but don't let the fat count turn you away. This recipe is packed with healthy fats from nuts and flax seeds that will help you sail through the morning without hitting up the pastries in the break room.
Get the recipe from How Sweet Eats.
Pumpkin Chocolate Chip Cookie Overnight Oats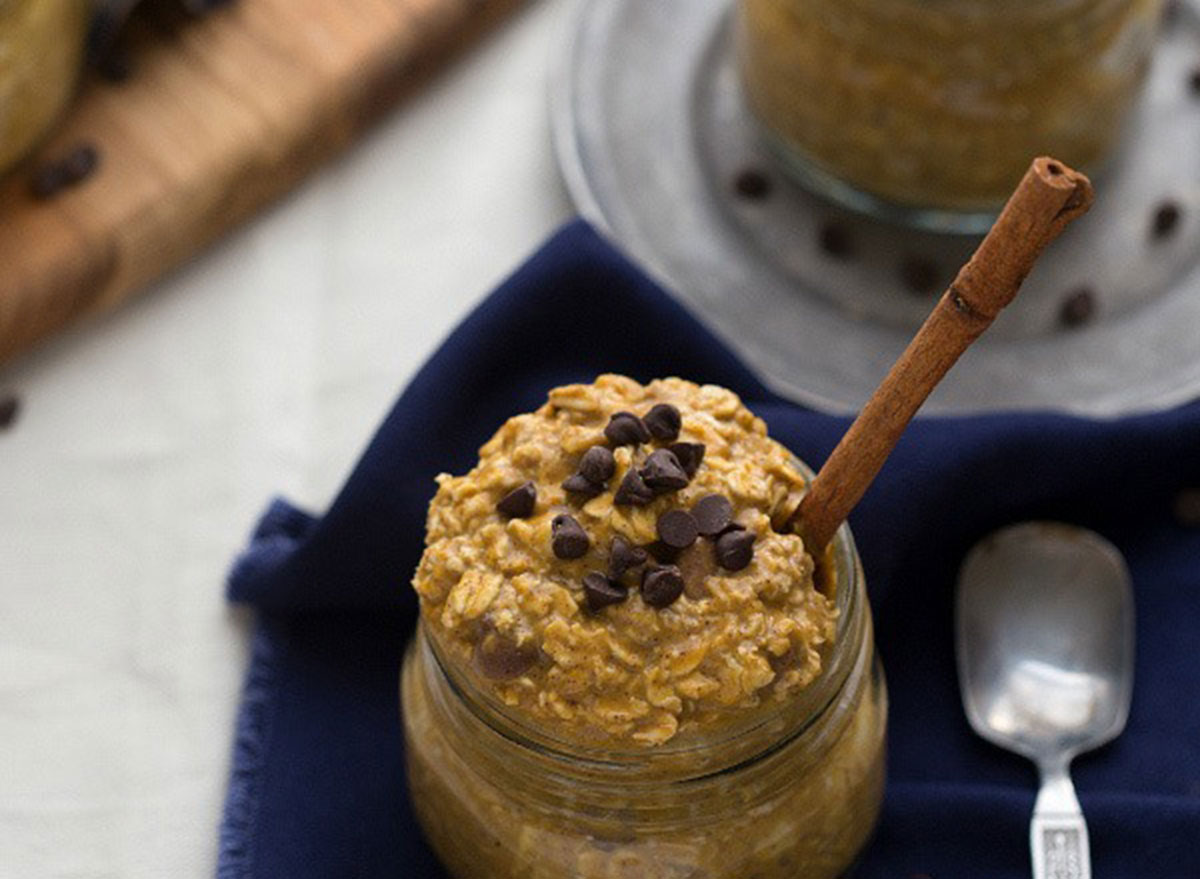 Low in calories? Check. Light on sugar? Yup. Filled with flavor? You know it! This fall-inspired breakfast bowl is a near-perfect example of eating your cake and having it, too.
Get the recipe from Chelsea's Messy Apron.
Orange, Coconut, and Vanilla Overnight Oats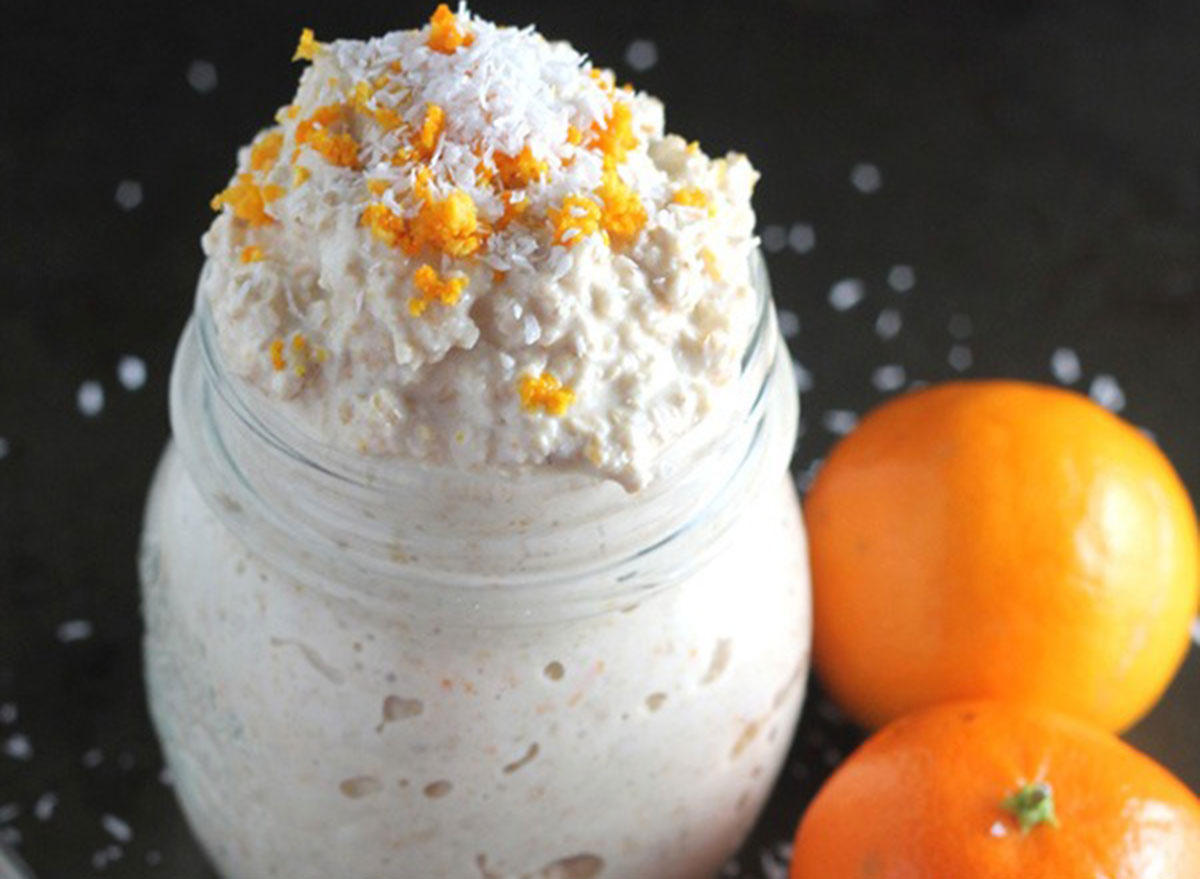 Most oatmeal recipes call for fruits like berries and bananas, which is why we were so excited to come across a blogger that uses oranges to flavor her breakfast. Give this unique dish a try—your taste buds will thank you.
Get the recipe from My Fussy Eater.
Mocha, Banana, and Chia Overnight Oats
Taking the time to layer your oats with sliced banana ensures that every last spoonful of this parfait will be perfectly balanced, and with flavors like these, you're going to want them in every bite. Whip up this recipe with slightly green bananas. They're rich in resistant starch, which boosts satiety and resists digestion. The result: the body has to work harder to digest the food, which promotes fat oxidation and reduces abdominal fat.
Get the recipe from Healthy Happy Life.
Figs and Honey Overnight Oats
This recipe calls for plenty of fiber-rich figs to ensure you stay full all the way through to lunchtime. And because the fruit is also a potent source of potassium, your breakfast will also help you ward off water retention and bloat.
Get the recipe from Skinny Taste.
Peach Streusel Overnight Oats
Not only will this streusel-inspired dish make your taste buds sing, but it will also help you lose weight. New studies suggest that stone fruit like peaches may help ward off metabolic syndrome — a name for a group of risk factors, of which belly fat is a predominant determinant, that increase the risk for obesity-related diseases including diabetes.
Get the recipe from Chelsea's Messy Apron.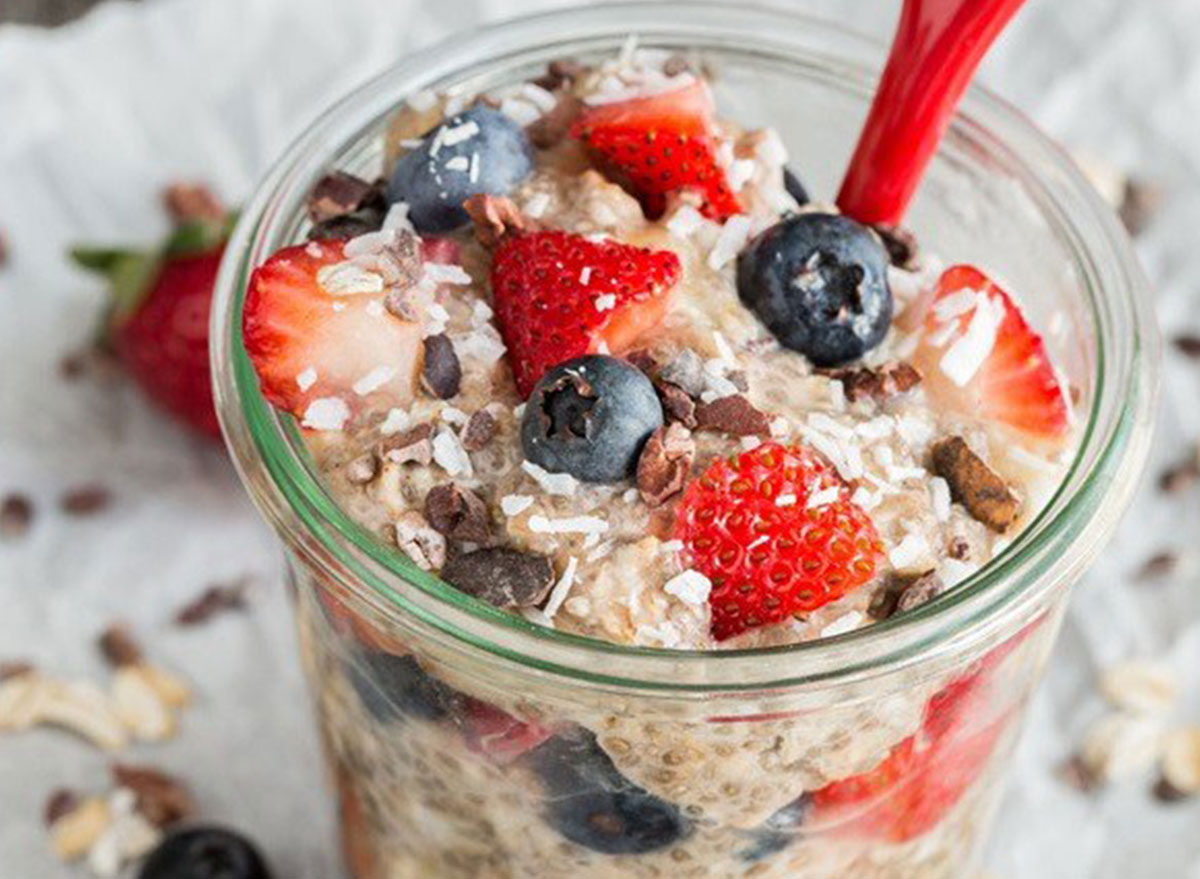 Oats, almond milk, vanilla extract, and healthy mix-ins like fruit and coconut flakes join to create this high-fiber, vegan-friendly breakfast.
Get the recipe from Oh She Glows.
Cocoa Banana Overnight Oats
The banana and yogurt in this recipe lend a creamy texture and a slightly sweet taste that's hard not to love. Word of warning, though: When choosing a yogurt to mix in, make sure you're picking the right kind of yogurt for weight loss—the wrong one can throw your slim-down efforts off track.
Get the recipe from My Fussy Eater.
Coconut Cardamom Overnight Oats
Send the mid-morning munchies packing with these fiber-filled and low calorite portable parfaits. The blueberries in the homemade jam lend a hefty dose of antioxidants, while the cardamom boosts circulation, giving your skin a beautiful glow.
Get the recipe from Oh She Glows.
Maple Bacon Overnight Oats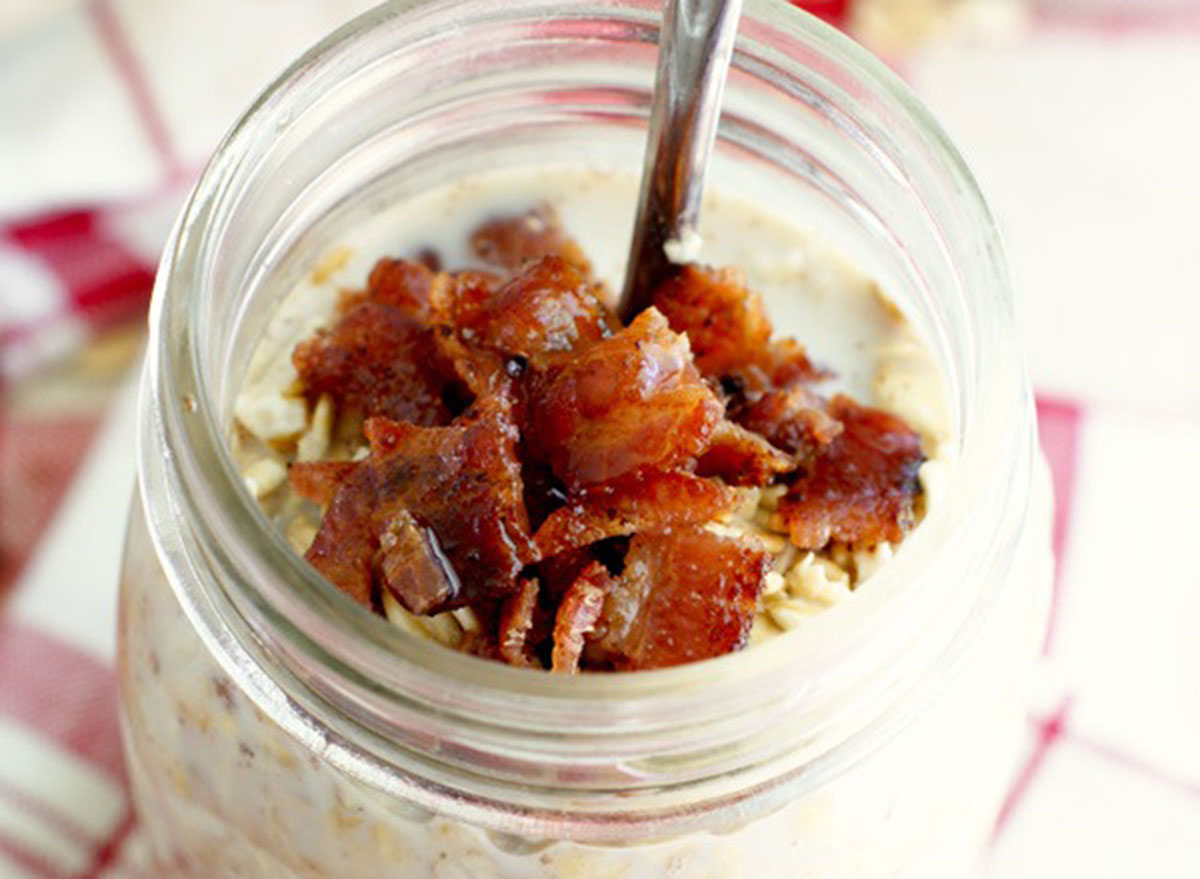 While bacon for breakfast is nothing new, bacon mixed with oatmeal is something we've never seen before. The walnuts provide a satisfying crunch and polyunsaturated fat (a nutrient that reduces belly-fat storage), while the maple syrup provides a sweet balance to the savory breakfast meat.
Get the recipe from The Two Bite Club.
Bananas Foster Overnight Oats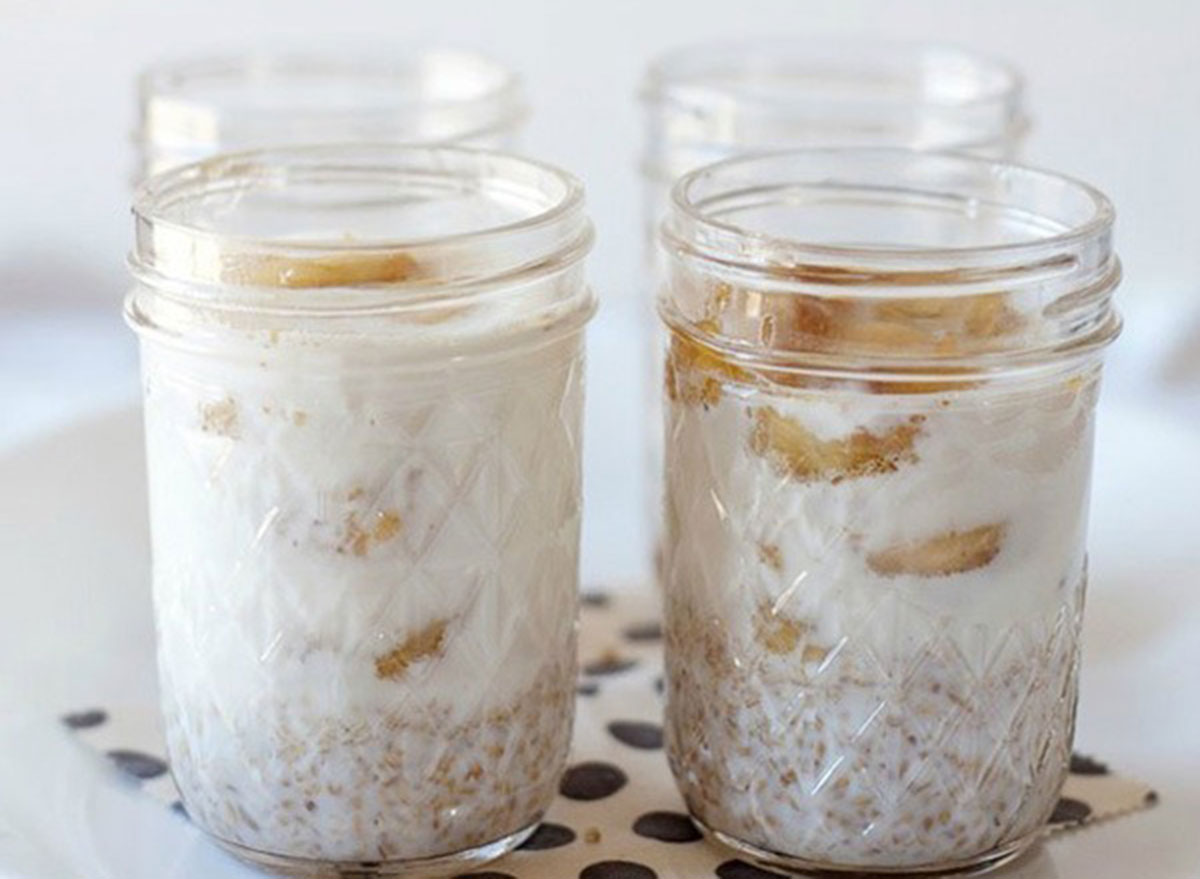 Waist-shrinking coconut oil, bananas, cholesterol-lowering flax, oats, and a host of delicious spices join to create this Instagram-worthy Mason jar meal. We can't think of a tastier—or more filling—way to celebrate the first meal of the day.
Get the recipe from Laura Fuentes.
Skinny Funfetti Cake Batter Overnight Oats
If cupcakes are your dietary downfall, this recipe is sure to please. Made with oats, skim milk, butter extract, and colorful sprinkles, these creamy low-calorie oats could pass as a decadent dessert.
Get the recipe from Amy's Healthy Baking.
Kiwi Coconut Cashew Overnight Oatmeal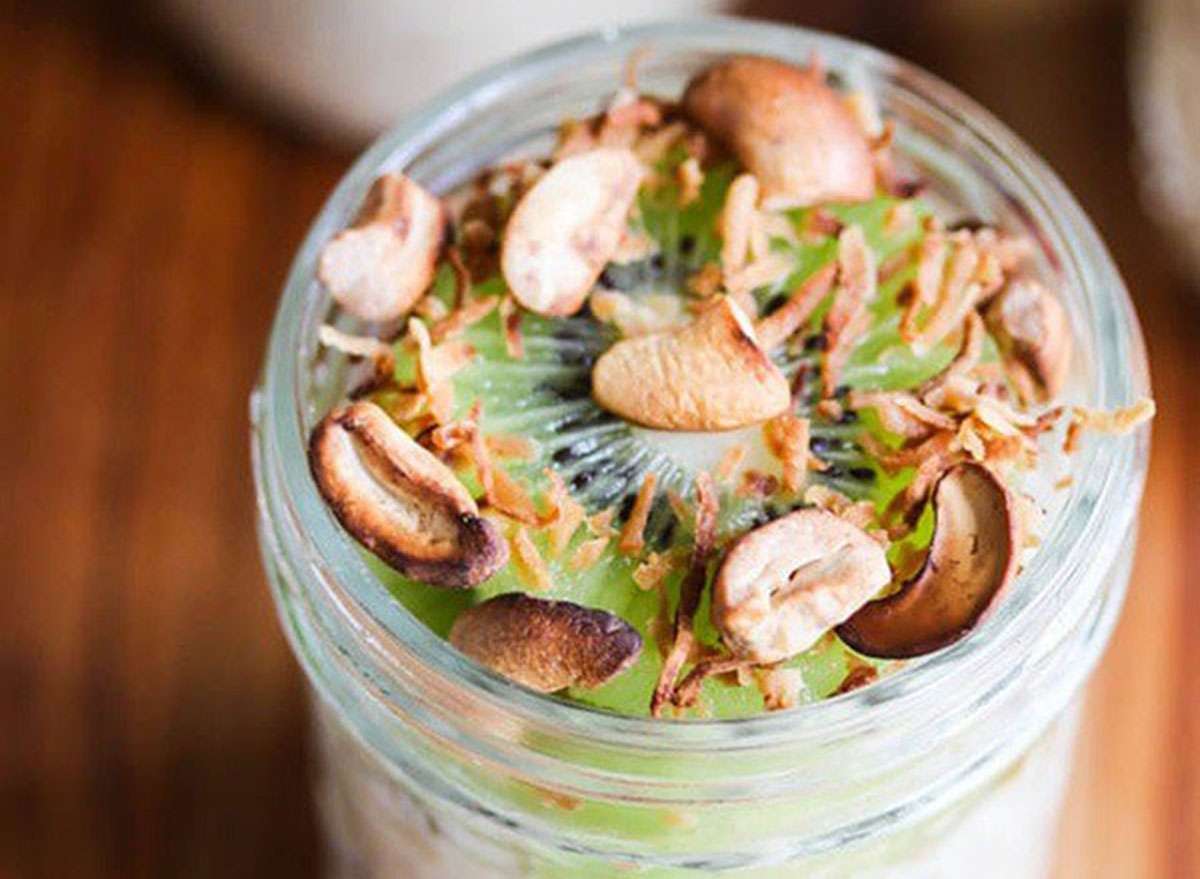 Thanks to this tropical-inspired recipe, the kiwi—an underutilized flat-belly fruit—finally gets its chance to shine! One medium kiwi has about 60 calories and 100 percent of the vitamin C we need in a day, says Alexandra Miller, RDN, LDN, the corporate dietitian at Medifast. Fruits rich in the vitamin help the body oxidize fat during moderate-intensity exercise and can also banish fattening stress hormones like cortisol.
Get the recipe from Jeanette's Healthy Living.
Coconut Latte Overnight Oats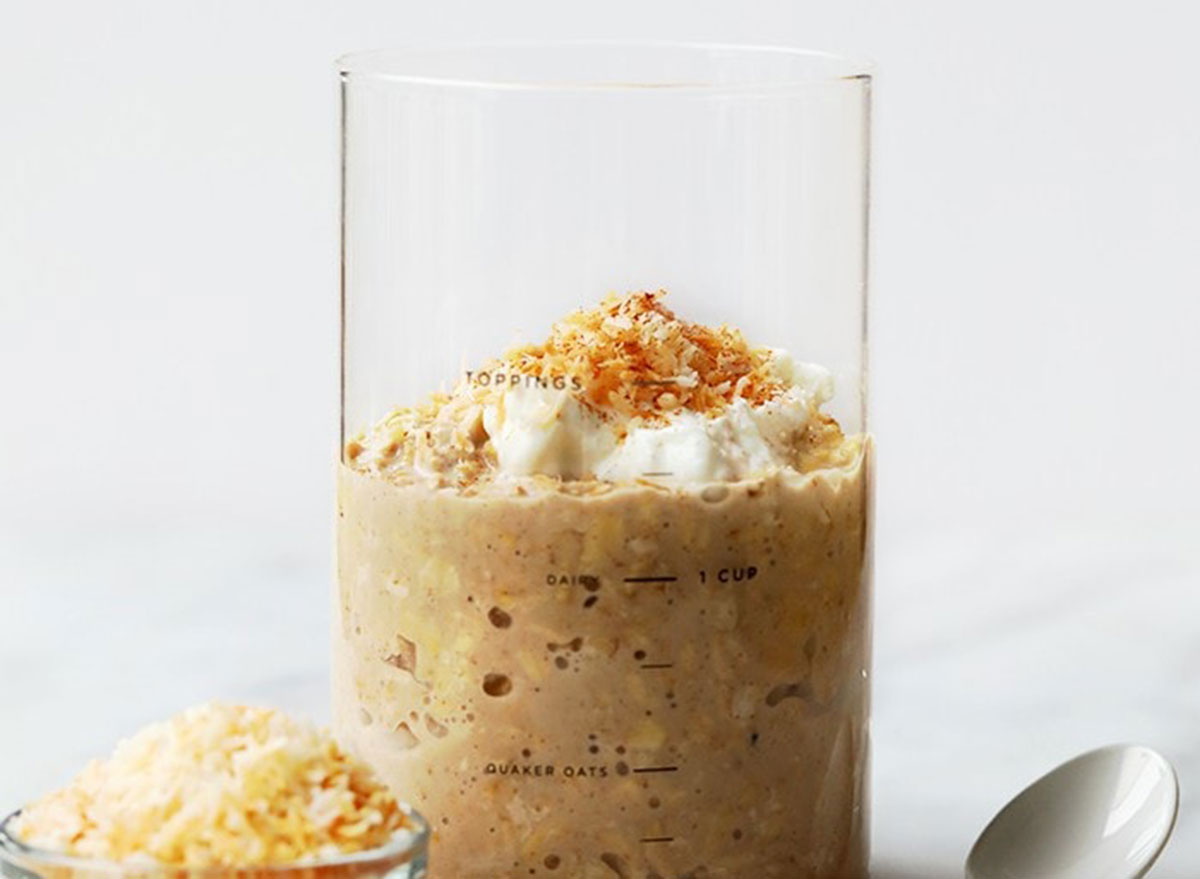 Spiked with a quarter-cup of brewed coffee, this is one morning meal that will rev your engine. Freshly brewed java provides plenty of flavor for a negligible calorie cost, so you can go easy on the sweetener without sacrificing flavor. And did we mention it's only 215 calories?
Get the recipe from Fit Foodie Finds.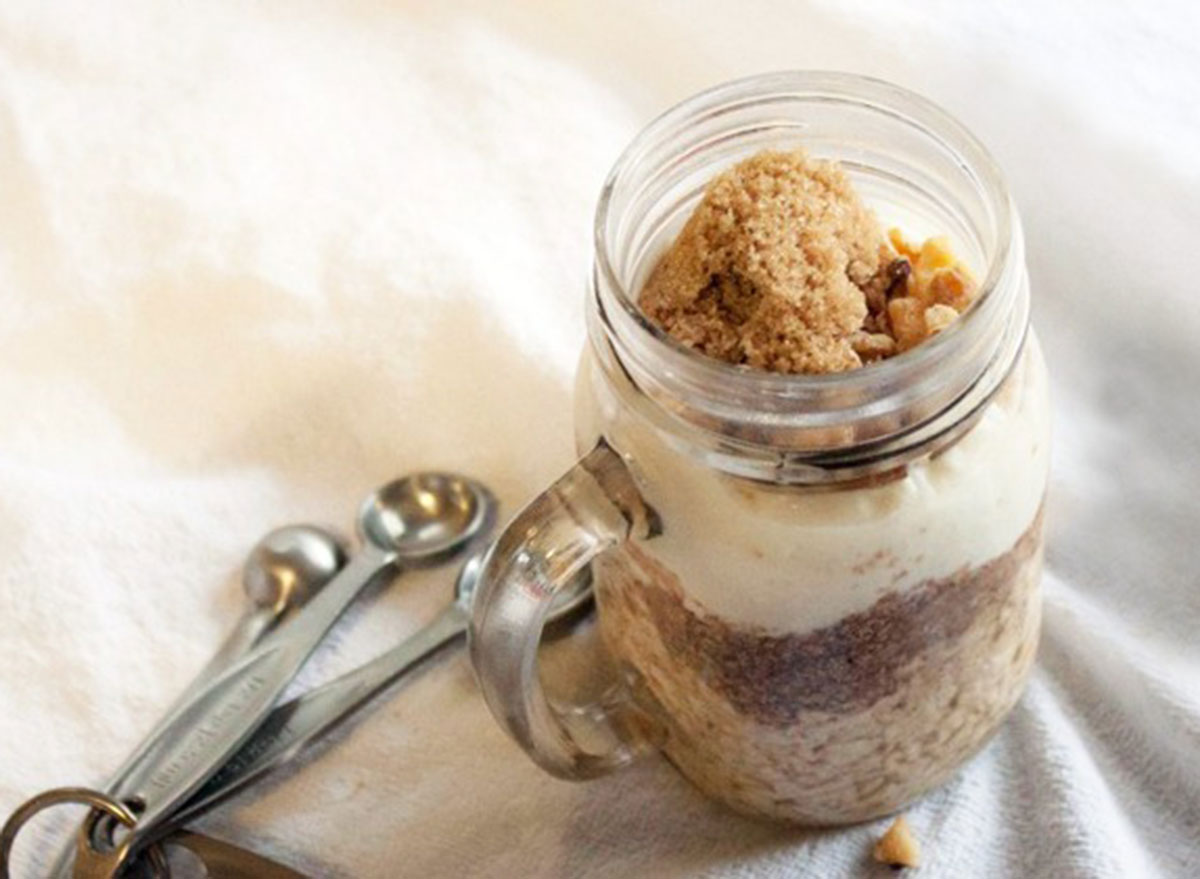 Heat things up with these vanilla oats that provide half of your daily calcium demands (49%), which research suggests is metabolically significant. This is because calcium increases thermogenesis, or core body temp, boosting metabolic activity, as described by an American Journal of Clinical Nutrition report. And the benefits don't stop there. Polyunsaturated fats—found in heart-healthy walnuts—activate genes that reduce fat storage and improve insulin metabolism.
Get the recipe from Sweet Phi.
Double Chocolate Cashew Overnight Oats
This recipe calls for rich chocolate cashew milk. As the oats sit in it overnight, they transform from a somewhat flavorless carb into a chocolatey sensation worth waking up for. Mixed with mini chocolate chips and chopped cashews, this is one sweet and crunchy concoction you don't want to miss!
Get the recipe from A Kitchen Addiction.
Overnight Chocolate Chia Oat Pudding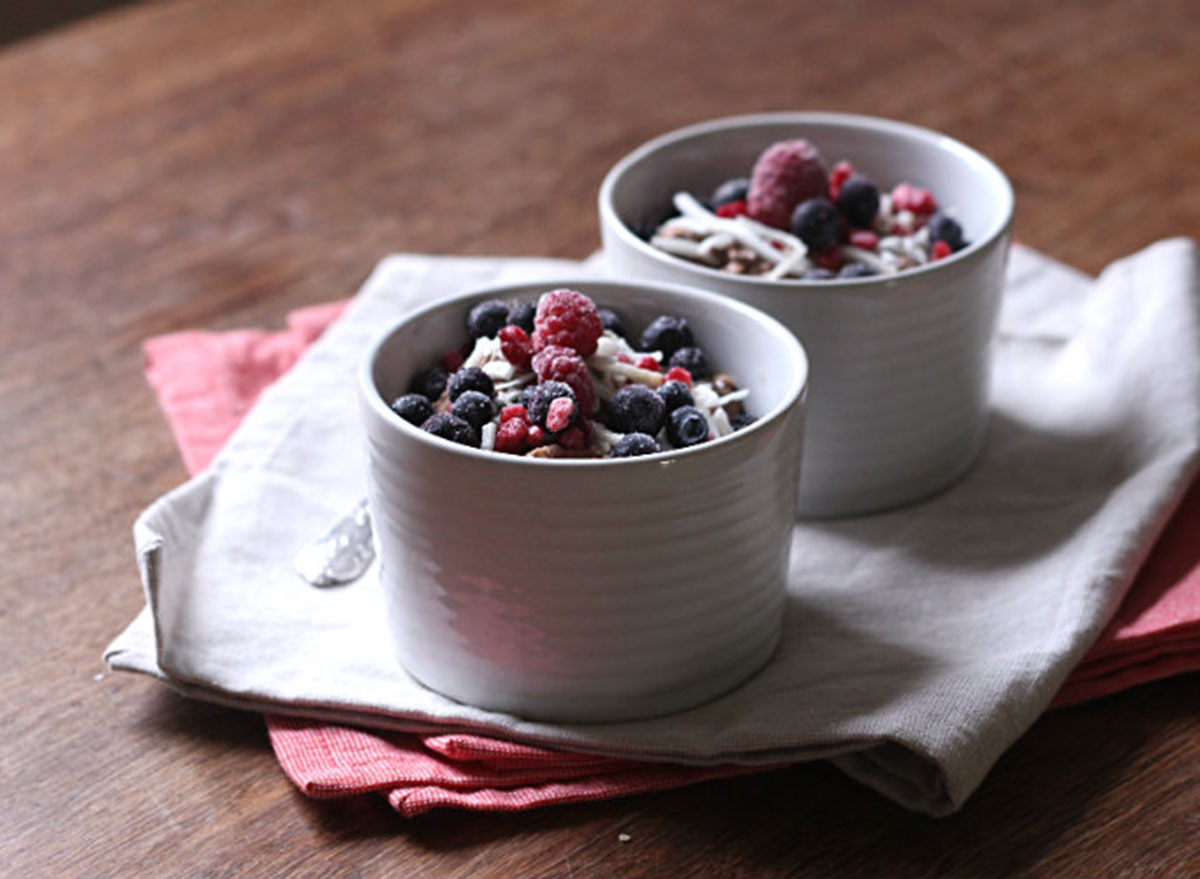 Cacao powder, berries, coconut and banana join together to create a dish that only tastes indulgent.
Get the recipe from To Her Core.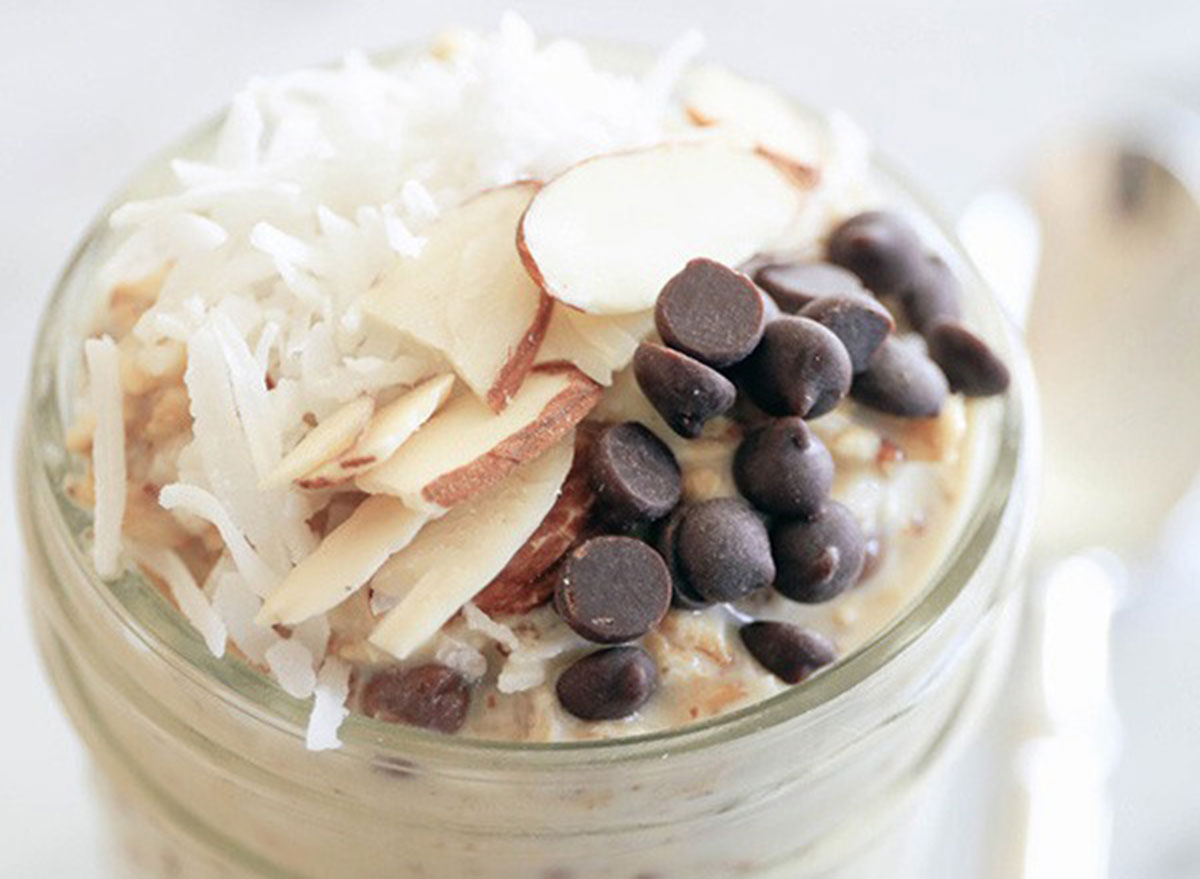 Unlike an actual Almond Joy candy bar, these oats carry a reasonable amount of sugar and provide an impressive amount of fiber and protein—two nutrients everyone trying to lose weight should aim to consume at every meal.
Get the recipe from Rabbit Food for My Bunny Teeth.
Maple French Toast Overnight Oats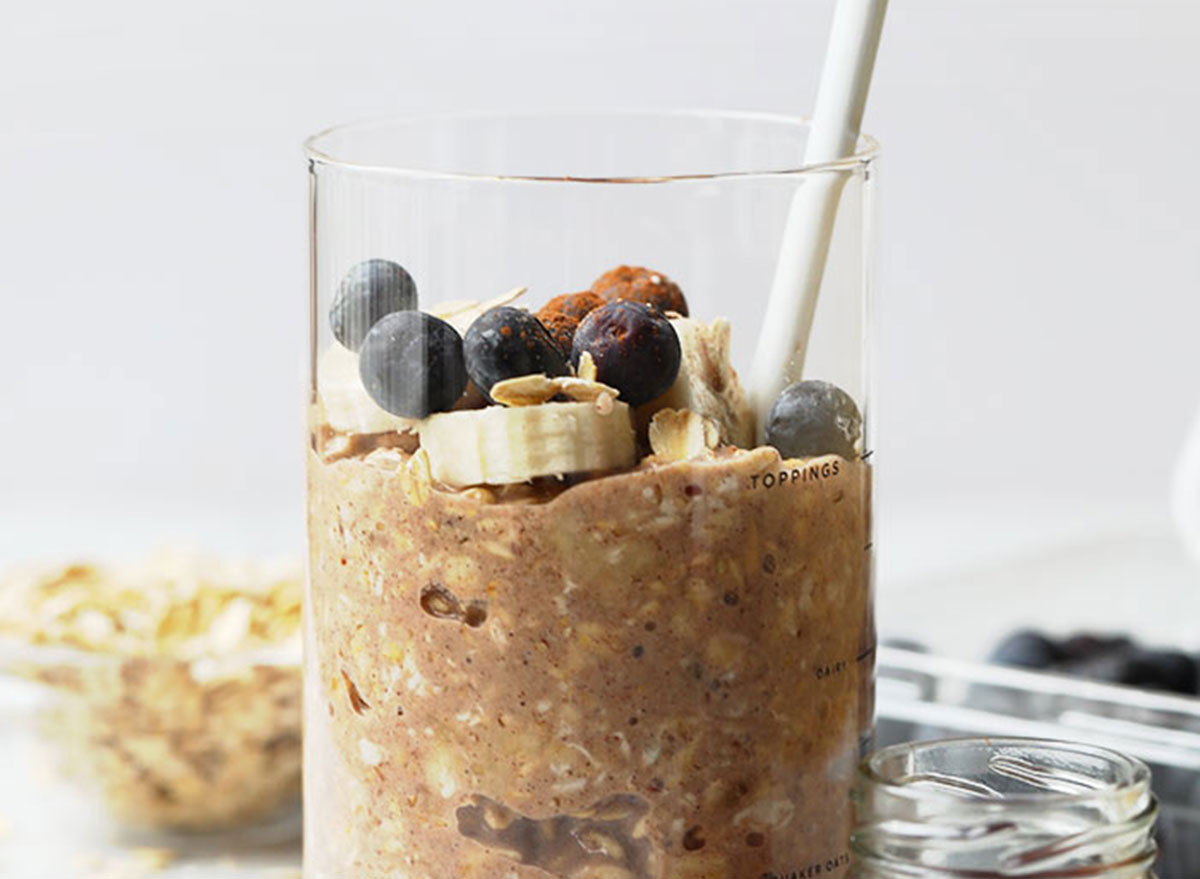 French toast is traditionally a calorically dense meal that causes some serious belly fat. But this version tosses a wholesome breakfast food into the mix to deliver the same comfort food feel without the guilt. Plus, every single one of its ingredients provide an opportunity for a serious metabolism kick!
Get the recipe from Fit Foodie Finds.
Salted Turtle Overnight Oats
A flavor profile no longer reserved for cookies and cupcakes, these salted-turtle-flavored oats taste as delicious as they sound. There's not much to hate about a combination of sweet and salty flavors topped with crunchy pecans, and even the nutritional stats are on point. Hands down, this dish is a winner.
Get the recipe from Organize Yourself Skinny.
Matcha powder is a great addition to your morning breakfast bowl. The powdered tea is loaded with EGCG, a compound that simultaneously boosts lipolysis (the breakdown of fat) and blocks adipogenesis (the formation of fat cells).
Get the recipe from Oh My Veggies.
Blackberry Mojito Overnight Oatmeal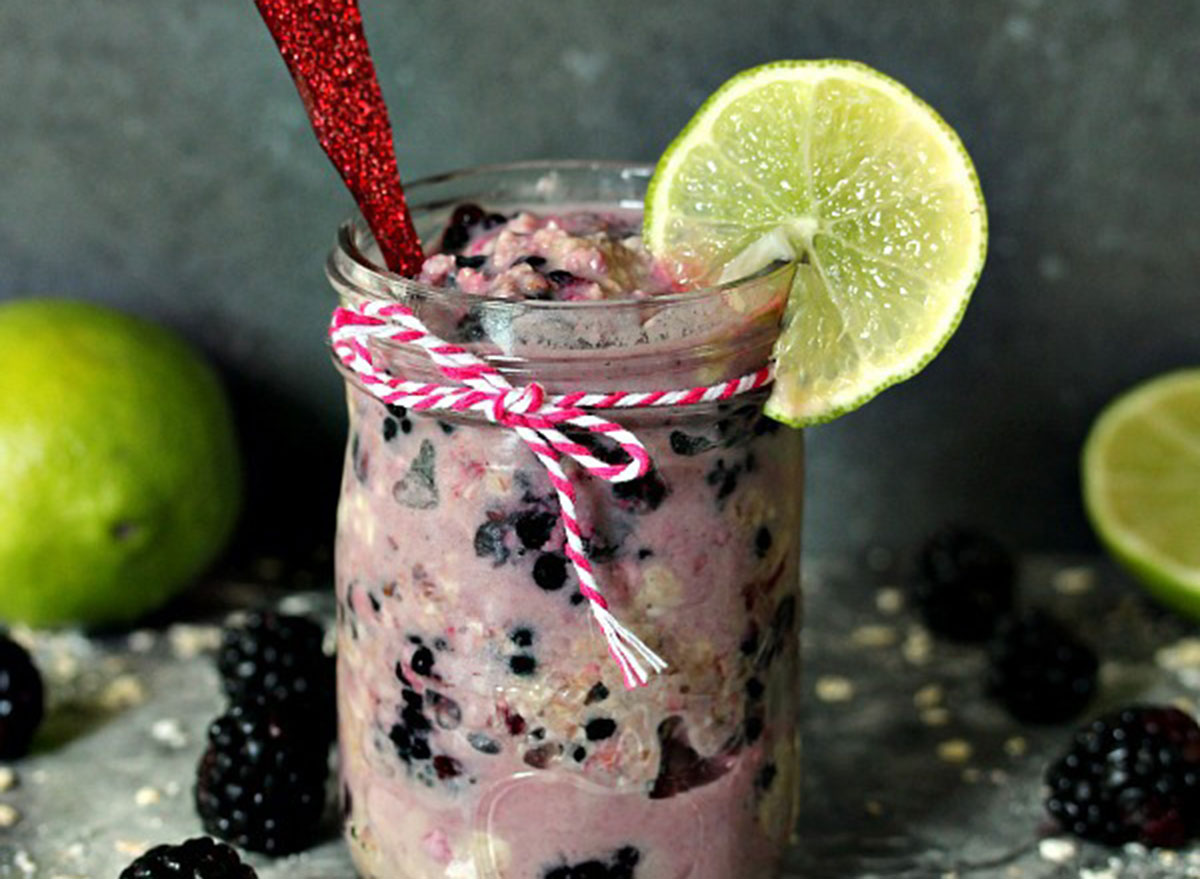 At just 250 calories, this rum-spiked dish is one fiesta-inspired meal we can get behind.
Get the recipe from Cravings of a Lunatic.
Read more about why we love oatmeal:
The Final Verdict on the Best Breakfast Oatmeal
15 Baked Oatmeal Recipes for a Flat Belly