Healthy Scrambled Eggs With Salmon, Asparagus, and Goat Cheese Recipe
This dish not only tastes fresh, but it's also hundreds of calories less than restaurant scrambles.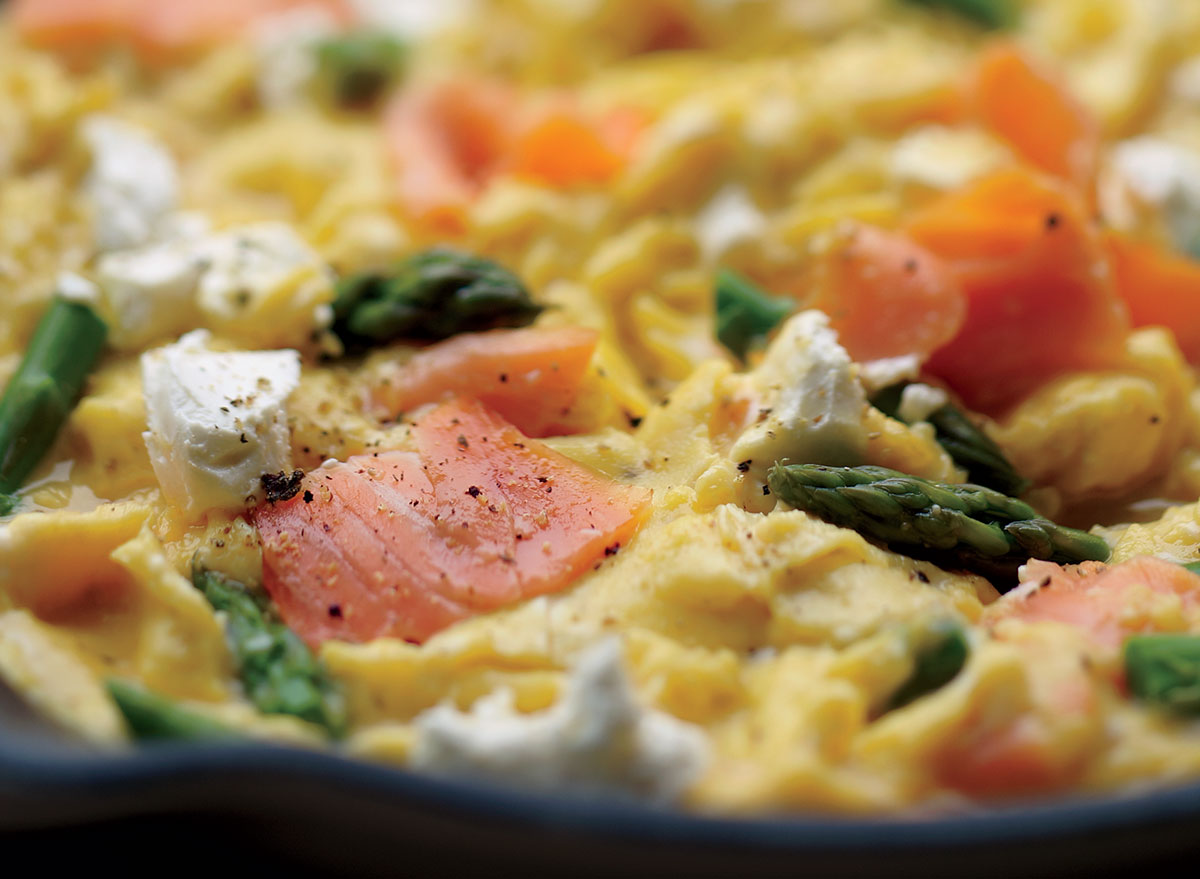 Two eggs scrambled in a pat of butter contain approximately 200 calories. So how do so many other restaurants sling together scrambles with more than 1,000 calories? Simple: excessive oil and egregious amounts of cheese. This healthy scrambled eggs recipe has all the makings of hearty breakfast fare—butter, cheese, protein—but with healthy fats, fresh vegetables, and a light caloric toll. Serve it with a scoop of roasted potatoes and fresh fruit.
Nutrition: 320 calories, 17 g fat (6 g saturated), 540 mg sodium
Serves 4
You'll Need
1 Tbsp butter
8 stalks asparagus, woody bottoms removed, chopped into 1" pieces
Salt and black pepper to taste
8 eggs (Spend the extra dollar or two to buy the highest quality eggs you can find. Free-range farmers market eggs are best.)
2 Tbsp fat-free milk
1⁄4 cup crumbled fresh goat cheese
4 oz smoked salmon, chopped
How to Make It
Heat the butter in a large nonstick skillet or sauté pan over medium heat.
When the butter begins to foam, add the asparagus and cook until just tender ("crisp-tender" in kitchen parlance). Season with salt and pepper.
Crack the eggs into a large bowl and whisk with the milk.
Season with a few pinches of salt and pepper and add to the pan with the asparagus.
Turn the heat down to low and use a wooden spoon to constantly stir and scrape the eggs until they begin to form soft curds.  A minute before they're done, stir in the goat cheese.
Remove from the heat when the eggs are still creamy and soft (remember, scrambled eggs are like meat— they continue to cook even after you cut the heat) and fold in the smoked salmon.
Eat This Tip
There is no shortage of stellar scramble combinations. Invent on the fly, or go with one of these flavor-packed approaches.6254a4d1642c605c54bf1cab17d50f1e
Sautéed mushrooms, zucchini, and caramelized onions
Chorizo and onion, with diced avocado and chopped cilantro stirred in before serving
Chunks of chicken or turkey sausage, scallions, and cheddar
Cherry tomatoes, with a swirl of pesto stirred in at the last moment, or even a couple spoonfuls of spicy tomato sauce