6 Healthy Snacks to Stock in Your Car
"On the road again" is more or less code for "off your diet."
Commuting to and from work, traveling for business or pleasure, whatever it may be, being stuck in your car can lead to less-than-healthy food choices. As with any fitness agenda, preparation is key. Stocking your glove compartment with the right fare will save you from momentary lapses in judgment at the drive-thru or rest stop. But stashing away healthy snacks in your car can be tricky; not everything can stay fresh in that harsh environment.
To find which flat-belly snacks are up for the challenge, we rooted through the options to bring you the best for your road trip. Grab a few of these and get out on the open road.
Eat This!
SuperSeedz Gourmet Pumpkin Seeds Somewhat Spicy, ¼ cup
| | |
| --- | --- |
| Calories | 160 |
| Fat | 13 g |
| Saturated Fat | 2 g |
| Sodium | 80 mg |
| Carbs | 3 g |
| Fiber | 2 g |
| Protein | 8 g |
You'd have to be nuts not to stash a bag of nuts or seeds in your ride. They're the perfect travel snack because they can last in almost any kind of environment for long periods of time without going bad. And pumpkin seeds are tops for taming hunger and trimming your tummy; they're packed with muscle-building protein in addition to rich stores of iron, potassium, phosphorus, magnesium and zinc. You don't have to settle for plain varieties, either. These have a small kick to them thanks to a touch of cayenne pepper and black pepper — both proven better-body spices. Just keep your serving in check; cayenne won't do anything against all those extra calories.6254a4d1642c605c54bf1cab17d50f1e
Eat This!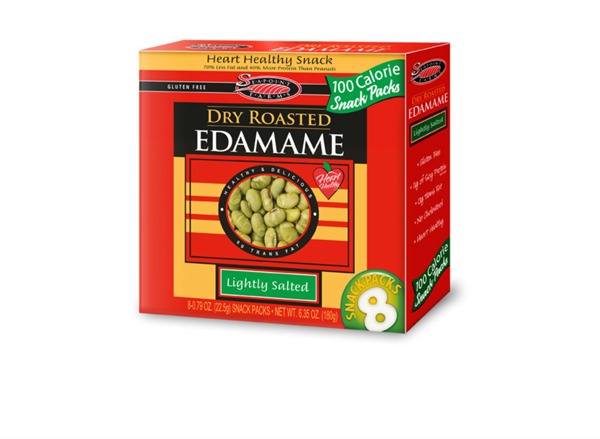 Seapoint Farms Dry Roasted Edamame Lightly Salted, 100 cal packs
| | |
| --- | --- |
| Calories | 100 |
| Fat | 3 g |
| Saturated Fat | 0.5 g |
| Sodium | 115 mg |
| Carbs | 8 g |
| Fiber | 6 g |
| Protein | 11 g |
These snack packs are the way to go when it comes to satisfying a case of between-meal munchies. Though we're not generally fans of the 100-calorie pack, which tend to be short on nutrition as well as calories, we like these protein-filled pouches for easy on-the-go snacking. It's easy to overindulge when you're noshing on the road; you are, after all, paying attention to the other cars, not your appetite. But the massive 11-gram serving of the muscle builder will banish any lingering urge you may have to munch out of boredom. Your body also has to work harder to digest protein than any other nutrient, increasing your calorie burn as you drive cross-country. With just two, easy-to-pronounce ingredients, soybeans and sea salt, these packs are one of the best high-protein snacks out there.
Eat This!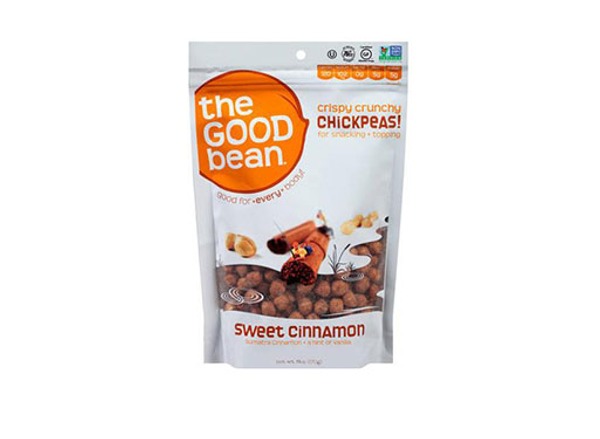 The Good Bean Sweet Cinnamon Chickpeas, 1 oz
| | |
| --- | --- |
| Calories | 120 |
| Fat | 3 g |
| Saturated Fat | 0 g |
| Sodium | 102 mg |
| Carbs | 18 g |
| Sugar | 6 g |
| Protein | 5 g |
We're here to save you from your nutritionally-void cinnamon-sugar pita chip addiction. These roasted chickpeas are the better-for-you alternative that packs the same flavor you love. With a hearty crunch and sweet flavor, you can munch on these little guys with a lot less guilt and equal amounts of enjoyment. They'll keep well in your car, so don't be afraid to store them in the glove box. Enjoy the fact that you're fueling your body with real, whole plant-based protein and fiber, which — unlike carb-heavy pita chips — will fill you up in a single serving.
Eat This!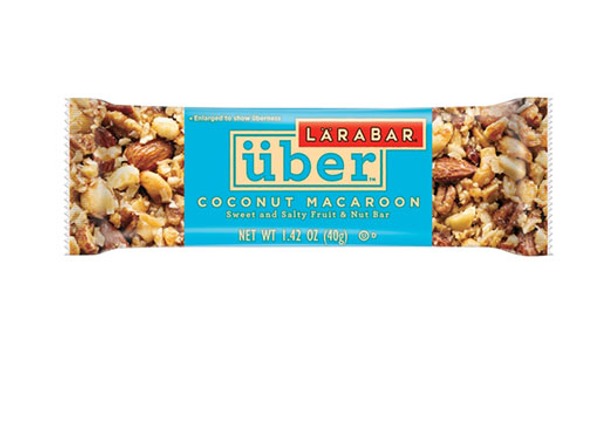 Larabar Uber Coconut Macaroon Bar, 1 bar
| | |
| --- | --- |
| Calories | 220 |
| Fat | 16 g |
| Saturated Fat | 4.5 g |
| Carbs | 15 g |
| Fiber | 3 g |
| Sugar | 9 g |
| Protein | 4 g |
Bars are the obvious choice when it comes to portable and convenient snacks. They're easy to stash in your purse, desk, back pocket, or — of course — your car. Unfortunately, you're usually trading processed ingredients for a short shelf life when you choose a healthier bar. And any bar with chocolate or yogurt is out of the question for sweltering glove compartments. Enter: Larabar Uber Coconut Macaroon bar, which not only contains less sugar than others bars in their line but also lives up to the same standards of clean, natural ingredients. Made from heart-healthy nuts like almonds, macadamias and cashews, this bar will give your body just enough healthy fats and protein to quiet hunger and keep blood sugar levels stable. And Larabar only uses natural sources of sweetness like coconut and dates that come with fiber that blunts the glycemic effect of the sugar. Keep a couple on hand to satisfy your sweet tooth and your pre-dinner belly-aches.
Eat This!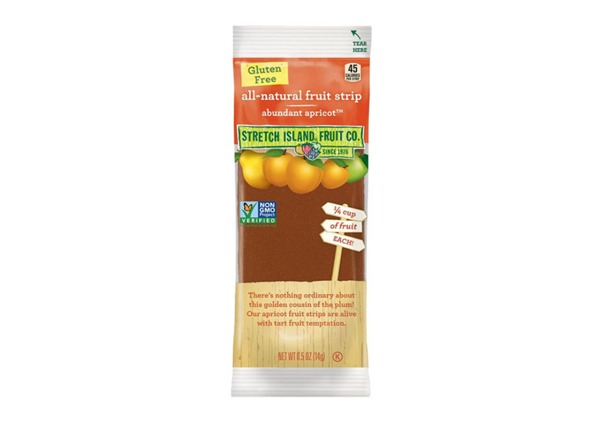 Stretch Island Fruit Co Strips, Abundant Apricot, 1 strip
| | |
| --- | --- |
| Calories | 45 |
| Fat | 0 g |
| Saturated Fat | 0 g |
| Carbs | 11 g |
| Fiber | 1 g |
| Sugar | 7 g |
| Protein | 0 g |
Please your inner child without suffering a candy coma with these natural versions of fruit roll-ups. Made purely from fruit purees, these strips steer clear of all added sugar. For a paltry 45 calories, one sweet strip can cure your cravings in a pinch. While they're not going to fill you up, they will save you from grabbing the first candy you see at the gas station. Give them to the kids, too. Though these are thicker than the sugar-laden childhood classic, your little ones likely won't taste a difference — as long as you pick up their favorite flavor. With six fruit leather flavors and three variations of natural fruit chews, there are more than enough options to pass to the back seat when your little passengers get fidgety.
Eat This!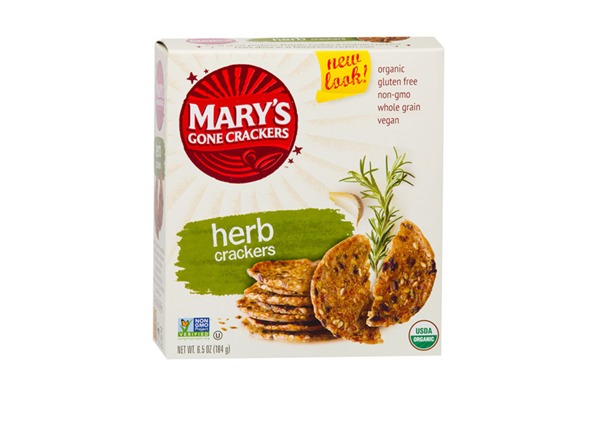 Mary's Gone Crackers Herb Crackers, 13 crackers
| | |
| --- | --- |
| Calories | 140 |
| Fat | 5 g |
| Saturated Fat | 0.5 g |
| Sodium | 180 mg |
| Carbs | 21 g |
| Fiber | 3 g |
| Protein | 3 g |
All the crunch and none of the junk, these crackers trample processed versions when it comes to nutrition stats and flavor. The bulk of their waist-whittling nutrition comes from whole grains, with healthy hunger-crushing add-ins like quinoa, flax seeds, brown sesame seeds, garlic and herbs playing a supporting role. Even if you overindulge on the road, you can find solace in the fact that these crunchy crackers derive all their flavor from natural, potent food sources as opposed to highly processed, artificial ones. Even better, they're also a rich source of omega-3 fatty acids, meaning they'll halt hunger pangs and keep you feeling satisfied until your reach your destination.