We Compared Costco's Heart-Shaped Ravioli To Trader Joe's & One Packs Extra Oomph
Can you guess the secret ingredient? (Hint: it's not love)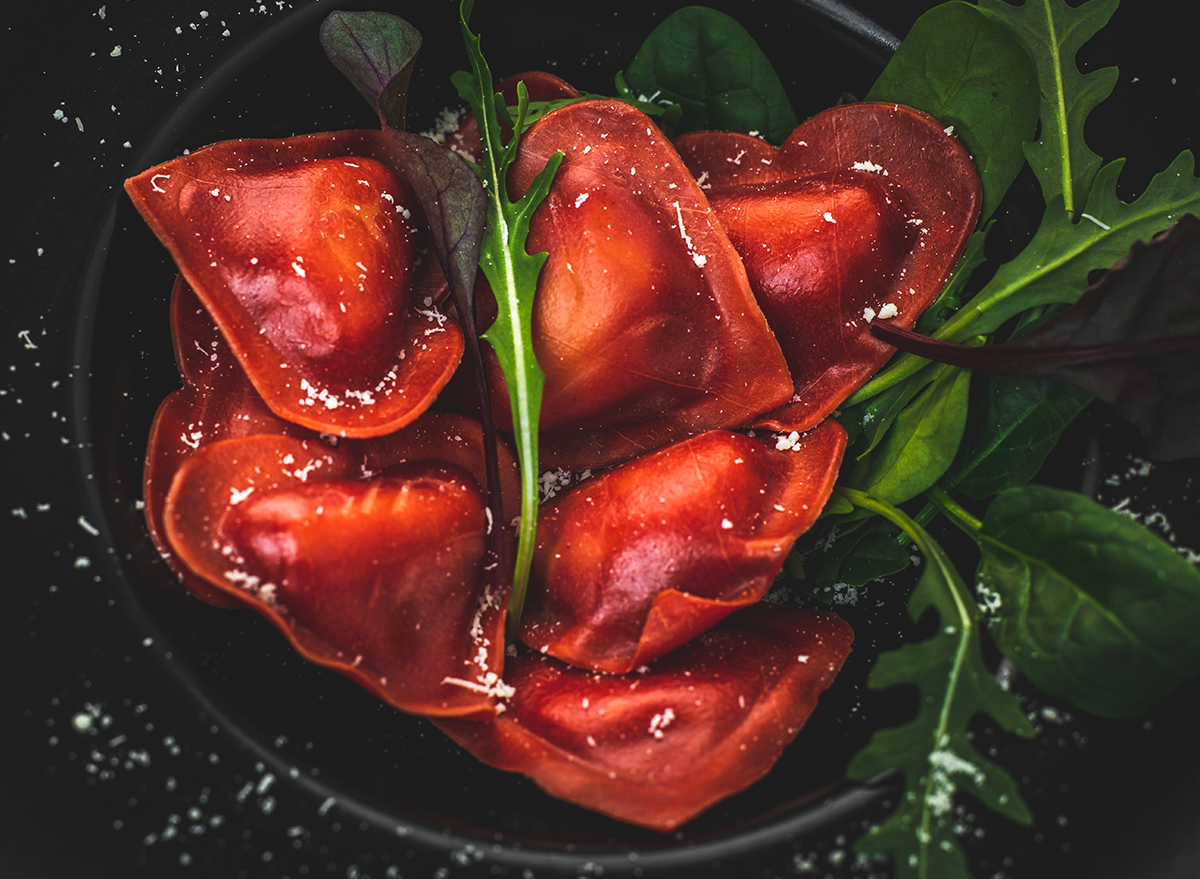 If you are looking for an easy, festive entrée to serve your loved ones this Valentine's Day, consider the classic heart-shaped ravioli. Yes, it's cheesy, but that's sort of the point!
Two of the most popular national grocery chains are currently selling their own versions of this seasonal item: Costco and Trader Joe's. Both prepared pastas are rose-colored, stuffed with a mixture of cheeses, and ready to cook. But each one is a little different, too.
I recently picked up a package of both options and served them side by side to the most discerning diners I know—my children. Here's how they compare:
Costco's Nuovo Italian Four Cheese Heart Shaped Ravioli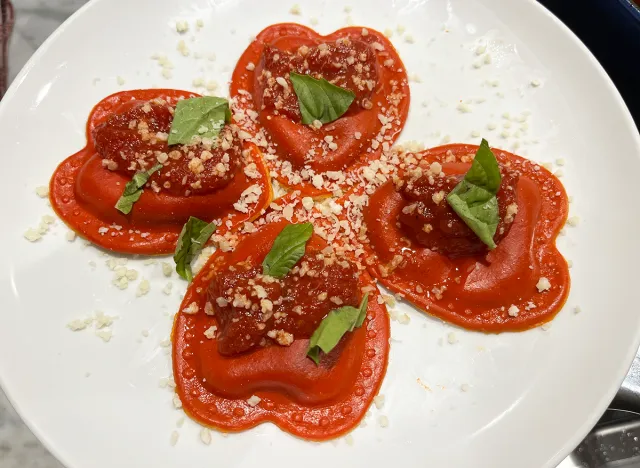 Serving 1 cup: 240 calories, 9 g fat, 4 g saturated fat, 27 g carbs, 3 g fiber, 440 mg sodium, 1 g sugar, 11 g protein
Like an old lover who keeps coming back for more, this ticker-themed ravioli has returned again in 2023. Costco has been selling this item since at least 2019. Because it's Costco, you can't buy just one package. You have to get two. That's great news if you're feeding a family, or dating multiple people. The twin pack, totaling two full pounds of pasta, cost $8.99 at my local warehouse, which is actually a bit cheaper than it used to be.
Made by Nuovo, which is based in Connecticut, the ravioli comes in two tones: a deep shade of red on top and a light beige underneath. According to the label, it gets its coloring from a blend of annato oil, beta-carotene and paprika oil. The ravioli is stuffed with a mix of asiago, mozzarella, ricotta, and parmesan cheeses. It also comes with a suggested wine pairing (Prosecco, of course!) and a recipe for a special pink Alfredo sauce (which I skipped for this exercise).
Though they liked the ravioli's bright-colored appearance, my little taste-testers were nonplussed with how ordinary it tasted. "It's just like normal ravioli," my 8-year-old daughter shrugged.
Trader Joe's Ricotta Cuoricini Ravioli
6254a4d1642c605c54bf1cab17d50f1e
Serving 1 cup: 220 calories, 8 g fat, 4.5 g saturated fat, 29 g carbs, 2 g fiber, 420 mg sodium, 7 g sugar (incl. 3 g added sugar), 8 g protein
Trader Joe's fans have been crushing on this new arrival since Instagram's @traderjoesobsessed spotted it last week, racking up over 7,000 likes. One commenter even compared its looks to an intimate part of the female anatomy. Hey now! The 8.8-ounce package cost $3.99 at my local TJ's.
Made in Italy, according to the package, the pasta is a lighter, more pinkish color (vegetable juice is the only food coloring listed on the label) and has a more delicate, silky texture than Costco's dense Nuovo variety. It comes stuffed with two cheeses: ricotta and the real-deal Parmigiano Reggiano.
But what really sets it apart is a balsamic vinegar reduction tucked inside the ravioli, which adds a burst of sweet and sour upon each bite.
It's "way juicier," noted my observant third-grader, who preferred this ravioli "because it's something different."