We Tried HelloFresh—This Is Why It's Worth It
If you don't have time to meal plan and grocery shop, meal kits can be lifesavers.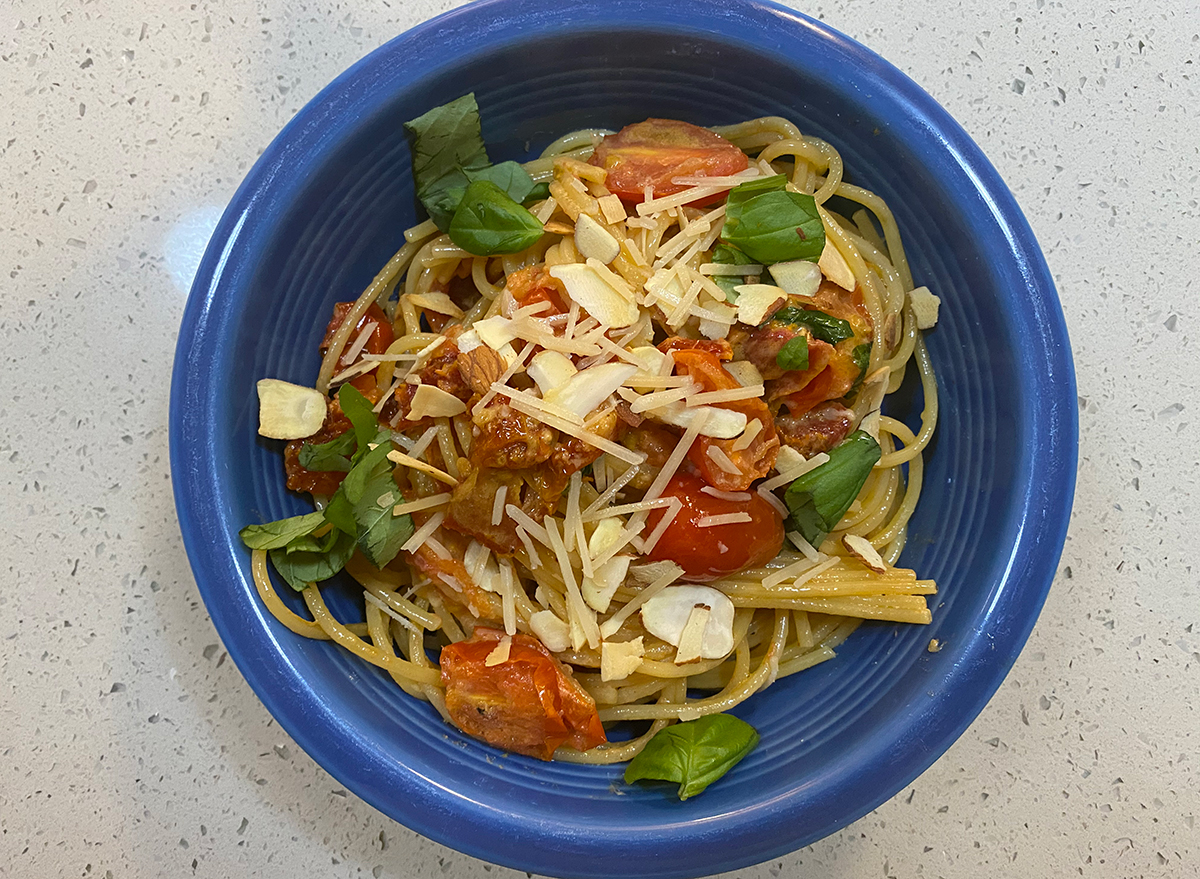 We may earn a commission for anything you purchase through links on this page.
If you're trying to maintain a healthy diet, you've probably heard this advice plenty of times: You're better off cooking at home. By making your own recipes, you can control how much of each ingredient goes into your meals, and you won't have any unknown fillers or preservatives making their way into sauces or dressings.
But there are plenty of barriers that can get in the way of cooking every day. Maybe you live in a food desert, or you work long hours and don't have time to stop at the grocery store for fresh ingredients, or you're new to cooking for yourself or your family and might need some extra guidance. Enter meal kits, which eliminate several of these issues, thanks to their delivery convenience.
Like its competitors, HelloFresh will send boxes straight to your door, with multiple meal servings in each box. You can choose your plan based on family size, too: There are boxes with either two or four servings per recipe, and you can choose between two and four recipes per week.
I've tried meal kits in the past, but I wanted to see what the HelloFresh offerings are like now, eight years after the company's founding. Here's what I thought of my HelloFresh test box, which the company sent to EatThis.com for review purposes.
How does the HelloFresh shipment work, and how much does it cost?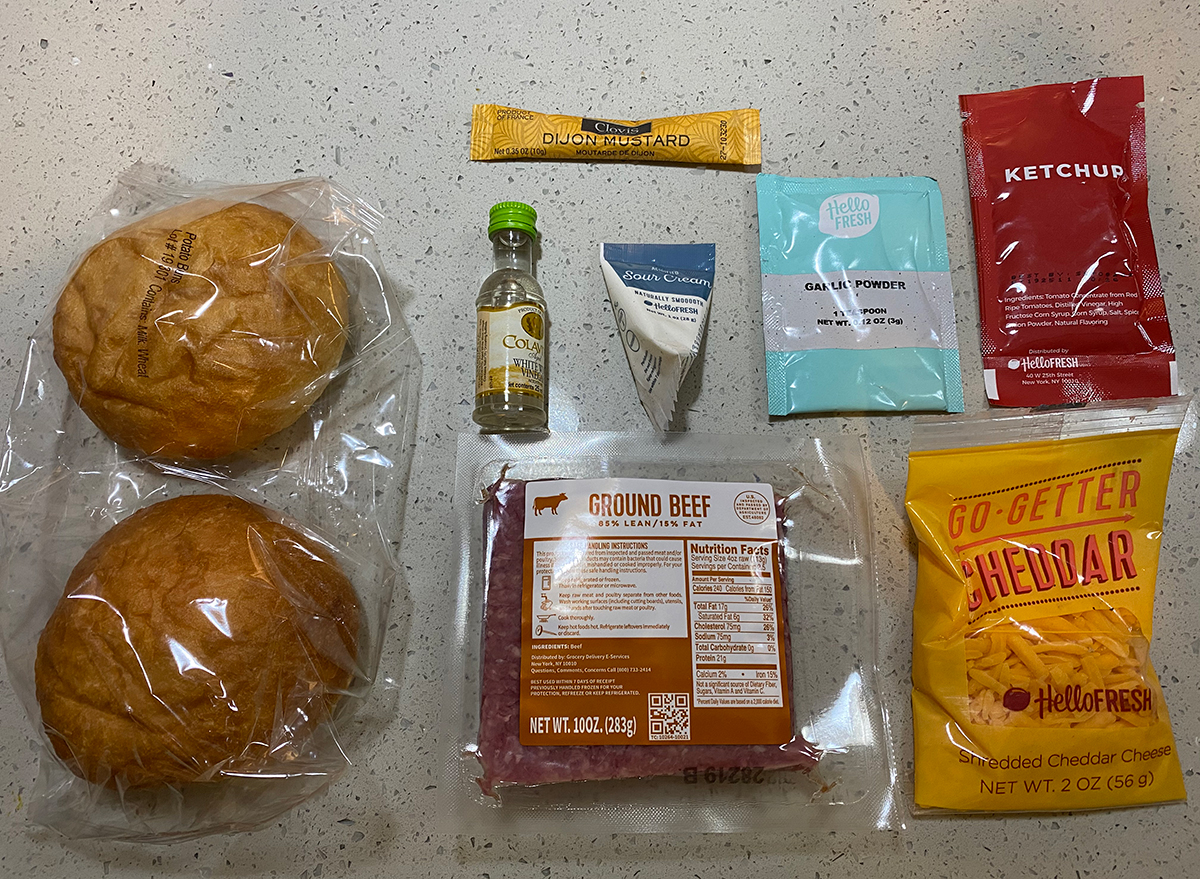 If you're a HelloFresh customer, you'll have a chance to customize your box. The week before each shipment, you can choose from a preselected list of recipes. The ingredients will then be shipped on ice, right to your home.
I was worried about my HelloFresh box sitting out all day when it was delivered, but the company packs the ingredients efficiently. The two meat packages were sandwiched in between the ice blocks, while the rest of the ingredients sat in paper bags on top of the ice packs. Even hours after the delivery, the meat was still cold to the touch.
I was also pleasantly surprised by the packaging included in the HelloFresh box. There was less plastic than I'd expected, though the individual packets of sour cream, shredded cheese, and other ingredients do add up.
In terms of pricing, there are different options based on how many people you're cooking for, and how many meals you want each week. For two meals for two people, the box is $50.95 plus tax. Three meals for two people is $60.93 per box, and four meals for two people is $78.91 per box.
At these prices, HelloFresh meals are cheaper than what you'd likely spend on a nice meal out per person (think of how much a standard restaurant burger or an Italian pasta meal usually is), so you'd be saving money cooking at home instead of dining out.
What recipes does HelloFresh offer?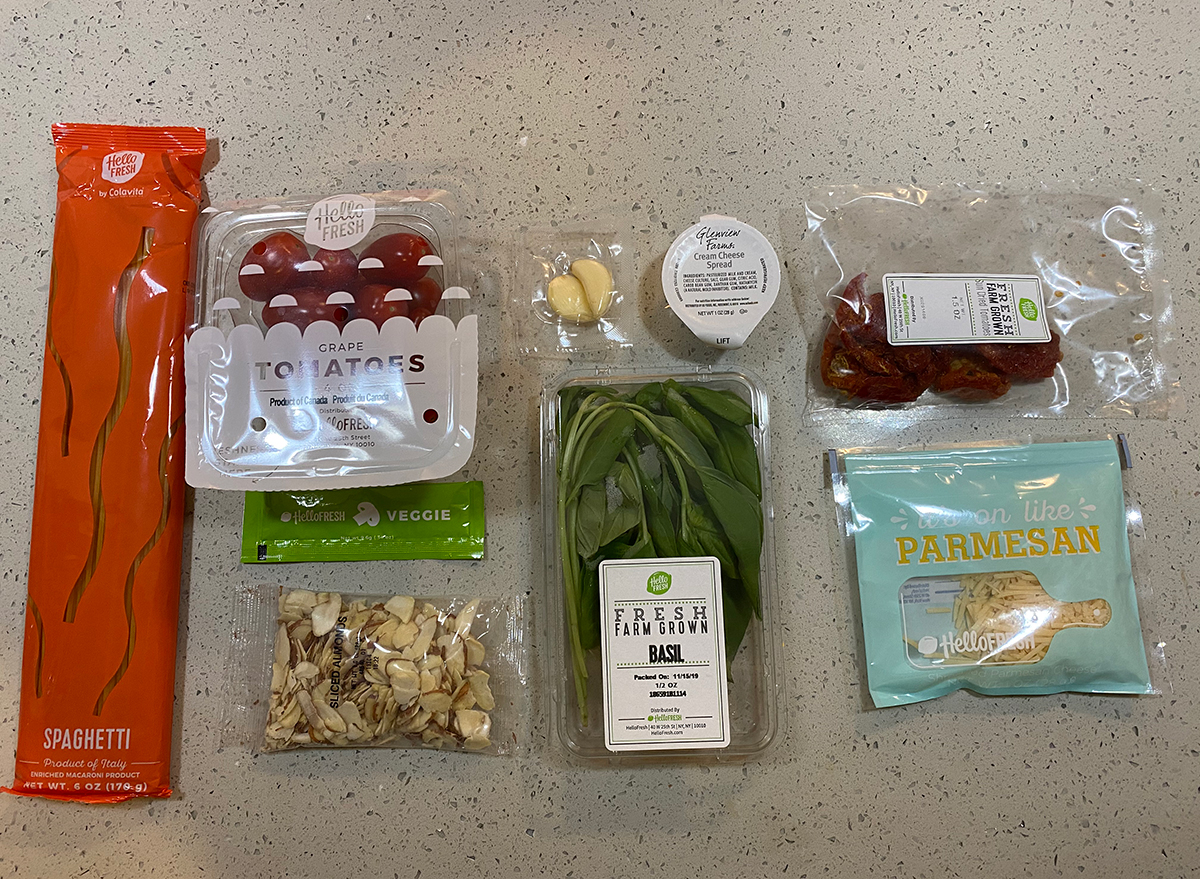 The company gave me a good list of recipes to choose from, and there are plenty of options for both vegetarians and meat-eaters alike. If you're curious, you can scroll through a list of HelloFresh recipes on the company website, too.6254a4d1642c605c54bf1cab17d50f1e
I chose two recipes that contained meat—Crispy Southwestern Chicken Cutlets and Griddled Onion Cheeseburgers—along with one vegetarian option, the Sundried Tomato & Basil Spaghetti. All three recipes contained dairy, though, so you'll have fewer recipe options to choose from if you're following a vegan diet.
There's also not an easy way to sort through the HelloFresh recipes by diet. So if you're wondering, say, if any recipes are keto or paleo-approved, you won't find the information on the company website.
Are HelloFresh recipes nutritious?
One of the most frustrating things about my HelloFresh test box is that the recipe cards don't include full nutrition info. There were calorie counts for each recipe, but nothing about the protein and fat content for each dish.
I don't follow a specific diet and wasn't concerned about the calorie count, though HelloFresh does offer a "low calorie" list of recipes. But I wanted to know how much protein was in each dish, especially the pasta, which didn't have tofu or meat included in the meal. (For the record, there were 26 grams of protein in each pasta serving, according to the nutrition facts listed on the HelloFresh website.)
Each of the recipes I selected did end up being more than 700 calories, so that's definitely something to be aware of going into this meal kit. (Still, you are making these recipes with only fresh ingredients, so they could still be better for you than similar items would be at some restaurants.)
How do the HelloFresh meals taste?
I enjoyed all three of the HelloFresh meals, but for me, they weren't special enough to justify the cost of the meal kit. All of them featured fairly basic ingredients and cooking instructions. That's great if you're just learning to cook and are building your go-to list of recipes, but these weren't exactly groundbreaking dinner options.
Sundried Tomato & Basil Spaghetti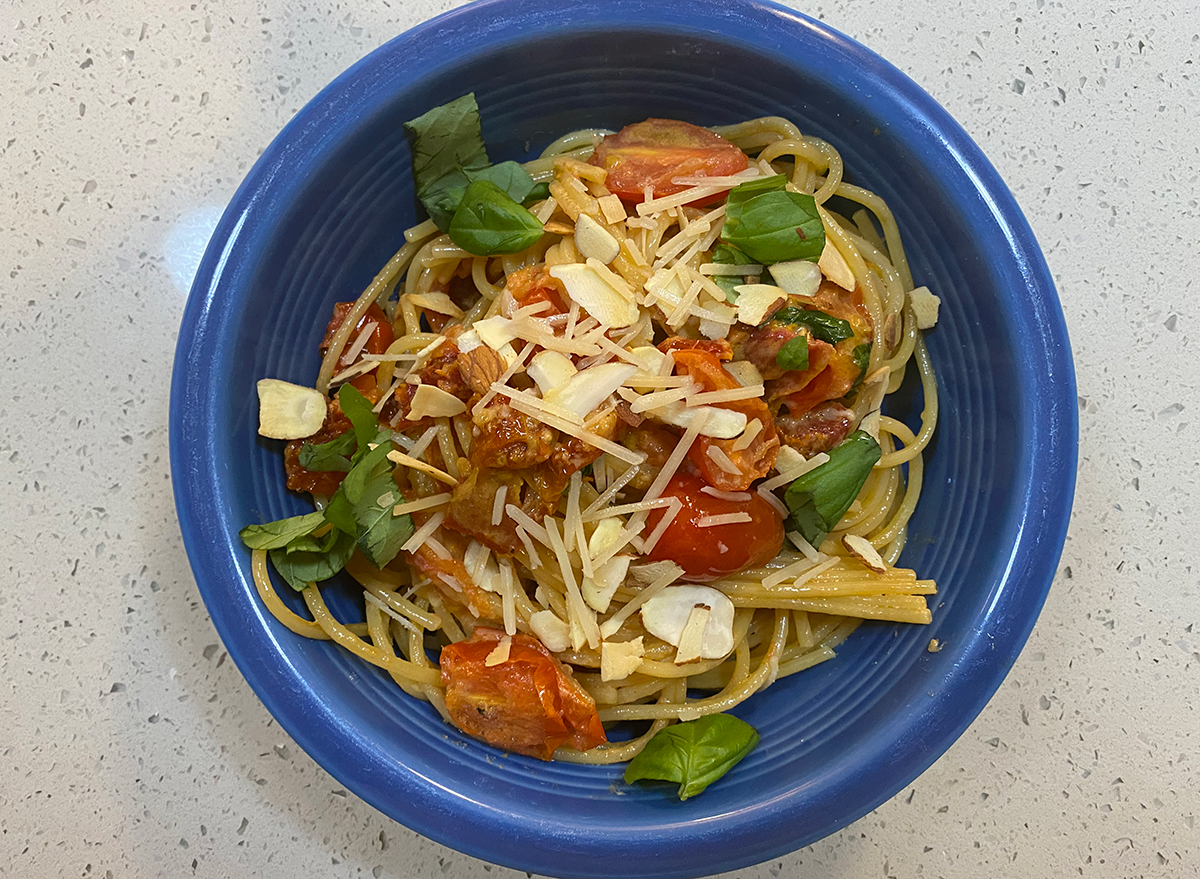 With the Sundried Tomato & Basil Spaghetti, I found the number of tomatoes overwhelming. I was excited about the sundried tomatoes, but the addition of another package of fresh tomatoes was too much for my taste. I also wished the recipe had incorporated some form of soft cheese, instead of the cream cheese—I think I was remembering these Blue Apron recipes that featured spreadable goat cheese. I did, though, enjoy how easy this dish was to make, and the toasted almonds added a nice crunch.
Southwestern Chicken Cutlets
The Southwestern Chicken Cutlets was my favorite meal, thanks to the addition of seasonings and hot sauce to kick the flavor up a notch. I don't usually eat onions as a side dish, so cooking them with the poblano slices was a great way to switch up my normal meal routine. The one drawback of this meal was the lack of specificity with the seasoning measurements. (It's hard to eyeball how much "half the chili powder" is when it's in an opaque packet.) Still, the crispy chicken was flavorful and easy to cook—I'd use this recipe card again with grocery store ingredients.
Griddled Onion Cheeseburgers
The Griddled Onion Cheeseburgers were good, but nothing spectacular, and definitely not as flavorful as a restaurant burger. It was hard to top them with the shredded cheese, and I found myself wishing I'd put the cheese inside the patties instead. There was also way too much onion—an entire diced onion is a lot for topping two burgers—and I ended up saving some of it for a future recipe.
The shallot in the "special sauce" also took me back to my Blue Apron days, when every recipe seemed to contain a shallot, presumably because it was small, and therefore easier to use whole in a recipe. As with the onion, there was far too much sauce to go around, and I did have leftovers.
Bottom line: HelloFresh is best for beginner cooks and those who benefit from the delivery feature
I have access to multiple grocery stores and can get these ingredients at a lower price where I live, so HelloFresh is a fun option for me if I want to try some new recipes. But for someone who lives in a food desert, doesn't have time to shop, or can't carry heavy groceries home, delivery kits like HelloFresh can be lifesavers. The meals are filling and customizable, and they would be great for people just getting into cooking at home. The recipes are available online without a subscription, too, if you want to try them yourself without becoming a subscriber. So if you're looking for simple recipes without the hassle of grocery shopping, HelloFresh is a great option and so worth it.
Meghan De Maria
Meghan De Maria is a senior editor at
Eat This, Not That!
, specializing in food, product, and restaurant coverage.
Read more about Meghan