20 Most Popular Holiday Menu Items at Restaurant Chains
Peppermint and gingerbread in EVERYTHING.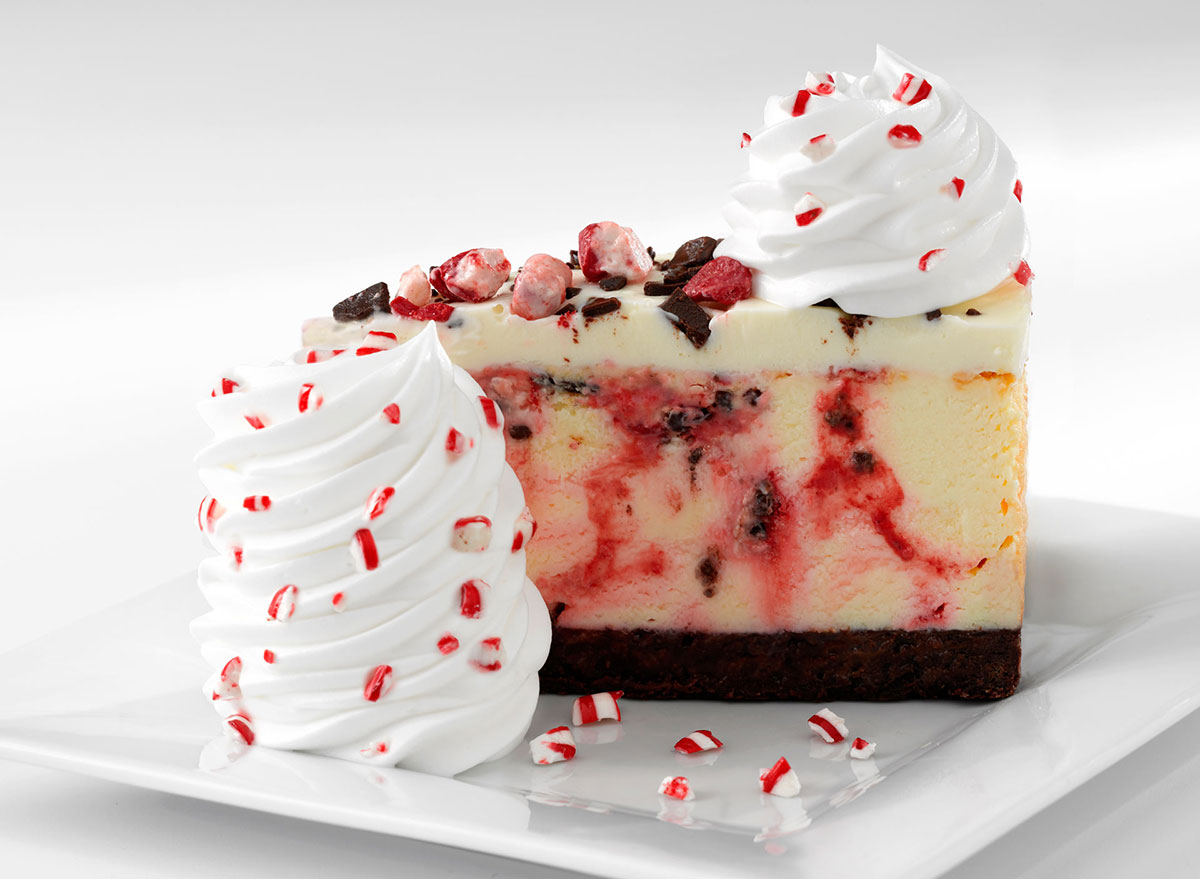 From peppermint to gingerbread, the holidays usher in lots of festive flavors that restaurants incorporate into their limited-time menus in new and creative ways. At chains across the country, you'll find sugar (Santa donuts!) and spice (jalapeño and pomegranate-glazed bacon!) and everything nice (garland garnishing the stem of a margarita glass!).
Admittedly, these once-a-year splurges, such as 1,200-calorie stacks of candy-studded pancakes, don't exactly land on the "nice list" for foods recommended by registered dietitians, so we've sprinkled in some of their advice for how to make holiday offerings a bit more healthy.
Here are 20 of the most festive holiday menu items at restaurant chains.
And for more, check out these 15 Classic American Desserts That Deserve a Comeback.
IHOP's Milk 'n' Cookies Pancakes
A nod to Santa's favorite late-night snack, the Milk 'n' Cookies Pancakes at IHOP are festive, fluffy, and filled with Oreo cookie pieces, then topped with sweet milk mousse, more cookies, a vanilla drizzle, red and green sprinkles, and powdered sugar.
But, these dessert-like pancakes are loaded with sugar and clock in at 1,190 calories, points out Talia Hauser, RDN in The Colony, Texas. A better option on the IHOP holiday menu is the pumpkin spice pancakes, which, made with real pumpkin, will give you a little boost of vitamins and have half the calories.
"Even better, get a half stack or side order of the pumpkin spice pancakes and balance out the meal with an egg white vegetable omelet," Hauser says.
In addition to the pancakes that IHOP has on its seasonal menu, the breakfast chain has a Holiday Family Feast that comes with a pancake decorating kit.
Red Robin's Gingerbread Milkshake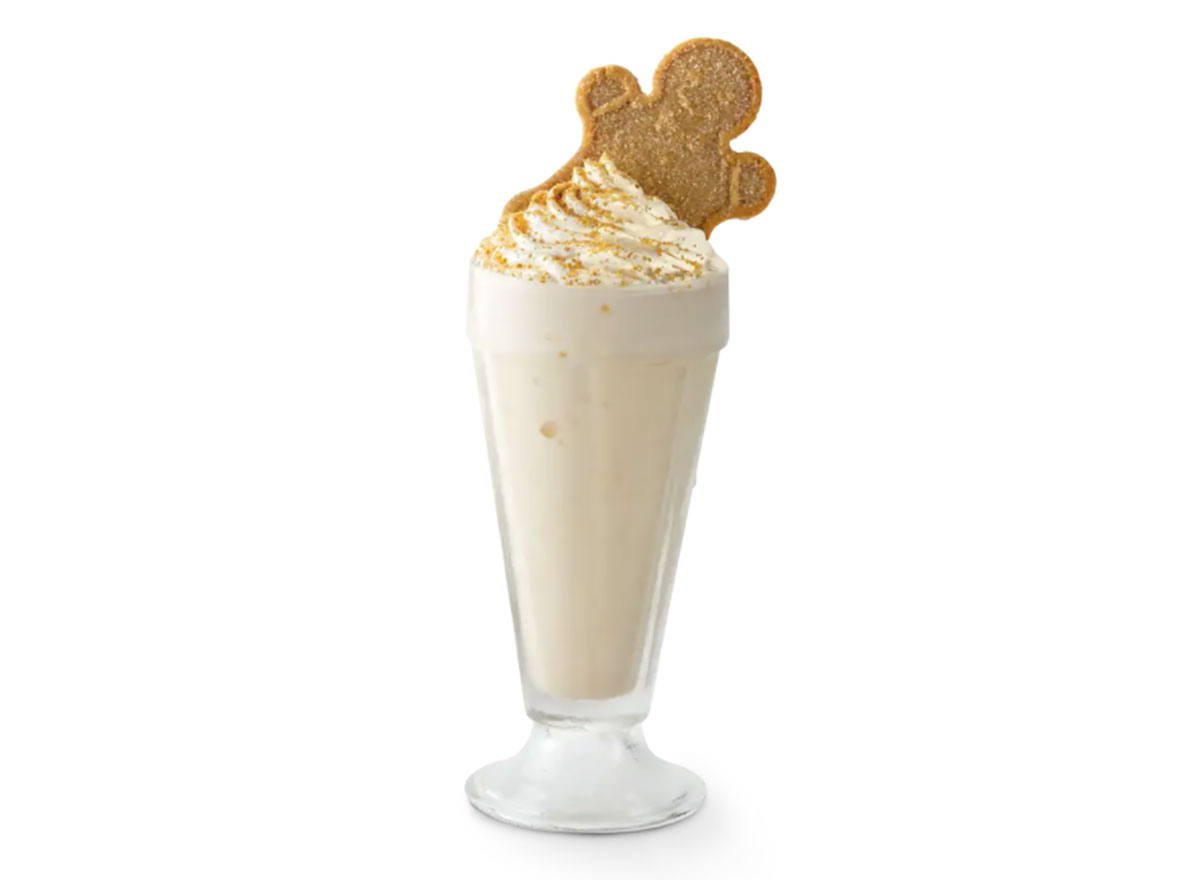 Mixed with a gingerbread flavor and garnished with graham cracker crumbs, this gingerbread milkshake from Red Robin's limited-time menu is worth a try. To double down on dessert, the shake comes with a gingerbread cookie.
Applebee's Berry Merry Colada
A tropical twist on Christmas cocktails, Applebee's Berry Merry Colada is a piña colada swirled with red (strawberry) and green (Midori). The colada spiked with Captain Morgan is on the $5 "Sleigh Bell" sips menu. And for another holiday cocktail, the chain puts a Dash(er) of cherry in the vodka Reindeer Punch that's mixed with Ocean Spray Cranberry and sweet and sour.
Because holiday cocktail menus tend to feature drinks loaded with sugar or high in fat, like eggnog, you're better off making mulled spiced wine at home, says Hauser.
"Most recipes call for just red wine, spices like cinnamon and cloves, oranges, and some brown sugar to increase the sweetness," she says. "Try playing around with different recipes. You may find you may not even want the brown sugar."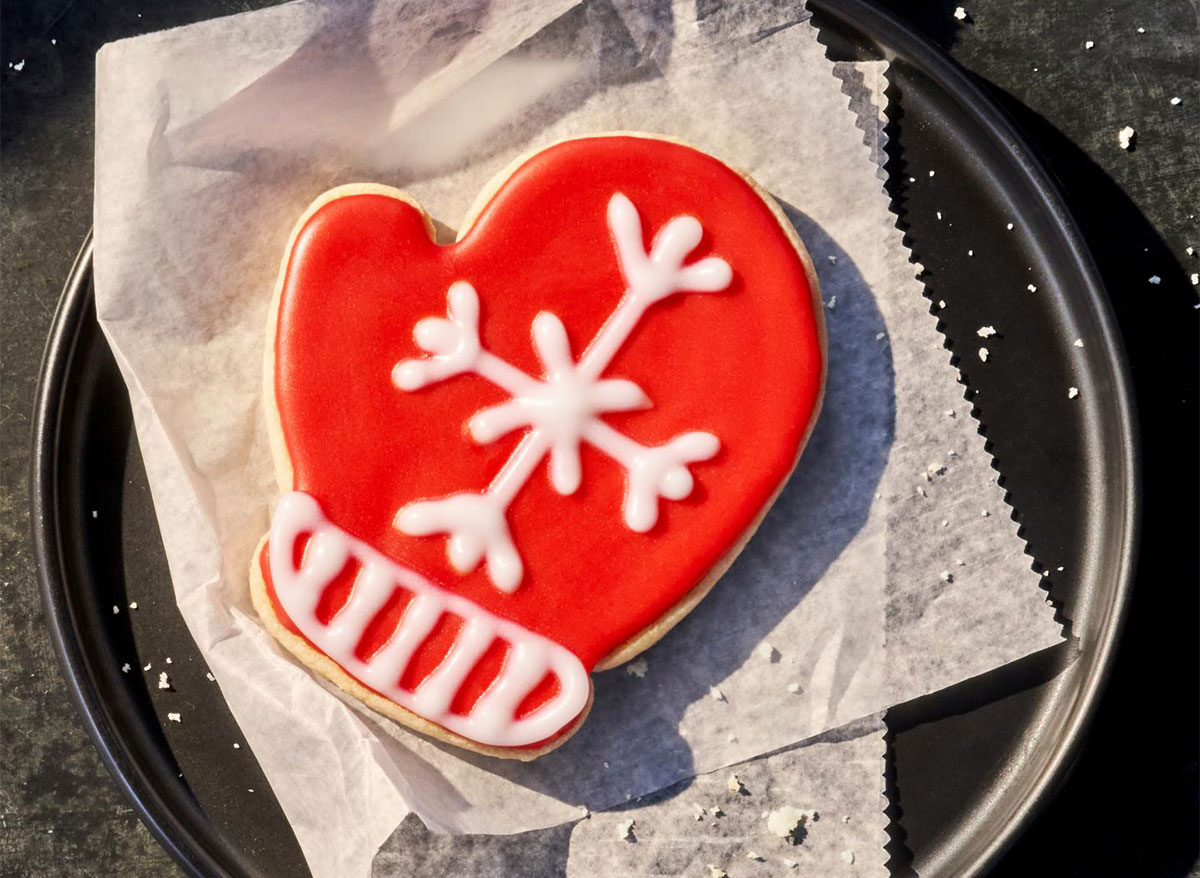 Get your hands on these adorable mitten-shaped shortbread cookies from Panera. You can buy a single cookie or a six-pack.
Red Lobster's Cheddar Bay Biscuits Gift Box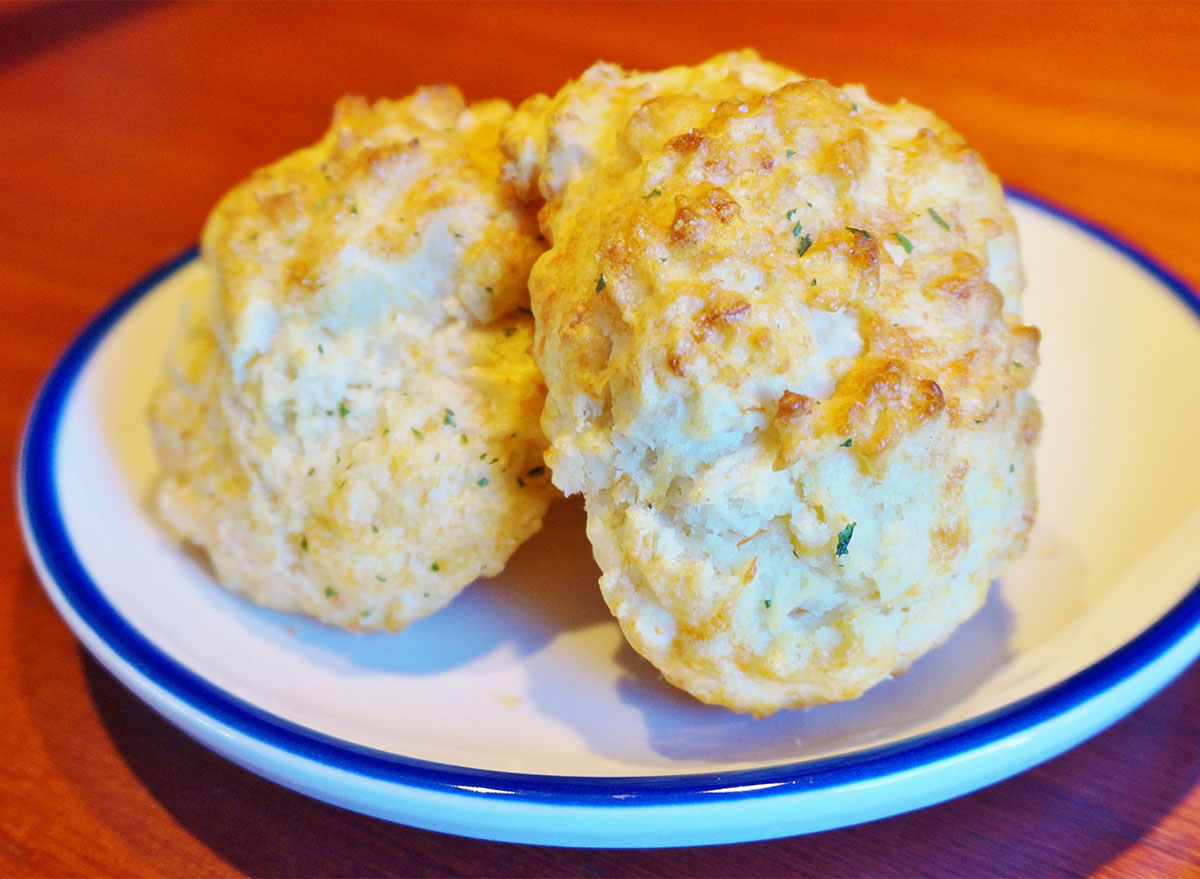 Buttery, garlicky Cheddar Bay biscuits are an iconic menu staple year-round at Red Lobster. But they only come in a holiday-themed gift box once a year. Grab a six-pack and gift it as a savory alternative to cookies.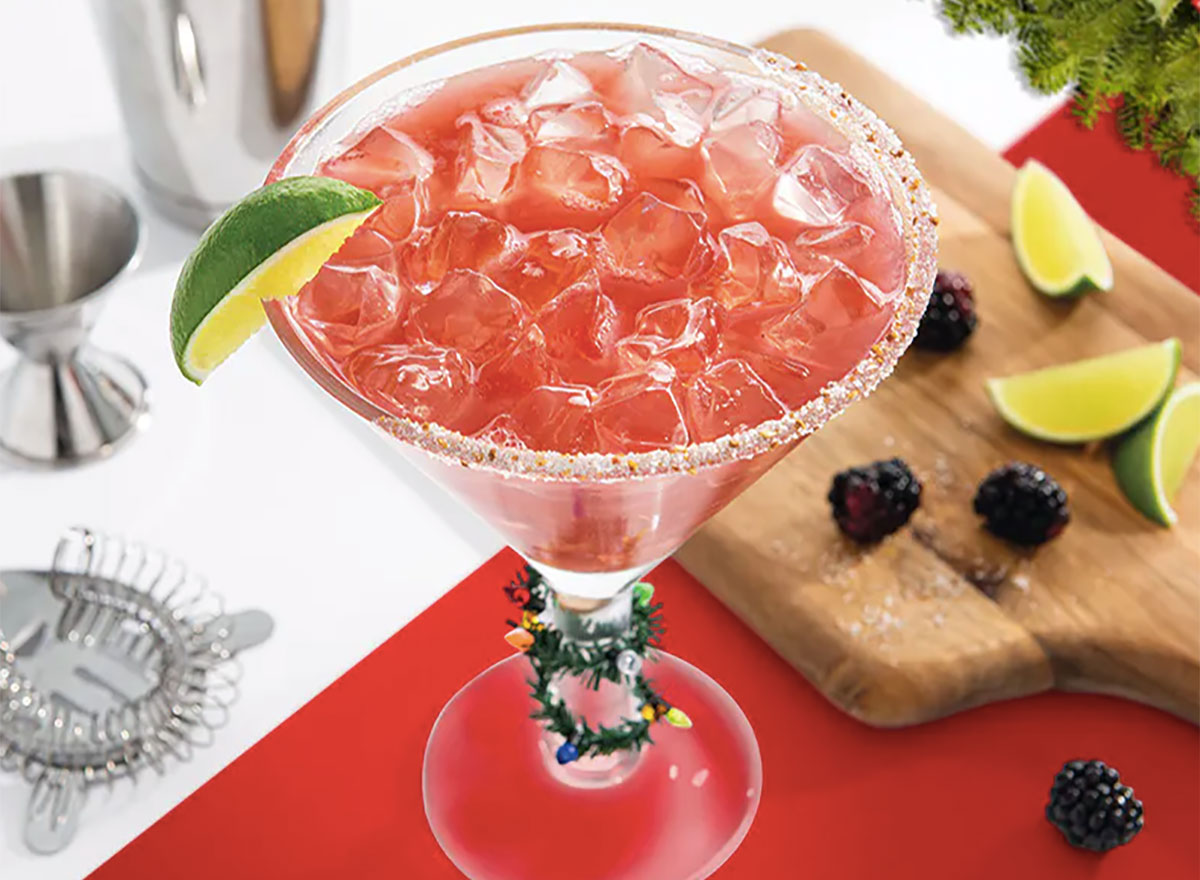 The chain rolls out a $5 margarita every month. In time for the holidays, they're gifting us with a Merry Berry Rita, a margarita made with strawberry puree and blackberry, with the stem wrapped in mini garland.
If you're looking to cut back on sugar or calories, ask the bartender if there's a way to make your drinks with less sugar or syrup, suggests Silvia Carli, R.D, with 1And1Life.
Snooze's Jalapeño and Pomegranate Glazed Bacon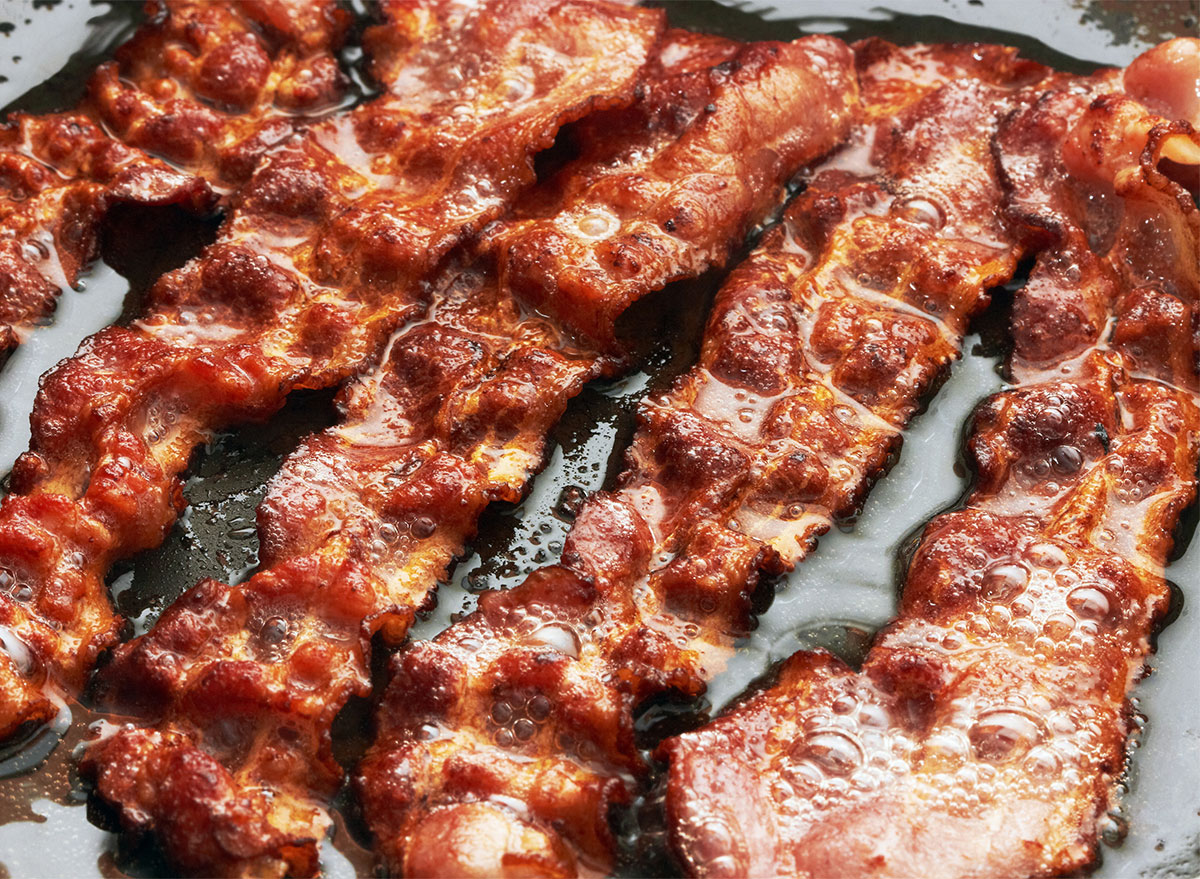 A breakfast chain that's in states including California, Arizona, Colorado, Texas, North Carolina, and Missouri, Snooze is known for its decadent pancakes. For the holidays, they have a special holiday menu with peppermint bark pancakes and pumpkin pecan pie pancakes. But they also have some more unexpected offerings, including Jalapeño and Pomegranate Glazed Bacon and a Holiday Harvest Bowl that's got butternut squash and sweet potatoes mixed with veggies and topped with a poached egg, cream cheese hollandaise, candied cranberries, and crispy prosciutto. It's finished with the same jalapeño and pomegranate molasses that's on the bacon.
Chick-Fil-A's Peppermint Chip Milkshake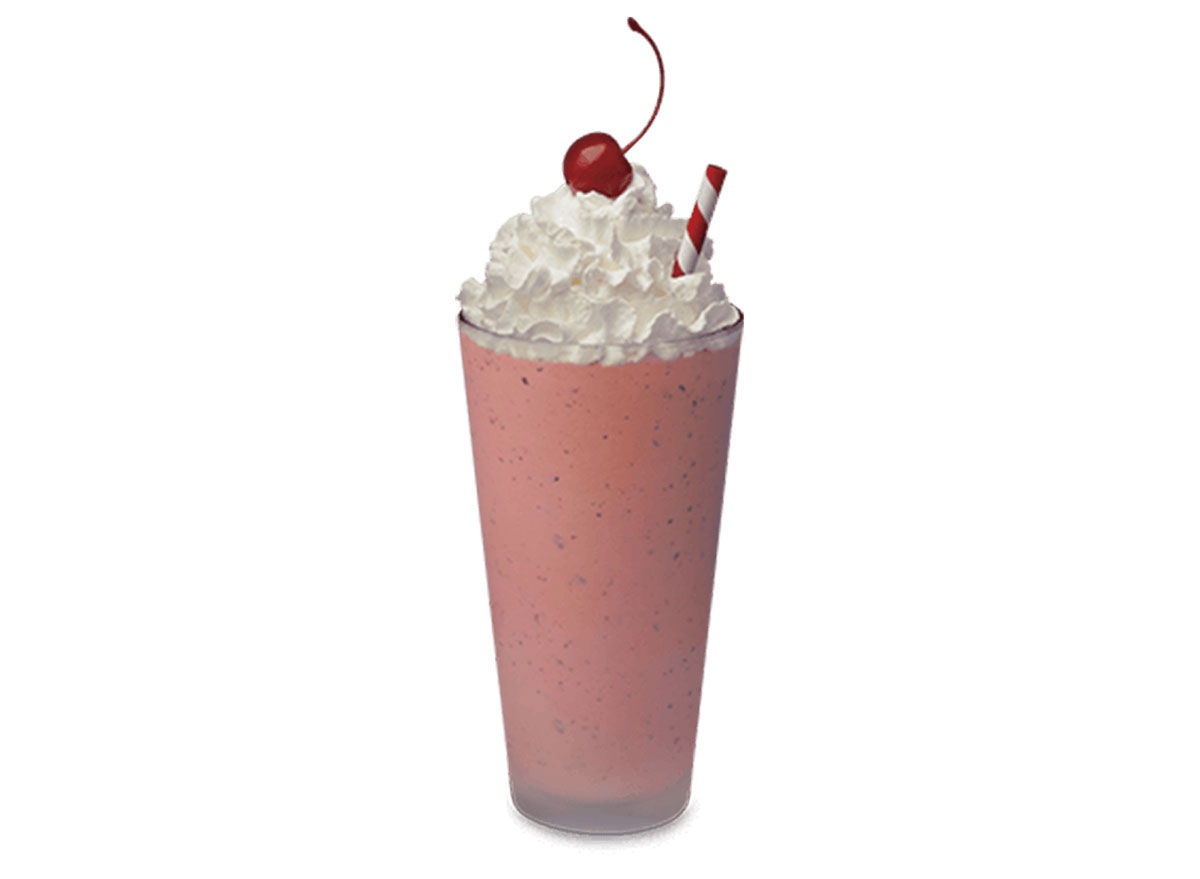 A candy cane-inspired treat, Chick-Fil-A's Peppermint Milkshake has a just-right ratio of chocolate and peppermint bits. The minty milkshake is a seasonal treat that's served with a whipped cream swirl and a cherry on top.
Dunkin' Sugarplum Macchiato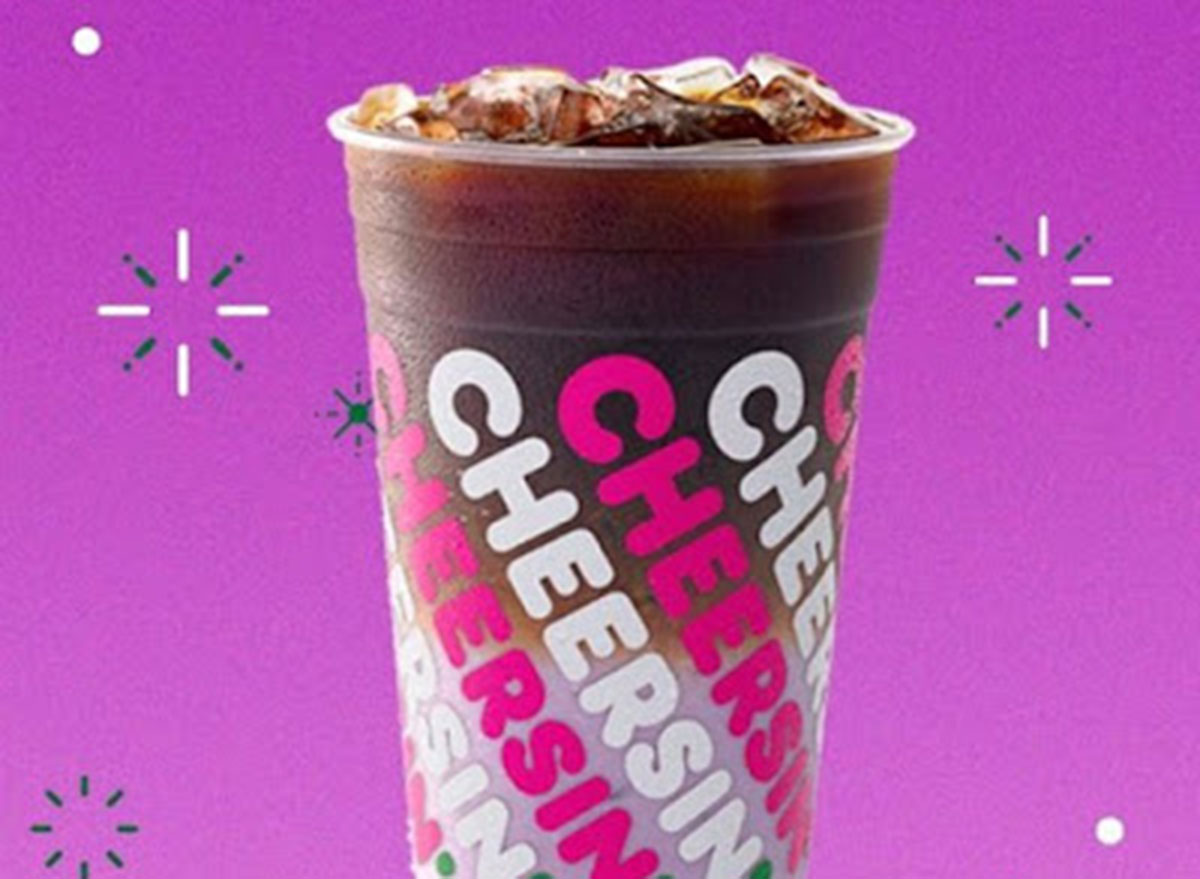 New to Dunkin Donuts' holiday espresso lineup this year is a Sugarplum Macchiato that's made with a blend of plum and berry flavors, including blueberry, raspberry, and blackberry, and accented with notes of vanilla. For an Instagram-worthy treat, pair it with the Frosted Snowflake Donut, which has purple icing and snowflake sprinkles.
Krispy Kreme's Festive Doughnuts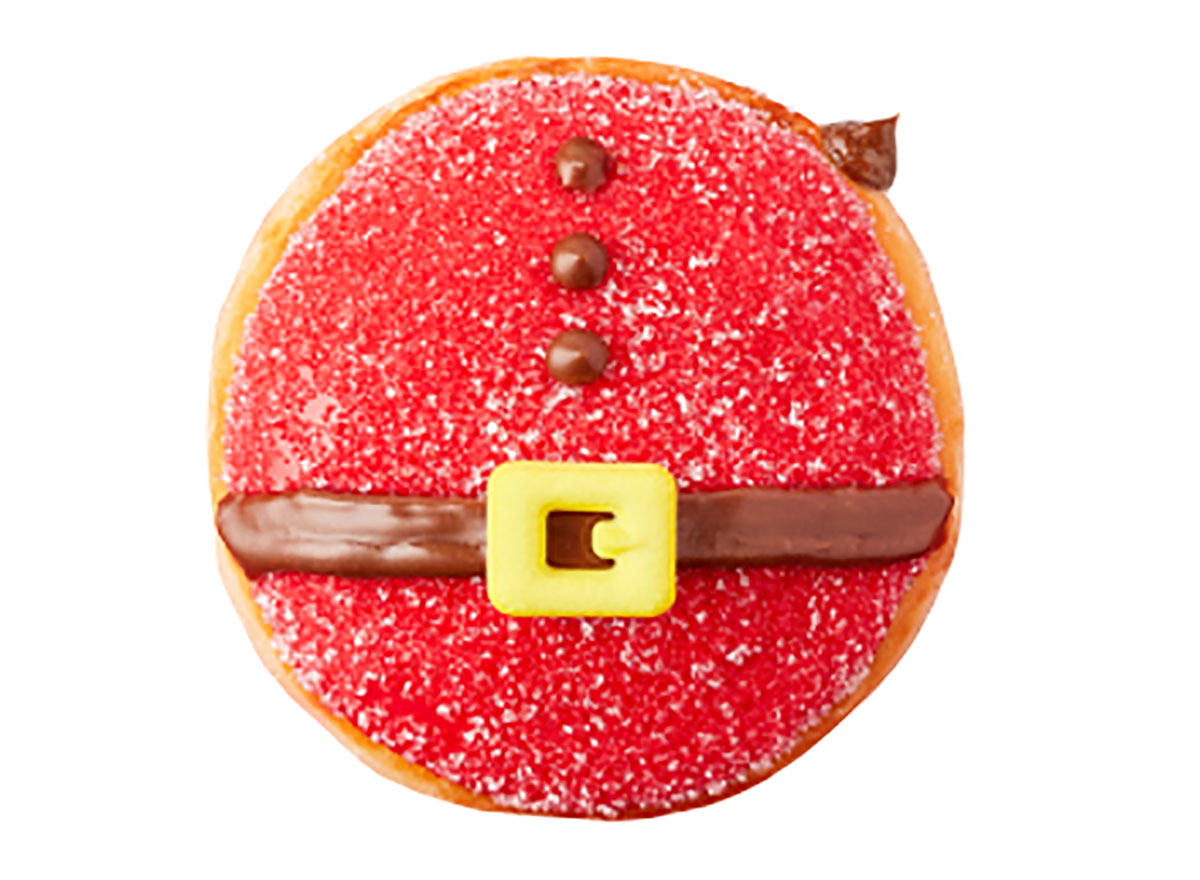 Krispy Kreme's lineup of holiday doughnuts is almost too cute to eat. Almost. Among the holiday treats is a Santa Belly doughnut that's filled with chocolate cream, dipped in red icing and sanding sugar, and decorated with a sugarpiece belt. Another holiday option is the Christmas present doughnut, filled with sugar cookie cream and finished with green and red icing and a sugarpiece bow.
Starbucks' Toasted White Hot Chocolate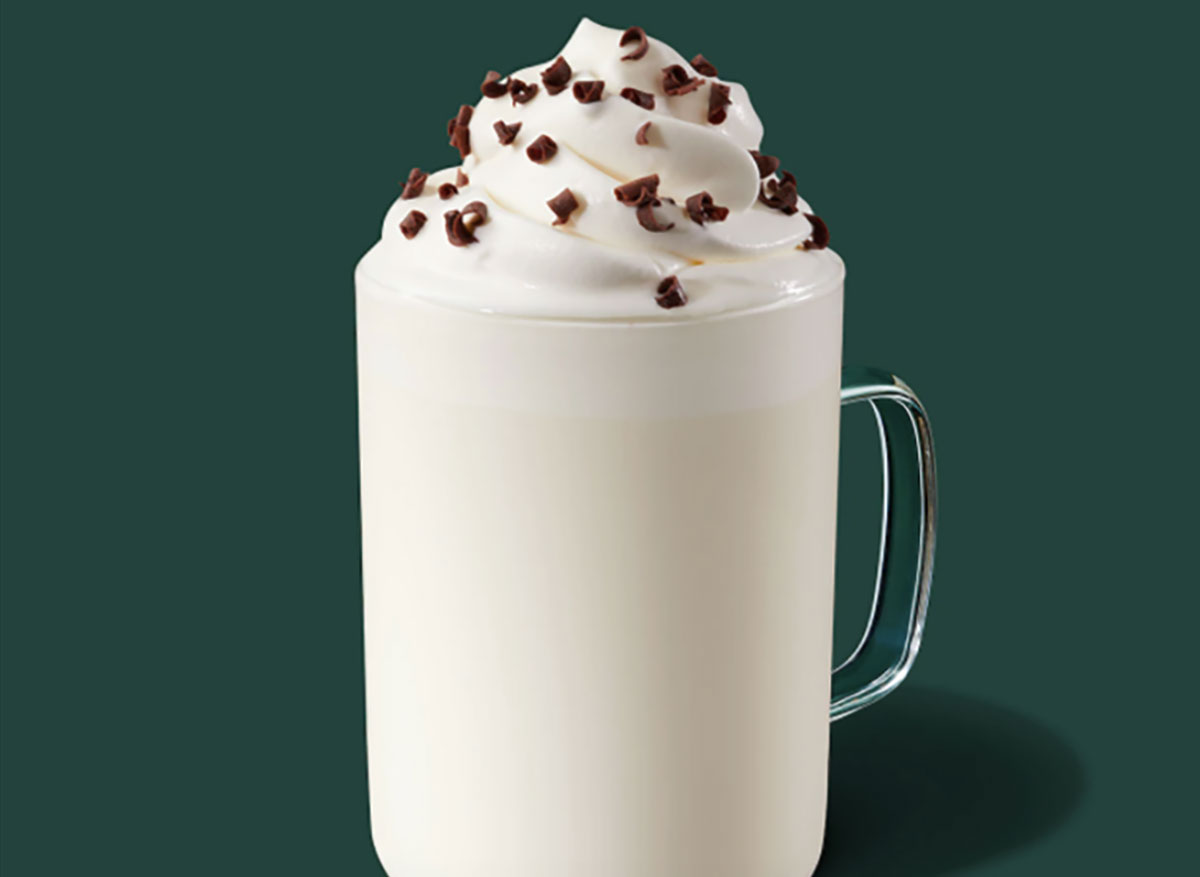 Starbucks is slinging all types of Santa-approved beverages this time of year. You'll find several holiday drinks from specialty hot chocolates to a chestnut praline creme steamer.6254a4d1642c605c54bf1cab17d50f1e
If you love the idea of the toasted white hot chocolate, Hauser has some tips for trimming the calories, fat, and sugar in this drink. Sub nonfat milk, scale back to two pumps of white chocolate syrup and skip the whipped cream, and you'll still have an indulgent and festive drink.
A general tip at Starbucks for the holidays: Custom-order your lattes to request just a pump of syrup, says Katelyn Brockmiller, R.D. Or, go for steamed milk with a shot of cinnamon instead of a latte, says Ashley Harpst, R.D.
Cracker Barrel's Heat N' Serve Holiday Meals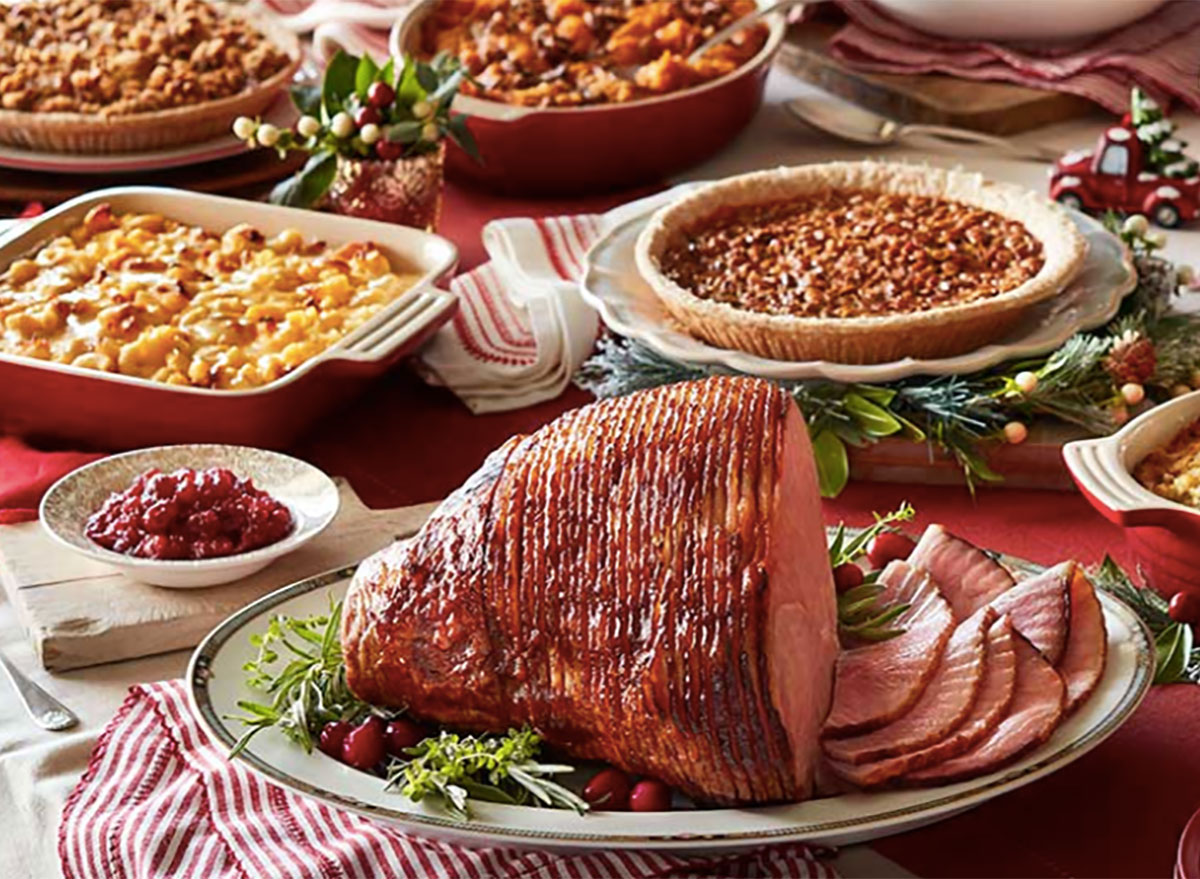 Amid a new normal this holiday season, Cracker Barrel has a new menu offering: Heat and Serve meals that come in a Family Dinner size (serves four to six) or a Feast size (serves eight to 10) and that feature a spiral-sliced, sugar-cured ham. Both the family dinner and feast have cornbread dressing, roasted gravy, cranberry relish, sweet yeast rolls, and a choice of sides. The feast also comes with an apple pecan streusel pie and a pecan pie.
The Cheesecake Factory's Peppermint Bark Cheesecake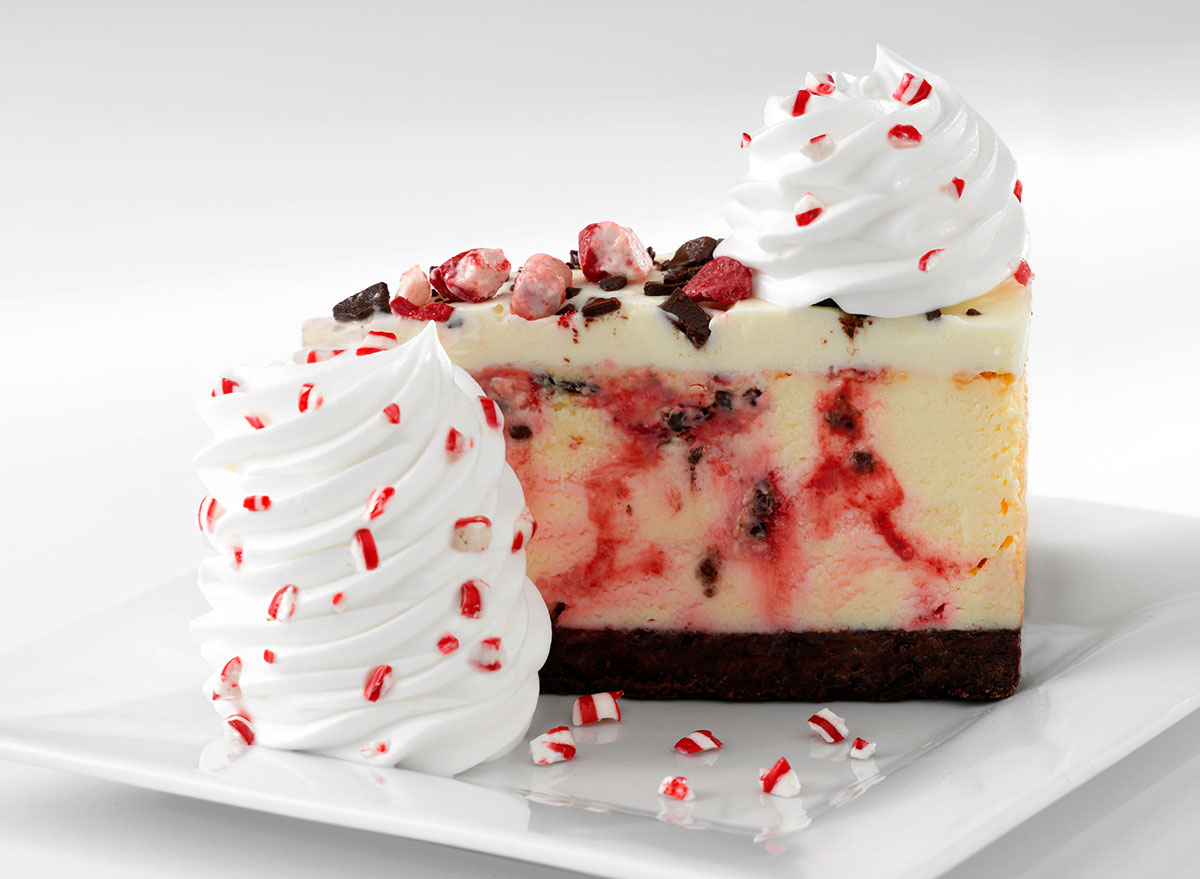 Available by the slice and as a 10-inch cake, the Peppermint Bark Cheesecake at The Cheesecake Factory is made with white chocolate and swirled with chunks of peppermint bark. It gets a sprinkle of chopped peppermint atop chocolate mousse.
Taco Bell's Cinnamon Twists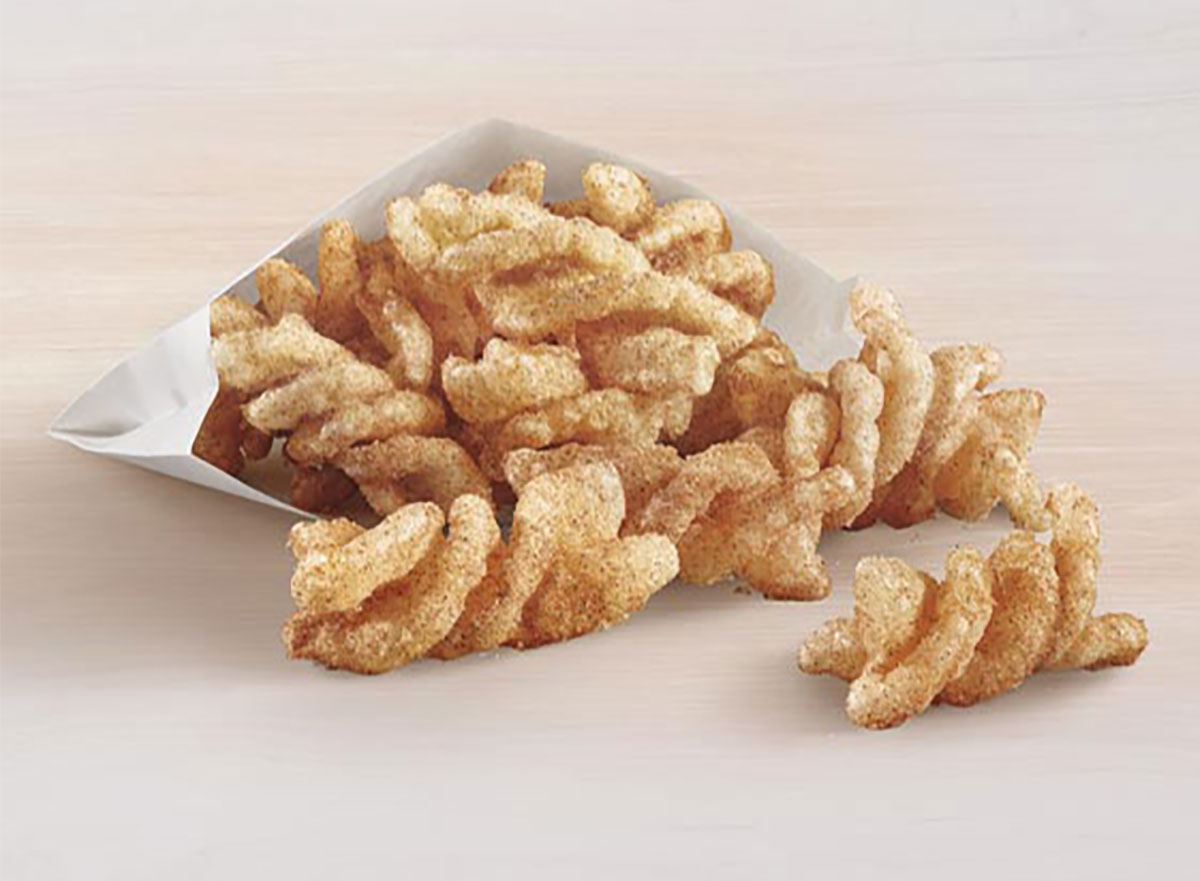 While not technically a holiday menu item because Taco Bell's Cinnamon Twists are available year-round, the sugary cinnamon treat deserves a spot on the seasonal snack list. Also, compared to over-the-top holiday desserts, this iconic menu item is 170 calories.
Famous Daves' Hickory Smoked Turkey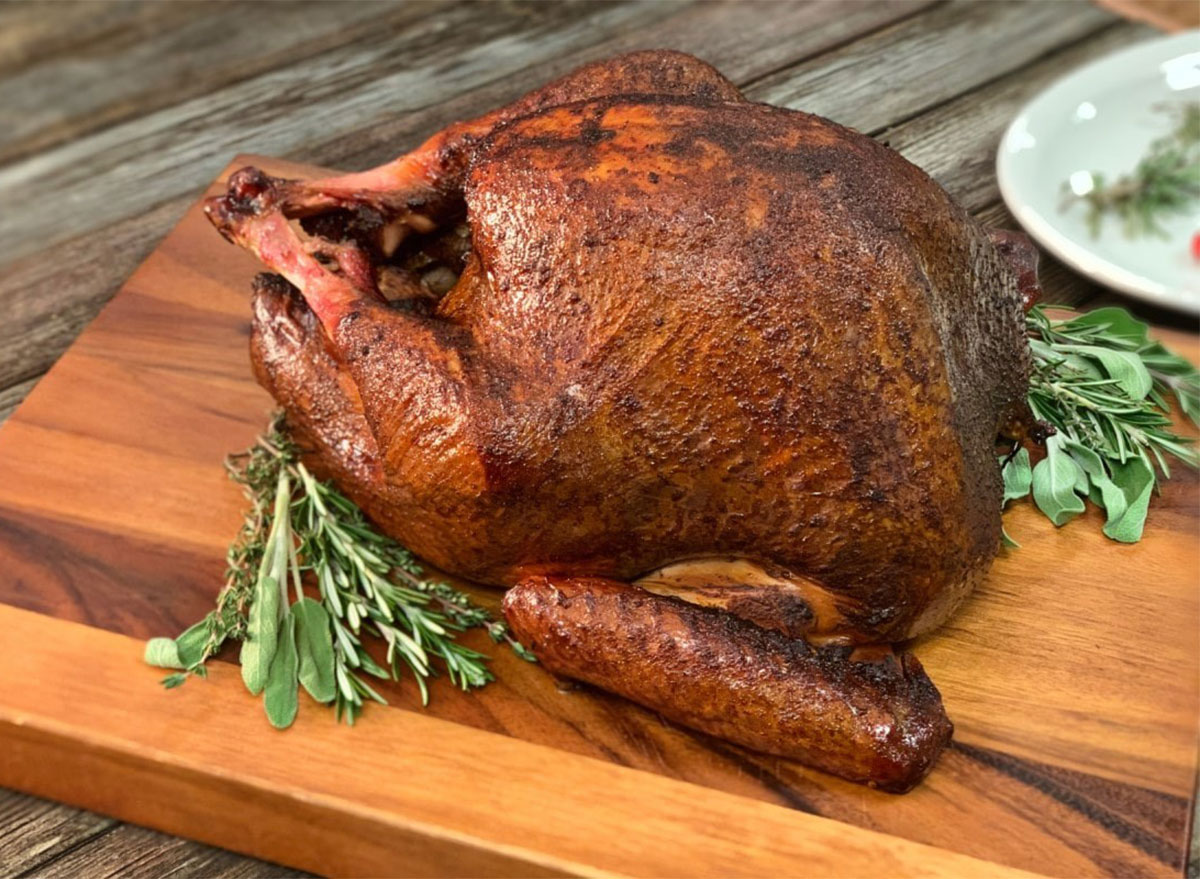 Most holiday specialty items fall into the dessert category. But Famous Daves has an exception: A holiday hickory-smoked turkey that's been slow-smoked for three hours and rubbed with a "holiday blend of spices."
Chuck E. Cheese's Frost Bite Churros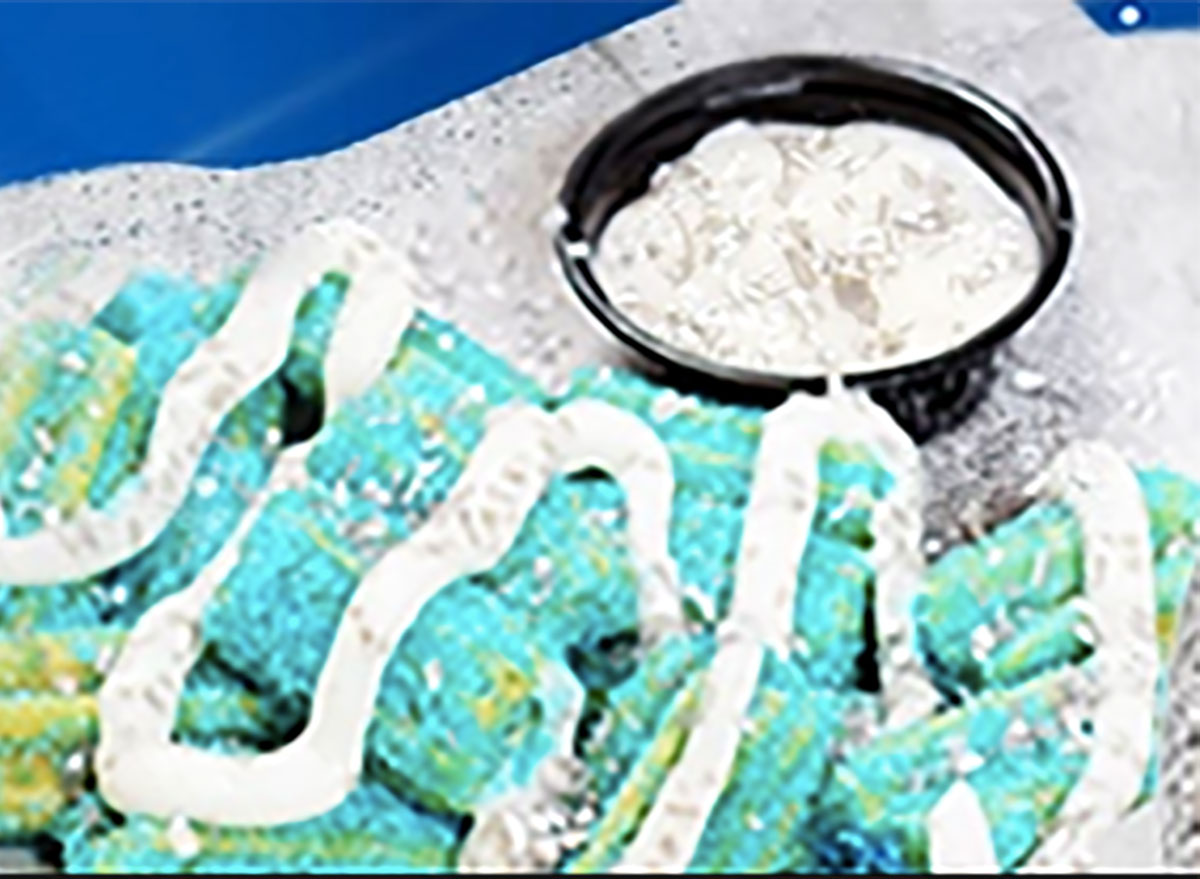 Dusted in blue sugar and drizzled with white icing, the Frost Bite Churros from Chuck E. Cheese are sprinkled with edible glitter. The holiday treats menu also features a giant chocolate chip cookie topped with red and green candy.
Dairy Queen's Peppermint Hot Cocoa Blizzard Treat
The Blizzard of the Month at DQ is a Peppermint Hot Cocoa Blizzard made with chunks of chocolate, peppermint candy cane pieces, cocoa fudge, and whipped topping. Dairy Queen also has a cute ice cream cake decorated like a snowman.
Baskin Robbins' Holiday Cakes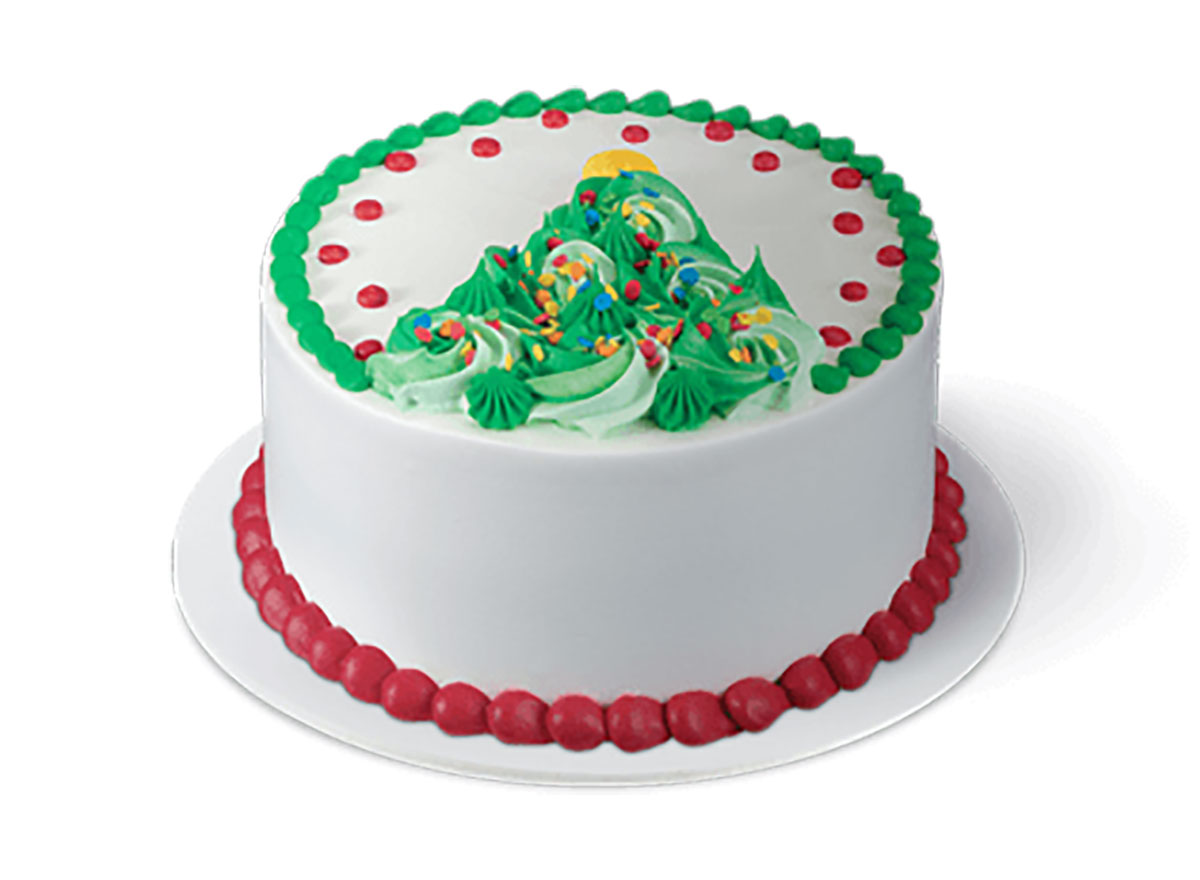 The holiday cakes at Baskin Robbins are impressive. You can order cakes with reindeer, snowmen, elf, Santa or polar bear designs. The candy lane cottage cake looks like it came straight from the page of a storybook.
Pizza Hut's Triple Treat Box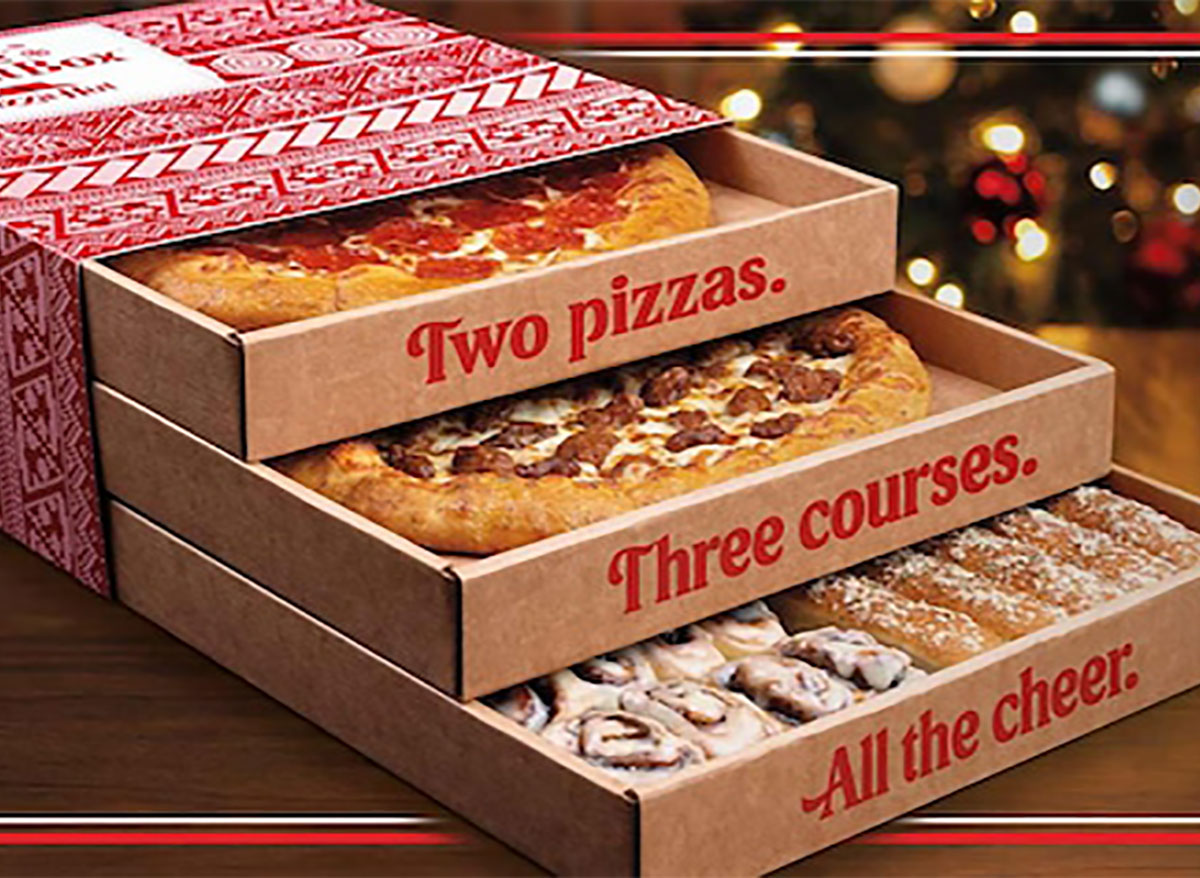 In a triple-decker box that's decorated to look like a present, Pizza Hut's Triple Treat Box comes with two medium pizzas, five breadsticks, and 10 Cinnabon mini rolls. Order the box and sync it up with a Christmas movie marathon.
Auntie Annes' Hot Chocolate Frost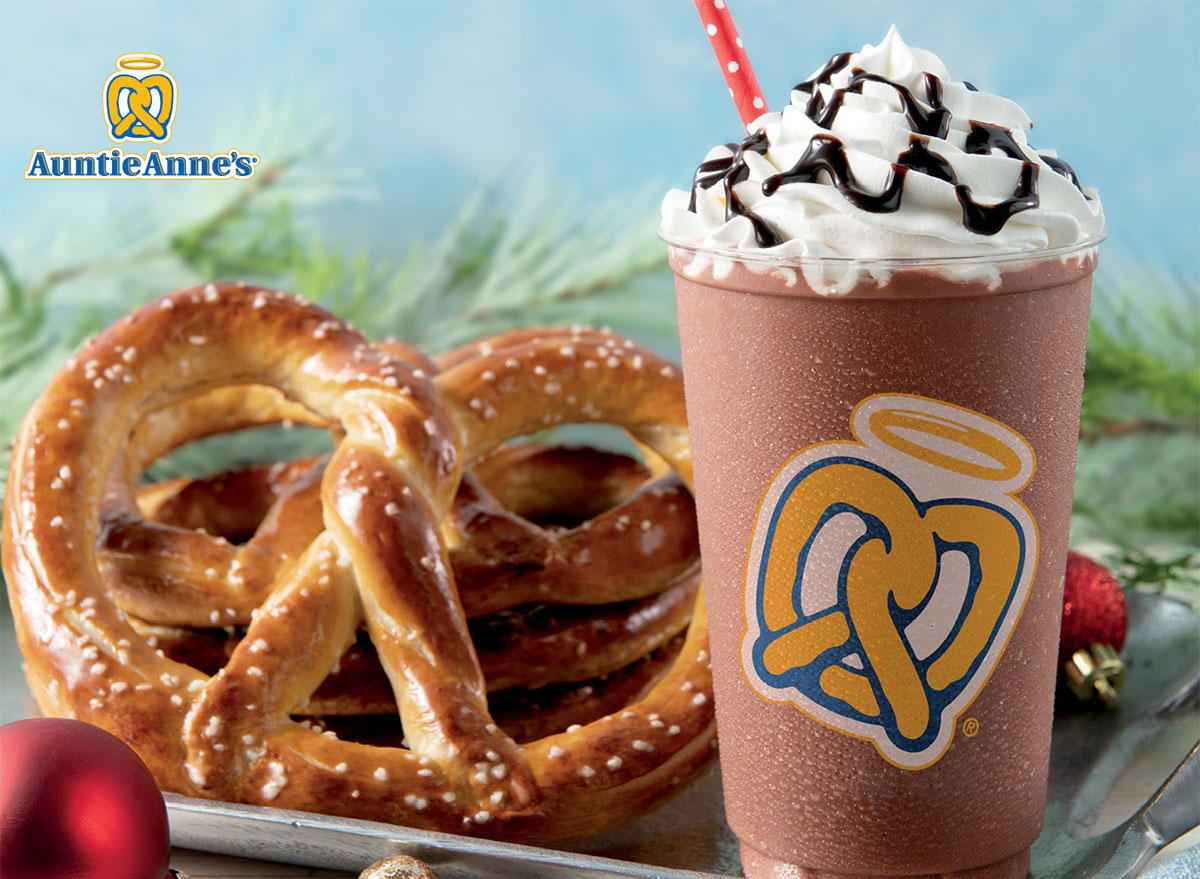 Mall pretzel purveyor Auntie Annes has teamed up with Hershey's for a limited-time seasonal drink. The Hot Chocolate Frost is topped with whipped cream and drizzled with Hershey's syrup.
The items on this list almost check off every food group in Buddy the Elf's "Four Main Food Groups," which includes candy, candy canes, and syrup. We'll wait until Halloween comes around to check off the famed elf's fourth item, candy corn.
And for more, don't miss these 108 most popular sodas ranked by how toxic they are.