16 Worst Holiday Menu Items at Restaurant Chains
Step away from the Oreo pancakes.
'Tis the season to eat, drink, and be merry! The holiday season is in full swing and, amidst the tire fire that is 2020, many of us are craving some sweet treats and splurge dishes. Some of our favorite chains have changed up their menus for the holidays and added seasonal food and drink items. And, like always, some are healthier than others.
Although there's nothing wrong with the occasional splurge, some menu items pack in massive amounts of saturated fat and sugar. So when it's time to order, you may want to avoid these worst chain restaurant holiday menu items in favor of a treat that's at least a little bit healthier. After all, we want to start the new year on a healthy note.
And for more, check out these 15 Classic American Desserts That Deserve a Comeback.
Denny's: Cinnamon Roll Pancakes
With icing
: 1,030 calories, 25 g fat (11 g saturated fat, 0 g trans fat), 1,660 mg sodium, 188 g carbs (4 g fiber, 10 g sugar), 127 g protein
Taylor Stolt, RDN, LD, CLT, owner of Plate and Canvas, recommends avoiding this dish on Denny's "Festive Flavors" menu. Stolt explains that the cinnamon roll pancakes contain 127 grams of sugar, which is roughly the equivalent of a full cup of sugar.
"The cinnamon roll pancakes have only four grams of fiber and 10 grams of protein, so this sugary stack will cause a huge blood sugar spike and then a blood sugar crash soon after… leaving you tired, irritable, and hungry," says Stolt.
Starbucks: Peppermint White Hot Chocolate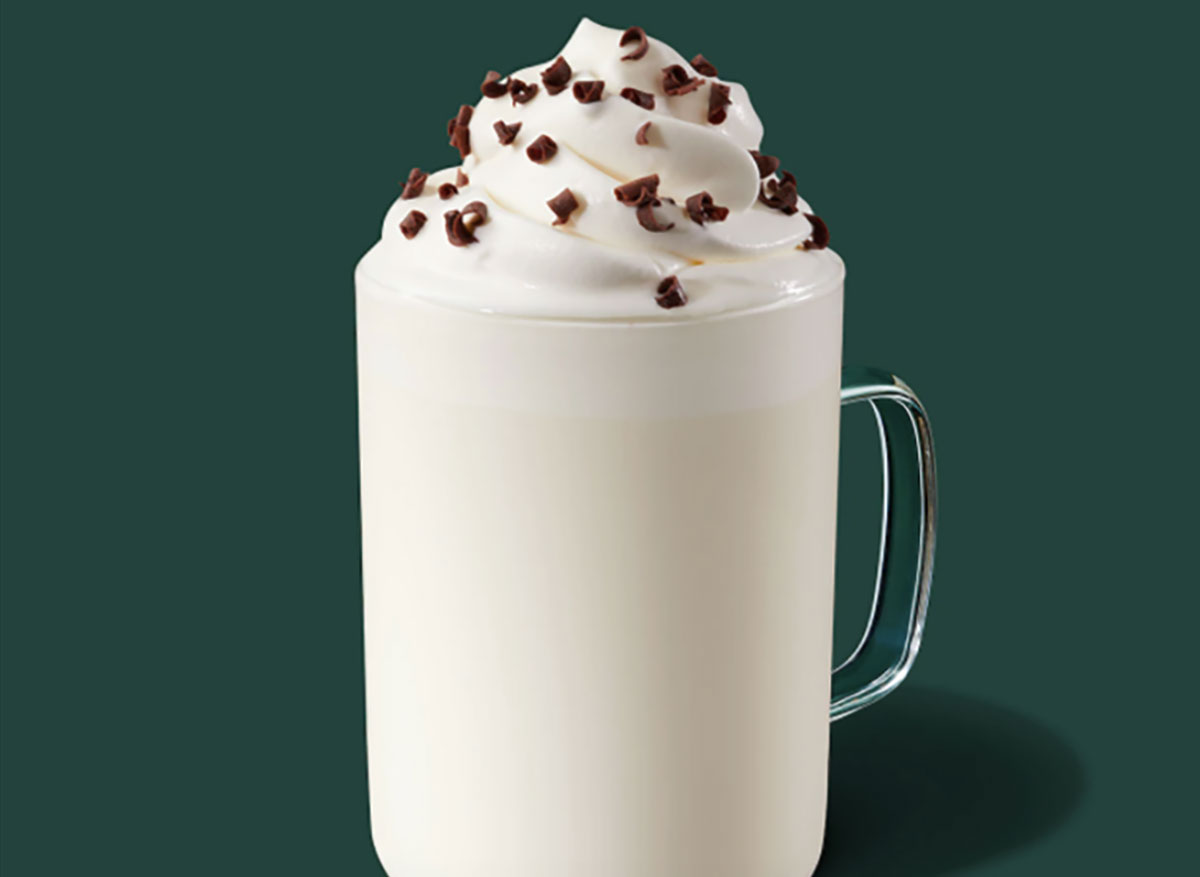 Per grande (16 fl oz)
: 520 calories, 19 g fat (13 g saturated fat, 0.5 g trans fat), 260 mg sodium, 75 g carbs (0 g fiber, 74 g sugar), 15 g protein
Another sugary item to avoid is the Starbucks Peppermint White Hot Chocolate, according to Megan Wong, RD at the AlgaeCal blog. Wong notes that a grande contains a whopping 74 grams of sugar—nearly twice as much sugar as a can of Coke.
"You'll easily pack on extra calories [with] this holiday drink, with a grande cup providing 520 calories," Wong says, explaining that nearly all these calories come from sugar and fat (around 300 of the calories come from sugar and 170 come from fat). "This drink that you're likely enjoying as a snack, or in addition to a meal, has nearly as many calories as a Big Mac and 65% of the daily value for saturated fat," says Wong.
Cheesecake Factory: Peppermint Bark Cheesecake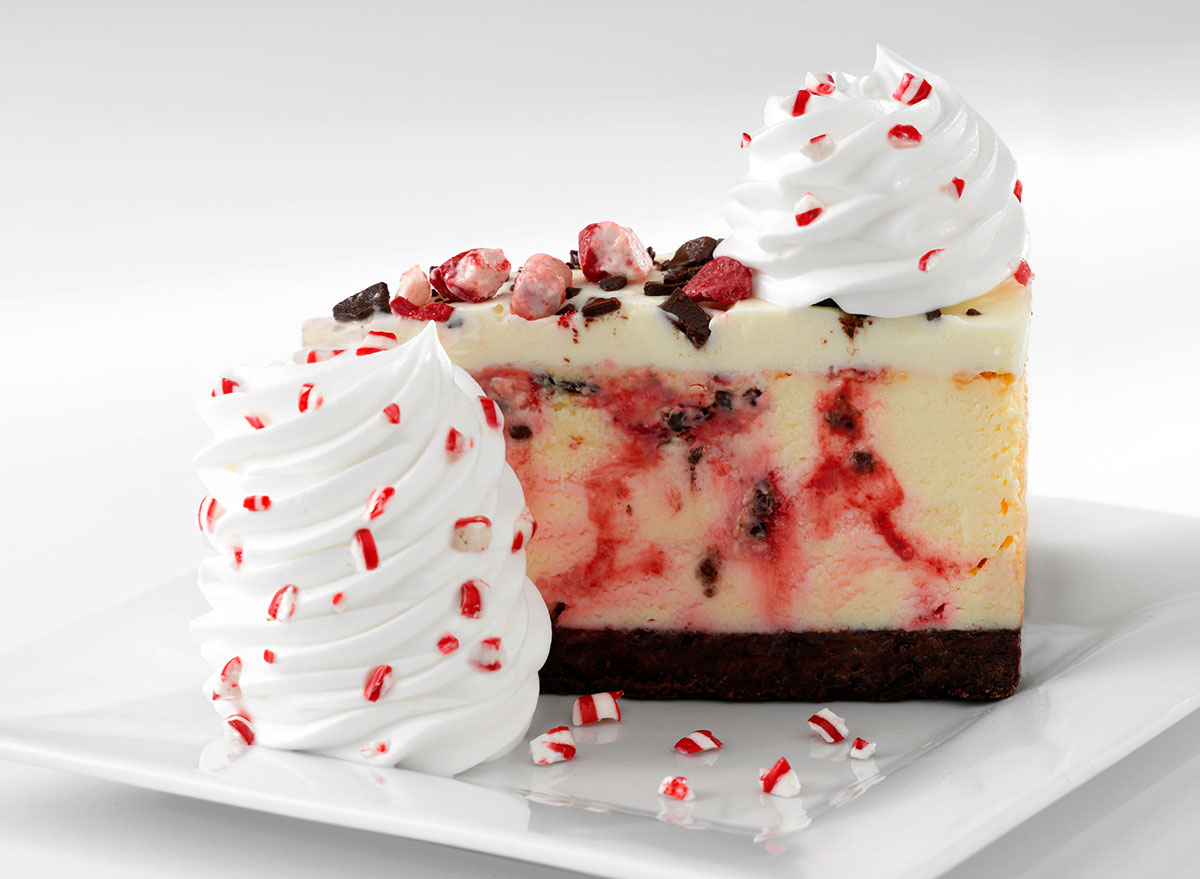 1,500 calories, 110 g fat (74 g saturated fat, 3 g trans fat), 350 mg sodium, 122 g carbs (3 g fiber, 111 g sugar), 14 g protein
"When it comes to ridiculously high amounts of calories, fat, and sugar in a dessert… Cheesecake Factory's Peppermint Bark Cheesecake takes the cake," says Wong. A single slice contains a whopping 1,500 calories, which is almost an entire day's worth of calories for the average, moderately active woman.
Furthermore, Wong explains that 990 of the calories come from fat alone, and mainly saturated fat at that. "One slice of this cheesecake has around 130% of the saturated fat found in a stick of butter," she says. Wong notes that each slice also contains around 111 grams (or 28 teaspoons) of sugar and is high in sodium.
IHOP: Milk 'n' Cookies Pancakes
Per 4 pancakes
: 1,190 calories, 48 g fat (20 g saturated fat, 1 g trans fat), 2,460 mg sodium, 169 g carbs (6 g fiber, 76 g sugar), 22 g protein
Allison Herrell, RD and Nutrition Coach, recommends staying away from IHOP's 1,190 calorie Milk 'n' Cookies Pancakes. The main reason the dish is so unhealthy is because it's packed with Oreos, which contain sugar as the main ingredient.
"Adding sweet milk mousse, vanilla sauce, powdered sugar, and sprinkles makes this item extremely high in sugar," says Herrell. "You're destined to crash after indulging in this breakfast dessert."
Horrifyingly, these pancakes somehow also contain 2,460 milligrams of sodium, according to IHOP's nutrition calculator.
IHOP: Cookies 'n' Cream Hot Chocolate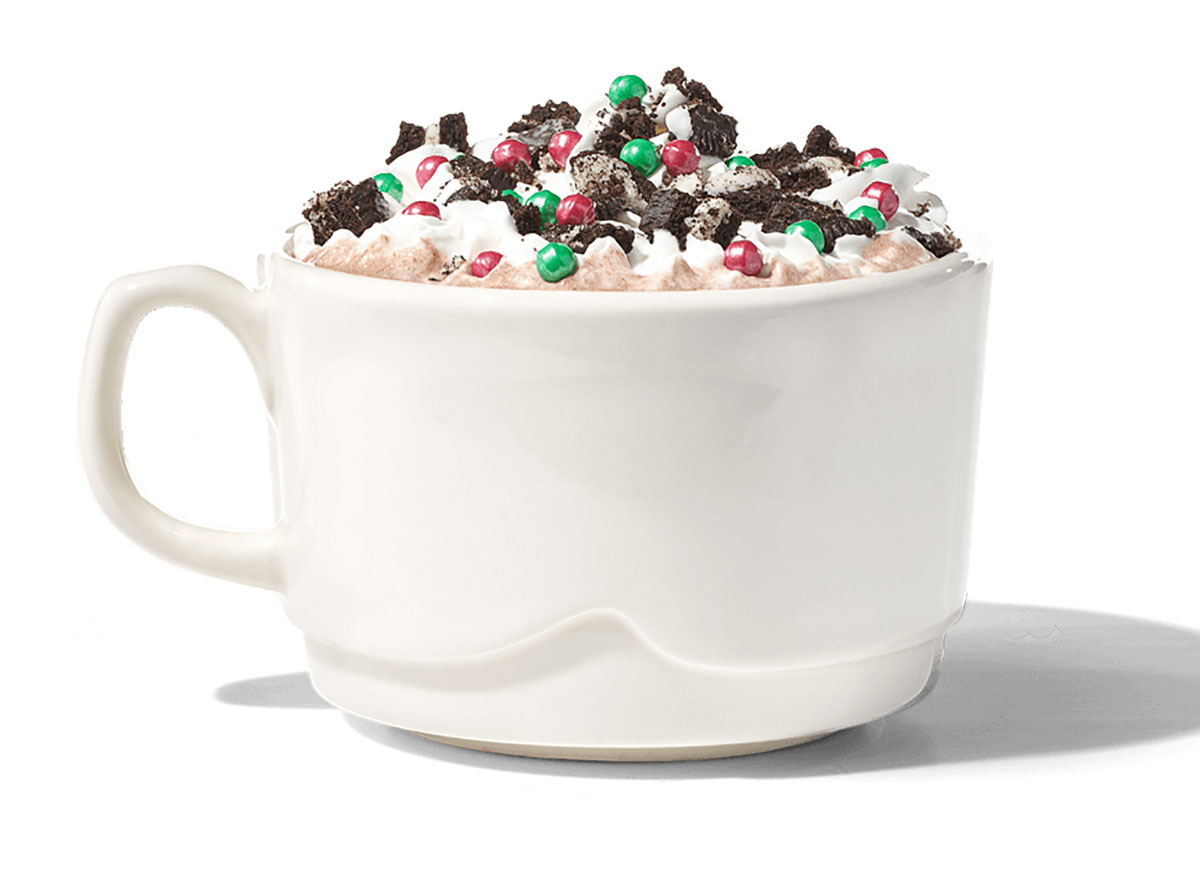 410 calories, 10 g fat (7 g saturated fat, 0 g trans fat), 450 mg sodium, 79 g carbs (1 g fiber, 69 g sugar), 3 g protein
This seasonal hot chocolate has 410 calories, and the amount of Oreo cookie pieces and sprinkles means it's also packed with sugar.
Chick Fil A: Peppermint Chip Milkshake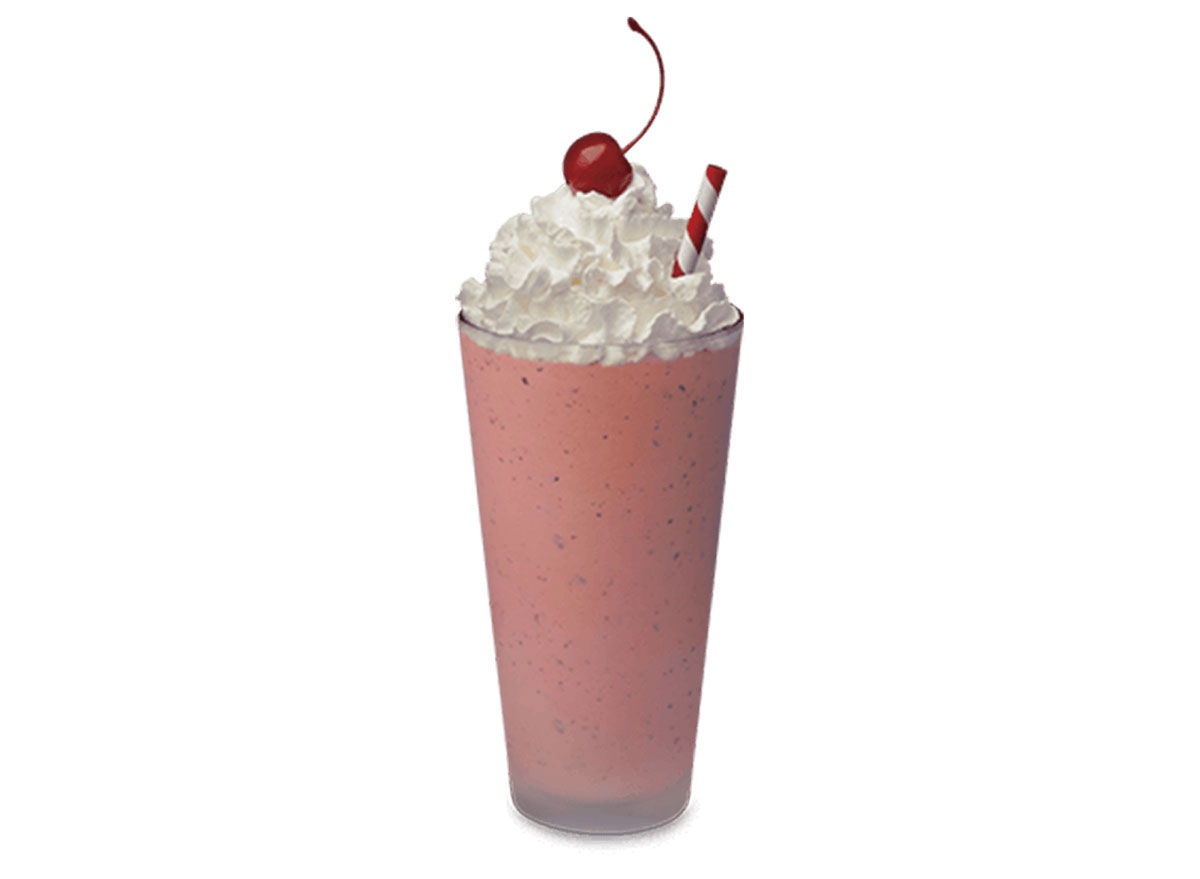 Per small (437 g)
: 730 calories, 25 g fat (16 g saturated fat, 1 g trans fat), 400 mg sodium, 117 g carbs (0 g fiber, 101 g sugar), 12 g protein
"The Peppermint Chip Milkshake is loaded with fat and carbohydrates," says Herrell. "The small size has one gram of trans fat." Trans fats can lower your "good" cholesterol levels, so you'll want to steer clear of them when you can.
Herrell adds that the amount of sugar in the shake is the equivalent of eating 10 candy canes. It's also packed with calories—the small contains 730 and the large clocks in at 950.
Dunkin' Donuts: Sugarplum Swirl Iced Macchiato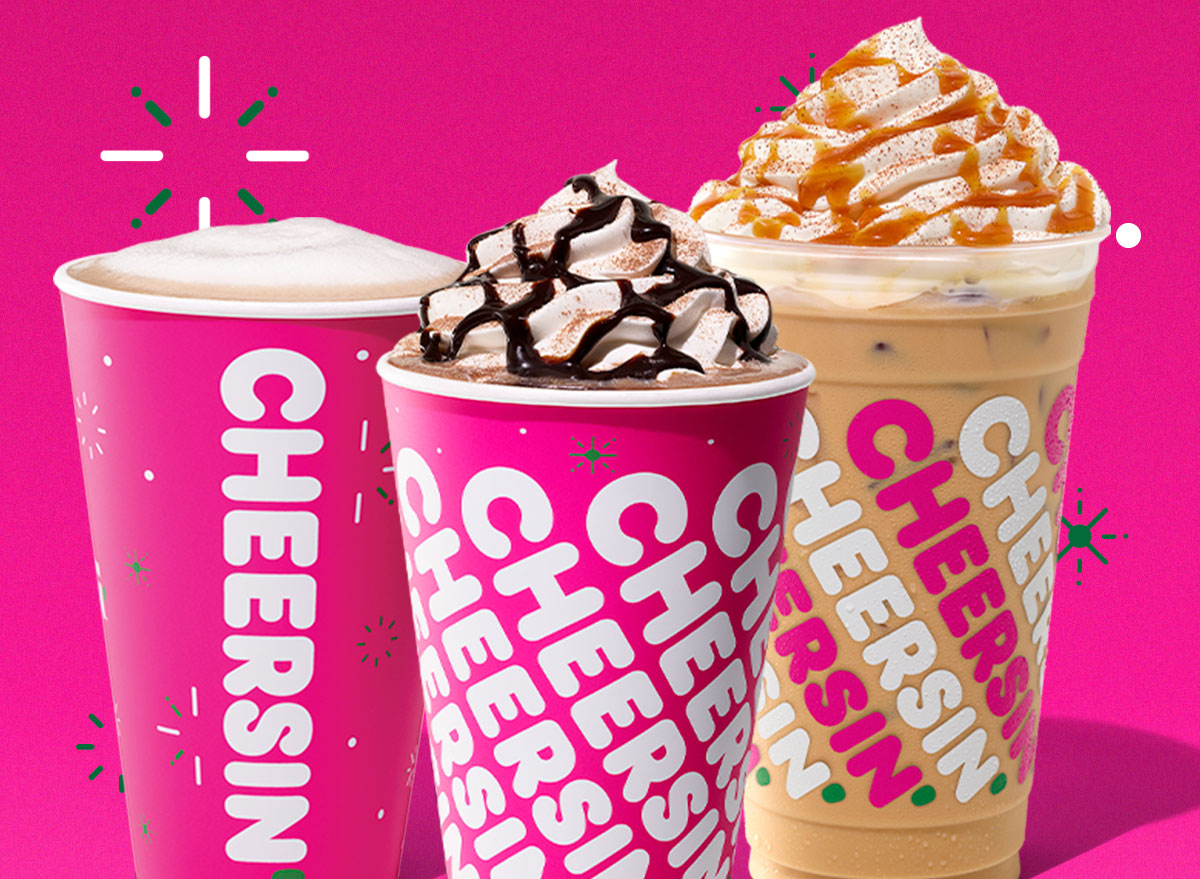 Per small with skim milk
: 150 calories, 0 g fat, 110 mg sodium, 32 g carbs (0 g fiber, 30 g sugar), 6 g protein
Even if you get a small size, Herrell says this drink contains more sugar in one serving than a woman should have in a full day.
TGI Friday's: Holiday Pasta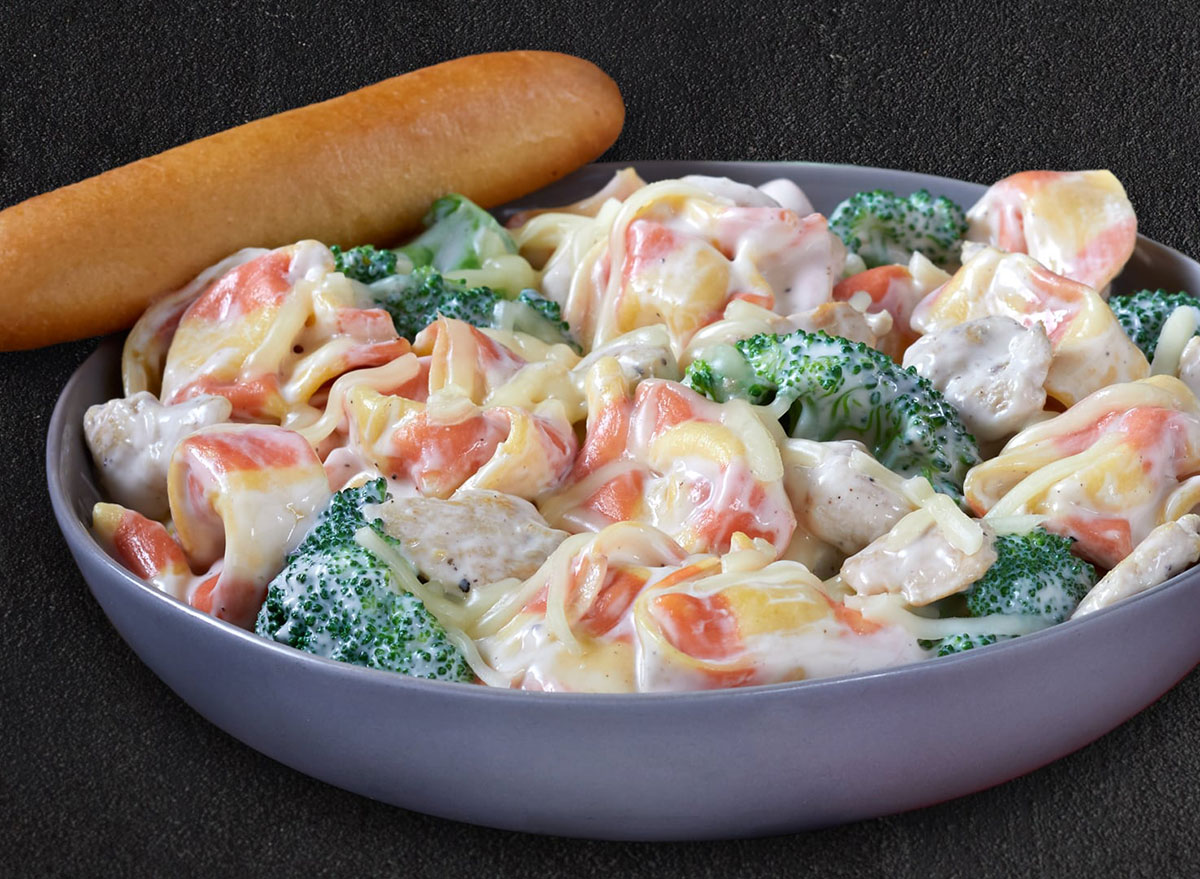 TGI Friday's Holiday Pasta sounds deceptively healthy because some of its main ingredients are chicken and broccoli. However, Brenda Braslow, RD at MyNetDiary, shared the real deal: "The mixed cheeses, Alfredo sauce, and cheese tortellini send it over the top at a whopping 1,840 calories." Yikes.
Applebee's: The Berry Merry Colada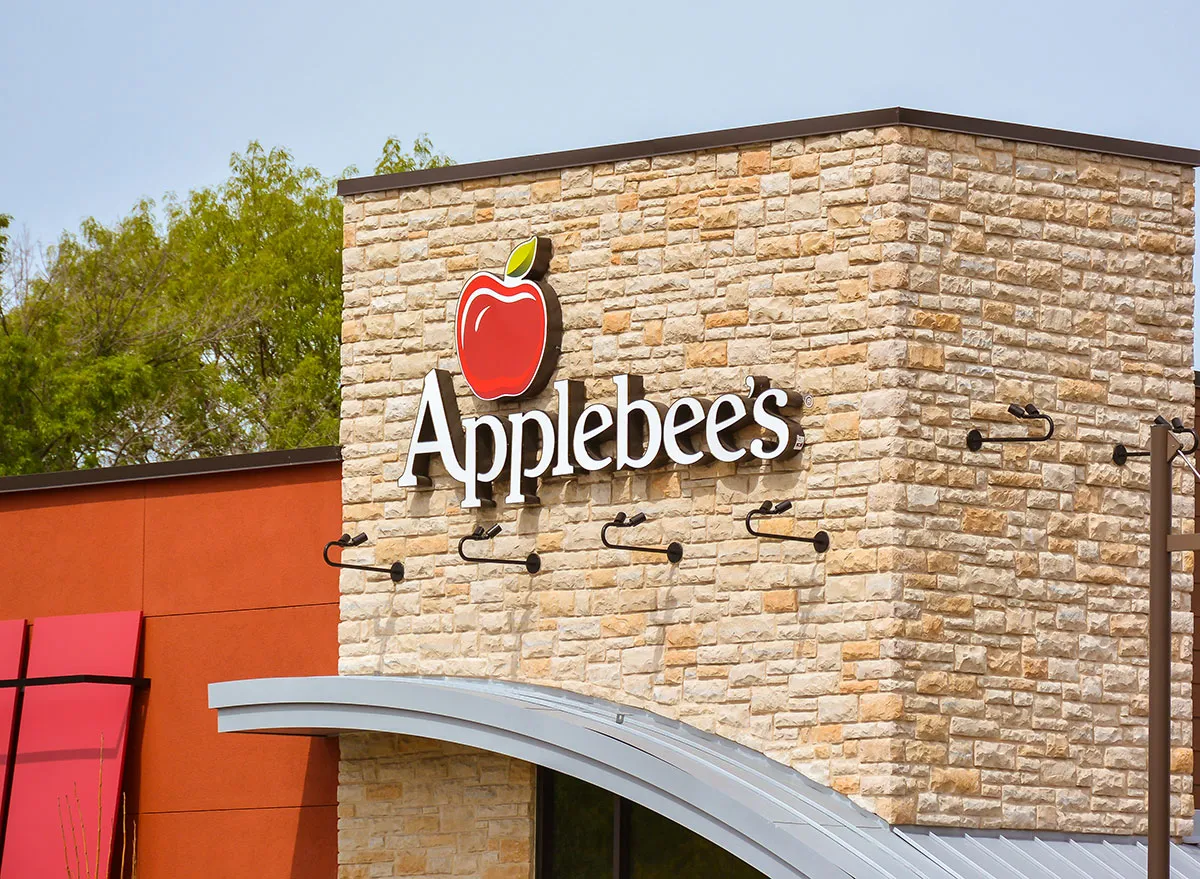 The Berry Merry Colada packs in 500 calories, which Braslow notes doesn't leave many calories in your budget for the rest of your meal.
Panera Bread: Mitten Cookie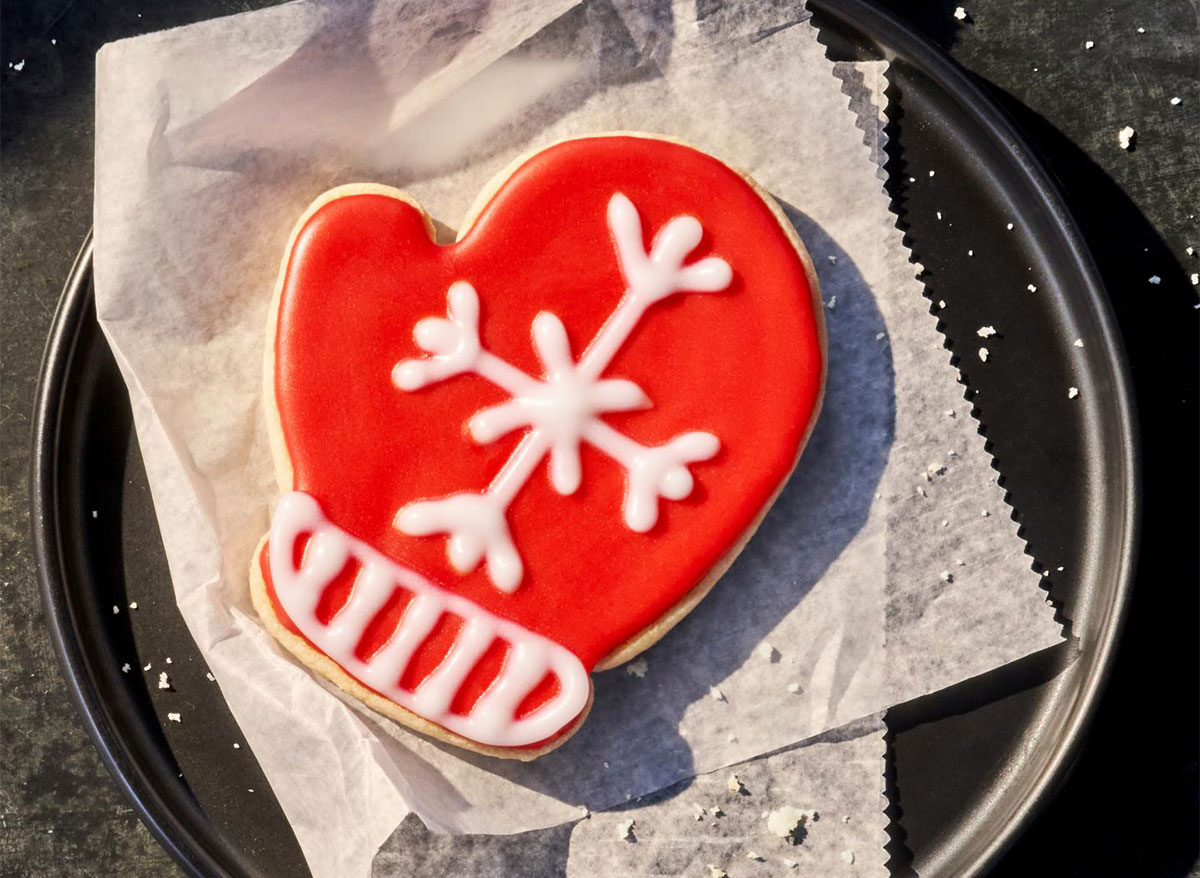 420 calories, 21 g fat (13 g saturated fat, 1 g trans fat), 400 mg sodium, 55 g carbs (1 g fiber, 29 g sugar), 4 g protein
"The Mitten Cookie is so cute, but be careful," says Braslow. This is a lot of carbs and sugar for a fairly small treat.
Cracker Barrel: The Holiday Heat N' Serve Feast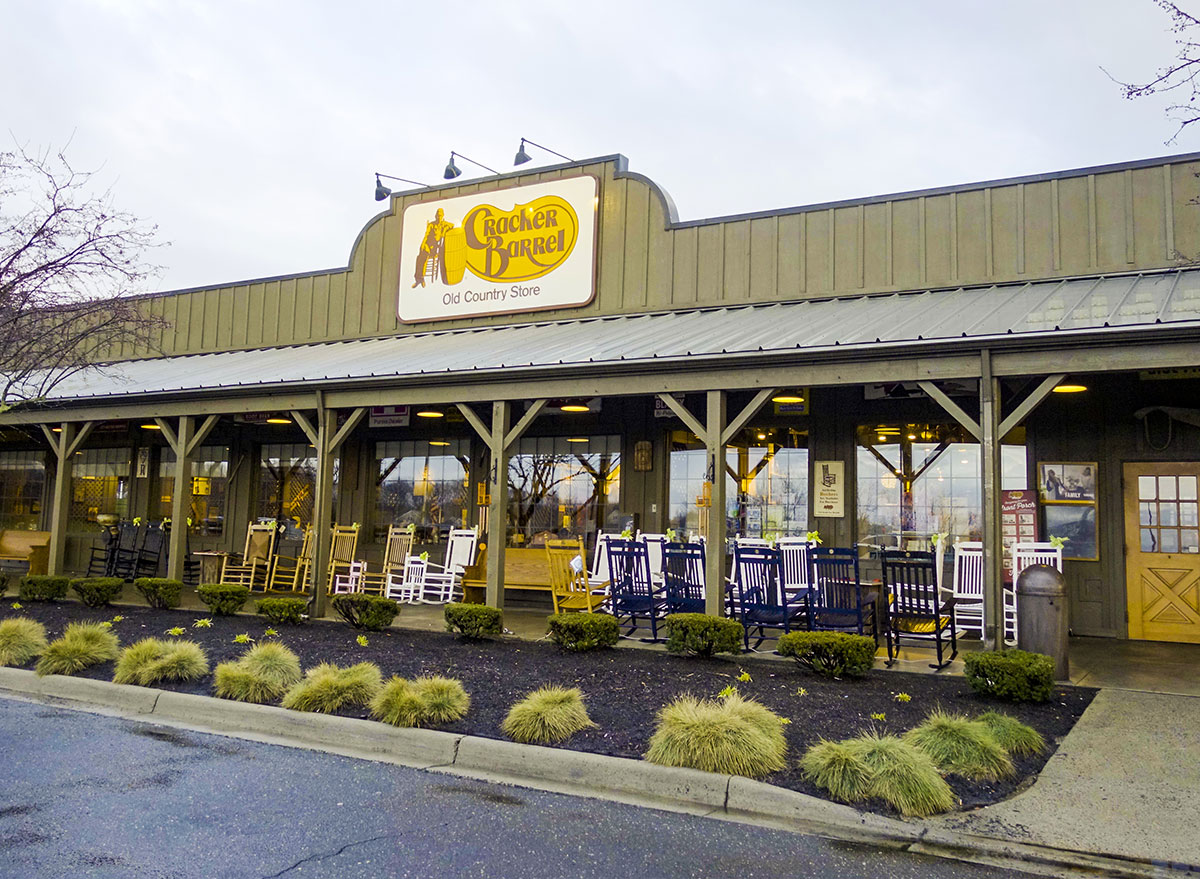 Braslow says that Cracker Barrel's Holiday Heat N' Serve Feast lives up to its title. The spread includes sugar-coated ham, dressing, gravy, cranberry relish, rolls, and pecan pie. "[This] adds up to at least 1,575 calories per person and that doesn't even include the butter, the additional three sides, or a beverage," she says.
Cracker Barrel: Chocolate Pecan Pie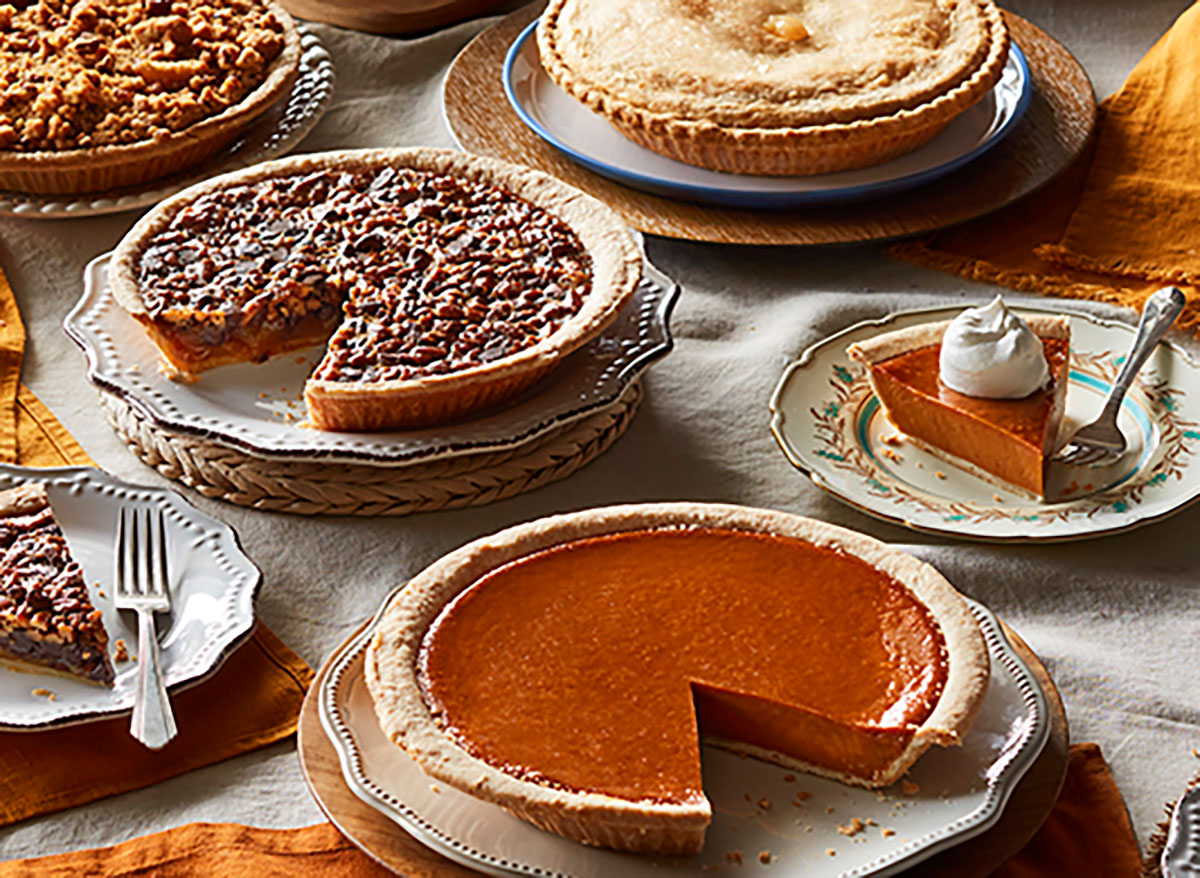 All of Cracker Barrel's holiday desserts are heavy, but the chocolate pecan pie is especially unhealthy. It contains 880 calories, so you'll be consuming nearly half your daily caloric intake on a sugary dessert that has no nutritional value and will leave you craving a snack within a few hours.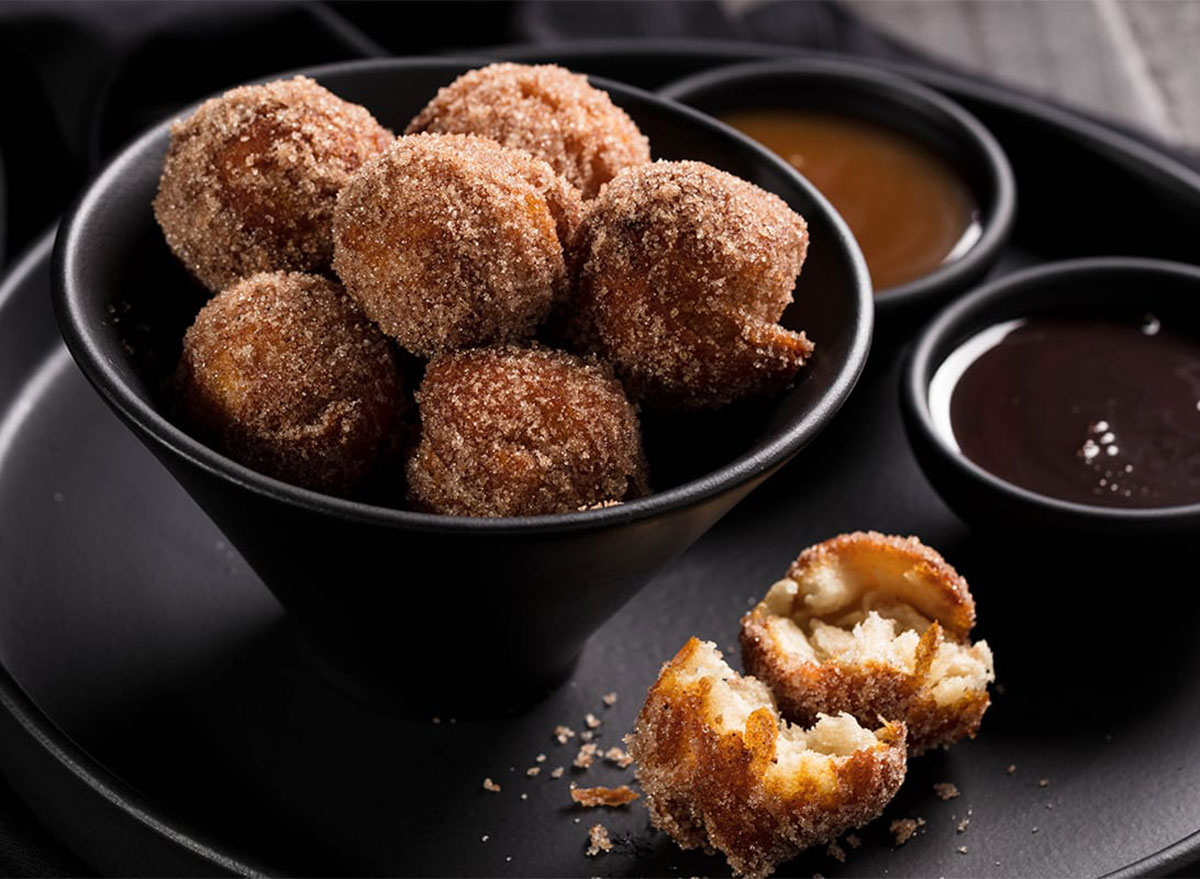 1,400 calories, 62 g fat (30 g saturated fat, 0 g trans fat), 2,720 mg sodium, 183 g carbs (2 g fiber, 68 g sugar), 21 g protein
P.F. Chang's launched a holiday menu last year, and it's full of tempting main dishes and desserts. The Bao Donuts are the dish to avoid—one order contains a whopping 1,400 calories and 68 grams of sugar.
Shake Shack: Holiday Milkshakes
In honor of the holiday season, Shake Shack launches three festive flavors each year. This year's trio includes Christmas Cookie, Chocolate Spice, and Candy Cane Marshmallow. Although the exact nutrition information for these shakes isn't available, it's safe to assume they're packed with calories and sugar. Specialty shakes like the Bourbon Salted Caramel Shake, Loaded Chocolate Cookies & Cream Shake, and TKO' Clock Chocolate Cookies & Cream Shake all contain between 890 and 1160 calories.6254a4d1642c605c54bf1cab17d50f1e
Starbucks: Irish Cream Cold Brew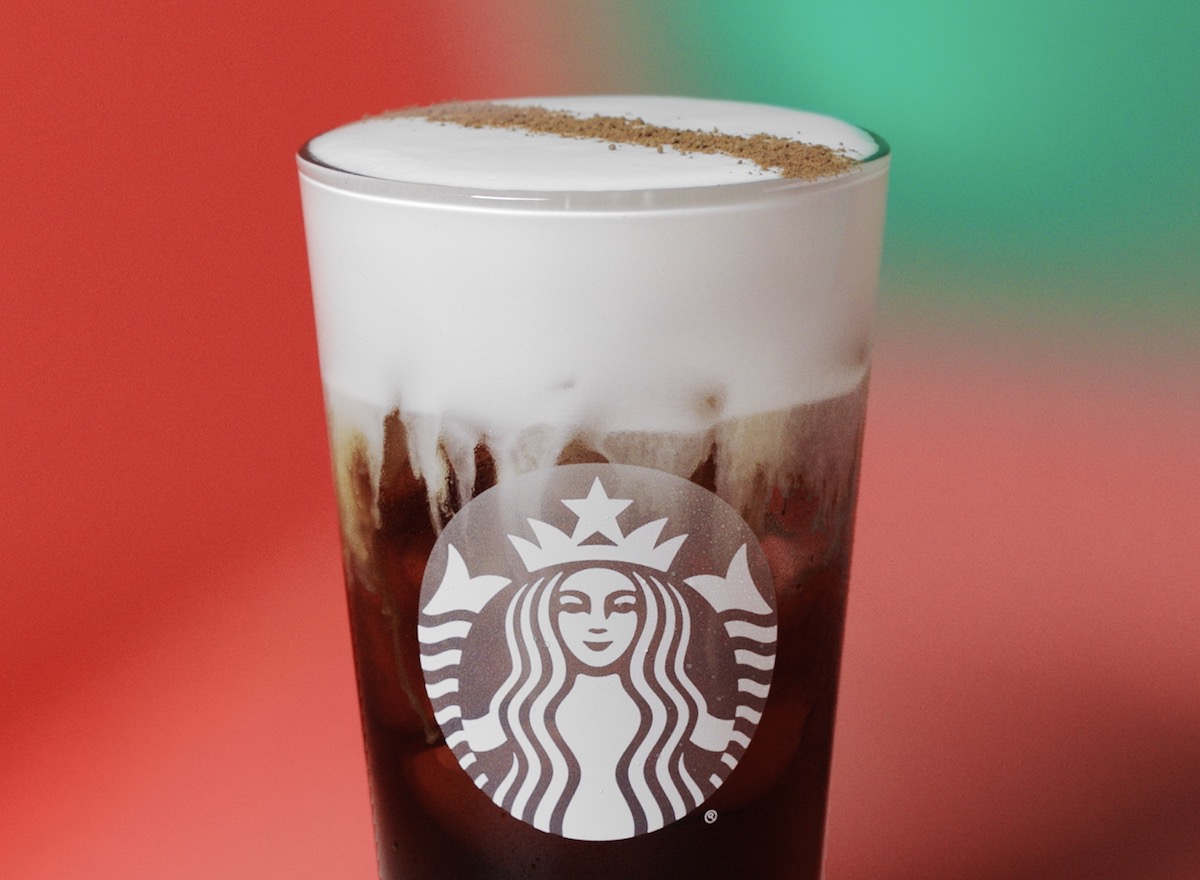 Per grande
: 200 calories, 12 g fat (8 g saturated fat, 0 g trans fat), 30 mg sodium, 20 g carbs (0 g fiber, 19 g sugar), 2 g protein
Herrell also suggests staying away from the Starbucks Irish Cream Cold Brew. "[It contains] almost half of your daily limit of saturated fat in a venti serving," she says. Plus, it exceeds the upper limit of daily sugar intake for women. It's safe to say this isn't the best option for your caffeine fix!
Cracker Barrel: Grandma's Holiday Sampler
860 calories, 48 g fat (19 g saturated fat, 0 g trans fat), 2,340 mg sodium, 77 g carbs (<1 g fiber, 17 g sugar), 31 g protein
Eating the Grandma's Holiday Sampler means you'll consume 860 calories in one fell swoop. Instead of eating every type of breakfast food imaginable, pick your favorite and treat yourself to one dish, whether it's pancakes or bacon and eggs.
Note: Full nutrition information wasn't available for the TGI Friday's Holiday Pasta, the Applebee's Berry Merry Colada, the Cracker Barrel Holiday Heat N' Serve Feast, the Cracker Barrel Chocolate Pecan Pie, and the Shake Shack holiday shakes.
For more, don't miss these 108 most popular sodas ranked by how toxic they are.
Caitlin Flynn
Caitlin Flynn is an award-winning writer and reporter who experienced early age corporate burnout in 2015 and traded New York City for the misty air and superior coffee of Seattle.
Read more about Caitlin