Simple Homemade Hummus Recipe
It takes barely any time to whip up this classic, good-for-you dip!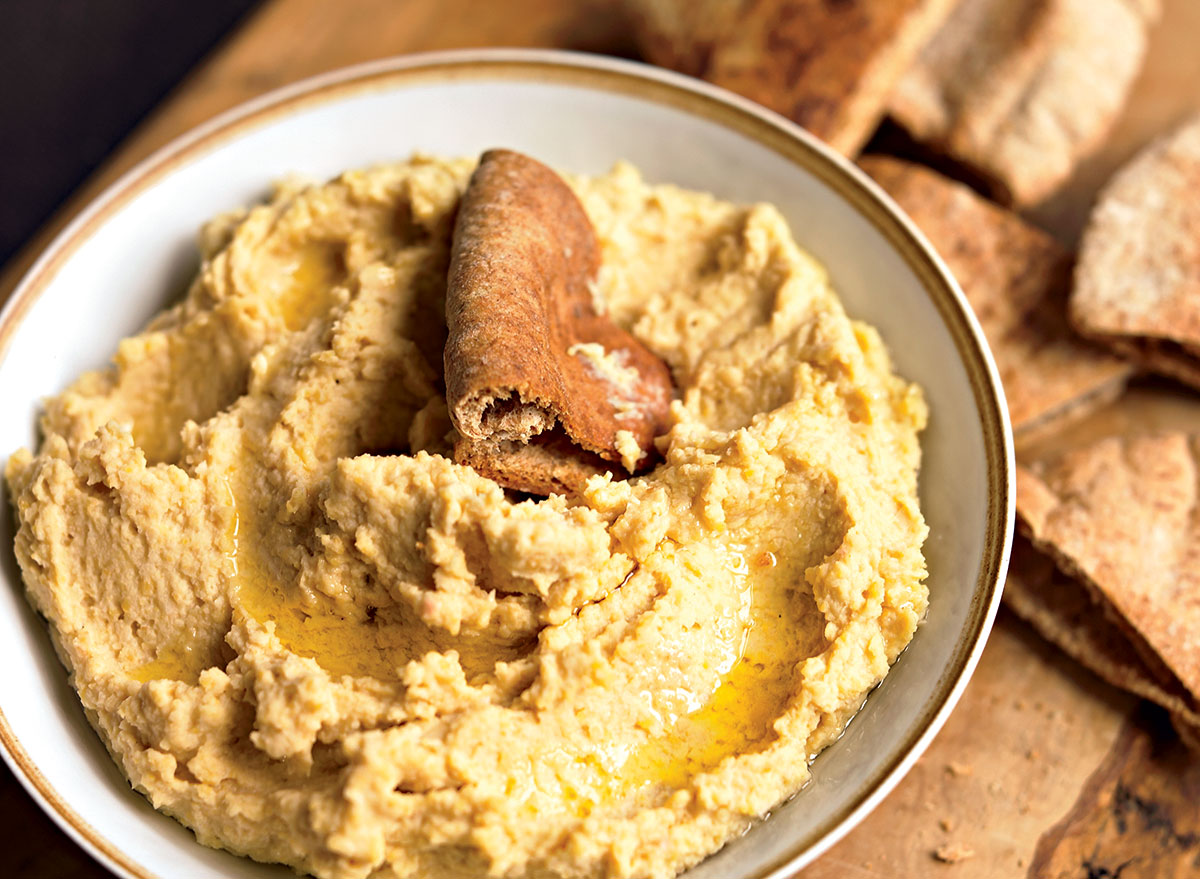 Despite its Greek origins, hummus earned a reputation in the United States a few decades back as hippie food. But its ubiquity in the refrigerator section of the average supermarket these days shows that it has endeared itself to many more groups of people, and that's a great thing. The store-bought stuff can be fine, but it can't touch the homemade hummus recipe you can make in your food processor with a few cloves of garlic, a few cans of chickpeas, drops of olive oil, and of course; a few flicks of the wrist. Plus, hummus is one of those great, basic recipes you can swap a lot of great options in the place of chickpeas and make a whole new flavor of hummus. For a few ideas on how to adapt this recipe, see our Eat This Tip, below!
Nutrition: 210 calories, 9 g fat (2 g saturated), 460 mg sodium
Serves 6
You'll Need
3 whole-wheat pitas, cut into wedges
1  can (14–16 oz) garbanzo beans (aka chickpeas), drained 2  Tbsp tahini
Juice of 1 lemon
2 cloves garlic, minced
1⁄2 tsp cumin
1⁄2 tsp salt
2 Tbsp olive oil
How to Make It
Preheat the oven to 400°F. Place the pita wedges on a baking sheet and bake for 10 minutes, until hot and lightly crisped.
Combine the beans, tahini, lemon juice, garlic, cumin, and salt in a food processor and puree.
With the motor running, drizzle in the olive oil until the hummus has a thick, creamy consistency. If the mixture is still too thick, add a bit of water to thin it out.
Serve with the toasted pita wedges. Keeps in the refrigerator for up to a week.
Eat This Tip
Hummus is dying to be embellished. The best part about making it from scratch at home (besides the money you'll save) is that you can punch it up however you like. Try these additions:6254a4d1642c605c54bf1cab17d50f1e
5 or 6 whole roasted garlic cloves
1⁄2 cup bottled roasted red peppers
2 teaspoons canned chipotle pepper
1⁄4 cup sundried tomatoes, minced
1⁄4 cup chopped black olives
Fresh herbs: basil, rosemary, thyme, or parsley
Use Edamame instead of garbanzo beans
This recipe (and hundreds more!) came from one of our Cook This, Not That! books. For more easy cooking ideas, you can also buy the book!