This Easy Homemade Ketchup Recipe With Fresh Tomatoes Is Healthy DIY Perfection
You don't need to buy a bottle at the store—you can make a better ketchup at home in your own kitchen!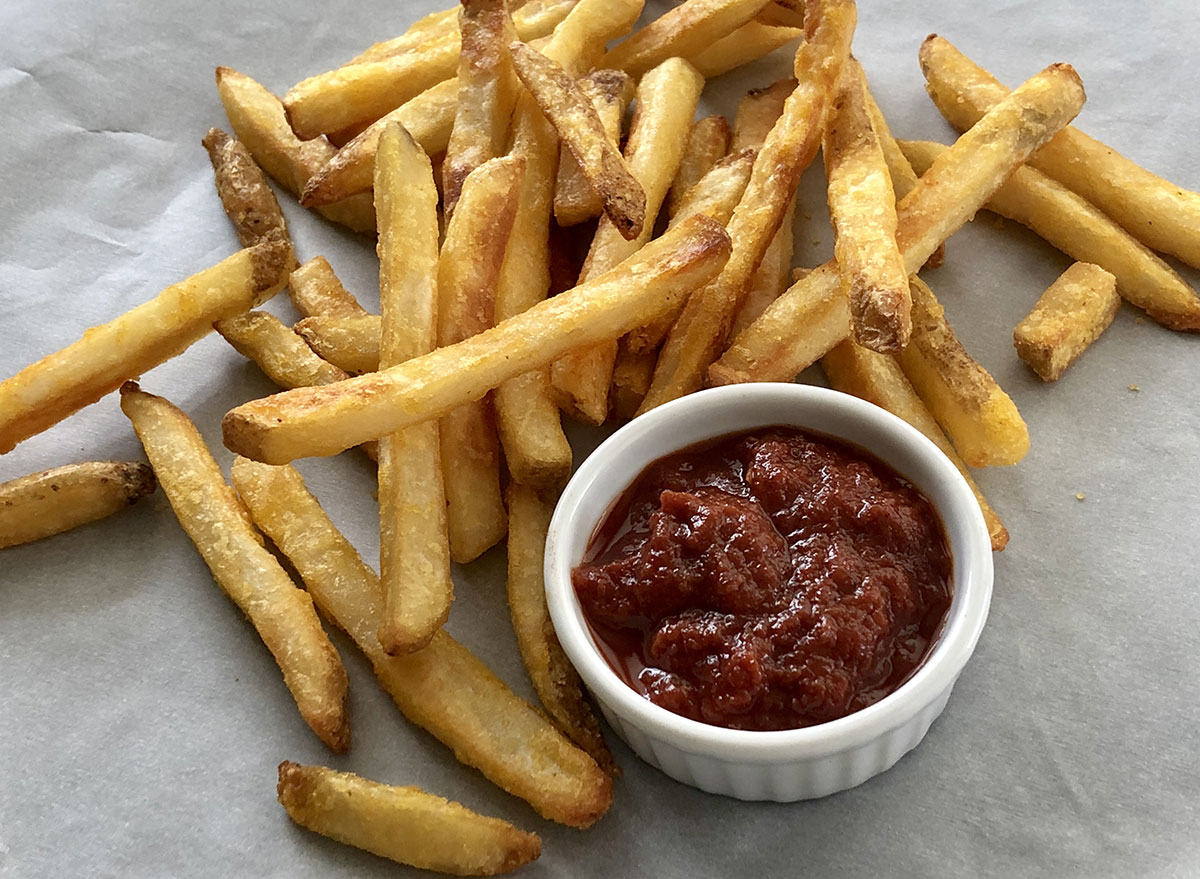 You might be surprised to learn that originally ketchup was not made from tomatoes, but from ingredients such as walnuts and fermented fish. Today's ketchup made from tomatoes is one of the most popular condiments in America, and it's no wonder. It's sweet, savory, and tangy, and it's delicious on everything from French fries to scrambled eggs.
According to National Geographic in 2014, 97 percent of U.S. households reported having a bottle of ketchup. The first known published tomato ketchup recipe appeared in 1812, and Henry J. Heinz started producing ketchup in 1876. Once it was produced commercially, it quickly became something people bought rather than made at home.
But have you ever had homemade ketchup? Not only is it fresh and delicious, but you can also control the amount of sugar and salt in it and season it to your liking. It's also super easy to make. Homemade ketchup really highlights the flavor of tomatoes rather than masking it with lots of vinegar, sugar, and salt.6254a4d1642c605c54bf1cab17d50f1e
Want to get creative? Add a pinch or two of powdered ginger, curry powder, or some sriracha sauce for some extra spice to your ketchup.
While fresh tomatoes are delicious, there's actually a health benefit to cooking them, like you do when making ketchup. Heating, as well as pureeing tomatoes, has been shown to increase the amount of the antioxidant lycopene that the body can absorb. Homemade ketchup is low in saturated fat and sodium, and it's also a good source of fiber, vitamin A, vitamin E, iron, potassium, and copper, and a very good source of vitamin C.
You won't even bother with bottled versions anymore once you try your hand at this easy ketchup recipe!
Homemade Ketchup Recipe
Makes 44 servings (2 3/4 cups); Serving is 1 Tablespoon
Ingredients
1 tablespoon olive oil
1 cup chopped onions
1 28-oz can tomato puree (I prefer Muir Glen Organic)
1/4 cup apple cider vinegar
2 tablespoons golden brown sugar
1/2 teaspoon dry mustard
1/2 teaspoon kosher salt (I use Diamond Crystal Kosher)
1/2 teaspoon allspice
1/4 teaspoon cinnamon
1/4 teaspoon smoked paprika
1/4 teaspoon garlic powder
pinch ground cloves
How to Make It
Heat the oil in a 3-5 quart saucepan and add the onion. Cook over medium-low heat, stirring occasionally until soft and golden, about 10 minutes.
Add the remaining ingredients, and stir to combine. Bring to a boil, lower heat, and simmer, stirring occasionally for 15 minutes, until thick.
Blend the ketchup in batches in a blender or use an immersion blender until smooth.
Transfer the ketchup to a bowl and allow to cool completely before tasting to adjust seasoning.
How to store it
Store the ketchup in an airtight container in the fridge for up to 3 weeks.
Amy Sherman
Amy Sherman is a San Francisco-based food writer, recipe developer, and author of
Wine Passport: Portugal
,
Williams Sonoma New Flavors for Appetizers
, and
A Microwave, A Mug, A Meal
.
Read more about Amy