The Real Reasons Hooters Locations Are Disappearing
The most famous brestaurant chain is declining in popularity.
This year will mark the 40th anniversary of the restaurant known for copious amounts of chicken wings and beer. Hooters was founded in October of 1983, and in its four decades of operation, the chain has become something of an American icon. Today, while you might think of Hooters as a nearly ubiquitous chain with locations dotting every major city in America, in fact, Hooters is an entity in decline with locations steadily disappearing.
From a peak of around 430 units less than a decade back, the chain has been steadily shrinking of late. According to the data company Smart Scrapers, there were 311 Hooters restaurants in America in the fall of 2022, but per data from ScrapeHero, by the beginning of 2023, that figure had fallen further to just 308 Hooters restaurants in America. (Hooters also has a decent overseas presence, with locations in Europe, Asia, Central America, and Africa, but many of these far-flung units have closed as well.)
Why is this famous "breastaurant" seeing so many locations shutting down for good? The reasons are many and some of them are multi-layered, so let's look at the issue in a step-by-step way.
The chain is going virtual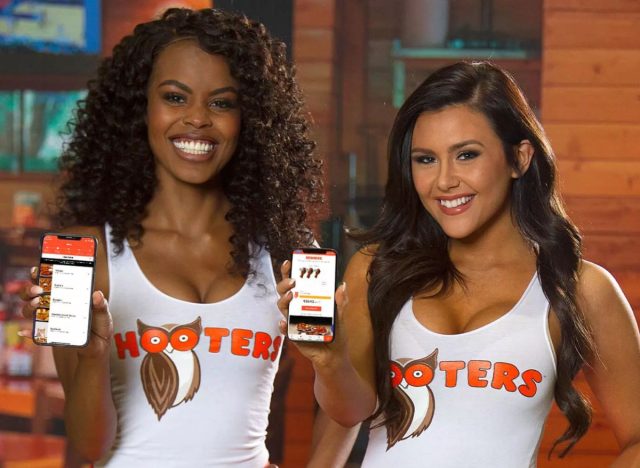 The chicken wing competition has gotten hot and spicy in the last several years, with restaurants and fast food chains like Wingstop and Buffalo Wild Wings, forcing Hooters to struggle a bit to try and keep up. In addition to the chain's popular competitors, the aftermath/continuation of pandemic behaviors—such as getting more takeout and ordering through delivery app services—have continued to be a big factor in profits and revenue at Hooters restaurants.6254a4d1642c605c54bf1cab17d50f1e
In hopes of closing the gaps in foot traffic and dine-in customers, Hooters added 196 virtual locations to drive more sales, per the PYMNTS data site. With the help of aggregators like DoorDash, Uber Eats, and Grubhub, the restaurant is making off-premise growth the number one priority and likely causing more physical restaurant locations to shut their doors as they are no longer necessities to the success of the business going forward.
Hooter's biggest competitor may be taking over the spotlight
Hooters may be universally well known by most Americans, but it's not the only breastaurant in the game that people love. In fact, one restaurant chain, in particular, has established itself with a very similar atmosphere and the teeny-weeny little server outfits Hooters girls are most remembered for—it's called Twin Peaks. In 2022, Twin Peaks reported that in-store sales were up by 13% and pulled in over $400 million in revenue in 2021. While Hooters locations are becoming few and far between, Twin Peaks is planning a big expansion of 20 new restaurant locations to take the chain from 130 to 150 in total across the U.S.
The pandemic was detrimental to Hooters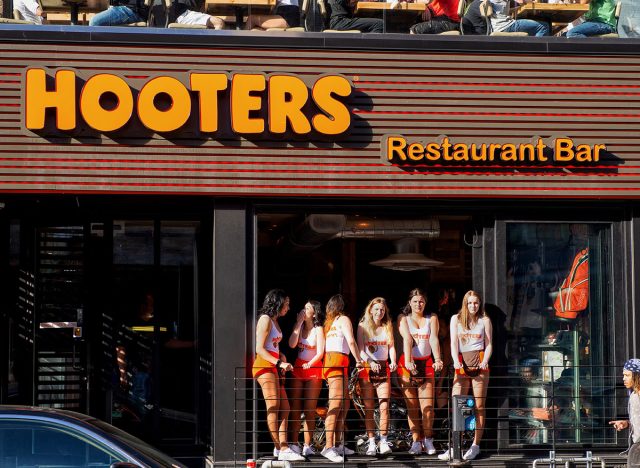 Thousands of restaurants across America shut their doors for good during the pandemic. As many as one in six American eateries shut down, in fact, according to the New York State Restaurant Association. This included one-off restaurants, entire chains like Souplantation (called Sweet Tomatoes in some places), and multiple locations from other chains. Hooters lost millions of dollars in business during the lockdowns of the early months, and many locations would never open again. This included Hooters restaurants in many major markets, like California's Bay Area, per The Mercury News, and Phoenix, Arizona, where one location shut down after 32 years in business.
Hooters has already been on a downward slide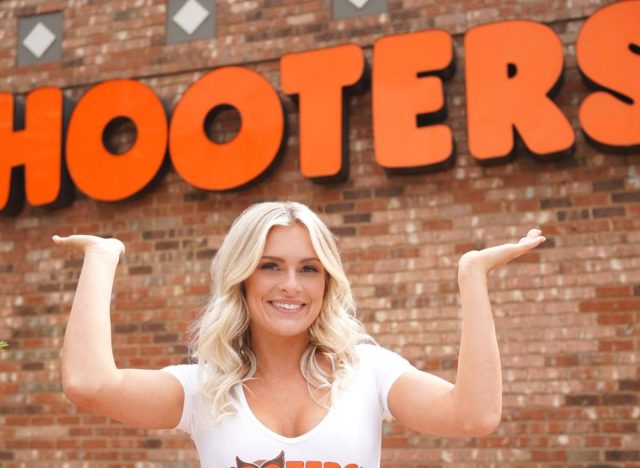 The pandemic was the final nail in the coffin for many Hooters locations, but already the chain had been dying off well before the advent of SARS-CoV-2. Per Business Insider reporting from 2017, Hooters had failed to capture the interest of Millennials who just weren't interested in the "breastaurant" concept. In fact, many members of the younger generations that are just now becoming full consumers are actually quite put off by it.
Despite reports of the chain not attracting the new generation, Hooters disputed claims that it was shutting locations down to rebrand. In late Dec. 2022,  a bogus claim was circulating that the chain was doing just that. Hooters responded that there was "no validity" to the rumor and asserted that the concept "is here to stay."
Leadership and ownership have changed many times in only a few years
Stability is key for any organization that hopes to thrive—or even to survive long-term. But in the 21st century, Hooters has experienced anything but stability when it comes to owners and C-suite executives. There have been four CEOs since 2003, for example. And according to The Atlanta Journal-Constitution, the chain was bought by a group of private investors in 2011. And then it went up for sale again just four years later in 2015, writes Restaurant Business Online, though a sale could not be made. Hooters was finally sold off again in 2019.
The menu has failed to evolve and adapt
People may have claimed in the past that they went to Hooters for the food, not to ogle the servers, but according to Mashed, this justification hardly holds up anymore because the food at Hooters has not evolved over time. And even as the Hooters menu has remained stagnant, myriad other chains have expanded, like Buffalo Wild Wings, for example, that offer the same foods without the awkwardness. One of the biggest menu additions in the last decade was the chain's introduction of a boneless wings option, for those customers shying away from bone-in.
Hooters has tried a number of failed ventures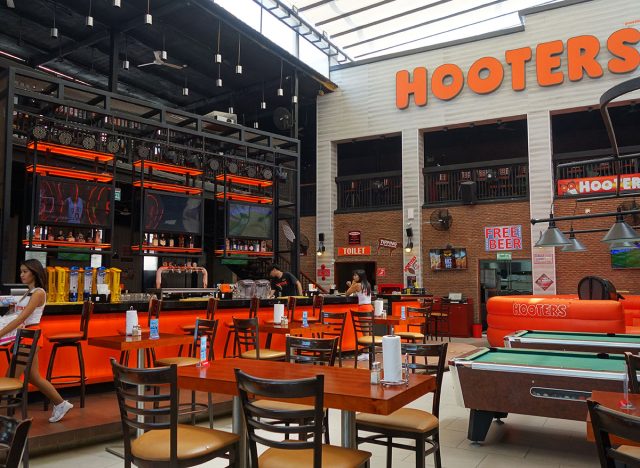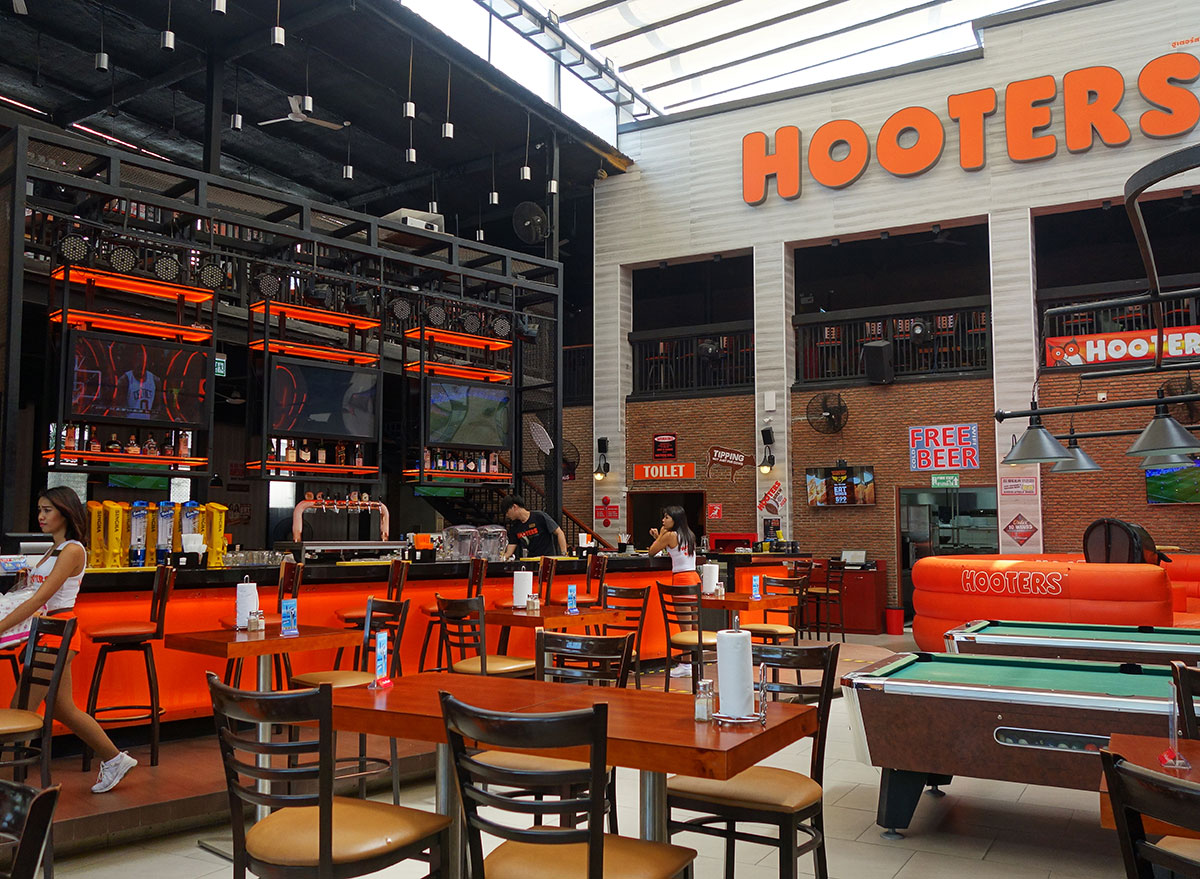 While the company's less breast-centric spin-off restaurant chain Hoots seems to be working out okay, that's the exception when it comes to new ventures for Hooters. For example, between 2003 and 2006, the chain inexplicably ran its own airline, Hooters Air, according to Vox, a failed venture that lost the company some $40 million. And from 2006 to 2019 Hooters owned and operated a casino and in Las Vegas, the Hooters Casino Hotel, a venture that lost money annually and came near bankruptcy on several occasions prior to its selloff, per the Las Vegas Sun.
A previous version of this article was originally published in Nov. 2022. It has been updated with additional information.
Jordan Summers-Marcouillier
Jordan Summers-Marcouillier was born and raised in San Jose, California and now works as a writer in New York, NY.
Read more about Jordan