How to Make a Delicious Buddha Bowl for Weight Loss
These vegetarian recipes—packed with superfoods and plant protein—can help you lose weight fast.
Oddly enough, one of the biggest trends in the weight loss and health food world right now is named after a man often depicted as having a big, round belly. Yes, you guessed it: Buddha. Buddha bowls, sometimes referred to as glory or hippie bowls, are hearty, filling dishes made of various greens, raw or roasted veggies, beans, and a healthy grain like quinoa or brown rice. Sometimes they also include toppings like nuts, seeds and dressings for added texture and flavor. (Is your mouth watering yet?)
Depending on the recipe you choose to follow, the dish can contain a whole rainbow of ingredients and be seasoned in any number of ways, but the basic formula always remains the same. And the best part is, just about every Buddha bowl out there is simple to make and jam-packed with filling nutrients and vitamins that aid weight loss and overall health. If you can't tell, we're pretty big fans.
Scroll down to grab some inspiration and then make your own, stat!
Super Vegan Bowl with Parsley-Cashew Pesto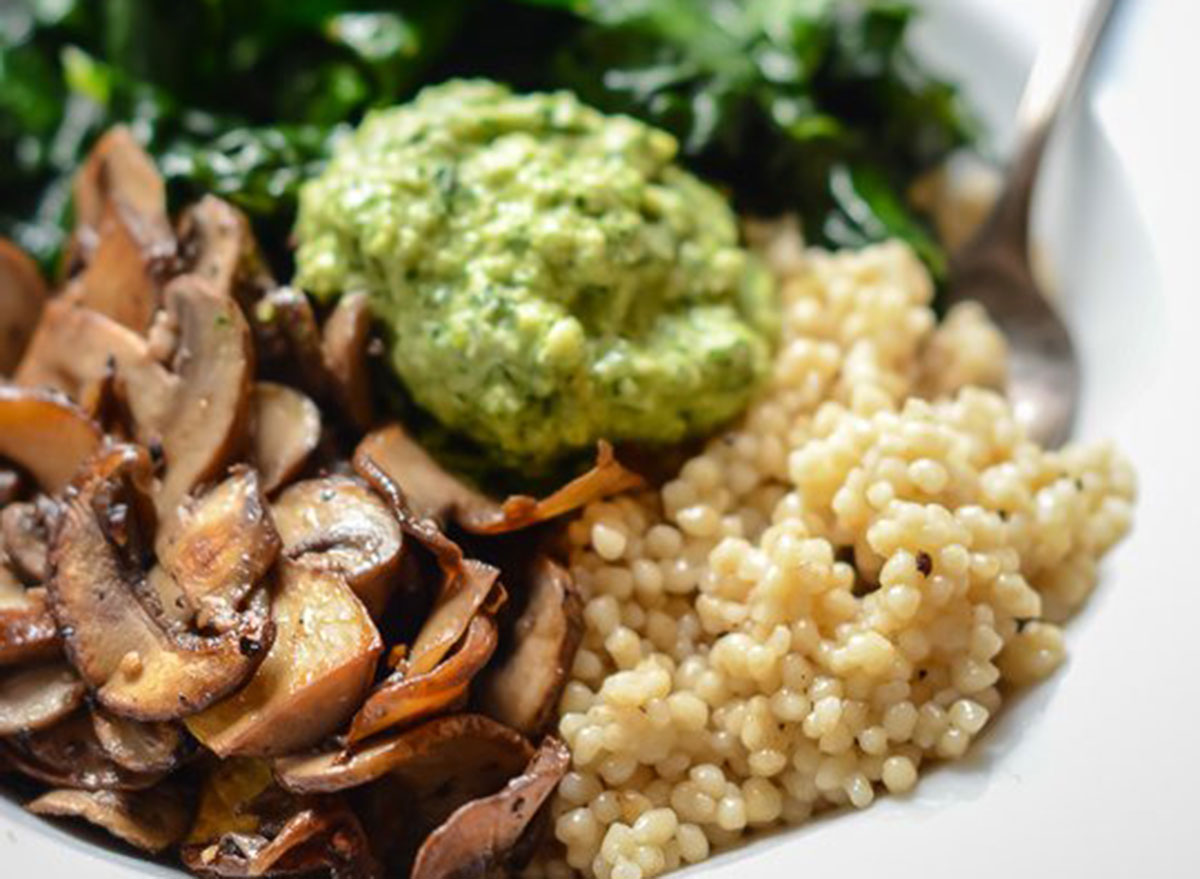 Serves: 4
234 cals, 11.9 g fat, 2.2 g saturated fat, 26 mg sodium, 26.4 g carbs, 2.9 g fiber, 7.3 g protein
Cremini mushrooms, Israeli couscous and vitamin A-rich kale play a starring role in this nutrient-packed meal. But what really makes this Buddha bowl memorable is the parsley-cashew pesto drizzled on top. If you don't like parsley, Tina, the talented blogger behind this dish, suggests subbing in basil or cilantro. If you wind up with any leftover sauce, try spreading it on sandwiches or drizzling it on top of eggs—it has plenty of culinary uses.
Get the recipe from Scaling Back.
Serves: 2
614 cals, 27.2 g fat, 5.1 g saturated fat, 172 mg sodium, 82.1 g carbs, 16.2 g fiber, 16.9 g protein
Quinoa, avocado (a fruit that's been shown to quell hunger pangs and reduce belly fat), corn, tomatoes and olives come together to create this nutrient-packed, savory dish. Everything but the quinoa is served raw, which makes it super quick and easy to whip up. Consider it your go-to when you need to put dinner on the table in a flash.
Get the recipe from Rawmazing.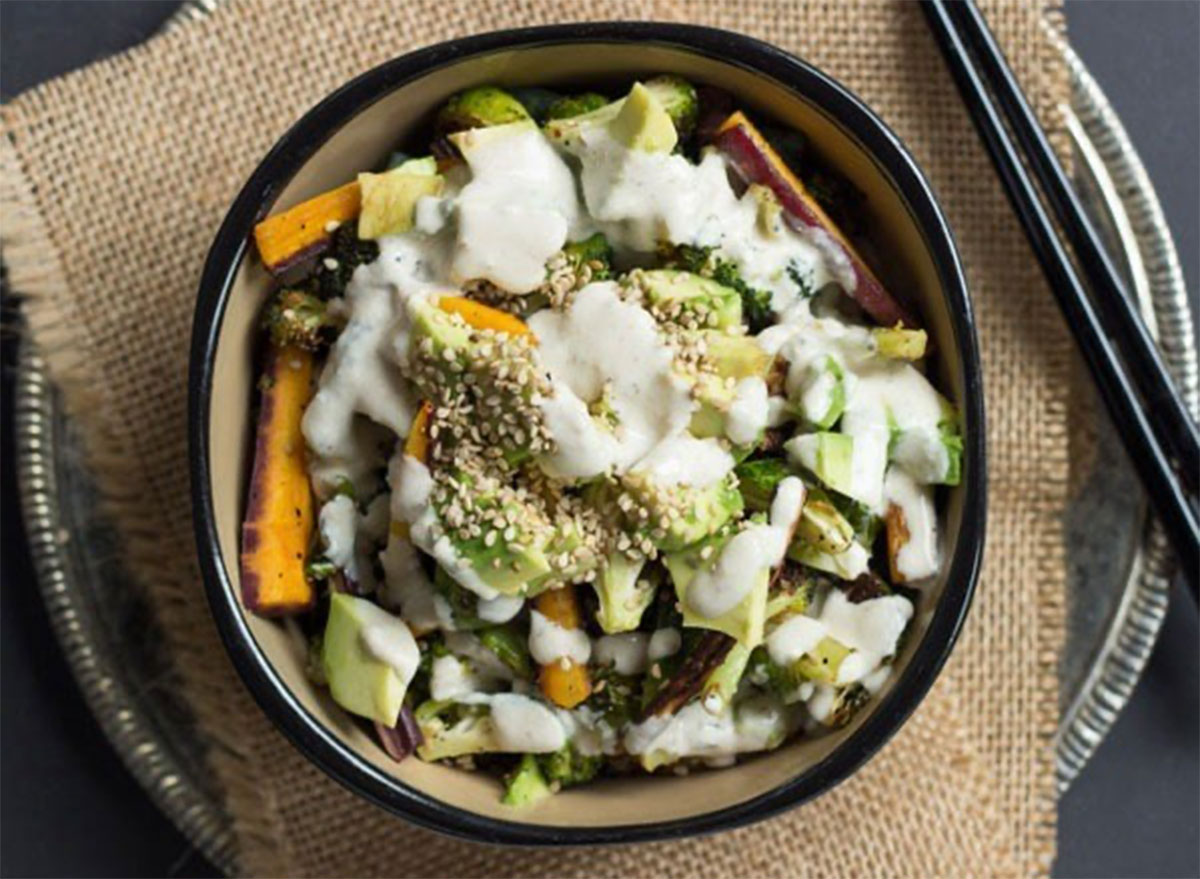 Serves: 4
563 calories, 23.5 g fat, 3.8 g saturated fat, 73 mg sodium, 73.3 g carbs, 12 g fiber, 3.9 g sugar, 18.7 g protein (served with 2 Tbsp of dressing)
Made with a mix of quinoa, raw kale, roasted veggies and a homemade cashew-tahini dressing, this is one Buddha bowl you don't want to miss out on. Besides have a rich herby flavor that's sure to satisfy your taste buds, this dish serves up more than 200 percent of the day's vitamin C. It also carries a third of the day's iron, a nutrient that helps transport oxygen throughout the body—a very important function! Have leftovers? Top two cups of raw spinach or kale with the mixture and store it in a tupperware container. You'll have lunch for the next day.6254a4d1642c605c54bf1cab17d50f1e
Get the recipe from Simply Quinoa.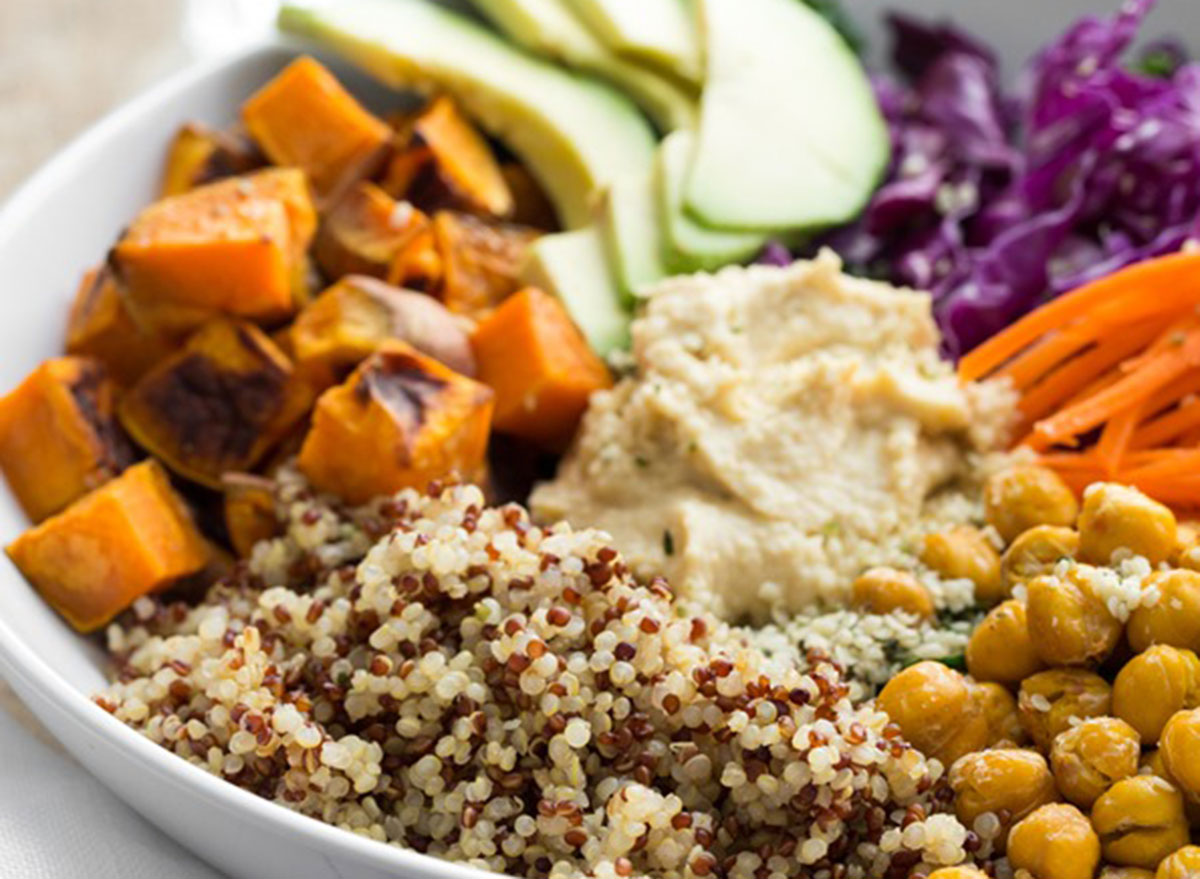 Serves: 5
556 calories, 17. 2 g fat, 2.9 g saturated fat, 114 mg sodium, 81 g carbs, 22.2 g fiber, 14.3 g sugar, 23 g protein (Calculated with with 4 tablespoons hummus, one avocado and 4 tablespoons hemp seeds.)
Got 25 minutes to spare? That's all the time you'll need if you want to create this Instagram-worthy bowl at home. If you're a vegan who struggles to take in enough protein, adding this dish to your weekly lineup should be a no brainer—it packs in a whopping 23 grams of the muscle-building nutrient.
Get the recipe from Oh She Glows.
Sweet Potato Chickpea Buddha Bowl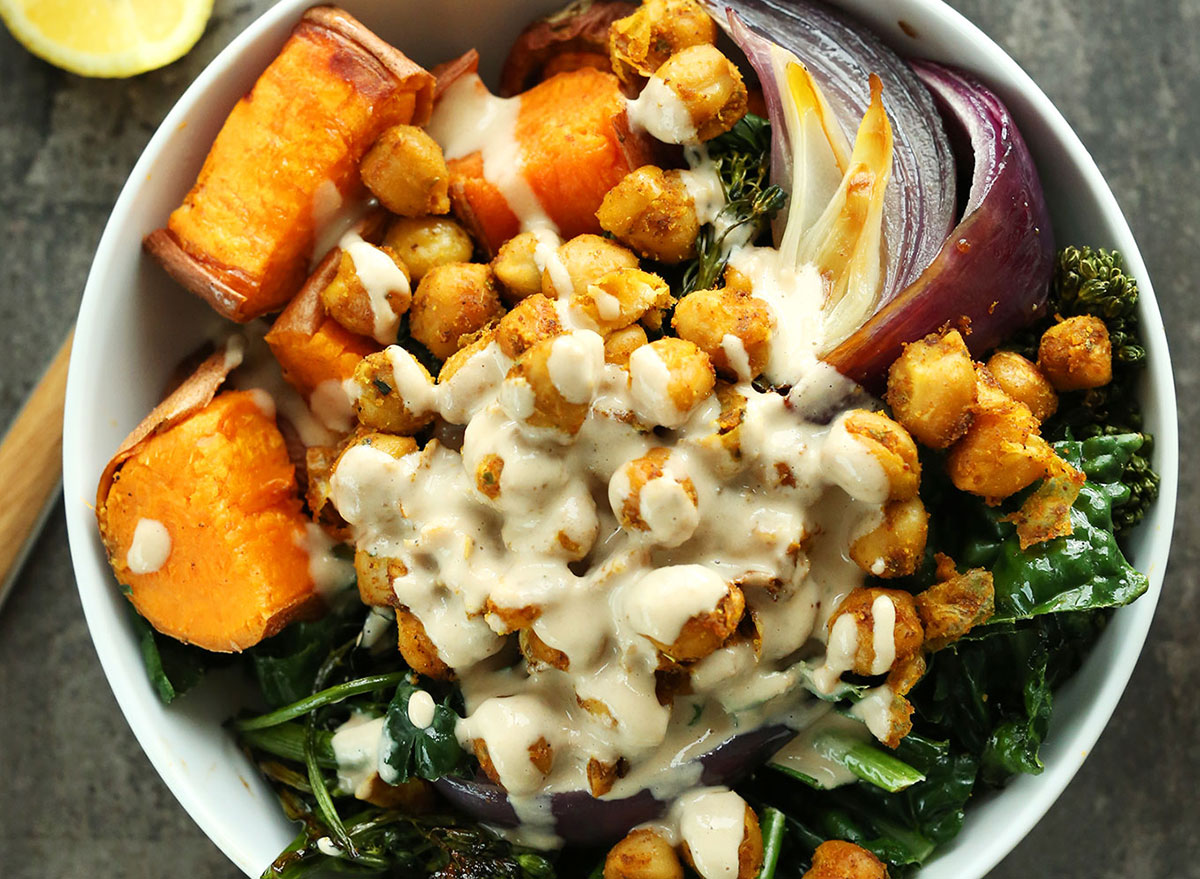 Serves: 3
474 calories, 21 g fat, 2.8 g saturated fat, 562 mg sodium, 62 g carbs, 11.4 g fiber, 7.2 g sugar, 13.2 g protein
This simple, 30-minute recipe is loaded with four kinds of vegetables, fiber- and protein-rich chickpeas, and a maple-tahini sauce that will have you wanting more.
Get this recipe from Minimalist Baker.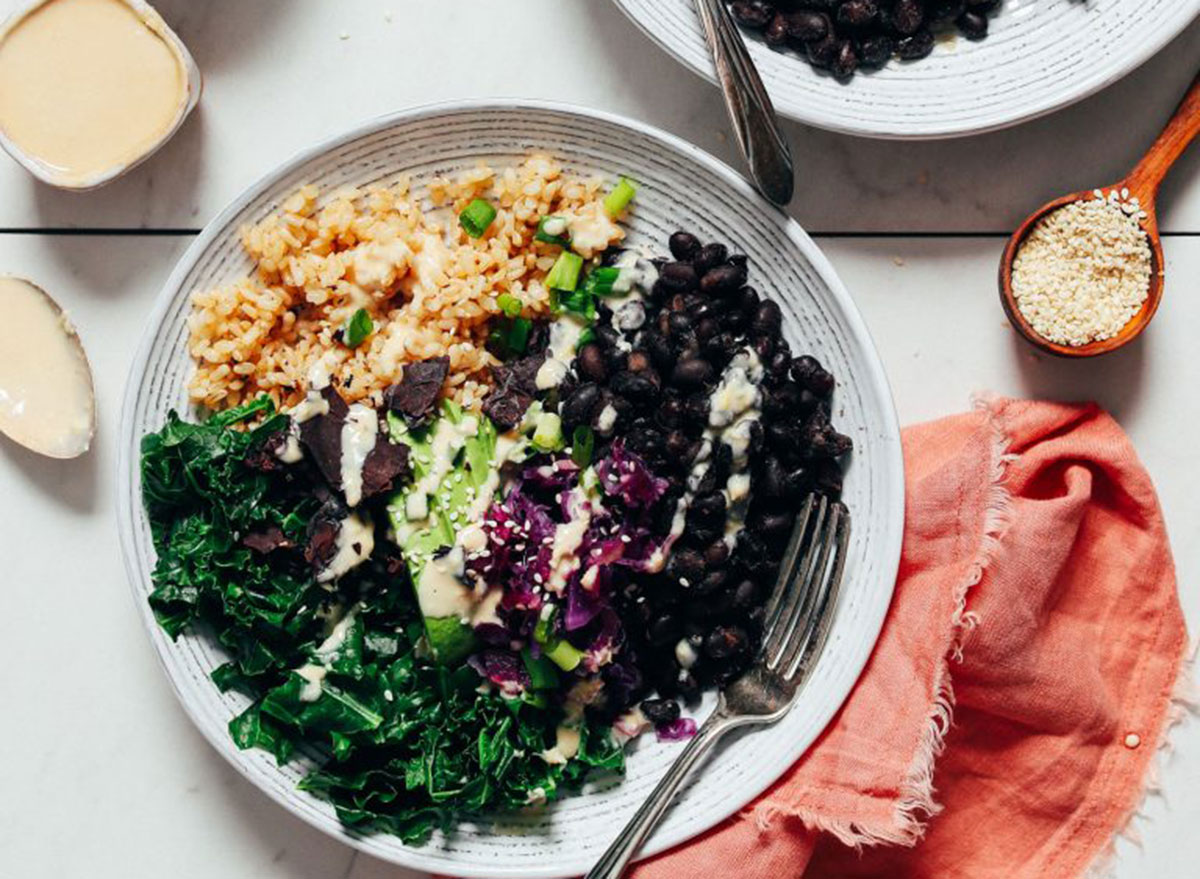 Serves: 4
556 calories, 19 g fat, 2.5 g saturated fat, 998 mg sodium, 86 g carbs, 21.7 g fiber, 8.6 g sugar, 20.5 g protein
In this gluten-free, vegan Buddha bowl, beans bring the essential protein, avocado and the tahini in the dressing bring the good fat, and the kale and sauerkraut bring the essnetial vitamins and minerals you want from leafy greens.
Get the recipe from Minimalist Baker. 
Butternut Squash Buddha Bowl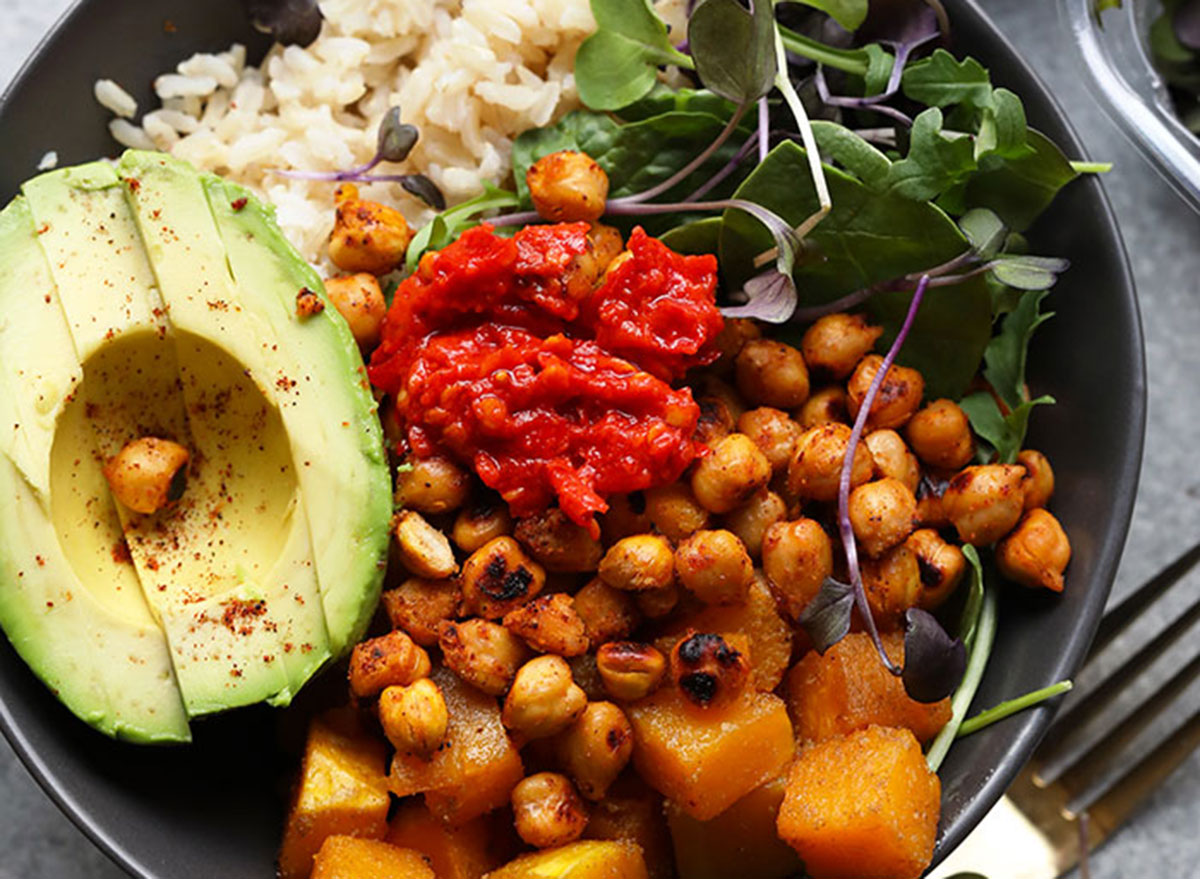 Serves: 4
540 calories, 80 g carbs, 21 g fiber, 8.3 g sugar, 11 g protein
The roasted chickpeas and the harissa sauce topping give this bowl Mediterranean healthy vibes. Avocado's here for essential fats, and butternut squash is a potent source of vitamins E, B6, and potassium.
Get the recipe from Fit Foodie Finds. 
Bali Bowl with Peanut Tofu
Serves: 4
496 calories, 23.9 g fat, 3.9 g saturated fat, 791 mg sodium, 58.6 g carbs, 6.6 g fiber, 22.4 g sugar, 18.7 g protein
This is probably one of the best ways to infuse tofu with flavor and make it shine as the best component of a Buddha bowl. You'll make a deliciously spicy, salty, and sweet peanut sauce, then coat the tofu in it before you bake it in the oven. Chop veggies you have in the fridge like carrots, radishes, and snap peas, and you've got a garden feast on your plate.
Get the recipe from Feasting at Home. 
Mediterranean Vegan Buddha Bowl
Serves: 4
489 calories, 18 g fat, 490 mg sodium, 69 g carbs, 11 g fiber, 7 g sugar, 14 g protein
You'll be making a flavorful quinoa tabouli for this one, as well as hummus from scratch. But don't worry, these Middle Eastern staples are so worth the effort, because they can also be stored for later and eaten in a million other ways.
Get the recipe from Fit Foodie Finds. 
Rainbow Buddha Bowl with Sesame Miso Dressing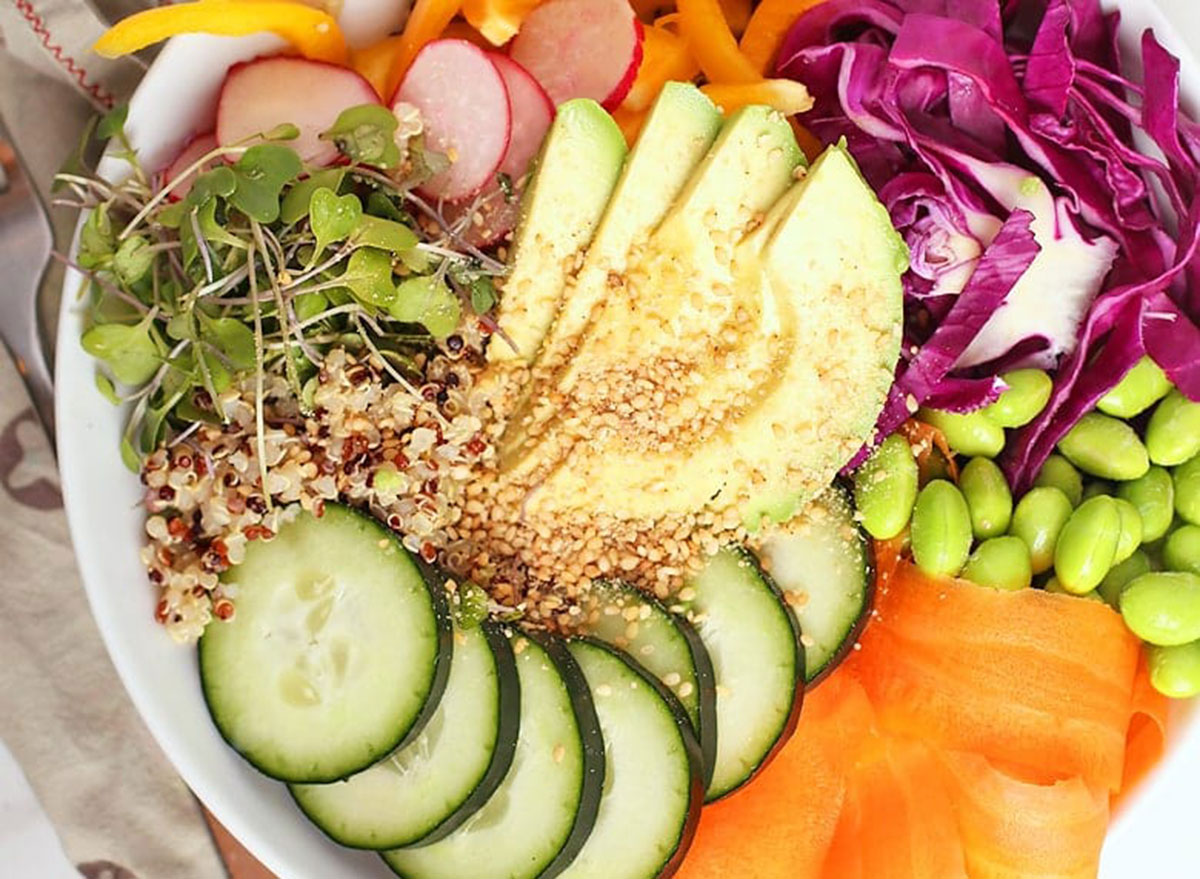 Serves: 4
357 calories, 17 g fat, 2 g saturated fat, 508 mg sodium, 41 g carbs, 6 g fiber, 6 g sugar, 11 g protein
What we love about this bowl is that most of its components are raw veggies. That means you'll be cooking less and you'll be eating more raw food—which is the best way to eat whole foods like vegetables. No bowl is complete with a hit of good fats, and avocado does the job here.
Get the recipe from My Darling Vegan. 
Healing Bowl with Turmeric Sweet Potatoes, Poached Eggs, and Lemon Dressing
Serves: 4
328 calories, 25.2 g fat, 530 mg sodium, 20.1 g carbs, 2.3 g fiber, 6.7 g sugar, 7.7 g protein
It's back to basics with this simple sweet potato–forward concoction. The soft boiled egg on top makes a huge difference in how comforting your food feels. Make sure you boil it for six to seven minutes only, before you plunge it in an ice bath for that perfectly creamy yolk.
Get the recipe from Pinch of Yum. 
Additional reporting by Kelly Gomez.