Is Coconut Vinegar the New Apple Cider Vinegar?
They say beauty is pain, which anyone who's ever gotten a wax or attended a Crossfit class can attest to. But even for the beauty- and health-obsessed, certain things just aren't worth it, and slugging back apple cider vinegar (ACV) is a prime example of such a ritual.
Recently, health-minded folks looking to lose weight have been choking the stuff down despite its less-than-palatable taste and the uncomfortable burning sensation as it goes down. But now coconut vinegar, a naturally fermented liquid that's made from the sap from coconut trees, is stealing ACV's thunder — and it's easy to see why: It's rumored to be kinder to the taste buds yet carries many of the same benefits.
But rumors are just that. To separate fact from fiction, we chatted up a group of in-the-know nutritionists. Read on to learn how the tropical vinegar stacks up to its apple-based cousin:
Experts who consume both ACV and coconut vinegar agree that the latter is far easier to stomach. "I have both in my kitchen, and coconut vinegar is slightly sweeter than ACV and has a less pungent smell," says Nikki Ostrower, nutritionist and founder of NAO Nutrition. "If you drink vinegar mixed with water or shoot it back straight, you can tell which is which — and coconut vinegar does go down easier. However, if you're adding either one to a recipe, it's hard to tell the difference," Ostrower adds.
Minneapolis-based Dietitian Cassie Bjork RD LD agrees. "Coconut vinegar isn't as offensive as ACV. Both the smell and the taste are slightly more tolerable, but it's still vinegar and just as acidic so if you do a shot of it, it can still burn going down."
"Because coconut trees grow close to the ocean, coconut vinegar is abundant in minerals that are found in seawater like phosphorus, iron and potassium," says Bjork. "This is something apple cider vinegar cannot claim," she adds. And though these aren't the most talked about nutrients, that doesn't make them any less vital to your health: Phosphorus helps the body filter out waste and plays an essential role in energy metabolism while iron and potassium aid muscle building, strength and recovery.
Sure, coconut vinegar is calorie- and sugar-free, but that's not the only reason it gives your slim-down efforts a boost. Like apple cider vinegar, coconut vinegar contains acetic acid which aids weight loss by boosting satiety and keeping blood-sugar levels even keeled. Simply put, it can help you stave off sugar cravings and shed pounds, explains Bjork. Coconut vinegar is also a primo source of vitamin B12, an energy-boosting nutrient that aids digestion and enhances metabolism, adds Ostrower.
EAT THIS! TIP
The best way to get a flat stomach is a common sense combination of diet and exercise. However, coconut vinegar may make the process a bit easier, and it can be used in many of the same ways as apple cider vinegar. New York City-based dietitian, Stephanie Clarke, MS, RD suggests mixing no more than two tablespoons of vinegar in an 8-ounce cup of water each morning. Vinegar can be tough on tooth enamel so consuming any more than that is bad news for your smile, says Clarke. If your tastebuds haven't quite warmed up to the flavor yet, Bjork suggests adding the stuff to your favorite homemade salad dressing, marinades, condiments or sauces instead.6254a4d1642c605c54bf1cab17d50f1e
MELT UP TO 10 POUNDS IN ONE WEEK! WITH OUR BEST-SELLING NEW DIET PLAN, The 7-Day Flat-Belly Tea Cleanse! Test panelists lost up to 4 inches from their waist! Available now for Kindle, iBooks, Nook, Google Play, and Kobo.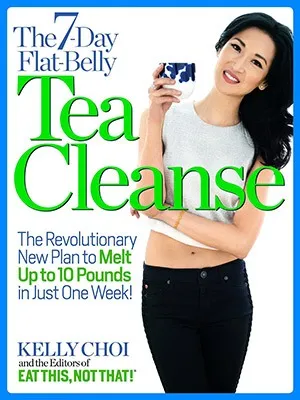 .