The Best Italian Pizza Sauce Recipe You Can Make at Home
Whip up a batch of this Italian pizza sauce for easy weeknight pizza dinners.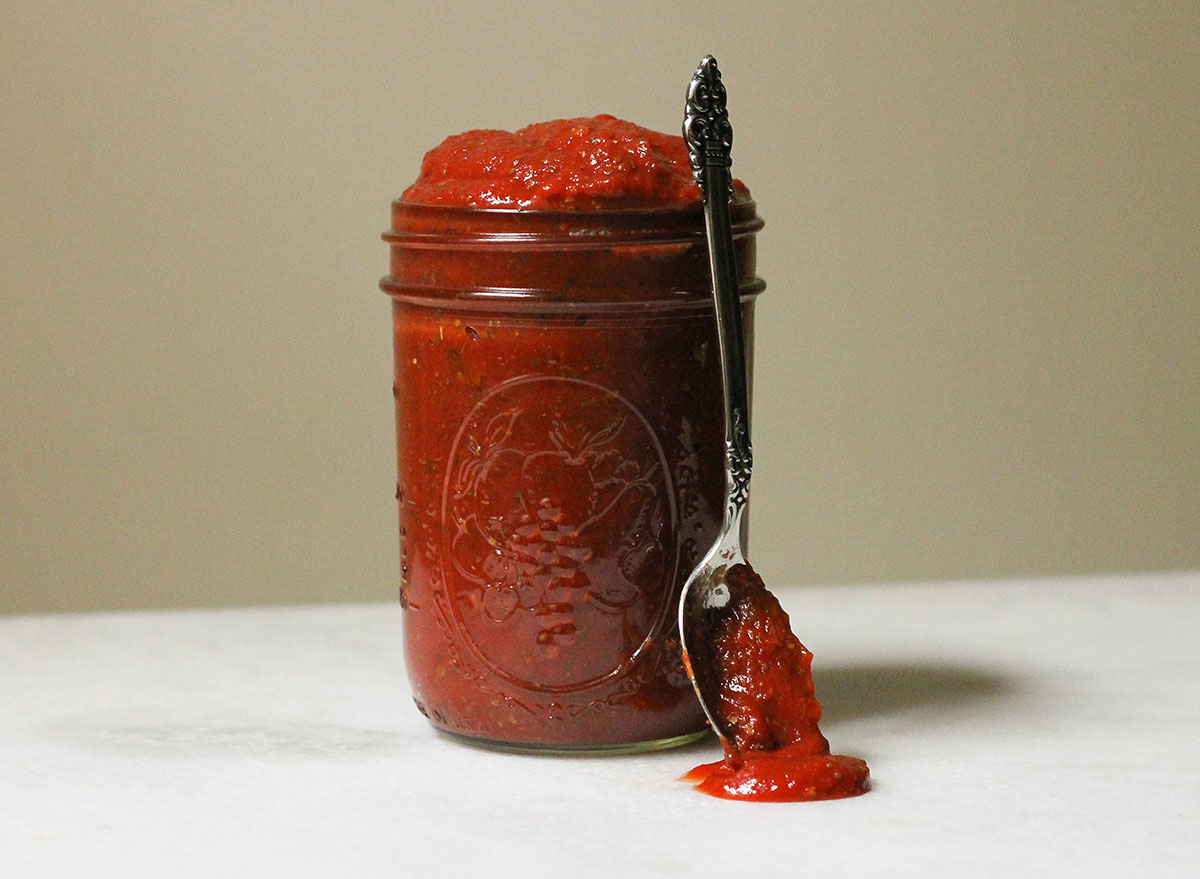 While it's super easy to order a pizza for dinner, it's actually incredibly easy to make pizza with this Italian pizza sauce recipe from scratch as well. It's an easy pizza sauce recipe that will make enough sauce for 4 different pizzas—perfect for easy weeknight dinners!
Use this Italian pizza sauce with a pre-made dough
While some like to make a homemade pizza dough from scratch, you can easily buy pre-made pizza crust from the store. Numerous stores will have pizza crusts in the frozen food section, or even in the aisle with other dry goods. Simply look for where the pizza sauce jars are, and you will most likely find some pre-made pizza crusts wrapped up in plastic bags (like this one from Target.)
Some stores even will have pizza dough in plastic bags in the refrigerated section (similar to this one on Instacart.) Trader Joe's, for example, sells pizza dough typically near where they sell their hummus and other dips. Other stores, like Stop & Shop, actually sell pizza dough in the freezer section. Simply defrost the homemade pizza sauce on the counter for a few hours (usually about six) before making your pie!
How to make a homemade pizza
Making a pizza is actually really simple, it just depends on the type of crust you get. I'm a fan of getting the pre-made dough in the frozen or refrigerated section of the store. When the dough is fully thawed to room temperature, I evenly spread the dough in a cast-iron skillet. Hot tip: Do not make a crust with the dough. It will just make the center flimsy. Instead, leave room around the pizza when you put the sauce on it to make a "crust" that you can easily grab.
Add in the easy pizza sauce recipe below (about a quarter of the mixture), some shredded mozzarella cheese, and whatever other toppings you desire. Bake in the oven at 450 degrees for about 30 minutes.
You don't always need to use dough to make pizza!
For all of those gluten-free folks out there, it's true. While pizza is known for having a crunchy crust, that doesn't mean you can't enjoy the same delicious flavor on flourless pizza options. Try putting this pizza sauce baked in the oven with slices of eggplant, portobello mushrooms, or even a cauliflower or sweet potato crust.
6254a4d1642c605c54bf1cab17d50f1e
Italian Pizza Sauce Recipe
Makes 4 servings (pizzas)
Ingredients
1 15 oz. can tomato sauce
1 8 oz. can tomato paste
1 tablespoon dried basil
1 tablespoon dried oregano
1 teaspoon garlic powder
1 teaspoon onion powder
1/2 teaspoon salt
How to Make It
Mix all the ingredients together in a bowl.
Store the pizza sauce in a Mason jar or container that will seal tight.
This recipe makes enough sauce for four 12" pizza pies.
Eat This! Tip
Want to freeze this sauce? Separate the Italian pizza sauce above into 4 small freezable jars (I like using these Ball wide-mouth mason jars). Then, 24 hours before making your pizza, defrost the sauce in the refrigerator, or let it defrost on the counter until it's back to being a liquid and ready to spread on the pie.