Jaimie Alexander's Power Food Plan
Look great naked, just like the Blindspot star, with a daily meal plan for staying healthy, active, and fit.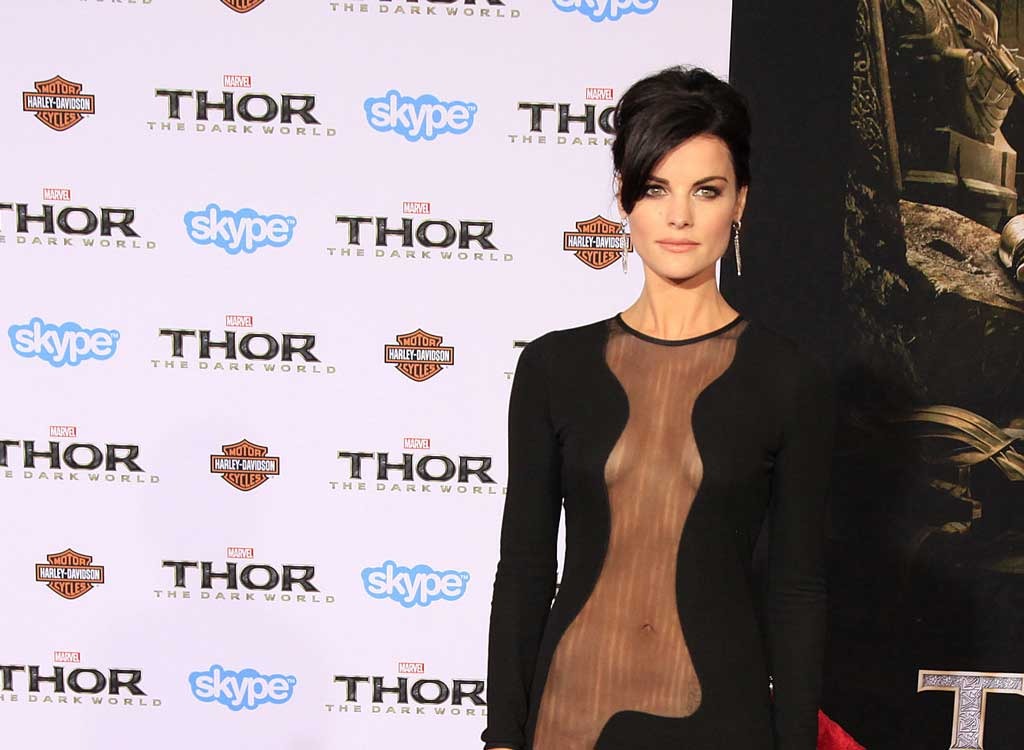 On her hit NBC series, Blindspot, Jaimie Alexander's character, Jane Doe, spends a lot of time beating up bad guys and showing off her well-toned, well-tattooed, and often near-naked body. The actress, 32, knows that if her physique is the main focus of an entire TV show, she'd better look damn good. Here, Jaimie shares a few of her favorite rules for staying in kick-ass shape. Inspired but don't know where to start? These 7 Best Ab Moves for Women are your answer!
What's your morning meal?
I hate to admit it but I used to skip breakfast. I'd just slam down a coffee and go. Now I respect my body and give it the healthy fuel it needs first thing. I start with a full glass of warm lemon water to get my metabolism going. Then I eat an apple to "break the fast." If I'm in a rush, I make a protein shake using Sun Warrior Vanilla Protein and Califia almond milk, with extra super greens powder. But I also find eggs or a slice of gluten-free bread with peanut butter and a sprinkle of sea salt pretty tasty. And I still love a good cup of coffee in the morning. (Psst! Eat This, Not That! recently reported on The Best and Worst Protein Powders and Jaimie definitely picked a winning mix!)
What supplements do you take?
I used to have cystic acne in my 20s, but since I started taking probiotics my skin is much better. I also take evening primrose, joint lubrication oils, and omegas. I believe being healthy starts from the inside out.
How do you keep your energy up at work?
I pretty much eat all day. I tried being vegan but found myself reaching for potato chips and fries. Now I'm primarily vegetarian with a side of fish. When I'm working, I'll have gluten-free wraps with lots of veggies and veganaisse or hummus.
Do you ever have cheat days?
Oh yeah, for sure! My diet is pretty healthy, but if there's pizza, I will eat that pizza. And I will knock back a beer or some bourbon. I'm a foodie and don't believe in depriving myself. The key is to stay active. Check out these 20 Cheat Meal Tips for Weight Loss Success for more ways to indulge without undoing your hard work.
What do you order when you're dining out?
I always start with a house salad and mix my own dressing at the table with some olive oil, lemon juice, and sea salt. AndI love broccoli with salmon or tuna (raw, baked, or grilled).
What's always on your grocery list?
Califia unsweetened almond milk, and organic coffee, apples, lemons, and grapes. I love coconut oil too. It's great for cooking and skin care. You can take makeup off with it and use it as a moisturizer. I like to add lavender oil to it for a "body lotion."6254a4d1642c605c54bf1cab17d50f1e
BONUS: Recipe for Jaimie's Shredded Zucchini with Pesto
You'll need:
2 zucchini, shredded. Parboil for two minutes.
For the pesto:
Place in a food processor:
2 healthy bunches of basil ("I also add in other greens like spinach or arugula if I have them.")
½ cup pine nuts
2 garlic cloves
¼ to ½ cup olive oil
How to make it:
Blend until smooth, then pour pesto over warm zucchini. "Sometimes I add freshly grated Parmesan cheese. Okay, I ALWAYS add it. It's my favorite.")
Serves 2
Eat This, Not That!
Inspired by The New York Times best-selling book series, Eat This, Not That! is a brand that's comprised of an award-winning team of journalists and board-certified experts, doctors, nutritionists, chefs, personal trainers, and dietitians who work together to bring you accurate, timely, informative, and actionable content on food, nutrition, dieting, weight loss, health, wellness, and more.
Read more about Eat This