No matter what you're eating, it just tastes better when it's on a stick.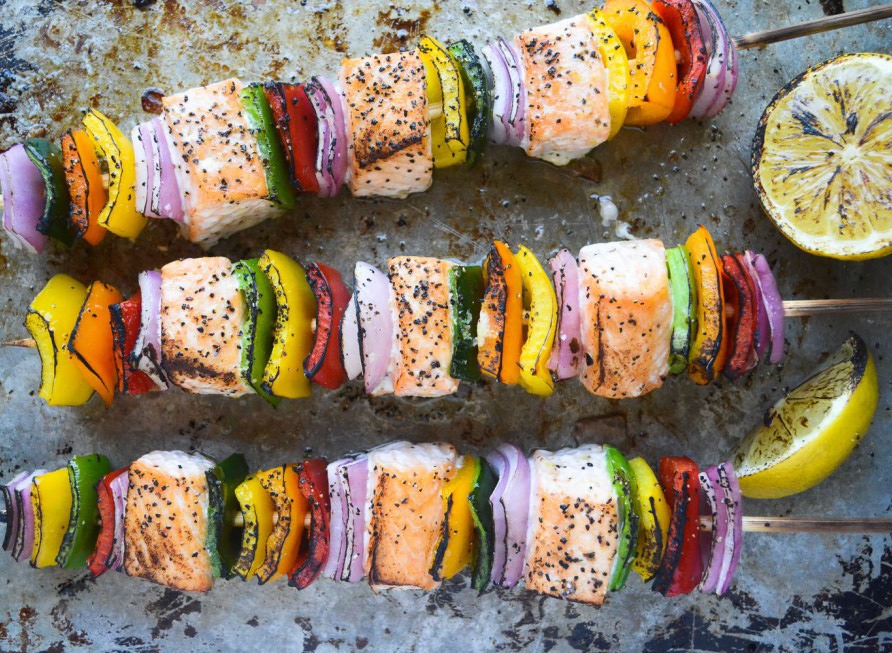 Kabobs—or "shish kebabs" to some—are more visually appealing, more fun to prepare and eat, and one of the easiest ways to keep your weight in check, thanks to the built-in portion control. Plus, many kabob recipes' nutritional profiles are typically superior to their traditional dish (the non-stick, wrap-like sandwich).
With a little extra effort, a few simple ingredients, and some skewers, you can transform any meal. From breakfast to dessert, Paleo to vegan, and weight loss friendly to indulgent, we've covered every preference. Get skewing! And for other grill ideas, don't miss these 21 Grill Recipes that Aren't Burgers.
HERBED LEMON GARLIC CHICKEN SKEWERS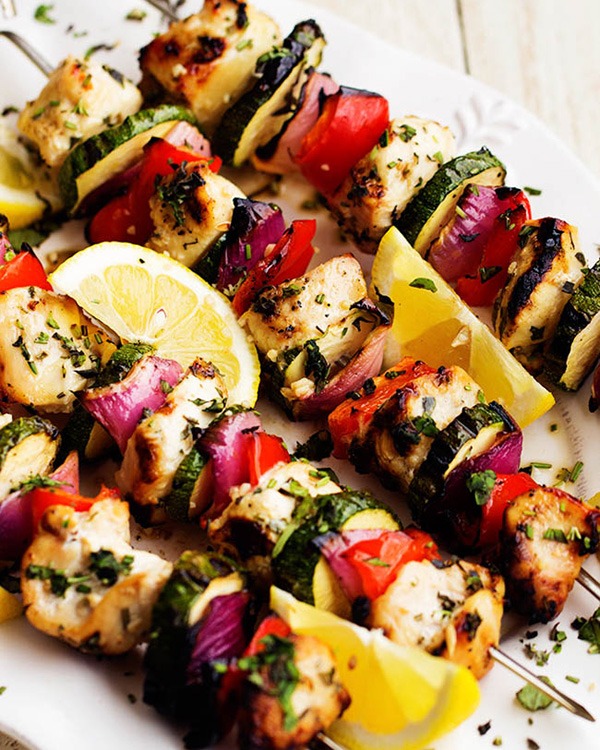 Nutrition: 224 calories, 12.6 g fat (2.5 g saturated), 70 mg sodium, 6.3 g carbs, 2.2 g fiber, 2.5 g sugar, 21.9 g protein
Garlic may not have your date leaning closer, but it packs one serious nutritional punch. The plant is credited with reducing arterial plaque, fighting the common cold, projecting brain cells and even, prolonging your life. Not to mention garlic is rich in manganese, vitamin B6, vitamin C, selenium, and fiber— all essential nutrients for a healthy body. And with a nutritional profile like this one (21.9 grams of slimming protein and just 224 calories), you're one meal closer to that dream body.
Get the recipe from The Recipe Critic.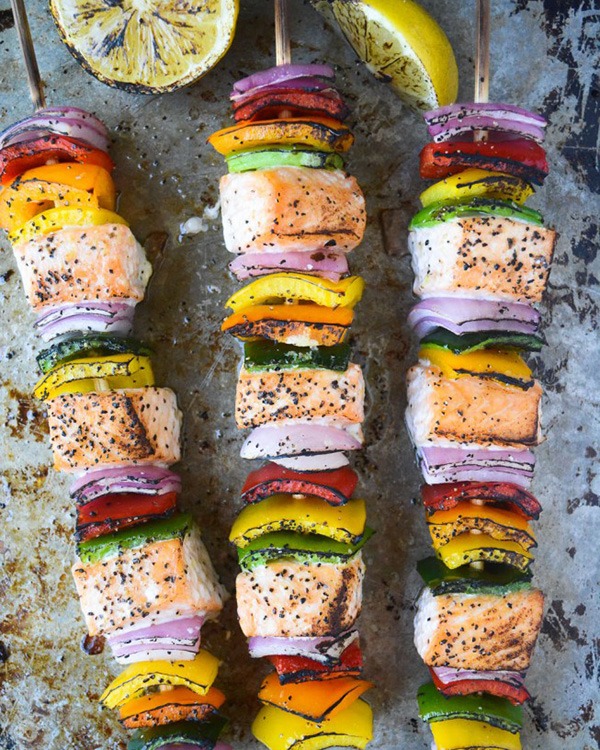 Nutrition: 175 calories, 7.3 g fat (1 g saturated, 66 mg sodium, 4.9 g carbs, 1.6 g fiber, 3 g sugar, 22.7 g protein
Wild salmon (not farmed) is a weight loss celeb—and for good reason. It's packed with metabolism-supporting omega-3s and protein, a nutrient that increases post-meal calorie burn by as much as 35 percent! It also can give you more luscious locks, fights depression, reduces inflammation and is an excellent source of selenium, a mineral that supports a healthy metabolism, as well as skin collagen.
Get the recipe from The View From Great Island.
ASIAN PEPPER STEAK KABOBS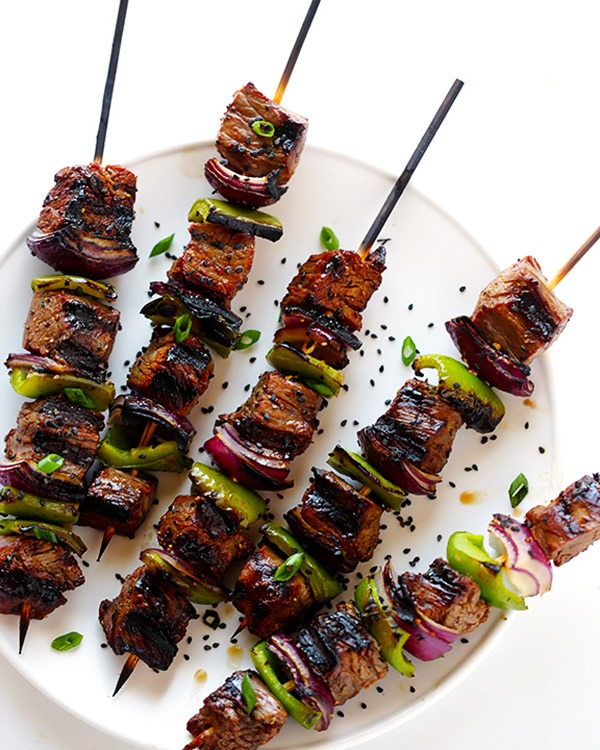 Nutrition: 187 calories, 10.7 g fat (2.8 g saturated), 374 mg sodium, 3.9 g carbs, 1 g fiber, 2.2 g sugar, 16.8 g protein
Despite being warned that red meat is a "bad," disease-causing evil, if you choose the right piece, occasional consumption can actually help you lose weight and improve your overall diet quality. Just be sure to always opt for grass fed beef. It's naturally leaner, lower in calories, and contains higher levels of omega-3 fatty acids. These healthy fats have been shown to reduce inflammation, improve insulin resistance and help the liver carry fat out of the body. What's more? Red meat is also packed with iron, a mineral that keeps your metabolism humming and boosts energy levels for maximum caloric burn.
Get the recipe from Gimme Some Oven.
GRILLED CHICKEN KABOBS WITH TAHINI SAUCE
Nutrition: 289 calories, 21 g fat (3.6 g saturated), 65 mg sodium, 7.4 g carbs, 2.2 g fiber, 1.7 g sugar, 19.2 g protein
The tahini sauce on these kabobs will fire up your mouth. Cayenne pepper contains a metabolism boostingcompound called capsaicin. After ingested the body produces extra heat and burns more calories for fuel. AKA all bites lead to a slimmer you.
Get the recipe from The Mediterranean Dish.
LEMON GARLIC SHRIMP KABOBS
Nutrition: 182 calories, 9.1 g fat (4.9 g saturated), 312 mg sodium, 1.1 g carbs, 0 g fiber, 0 g sugar, 24.6 g protein
Gram for gram shrimp packs in more metabolism boosting aminos than any other protein: each gram of meat packs a whopping 25 percent protein. It's also low in calories, cooks in just minutes and is a fraction of the price of other proteins if you buy it frozen. If we haven't convinced you to skew this recipe yet, let the lemony garlic flavor persuade you.
Get the recipe from Damn Delicious.
FAJITA CHICKEN KABOB RECIPE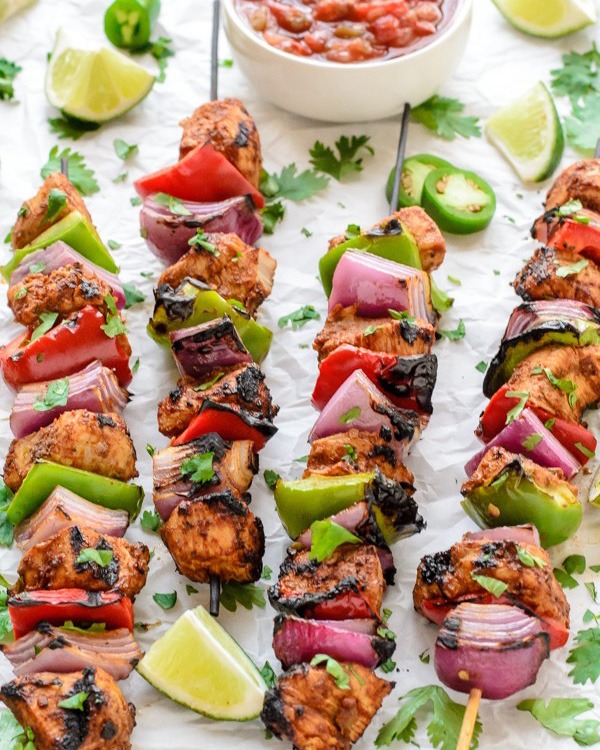 Nutrition: 164 calories, 8.1 g fat (1.5 g saturated), 209 mg sodium, 5 g carbs, 1.6 g fiber, 2.6 g sugar, 17.2 g protein
Take the carb out of your fajita, ditch the frying pan and fire up the grill instead. Aside from being super simple and delicious, there aren't any empty calories here. Muscle-building chicken, heart-healthy red onion, and carotenoid-boasting bell pepper are sprinkled with cilantro and dipped in protein-rich Greek yogurt. Sounds like heaven to us!
Get the recipe from Well Plated.
Nutrition: 164 calories, 6 g fat (2 g saturated), 101 mg sodium, 10 g carbs, 1 g fiber, 6 g sugar, 17 g protein
Pork chops might not steal the slimming protein spotlight the way chicken does. However, they can be part of a balanced diet (and a welcome break from all that clucky goodness). As long as your opt for a lean cut of the meat, pork chops can be low in fat and sky high in protein, aiding in weight loss and speeding up workout recovery. And it's hard to find anything marinated in teriyaki sauce with this kind of sodium content. You're welcome.
Get the recipe from Garnish and Glaze.
BACON PINEAPPLE CHICKEN KABOBS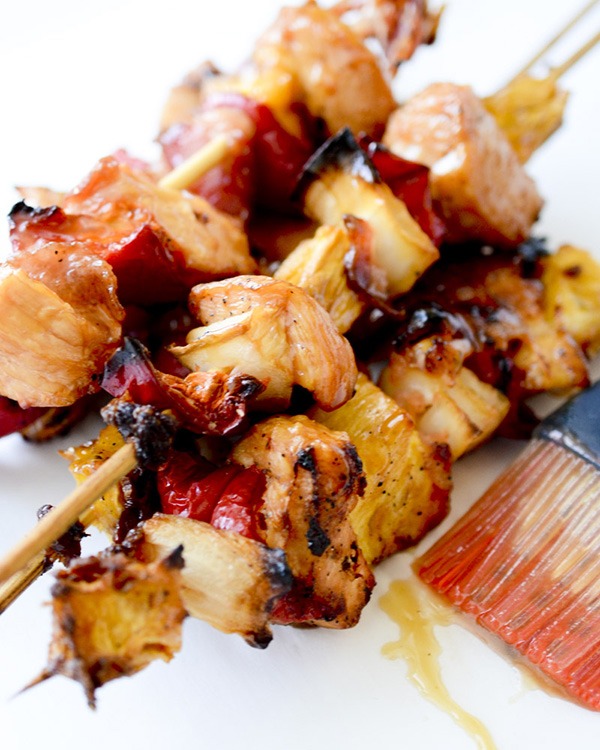 Nutrition: 223 calories, 8.3 g fat (2.6 g saturated), 372 mg sodium, 12.2 g carbs, 1 g fiber, 9.3 g sugar, 23.7 g protein
Just ask the Paleo dieters—bacon is a green light…as long as you opt for varieties that are cured without sodium nitrites and just plain old sodium. Plus, pork bacon is a great source of protein and heart-healthy monounsaturated fatty acids (MUFAS). A little bit goes a long way, which is why we love these kabobs,which only require about one piece per skewer so even if you have two, you won't pig out.
Get the recipe from Recipe Diaries.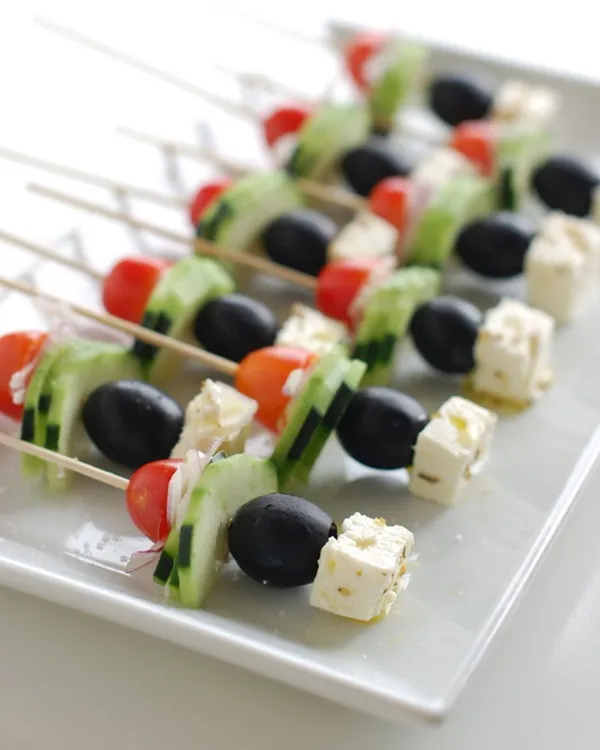 Nutrition: 63 calories, 2.7 g fat (1.5 g saturated), 149 mg sodium, 8.4 g carbs, 1.9 g fiber, 4.4 g sugar, 2.7 g protein
Perfect for party appetizers, neighborhood cookouts, date night, and basically anytime you want to take the blah out of lettuce. And at 63 calories a pop, even the Greeks would be impressed.
Get the recipe from No Biggie.
Nutrition: 215 calories, 14.8 g fat (6.4 g saturated), 331 mg sodium, 3.5 g carbs, <1 g fiber, <1 g sugar, 17.6 g protein
Here's a scary thought: Some antipasto salads contain nearly 1,000 calories and 70 grams of artery-clogging fat. Save yourself nearly 800 calories, and 56 grams of fat, when you put together these kabobs instead of ordering a tray of antipasti. And don't forget to check out these 50 Best Detox Waters for Fat Burning and Weight Loss to counteract the sodium count.
Get the recipe from Mantitlement.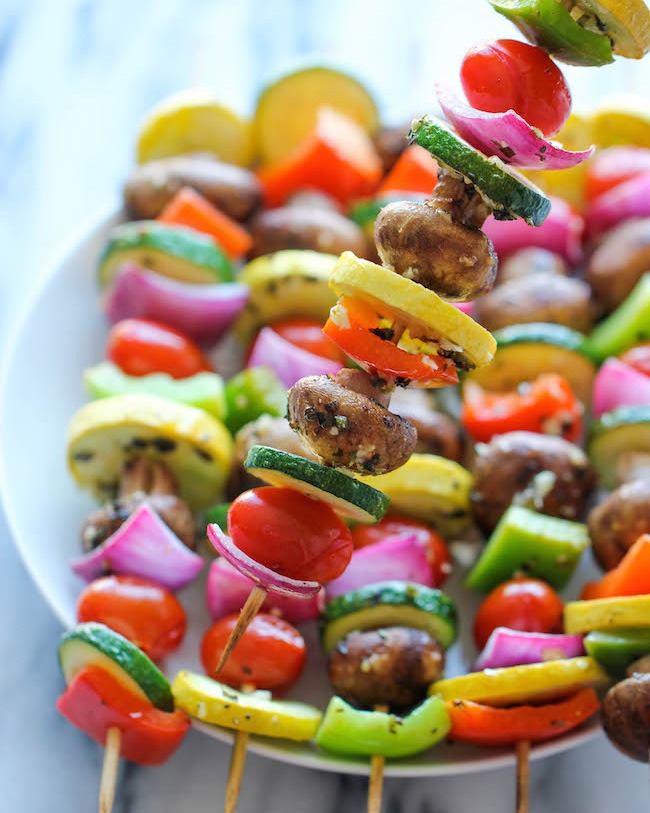 Nutrition: 95 calories, 7.2 g fat (1 g saturated), 7.5 g carbs, 1.9 g fiber, 3.8 g sugar, 2 g protein
Whittle your waist, boost your health, and even protect you tatas with these veggie kabobs. In fact, a study printed in the International Journal of Cancer found that participants who consumed 10 grams or more of fresh mushrooms every day were about two-thirds less likely to develop breast cancer than non-mushroom eaters. And women who also consumed with green tea showed an even lower risk!
Get the recipe from Damn Delicious.
CAPRESE KABOBS WITH BALSAMIC GLAZE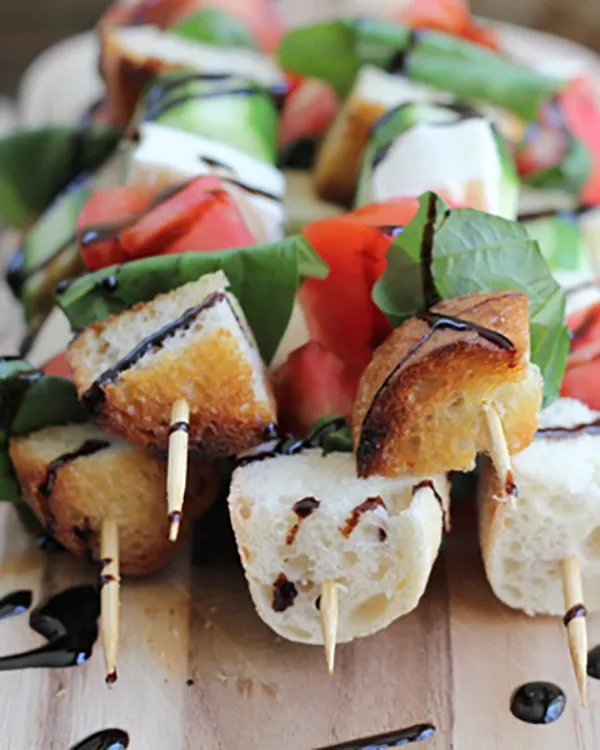 Nutrition: 145 calories, 10 g fat (2.6 g saturated), 173 mg sodium, 9.5 g carbs, 1 g fiber, 2 g sugar, 5.6 g protein
Caprese comes in many forms and with many nutritional profiles. From paninis, pizza, pasta, and salad to kabobs, it's a definite palate pleaser. Although it's not always
weight loss friendly, it is in this case.
Get the recipe from Hip Foodie Mom.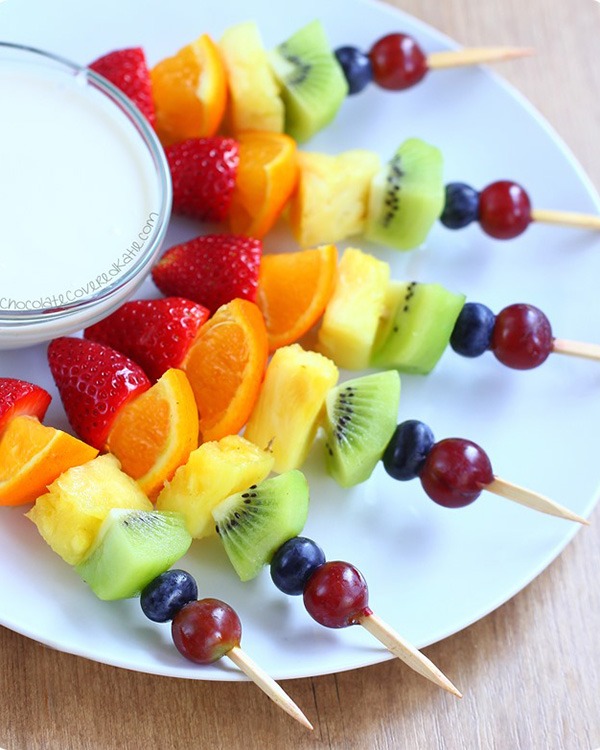 Nutrition: 76 calories, 0 g fat (0 g saturated), 19.1 g carbs, 3 g fiber, 12.8 g sugar, 1.1 g protein
If you're trying to shrink your waist, skip the ice cream and indulge in nature's candy. Aside from being super low-cal and fat-free, these kabobs are boasting with vitamins and minerals. According to a study published in the Journal of the American College of Nutrition, fruits rich in vitamin C help the body oxidize fat during moderate-intensity exercise. Not to mention, potassium also helps the body metabolize fats and carbohydrates.
Get the recipe from Chocolate Covered Katie.
GRILLED COCONUT AND PINEAPPLE SHRIMP KABOBS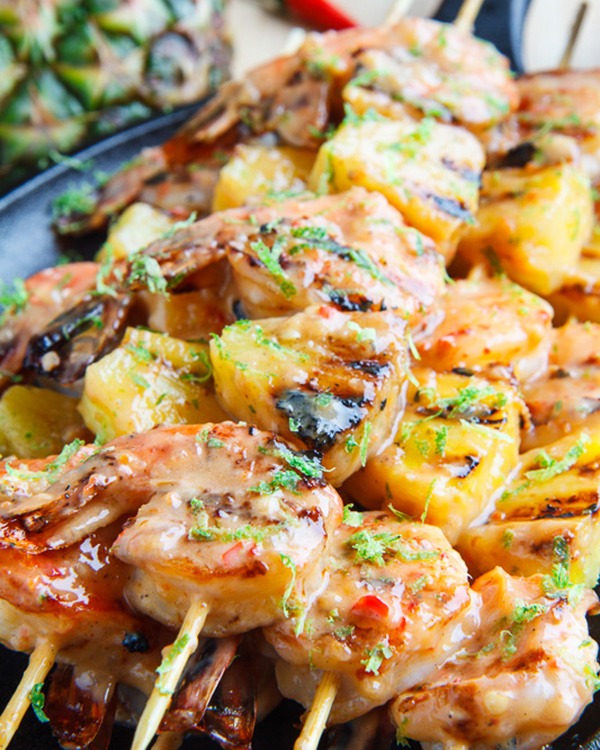 Nutrition: 188 calories, 4 g fat (3 g saturated), 340 mg sodium, 14 g carbs, 2 g fiber, 9 g sugar, 23 g protein
Get your sweet and salty fix on with these tropical shrimp skewers. While many superfoods have an understudy eagerly waiting to fill any nutritional voids, coconut does not. The nutrient powerhouse does everything from shrink your waist and curb your appetite to protect your organs and prevent Alzheimer's. Not to mention it's paired with anti-inflammatory pineapple and flat-belly shrimp.
Get the recipe from Closet Cooking.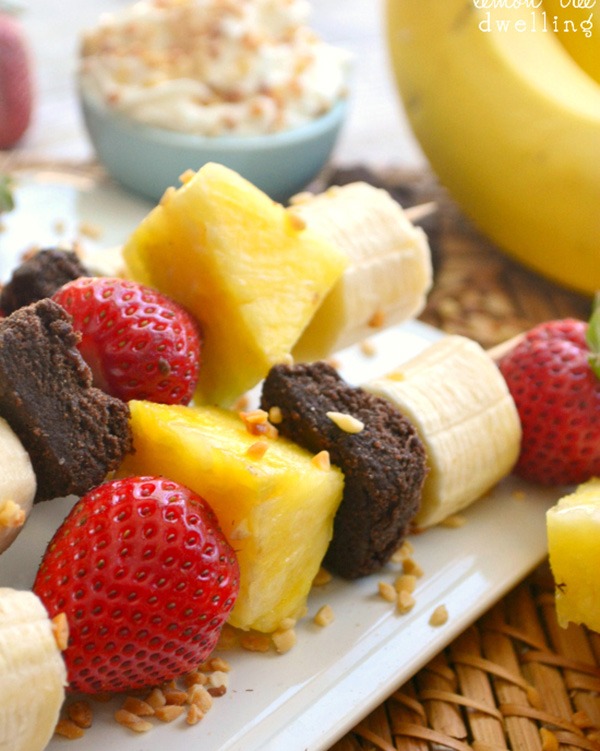 Nutrition: 131 calories, 4.9 g fat (1.2 g saturated), 56 mg sodium, 22.5 g carbs, 2 g fiber, 8.7 g sugar, 1.7 g protein
This isn't your typical split. For starters it's just 131 calories have has less than 5 grams of fat. A good source of magnesium, bananas can help with muscle contraction and relaxation as well as protein synthesis — which, in turn, increases lean muscle mass. An added bonus: magnesium intake helps boost lipolysis, a process by which your body releases fat from its stores.
Get the recipe from Lemon Tree Dwelling.
STRAWBERRY SHORTCAKE KABOBS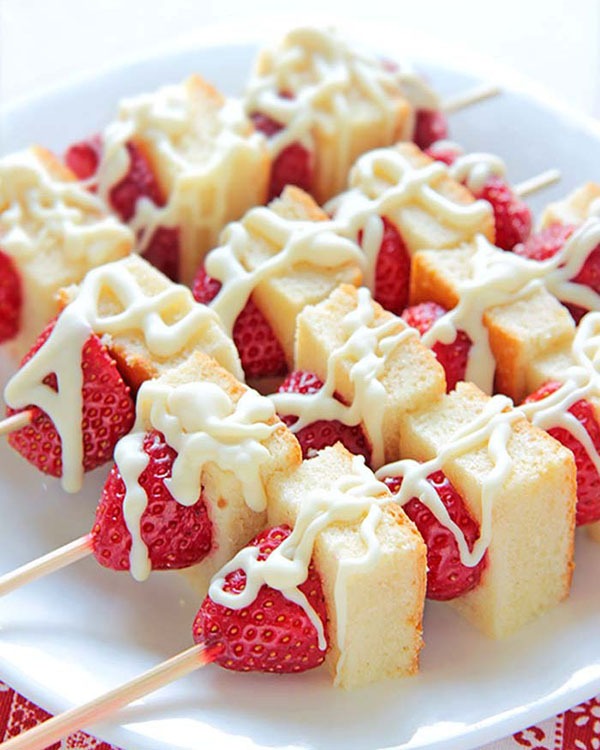 6254a4d1642c605c54bf1cab17d50f1e
Nutrition: 249 calories, 6 g fat (1 g saturated), 369 mg sodium, 44.4 g carbs, 1 g fiber, 31 g sugar, 4.3 g protein
Strawberry shortcake is the perfect summer dessert, especially when it served on a stick. This recipe calls for fresh strawberries, which knock out your vitamin C quota with just a few bites. According to a study published in the Annals of the Rheumatic Diseases, subjects whose diets lacked vitamin C-rich foods were over three times more likely to develop arthritis. Just keep in mind that while we are all about cheat meals at ETNT, this recipe is rather indulgent so you definitely want to cut yourself off after one.
Get the recipe from Sugar Apron.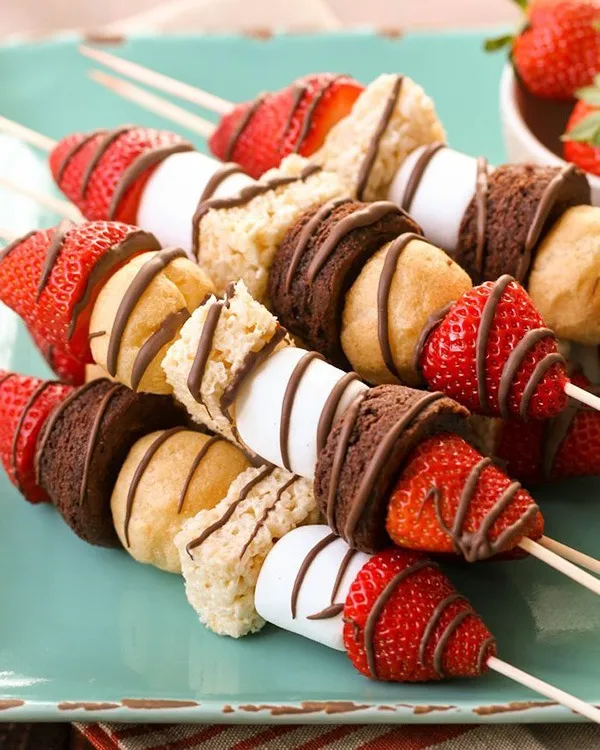 Nutrition: 163 calories, 7.1 g fat (1.8 g saturated), 94 mg sodium, 24.5 g carbs, 0 g fiber, 7.5 g sugar, 1.7 g protein
The beauty in making indulgent treats into kabobs is that it allows you to practice unprecedented portion control. We all know how hard it is to only eat part of that big brownie or cake slice, right? This recipe breaks up those bites with strawberries, giving you sugary pleasure, without the horrid nutritional costs.
Get the recipe from lil' luna.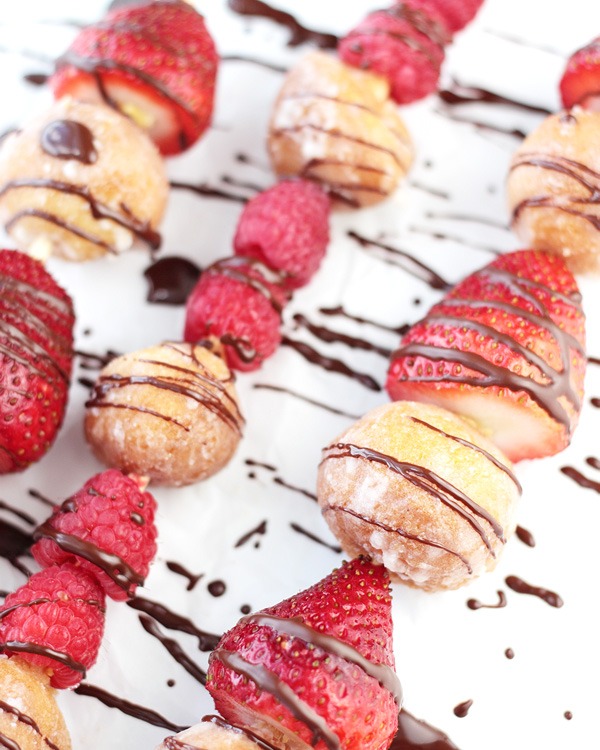 Nutrition: 206 calories, 5.1 g fat (<1 g saturated), 201 mg sodium, 38.3 g carbs, 2 g fiber, 25.8 g sugar, 2.3 g protein
We know—donuts are the surest way to a obtain a spare tire around your belly. But when they're bite-sized and sandwiched by berries, it's an okay occasional indulgence. Along with immunity-boosting vitamin C, raspberries contain ellagic acid, which boasts strong antioxidants and anti-inflammatory properties to fight free radicals. They're also low cal and rich in belly slimming fiber, so they fill you up without the tire.
Get the recipe from Country Side Cravings.