25 Weird Kitchen Essentials You Never Knew You Needed
These culinary gadgets make it easier to measure, chop, slice, and shape your food.
We all know the basic cooking tools every kitchen needs: Mixing bowls, large spoons for stirring, a few pots with matching lids, a decent knife set, and a cutting board. But beyond that, it's anybody's game. Different chefs swear by different kitchen gadgets, and it seems like there's a new culinary device that launches every week. So how do you know what's worth the splurge and what's not?
That's where this list comes in. We've put together 25 weird kitchen tools that are as useful as they are funky—so you can upgrade the contents of your kitchen cabinets and your cooking prowess. While you're at it, check out the 40 Things Healthy Cooks Always Have in Their Kitchen. And for more cooking advice and kitchen tricks, subscribe to the Eat This, Not That! magazine and get 50 percent off the cover price!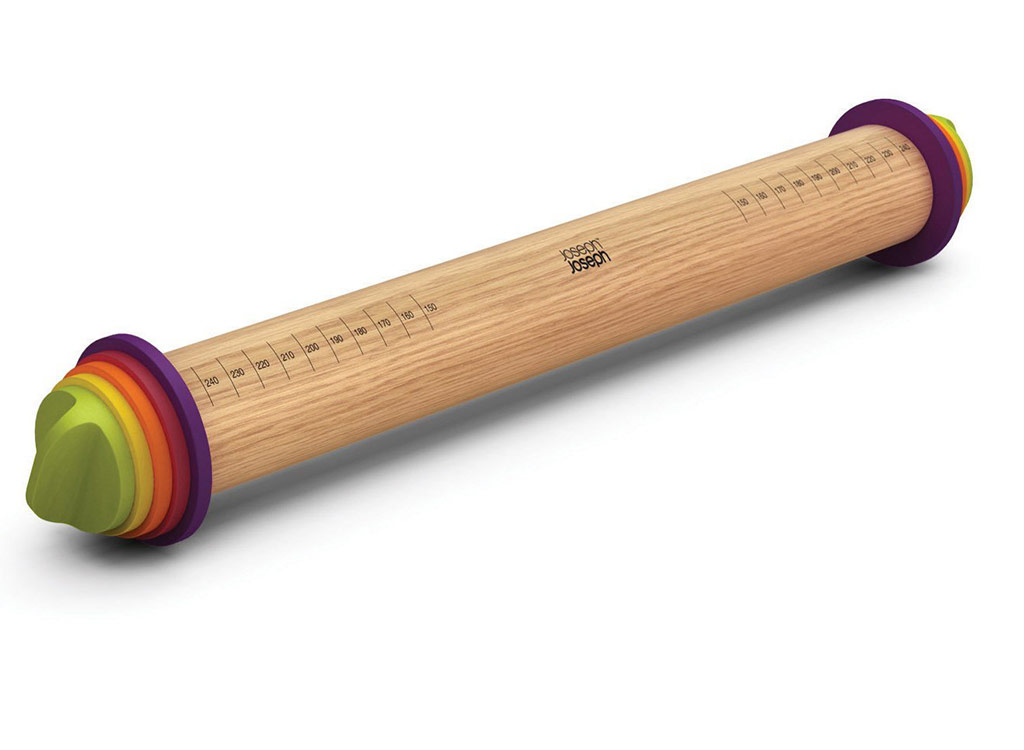 No longer do you have to raid your nephew's backpack for a ruler every time you want to make a pie or whip up some cookie dough. Adjustable rolling pins feature ruler marks down their sides along with adjustable handles so you can line up the perfect width of your baking project and cut down a straight line of parchment paper or puff pastry. More exact baking leads to tastier baking, so this is a real win-win.
$19.95 on Amazon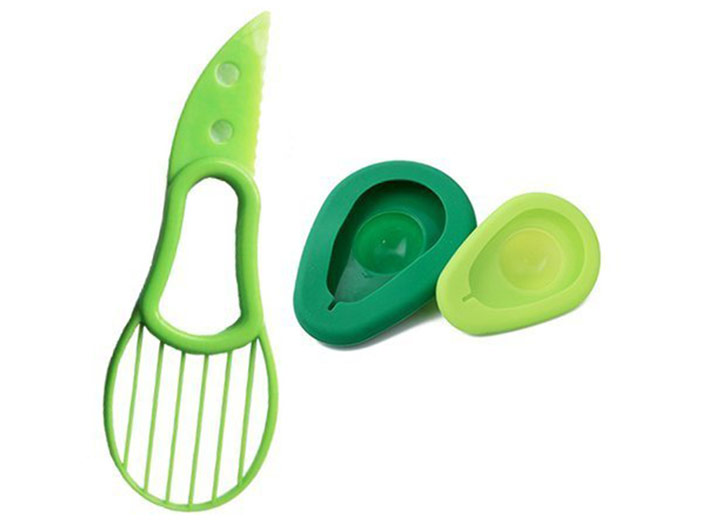 Millennials will squander our house savings on avocado toast, but the smarter, more budget-friendly choice is to make them at home. There's just one problem: Pitting and slicing an avocado can be a dangerous feat. In fact, injuries stemming from avocado slicing are so common that there's a name for them: "avocado hand." Luckily, this tool allows you to pit and slice an avocado safely—so you can enjoy your toast without endangering your fingers.
$6.99 on Amazon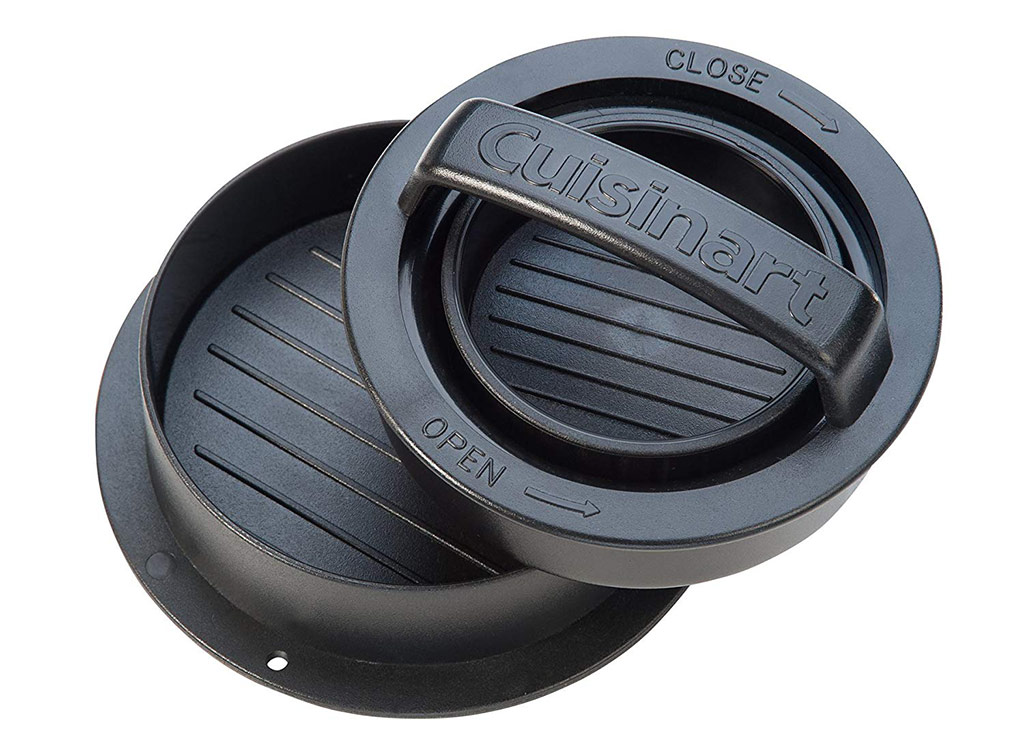 Whether your goal is to make perfectly round burgers or experiment with different burger stuffings, a burger press is the tool for you. These kitchen gadgets serve as burger molds that can be used to shape a plain burger or pack together ground beef with cheese, vegetables, or other add-ins—without those tasty additions spilling all over the tray.
$7.99 on Amazon
Love the taste of butter but hate getting the stuff on your fingers? Or maybe you find that you're constantly over- or under-estimating how much of the creamy stuff you put on toast or a stack of pancakes. Either way, the butter cutter is here to make your life easier. Simply load a stick of butter into the slicer, hold the slicer over your food, and then give it a squeeze for a perfectly even and well-proportioned dollop.
$13.84 on Amazon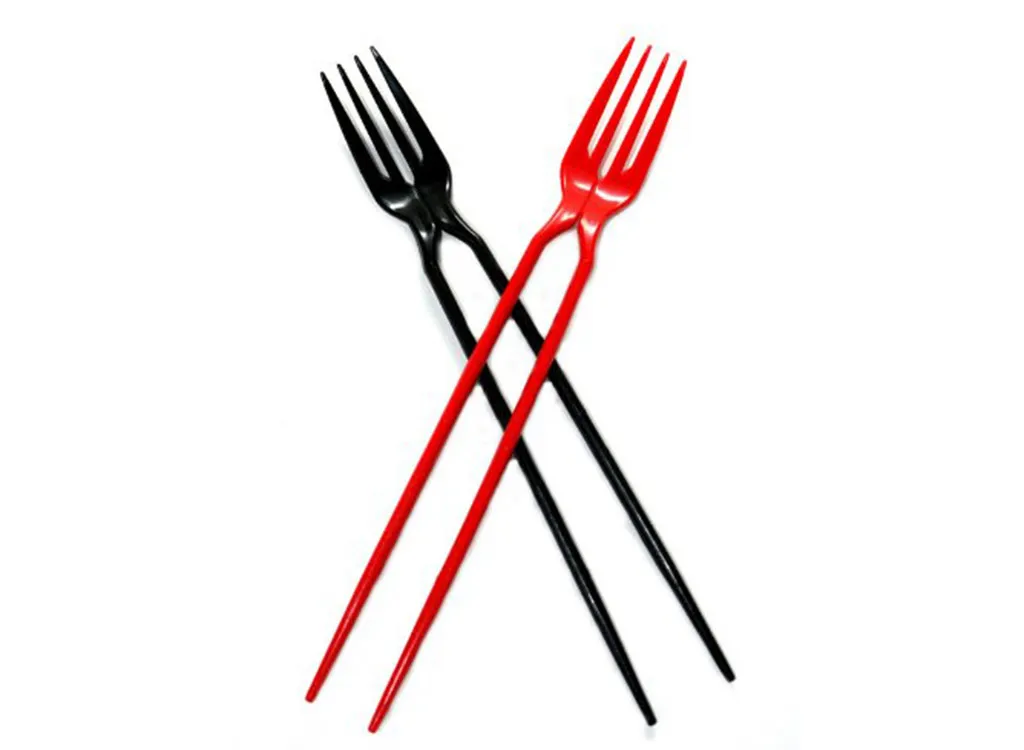 While the name of this tool might not sound very appealing, its functionality is. Much like a spork consists of both a spoon and a fork, the chork features a fork on one end and chopsticks on the other. It's perfect for newbie chopstick users who are looking to practice their skills but may still need an assist from their fork every once in a while.
$26.39 on Amazon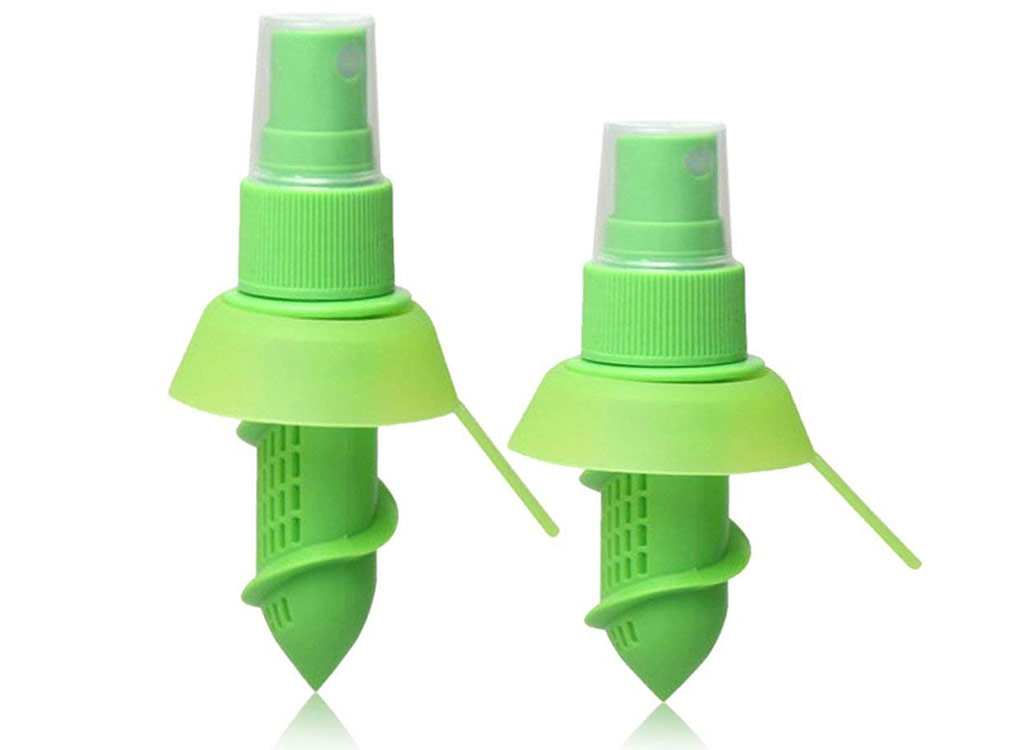 This tool is so ingenious, we can't believe we didn't think of it first. Simply insert this gadget into a citrus fruit of your choosing, press down on the pump head, and voila! You've got a pleasant spray of lemon juice, lime juice, orange juice, or any other citrus fruit juice. It works perfectly for misting salads or seafood or spritzing some lemon juice on avocado halves or guacamole to keep it fresher for longer.
$6.49 on Amazon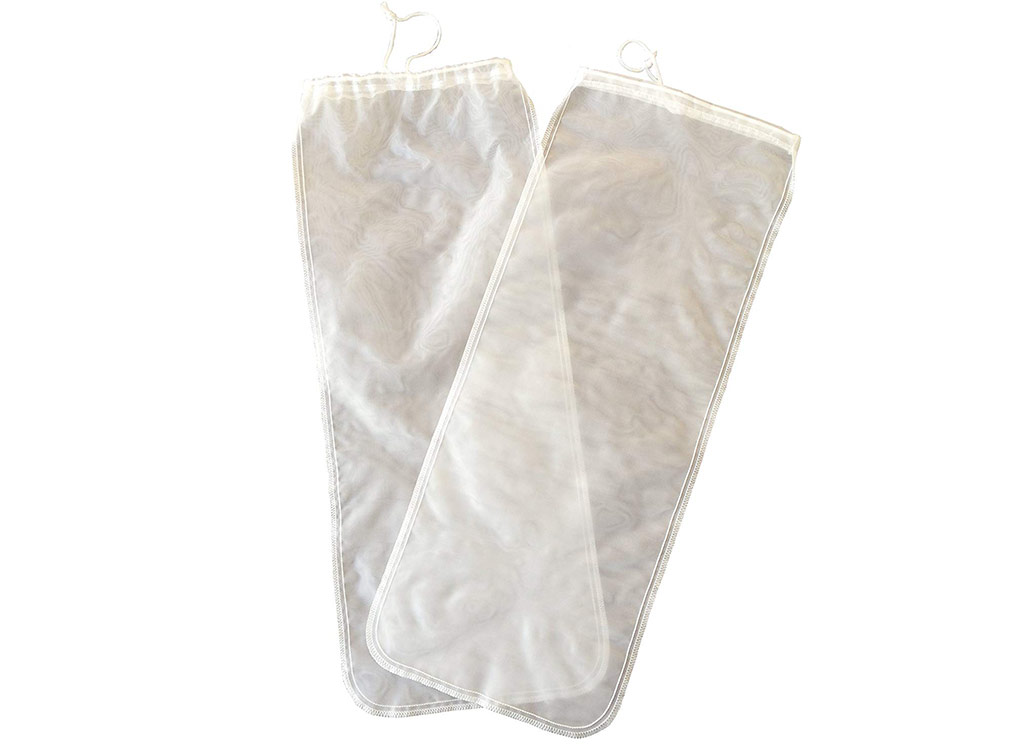 Cut down on water waste and cook more efficiently with a cooking mesh bag. Simply boil some water on the stovetop and then boil anything you'd like in quick succession by swapping items in and out of the bag. For example, you could boil some veggies, then remove the veggies and add some eggs to hard boil, then remove the eggs and boil chicken or fish, and so on. The handy bag allows you to reuse the same water and the same pot, which saves on washing time as well as water.
$13.99 on Amazon
Draining Sieve Pot Attachment
Sick of your colander taking up valuable real estate in your kitchen cabinets (or maybe you've never had room for a colander in the first place)? Either way, a draining sieve pot attachment is the way to go. Donate your full-size colander and opt for this handy gadget instead. Simply attach it to the side of a pot to easily drain veggies, pasta, or anything else you've been boiling.
$10.99 on Amazon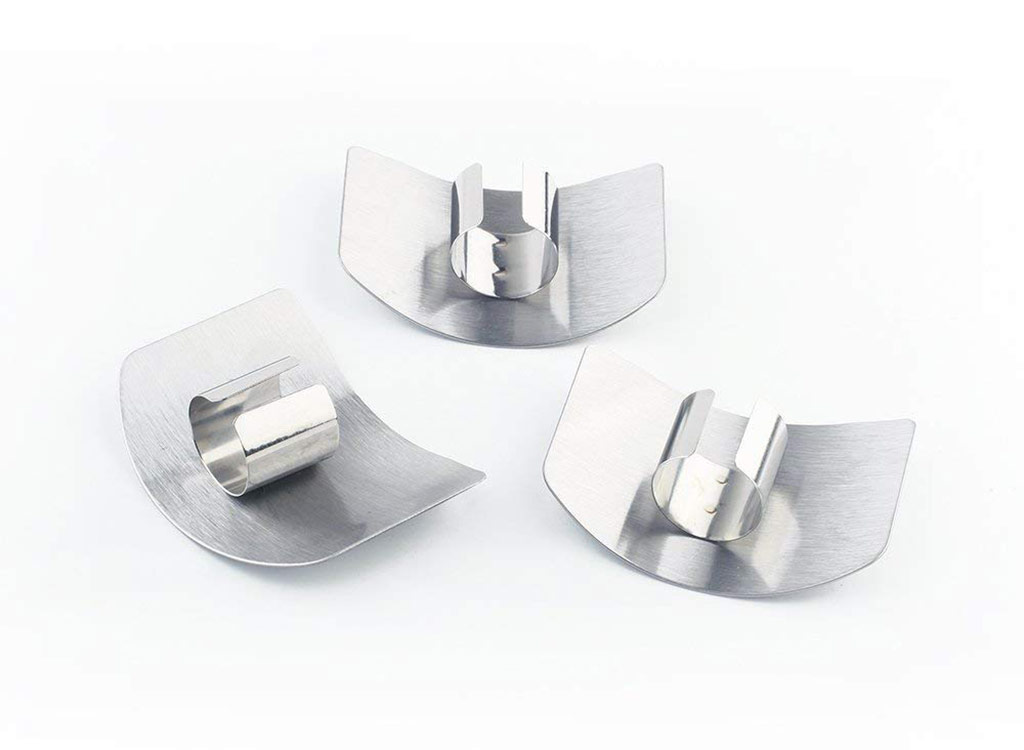 If you've been avoiding certain culinary projects because your knife skills are lacking and you're just a wee bit worried about chopping off your fingers, this is the kitchen tool for you. The finger guard slides onto your hand much like a ring and is adjustable for any finger size. Slip it on to slice and dice fearlessly!
$8.49 on Amazon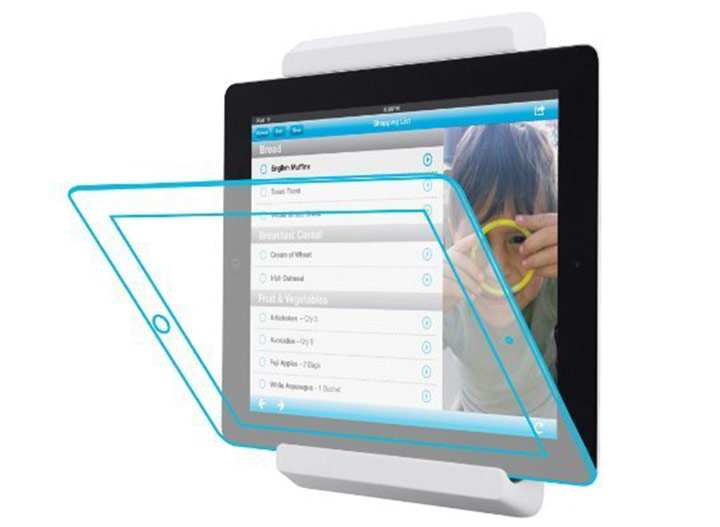 These days, tons of people use an iPad in the kitchen—whether it's for following along with a cooking video, listening to music while they cook, or reading an online recipe. The FridgePad allows you to mount your iPad on a fridge, wall, or cabinet so you can see the screen clearly as you work. Bonus: You'll also avoid subjecting your expensive tablet to spills or other kitchen accidents.
$24.99 on Amazon
There's no need to spend extra money on prechopped garlic when you could easily and quickly chop your own at home. The GarlicZoom Garlic Chopper simplifies the process immensely. Just pop some garlic inside the holder and then roll the gadget's wheels over a solid surface (such as a table or countertop). And boom: home-chopped garlic in seconds.
$12.95 on Amazon
You're dreaming of a fresh-baked muffin or freshly toasted bread with a melting pat of butter on top. But your dreams might come to a screeching halt when you try to smear cold butter over your baked good and discover it's more chunky than buttery smooth. Avoid this devastating scenario with a heating knife, which takes just two minutes to heat up and melt butter (or cream cheese or peanut butter) as you spread it.
$9.99 on Amazon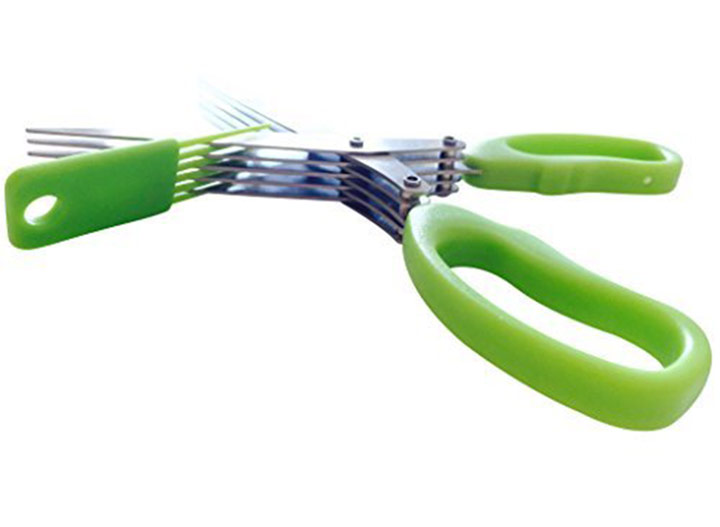 These aren't your ordinary kitchen scissors. Instead, these multi-layered herb scissors allow you to snip, mince, or dice herbs with ease. This saves time and results in cleaner, more uniform cuts than if you were using a regular kitchen knife. It also helps you avoid crushing the herbs, so they maintain more of their flavor and texture.
$7.88 on Amazon
This tool is probably most appealing to folks with small kids in the house—but no judgement here if you're a childless adult who prefers her hot dogs to be prepared in a cute way. This adorable dachshund-shaped tool cuts hot dogs into perfect bite-sized portions without using any blades. It also features a mini condiment bowl for dipping your dog.
$6.14 on Amazon
Marinade-Infusing Meat Tenderizer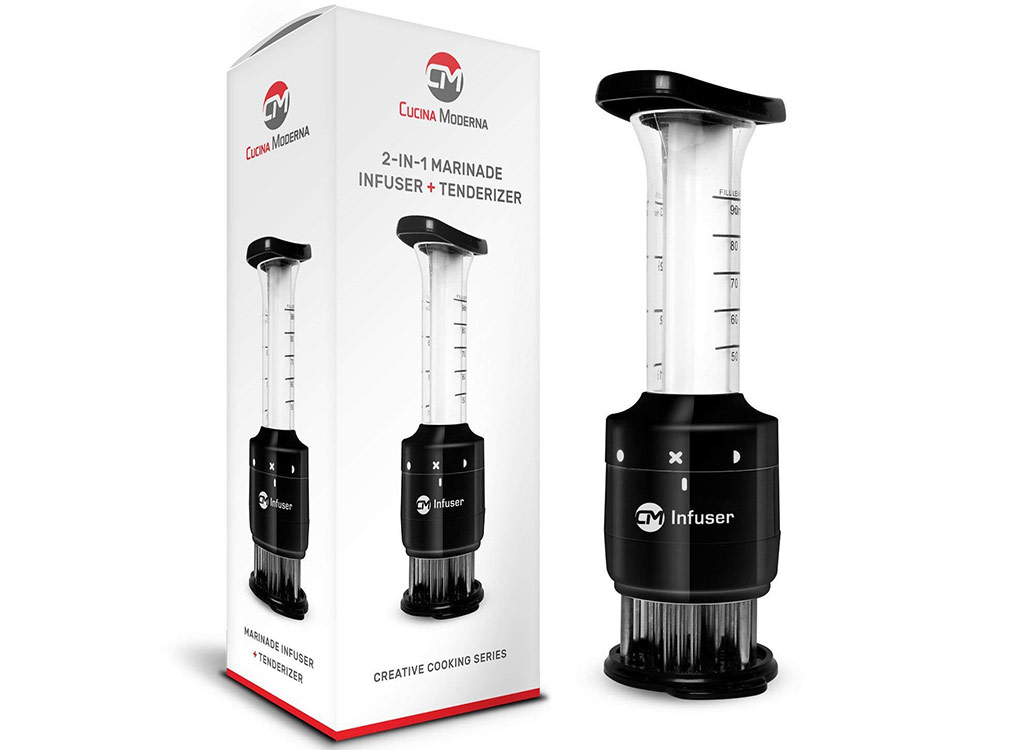 It's a meat tenderizer! It's a marinating tool! It's a marinade-infusing meat tenderizer! (Try saying that 10 times fast.) While this gadget's name may be a mouthful, its clever function is pretty straightforward. As you soften and tenderize meat, the tool also injects marinade into the center of the meat to cut down on marinating time and ensure a flavorful dish from the inside out.
$17.98 on Amazon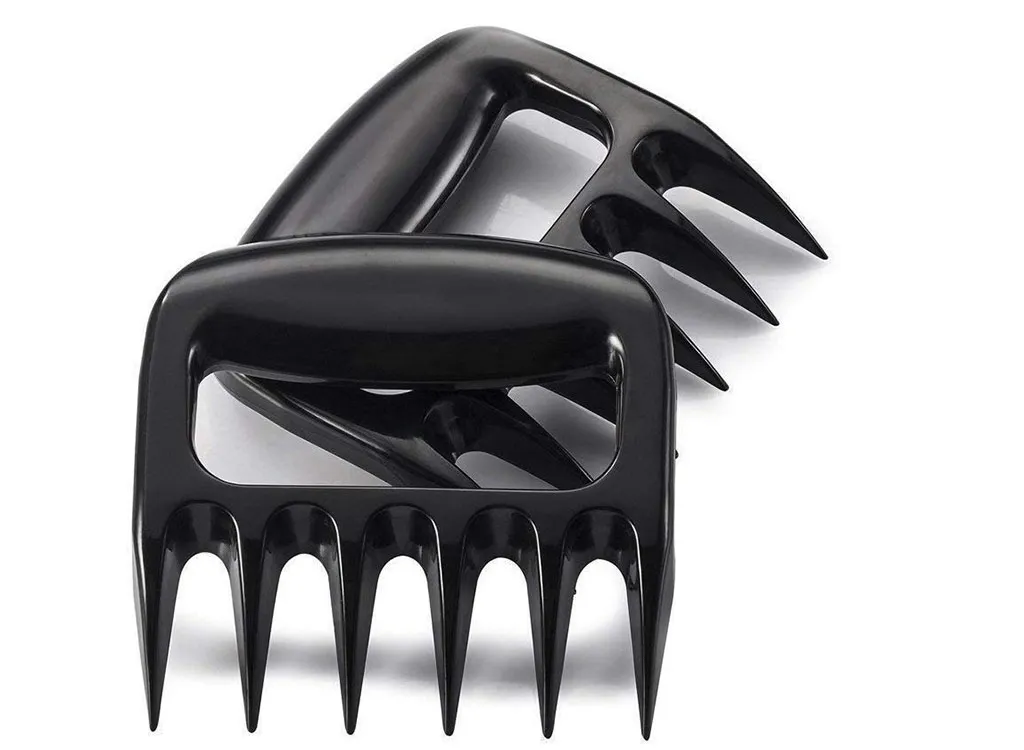 6254a4d1642c605c54bf1cab17d50f1e
Ignite your inner animal by slipping on a pair of (fake) bear claws to shred meat up for tacos, BBQ sandwiches, and so on. It may sound a little weird, but it's a surprisingly effective way to shred meat. (After all, that's what bear claws are actually for!) Better yet, this approach to meat shredding will keep your hands cleaner and prevent foodborne illness when handling meat than if you used a fork and knife.
$6.19 on Amazon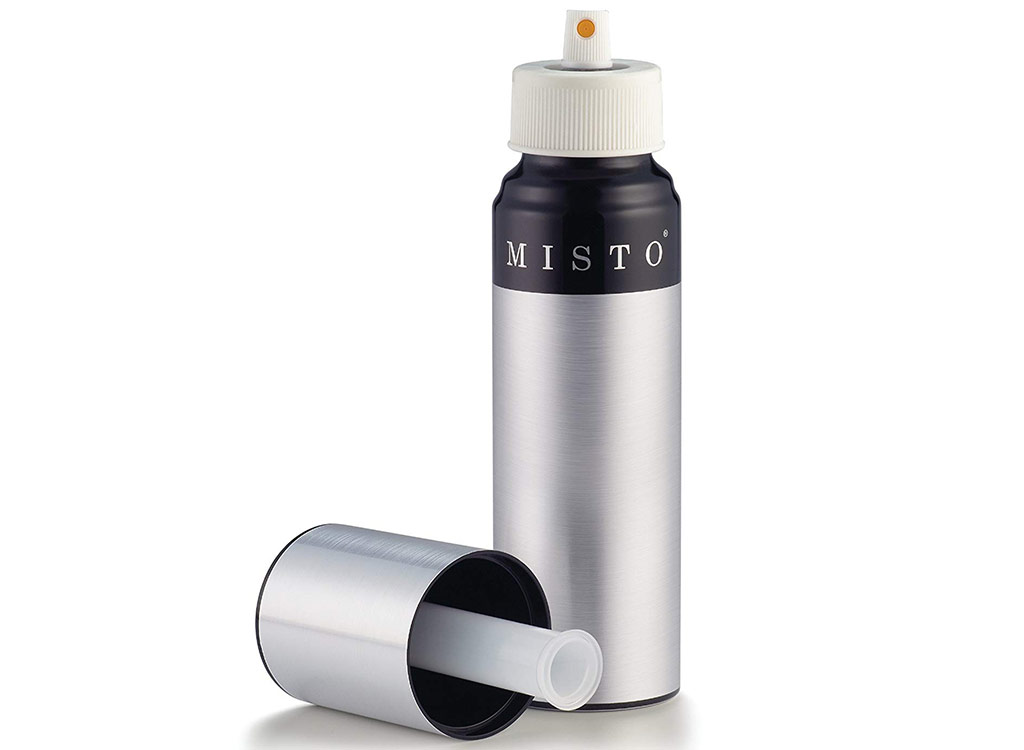 Ditch processed cooking sprays and opt for healthier oils instead with handy oil misters. Fill them with olive oil, sunflower seed oil, or another healthy cooking oil of your choice, and then spray the oil onto pans, cookie sheets, and salads. If you want to get extra creative, add in fresh herbs or other additions to enjoy unique flavors.
$9.99 on Amazon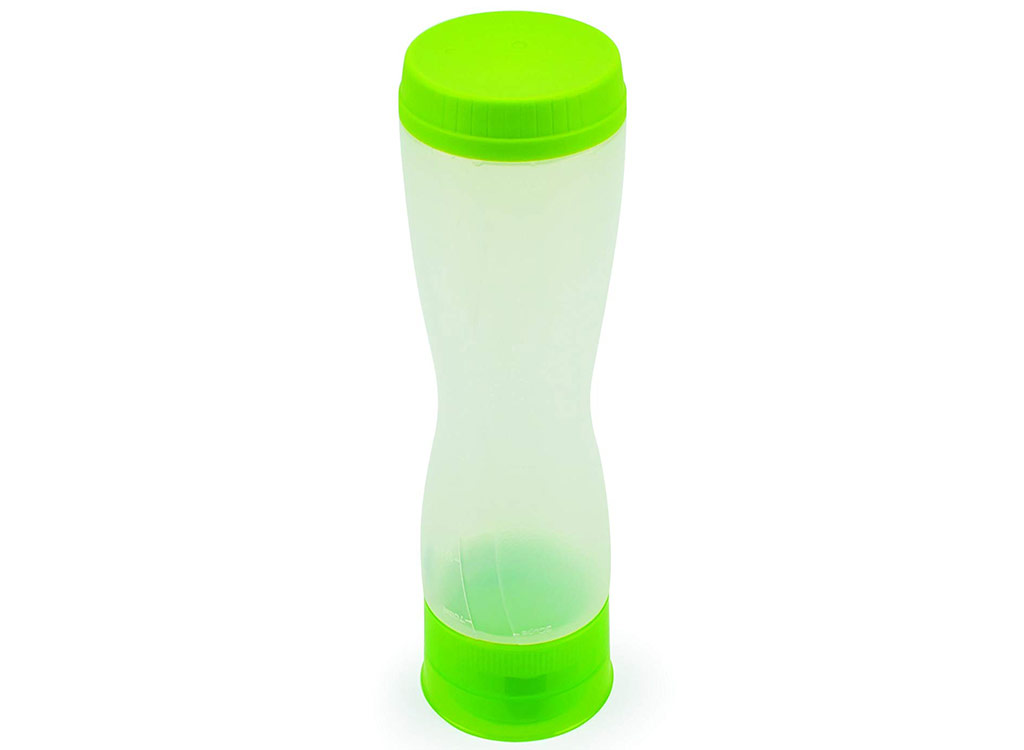 Looking to earn yourself the top breakfast chef award? Then invest in a pancake pen, which will enable you to take your pancake game to a whole other level. These squeezable containers come with a narrow spout that makes it easy to shape letters, faces, and other funky designs out of pancake batter. Order up!
$10 on Amazon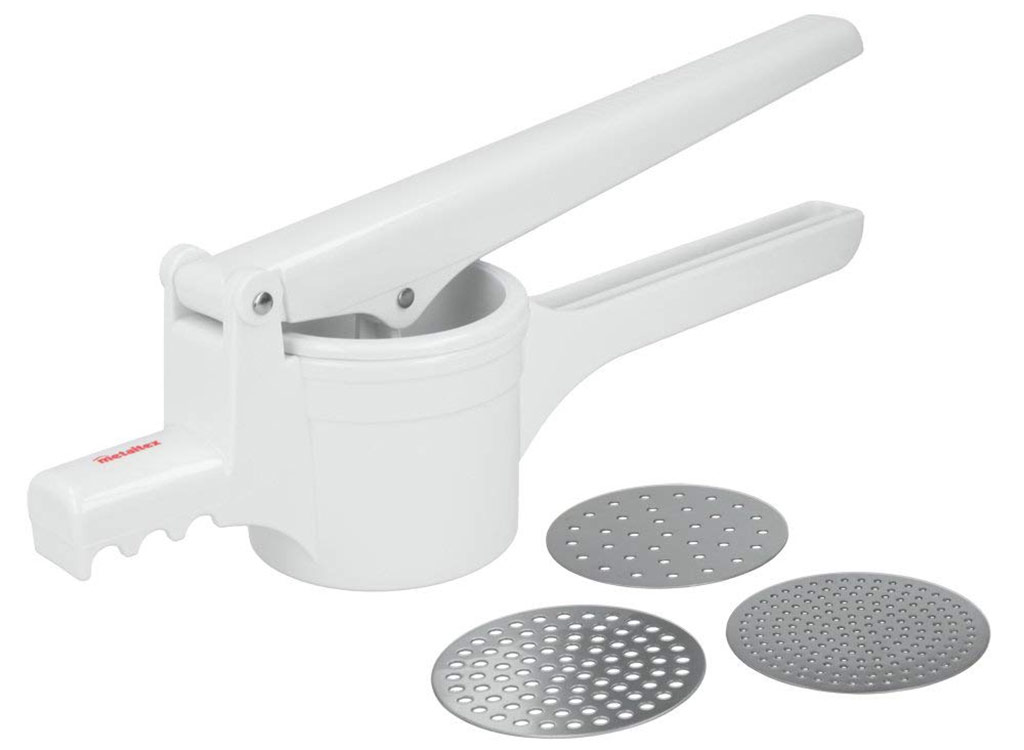 Everyone on the planet loves mashed potatoes, but store-bought varieties often contain preservatives. Not to mention, whipping up a homemade batch takes some serious elbow grease. (Hand-mashing dozens of potatoes really works up a sweat!) Face down piles of potatoes without fear with the help of a potato press, which allows you to smash potatoes with ease. Invest in one of these bad boys and you're likely to find yourself enjoying homemade mashed potatoes for breakfast, lunch, and dinner.
$12.99 on Amazon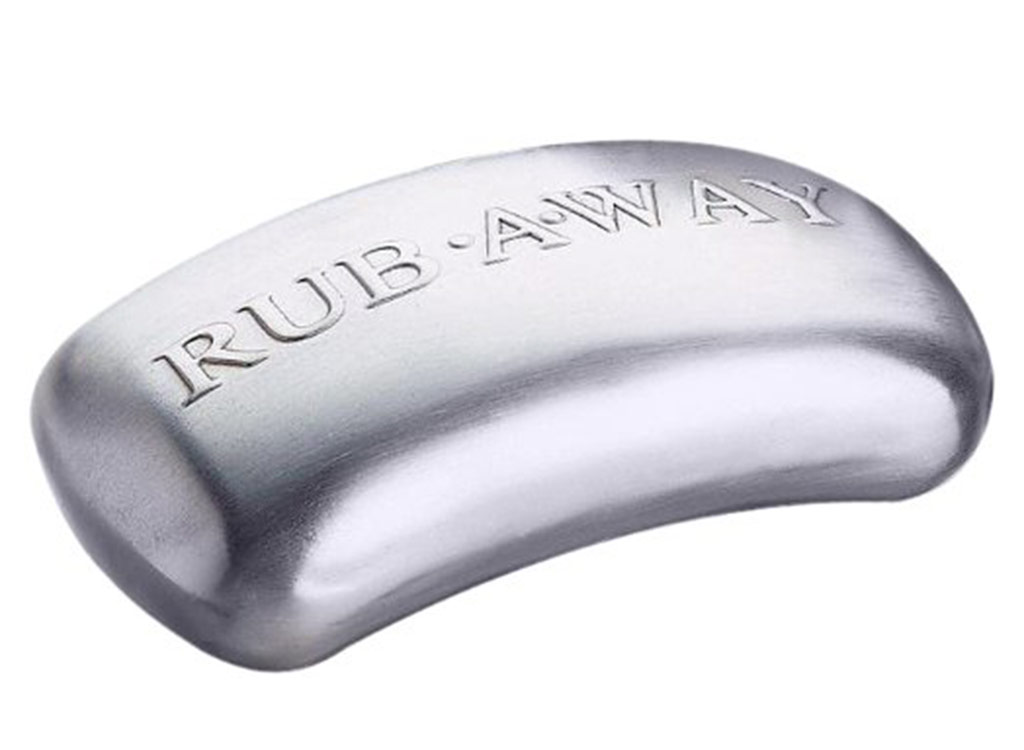 We all know onions, garlic, and other fragrant foods can add flavor and nutrients to any meal. The only downside is they can also transfer odors to your hands that last for hours after the cooking is done. If you've ever found yourself avoiding home cooking because you don't want your hands to stink, then the Rub-A-Way Bar is for you. Rub your hands over this stainless steel bar after handling fragrant foods, and the molecules in the steel will bind with the stinky molecules on your fingers to take the smell right off your hands.
$8.99 on Amazon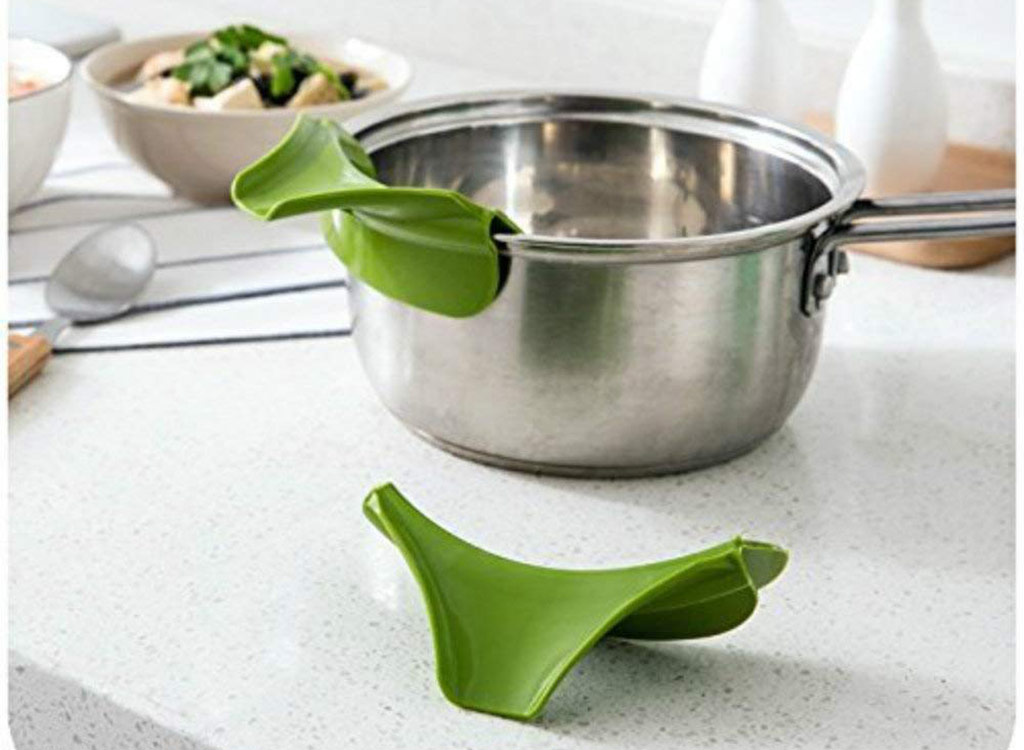 Pouring liquids and batters out of mixing bowls just got a lot easier. This slip-on gadget attaches to any bowl to give it a temporary spout, making it infinitely easier to transfer batters or other liquids from one bowl into another one, baking tins, or anywhere else.
$6.99 on Amazon
Don't have room for a spoon rest beside your stove? Don't worry—The Snug has your back. These colorful clips attach to the side of a pan or pot and hold your stirring utensil while it's not in use. No more scrubbing spoon rests, and no more dropping utensils onto the stovetop or floor.
$6.99 on Amazon
Cut down on messy prep work with this clever cutting board, which features a built-in strainer and fits over the sink. This allows you to rinse fruits and veggies and then transfer them to the cutting board section for chopping without ever moving the cutting board or reaching for another kitchen tool. It's perfect for small kitchens and chefs who prefer to wash as few dishes as possible.
$19.99 on Amazon
If you've ever tried to make sushi at home, then you know how challenging it can be to craft those perfect, tight rolls that you find in restaurants or on the Food Network. That's where the Sushi Bazooka comes in. It takes the guesswork out of rolling and produces perfectly round, tight sushi rolls that will have all your guests wondering when you found the time to apprentice with a professional sushi maker.
$9.99 on Amazon
Water Bottle Ice Cube Tray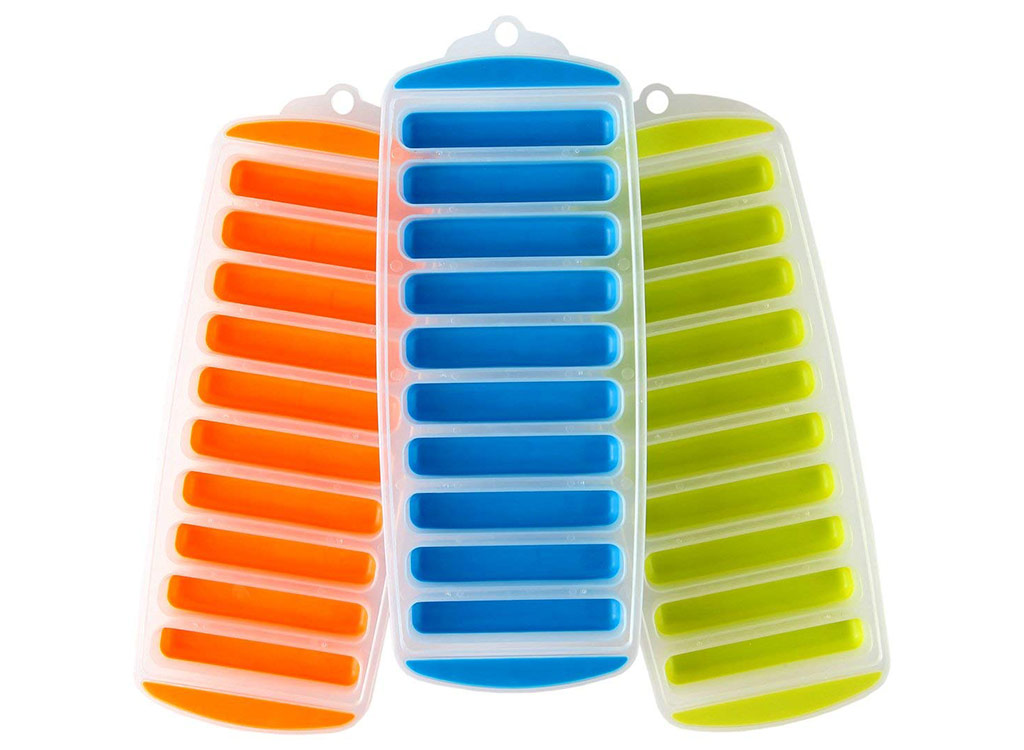 Small-mouthed water bottles are handy for staying hydrated on the go without spilling water all over yourself. The only issue? Those small mouths are too narrow to fit normal-sized ice cubes. Enter the water bottle ice cube tray, which allows you freeze long, thin strips of ice cubes that will fit through small water bottle tops and keep you cooler all day long.
$7.99 on Amazon