Mac and Cheese With Spinach, Ham, and Tomato Recipe
We take the classic meal and add healthy fixings, so you can dig on in to a pasta dish that's good for you.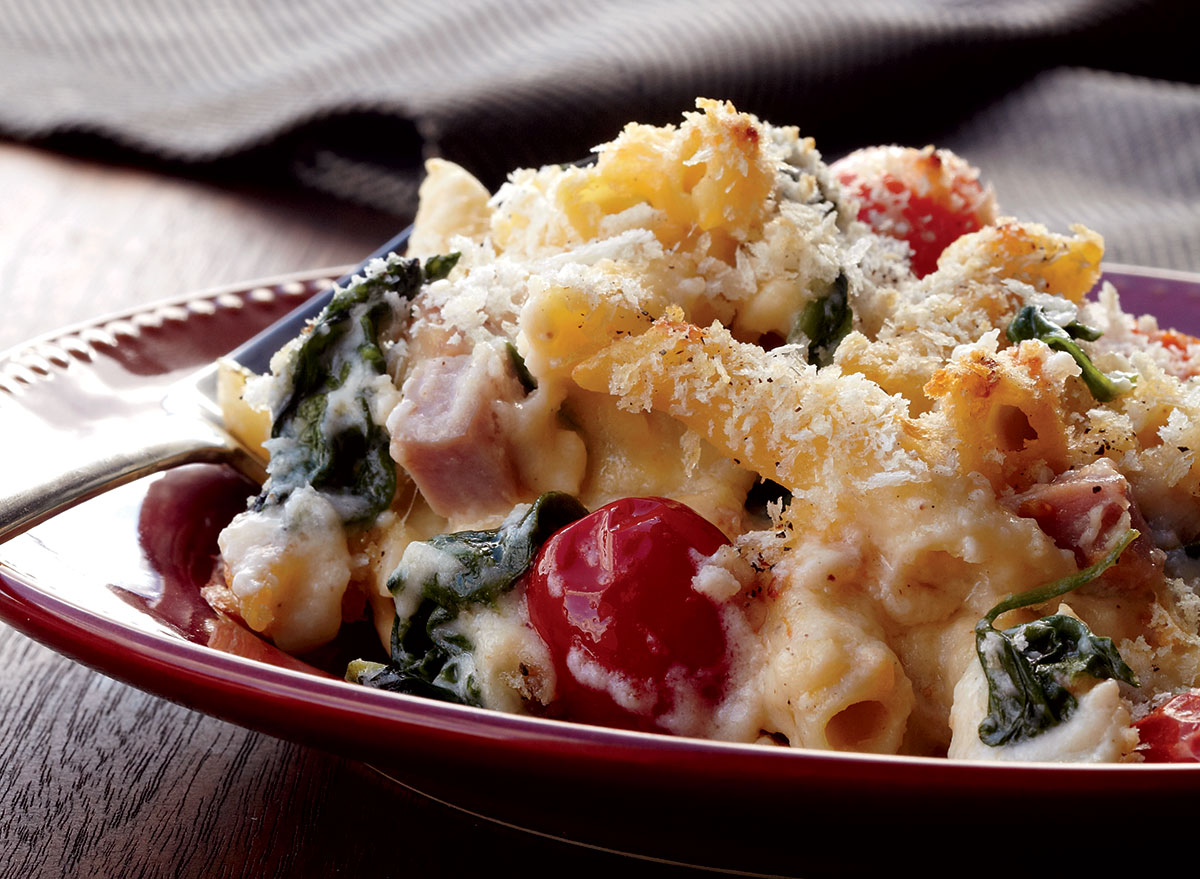 This isn't your grandma's mac and cheese! By introducing ham, spinach, and cherry tomatoes, we give the classic the nutritional juice it's never had before. More than just a health boost, though, the additions bring a level of nuance to a traditionally one-note (cheese!) dish. Improvise how you see fit (swap in broccoli for the spinach, turkey for the ham, Jack for the Swiss, etc.), but the core idea is one that will make this healthy mac and cheese a sustainable dinner staple.
Nutrition: 392 calories, 15 g fat (8 g saturated), 540 mg sodium
Serves 4
You'll Need
2 cups Ronzoni, Smart Taste penne, or whole-wheat penne
2 Tbsp butter
2 Tbsp flour
2 cups 2% milk
Pinch of nutmeg
1 cup shredded fresh or 2% low-moisture mozzarella
1⁄2 cup shredded Swiss cheese
1⁄2 cup shredded Cheddar
4 oz smoked ham, chopped
1 cup steamed or sautéed spinach
1 cup cherry tomatoes, halved
1⁄2 cup panko bread crumbs
Black pepper to taste6254a4d1642c605c54bf1cab17d50f1e
How to Make It
Cook the pasta according to package directions until just al dente. Drain and reserve.
While the pasta cooks, melt the butter in a medium saucepan over medium heat.
Stir in the flour and cook, stirring, for 1 minute to help eliminate the raw flour taste.
Slowly add the milk, whisking to prevent lumps from forming. Simmer the béchamel for 5 minutes, until it begins to thicken to the consistency of heavy cream.
Add the nutmeg and the cheeses and cook until fully melted.
Add the pasta to the béchamel, along with the ham, spinach, and cherry tomatoes.
Toss to distribute evenly.
Preheat the broiler. Pour the macaroni and cheese into an 8" x 8" baking dish (or into individual ramekins).
Top with the bread crumbs and season with black pepper.
Place on the middle rack of the oven and broil for 5 to 7 minutes, until the bread crumbs are golden brown.
Eat This Tip
We've tested most of the whole-wheat pastas on the market, and we'd be lying if we didn't say that they left something to be desired. Perhaps that's being too generous; most have the texture and taste of wet cardboard coated in sand. That's why we love this line from Ronzoni. Smart Taste, a fortified white noodle, fuses the fiber of the best whole-wheat noodles with the smooth, toothsome texture of normal pasta.
This recipe (and hundreds more!) came from one of our Cook This, Not That! books. For more easy cooking ideas, you can also buy the book!