The Surprising Reason McDonald's Ditched This Menu Item
Here's why you won't see greens on the menu anymore.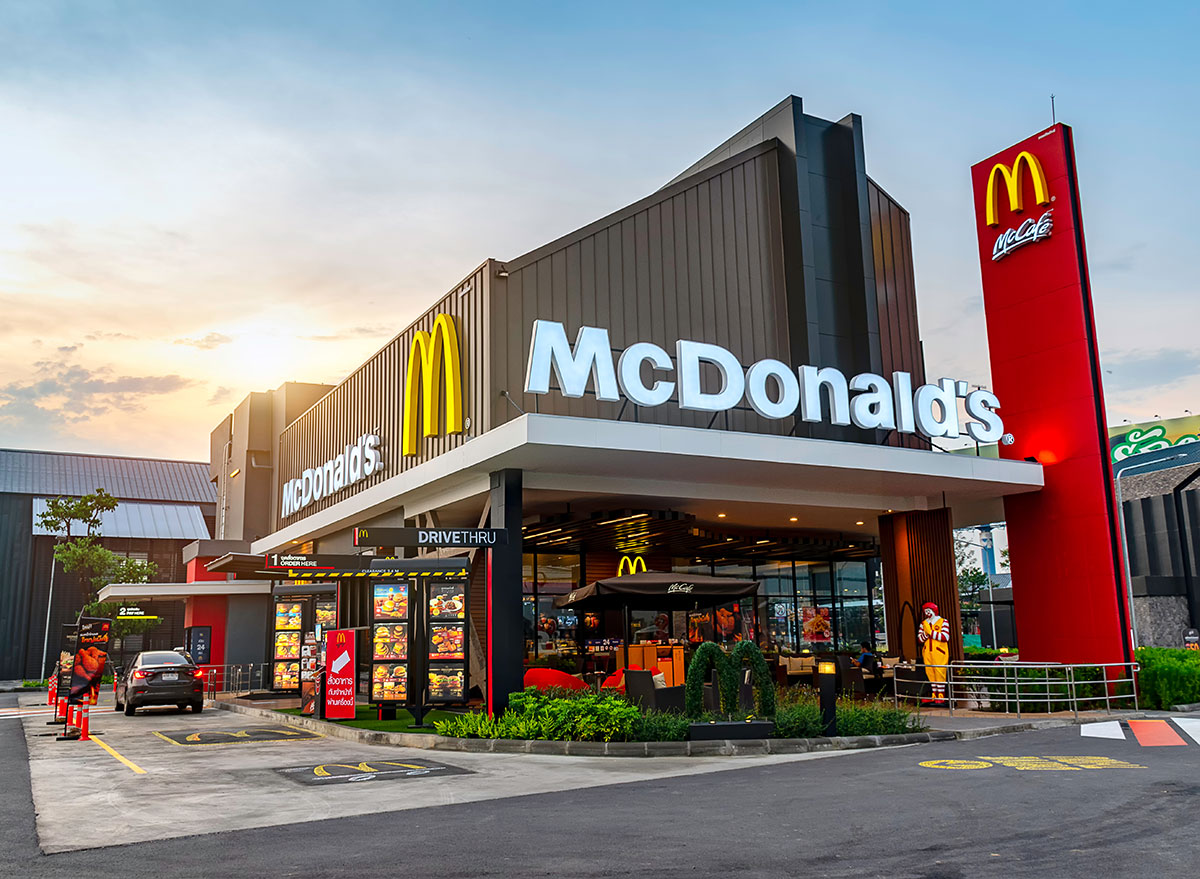 In case you haven't heard the news, McDonald's recently announced that they will stop offering salads on their menu. News of the fast-food giant forever ditching the greens was first reported by the Wall Street Journal, and was met with mixed reactions. (The chain also nixed all-day breakfast, but also reinstated three desserts, two Quarter Pounder options, the Bacon McDouble, and hot tea. But, that's beside the point here…)
Of course, the vast majority of customers go to McDonald's for their signature burgers and fries, but for McD's to get rid of their healthiest menu option seems wrong. That said, the reason why they've made the move may surprise you.
The Washington Post recently looked at how the coronavirus pandemic—and the resulting kinks in the food supply chain—are affecting national restaurant chains. Many beloved outlets are streamlining their menus as a means to cut costs to make up for the additional resources necessary to reopen under strict CDC guidelines. Extra funds needed for masks and gloves for the staff, social distancing signage, and routine disinfecting procedures—which can't be covered by a restaurant's already super-thin profit margins—call for streamlining the menu in order to cut costs.6254a4d1642c605c54bf1cab17d50f1e
Case in point: McDonald's salads, like the Southwest Grilled Chicken Salad or Side Salad, require the fast-food chain to purchase massive quantities of a different type of lettuce than the kind they use to garnish their burgers and sandwiches. Axing the salads from the menu, therefore, means the company saves money. (Related: 8 New Things You'll See at McDonald's When it Reopens.)
As The Washington Post explains: "Restaurants slim down their menus in the name of efficiency. Instead of needing to purchase two kinds of lettuce, one for salads and one for sandwiches, now McDonald's needs only one."
In hindsight, such a menu move makes sense. However, when you consider that some of McD's salads were the healthiest option offered at McDonald's—aka, the biggest fast-food chain in the world—it's also a disappointing change. Here's hoping the company can bounce back enough from COVID-19 in order to reinstate more nutritious food options for their customers. And, to make sure your order is on the healthier side from here on out, make sure to avoid these 1o worst menu items at McDonald's.
Update: McDonald's provided the following statement about the future of McSalads to Eat This, Not That:
"More than ever, customers are relying on McDonald's to serve delicious food quickly, conveniently and safely, which is why we transitioned to a limited menu in April. This decision helped simplify operations for our restaurant crew while also improving our customers' experience. Now, we're reintroducing some of our iconic offerings while keeping our menu streamlined – focusing on expert preparation, great service, and as always, quality ingredients. With customers at the center of everything we do, we'll continue listening to them and evolving our menu to meet their needs."