McDonald's Definition of "Open 24 Hours" Is Frustratingly Loose
It might actually mean 23 hours and 40 minutes...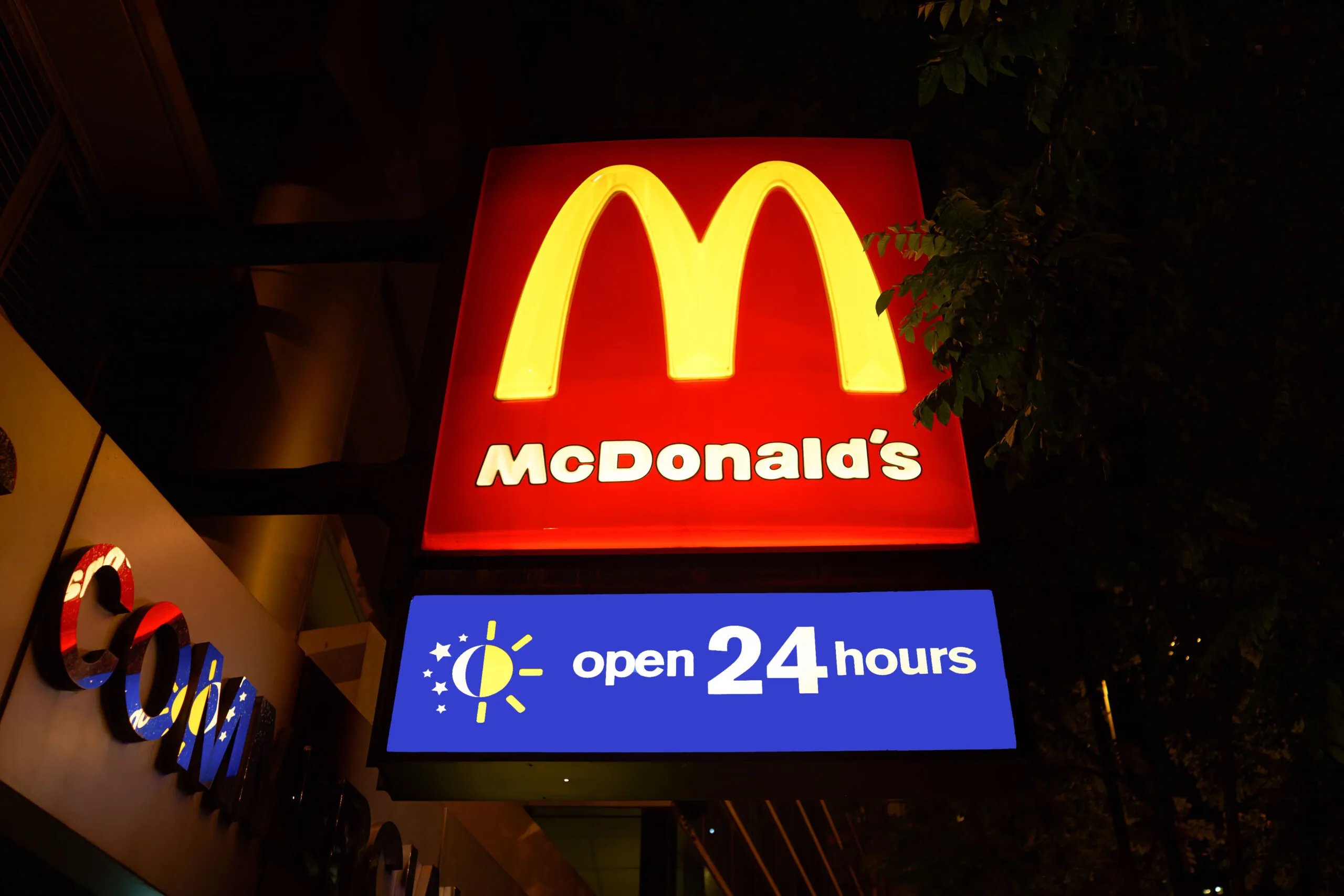 We've all been there: You're out late, and all you want is some greasy fast food. You decide to make a pit stop for some fries and McNuggets. However, as soon as you pull up to those glowing golden arches, you realize that McDonald's is closed. Yes, we've all learned the hard way that not every McDonald's hours are the same and sadly aren't all open 24 hours.
So, how does the company decide which locations sling Big Macs at all hours of the night, and which close their doors?
To 24 hours or not to 24 hours—that's the question.
The reason why all McDonald's aren't open 24 hours is pretty straightforward: It has to do with what's best for business. If a location is bustling during lunch but quiet at night, it's not cost-effective to stay open 24 hours.
"I have worked a night that had exactly zero customers between midnight and 5 a.m., and many with fewer than 10," John Sergent, a McDonald's employee for nearly 15 years, wrote on Quora. "One store really did have enough business on most weekends, but not the rest of the time; staying open from Friday morning to Sunday night and closing nights the rest of the week would have been perfect for them, but it's a bit confusing for customers to remember."
Why are some McDonald's restaurants open 24 hours and others aren't?
If your local Mickey D's is open 24 hours, that's also a strategic business decision. When a region proves to be particularly into McDonald's, it's less costly for the company to extend one store's hours, rather than building new ones entirely. That's a lesson the fast-food giant learned in the early 2000s.
As Bloomberg Businessweek reported in 2007, "For most of [McDonald's] history, growth meant one thing: more locations. And until the late 1990s, it worked. And then the company reached a saturation point. While overall revenue kept climbing, the new sites stole customers from existing locations. Margins and same-store sales slid into 2002."
As a result, McDonald's had to switch things up. Instead of going bigger, they decided to go longer. "People's days are longer," John Glass, a restaurant analyst with CIBC Worldwide, told Bloomberg. "So are McDonald's restaurant hours. This is a natural evolution to capture more business."
Fred Huebner, a McDonald's franchisee in Raleigh, North Carolina, said he increased his location's revenue by $90,000 a year by expanding to 24 hours. "There are so many customers out there all times of the day," Heubner told Bloomberg. "We have to be out there, too."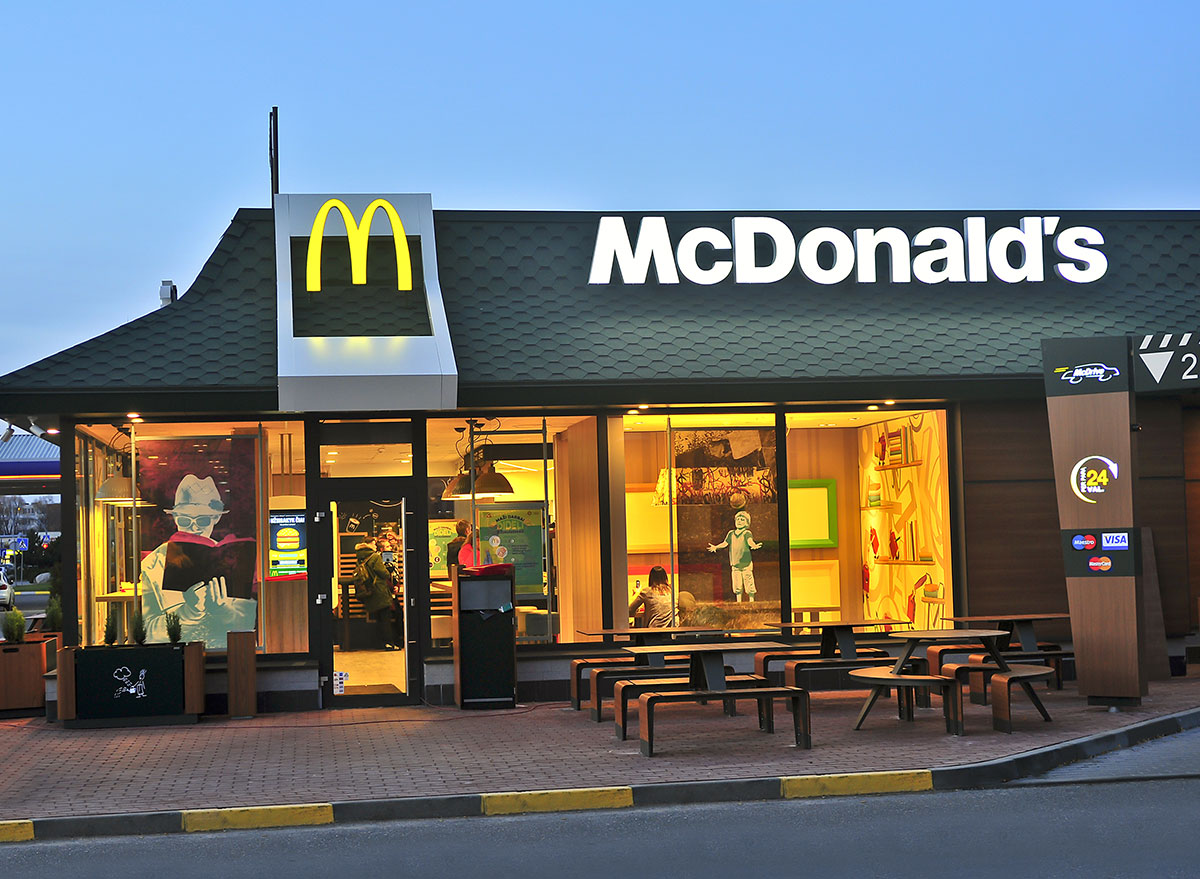 So, how many McDonald's are open 24 hours?
By 2007, nearly 40 percent of McDonald's were operating nonstop, Bloomberg reported. That's a big jump from the 0.5 percent that were open 24/7 in 2002.
And by 2008, over half of McDonald's were open 24 hours at least one day a week, according to 24/7 Wall Street.6254a4d1642c605c54bf1cab17d50f1e
About those 24-hour locations that still close…
Now, what about those Mickey D's that are supposedly open 24 hours, but stop serving food at some point? For example, one customer named Gregory shared with Consumerist that he visited a 24-hour McDonald's in Minnesota at 4:10 a.m., but was told that they wouldn't be taking orders until 4:30 a.m. "I would never have wasted the 25 minutes to drive there and back had I known that when a McDonald's is 'open 24 hours' it has a footnote of 'when it is convenient for us,'" he explained.
Other customers have shared similar stories about McDonald's hours on Reddit.
Well, that's because those McDonald's locations don't have the opportunity to do the tasks they would normally do when they're closed. As Sergent wrote on Quora, McDonald's that are open 24 hours "hopefully have enough dead time to get everything done that would otherwise be done during closing and opening." But that's not always the case.
And sometimes, "open 24 hours" only means "partially open" for McDonald's.
Even if a McDonald's location is open 24 hours, that doesn't necessarily mean the entire restaurant is open. My local McDonald's, for example, is open 24/7, but the dining room closes late at night. So while you can get your McDonald's French fry fix at all hours, you have to take them to-go during a certain time of night.
The lesson here: Do your research if you get a late-night fast-food fix because McDonald's hours vary.
Navigating McDonald's hours is certainly a challenging task, but if you want a McFlurry after 11 p.m., it's best to do a quick search online or give your local Mickey D's a call before you wind up disappointed.
Meghan De Maria
Meghan De Maria is a senior editor at
Eat This, Not That!
, specializing in food, product, and restaurant coverage.
Read more about Meghan