Meet the Fast Food Chain That's Threatening McDonald's
There's a new fast food breakfast in town.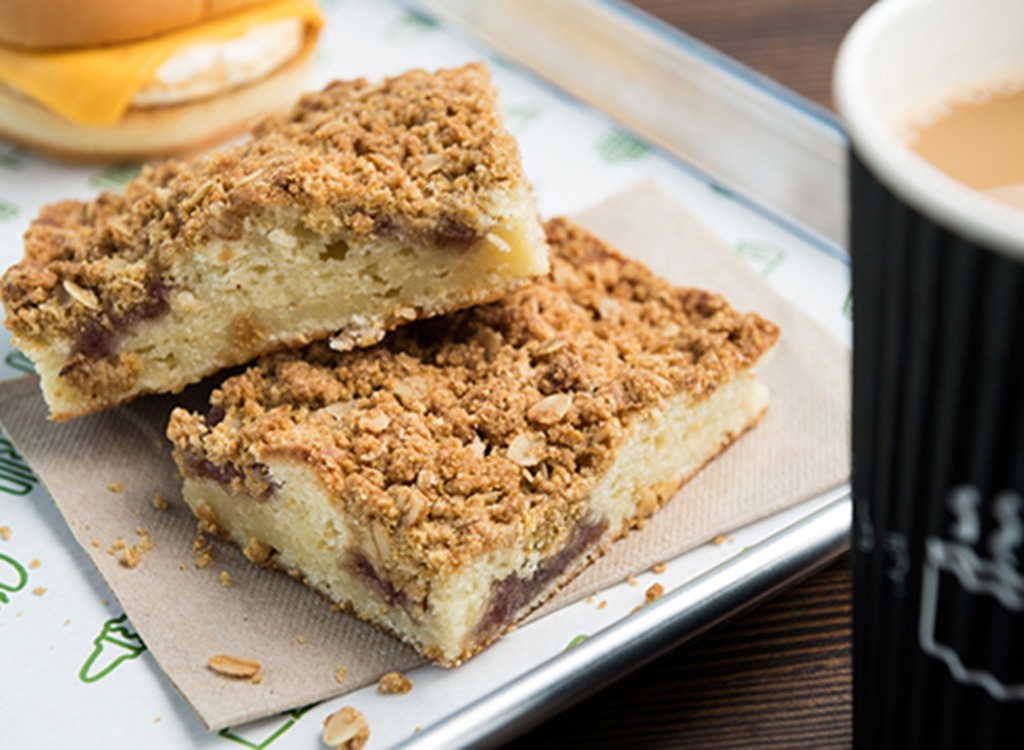 McDonald's has long held the crown when it comes to fast food dominance. Just think about all the famous (or infamous) creations that have shaped the franchise's legacy: the Big Mac, the Happy Meal, the Shamrock Shake, the gut-busting Supersize option, and of course, its bountiful breakfast menu. In fact, Ronald McDonald and company just recently axed one of their most popular menu items.
While Micky D's has won over early risers with its Egg McMuffins and affordable coffee since the breakfast menu was rolled out in 1972, a new competitor is threatening to knock them off their A.M. throne.
Courtesy of Shake Shack
Shake Shake devotees, you're in luck; your favorite burger chain is rolling out its own breakfast menu at its flagship Manhattan store. A recent press release from the New York-based burger giant reveals that Shake Shack will be adding breakfast to the long list of treats served at its Madison Square Park location, where the company first set up shop in 2004.
So, what can customers expect from a Shake Shack breakfast? Much like McDonald's, Shake Shack is eager to make itself known as a destination for great coffee, teaming up with Stumptown Coffee Roasters to create a Shake Shack-exclusive java blend as well as serving the brand's traditional single-origin brew and the ever-popular Stumptown Cold Brew. Need a bit more incentive to get out of bed in the morning? We've got four words for you: Stumptown Cold Brew Float. That's right, you'll be able to pick up a 16-ounce Stumptown Cold Brew with a scoop of ice cream in it. 6254a4d1642c605c54bf1cab17d50f1e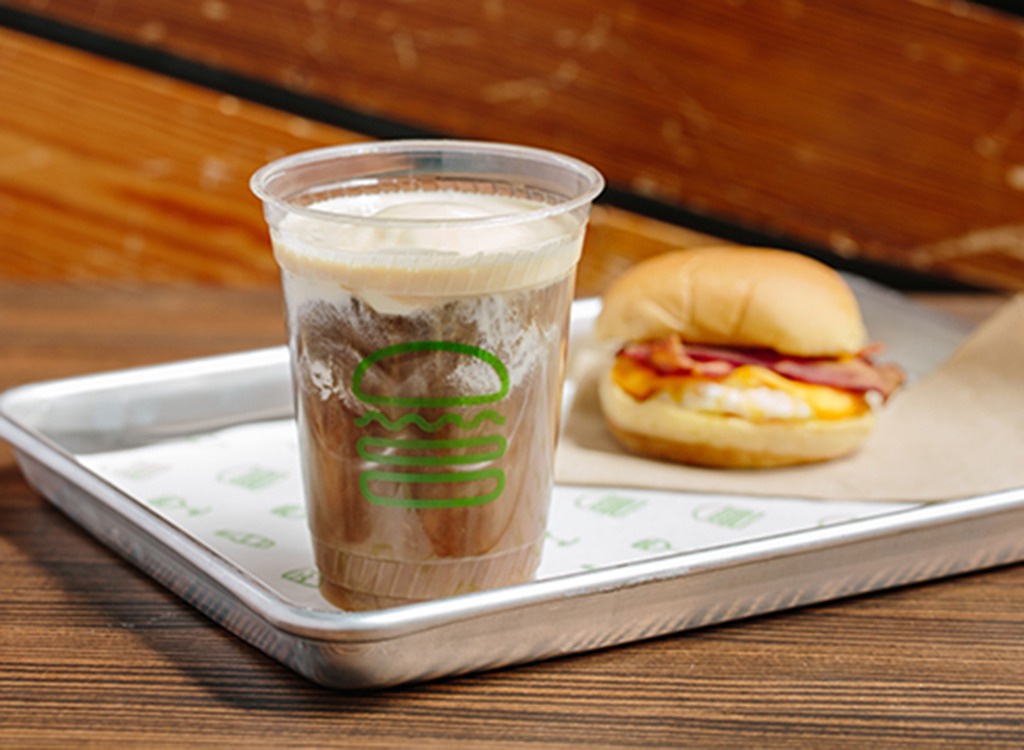 Courtesy of Shake Shack
The rest of the Shake Shack menu sounds just as full of greasy goodness as you'd expect from a burger joint: Egg N' Cheese sandwiches served solo or topped with a choice of bacon or sausage, apple turnovers from pastry geniuses Four & Twenty Blackbirds, and coffee cake from Daily Provisions topped with seasonal fruit.
The egg and cheese breakfast sandwich is the lightest breakfast on the menu, clocking in at just 300 calories, 13 grams of fat (6 grams saturated), 26 grams of carbs (3 grams fiber, 5 grams sugar), and 17 grams of protein. That's comparable to the Eat This-approved Egg McMuffin from McDonalds, which is 300 calories, 12 grams of fat (6 grams saturated), 30 grams of carbs (2 grams fiber, 3 grams sugar), and 18 grams of protein.
On the heavier side, Shake Shack also offers a dougle egg sausage breakfast sandwich for 570 calories, 36 grams of fat (14 grams saturated), 28 grams of carbs (3 grams of fiber, 7 grams of sugar) and 34 grams of protein. That's still more than McDonald's steak, egg and cheese breakfast sandwich for 530 calories, 30 grams of fat (15 grams saturated), 40 grams of carbs (3 grams fiber, 4 grams sugar) and 25 grams of protein.
Honoring Shake Shack's commitment to serving real food, the meat on the breakfast menu is all-natural and the eggs are cage-free.
As if Shake Shack's breakfast menu wasn't already making your stomach growl, the chain is incentivizing its delicious treats even further, offering customers who visit the Madison Square Park location a free 16-ounce coffee with their breakfast from May 22nd through the 28th.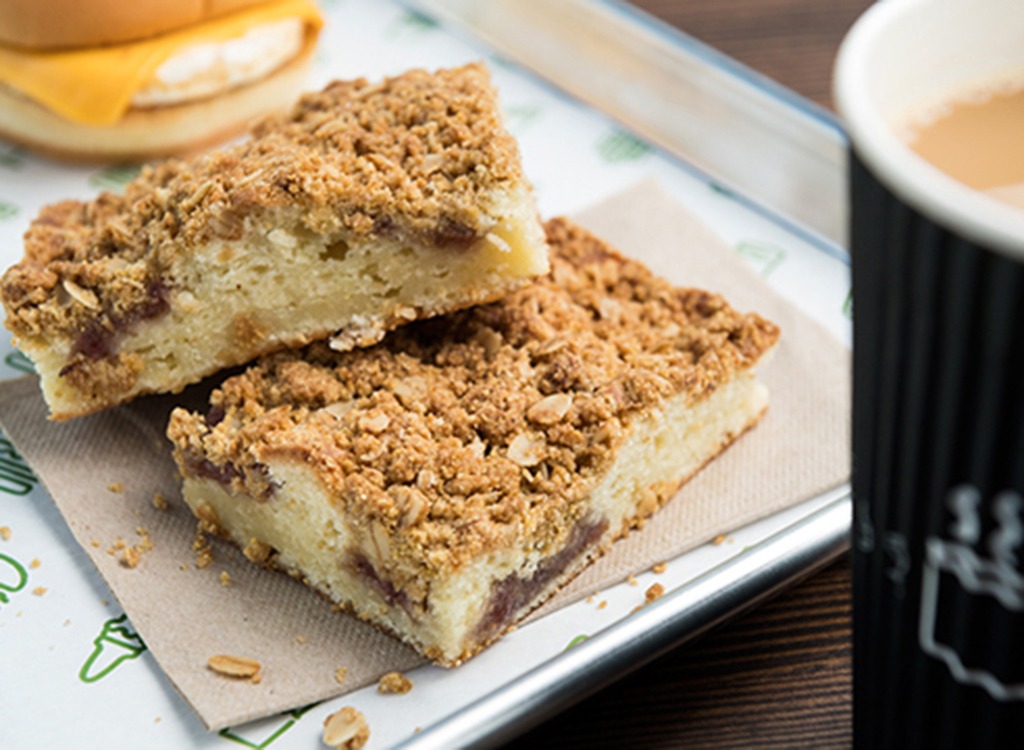 Courtesy of Shake Shack
While this is a major win for anyone who lives or works near Shake Shack's Midtown outpost, it's not the first time the company has offered breakfast; JFK and Dubai Airports, and major train stations in New York and Washington, D.C. have all been serving Shake Shack's breakfast to hungry travelers for years.
Unfortunately for McDonald's, Shake Shack's breakfast announcement isn't the only hit to the brand this week; the results of The Harris Poll's 29th Annual EquiTrend Study reveals that Five Guys beat out both brands for Burger Restaurant Brand of the Year, with Shake Shack taking second place and McDonald's coming in sixth. McDonald's may have some stiff competition in the fast food biz, but after revamping their menu recently, they have some great options. Check out Every Menu Item at McDonald's—Ranked! to check out their options, and you might just be convinced to give the chain another try. Hey, a billion customers can't be wrong.
Sarah Crow
Sarah Crow is a senior editor at Eat This, Not That!, where she focuses on celebrity news and health coverage.
Read more about Sarah