Here's What's Really Inside the McDonald's Shamrock Shake
The timeless St. Patrick's Day drink is deliciously sweet for a reason.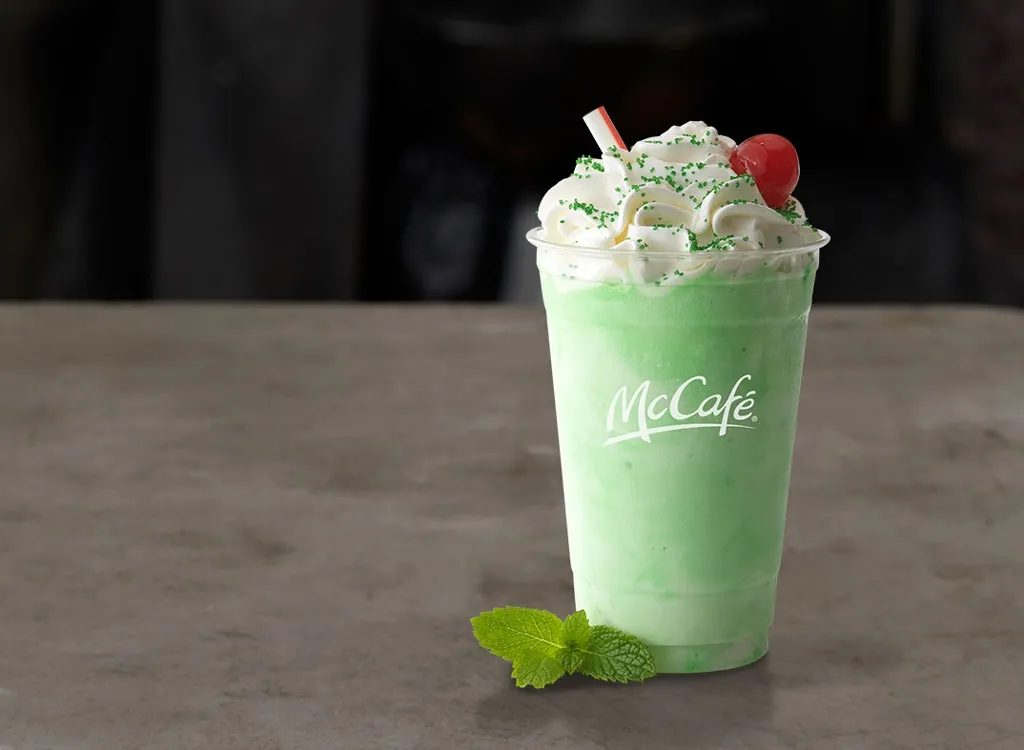 It's a sweetly known fact that every year McDonald's rolls out its cult classic mint green Shamrock Shake just in time for St. Patrick's Day. Plenty of devoted McDonald's loyal customers anticipate the minty shake's arrival, which hits menus nationwide in mid-February and only sticks around for a limited time. This year, the festive drink will be sold all the way up until Sunday, March 24, but how much do you really know about the shake—and what exactly is in it?
The timeless frozen treat has actually been around for a few decades; it was originally called the St. Patrick's Day Shake back when it debuted in 1970, and in 2014, more than 60 million Shamrock Shakes were estimated to have been sold since its inception. You can only imagine what that number has climbed to now. People clearly love the drink and earnestly look forward to it. Take this tweet as evidence:
As a food and nutrition site, we felt like it was our duty though to break down exactly what a McDonald's Shamrock Shake is made of and let you in on what's in it. To do this properly, we consulted Maryann Walsh, MFN, RD, CDE Registered Dietitian and Certified Diabetes Educator, for more insight.
What exactly is in a McDonald's Shamrock Shake?
"The Shamrock Shake is a sugar bomb at 63 grams of sugar and 74 grams of carbs for a small," says Walsh. That's as much sugar as 16 sugar packets, she says. "While a majority of its 460 calories come from the carbs and sugar, it also has 13 grams of fat and 8 grams of saturated fat."
You're also probably wondering what makes the drink green, right? It's a combination of artificial colors, specifically Yellow 5 and Blue 1. That green hue doesn't happen with natural mint—it comes from something simply called Shamrock Shake syrup! The other two ingredients: vanilla reduced fat ice cream and whipped light cream.
"One of these as a super indulgent treat shouldn't do much harm, but regular consumption could surely start to pack on the pounds," says Walsh. It's best to enjoy the festive drink in moderation, folks.
What would be a healthier dessert option to get at McDonald's and why?
"As a dietitian that is not anti-Mickey D's, I am a big fan of their vanilla soft serve cone. While it's not particularly low in sugar or carbs [with] 24 grams of sugar and 32 grams of total carbs, it has 5 grams of fat and 5 grams of protein, and comes in at 200 calories," says Walsh. "It's not a horrible option when you are craving a sweet frozen treat."6254a4d1642c605c54bf1cab17d50f1e
Walsh says an even better way to satisfy your cold, creamy craving would be to order the ice cream in a cup, or, if the McDonald's near you allows this, get the kiddie size. "The kiddie cone comes in at 45 calories, 6 grams of sugar, 8 grams carbs and 1 gram of fat." That's about a quarter of the calories, and notably less sugar, carbs, and fat!
How can you make a healthier Shamrock Shake at home?
"You can make your own lighter Shamrock Shake at home! You can use light ice cream or your favorite vanilla protein powder with mint extract—extracts add zero calories and sugar," says Walsh. There you have it—the nutritional breakdown of the festive drink, as well as a recipe for a DIY Shamrock Shake so you can get festive this year without doing any damage to your waistline.