Why Szechuan Sauce Is the McDonald's Menu Item Fans Want Back
This is the controversial backstory of one of McDonald's former menu highlights: Szechuan sauce.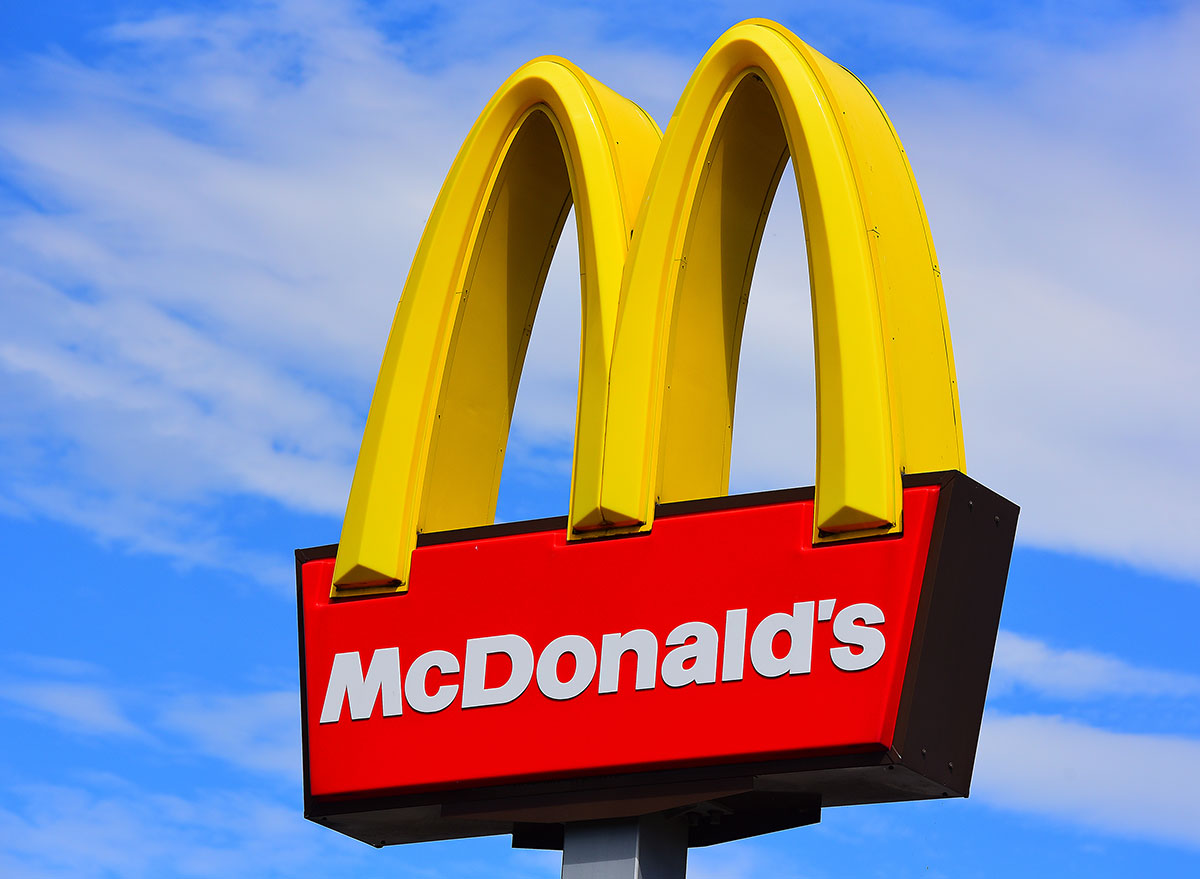 Every McDonald's superfan has their favorite item that's sadly not on the menu anymore. For some, it's as simple as the "Super Size" option, which McDonald's removed after the 2004 documentary Super Size Me gave it a very bad name. For others, it's the gone-but-not-forgotten onion nugget (basically, onion rings without the ring) that briefly appeared in the 1970s. But the most missed item on McDonald's menu isn't a sandwich, a side, or a nugget. It's a sauce—specifically, the Szechuan sauce.
If you've never had McDonald's Szechuan sauce, think of it as a sibling to the sweet-and-sour sauce served in Chinese restaurants throughout the U.S.
"Szechuan sauce tastes like if you took a classic suburban American Chinese restaurant's sweet-and-sour chicken and mixed it with some soy sauce and maybe a hint of sesame," Business Insider reporter Kate Taylor wrote of the legendary sauce. "It's goopy, sweet, and very salty—and, in its own right, it's a pretty tasty option … You'll want to keep on dipping."
If you haven't heard of it (or had it), you're not alone. McDonald's Szechuan sauce had a very short life, but it managed to garner plenty of adoration and attention, which is why we think it's the top McDonald's item fans really want to come back. Here's the complicated backstory that involves Disney, an Adult Swim TV show, and a popular DJ. Intrigued?
When did McDonald's introduce Szechuan sauce?
Szechuan sauce—a markedly different offering from other McNugget dipping sauces—came out of a collaboration between Disney and McDonald's in 1998. See, that was the year Disney was launching the animated film, Mulan, so the House of Mouse teamed up with Mickey D's to promote the movie's theatrical release. According to Moviefone, the tie-in included Mulan-themed Happy Meal toys and what turned out to be some very controversial packaging and advertisements.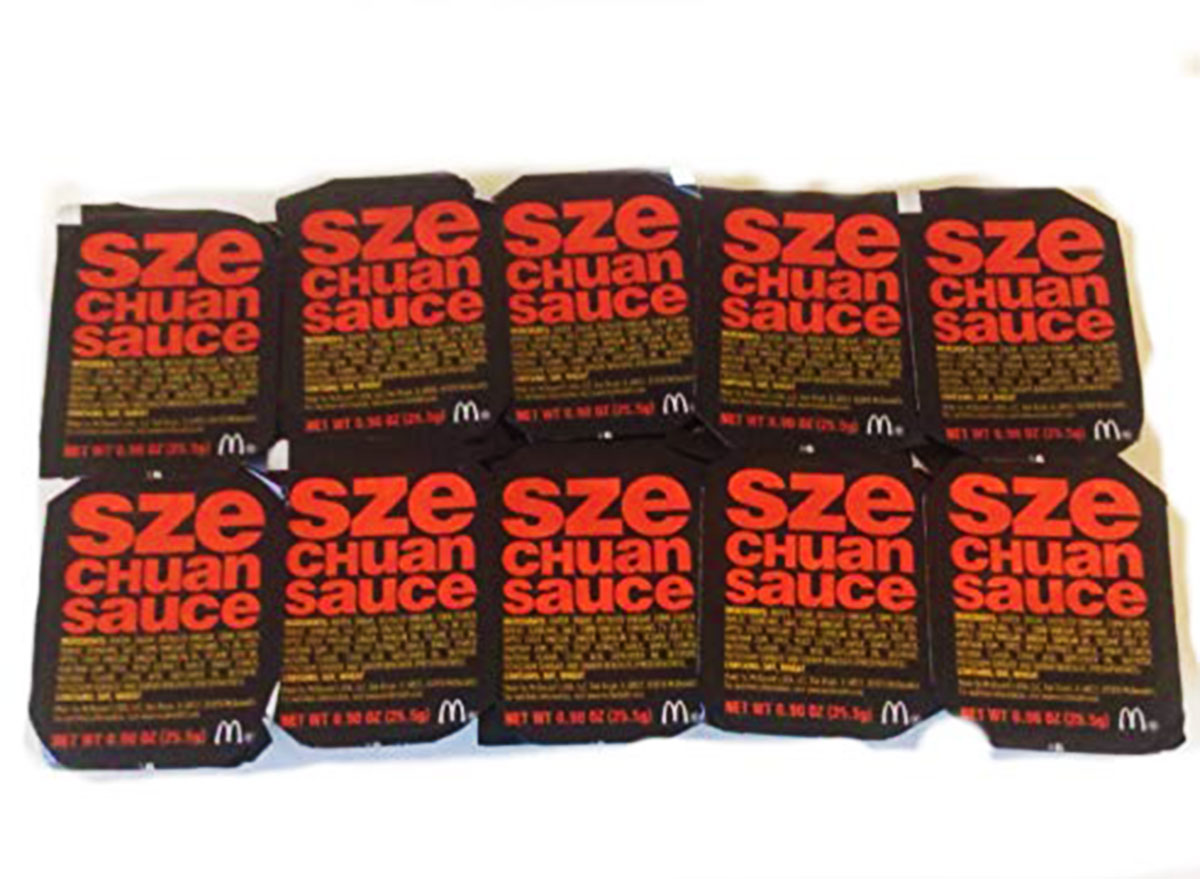 Why did McDonald's take the sauce away?
One McDonald's Mulan ad featured a young Caucasian girl doing karate, while her brother and dad ate their meal on the floor. Another included a running gag in which a Caucasian boy struck a gong over and over. The latter commercial described McDonald's Szechuan sauce as "a taste of the Far East."
According to Entertainment Weekly, McDonald's packaging for the Mulan collaboration even included puns like, "McDonald's is Chinamite" and "Run, don't wok…"
Unsurprisingly, there was some serious backlash against McDonald's as a result. Paul Leung, a Chinese-American student at Cornell University, started an e-mail protest campaign, according to EW. "You don't even have to be Chinese to be offended," he said at the time.
When the campaign was over, the bad publicity and the Szechuan sauce were gone. The tangy condiment stayed off the McDonald's menu for almost 20 years, until a different cartoon brought the buzz back to the sauce—this time without the controversy of the sauce's first run.
The second coming of Szechuan sauce is what made people obsessed with it.
We have Adult Swim cartoon Rick and Morty to thank for the return and the rise of McDonald's Szechuan sauce. An April 2017 episode included a flashback to 1998 that mentioned the sauce. In the scene, the show even explained that McDonald's invented the sauce as part of a cross-promotion for Mulan and lamented how it's no longer available.6254a4d1642c605c54bf1cab17d50f1e
What started as a throwaway line became an inside joke among Rick and Morty fans, who petitioned to bring the Szechuan sauce back to McDonald's. And in July 2017, they succeeded. McDonald's gave away four jugs of Szechuan sauce in response to the demands. DJ Deadmau5, a huge Rick and Morty fan, even bought one on eBay for more than $15,000.
But overall, Rick and Morty fans weren't satisfied. Why should only a select few get to try the sauce? In October 2017, McDonald's provided Szechuan packets in very limited quantities for one day only. Fans who lined up for hours were left sauceless—and there was near rioting as a result.
McDonald's apologized and vowed to re-release the Szechuan sauce once more. In February 2018, they made good on their promise and this time, McDonald's was armed with 20 million Szechuan sauce packets nationwide.
A sweet-and-sour comeback.
The Szechuan sauce isn't on the McDonald's menu anymore, but hey, the chain still has eight other McNugget dipping sauces to choose from that don't have such a complicated backstory, so there's a silver lining. Plus, you never know: the sauce had more than 38,000 supporters on its petition to bring it back, so one day it might be back for a third time!
Meghan De Maria
Meghan De Maria is a senior editor at
Eat This, Not That!
, specializing in food, product, and restaurant coverage.
Read more about Meghan