8 Most Outrageously Expensive Hot Dogs In America
These puppies will cost you a pretty penny!
How much should a restaurant hot dog cost? A couple of dollars is about average for a fast-food spot or hot dog stand, and likely no more than five or six dollars. With inflation rising food prices at supermarkets, and prices continuing to rise at restaurants,  a quick and easy hot dog can seem like a really good deal. 
However, not all dogs are created equal. Mischa, a restaurant that opened in Manhattan in April, put a $29 hot dog on the menu that's been making headlines. While that may seem excessive, even the nine-inch-long dog's detractors agree it's tasty. This isn't the only pricey hot dog out there as menus across the country feature fanciful dogs with unique meat blends and luxurious toppings. 
Is it worth it? That's up to you. But if you are interested in a high-end, fancy hot dog, read on for some of the most expensive takes on the humble Weiner.
Mischa Hot Dog
This dog clocks in at $29, and for that price, you'll get a hot dog on a potato bun with chili and condiments. However, those who've tried the dog note that it weighs in at a mighty eight ounces and is nine inches long. For comparison, a hot dog from Nathan's is about three and a half ounces. The dry-aged brisket-and-pork hybrid is made in-house and tucked inside a natural hog casing, and after being warmed in beef fat, it's crusted with mashed potato flakes for texture. Additionally, the pricey dog comes with a bowl of warm chili and five different toppings, including smoky bacon-habanero chili flakes. 
CouCou's L'Haute Dog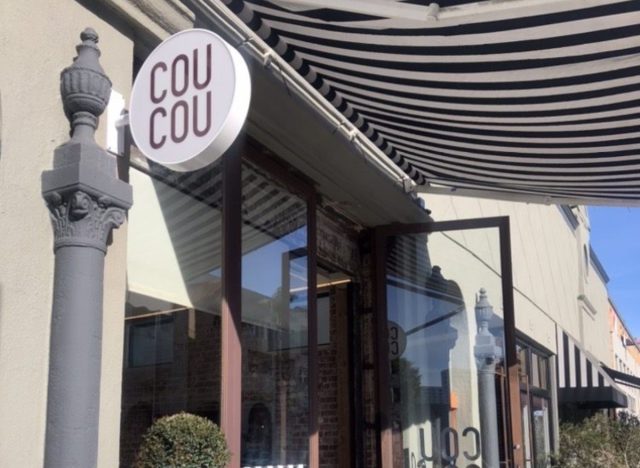 This self-proclaimed "boozy bistro" in Los Angeles is a beach-adjacent spot for martinis, oysters, and a $25 hot dog you'll want a knife and fork for. A Peads and Barnetts pork sausage is topped with French onion marmalade, cheese fondue, and spicy mustard for an indulgent treat.
Gordon Ramsay Burger Bloody Mary Dog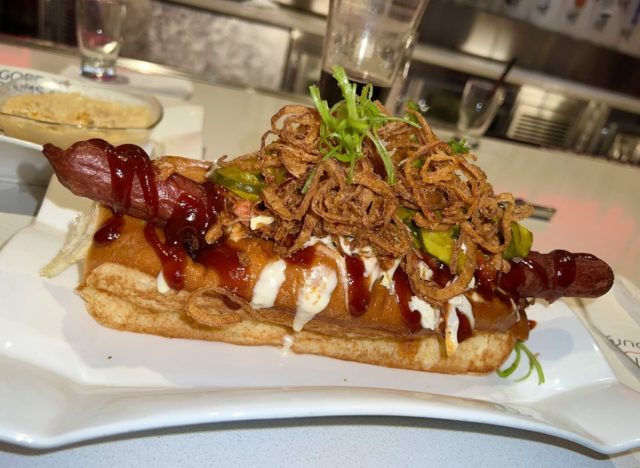 You've probably seen chef Gordon Ramsay yelling on Hell's Kitchen (or at least seen the memes!). His famous Las Vegas restaurant has a very creative—and very pricey— hot dog on the menu. The $18 Bloody Mary Dog sounds mighty: a bacon-wrapped foot-long hot dog, topped with relish, crispy onions, and Bloody Mary ketchup. 
Charlie's Bar & Grill Korean Style Hot Dog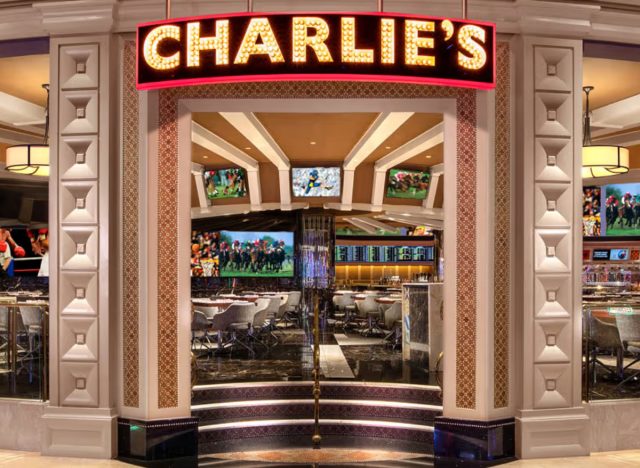 This mighty dog features on the signature menu of Charlie's Bar & Grille at the Wynn Las Vegas Casino and Resort, and it's packed with unique flavors. For $18.50, you'll get an all-beef hot dog, topped with a crinkle potato crust and mozzarella cheese. 
The Quiet Few Simple Dog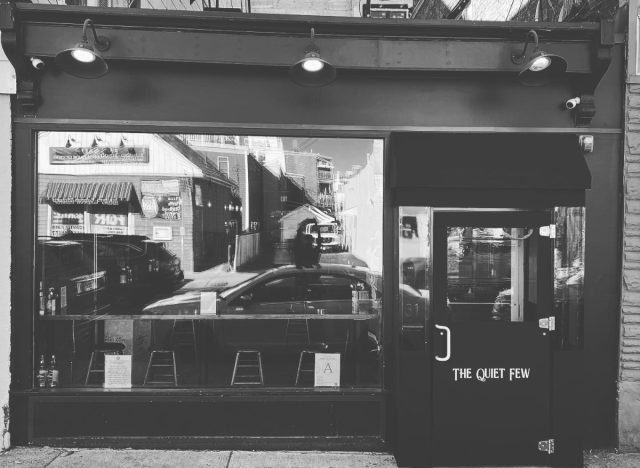 The Quiet Few, a cozy Boston pub, has several hot dog-based offerings with high prices, including the Simple Dog, which is a quarter-pound beer braised beef dog on a buttered brioche bun for $8. However, you can upgrade and add caviar to your dog, bringing the total to $22. The restaurant also offers a Big Papi special for $55, which includes two hot dogs, chips, French onion dip, a pitcher of beer, and an ounce of caviar. 
Rare Lounge Pigs in a Blanket
Located at the Encore Boston Harbor in Mass., Rare Lounge is an intimate, contemporary space that serves luxury bites, including tuna tartare, truffle grilled cheese, and a $17 order of pigs in a blanket. As with everything else on this list, these aren't your traditional pigs in a blanket. Made with Wagyu beef sausages, the bite-sized treats are wrapped in an everything-spiced puff pastry and served with smoked ketchup and steakhouse mayo for dipping. 
The Standard's Yacht Dog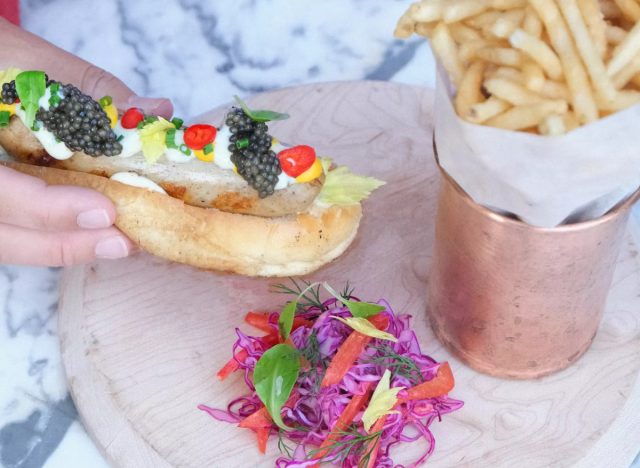 In late 2020, The Standard, High Line set out to help fellow restaurants in the most NYC way we can think of. It created The Yacht Dog, an over-the-top $75 dog topped with caviar that's on the menu throughout October, and all proceeds are being donated to the non-profit Relief Opportunities for All Restaurants (ROAR). If you want to get fancier, you can pay $99 by adding a miniature bottle of Moët & Chandon Imperial Brut champagne. This was a short-lived special, but what a way to give back. 
Serendipity 3's Haute Dog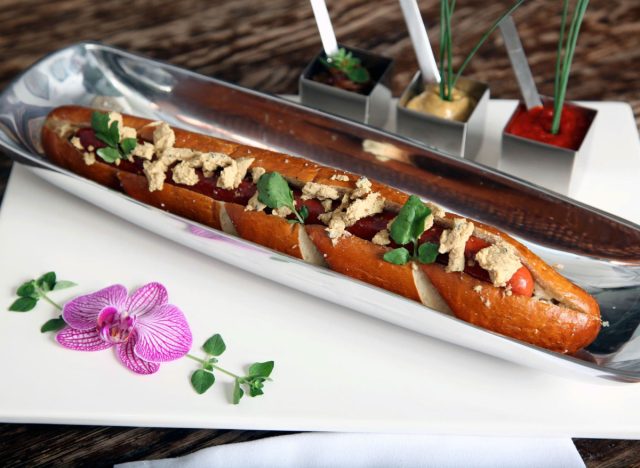 The famous NYC restaurant, known for its frozen hot chocolate and over-the-top sundaes, created a $69 item in 2010 that garnered the Guinness World Record for most expensive hot dog. The foot-long frank was topped with duck liver, truffle butter, truffle mustard, and heirloom tomato ketchup. The shop still sells hot dogs, but they're priced closer to $10.
Tanya Edwards
Tanya Edwards is a seasoned food and health journalist, who has held roles at Yahoo Health as Managing Editor and at Food Network as Programming Director.
Read more about Tanya