The 5 Worst Fast-Food Hot Dogs—Ranked!
A registered dietitian reveals what takes on this summer staple are a no-go.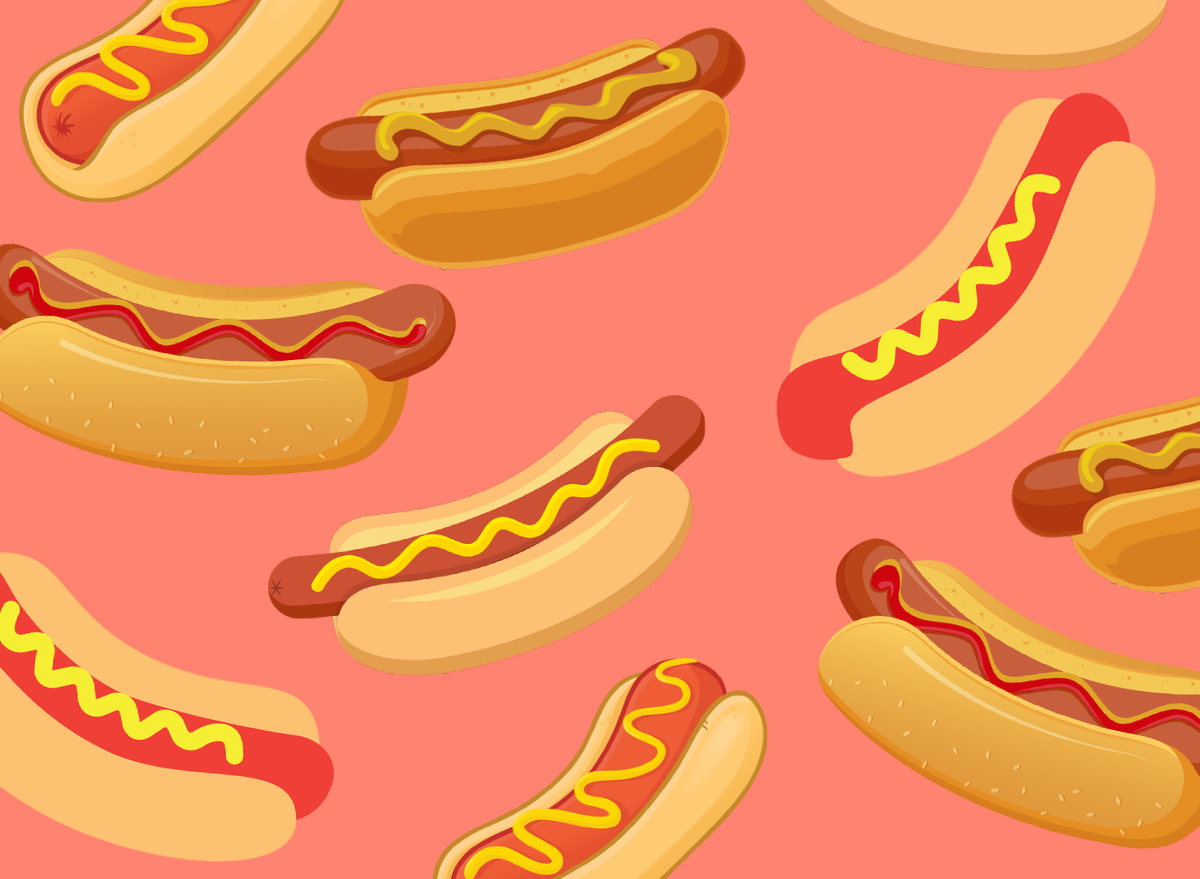 There's nothing like grilling up a sizzling, lightly charred hot dog and nestling it between a bun with a bit of ketchup, mustard, probiotic-packed sauerkraut (which is good for your gut health), and whatever other fixings you like. After all, the hot dog is the quintessential summer food.
On its own, a hot dog can have some good protein to fill you up, and it can totally be leaner and low in sodium. As long as you're reading labels and choosing a low-fat, low-sodium, uncured or natural dog that's free of nitrates and nitrites, you can enjoy one anytime you like. Seize summertime grilling—and get creative with those toppings!
But if you're dining out at a fast-food joint, the hot dogs on the menu likely won't have that same clean profile. Many of these dogs are no longer simple but rather topped high with unhealthy ingredients that can be bad for your heart (hello artery-clogging saturated fat!) and cholesterol levels due to their insanely high sodium content.
Need proof?
Dairy Queen Chili Cheese Dog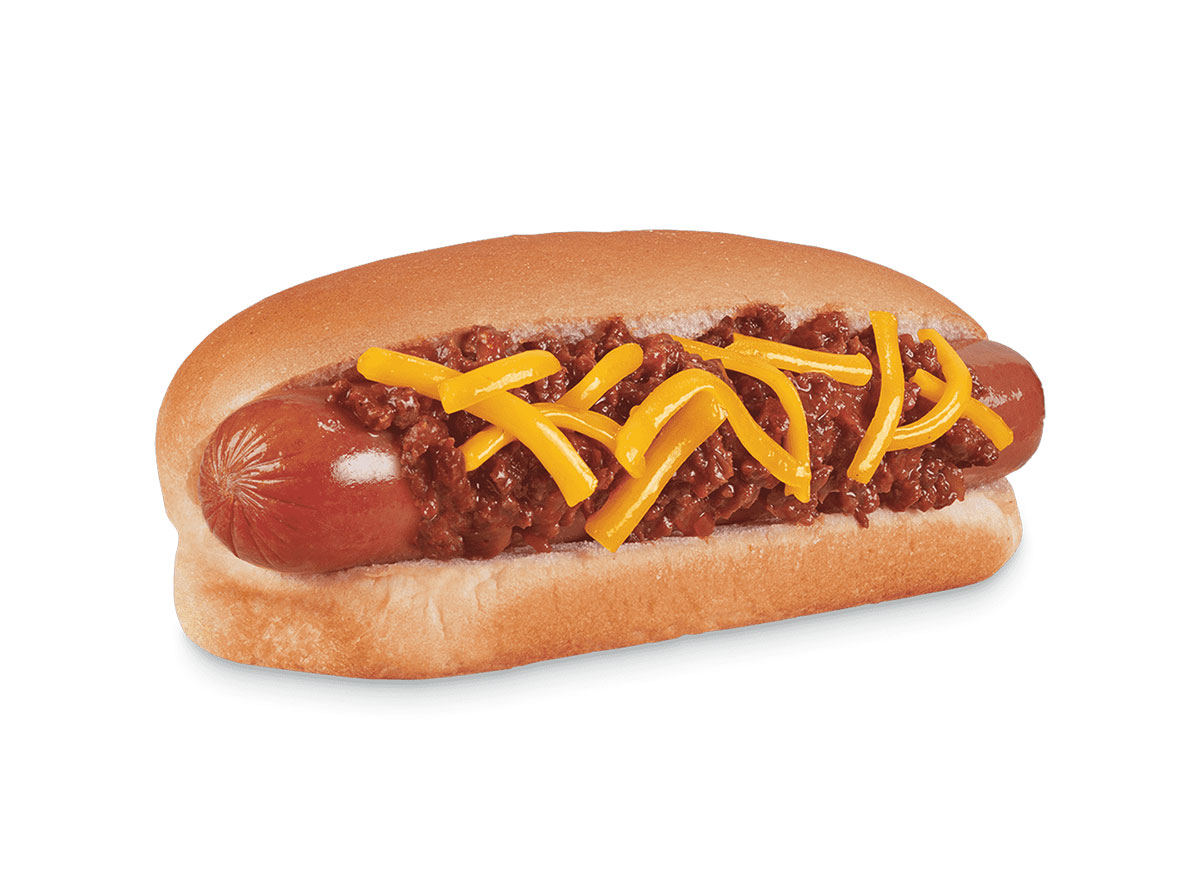 Per hot dog
: 420 calories, 26 g fat (11 g saturated fat, 1 g trans fat), 1,070 mg sodium, 28 g carbs (1 g fiber, 4 g sugar), 18 g protein
The average hot dog with ketchup, mustard, and a bun ranges between 250-300 calories, but adding chili and cheese piles on an additional 100-200 more calories. If you're concerned with watching calories, this loaded Dairy Queen hot dog might not be your best option on the menu.6254a4d1642c605c54bf1cab17d50f1e
"The added chili and cheese total approximately 100 calories, which isn't too bad considering the flavor that it adds, but keep in mind this dog still has more than half a day's worth of artery-clogging saturated fat," says one of our ETNT Medical Board experts, Tammy Lakatos Shames, RDN, CDN, CFT.
Shake Shack Publican Pork Sausage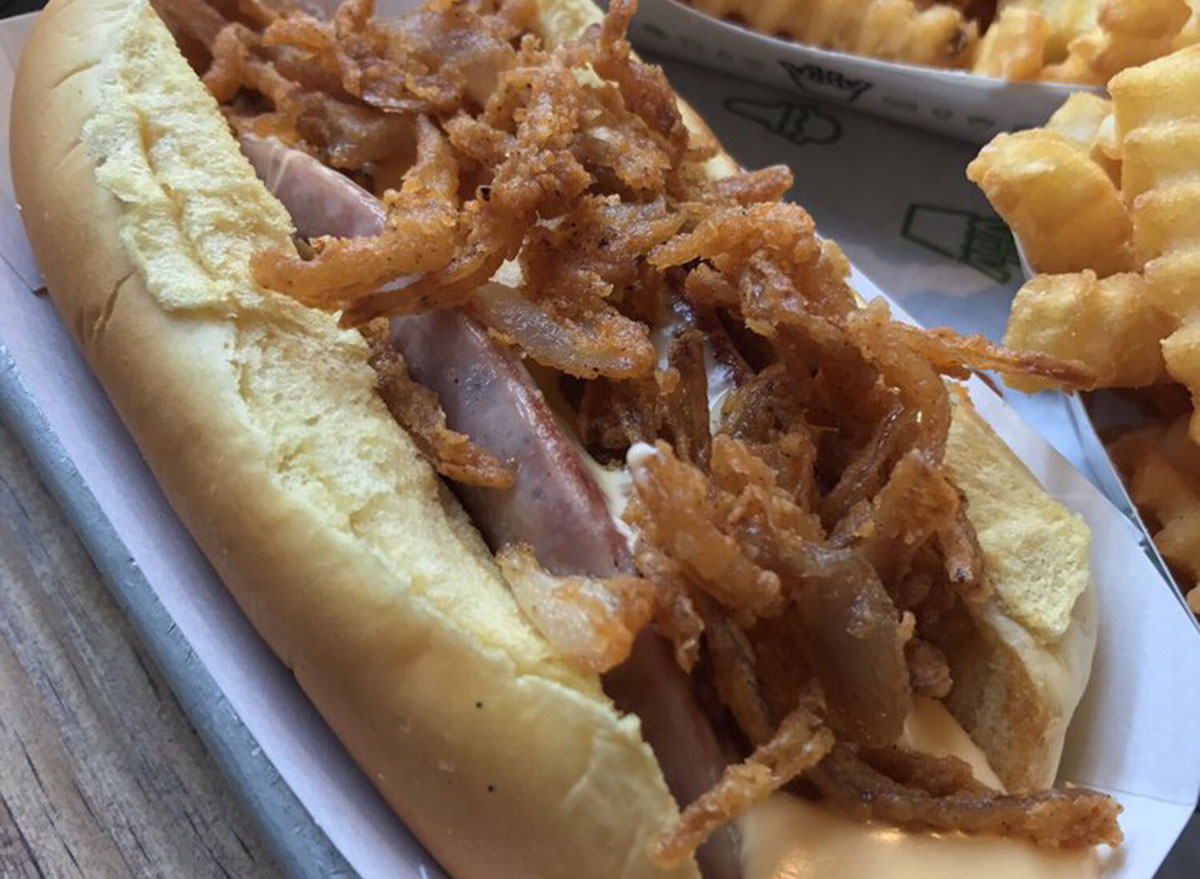 Per hot dog
: 560 calories, 47 g fat (16 g saturated fat, 0 g trans fat), 1,188 mg sodium, 14 g carbs (1 g fiber, 1 g sugar), 13 g protein
Though the calories are a bit high in this hot dog, they mostly come from the meat itself, which is 100% Vienna beef.
"As for redeeming qualities, Shake Shack prides itself on its hot dogs being made with 100% Vienna Beef with no hormones or antibiotics and being served on a non-GMO Martin's Potato Roll," Lakatos Shames says. "They do suggest adding cheese, which will set you back an extra 80 calories and 7 grams of fat, five of which are from saturated fat. But even if the saturated fat and sodium were slashed in half, they still would be high."
Wienerschnitzel Aussie Dog
Per hot dog
: 570 calories, 39 g fat (13 g saturated fat, 0 g trans fat), 1,830 mg sodium, 34 g carbs (2 g fiber, 7 g sugar), 24 g protein
This Polish-style hot dog from Wienerschnitzel is topped with cheese, bacon, and horseradish aioli. All of this sounds tasty, but it's one meal that won't do your body any favors.
The American Heart Association recommends that most adults consume no more than 2,300 milligrams of sodium a day, moving toward an ideal limit of 1,500 milligrams. The more than 1,800 milligrams of the salty stuff you're getting here is a major red flag for heart health—especially for those who have high blood pressure, high cholesterol, or are at a higher risk of heart disease.
However, there's a bit of a bright side to this menu option.
"The only plus is that this hot dog has almost double the protein compared to many other hot dogs, so it will keep you feeling full longer," Lakatos Shames says.
Looking for more helpful tips? Your ultimate restaurant and supermarket survival guide is here!
Five Guys Bacon Cheese Dog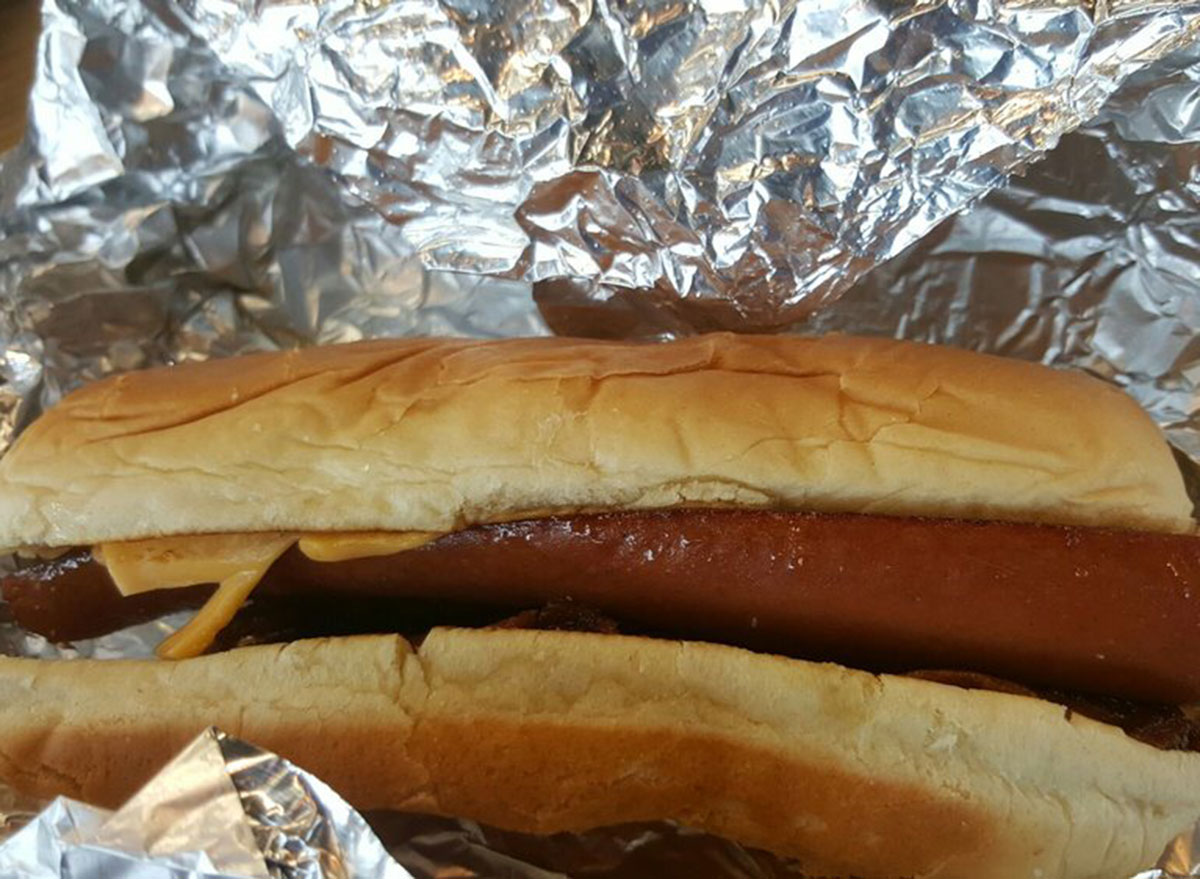 Per hot dog
: 670 calories, 48 g fat, 1,700 mg sodium, 40 g carbs, 15 g protein
This option from Five Guys actually has about double the number of calories found in an average hot dog.
"All it takes in this hot dog [is the] added cheese and bacon to break the sodium, fat, and calorie bank," Lakatos Shames says.
Something else to note—the amount of saturated fat, sugar, and fiber this hot dog contains aren't actually listed on the chain's website. Is there a reason why?
Sonic Twisted Texan Footlong Chili Cheese Coney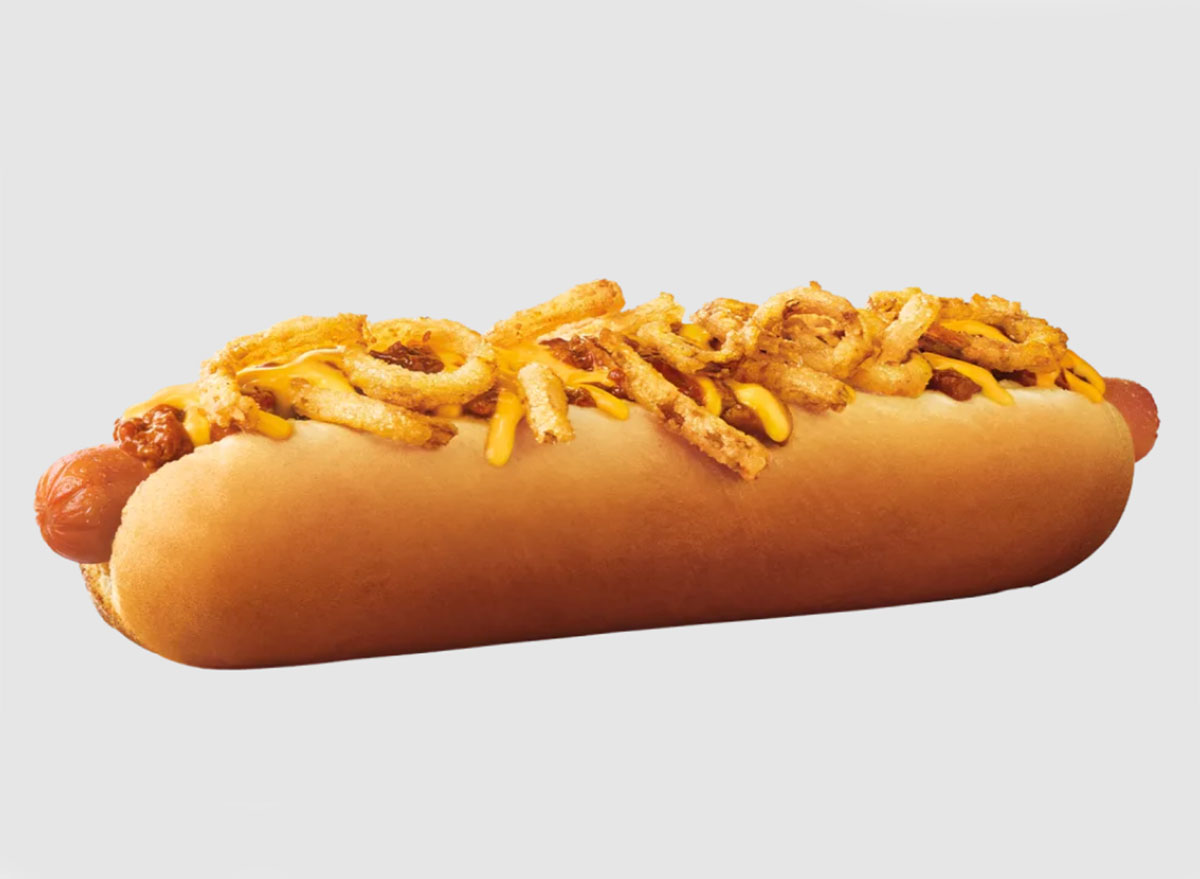 Per hot dog
: 1,190 calories, 85 g fat (24 g saturated fat, 1 g trans fat), 2,390 mg sodium, 73 g carbs (3 g fiber, 11 g sugar), 33 g protein
Finally, we've reached the worst fast-food hot dog you'll find, courtesy of Sonic. It doesn't really come as much of a shock when you see words like "footlong" and "coney," a nod to the indulgent eats of "Coney Island" in its name.
"It's not a secret why this hot dog has nearly four times the calories, fat, and sodium of the typical hot dog. Plus, this dog takes it a step further to add chili, melted cheddar cheese, and fried onion strings, all of which are fat, calorie, and sodium bombs on their own," Lakatos Shames says.
If you and some friends happen to want to try this monster hot dog, perhaps you're better off grabbing a knife and cutting it into pieces to share!
Isadora Baum
Isadora Baum is a freelance writer, certified health coach, and author of 5-Minute Energy.
Read more about Isadora