17 Essential Spices Every Home Cook Needs, According to Chefs
Take it from the pros: the best seasonings are useful in all kinds of recipes.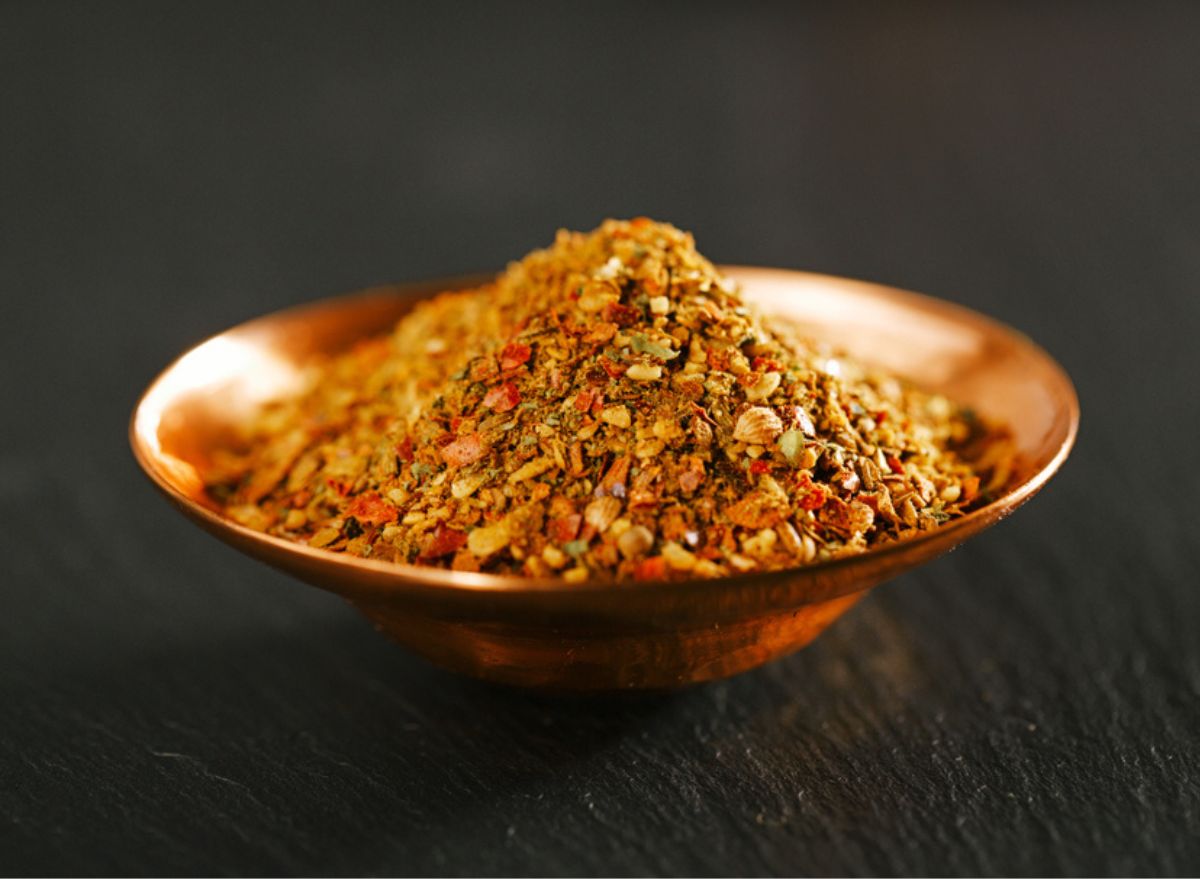 The product recommendations in this post are recommendations by the writer and/or expert(s) interviewed and do not contain affiliate links. Meaning: If you use these links to buy something, we will not earn a commission.
Is your kitchen a bastion of creativity, with plenty of spices to inspire new and favorite dishes? Or, is it time for a refresh of that dusty spice rack?
The first thing every home cook should do at least twice a year is check the expiration dates on old spices, and when tossing out those outdated jars, take note of what you're actually using and what you really don't use. Then, it's time to come up with a list of the best spices that multi-task for many recipes, and those that bring out the flavor of your dishes.
But what are those spices? Beyond salt and pepper, the essential lineup varies by culture and cooking style. However, there are a handful of basics—and not-so basics—that most chefs like to keep in their kitchens. We asked them what spices home cooks should keep on hand, and some ideas for cooking with them. Read on and get ready to restock!
Cajun Nation's Cajun Seasoning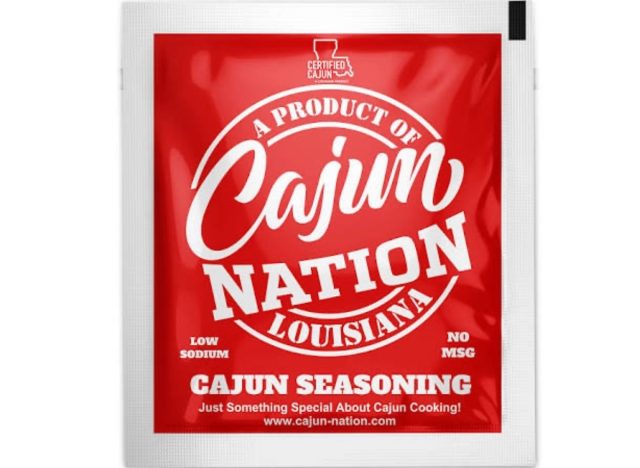 Tehari Head, executive chef at Estella in Boston, swears by this seasoning blend for making the restaurant's fresh seafood taste amazing, and you can easily season at home with it, too. "At Estella's, we love when the herbs do all the talking," says Head. "Our customers love our fresh herbs. But when we serve our swordfish and blackened salmon, we love to use Cajun Nation's Cajun Seasoning." With this seasoning you're going to get equal parts bold from the pepper and earthy from the garlic, and not too much heat.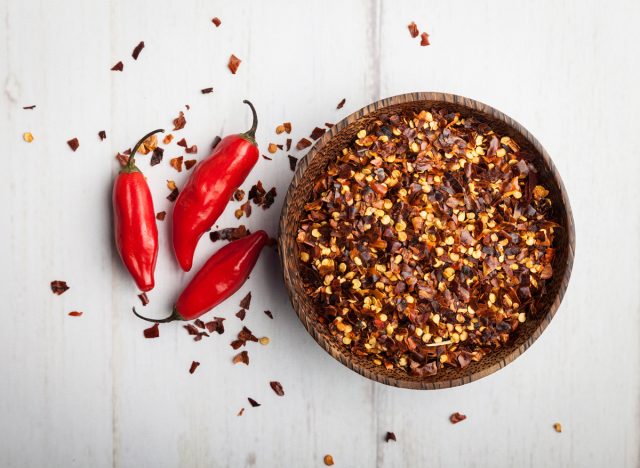 You've seen chili flake blends (also known as crushed red pepper) on the table at your local pizzeria, but did you know you can use it to bring life to your recipes? Emmeline Zhao, managing partner and sommelier of Silver Apricot in New York City, says it's a staple in her kitchen: "Any brand of chili flake. I rarely char or sauté any vegetables at home without chili flakes for a little sweet heat. And it's a staple to add to any pizza."
This blend is a favorite in many kitchens for giving a dry rub to pork or beef, or adding to sauces. Michael Ross, executive chef at Primehouse Steak And Sushi in Long Island, says it's in regular rotation in his kitchen.
"One of my favorites is Chinese Five Spice, a mixture of Star Anise, Cinnamon, Cloves, Sichuan Pepper, and Fennel Seeds, although there are some interesting variations, but the idea is universal, the five flavors of the spices (sweet, bitter, sour, salty, savory) is the aim," Ross says. "Our most common use of this spice is in our pork dishes. Whether it be in our Asian BBQ Baby Back Ribs, as part of the dry rub, or our Five Spice Braised Pork Belly, the aroma and the flavor is intoxicatingly seductive."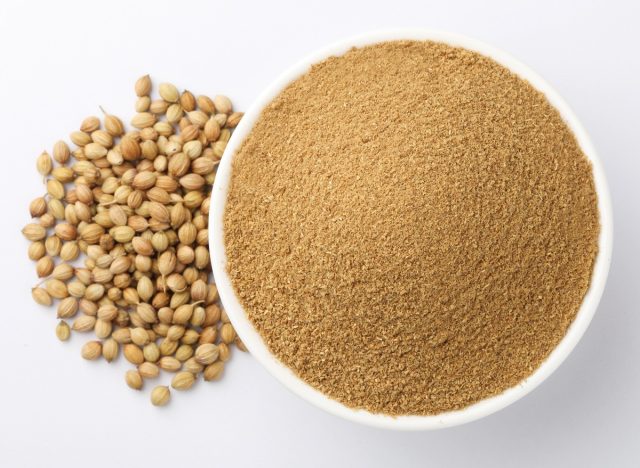 If you don't already have coriander on hand, or haven't updated your supply lately, chef Keith Corbin of Alta Adams in Los Angeles, suggests you do.
"Coriander is an aromatic and multifaceted spice that imparts a delicate, earthy, spicy, and sweet flavor with a citrus note," says the James Beard Award-nominated chef, who also sells his his own line of hot sauces and oils. "This spice is native to the Mediterranean region. Coriander comes from the seeds of the cilantro plant and, surprisingly, its flavor is vastly different from that of cilantro leaves."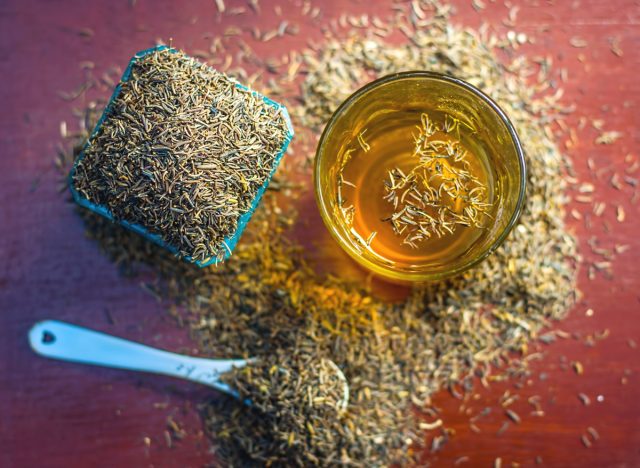 Chef Corbin also recommends this other pantry staple, which enhances so many dishes. "Cumin is a spice made from the dried seed of a plant known as Cuminum cyminum, a member of the parsley family," he says. "Cumin is a popular spice with rich, earthy flavor and an edge of citrus that adds an instant depth to any dish."
Chef Delio Susi of Mex Taqueria and Bar in Cambridge, Mass., describes cumin as a "secret weapon." Says Susi, "Cumin gives you that back hint that keeps everyone guessing. This spice is our key component in are Burnt Salsa at Mex."
Cumin and Coriander Blends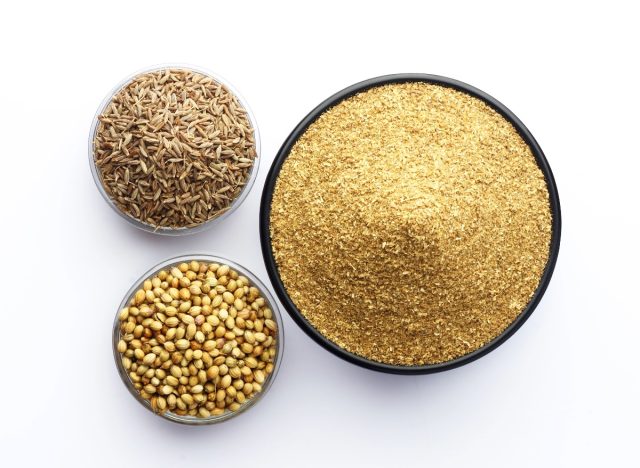 Many chefs spoke of having a good cumin and coriander blend, which you can make yourself with a 2:1 ration of coriander to cumin, or find on store shelves. Common in Indian cooking, this blend is often labeled as Dhana-Jeeru.6254a4d1642c605c54bf1cab17d50f1e
"Cumin and Coriander are such versatile spices that complement each other very well," says chef Christina Wilson, vice president of culinary for Gordon Ramsay North America. "Cumin has a nuttiness and can be slightly bitter, while coriander balances that out with its floral and citrus notes. This combo is great for marinades, legumes, rice, and nearly all land and sea proteins."
Chef Corbin is also fan of this blend, which enhances almost any protein, he says: "I love using these two spices together in a two to one ratio, cumin to coriander. I use this combination in my spicy herb sauce, my oxalis, my chicken seasoning and just about all my house spice blends."
This bright red pepper is cultivated in the French commune of Espelette, Pyrénées-Atlantiques, traditionally the northern territory of the Basque people. The spice is found in both French and Spanish dishes. It brings a gentle heat to dishes, and a beautiful pop of color. "I uses it as a spice on top of avocado toast to give it a pop of flavor," says chef Michael Serpa of Atlántico, Little Whale, and Select Oyster Bar in Boston, "and also use it on patatas bravas to elevate that dish."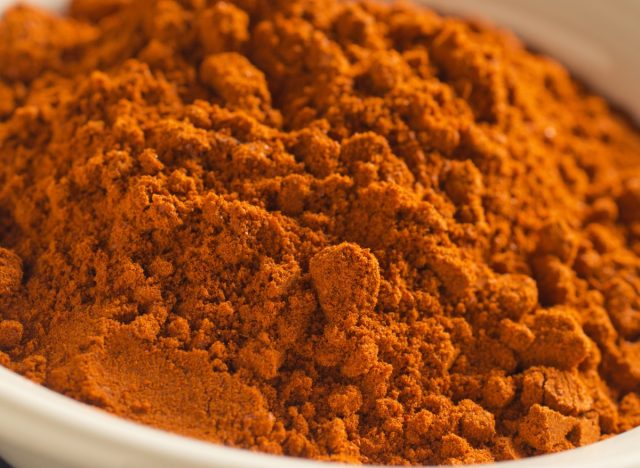 This may be a new spice blend for some, but it's a mild blend that works to enhance many dishes and styles of cooking. It's an easy way to add lots of flavor without mixing your own blend.
"Berbere, the East African spice blend that is an important component of Ethiopian cuisine, is an earthy mix of fresh-ground spices–the most important of which are chillies and fenugreek," says chef Corbin. "This blend is mild and aromatic with allspice, chili flakes, cloves, coriander, fenugreek, ginger, black pepper and salt." He recommends the See Smell Taste brand: "I use this spice in our house vinaigrette. It's great on grilled steaks or even sautéed veggies."
This spice pack is an easy way to add a burst of appealing, umami-packed flavor to many dishes, says chef Serpa. "This is a very traditional Latino spice packet that is in all pantries. It is used in soups and in marinades for pork."
Mustard Powder and Mild Onion Powder
Chef David Slay of Slay Restaurants in Los Angeles says the key to using these spices is mixing them together, and he explains how. "I mix mustard powder with wildflower honey and mild onion powder in our 5 Spice Baked Salmon," says Slay. "The mixture is both sweet and savory with a bit of tang that really complements the salmon. For the home cook, it's a dish you can make that can be utilized for multiple meals—as the star of the plate to a flavorful protein in a bowl or salad."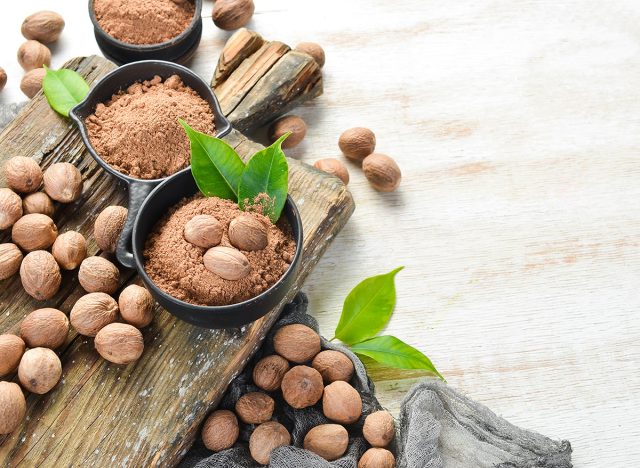 While you may think of nutmeg as a baking spice, blended in with other spices, it can bring out a richness to stews and more, says Christina Ferrari, chef and owner of the Shoreline Lake Boathouse & American Bistro in California. "I put it in seasoning blends for meat and fish and, of course, in baked goods," says Ferrari. "A little goes a long way! Nutmeg can make the difference in a dish due to its complex flavor, but people wouldn't even know that was the spice that made the difference."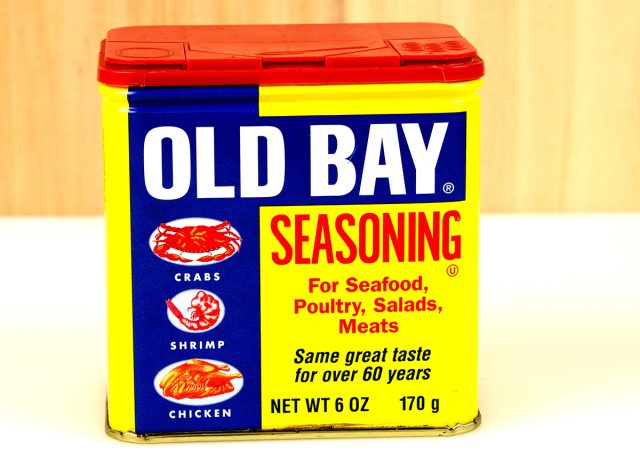 Ideal for seafood, this Maryland classic can liven up other dishes as well. "Old Bay is, well, Old Bay," says chef Zhao. "This obviously goes well with buttered corn and seafood, but it's also a really simple, easy way to jazz up fresh vegetables and proteins."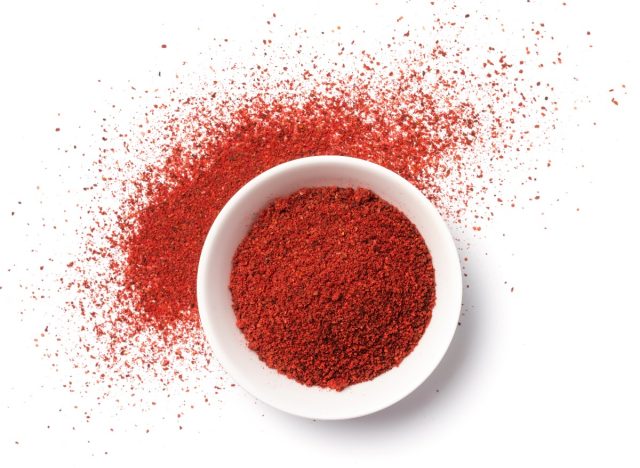 Made from chili peppers, this spice can have varying levels of heat, but a jar of simple paprika usually isn't too overpowering. It's a great topping for milder dishes, to give them a minor kick, says Head. He prefers Hungarian style, which tends to be slightly sweeter: "While most use paprika as a topping, we love using Monarch's Hungarian Style Paprika on our Home fries, Sticky Ribs, Lobster Mac and Cheese and more."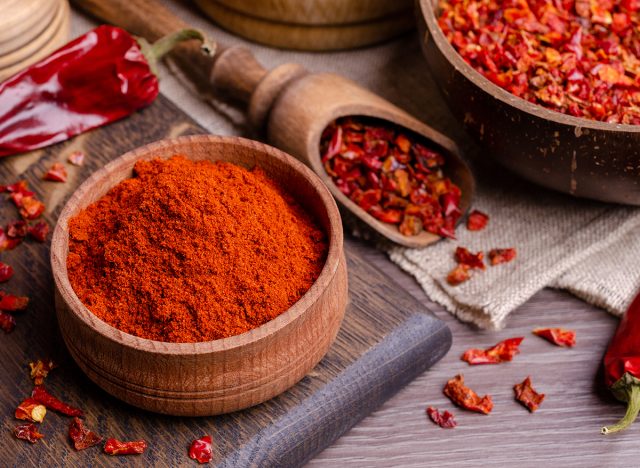 Paprika's delightfully smoky sibling adds slight notes of heat and smoke to dishes, and explains why you should keep it in your cupboard. "This spice is personal because of where I grew up," says Ken Shiro Lumpkin, executive chef at Tzeva in Sarasota, Fla. "This spice reminds me of growing up in the South, particularly in Memphis, and having cookouts with friends and, of course, Memphis BBQ. It's a spice with a long history and global influence. This spice is everywhere from stews, dry rubs, even that classic deviled egg. Its flavor profile of smokey, fruity, and slightly sweet lends itself to any outdoor activity and can be used on anything. Smoked paprika makes me smile remembering the memories of Memphis."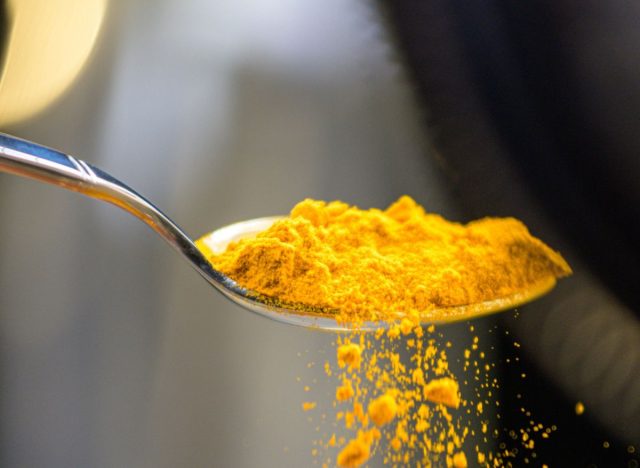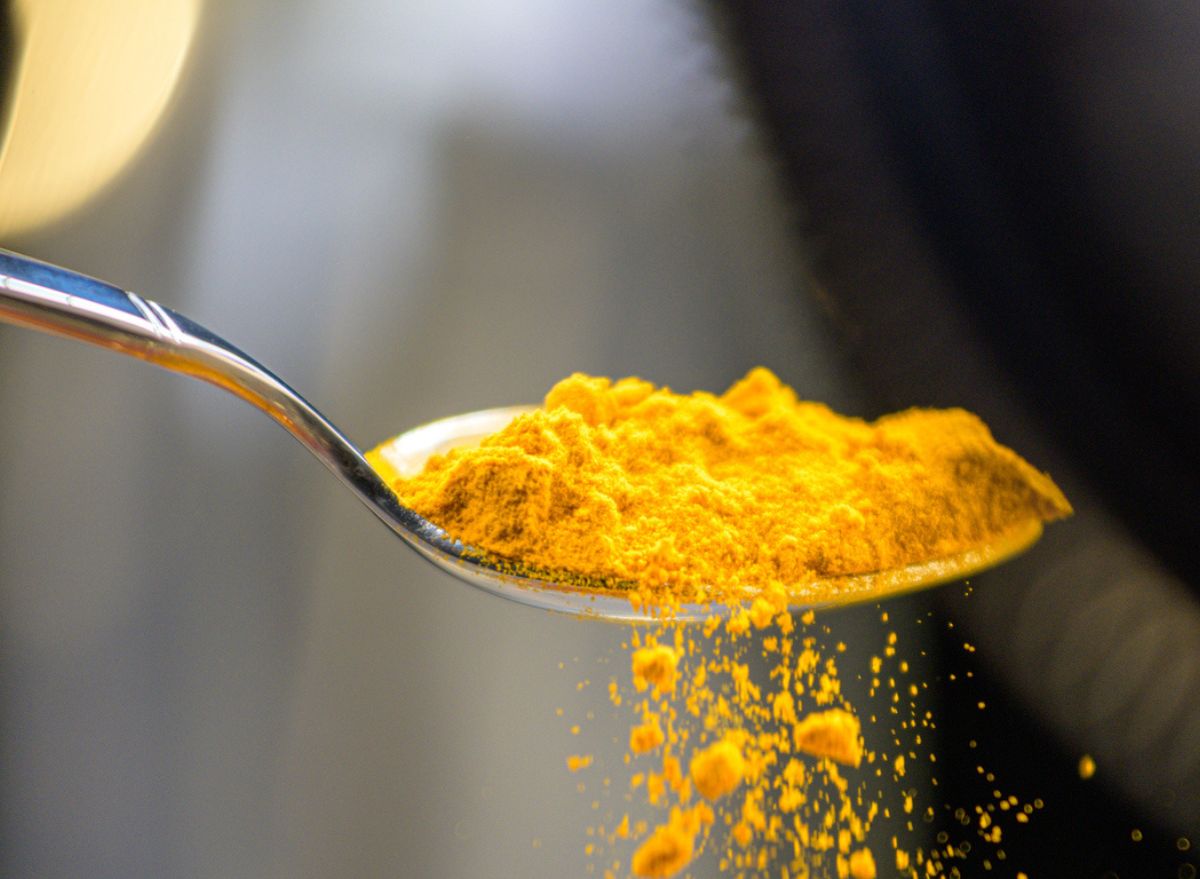 Native to Southeast Asia, this gorgeous orange spice has many variations around the world, and it's a pantry staple for James Beard Award-nominated chef Macarena Ludena, of Coracora in West Hartford, Conn. "A spice I love to use is palillo (Peruvian turmeric) which shows the Middle Eastern and South Asian influence in Peruvian cuisine," says Ludena. "Ground turmeric is perfect to give color to food, and that's why it's used in Aji de Gallina and Cau Cau." Turmeric also has science backed benefits, and works well with chicken or pork.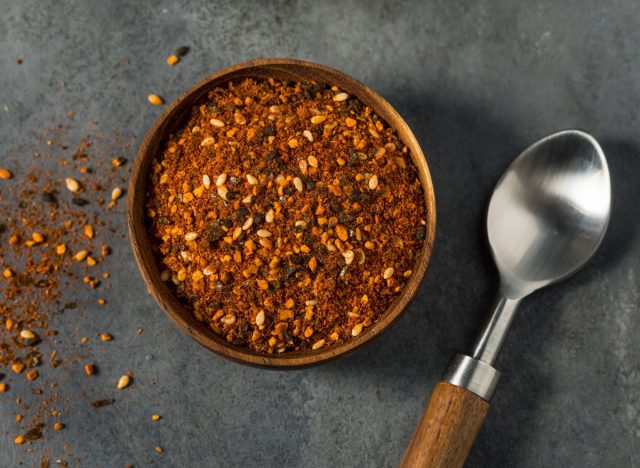 If you've had Japanese or Japanese-influenced dishes, then you might be familiar with this spice blend that's perfect for topping rice and many other dishes. Masaharu Morimoto, perhaps best known as TV's "Iron Chef," calls it "one of my all time favorite spices." Naturally, Morimoto is especially fond of his own Shichimi Togarashi, which is part of the chef's collection with purveyor The Spice House. "This spice is very versatile and makes a great topping to any Japanese soup, over pastas, tofu dishes, and vongole. My favorite way to use it is on my Spiced Car cocktail. If you rim the glass with Yuzu juice and coat it with togarashi it provides a flavorful and complimentary kick to the drink."
A spice blend that is popular throughout the Middle East, za'atar is a blend that's ideal for having on hand in a pinch, says Shawn Matijevich, lead chef of online culinary arts & food operations at the Institute of Culinary Education.
"This blend of herbs is really unique, I like to throw it on anything I'm cooking from vegetables to fish," says Matijevich. "The blend can vary a bit depending on region and the brand, but it's typically comprised of ​oregano, thyme, marjoram, coriander, sesame seeds, and sumac. It's really nice to have a spice blend on hand that is very versatile when you have to put something together quickly. My go to dish for the za'atar is a roasted head of cauliflower. I roast the cauliflower head in olive oil, curry powder, and za'atar and serve with Greek yogurt."
Tanya Edwards
Tanya Edwards is a seasoned food and health journalist, who has held roles at Yahoo Health as Managing Editor and at Food Network as Programming Director.
Read more about Tanya