30 Most Popular Chocolate Chip Cookie Brands — Ranked!
You've likely seen most of these cookies in your local grocery store, but which takes the cake?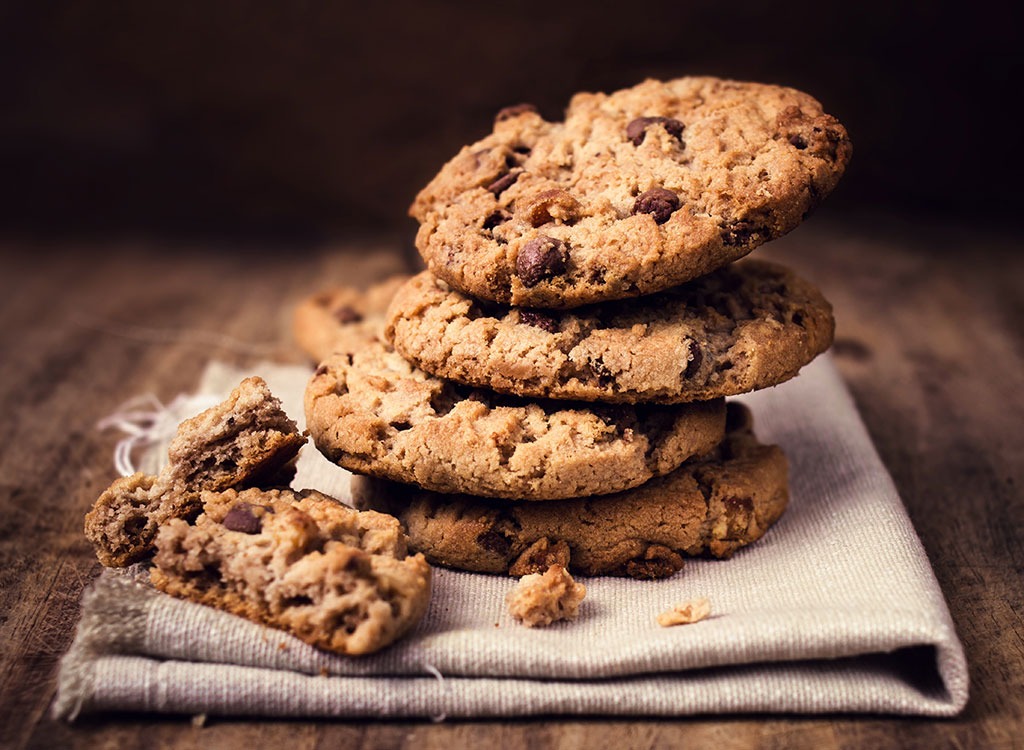 The classic chocolate chip cookie recipe is a simple one, yet it requires the perfect ratio of buttery biscuit to crunchy cocoa in order to satisfy. When you're not baking your own batch at home and need a chocolatey fix, the next best thing lives in your local supermarket's snack aisle—but which of the many cookie brands do you choose?
Luckily, we looked into the best chocolate chip cookie brands to see what's on the market that you'll love—and that people are already talking about. We've rounded up the most popular store-bought chocolate chip cookies and ranked them based on flavor, texture, cult following, and general availability. See what made our favorites lists, and find out which brand takes the cake—er, cookie, for us!
Go Raw Sprouted Choco Crunch Cookies
The coconut, dates, and pure cacao lend this vegan cookie a nontraditional flavor that resembles more of an energy bite or solidified smoothie. These will satisfy if you're seeking a chocolate fix, but if your heart is set on a real chocolate chip cookie, look elsewhere.
Market Pantry Chewy Chocolate Chip Cookies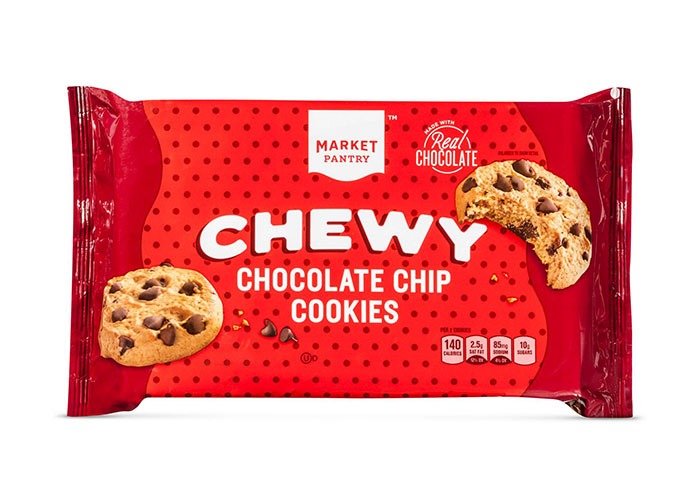 Who knew Target's house brand would boast such a delish line of the classic cookie? While this pick won't hold up to milk very well, it makes for a mean treat on its own.
Nice! Original Chocolate Chip Cookies
These crunchy guys have a pretty strong cult following for a drugstore brand. Walgreens' Nice line hits the spot for just under two bucks per package.
Alternative Baking Company, Inc. Colossal Chocolate Chip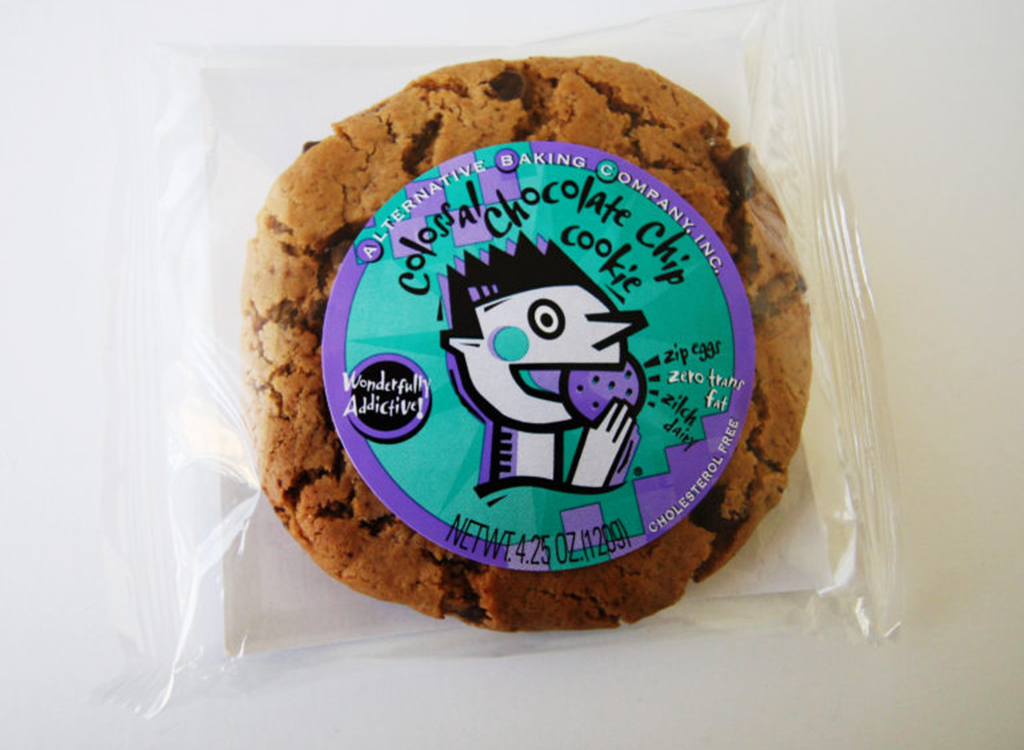 These gourmet cookies are baked in small batches without any eggs or dairy for some of the best vegan cookies you'll taste. Whether you use them as a chunky base for an ice cream sandwich or sneak a bite at midnight, you'll want to stock up ASAP. While Alternative Baking Company's treats only grace 5,000 stores nationwide, they're expanding to bring the plant-based goodness to more stores across the 50 states.
Trader Joe's Crispy Crunchy Chocolate Chip Cookies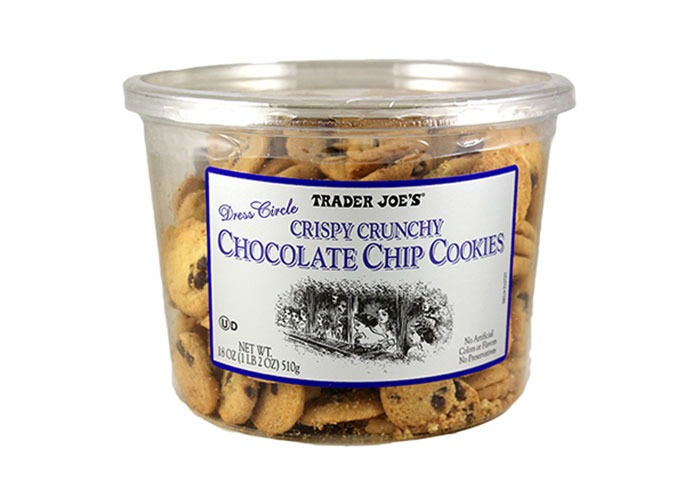 You can count on Trader Joe's to deliver some satisfying treats. (Hello, Speculoos cookie butter!) However, the beloved grocer doesn't woo fans quite as much with its take on the tried-and-true chocolate chip. Sure, they've got a decent amount of chips and are undeniably crunchy, but a blind taste test proves that they don't stand out against commercial crunchy chocolate chip cookies such as Famous Amos and Grandma's.
Whole Foods Market Two-Bite Soft Baked Chocolate Chip Cookies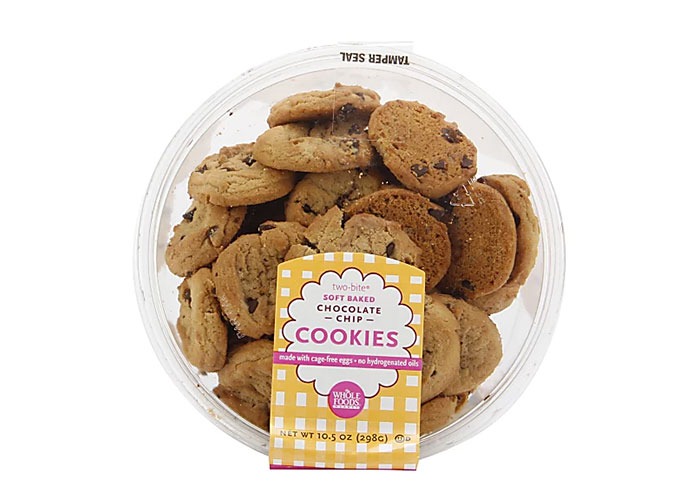 If you're on the hunt for a cookie sans high-fructose corn syrup and artificial flavors, Whole Foods' pick is your go-to. The simple recipe makes for a solid cookie. And because each treat makes for just two bites, you can stick to the serving size and feel satisfied. Like Trader Joe's cookies, WF's offering is pretty niche, which prevented this pick from climbing to the top of our list.
Annie's Homegrown Chocolate Chip Cookie Bites
Annie's Homegrown proves that good things, indeed, come in small packages. These cookies are bite-sized, yet fully loaded with the authentic chocolate chip flavor we know and love. Fans rave about how Annie's manages to achieve Chips Ahoy's classic flavor and signature crunch with only wholesome ingredients.
Back to Nature Chocolate Chunk Cookies
Dense, semi-sweet chocolate chunks make this treat a cocoa lover's dream. With flavors so indulgent, you'll only need a few bites to kick cravings to the curb. The relatively clean ingredient list ensures you're getting a better-for-you cookie. And you won't even have to take a trip to a natural grocer to get your hands on these goodies—you can grab a box at your local ShopRite or Walmart.
Pepperidge Farm Farmhouse Thin & Crispy Milk Chocolate Chip Cookies
These cookie thins will satisfy if you're a crunch fan, but don't expect one mere disk to suffice. These skinny cookies are so perfectly sweet, crisp, and light, you'll think they were designed with the intention of eating the entire bag in one sitting.
Kashi Oatmeal Dark Chocolate
Sure, Kashi sneaks heart-healthy oats into its cookie recipe, but that shouldn't deter you from tossing these into your shopping cart. They pack in fiber without compromising flavor, which will leave you full sans scarfing down an entire sleeve.
Lenny & Larry's The Complete Cookie, Chocolate Chip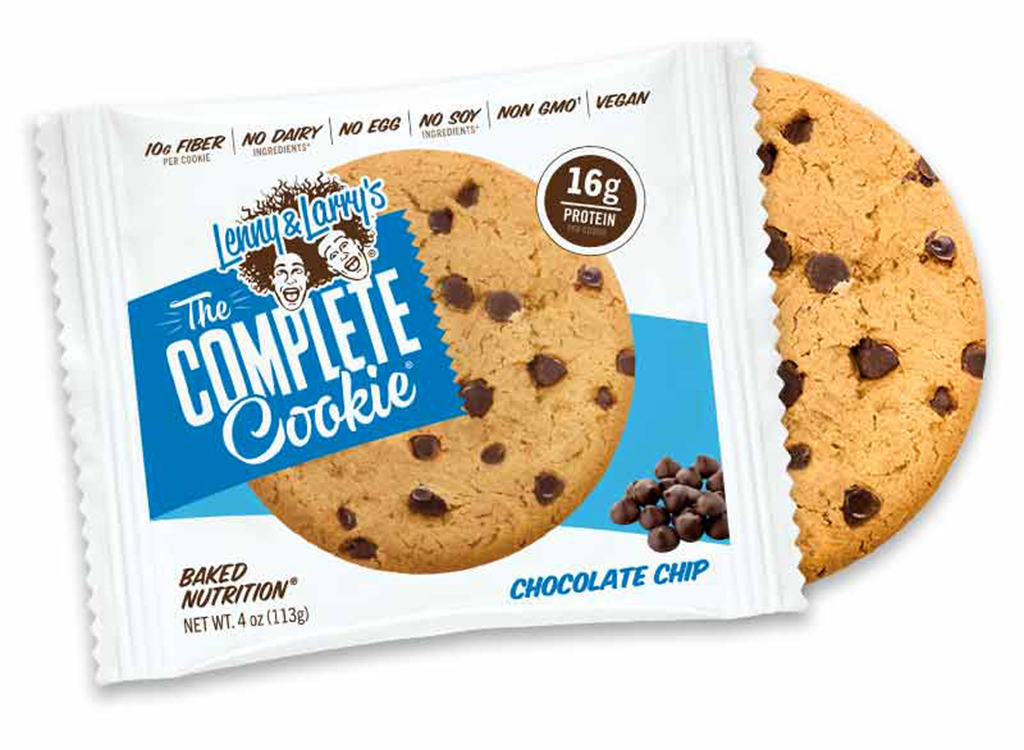 Each powdery bite reminds us that this enormous cookie is more for muscle-building purposes than indulgence. The Complete Cookie is replete with two sources of protein and serves as more of a meal replacement than a post-dinner dessert. Grab this Amazon best-seller if you want a treat with some sustenance.
Munk Pack Peanut Butter Chocolate Chip Protein Cookie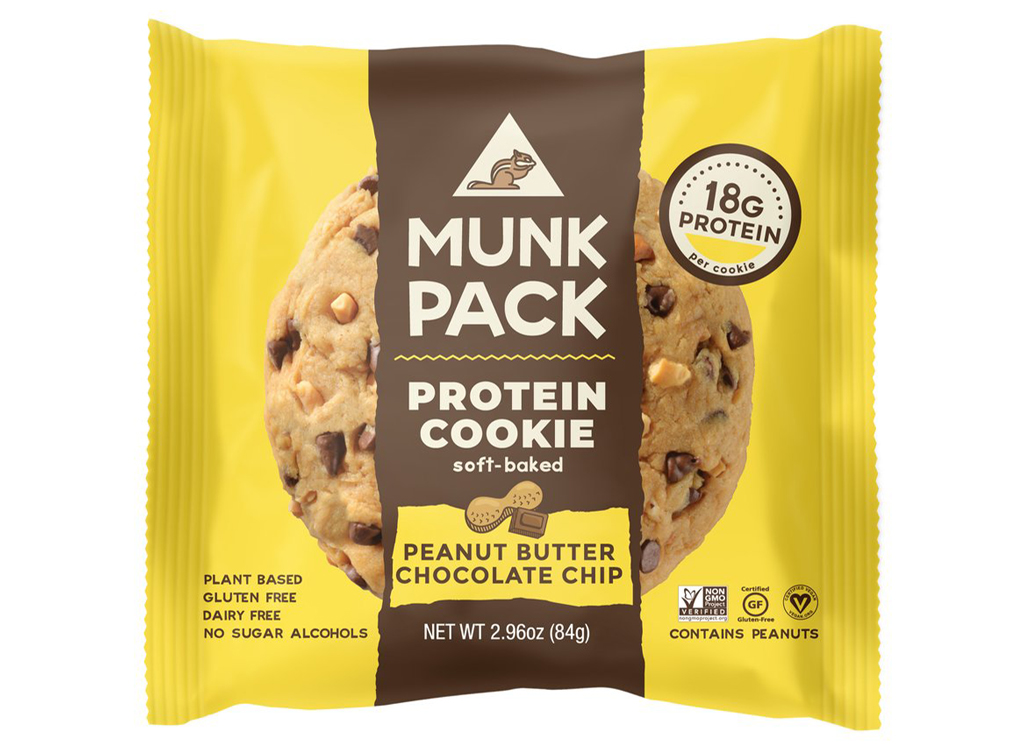 Munk Pack spikes its cookie dough with peanut butter for added creaminess. Taste-wise, we give this pick a go because how can you go wrong with the classic chocolate and PB combo? But, you'll likely have to keep your eyes peeled for this one because, chances are, it's not sharing supermarket real estate with Chips Ahoy.6254a4d1642c605c54bf1cab17d50f1e
Nana's Chocolate Chip with Walnuts Cookies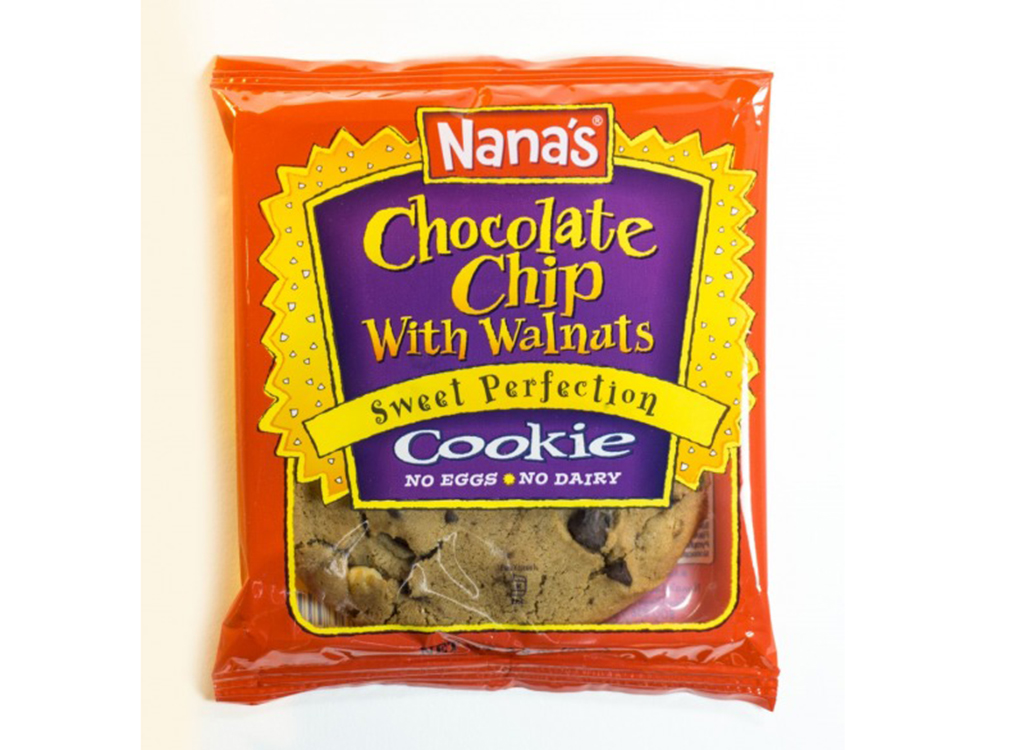 Nana's starts with a whole-wheat dough base before sprinkling in chunks of omega-3-packed walnuts for added crunch and nuttiness. The untraditional treat packs in more crunch than your average chocolate chip cookie, which we like, but we had to dock points because of Nana's recent recipe change that was met with much displeasure. You can find these in your local Whole Foods or Ralph's.
Lucy's Gluten-Free Chocolate Chip Cookies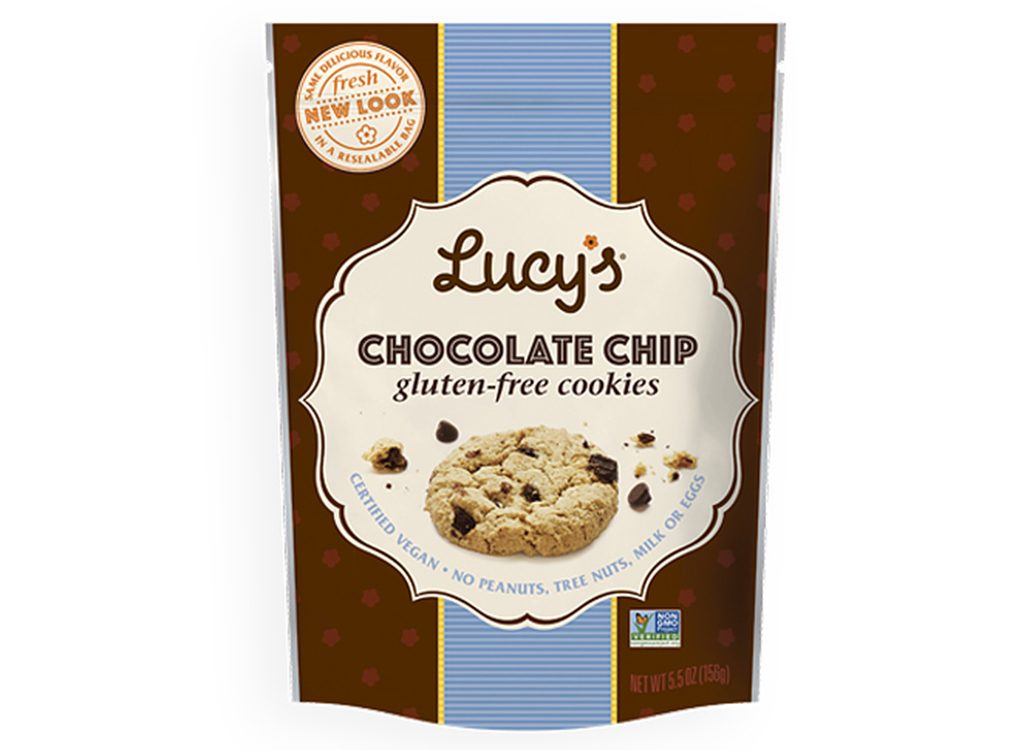 Westminster Bakers, the makers of Lucy's gluten-free cookies, have been baking since their humble post-revolutionary beginnings. After perfecting their iconic crackers, the brand moved onto cookies, and that's how Lucy's came about. These gluten-free treats taste as authentic as they come, but we wish they were more widely available.
Archway Chocolate Lovers Soft Chocolate Chip Cookies
Fans swoon over Archway's chewy chocolate chip cookies that are thick, moist, and smell just like the homemade stuff. This chocolate lover's dream is totally underrated.
Emmy's Organic Coconut Chocolate Chip Cookie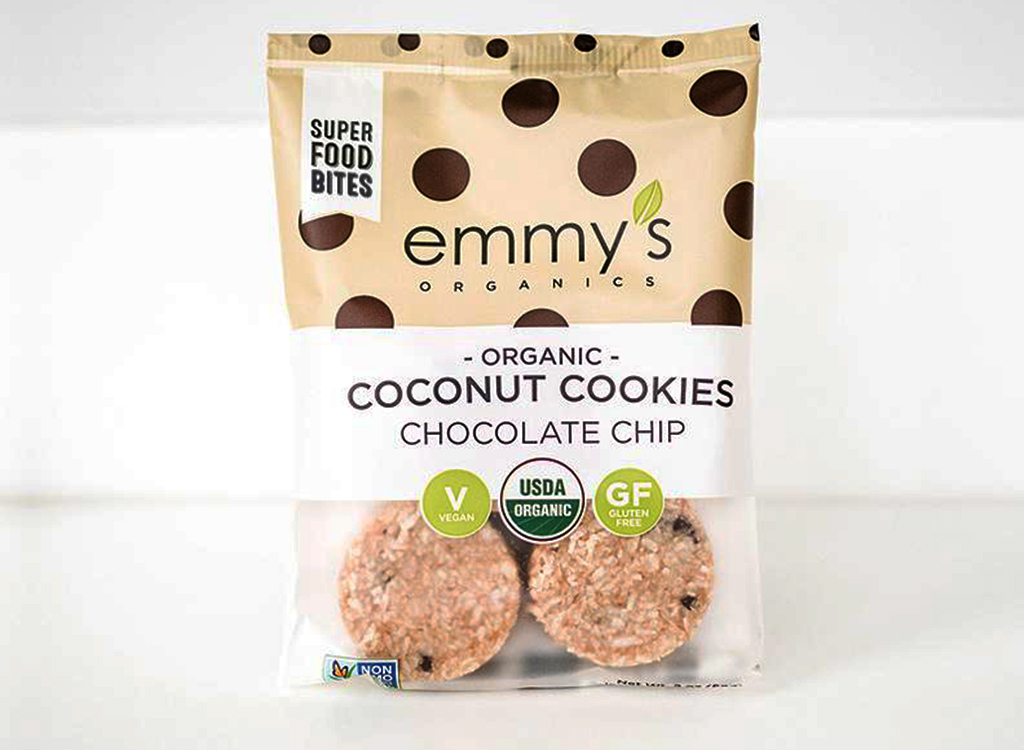 Emmy's organic cookies almost look like rice cakes at first glance, but at first bite you'll be met with flaky coconut and robust cocoa for a treat that surely doesn't lack flavor. Fans compare the melt-in-your-mouth chips to Ferrero Rocher. Whole Foods run, anyone?
KNOW Better Cookie Chocolate Chip
You'll never know that Know's clean cookie is actually good for you. It's soft-baked to achieve the perfect break-apart texture and laced with rich chocolate chips in every bite.
Udi's Gluten-Free Chocolate Chip Cookies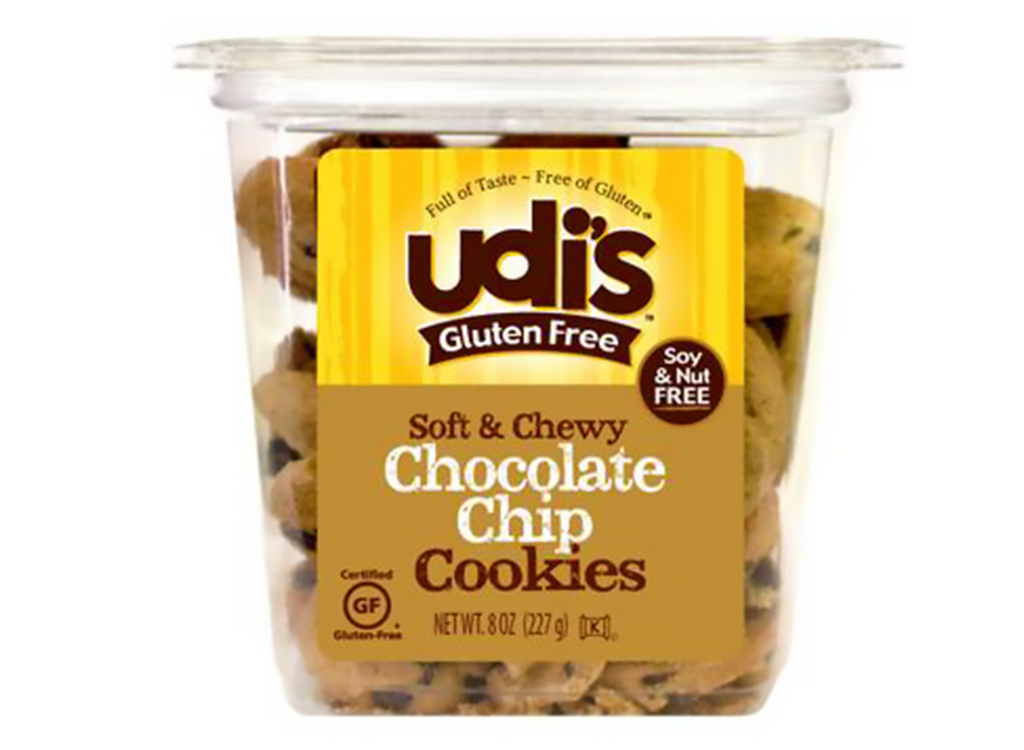 Even though they're gluten-free, you'll be too tempted not to reach into the cookie jar if you stock up on these on the reg. As one of the most popular gluten-free chocolate chip cookies, Udi's crunchy treats are ubiquitous to most stores.
Simple Mills Soft Baked Chocolate Chip Cookies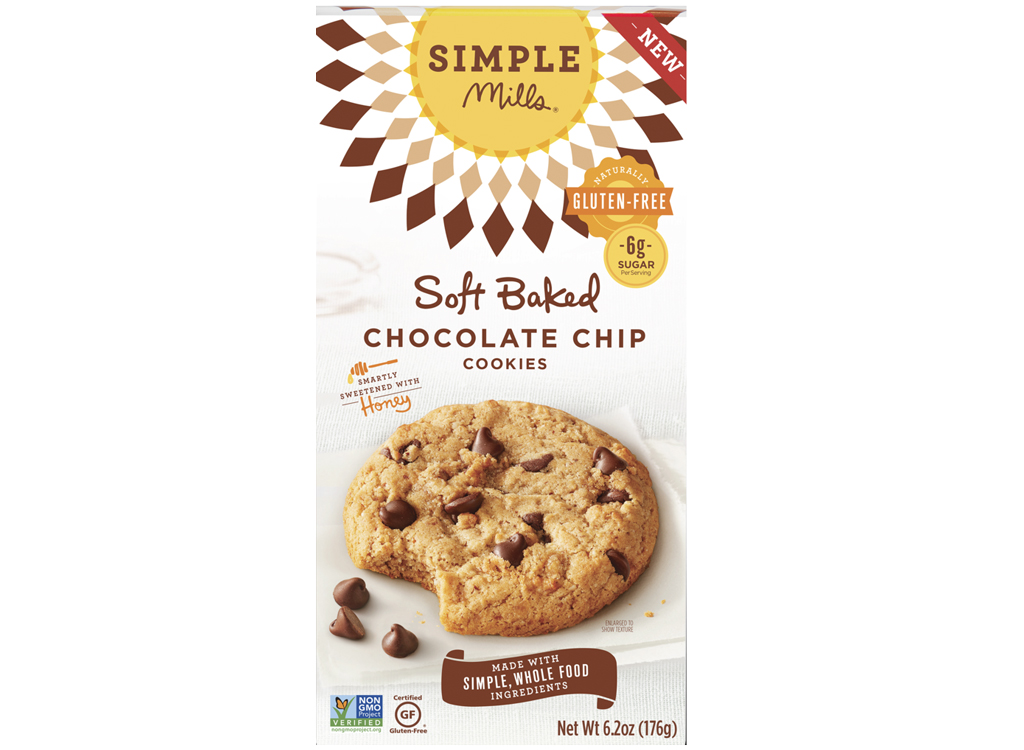 This nutrient-dense treat may not taste just like the cookies you buy at the local bakery by the pound, but they pack in a satisfying amount of chocolate chips to crush any sugar craving. Simple Mills' gluten-free cookies are sweetened with honey for a natural flavor that doesn't overwhelm.
Tate's Bake Shop All Natural Chocolate Chip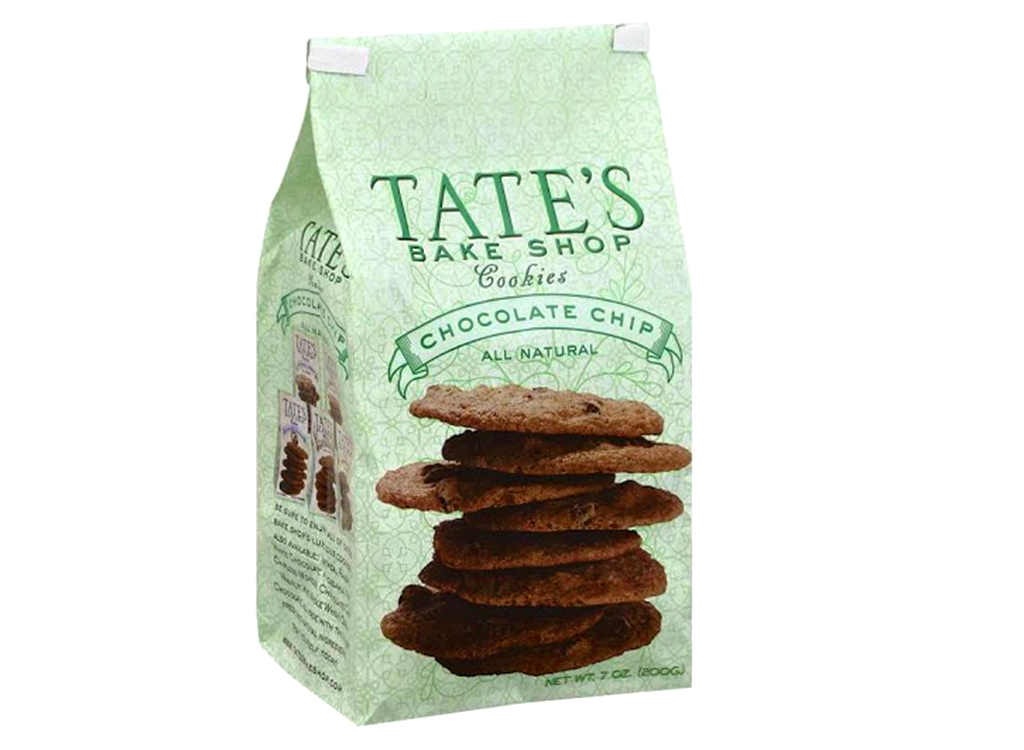 New Yorkers flock to Tate's charming Southampton store for its chocolate chip cookies, and luckily enough, the brand brings their deeply delicious treats to supermarkets across the nation. The simple and wholesome ingredients, from the brown cane sugar to the vanilla extract, remain true to Tate's commitment to crafting these "The Bake Shop Way." The result? An unadulterated, quality cookie that's worth every bite.
Fiber One Soft Baked Chocolate Chunk Cookie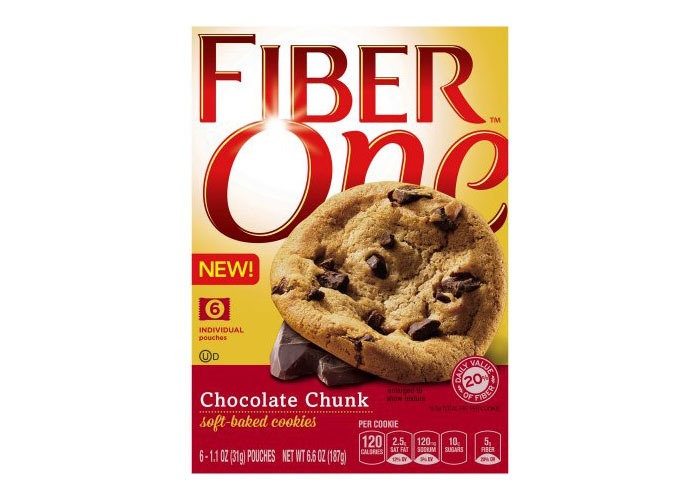 Desserts with the added benefit of digestion-aiding fiber? We'll take it. Fiber One's attempt at healthifying the classic cookie is actually a solid success. We bet your taste buds will never detect that this soft-baked treat is actually (sort of) good for you!
Glutino Gluten-Free Chocolate Chip Cookies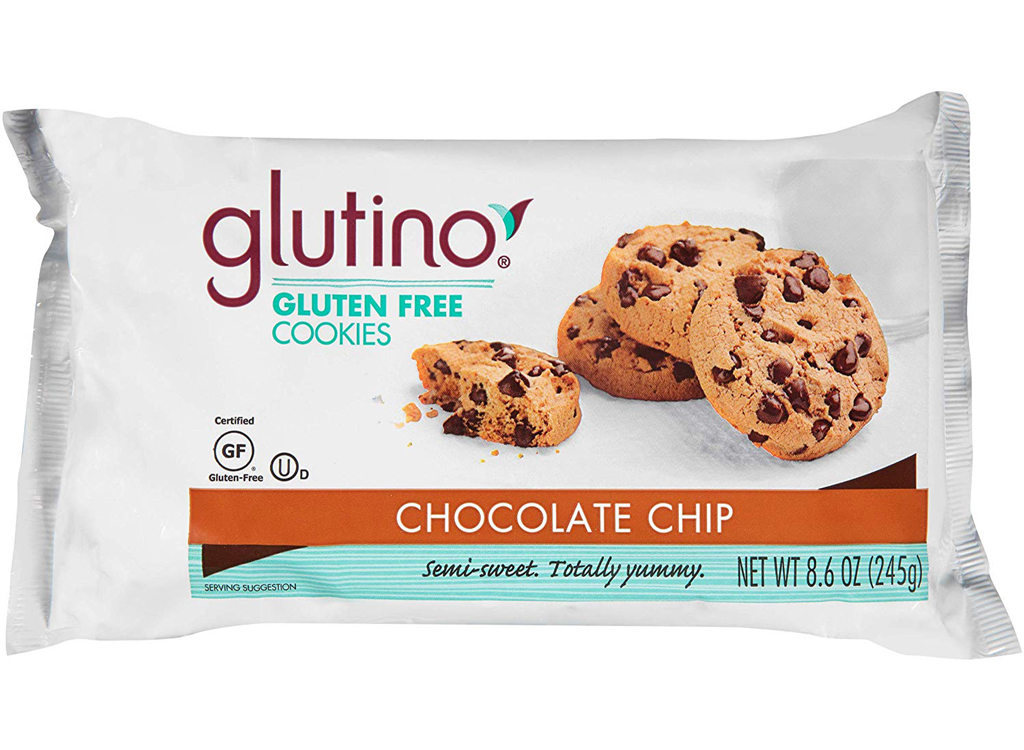 This gluten-free cookie graces Amazon's best-seller list probably because it offers the same great taste you'd expect of the classic confection—sans wheat.
Enjoy Life Chocolate Chip Crunchy Cookies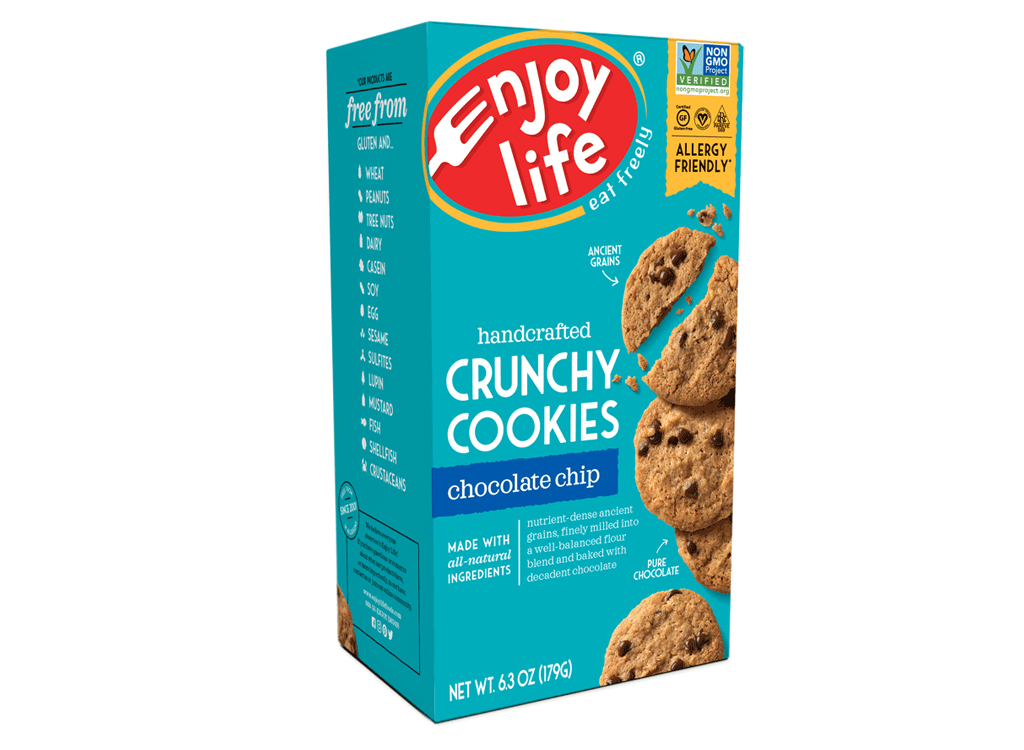 Enjoy Life's batch is baked with gluten-free rice, buckwheat, and millet before dairy-free chocolate chips are sprinkled in. They've got the perfect crisp and wholesome chocolatey taste and make for a solid snack when paired with a tall glass of almond milk. When it comes to vegan and allergen-free cookies, Enjoy Life undoubtedly takes the cake.
Pepperidge Farm Montauk Milk Chocolate Chunk Cookie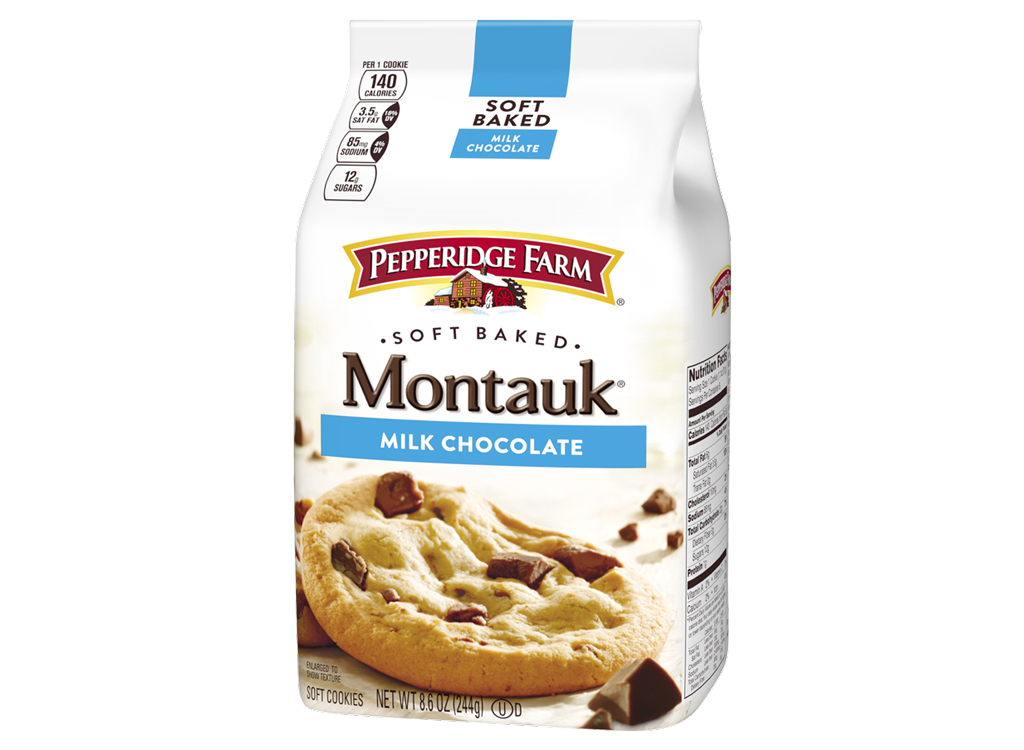 Leave it to Pepperidge Farm to bake a cookie that's pillowy soft and loaded with creamy milk chocolate for a total melt-in-your-mouth experience. Each cookie is divinely chewy without being doughy, and pairs well alongside a glass of milk (we prefer to sip after each bite rather than dunk). Pepperidge Farm's Montauk Milk Chocolate Chunk Cookie is one of Amazon's best-selling cookies, and we're definitely not surprised.
Mrs. Fields Semi Sweet Chocolate Chip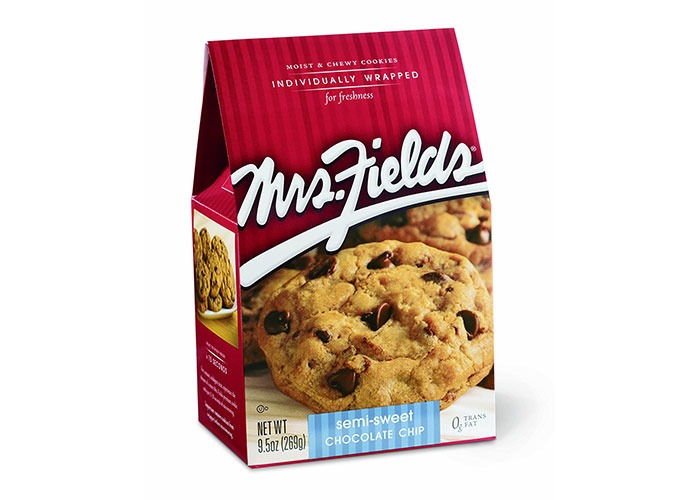 You can count on Mrs. Fields' outrageously large cookie to crush even the most stubborn sweet tooth. It's soft, chewy, and the closest you'll get to a homemade batch.
Grandma's Chocolate Chip Cookies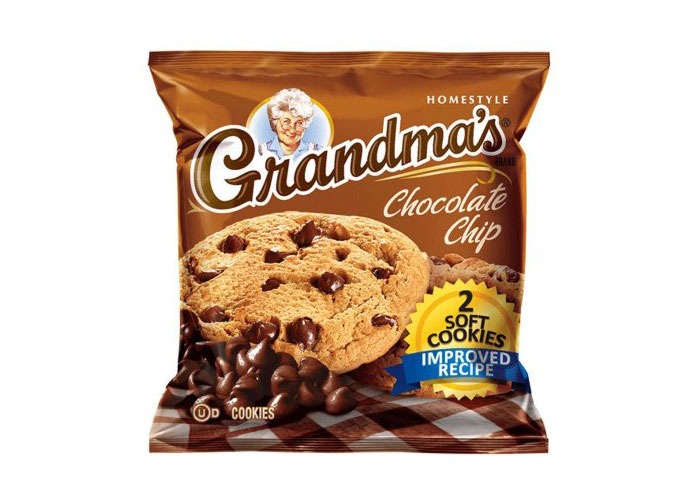 No one does dessert better than grandma, and this confection is no exception. Fans swear by popping these into the microwave for a truly decadent bite.
Keebler Chips Deluxe Original
We've got to hand it to the Keebler elves for crafting such a delicious cookie. The dense treat is jam-packed with hearty chocolate chunks that hold up to milk dunks.
Entenmann's Milk Chocolate Chip Cookies
It's safe to say that you can never go wrong with Entenmann's divine, soft-baked bites. These cookies are relatively small, which makes it that much easier to inhale at least half the box.
Famous Amos Chocolate Chip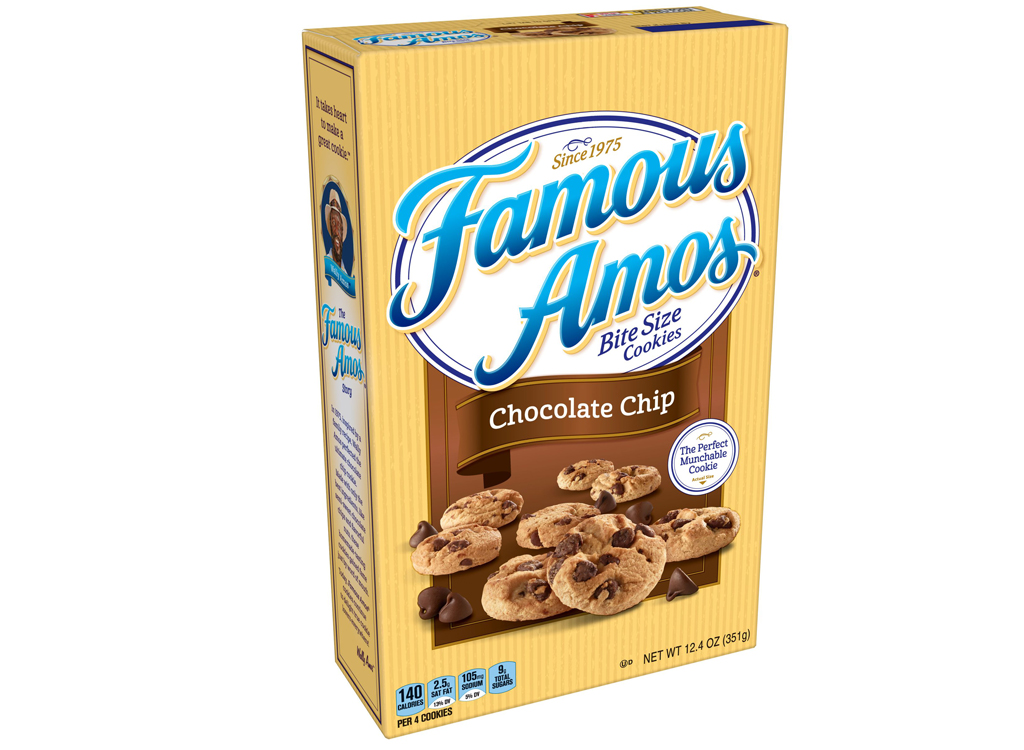 These bite-sized treats make for a perfectly portioned snack. Whether you're tossing a bag into your kid's lunchbox or munching on these midday, these Ambrosia-chip-studded sweets will become your go-to snack.
Nabisco Chips Ahoy Original Chocolate Chip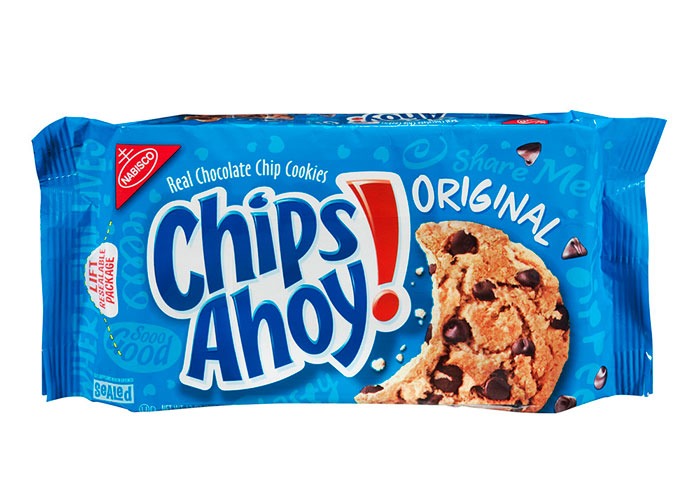 A childhood staple and current midnight vice, it's no surprise that the OG brand ranked as our number-one most popular chocolate chip cookie! Since its debut in the early 1960s, Chips Ahoy's crunchy and perfectly studded cookies have stolen a spot in Americans' hearts and pantries.
April Benshosan
April is a born-and-raised Brooklynite who has a passion for all things health, wellness, and tastebud-related.
Read more about April