Nestle Can Now Deliver Freshly Baked Cookies To Your Door
Few flavors are quite as nostalgic for American consumers as Nestle Toll House cookies.
Whether follow the recipe written on the back of your chocolate chip pack or get your chocolate chip cookies frozen and oven-ready, Nestle Toll House is an indelible part of American childhood memories. Now, that nostalgia is coming to your home fresh from the oven via Nestle's new delivery service. The cookies might even show up warm.
The company has partnered with delivery-only brand creator Nextbite and its independent restaurant partners to sell six flavors of freshly baked cookies on UberEats, GrubHub, and DoorDash. The cookies on offer include chocolate chip, peanut butter chocolate chip, white chocolate chip and macadamia nut, pecan turtle, snickerdoodle, and sugar. But it doesn't stop there because edible cookie dough, Haagen-Dazs ice cream, and (obviously) milk, are also available.
Delivery is currently available in seven markets—Washington, D.C.; Dallas and Sugar Land, Texas; Amherst, N.Y.; Downer's Grove, Ill.; Louisville, Ky.; or Tampa, Fla.—but an expansion is imminent. Prices range from $2 to $2.35 per cookie, and a box of 6 costs between $11.50 and $12.50.6254a4d1642c605c54bf1cab17d50f1e
Based on the original chocolate chip cookies invented by chef and dietitian Ruth Wakefield at the Toll House Inn in Whitman, Mass., Toll House cookies are about as famous and recognizable as a cookie can be. They have been around for nearly 100 years, first debuting at the restaurant in the early 1930s.
The story goes that Wakefield took a vacation to Egypt, and when she returned home, she was inspired to make changes to her menu. According to an interview with her from the 1970s, "We had been serving a thin butterscotch nut cookie with ice cream. Everybody seemed to love it, but I was trying to give them something different."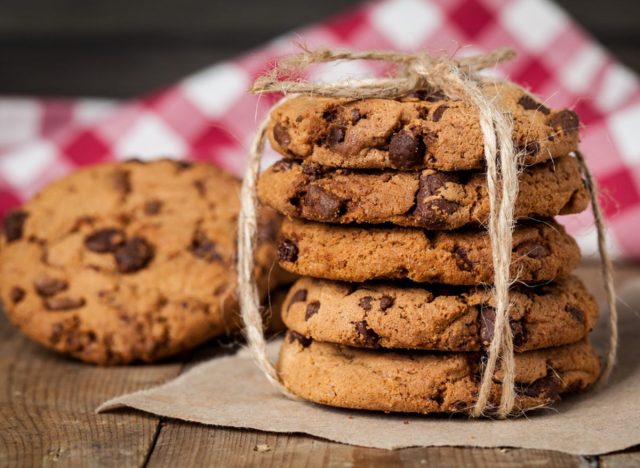 She realized during recipe testing that the only chocolate she had was a bar of Nestle semi-sweet, rather than the bitter baker's chocolate she had planned on melting into the new cookies. She decided to go with it, breaking the chocolate into tiny pieces with an ice pick.
The rest, as they say, is history. In 1939, Nestle contacted Wakefield about printing her recipe, and she purportedly sold it to them for a dollar. That purchase propelled the Toll House name to live on for generations. The brand even launched Nestle's Toll House Cafe, an 85-location cookie chain that was just sold to Fat Brands.
Lizzy Saxe
Lizzy Saxe is an accomplished food and pop culture writer whose work has appeared in Forbes, Food & Wine, Eater, and Literary Hub, among others.
Read more about Lizzy