We Tasted 6 Packaged Chocolate Chip Cookies & This Is the Best!
When the craving for a sweet treat hits, these are the cookies you're going to want to add to your shopping cart.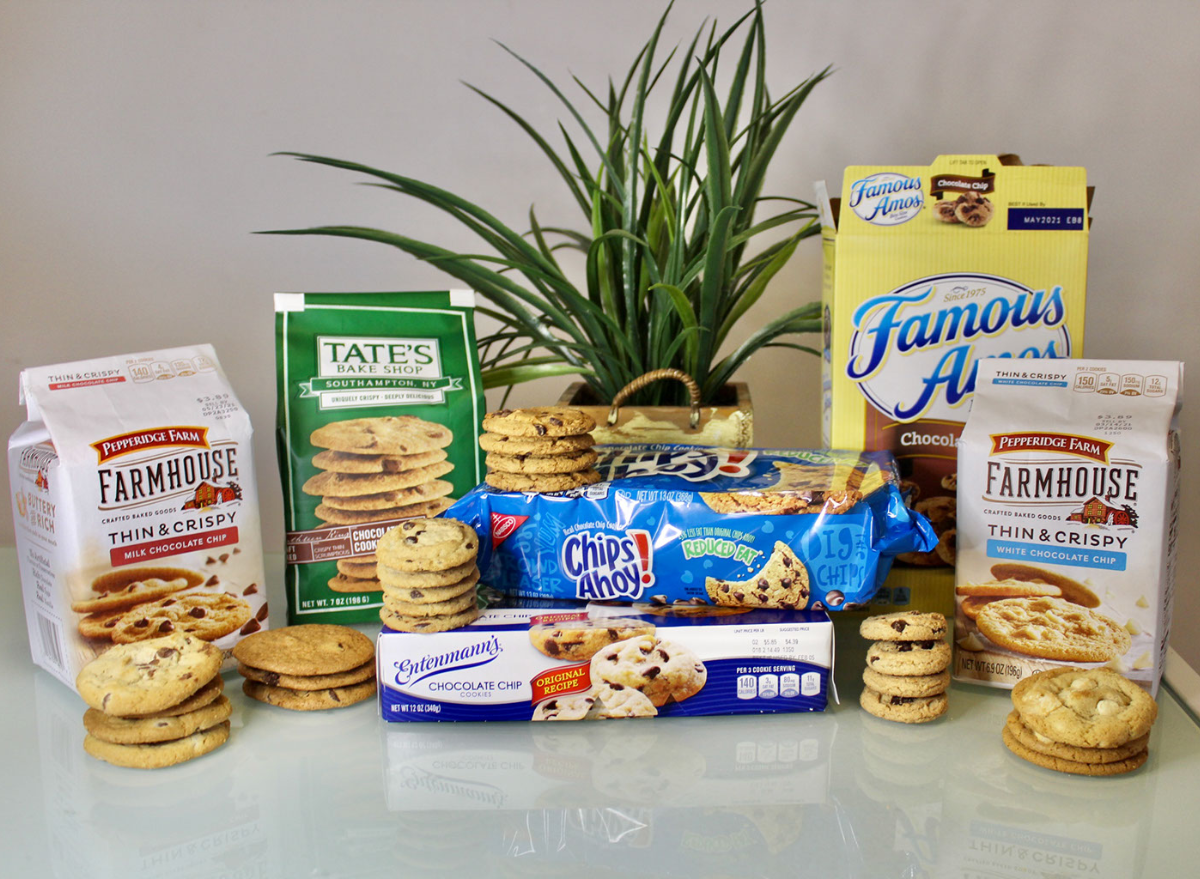 There really is nothing quite like a chocolate chip cookie. It's the perfect sweet treat, each bite filled with crumbs of deliciousness that are crisped to perfection and enhanced flavor-wise thanks to the chocolately goodness that is sprinkled throughout. The world wouldn't be a much darker place if chocolate chip cookies didn't exist, that's for sure.
And while baking some yourself is one pastime we fully support, sometimes you just want to dig right in without having to wait for them to bake. That's where the store-bought cookies come in.
But which option is the best?
Well, we went ahead and tasted some of the most popular chocolate chip cookies you'll find in the grocery store to determine which one really is the tastiest option. In alphabetical order, here are the store-bought cookie brands we tasted.
Chips Ahoy!
Entenmann's
Famous Amos
Pepperidge Farm Farmhouse (Thin & Crispy)
Tate's Bake Shop
We closely examined each cookie's appearance, texture, and overall flavor to conclude which option deserves the No. 1 spot. We ranked the cookies from the not so bad to the absolute best that is most likely to have you eating the whole package in one sitting. So without further ado, see which cookie reigns supreme, but if you're in the mood to bake your own, check out We Tasted 7 Cookie Dough Brands & This Is the Best!
Famous Amos Chocolate Chip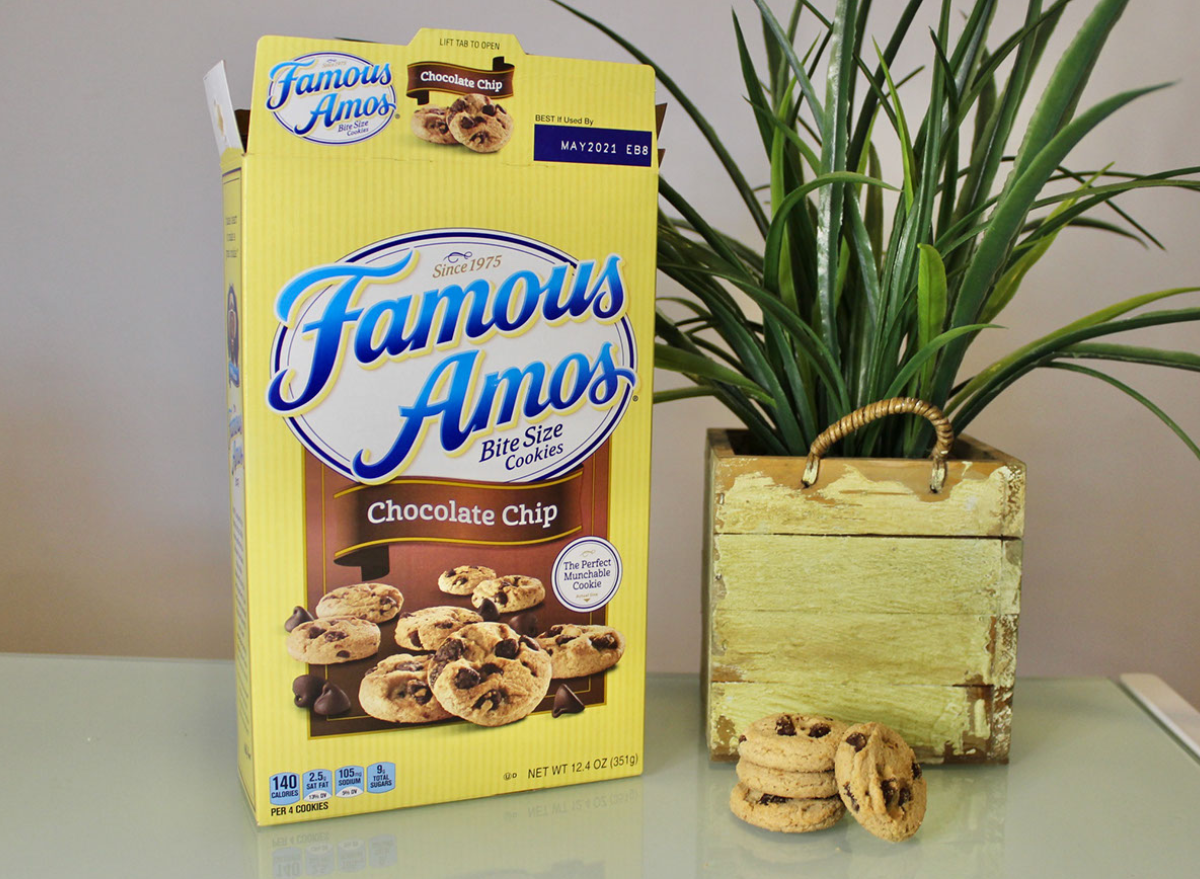 If you really like your cookies to have major crunch, Famous Amos is the option for you. Our tasters agreed these bite-sized cookies were the crunchiest—and therefore left behind a lot of crumbs. Overall, these cookies had more of a bland, biscuit flavor to them, though, which isn't really what you're looking for when you're in the mood for a decadent cookie.
"I would only eat these if they were the only option. Yuck!" one taster said.
That says all you need to know…
Pepperidge Farm Farmhouse Thin & Crispy, Milk Chocolate Chip
Out of all the cookies that were tasted, Pepperidge Farm Farmhouse Thin & Crispy Milk Chocolate Chip flavor received the highest ranks for their appearance, as they "look the most like soft, fresh-baked cookies." But these really are thin and crispy, as the name suggests. One taster noted the cookies were a bit too sweet for her liking and the milk chocolate was a bit, well, milky in flavor.6254a4d1642c605c54bf1cab17d50f1e
Pepperidge Farm Farmhouse Thin & Crispy, White Chocolate Chip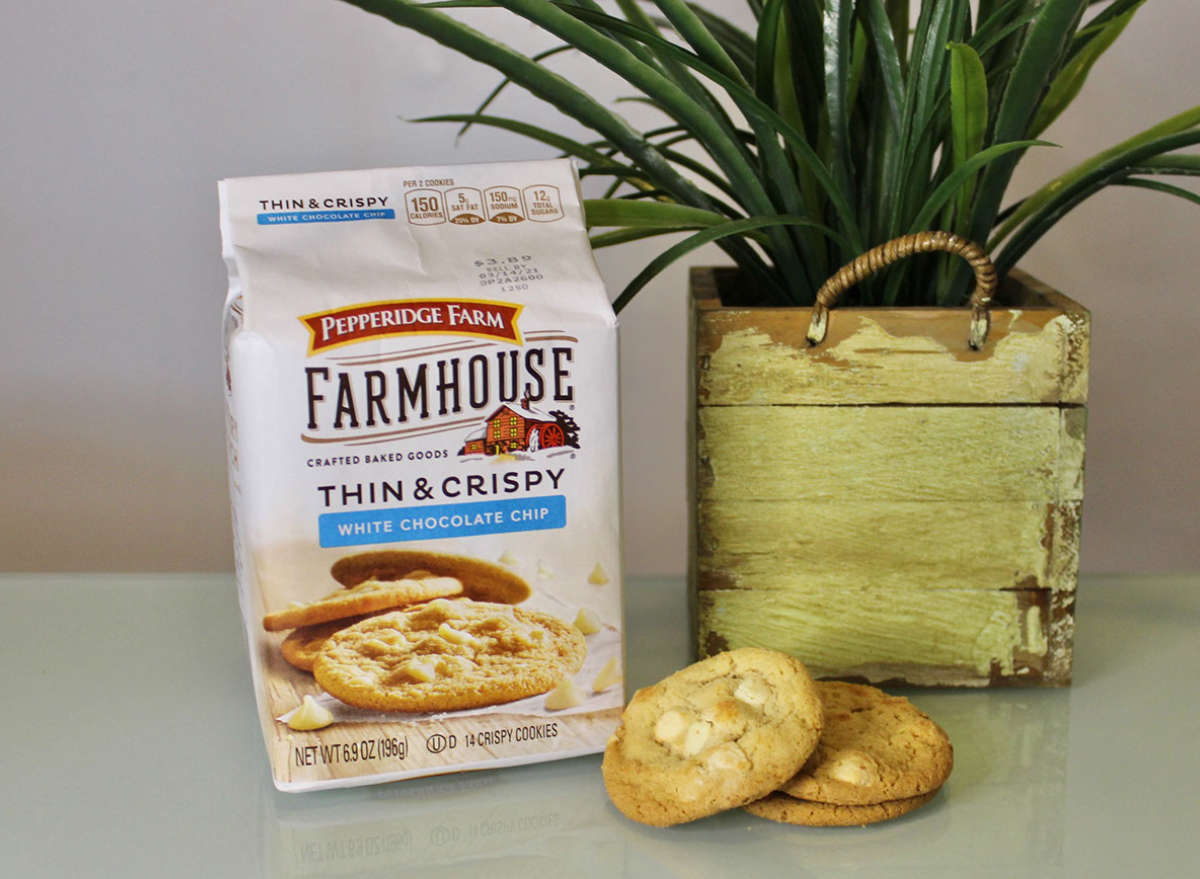 Oh, look, another Farm Farmhouse Thin & Crispy option! The white chocolate chip variety scored higher than its milk chocolate chip cousin, and that's because of the cookies' "super buttery flavor," as the tasters noted. The white chocolate makes for a richer tasting treat and if you're looking to divert from the traditional milk chocolate, this isn't a bad substitute.
Chips Ahoy! Chocolate Chip Cookies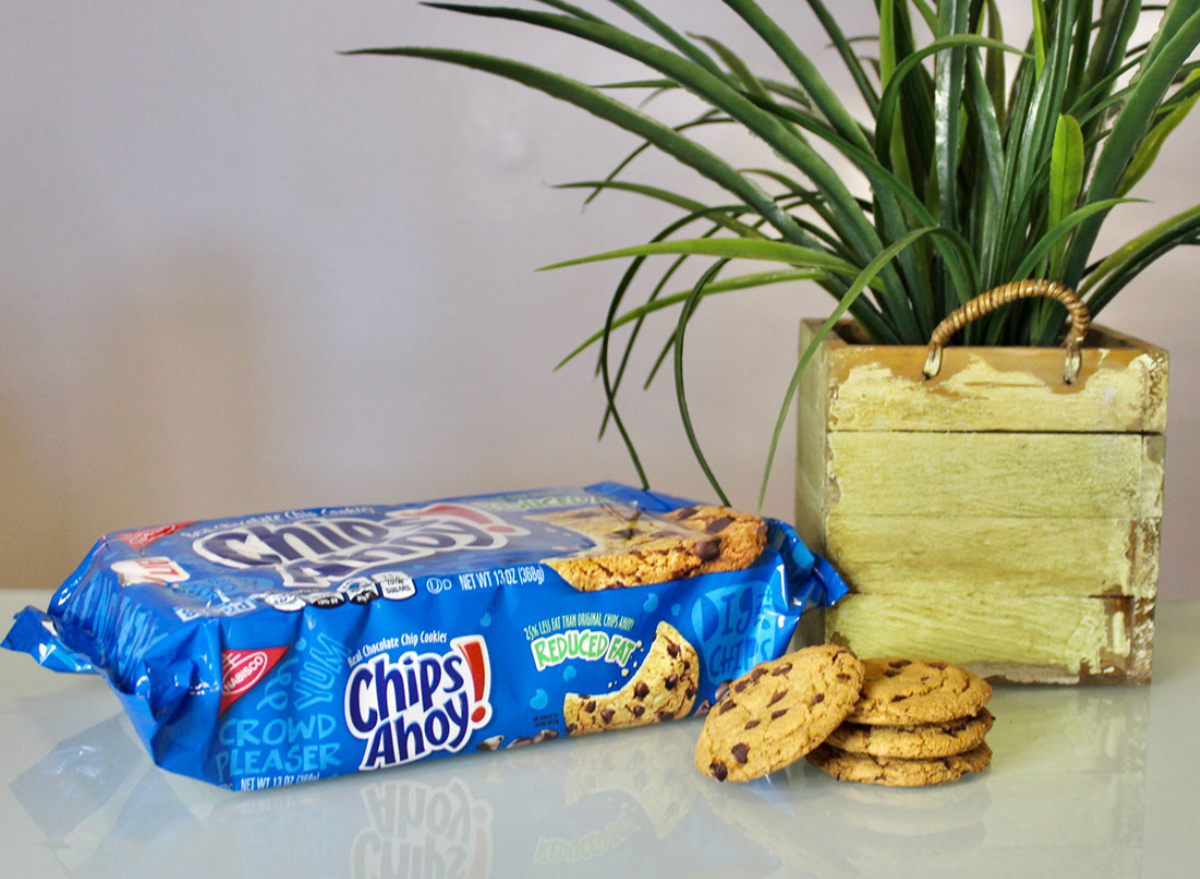 We're just going to say it—Chips Ahoy! is a classic that brought on a wave of nostalgia for our tasters.
"They are hard rock honestly, but I don't mind because one bite, and it reminds me of being a kid in the lunchroom again," one taster said. While these cookies looked the most artificial and processed, our tasters were pleased with the flavor.
"I like the subtle sweet [taste] and the mini chips melt in your mouth," another taster added.
Looking for more? Sign up for our newsletter to get daily recipes and food news in your inbox!
Entenmann's Chocolate Chip Cookies Original Recipe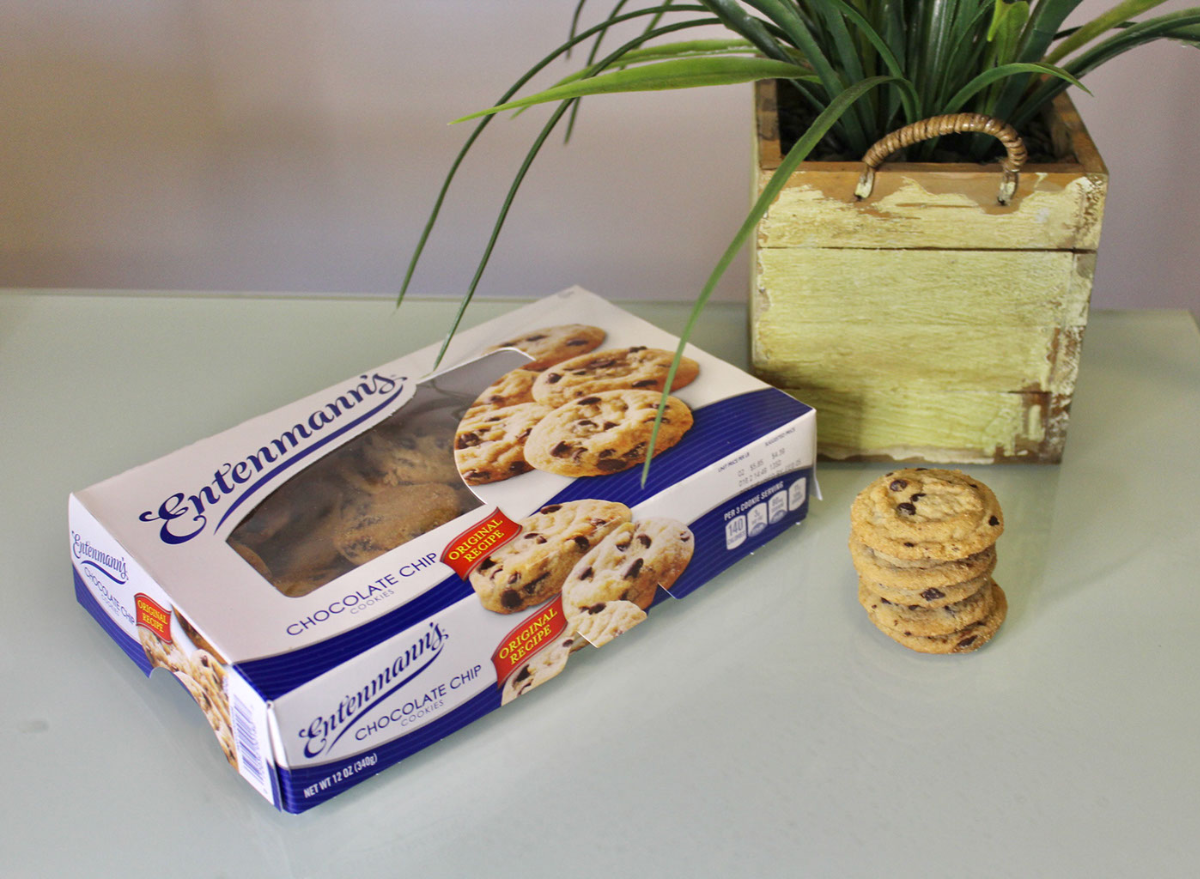 If you're looking for a soft cookie that best mimics that of a freshly baked batch in appearance, these mini Entenmann's cookies are the way to go. Our tasters agreed these cookies were more sugary than some of the other options, but they were still enjoyable.
Tate's Bake Shop Chocolate Chip Cookies
And now for the top dog, or shall we say cookie, in the grocery store. It's none other than Tate's Bake Shop.
Our tasters really couldn't stop raving about these cookies!
"These are nice and thin, as I'm not a thick cookie fan. They're slightly buttery with a great amount of crunch, like my favorite type of homemade cookies are," one taster said.
Another tasted called these cookies her "go-to" and said she can "eat a whole bag of these in one sitting, as the crunch is addicting."
When in doubt, go for the Tate's!
Check out more exclusive taste tests:
We Tried 6 Vanilla Cake Mixes & This Is the Best!
We Tasted 5 Beloved Costco Pastries & This Is the Best
Jennifer Maldonado
Jennifer Maldonado is a senior editor at Eat This, Not That!, specializing in food and health content.
Read more about Jennifer