37 Coziest Coffee Shops in New York City
No matter the neighborhood, we've got the spot for you.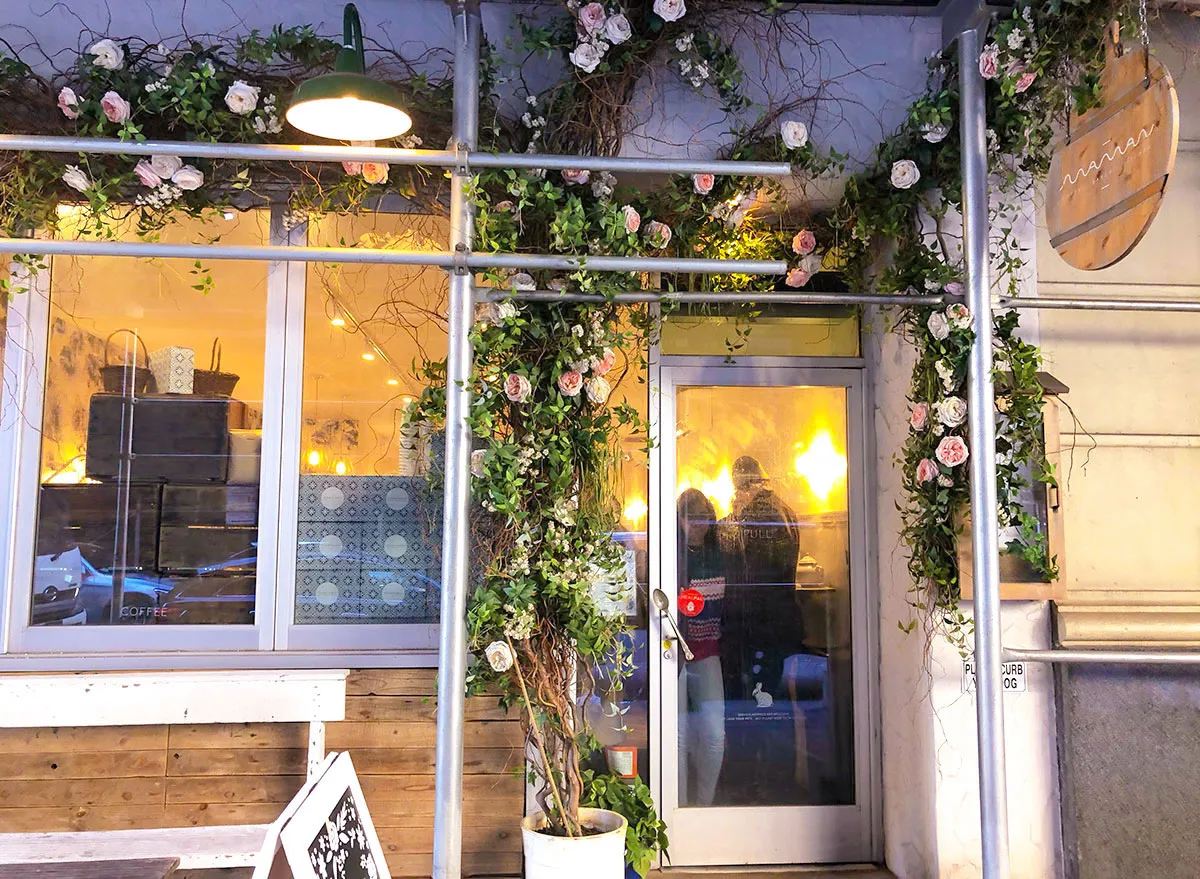 Whether you're visiting New York City for the first time or you're a local, there is no reason to rely on international chains like Starbucks or Dunkin' for your morning cup of coffee. Instead, there are so many unique coffee shops throughout the city that you can make your everyday spot. In addition to great coffee, these shops have charming aesthetics and cozy places to sit down and enjoy your drink. Here is our list of the 37 coziest coffee shops in New York City, borough by borough—how many have you been to?
The Best Coffee Shops in Brooklyn
Urban Vintage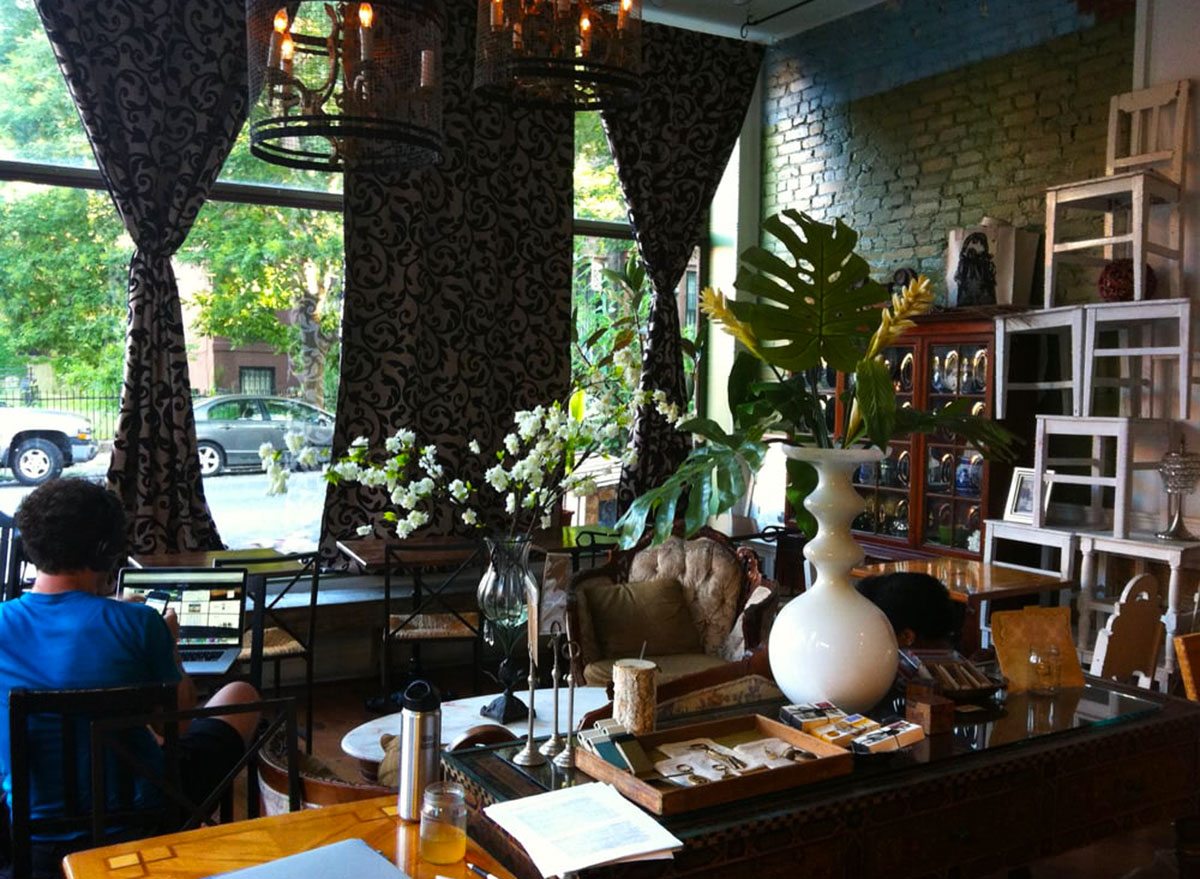 294 Grand Ave, Brooklyn, NY 11238
Started by two Brooklyn-born sisters, Urban Vintage is the first boutique cafe in Brooklyn. Over the past nine years, it's quickly turned into the spot that feels most like home. With vintage chairs, area rugs and even window curtains, this place makes you feel like you stepped into your grandmother's kitchen when you walk inside. If that's not cozy, we don't know what is.
Joe Coffee Company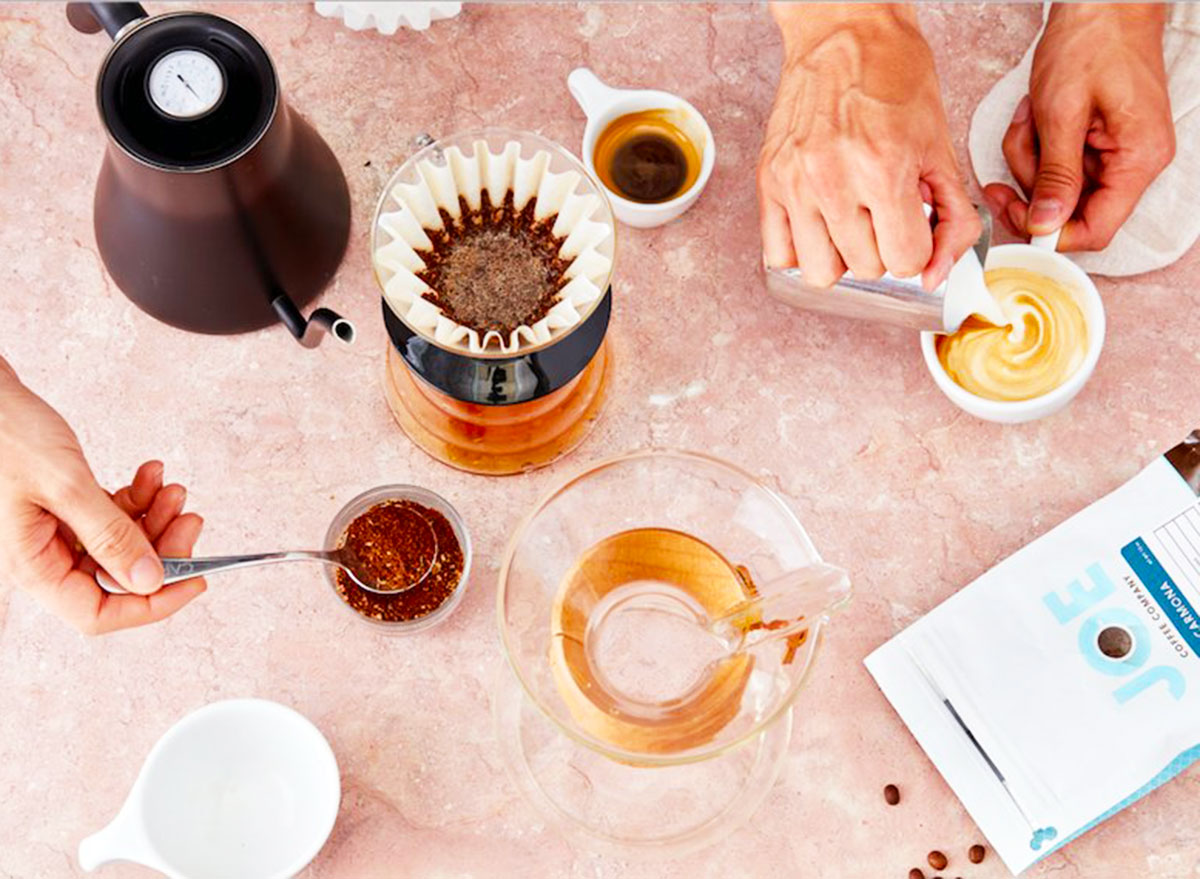 102 Hicks Street, Brooklyn, NY 11201
There's a reason Joe Coffee Company has become a New York City chain, with 18 locations across the city. Joe Coffee Company has great coffee and a comfortable atmosphere, and there's no denying that. They even have classes to teach you how to perfect your coffee brewing at home. Sign us up.
Sweatshop Coffee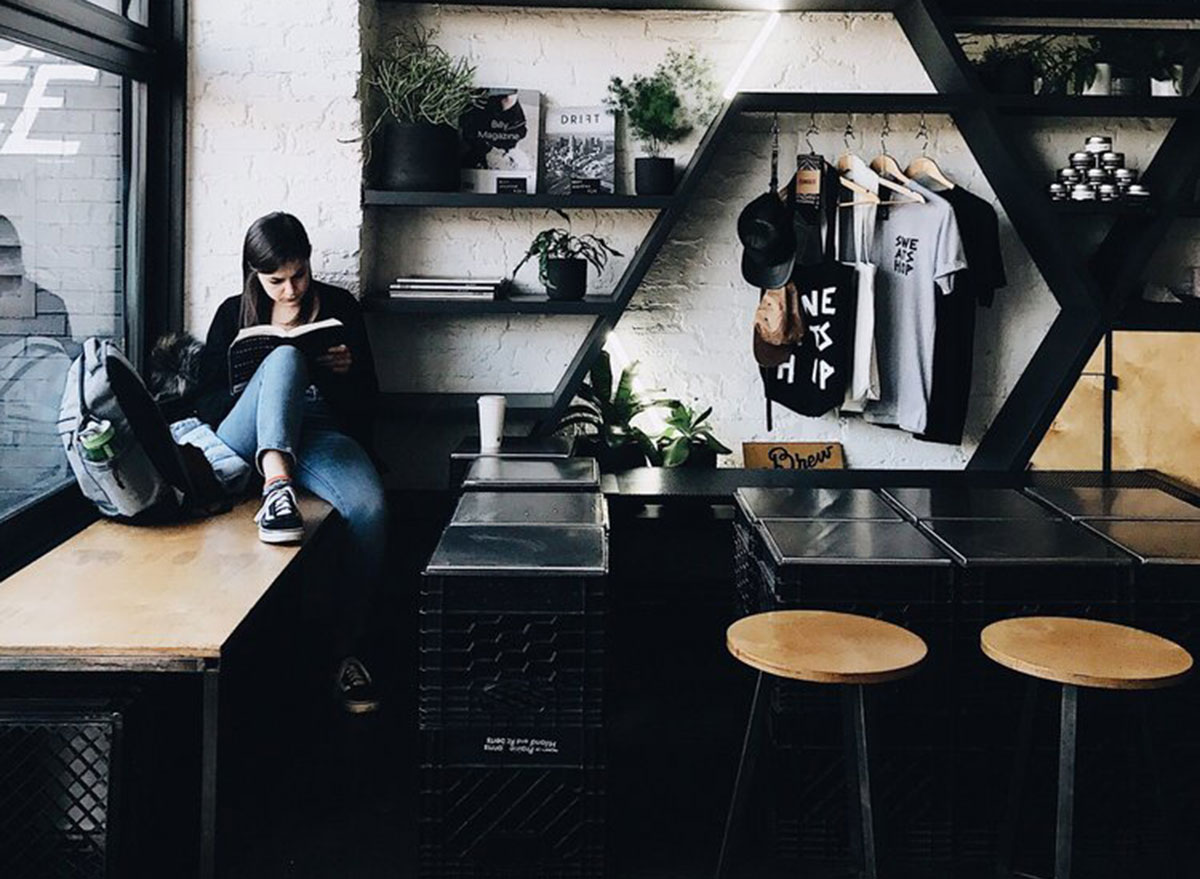 232 Metropolitan Ave., Brooklyn, NY 11211
With great communal tables and the most Instagrammable wall right outside, Sweatshop Coffee is a great place to grab your morning cup in Brooklyn. They've got an ideal natural vibe going and they even have their own merch. Plus, they have a full breakfast menu with lots of gluten-free options.
Brooklyn Roasting Company
45 Washington Street, Brooklyn, NY 11201
The building where the Brooklyn Roasting Company is located gives it that historic, cozy vibe. They pride themselves in the variation in their coffee from Guatemala, Costa Rica, Brazil and Colombia. You're bound to find a type you like.
The Best Coffee Shops in Manhattan
Ground Central Coffee Company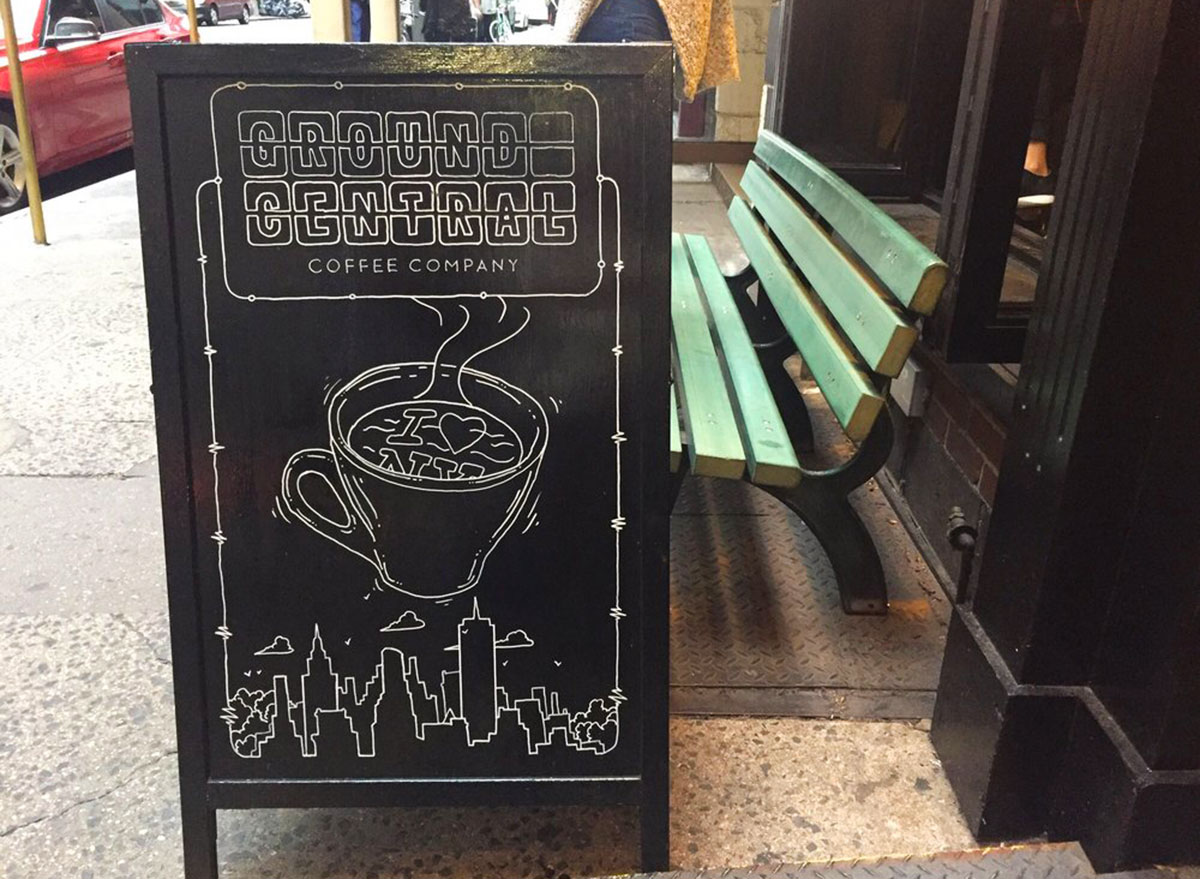 888 8th Ave, New York, NY 10019
Lined with murals and a rotating playlist of vintage rock and roll records, Ground Central Coffee Company was created to reflect everything that is New York City. The bookshelf provides a pop of color in this otherwise dark environment.
Stella & Fly
1705 First Ave., New York, NY 10128
To make things cozy, the most important aspect of a coffee shop is the seating. Stella & Fly knows the deal completely, with the softest couches you will ever sit in. Once you plop yourself down between one of the white brick arches you'll never want to leave.
Irving Farm
1424 Third Ave., New York, NY 10028
With more than 20 years in NYC's coffee scene, Irving Farm has got it all down. From their delicious coffee to their cozy atmosphere in locations throughout the city, there was no question that Irving Farm would make this list.
Mellow Yellow
1729 1st Ave., New York, NY 10128
Ever thought of the combination of authentic Mediterranean food and great coffee? Mellow Yellow on the Upper East Side offers just that in this artsy, little space.
Jack's Stir Brew
222 Front Street, New York, NY 10038
The walls are filled with celebrity photographs of those who've enjoyed Jack's Stir Brew since its opening in 2003. With lots of locations around the city, they're able to keep their vibe cohesive throughout, which is unique for a chain shop like this one.
Culture Espresso
72 West 38th Street, New York, NY 100186254a4d1642c605c54bf1cab17d50f1e
Not only is Culture Espresso known for its coffee, but the chocolate chip cookies are legendary as well. The chandelier and wallpaper make it feel like a small-town spot, despite its locations in bustling midtown.
Old Country Coffee
455 West 34th Street, New York, NY 10001
A coffee shop with a Belgian Waffle on the menu is a coffee shop we'll be visiting every day. Old Country Coffee may be small, but if you're able to snag a table, you'll never want to leave. They even have a "For The Not-So Coffee Drinkers" section on their menu for those who love coffee shop vibes but aren't so into the drink itself.
Grounded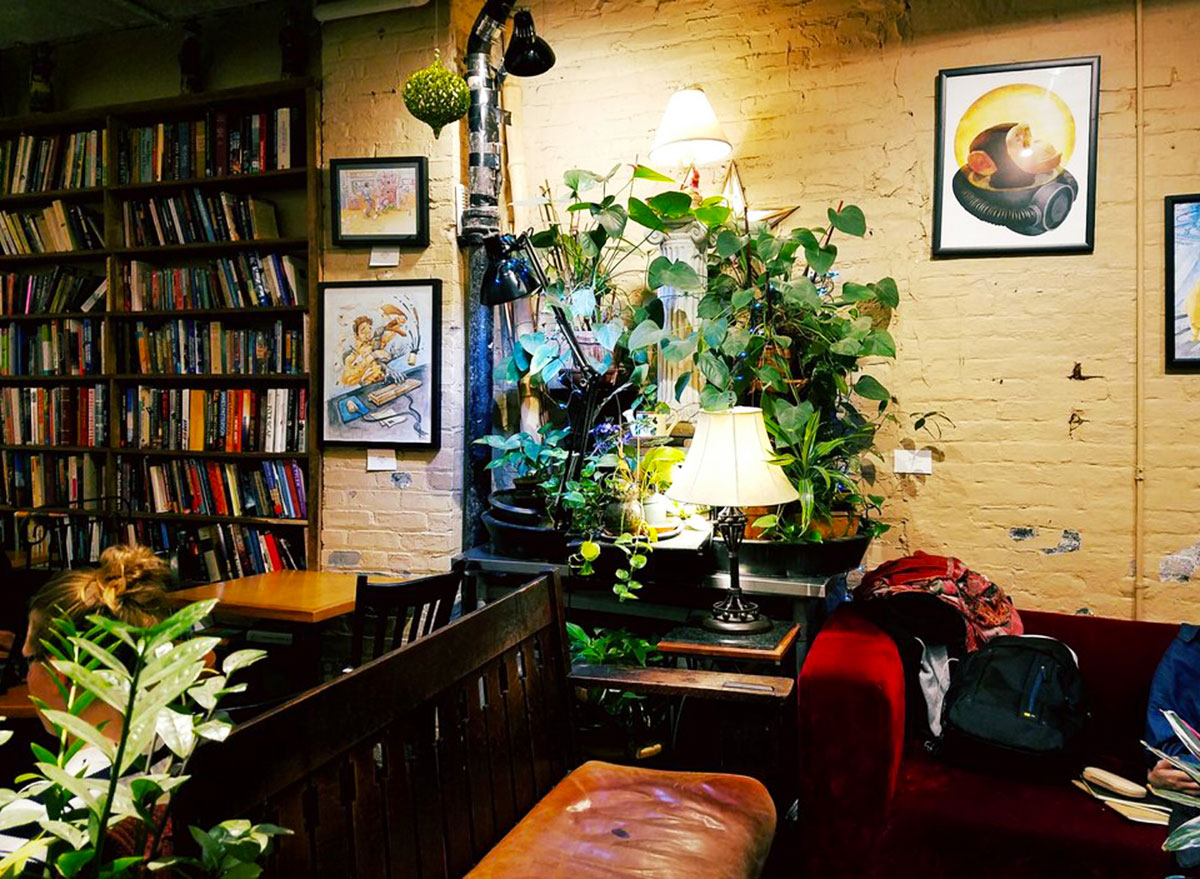 28 Jane Street, New York, NY 10014
Not only does Grounded in the West Village have great coffee, but it's also filled with lots of plants, hundreds of books, and a huge skylight that makes it a popular place for any coffee occasion. There's even a disco ball hanging from the ceiling.
Il Piccolo Ristoro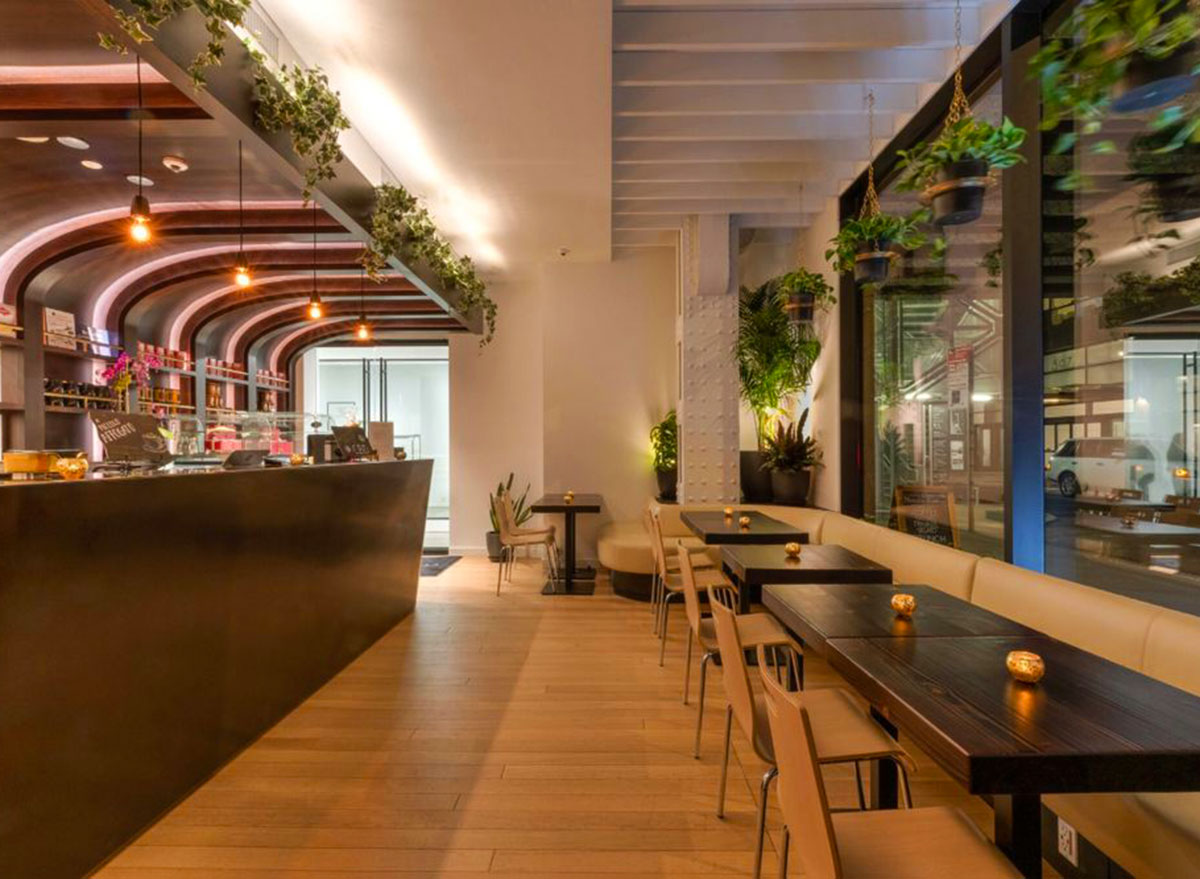 508 West 28th Street, New York, NY 10001
Underneath the High Line in Chelsea, Il Piccolo Ristoro is the cutest tucked away Italian coffee spot. With a great brunch menu featuring Eggs Benedict and waffles, there is no reason not to start your morning here.
High Line Coffeebar
180 10th Ave., New York, NY 10011
If the typewriter in this cozy coffee spot doesn't promote creativity, we don't know what will. In the High Line Hotel, Intelligentsia is served at the High Line Coffeebar, and the exposed brick and purple velvet couch truly bring this shop to another level of cuteness.
Idea Coffee
246 5th Ave., New York, NY 10001
Idea Coffee is meant to be a space to get the good ideas flowing. It's a spot where they want you to stop and stay awhile, which is evident when you walk through the doors. And with great coffee and great food, there's no reason not to do just that.
Devoción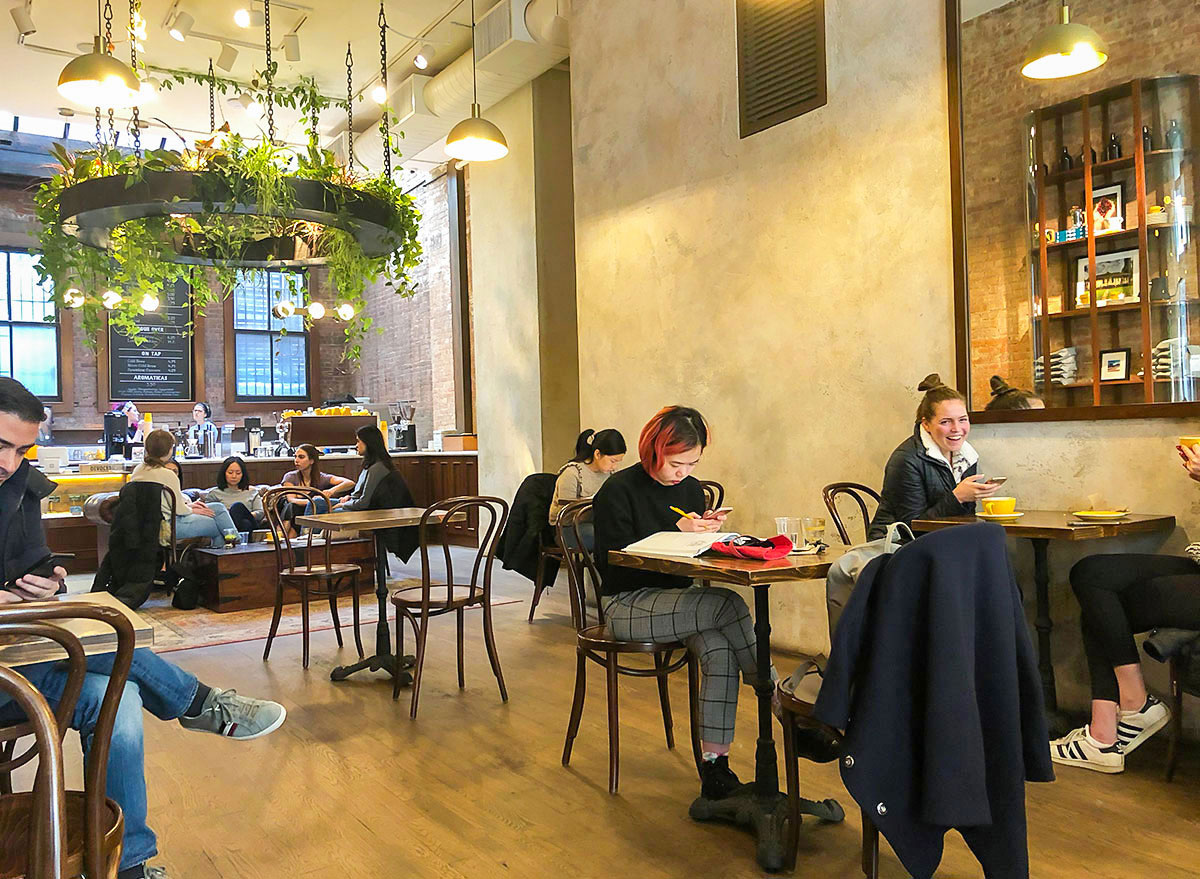 25 East 20th Street, New York, NY 10003
When we walked into Devoción, we were immediately struck by the hanging plant fixture in the middle. Not only do plants make this spot the coziest, but their coffee is truly the best. It's even used in other coffee shops around the city—it's that good.
Blank Slate
121 Madison Ave., New York, NY 10016
Blank Slate is a coffee shop and cafe, which means you can get your early morning coffee, your avocado toast, and later your Greek salad, without ever leaving this bright and cozy spot. Started by a husband-and-wife duo, this shop has an aesthetic that's meant to promote creativity and openness to keep those ideas flowing.
Seven Grams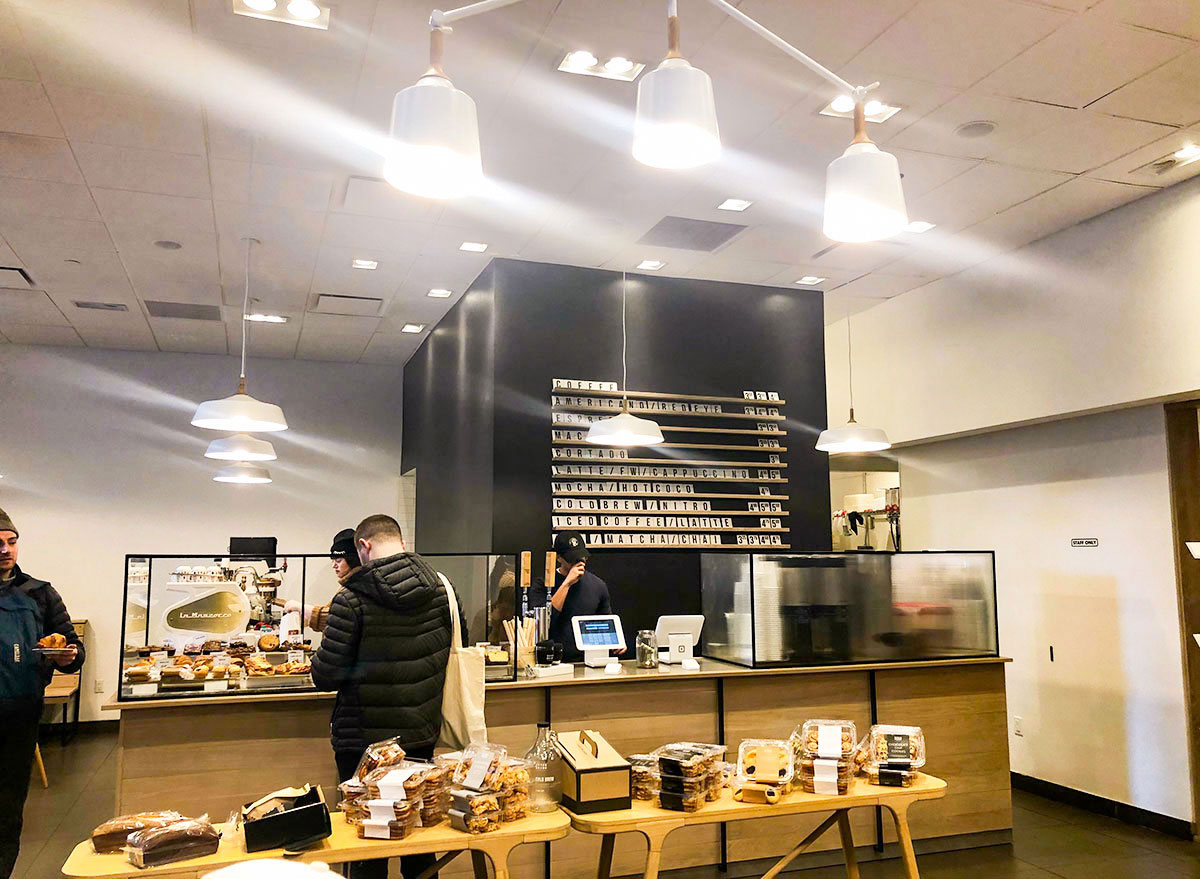 76 Madison Ave., New York, NY 10016
If you were wondering where the name comes from, the perfect Italian espresso shot is made with seven grams of ground premium coffee. Not only is their Italian coffee delicious, but their mini Nutella babka is the perfect pastry to have alongside your cup.
Maman
22 West 25th Street, New York, NY 10010
This French coffee shop and cafe is the place to go for one of the best chocolate chip cookies in New York City, and there's nothing better to wash it down than the perfect latte. With flowers everywhere and the prettiest plates, you'll feel like you're actually in France spending the afternoon at this cozy spot.
Bourke Street Bakery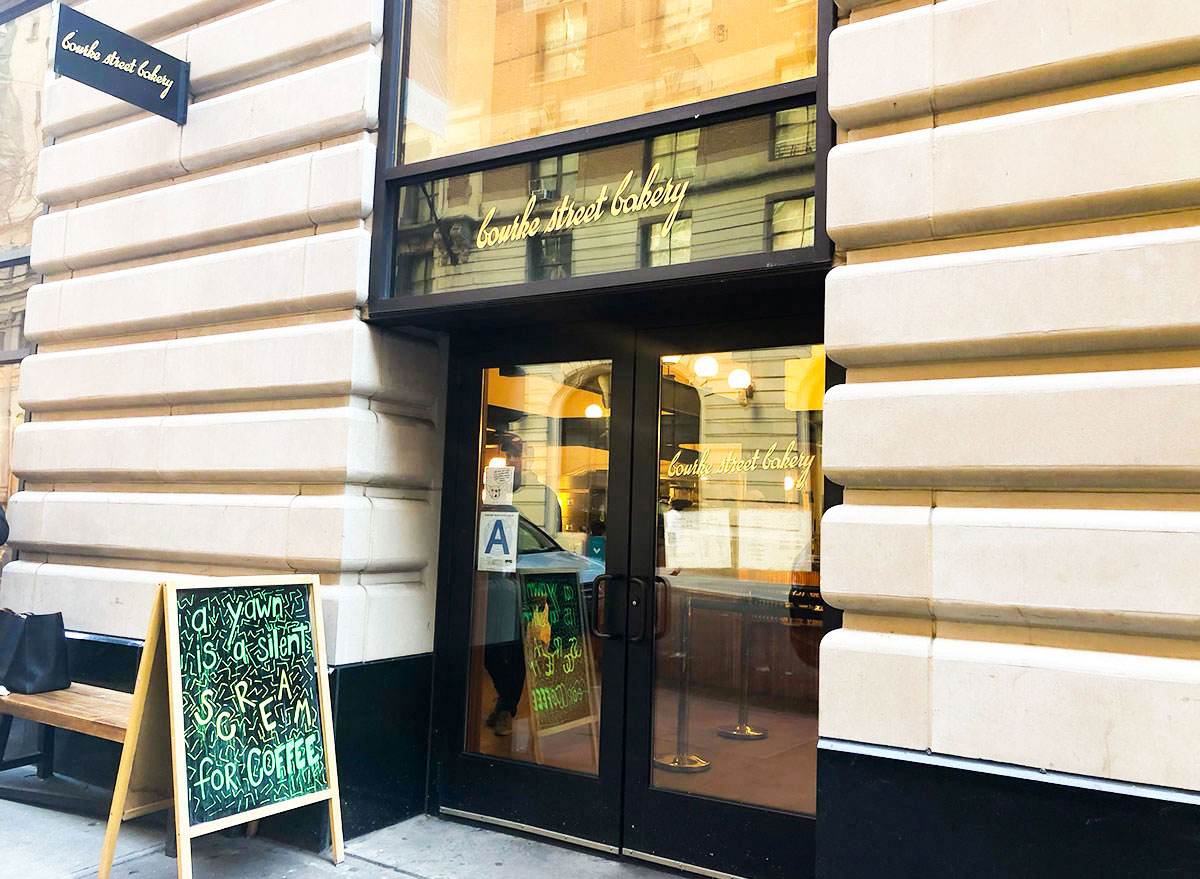 15 East 28th Street, New York, NY 10016
Paul Allam, the baker, chef, and owner of Bourke Street Bakery is from Australia, which brings a little something special to this coffee and pastry spot. While it's known for its baked goods, as it's a bakery before it's a coffee shop, this place has it all and also, the coziest of vibes.
The Uncommons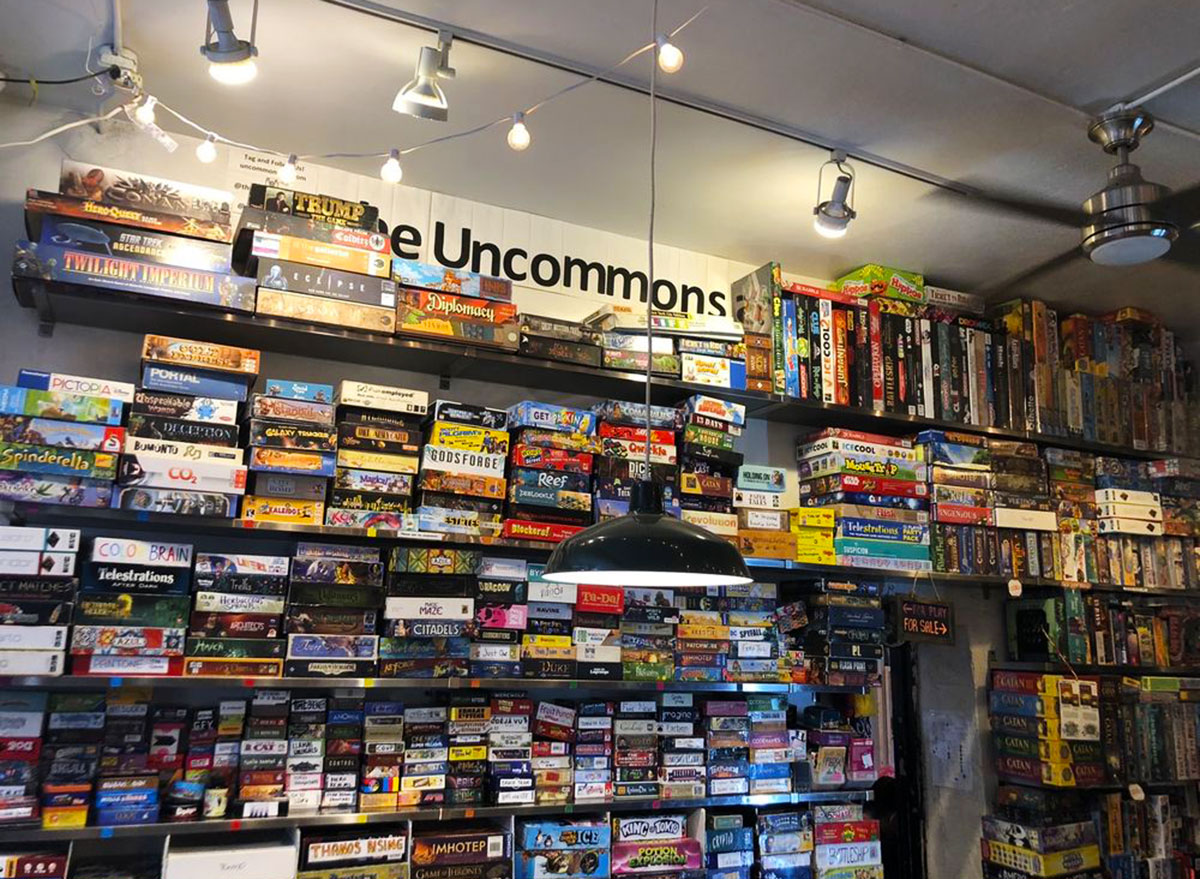 230 Thompson Street, New York, NY 10012
The combo of a great cup of coffee and a fun board game is exactly why The Uncommons Coffee Shop does what it does. It has one of the largest libraries of games on the East Coast, and it is Manhattan's first board game cafe.
The Marlton Espresso Bar
5 West 8th Street, New York, NY 10011
Located inside The Marlton Hotel in Greenwich Village, The Marlton Espresso Bar is the perfect place to come if you have a few hours to relax and hang out. It gives us major upscale Central Perk vibes with the cozy furniture and carpet. Their coffee comes from Los Angeles, and now it's one of our favorites.
Black Cat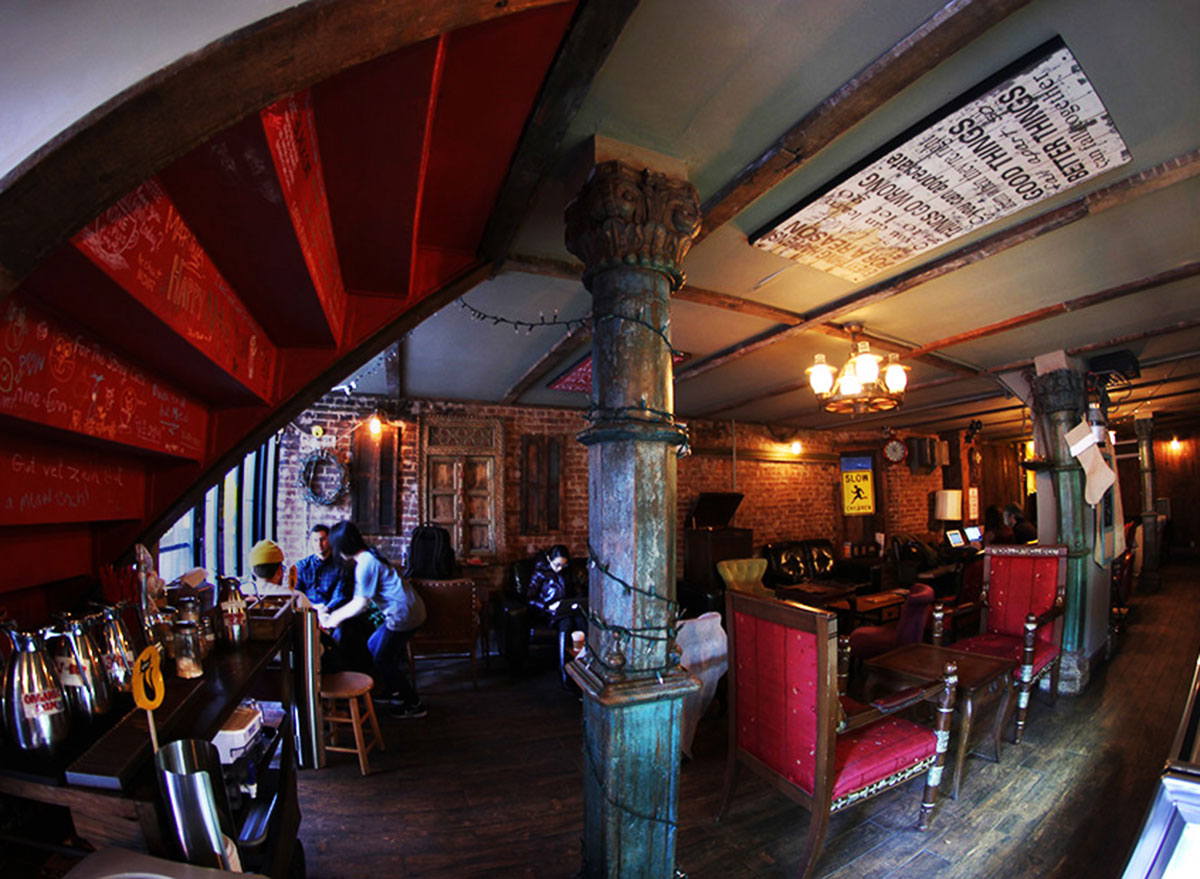 172 Rivington Street, New York, NY 10002
The Black Cat calls itself "your public living room," and it couldn't be more spot-on with that description. With a record player, exposed brick, and even vintage board games, this is exactly where we'd want to be on any day.
For Five Coffee Roasters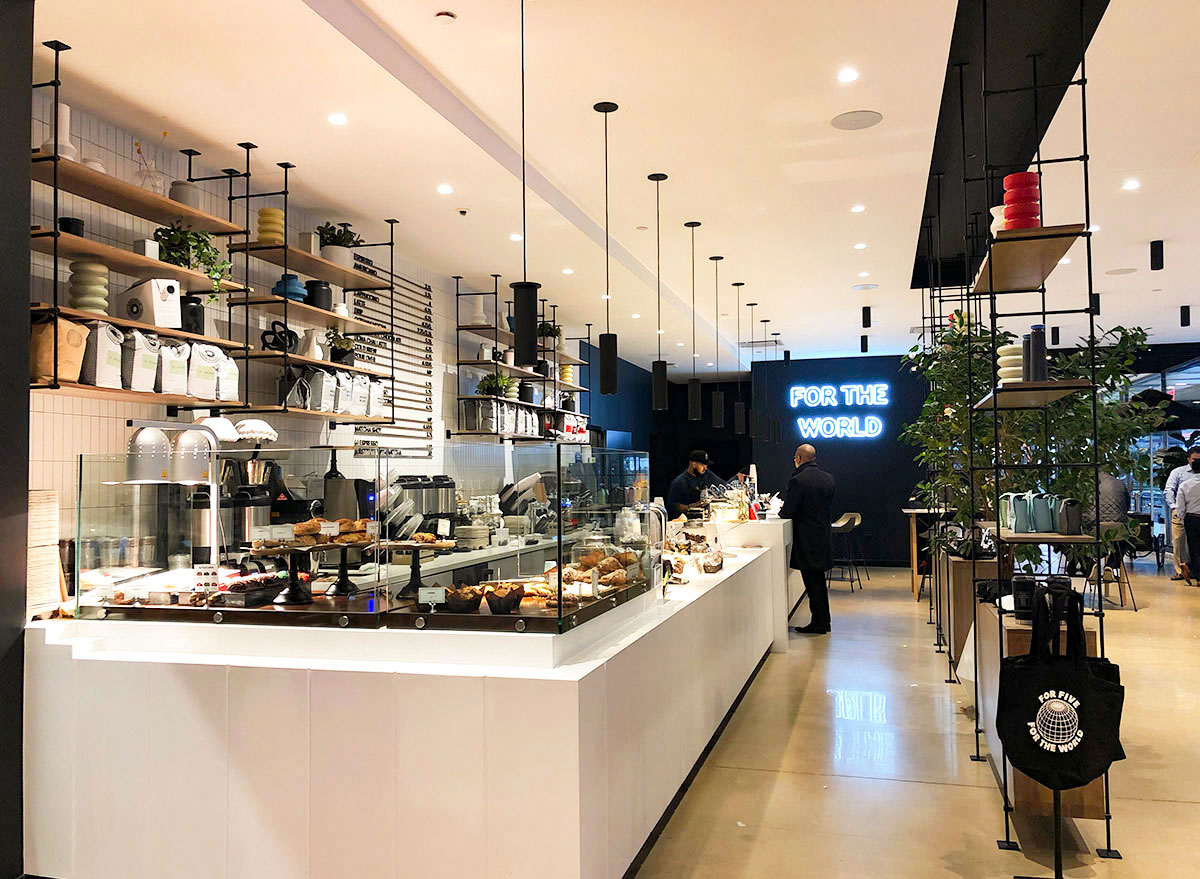 225 Liberty Street, New York, NY 10281
If you're looking for a cozy escape from the stresses of work, For Five Coffee Roasters in the Financial District is hands down your spot. The shop is known for its cookie dough stuffed cookies, and if that's not a great compliment to your coffee, I don't know what is.
Birch Coffee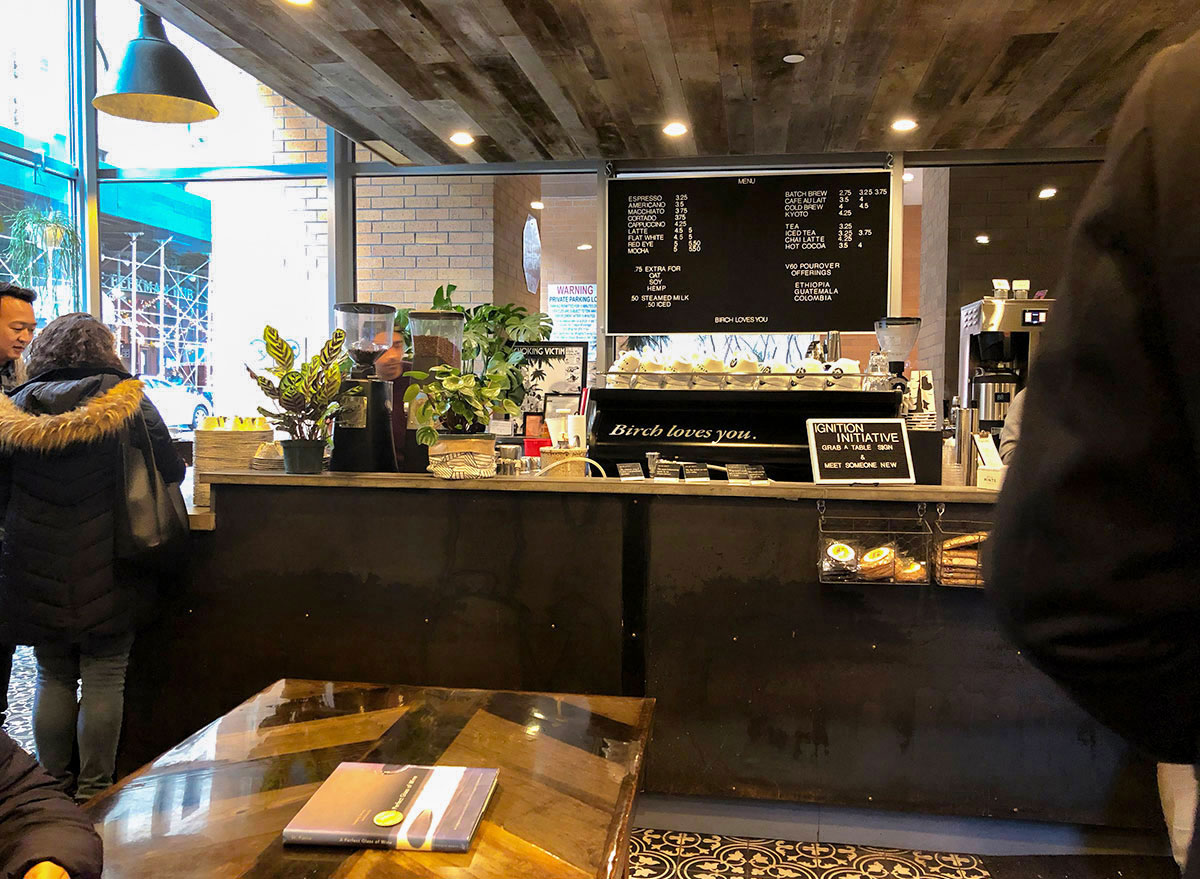 8 Spruce Street, New York, NY 10038
Located close to a university, Birch Coffee is the ideal place to study. Their philosophy is one that promotes meeting people, as they have little cards with questions to bring to your communal table, as well as cups that say "Hello my name is ____" and the barista fills it in with your name before handing you your coffee.
The Best Coffee Shops in the Bronx
Double Dutch Espresso
2430 Third Ave., Bronx, NY 10451
There's just something about Double Dutch Espresso in the South Bronx that makes us feel at home. Maybe it's the exposed brick walls or the comfy leather couch, but you can't go wrong with a latte and a great book at this special little Bronx spot.
Prince Coffee House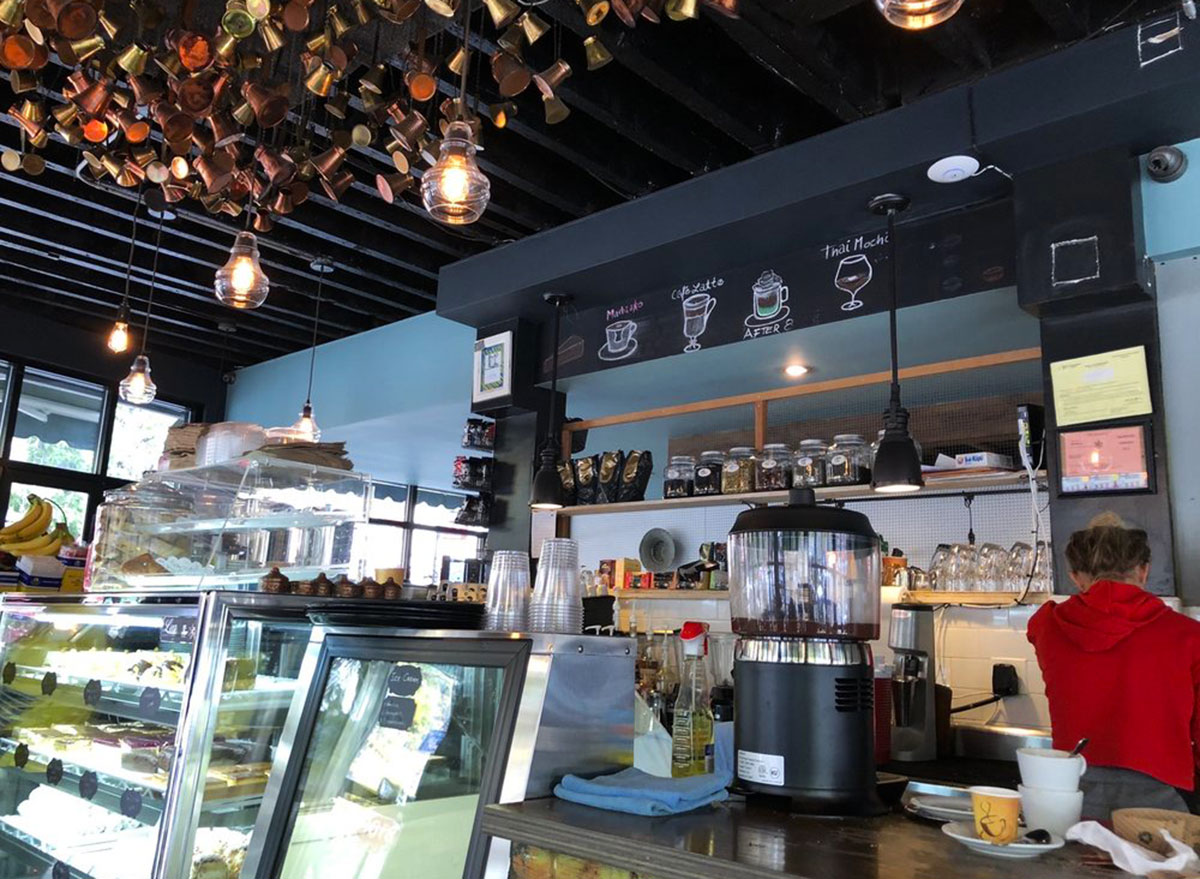 2306 Arthur Ave., Bronx, NY 10458
With hundreds of gold coffee cups hanging from the ceiling, Prince Coffee House in The Bronx's Little Italy is highly Insta-worthy and also happens to have delicious coffee. With such a big space, there are plenty of cozy corners to focus on work, while there are also great people-watching spots right in the center of the cafe. This is bound to be a spot you keep coming back to.
Mottley Kitchen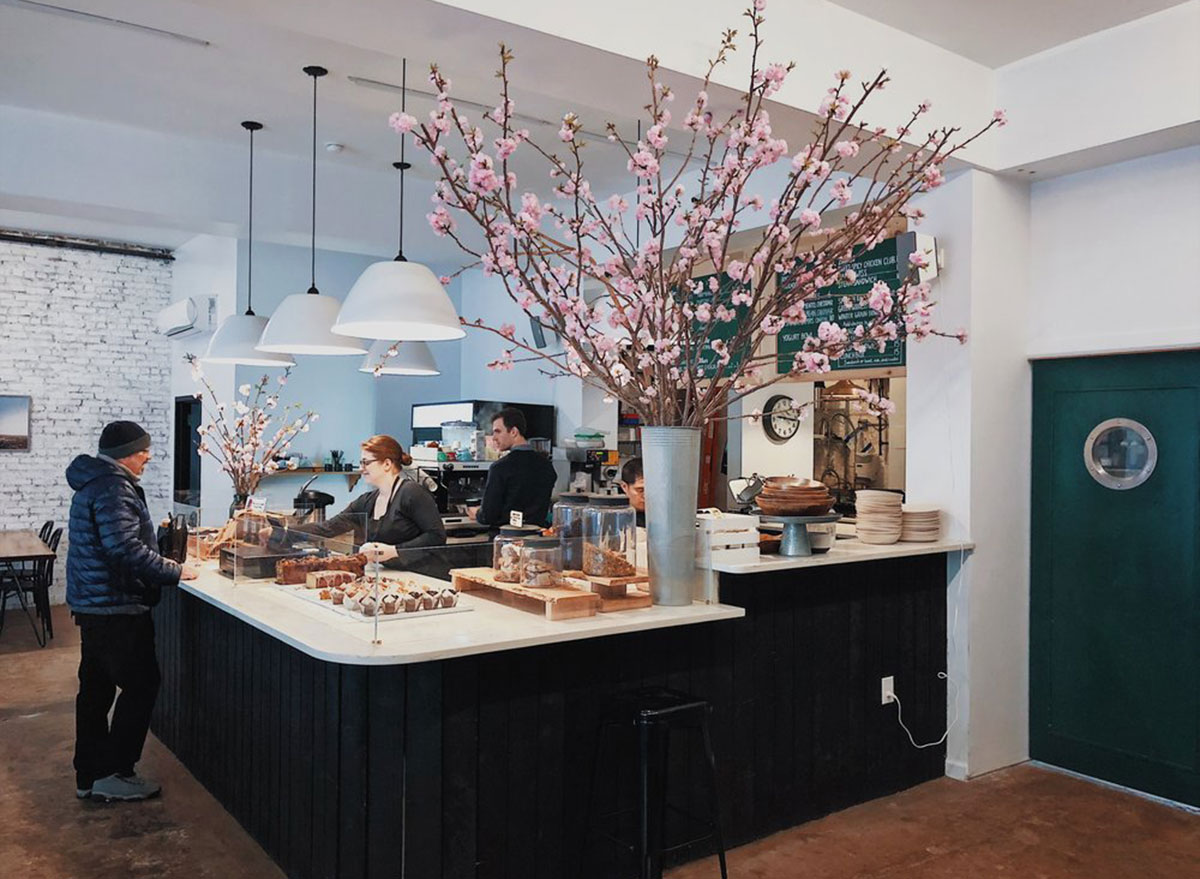 402 East 140th Street, Bronx, NY 10454
With a cozy, rustic aesthetic, Mottley Kitchen not only has a great cup of coffee, but also a full brunch menu. This is the perfect spot to plant yourself all day, get a whole lot of work done, and the communal tables make it a great place to make some friends, too.
Boogie Down Grind Cafe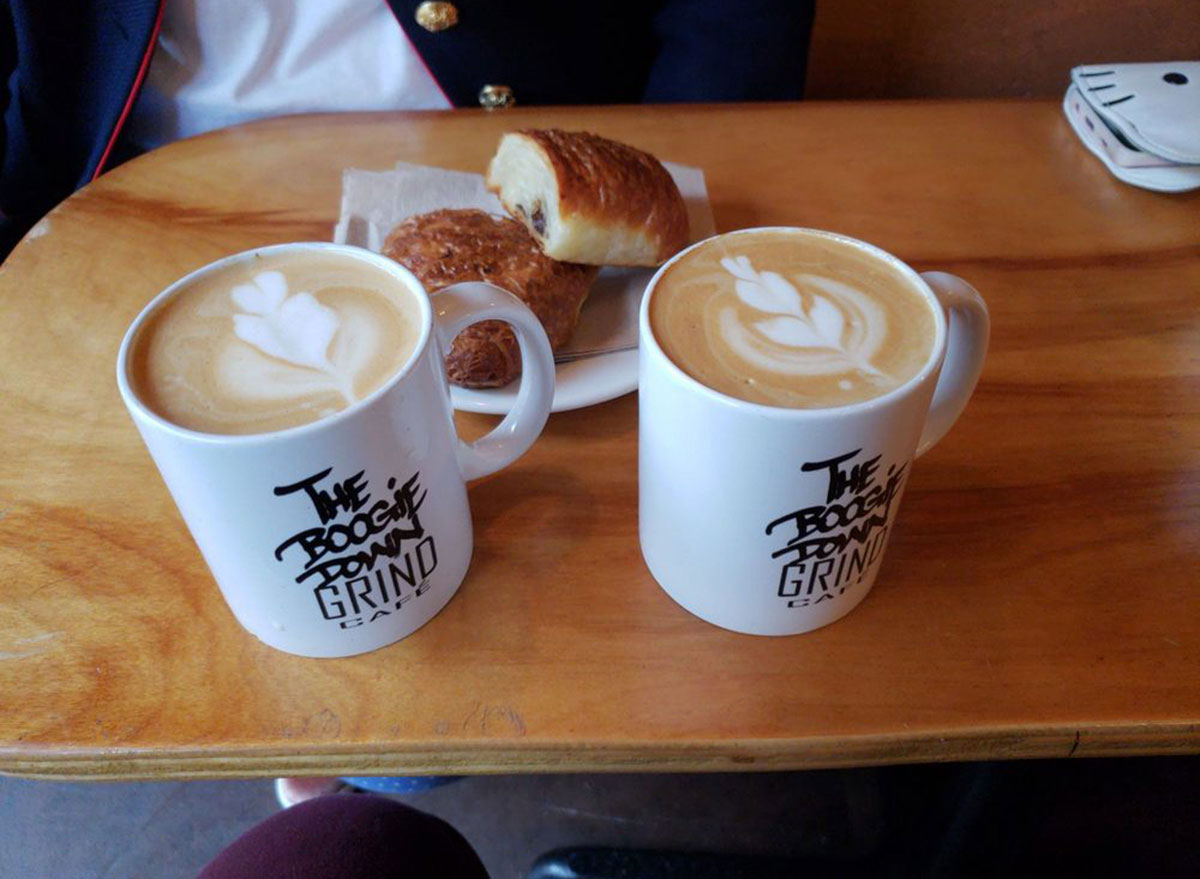 868 Hunts Point Avenue, Bronx, NY 10474
Boogie Down Grind Cafe was opened by local Bronx residents who know exactly what New Yorkers want. With the cutest lightbulbs hanging from the ceiling, exposed brick walls, a free book case, and even a liquor license. there's truly nothing this spot doesn't have.
The Best Coffee Shops in Queens
Leisure Coffee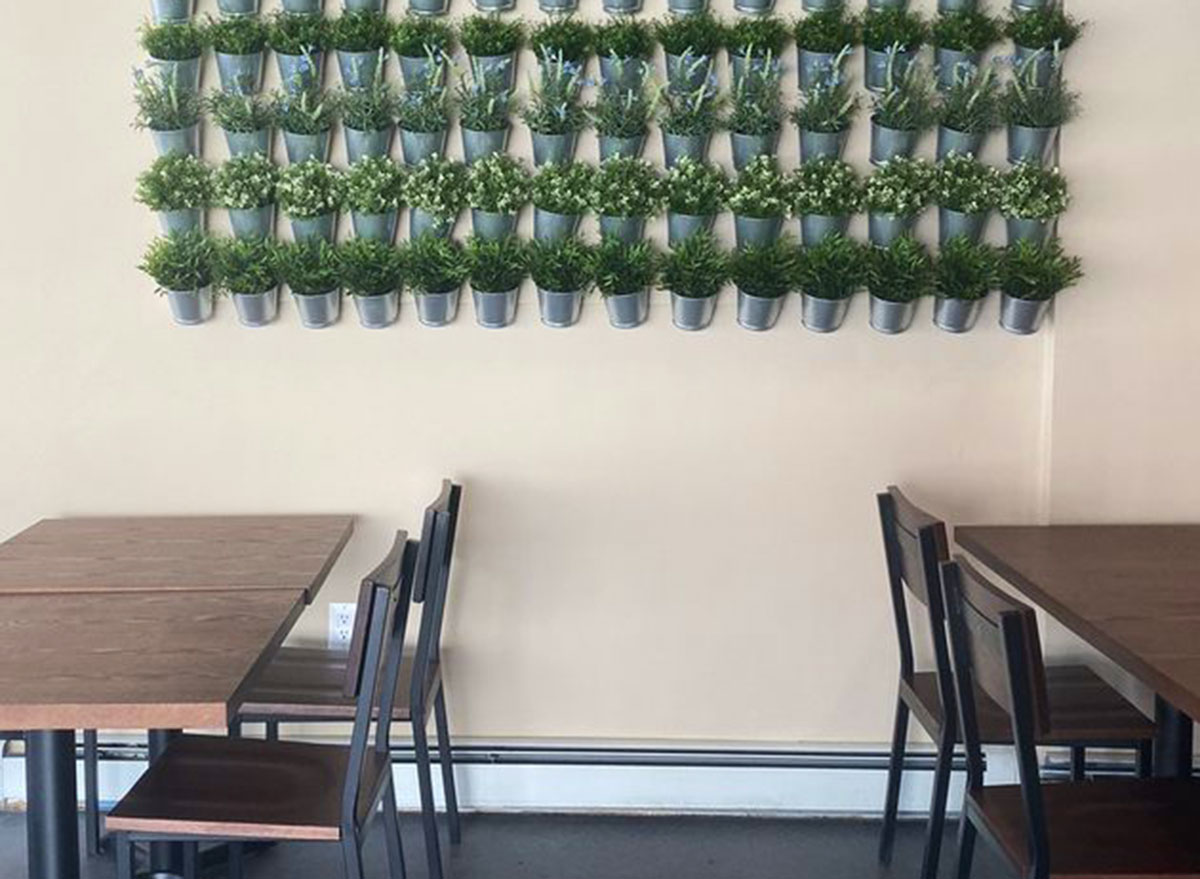 43-70 162nd Street, Flushing, NY 11358
One benefit of the outer boroughs is the amount of space you get, and Leisure Coffee in Flushing takes advantage of their nice big spot. With plentiful seating and plants hanging from the wall, this spot is one where you can get nice and comfy on a Saturday afternoon.
Partners Coffee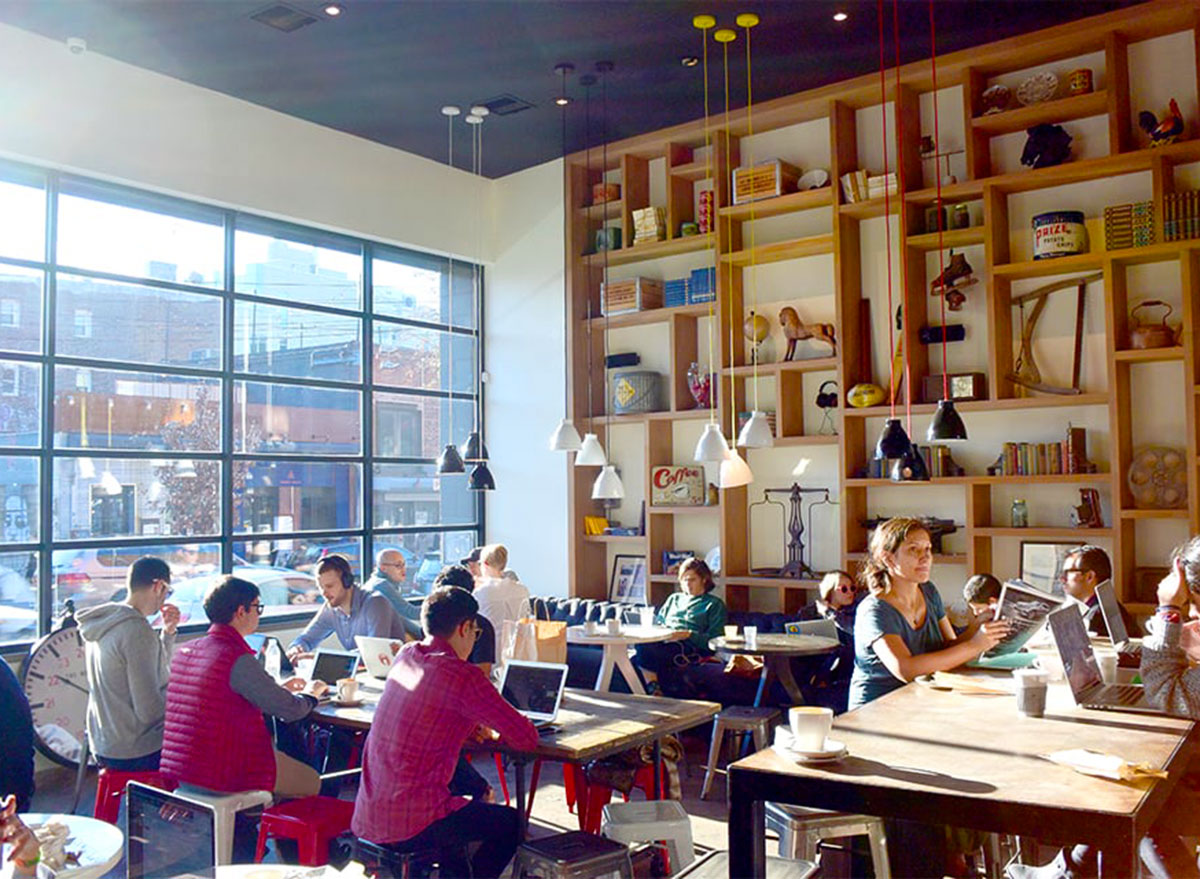 26-25 Jackson Ave., Queens, NY 11101
With communal tables and floor to ceiling bookshelves, Partners Coffee in Long Island City is a light and bright spot to come for your cup of coffee any day. Their small kitchen doesn't stop them from having a vast menu with lots of different breakfast options to have with your coffee.
Sweatleaf Coffee Roasters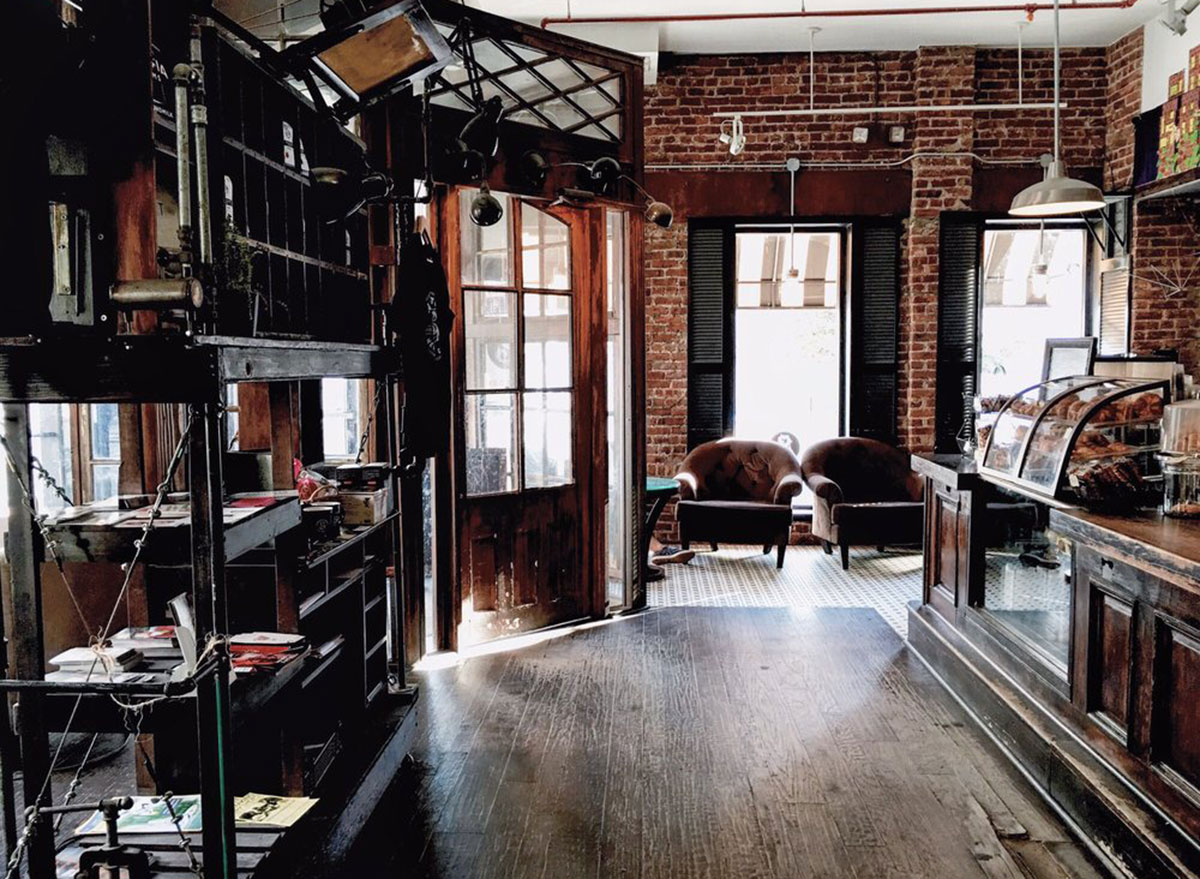 4615 Center Blvd., Long Island City, NY 11109
If their typical decor doesn't feel cozy enough, the way they decorate for the holiday season makes you feel like you're in your own dream living room. Complete with comfy chairs and chandeliers, this is the best spot to curl up with a good book and spend the afternoon.
Topos Bookstore Cafe
788 Woodward Avenue, Ridgewood, NY 11385
Grabbing a cup of coffee here makes you feel like you're in the stacks at the library with the bookshelves all over. At Topos Bookstore Cafe they buy and sell used books, so you can grab your coffee and also a new read next time you visit.
The Best Coffee Shops in Staten Island
Sips + Maker
312 New Dorp Lane, Staten Island, NY 10306
Sips + Maker is not your average cute coffee spot. They make specialty drinks like matcha, beet, and golden lattes. Plus, the back of the coffee shop is a store with handmade products by local artists. You won't be able to walk in without walking out with something new.
The KOVA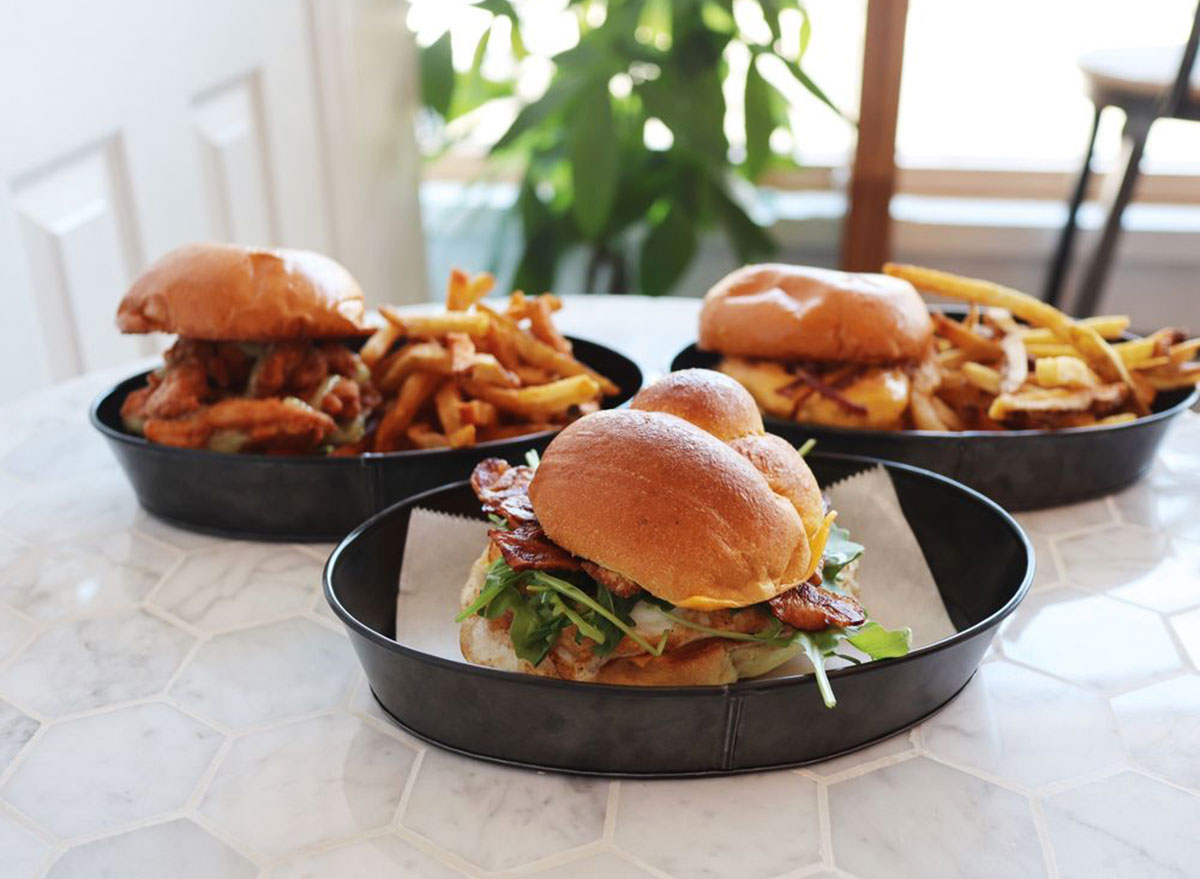 1775B Richmond Road, Staten Island, NY 10306
Have you ever heard of a coffee shop where you can get a cheeseburger? If you think that's all you need in the world, then the KOVA is the spot for you. If you don't live in the borough, it's worth the trip to Staten Island for some unreal coffee and brunch at this cute little spot.
Coperaco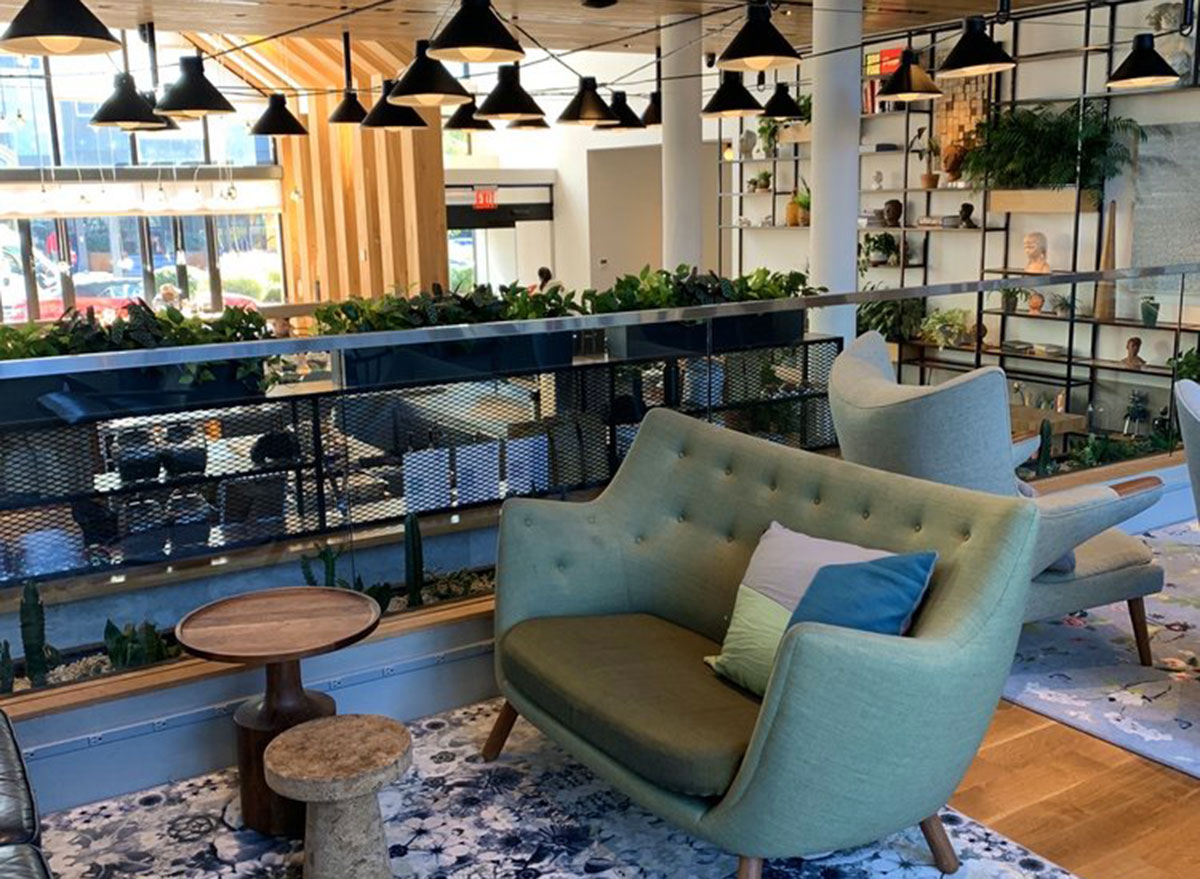 7 Navy Pier Court, Staten Island, NY 10304
This space is absolutely huge, which means that you can grab a couch and not feel bad keeping it all day. Coperaco takes full advantage of its natural light in the best way, making the coffee not the only thing giving you the energy you need to make it through the day.
Beans Cafe and Grill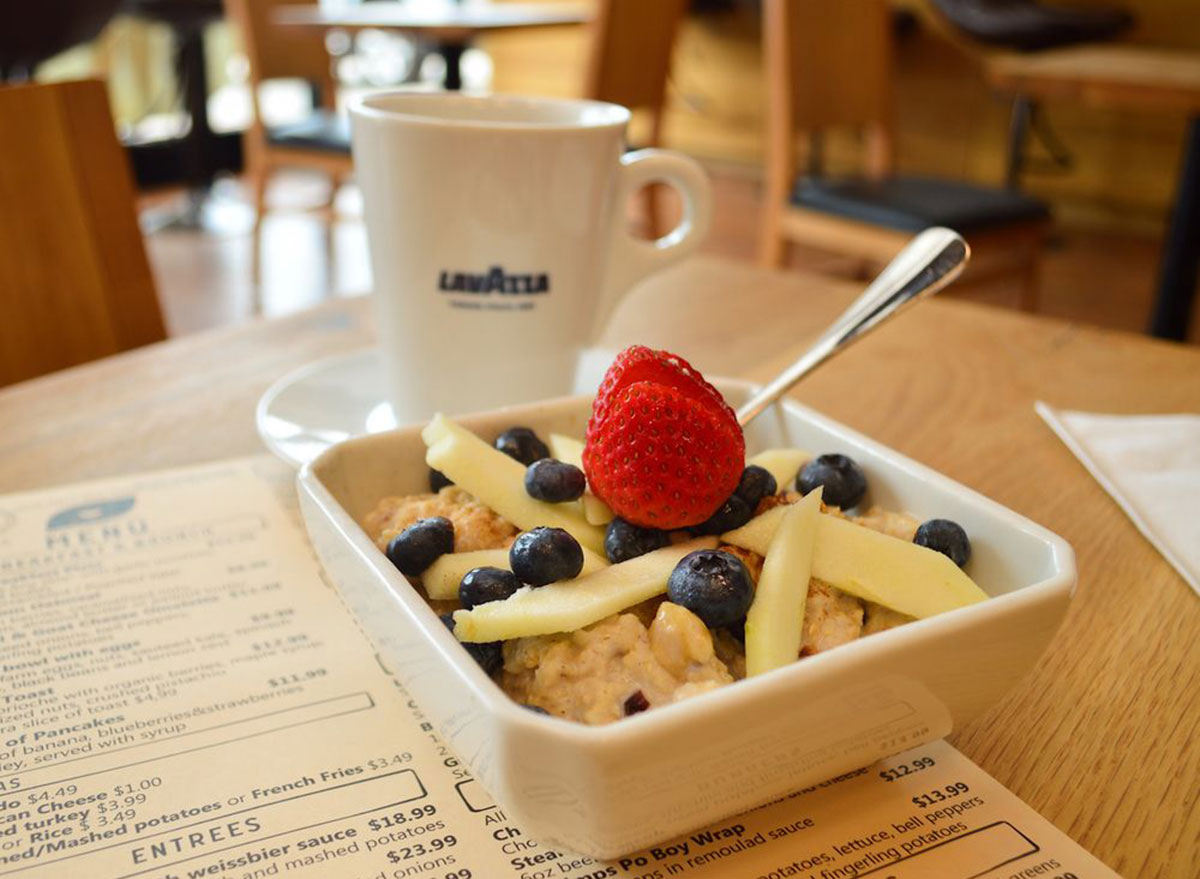 2026 Hylan Blvd., Staten Island, NY 10306
Even though this is typically a Halal spot, in the morning Beans Cafe & Grill is a great coffee shop to grab some breakfast and stay a while. They opened less than a year ago, and are already making a name for themselves as a New York favorite.
Rachel Linder
Rachel is an Associate Editor responsible for compiling the daily Eat This, Not That! newsletter, making TikTok and YouTube videos for the brand, writing articles for the site, creating original graphics and providing direct assistance to the editors when needed.
Read more about Rachel