The Best & Worst Foods on Dunkin's Menu, According to RDs
Whether you're craving a donut, a breakfast sandwich, or an iced coffee, here's what you need to know.
The product recommendations in this post are recommendations by the writer and/or expert(s) interviewed and do not contain affiliate links. Meaning: If you use these links to buy something, we will not earn a commission.
When the craving for coffee and donuts strikes, there's no better place to be than a Dunkin Donuts drive-thru. As a foodie and dietitian, I firmly believe that when you crave a coffee drink, pastry, or donut, you should absolutely let yourself eat and enjoy them. Life's too short to deny yourself the simple pleasures that come from the Dunkin's Donuts menu. That being said, some menu items can satisfy your craving while leaving you feeling good, energized, and still on track for your health goals. Other items, not so much.
After inspecting the Dunkin' Donuts menu and nutrition facts, and chatting with other dietitians about the best and worst foods on the menu, there are a few nutrients that stand out as deciding factors.
Calories: While there's no need to obsess about calories when it comes to your health, some pastries, donuts, and other sweet or fried foods are incredibly high in calories without any healthful nutrients.
Fat: Saturated fat, in particular, is associated with an increased risk of heart disease. The USDA's current recommendation is to get no more than 10% of your daily calories from saturated fat. On a 2,000-calorie diet, that's less than 22 grams per day.
Sugar: Sweet treats come with added sugar, and too much of the sweet stuff can start to deteriorate your health over time. Diets high in excessive amounts of added sugars are related to chronic diseases such as heart disease, cancer, endocrine disorders, and more.
None of these nutrients are "bad" by themselves, but when eaten in excessive amounts, they can lead to poor health outcomes.
Keep reading to learn what Dunkin' Donuts menu items can satisfy your cravings while still keeping your health on track—and which ones you may want to limit or avoid—according to dietitians.
Donuts & Pastries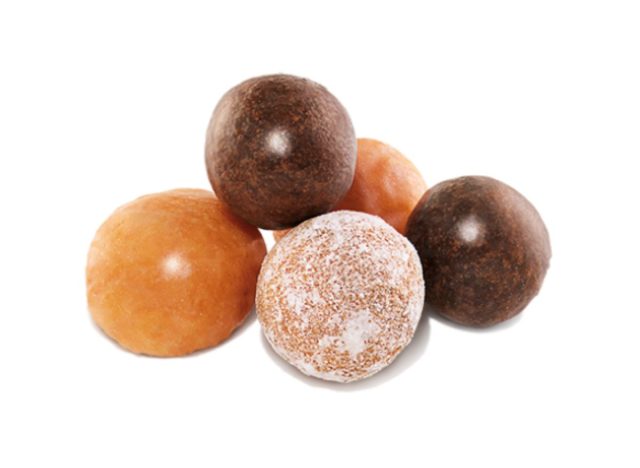 Per Munchkin
: 60 calories, 3.5 g fat (1.5 g saturated fat, 0 g trans fat), 65 mg sodium, 6 g carbs (0 g fiber, 2 g sugar), 1 g protein
Need just a "little" something sweet, or just can't decide between two of your favorite flavors? You may want to place an order for some Munchkins Donut Holes.
"Donut holes are a great option because they're smaller and less calorie-dense than full donuts. You can have as few or as many as you'd like to satisfy your cravings while still honoring your health goals," says Miranda Galati, MHSc, RD, dietitian and Founder at Real Life Nutritionist.
You can enjoy two cinnamon munchkins for only 120 calories and 4 grams of added sugar.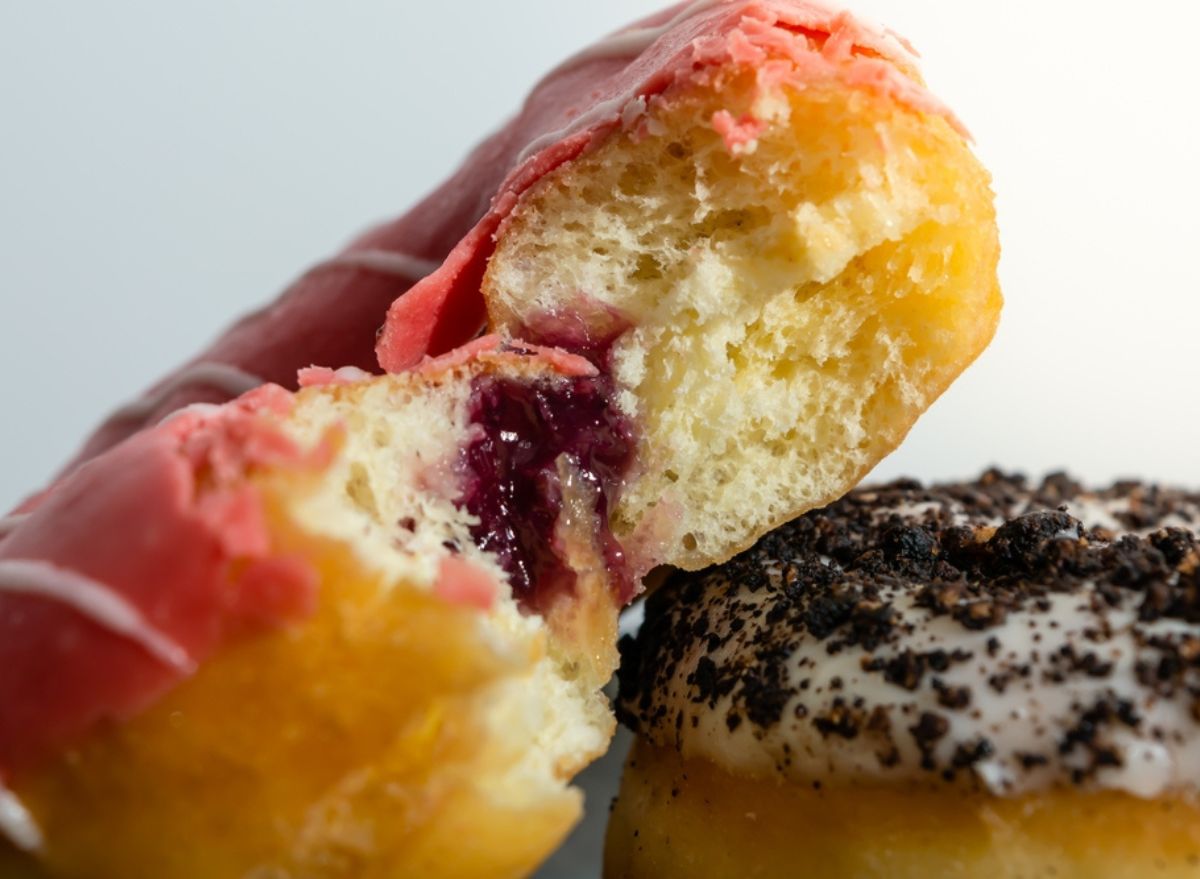 Per donut
: 250 calories, 10 g fat (4 g saturated fat, 0 g trans fat), 290 mg sodium, 36 g carbs (1 g fiber, 13 g sugar), 4 g protein
For a fruit-flavored treat, a healthier option at Dunkin is the Jelly Donut, which has only 250 calories and 4 grams of saturated fat, explains Kimberley Wiemann, MS, RDN, a Long Island, NY-based registered dietitian specializing in heart health. One jelly donut has just 18% of the recommended saturated fat limit, making it easy to stay within the recommended amount for the day.
Per stick
: 470 calories, 30 g fat (15 g saturated fat, 0 g trans fat), 440 mg sodium, 50 g carbs (1 g fiber, 24 g sugar), 4 g protein
It has apples, so it must be good for you, right?! "The Apple Stick may be the worst choice when it comes to a donut or pastry," says Wiemann. Each apple stick has 470 calories, which is close to the amount of calories most people eat in an entire meal. While I don't believe in the phrase "empty calories," since all calories contribute something, this donut provides all the calories of a nutrient-dense meal without the vitamins, minerals, and other important nutrients your body needs.
Worst: Chocolate Butternut Donut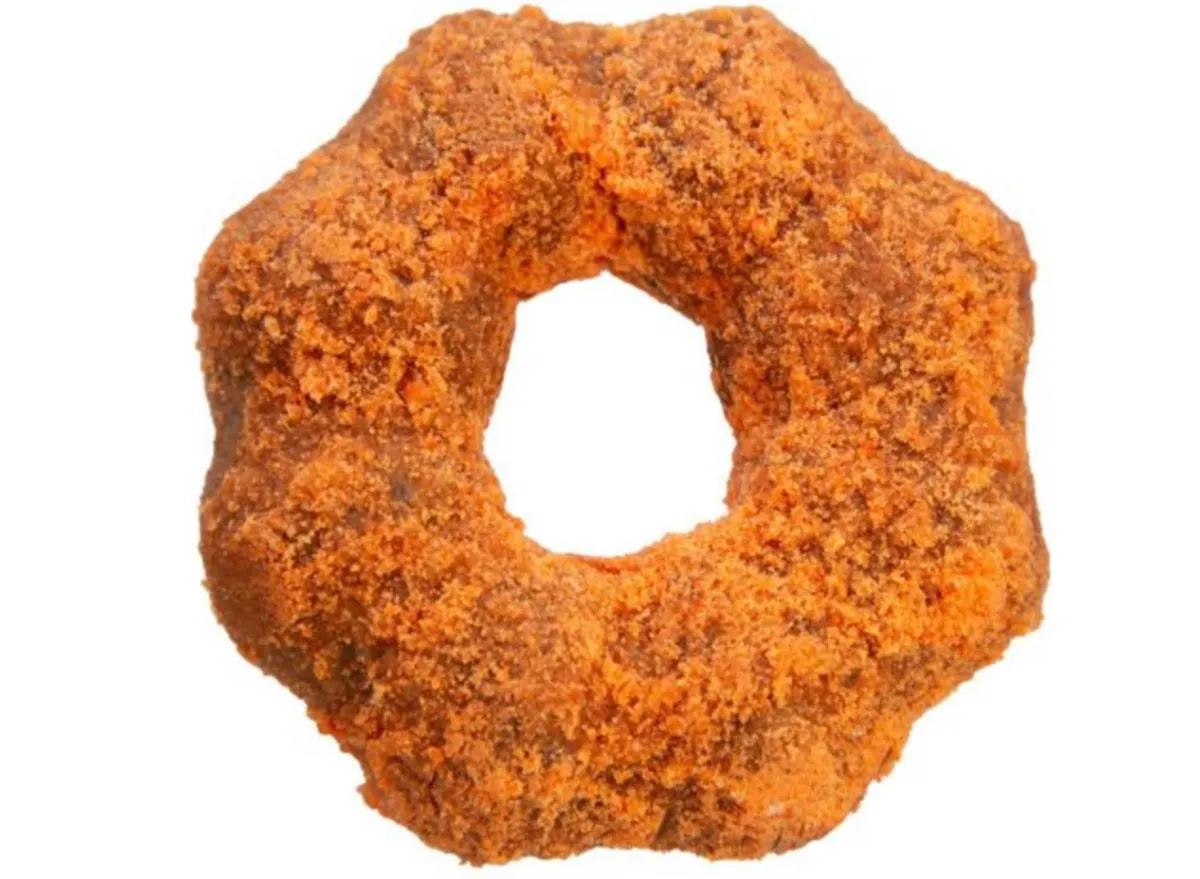 Per donut
: 450 calories, 24 g fat (11 g saturated fat, 0 g trans fat), 420 mg sodium, 57 g carbs (1 g fiber, 35 g sugar), 4 g protein
This fan-favorite cakey chocolate donut is covered in a crumbly topping and had fans petitioning for it to come back when they took it off the menu years ago. While it may taste delicious, just one donut has over 50% of your DV for saturated fat and 18% of your DV for sodium, even though it doesn't taste the least bit salty. The high sodium is likely masked by its 34 grams of added sugar, which is 68% of the amount you should have in an entire day.
Bagels and Muffins
Craving a classic breakfast food? There are plenty of options to choose from. Some will leave you energized and ready to take on the day, while others are better left as an occasional treat.
Per bagel
: 380 calories, 8 g fat (1 g saturated fat, 0 g trans fat), 550 mg sodium, 63 g carbs (8 g fiber, 8 g sugar), 15 g protein
"The Dunkin' Multigrain Bagel is made from whole grains, seeds, and oat fiber, which add a great source of fiber in the morning," says Wan Na Chun, MPH, RD. A high-fiber diet prevents constipation, promotes a healthy gut, and can help lower blood cholesterol and blood sugar.
Even without a topping, this bagel has an impressive 15 grams of protein. "For additional protein, you can add cream cheese or even some peanut butter for a vegan option," says Na Chun.
Worst: Coffee Cake Muffin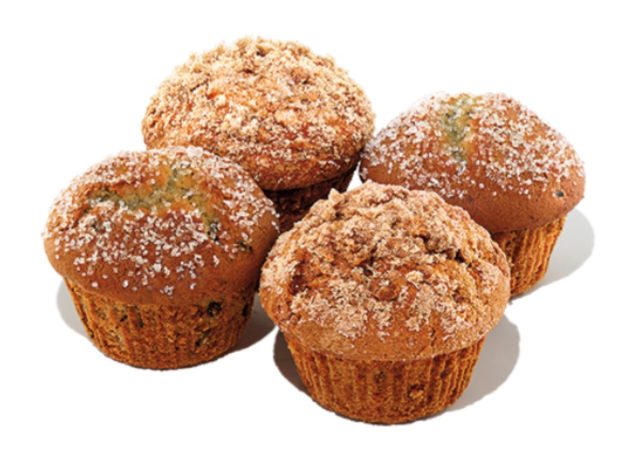 Per muffin
: 590 calories, 24 g fat (8 g saturated fat, 0 g trans fat), 370 mg sodium, 88 g carbs (2 g fiber, 51 g sugar), 7 g protein
While muffins can be a good breakfast choice, sometimes filled with fruit, fiber, whole grains, and other high-value nutrients, the Coffee Cake Muffin off of the Dunkin' Donuts menu is definitely not one of them. Arguably one of the worst muffins for your health, the coffee cake muffin has 100% of your daily value of added sugars, with over 50 grams in just one muffin. That's more sugar than what is in a can of Coca-Cola.
Given the low protein and fiber in this muffin, it's not likely to keep you full and satisfied for long, but has as many or more calories than most meals, increasing the chances of overeating throughout the day.
Snacks and Wraps
Need a savory pick-me-up? Among the donuts and muffins are plenty of snacks and wraps on the Dunkin' Donuts menu for a filling meal on the go.
Best: Egg and Cheese Wake-Up Wrap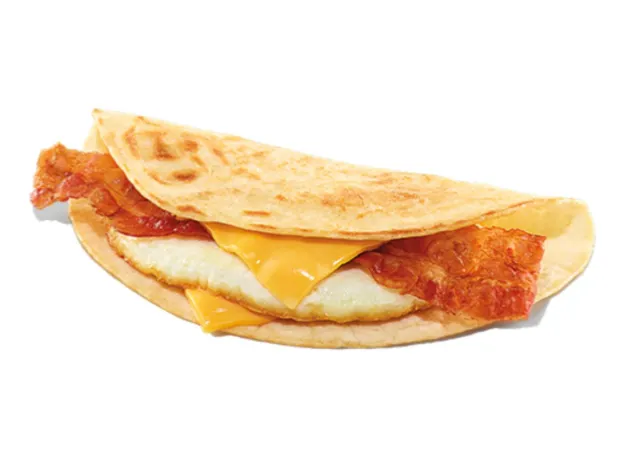 Per wrap
: 180 calories, 10 g fat (4 g saturated fat, 0 g trans fat), 470 mg sodium, 14 g carbs (0 g fiber, 1 g sugar), 7 g protein
"The Dunkin' Donuts Egg and Cheese Wake-Up Wrap has 7 grams of protein coming from the egg and cheese," says Justine Chan, MHSc, RD, CDE. This savory snack has enough protein to fill you up while staying low in calories, sugar, and saturated fat.
Keeping it meatless reduces the saturated fat and sodium for a heart-healthy breakfast, adds Chan. This would be perfect to pair with a lightly sweetened drink to enjoy a balanced snack of carbohydrates, protein, and fat.
Best: Stuffed Bagel Mini with Plain Cream Cheese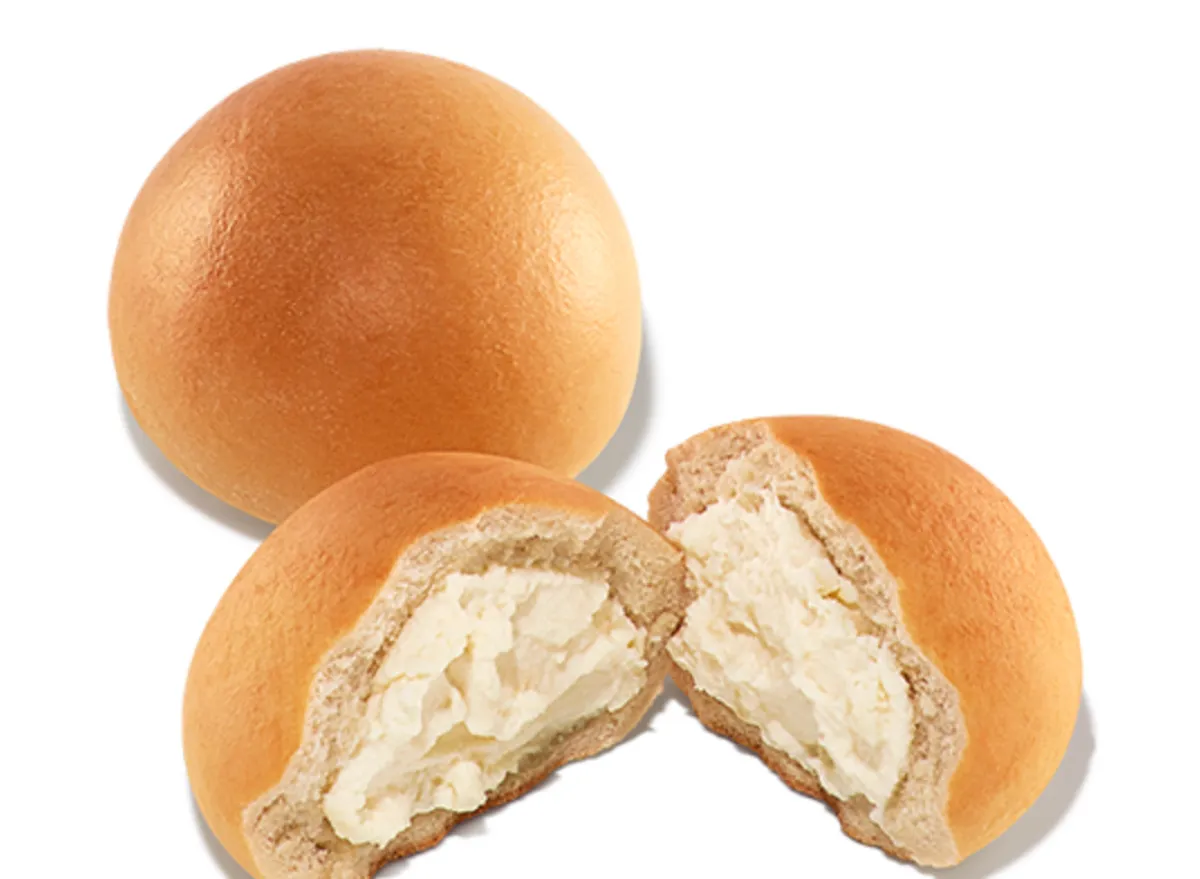 Per 2 bagel minis
: 240 calories, 10 g fat (6 g saturated fat, 0 g trans fat), 400 mg sodium, 32 g carbs (2 g fiber, 5 g sugar), 7 g protein
"The Stuffed Bagel Minis with Plain Cream Cheese is perfect if you're being mindful of your salt intake but don't want to sacrifice your favorite foods," says Catherine Karnatz, MPH, RD, creator of Nutrition Education RD.6254a4d1642c605c54bf1cab17d50f1e
The American Heart Association recommends no more than 2,300 milligrams of sodium per day, with the ideal amount not exceeding 1,500 milligrams. Choosing the stuffed bagel mins over the traditional bagel saves you 220 milligrams of sodium.
"If you usually start your day off eating something light, the 7 grams of protein in 2 of these stuffed bagel minis can help you power through the morning," Karnatz adds.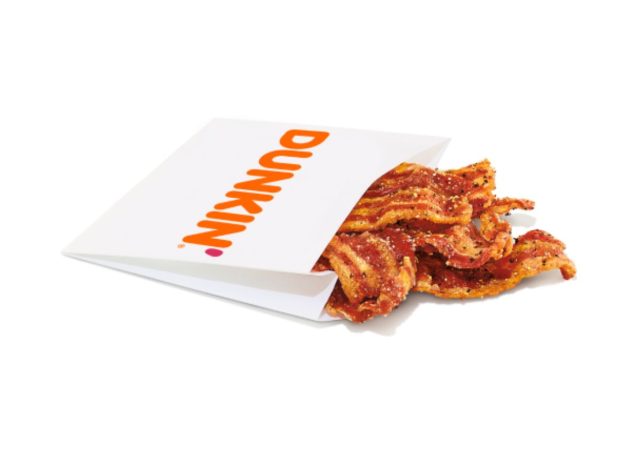 Per serving
: 190 calories, 12 g fat (4.5 g saturated fat, 0 g trans fat), 500 mg sodium, 10 g carbs (0 g fiber, 9 g sugar), 10 g protein
The Snackin' Bacon off of the Dunkin' Donuts menu is one of the worst snack options. It has 500 milligrams of sodium, which is 21% of the daily limit. While you would often consider bacon to be a high-protein, high-fat food with very little sugar, this snack proves this theory wrong with 9 grams of added sugars.
If you're craving bacon, you're better off adding a small amount of it to another meal that has more variety and nutrients like fiber and extra protein to cut down on the added sodium while keeping you full and satisfied.
Sandwiches
For a full meal, Dunkin' has plenty of sandwich options with enough calories and protein to keep you full all morning long.
Best: Sourdough Breakfast Sandwich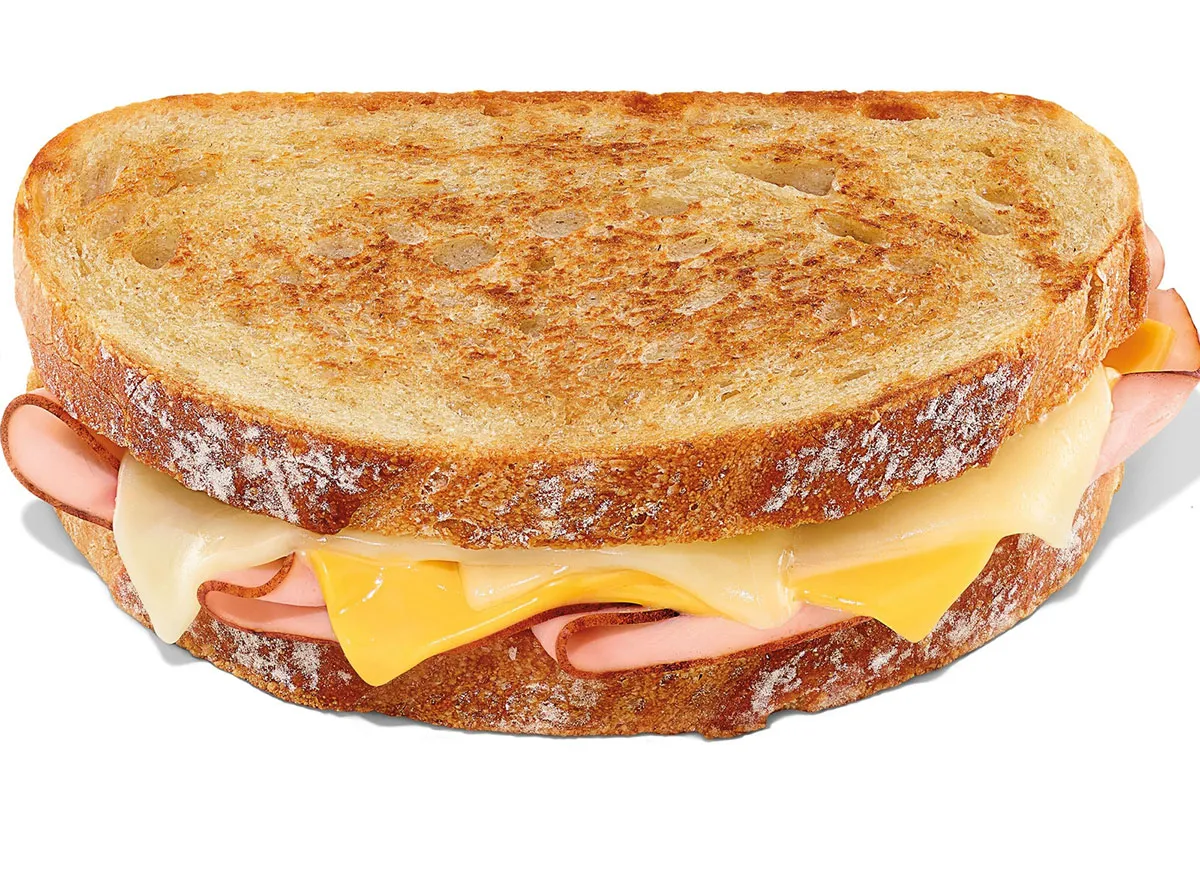 Per sandwich
: 650 calories, 32 g fat (11 g saturated fat, 0 g trans fat), 1,360 mg sodium, 58 g carbs (3 g fiber, 2 g sugar), 31 g protein
"The Sourdough Breakfast Sandwich is chock-full of nutrition with eggs and avocado on sourdough toast," says Caroline Thomason, RD, CDCES, a Northern Virginia-based dietitian.
Each sandwich has 31 grams of protein, and high-protein breakfasts are associated with higher satiety, improved muscle health, and reduced night-time snacking. The combination of heart-healthy fat and filling proteins is the perfect fuel when you're on the go, adds Thomason.
Worst: Sausage, Egg & Cheese Croissant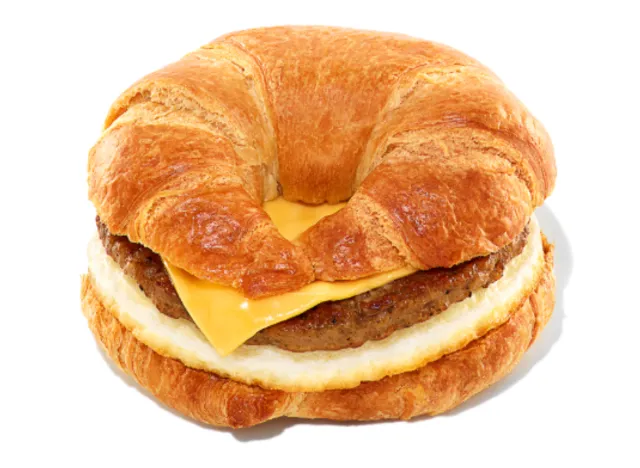 Per sandwich
: 720 calories, 52 g fat (20 g saturated fat, 0 g trans fat), 1120 mg sodium, 42 g carbs (2 g fiber, 6 g sugar), 21 g protein
A sausage, egg & cheese sandwich on a croissant may fill you up, but this one comes with 100% of the recommended limit of saturated fat.
Research shows that replacing saturated fat with mono-unsaturated fats, like that from avocado or olive oil, reduces triglycerides and shifts the balance of LDL-cholesterol in the blood from dangerous small-dense LDL to large buoyant LDL, which is a more heart-protective balance. It also helps increase the rate of fat oxidation, so you burn fat more quickly and store less of it.
Teas
If coffee isn't your thing, or you like to switch up your drinks, Dunkin' Donuts has plenty of tea options to choose from. From basic tea to a tea that is basically juice, there's a wide range of healthful to unhealthful drinks in the tea department.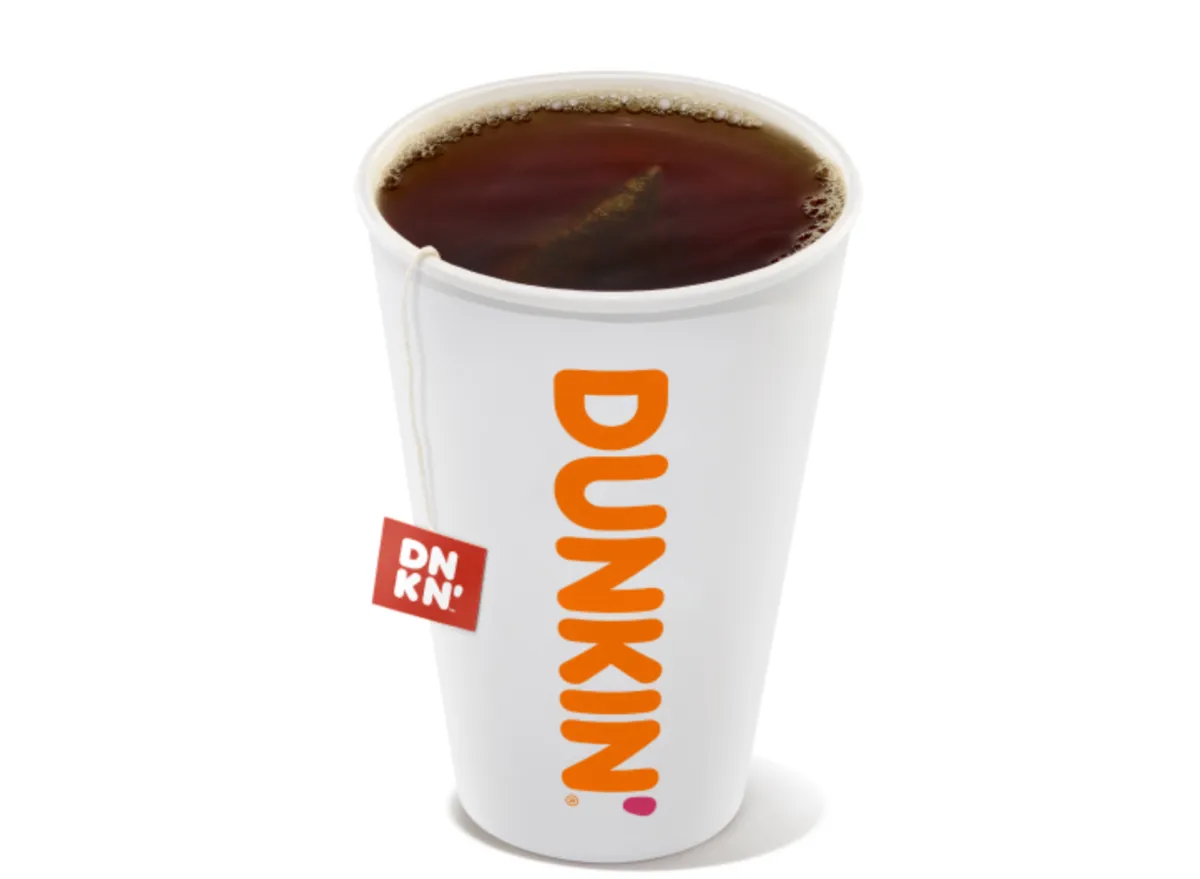 Per cup
: 0 calories, 0 g fat (0 g saturated fat, 0 g trans fat), 0 mg sodium, 0 g carbs (0 g fiber, 0 g sugar), 0 g protein
The Dunkin' Donuts menu has a wide variety of hot teas that offer hydration, comfort, and health benefits without calories, sugar, fat, sodium, or protein.
"Hot tea is rich in antioxidants and helps to aid digestion after meals," says Jessie Hulsey RD, LD, Atlanta-based registered dietitian. You can choose from black, green, or herbal teas, including mint, hibiscus, or chamomile.
While all tea has powerful plant compounds that can impact your health, green tea is a classic health option with plenty of research behind it. Routinely drinking green tea, whether hot or iced, reduces inflammation and may improve blood cholesterol and blood pressure.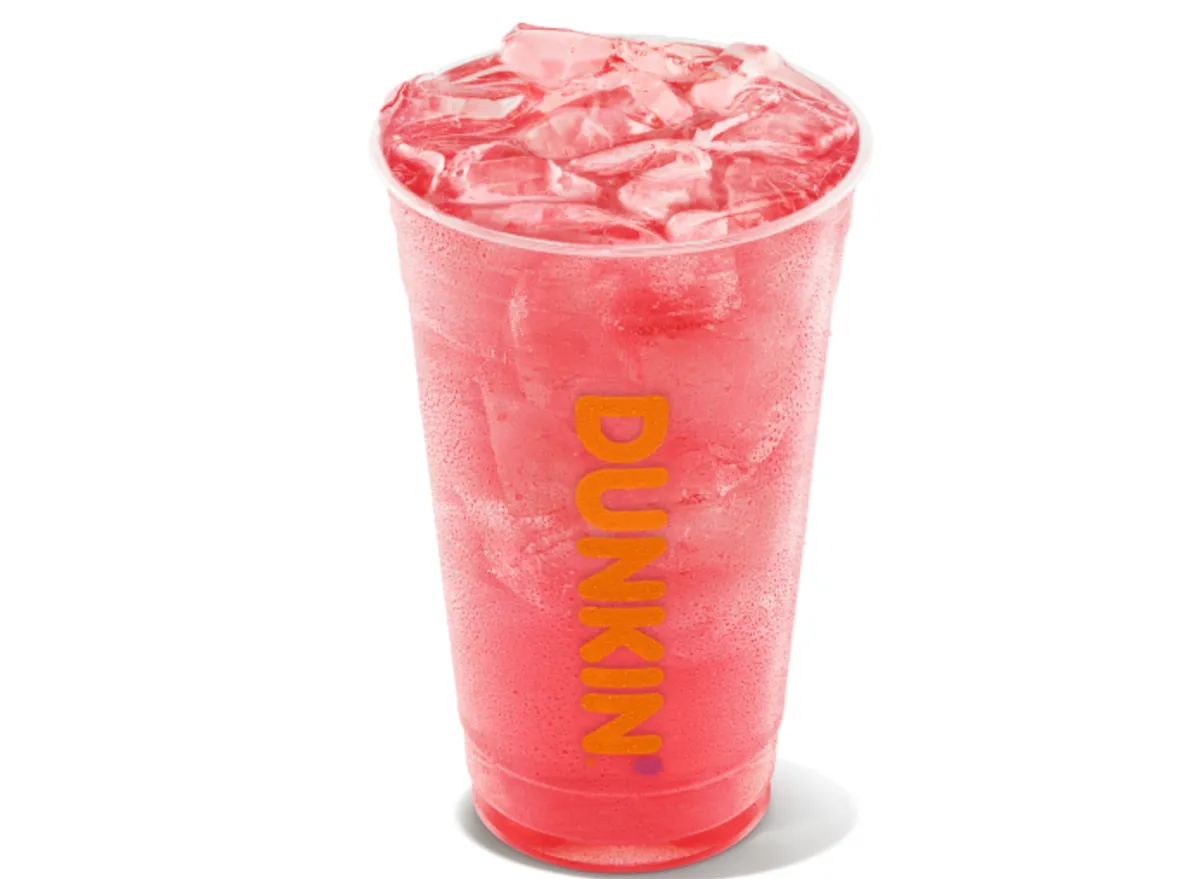 Per medium drink
: 130 calories, 0 g fat (0 g saturated fat, x0g trans fat), 15 mg sodium, 29 g carbs (0 g fiber, 27 g sugar), 1 g protein
With three flavors to choose from, including Mango Pineapple, Peach Passion Fruit, and Strawberry Dragon Fruit, the Tea Refreshers are full of flavor—and sugar. "They may look fun and colorful, but I would discourage ordering their Tea Freshers, as they are usually pre-sweetened with juice and sweeteners that can significantly spike blood sugar levels and contribute additional calories to your daily intake," says Hulsey.
For a healthier alternative, order one of their herbal teas and add the amount of sweetness you like for great flavor and fewer added sugars.
Frozen drinks
All of the frozen drinks at Dunkin' are packed with excessive amounts of added sugar. But enjoying a small drink here or there isn't going to make or break your diet. Here's the best option, along with one of the worst, when looking at the healthfulness of the drinks.
Best: Small Frozen Coffee with Skim Milk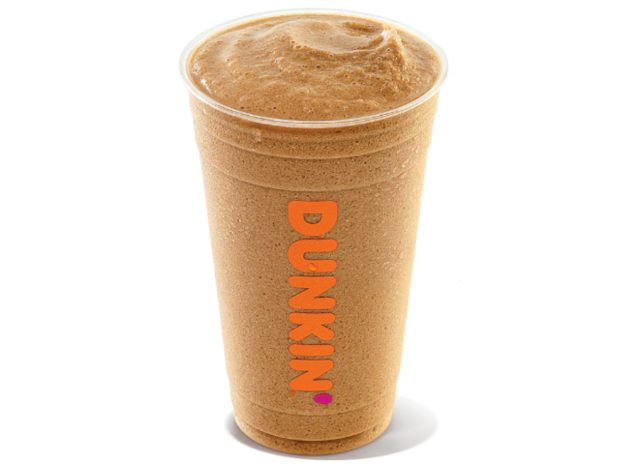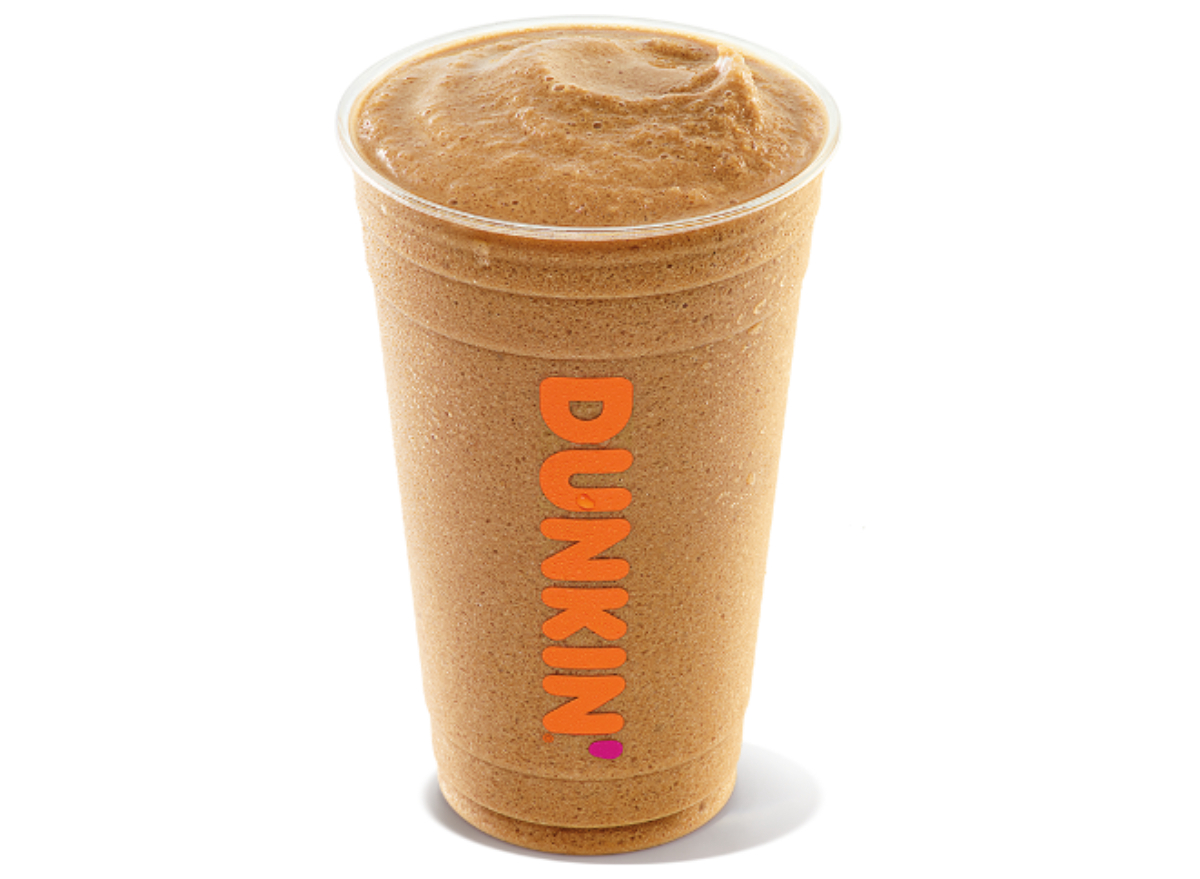 Per small size
: 370 calories, 0 g fat (0 g saturated fat, 0 g trans fat), 115 mg sodium, 88 g carbs (0 g fiber, 84 g sugar), 6 g protein
Even without extra flavoring, a small frozen coffee from Dunkin' has 153% of the recommended limit for added sugar. But if you're craving a frosty frozen drink, this is the best, lowest-sugar, and most healthful option.
Worst: Medium Frozen Hot Chocolate with Caramel Swirl
Per medium drink
: 700 calories, 14 g fat (10 g saturated fat, 0 g trans fat), 290 mg sodium, 135 g carbs (1 g fiber, 126 g sugar), 9 g protein
"While frozen blended beverages may be refreshing for the hot summer – beware that many end up being higher in calories and fat than those that are simply iced," warns Michelle Rauch MS RDN, NY/NJ, metro area registered dietitian nutritionist for the Actors Fund Home.
To put things in perspective, a Dunkin' Donuts Medium Frozen Hot Chocolate, without any extra syrup or customizations, has 700 calories, which is the same amount of calories in two medium Wendy's French Fries.
Espresso and coffee
The original reason Dunkin' exists: to meet all of our coffee, espresso, and caffeine needs.
Best: Medium Iced Coffee with Whole Milk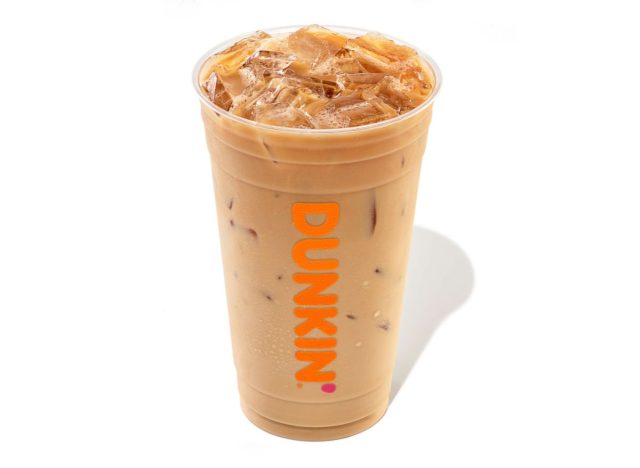 Per medium
: 30 calories, 1.5 g fat (1 g saturated fat, 0 g trans fat), 35 mg sodium, 2 g carbs (0 g fiber, 2 g sugar), 2 g protein
An iced coffee with whole milk is the perfect drink for a little indulgence without excess sugars, calories, or fat coming from a drink.
While drinking your calories is okay and, at times, can even be a preferred way to get your nutrition, liquid calories are just not as satisfying as calories from food. Studies have found that liquid calories will have you reaching for another meal an average of two hours before you would if you had eaten the same amount of calories from food.
Choosing lower calorie drinks off of the Dunkin' Donuts menu that you still enjoy, like this iced coffee, can be satisfying and also leave room for you to eat a balanced and nutrient-dense meal without overeating.
Worst: Medium Caramel Craze Signature Latte with Whole Milk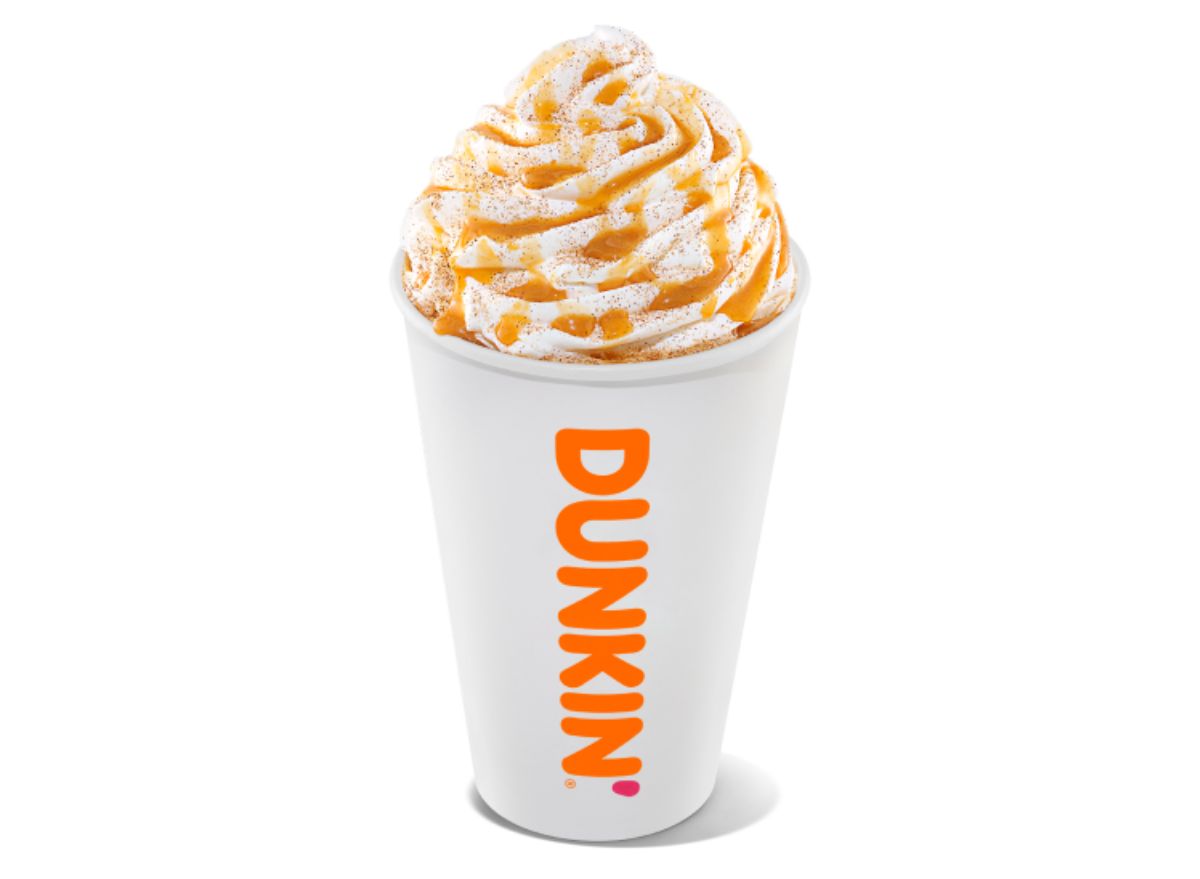 Per medium
: 410 calories, 14 g fat (8 g saturated fat, 0 g trans fat), 190 mg sodium, 61 g carbs (0 g fiber, 57 g sugar), 11 g protein
While the latte itself doesn't contribute much beyond a little fat from the milk and caffeine, the Signature Latte makes a dessert out of it by adding whipped topping and sweet drizzle.
You can enjoy a signature latte, but it will add 39 grams or 78% of the recommended limit for added sugar in just one medium drink.
Kelsey Kunik, RDN
Kelsey Kunik is a registered dietitian, freelance writer, nutrition consultant, and sustainable food blogger.
Read more about Kelsey
Sources referenced in this article