People Are Using Aloe Vera Juice For Acne, And The Results Are Mind-Blowing
The latest skincare trend is making major waves on social media.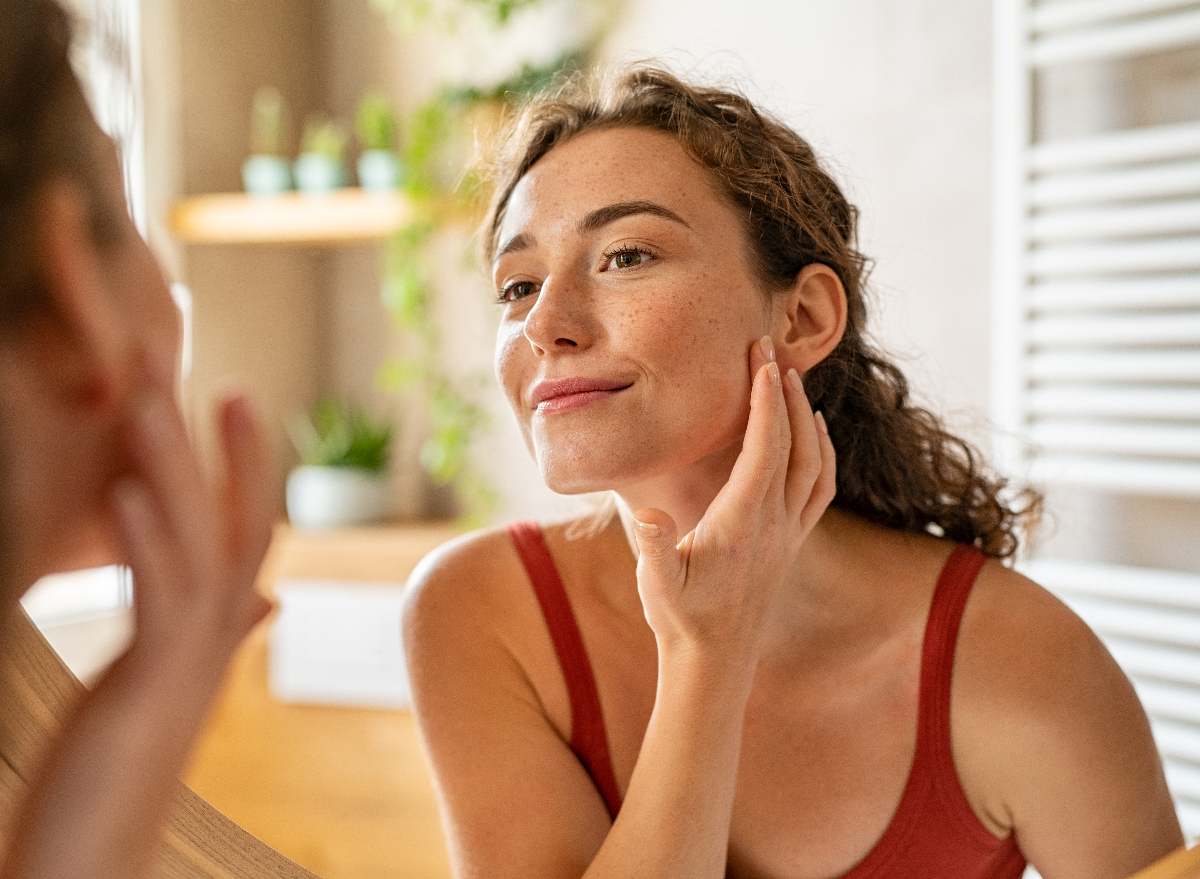 Every once in a while, a very healthy, good-for-you item that's been around forever well, forever, regains major popularity. Right now, the latest and greatest health trend that's making tidal waves on TikTok is aloe vera juice, and the #aloeverajuice hashtag has understandably attracted more than 14.5 million views.
You can find many TikTokers boasting about the incredible benefits this juice provides, including clearing skin breakouts, enhancing general skincare routines, growing healthier hair, growing curlier hair, and improving digestion and gut health. You can even find homemade recipes on TikTok for face serums, hydration treatments, facial masks, and so much more. Read on to learn more about the aloe vera juice fad, and next, be sure to check out The 6 Best Exercises for Strong and Toned Arms in 2022, Trainer Says.
Aloe vera is chock-full of vitamins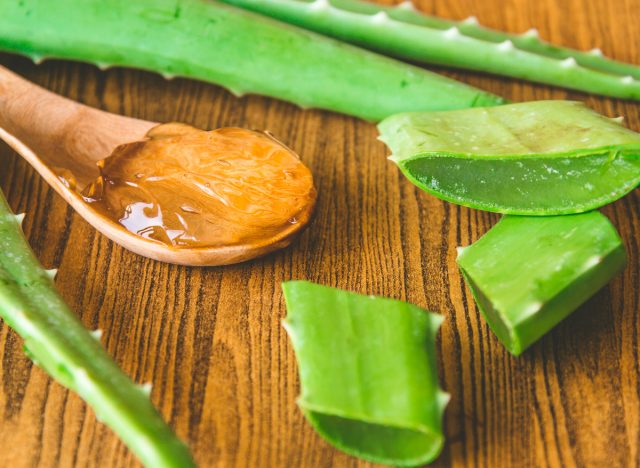 You likely already know that aloe vera is a succulent, and saying it's extremely nourishing is an understatement. It's been used for quite some time, dating all the way back to ancient Egyptian times, for its many astounding qualities. Aloe vera gel is commonly used externally to soothe and treat burns and sunburns, general itchiness, and even eczema. Aloe vera juice is consumed for its nutritious value, and studies have proven that drinking this juice provides so many health benefits. It's no surprise, as it's chock-full of vitamins A, C, E, B1, B2, B3, B6, and B12. Three of these vitamins—A, C, and E—are antioxidants, which can help prevent heart disease, cancer, and more (via Yeah! Livestrong).6254a4d1642c605c54bf1cab17d50f1e
Related: The Secret Skincare Tricks To Slow Down Aging Skin, Dermatologist Says
It has plenty of health benefits, including preventing dehydration and regulating blood sugar
Want to know more of the many amazing things aloe vera can help with? You asked, so here goes. This magical juice can stimulate your immune system, regulate blood sugar, assist with gastrointestinal issues, provide antiseptic and anti-inflammatory benefits, prevent dehydration, and provide antiviral properties. It can also improve digestion and help with gas, acidity, and constipation (via Yeah! Livestrong). And we're not done yet—aloe vera is so great for your liver function, and it can help to spark your appetite while keeping your weight on task. Pretty mind-blowing, right?
Related: The 3 Best Exercises To Get Rid Of Sagging Skin Under Your Chin, Trainer Says
Videos on TikTok rave about aloe vera juice's gut health and skincare benefits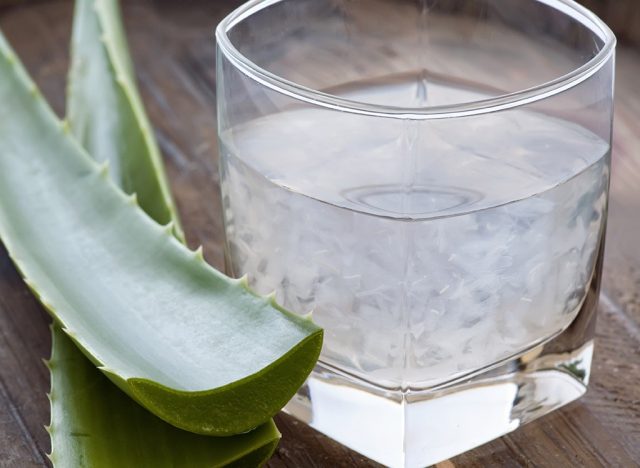 One of the top-liked viral videos on TikTok raving about the benefits of aloe vera juice received over 958K likes and 5.3 million views. Posted by TikToker Bria Lemirande (@brialem), the video shows aloe vera juice so much praise and love. Lemirande takes one shot (one ounce) of the juice in the morning and another at night, and says, "I don't have the beauty filter on right now, and my skin was really broken out just last week, and it's cleared up a ton since then. And also, my digestive system, like my gut health, never been better—never been better." (Lemirande does note, though, "Just a little announcement: lots of people have been saying this isn't safe for pregnant women!")
The post received a ton of notable comments such as, "Best thing for acid reflux I put my life on it," and, "My dad drinks it [every day] and it literally cured his psoriasis." TikTokers also added that Lemirande's skin looks "amazing" and she's "glowing."
Another TikToker @munch.with.momo tried out the viral trend after watching Lemirande's video and wanted to see if aloe vera juice would help with her acne and psoriasis. After two weeks of consuming the juice, the TikToker notes her skin has "cleared up" and is ultra-plump and soft. "I am really loving the results," she says. "Like my jawline here has been the smoothest it's been in maybe years. It's been a problem area for me. And also my gut health, my gut health is *chef's kiss* … my bloating, I don't bloat down there, like I wake up feeling you know slimmer."
According to Healthline, you can also use aloe topically as an overnight spot treatment to directly target pimples. Or, lather it onto your face instead of a cleanser to increase your skin's blood flow and ward off any bad bacteria. It can be used to address and lighten acne scars, too.
Here's where you can shop this magical juice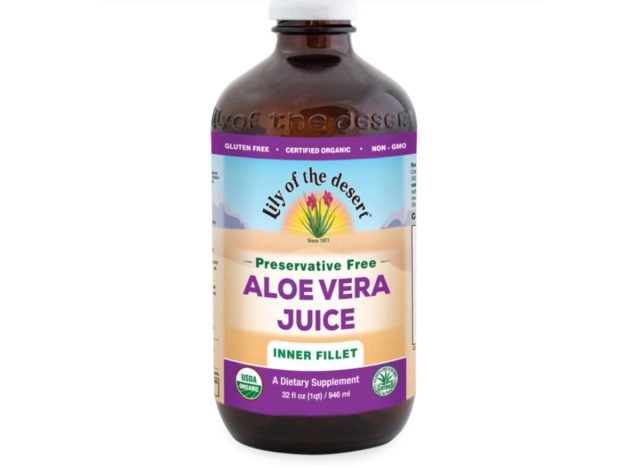 You can buy aloe vera juice pretty much all over, including The Vitamin Shoppe, Walmart, Whole Foods, GNC, and Amazon. But did you know that you can also grow your own aloe plants right at home? If you live in a warm climate, the plants can grow and thrive outside. If not, you can easily maintain a houseplant that will look spot-on with any decor. It should be no surprise, but this remarkable plant that's bursting with benefits for your well-being can also help maintain clean air in your house, too. Be right back—we're headed to our local garden center.
Alexa Mellardo
Alexa is the Mind + Body Deputy Editor of Eat This, Not That!, overseeing the M+B channel and delivering compelling fitness, wellness, and self-care topics to readers.
Read more about Alexa