The Worst States To Live In For Good Sleep, New Research Says
If you live in these states, you may not be getting the best quality sleep.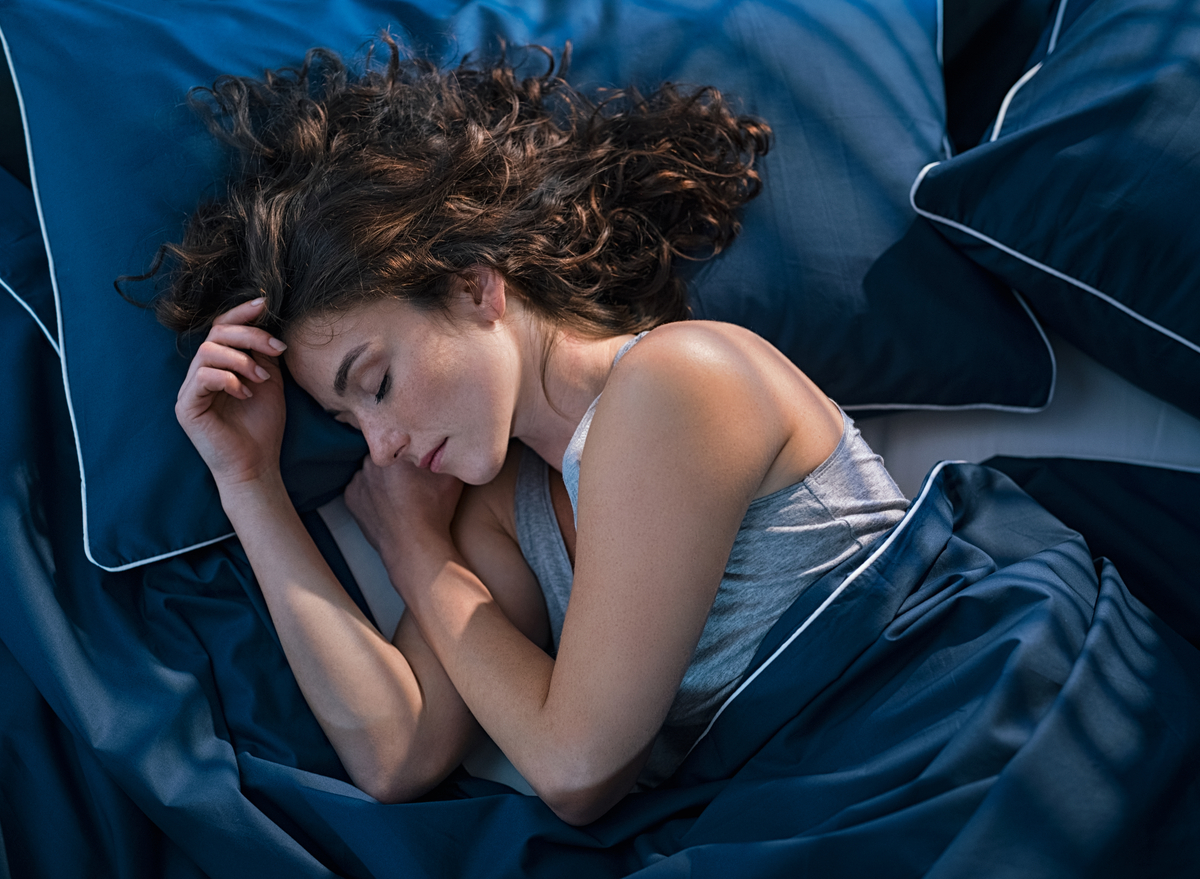 Are you a great sleeper and live a balanced life? If so, kudos to you, and it's time to celebrate, because the month of March is recognized as National Sleep Awareness Month. After all, maintaining a lifestyle complete with exercise, a smart diet, and quality sleep is something to smile about, as it can profoundly affect your overall health and wellness. Contrarily, a lack of appropriate sleep can negatively impact your life big time. In recognition of the calendar event, Piglet in Bed, a luxury sleep brand, has recently researched the best states and the worst states to live in for good sleep.
Where you sleep matters, and if you're curious about where your state ranks, we have the details. Read on to learn more about the best states and the worst states to live in for good sleep. And next, be sure to check out The 6 Best Exercises for Strong and Toned Arms in 2022, Trainer Says.
Here are some sleep expert-approved tips on getting a good night's rest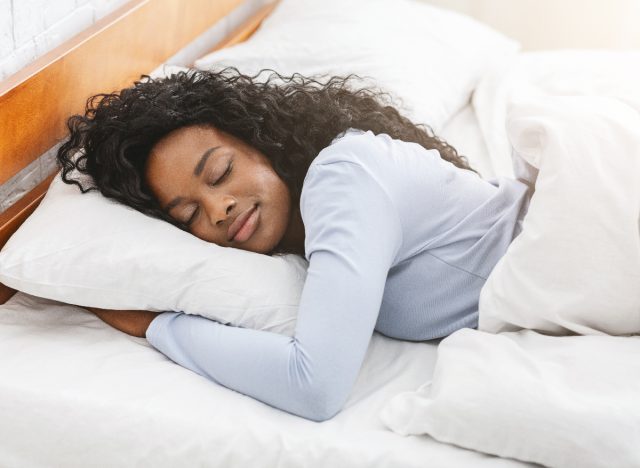 Much research has been done over the years to understand everything that has to do with quality sleeping. Science has proven that not getting the right amount of sleep on a regular basis can put you at risk for chronic health issues, including high blood pressure, diabetes, depression, obesity, and heart disease.
Independent sleep expert, Dr. Neil Stanley, and bestselling author of How to Sleep Well who has over 40 years of experience in sleep research shares input on the matter with Piglet in Bed. Stanley reveals many simple habits you can change when it comes to sleeping better. For instance, having a consistent wake-up time each day of the week is key, as is a consistent bedtime routine. Also, sleeping in a cooler temp, ideally in the 60-65F range, is beneficial—and don't pile on the blankets.
Stanley also stresses avoiding exposure to blue light, eating heavy meals, and consuming too much alcohol before sleeping, as well as caffeinated beverages and naps during the day. If noise bothers you, try earplugs, and if lightness bothers you, try room darkening shades. Lastly, Stanley suggests for those nights when you get into bed and start to toss and turn, get up and find something to do until you are more tired.
Related: Why You're Not Sleeping Anymore As You Get Older, Expert Says6254a4d1642c605c54bf1cab17d50f1e
Here's how the research was conducted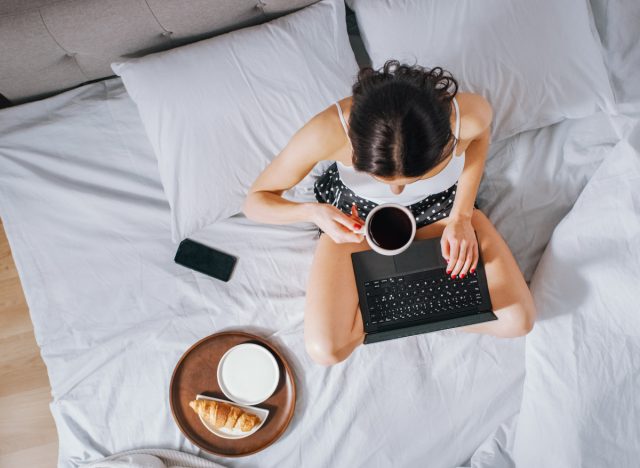 Everyone has unique sleep requirements; what works for one may not work for someone else. So many environmental factors can negatively impact catching some Z's, and interestingly enough, where you live can also have something to do with your quality of sleep.
Piglet in Bed has compiled data from various sources, including labor statistics, Glassdoor reviews, stress scores via WalletHub, traffic data, insomnia search data via Google, and more to compare eight sleep elements in each state of the country. There was a score given for each category; the lower the score, the better the rating. The final scores determined the best and worst states in which to live in the country where you can experience a healthy sleep and work balance.
Related: The Underrated Benefits Of Good Sleep You Haven't Heard About, Expert Says
These are the best and worst states to live in for the healthiest sleep and work-life balance
For every state, the study evaluated the minutes of sleep time most individuals get, hours worked, average pay, job satisfaction, endured stress, loudness in the area, light, and insomnia (certain areas seem to experience more of this than others).
The brand discovered that the state that offers the healthiest sleep and work-life balance is Colorado, followed by Alaska and Wyoming. The number 1 state for best sleep quality is Utah, followed by Montana and Vermont. The top 3 states in the country for a satisfying job include Alaska, California, and Texas. Utah is an extraordinary state—not only for its natural beauty, national parks, and even the ability to see the Milky Way in some areas, but it's also an amazing state in which to snooze extremely peacefully.
When it comes to the worst states for overall sleep and work-life balance, North Carolina ranked last place (spot 50), preceded by Oklahoma (spot 49), Nevada (spot 48), Indiana (spot 47), South Dakota (spot 46), and Nebraska (spot 45). Their sleep scores are "very below average" (between 176 and 213), according to the report.
For more…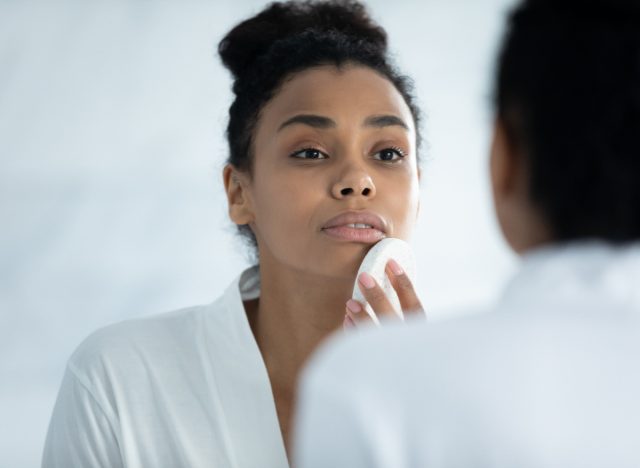 For more mind and body news, check out Difficulty Sleeping? This Luxurious Sleep Cruise Is For You and The 5 Best Face Yoga Exercises For Ageless, Sculpted Skin.
Alexa Mellardo
Alexa is the Mind + Body Deputy Editor of Eat This, Not That!, overseeing the M+B channel and delivering compelling fitness, wellness, and self-care topics to readers.
Read more about Alexa