The 5 Best Face Yoga Exercises For Ageless, Sculpted Skin
These exercises will give you a more toned, youthful glow.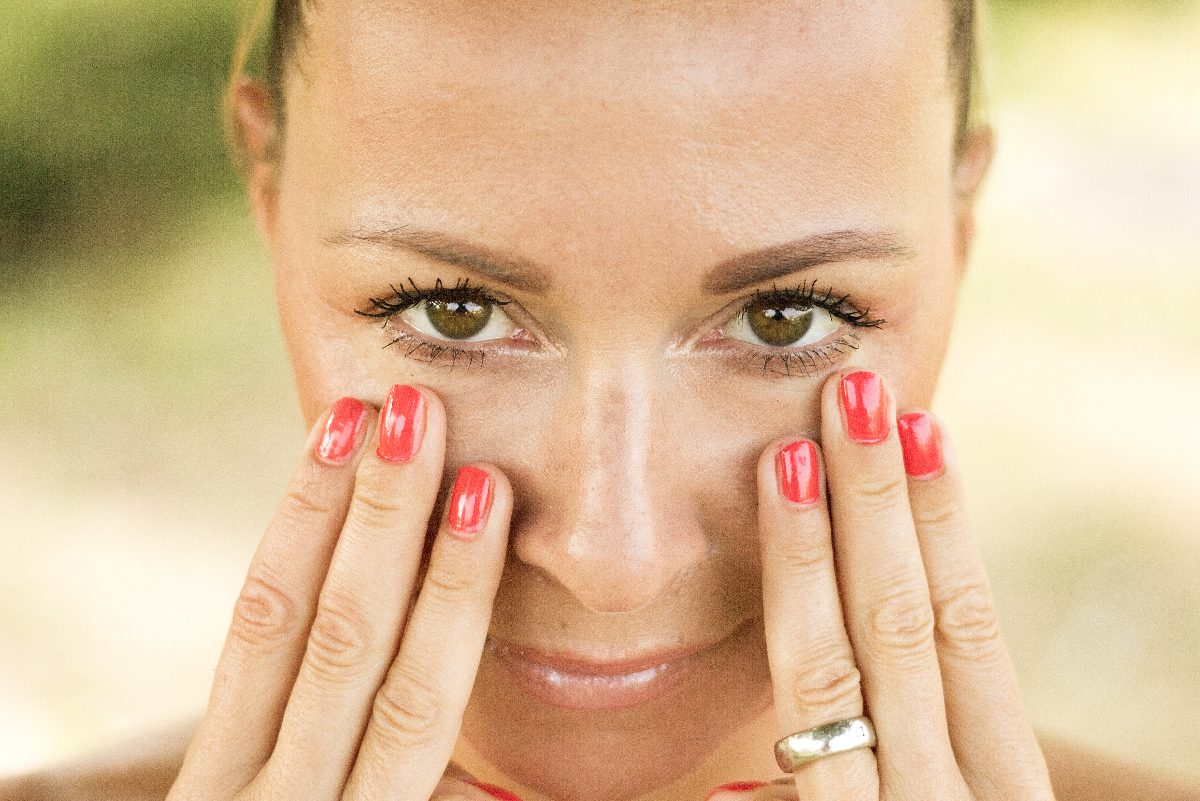 "Ugh, I'm starting to see wrinkles," is a statement I often hear from clients. As a yogi and new mom who is slowly approaching 35, I can totally relate. This is why I've been utilizing healthier alternatives to soften fine lines and defy the aging process. If you're looking for a more natural approach that decreases toxin and chemical exposure and increases collagen production, then I highly recommend incorporating these face yoga exercises into your daily routine.
First off, what is face yoga? It is the practice of engaging, massaging, and stretching the muscles and skin of the face while also stimulating the lymphatic system. Just like traditional yoga, face yoga can be an amazing tool to promote longevity and reduce inflammation. Here are the 5 best face yoga exercises to create a more toned, youthful glow. Perform each move 10 to 15 times for a full yoga face sequence. And next up, be sure to check out The 6 Best Exercises for Strong and Toned Arms in 2022, Trainer Says.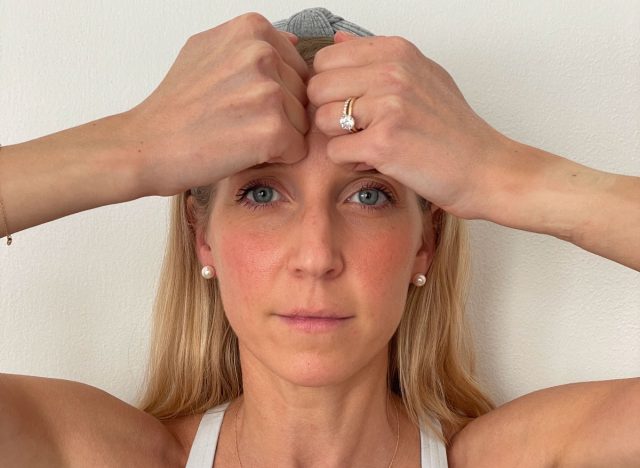 If you suffer from lines across your forehead, this exercise is for you. Make fists with both of your hands, and then glide your fingers and knuckles horizontally from the middle of your forehead towards your hairline.
Related: The #1 Skincare Routine For Ageless Skin, Top Dermatologist Says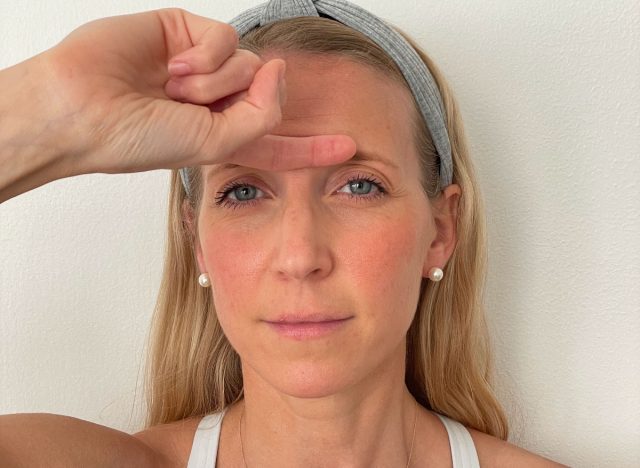 Starting to see those tiny, vertical lines in between your eyes? Try this. Hook your finger, and then use it to massage up your forehead—moving from your brow to your hairline. You'll want to do this across the section between your eyes.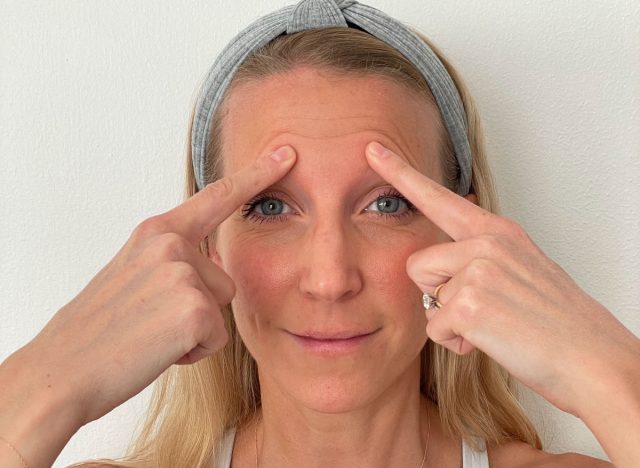 To keep your brows in check, press your index fingers on either side of the bridge of your nose. Take a breath here, and then sweep your fingers to trace and massage along the brow line.6254a4d1642c605c54bf1cab17d50f1e
Related: The #1 Morning Yoga Flow That Will Keep You Energized All Day, Expert Says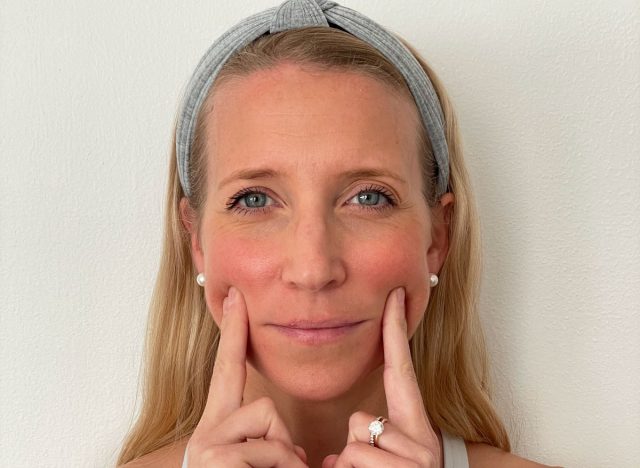 Want springy, sculpted cheeks? If so, use your index and middle fingers to gently slide your fingers from your chin to your jaw. Continue this sweeping motion up the cheek towards the cheekbone. On the last stroke up the cheekbone, pause your fingers on your temples for a nice relaxing acupressure point.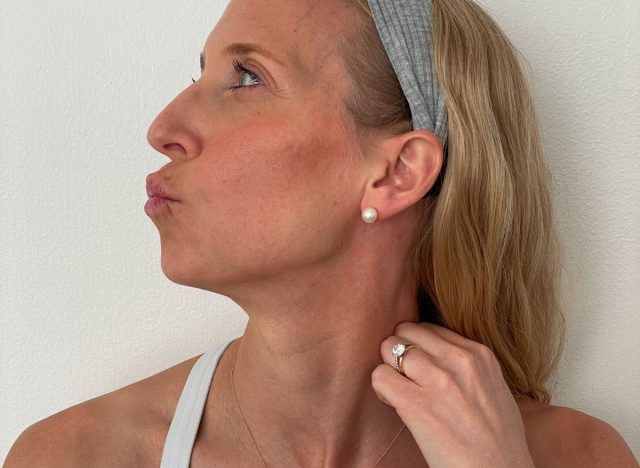 If it feels like you are holding all of your stress in your neck these days, this exercise will give you much-needed relief. Turn your head at a 45-degree angle, and pucker your lips. Then, make a fist with the same hand as the side of the neck that you're stretching, and use your knuckles to gently move from your jaw down to your neckline. Repeat on the other side.
(Note: Make sure to do this with a clean face and hands and apply face oil so your hands glide across your skin. You can also try this routine with a gua sha.)
For more ways to continue to stay young and beautiful, check out the below:
Jacquie Smith
Jacquie Smith is a certified integrative nutrition health coach from IIN and a fitness instructor specializing in barre, yoga, and pre/postnatal workouts.
Read more about Jacquie