Pepsi and Coca-Cola Are Releasing These 4 New Sodas
New flavors are flowing for these two mega brands.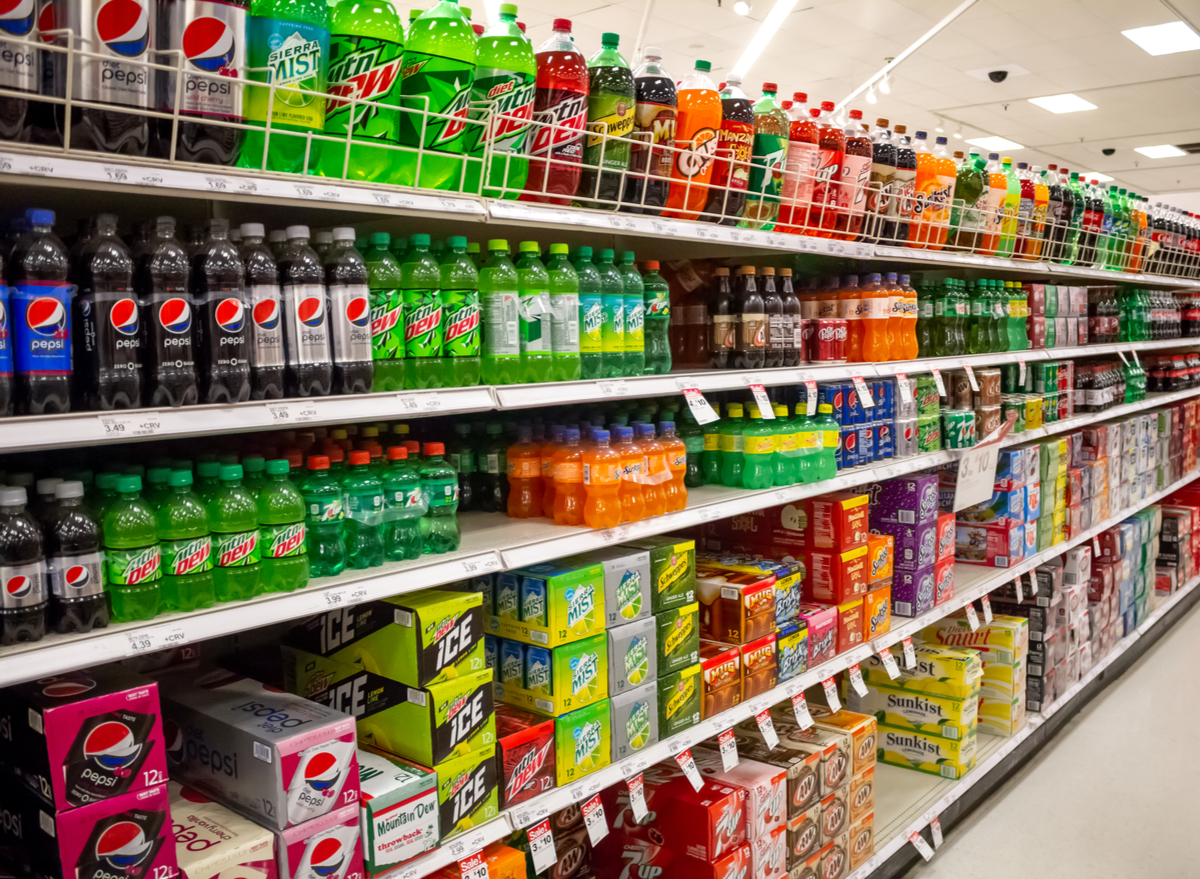 The longstanding top two soda companies in the world, Coca-Cola and PepsiCo, don't rest on the laurels of their still number-one-selling flagship brands, Coca-Cola Classic and traditional Pepsi. They continue to innovate on flavors to tickle the taste buds, each year debuting an ever-more imaginative collection of — let's just say it outright — often bizarre flavor combinations.
Sometimes the new brands take off and sell. Sometimes they become collectibles, like Coke's collection of Sport & Team Bottles (now sold at $7 apiece). And oftentimes they end up being what the industry calls "zombies" — brands like Tab and Odwalla that are eventually discontinued for lack of financial traction.
In the carbonated drink industry, which raked globally at $237 billion in 2021, innovations in taste and clever marketing are the lifeblood for keeping the juices and the profits flowing. This year's debut of new offerings from the Big Two cola companies is no exception to the strange new world of flavored drinks. Here's what's new in 2022.
Out with Carbon, in with Nitro Pepsi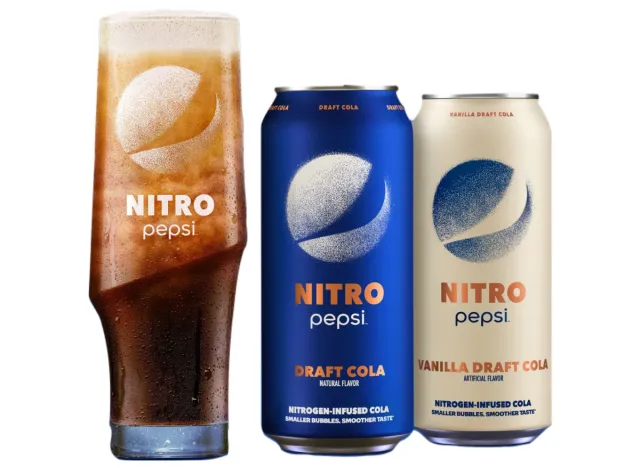 Per one 13.65 fluid ounce bottle
: 230 calories, 62g sugar, 69g carbohydrate, 77mg caffeine. Made with high fructose corn syrup.
Carbon dioxide is no longer a part of the Pepsi "carbon"ation process with its new 2022 flavor, Nitro Pepsi, which launched on March 28 and is available now at grocery stores.
Colas are carbonated. Nitrogen is reserved for cold beer and coffee from Starbucks, which begs the question: Is Nitro Pepsi even a cola? Think of it as a hybrid. According to the Nitro Pepsi news release, the company believes its new product "will redefine cola for years to come." Pepsi even uses a beer word, "draft," to describe its two flavors, Nitro Draft Cola and Nitro Vanilla Draft Cola.
The nitrogen is infused into the drink via a small widget at the bottom of the can. When opened, the drink fizzes. When poured, it fizzes and then foams. The end result, with its layer of white froth, looks like a dark lager.
Drinking Nitro Pepsi also involves a learning curve. Suggestions from Pepsi:
Best served cold, ideally without ice.
Best "hard poured" or fully inverted into a tall glass.
Best enjoyed sipped directly from the glass and not through a straw, which allows "the unique foam head to leave a frothy, foamy mustache."
Coca-Cola 'Bytes' for Gamers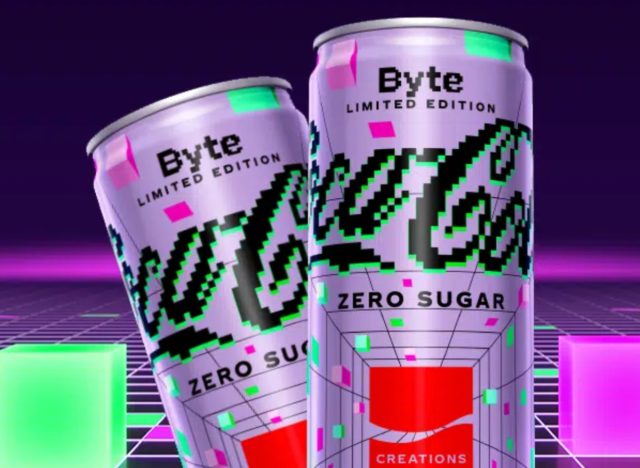 For years the stereotypical computer nerd was pictured guzzling a Coke. This year Coca-Cola is hoping to extend that screen-time popularity to the world of online gamers — hence, the "byte" in its latest limited offering, Coca-Cola Zero Sugar Byte.
Apparently, the company is also hoping that the gamers and other Coke aficionados will better explain what it means when it describes Byte as a "pixel-flavored" beverage "born in the metaverse." But that's the point of the new brand — appealing to the imagination, youth, and the fanfare of a limited-edition product.
Byte comes on the heels of the earlier release this year of Coca-Cola Starlight, red in color and said to evoke a flavor "inspired by space." Both Starlight and Byte arose from the company's new "innovation" division, Coca-Cola Creations, which is all about creating buzz and mining the depths of the gaming community with Coke in hand.
And that's where Byte will reside — on the Internet. First, in preview as part of a new Coca-Cola venture with the gaming organization, PWR, on Pixel Point Island, a game within the popular free-to-play world of Fortnite. It features Byte, somehow.
No free — or real — drinks are available in the metaverse. But Byte will be available to buy online beginning May 2, while supplies last. It comes in 12.5-oz. slim-can twin packs. Visit www.coca-cola.com/creations to order.
No data yet on ingredients but Coke's zero sugar products use the artificial sweetener, aspartame, rather than high fructose corn syrup.
Starbucks and Pepsi, Energized Together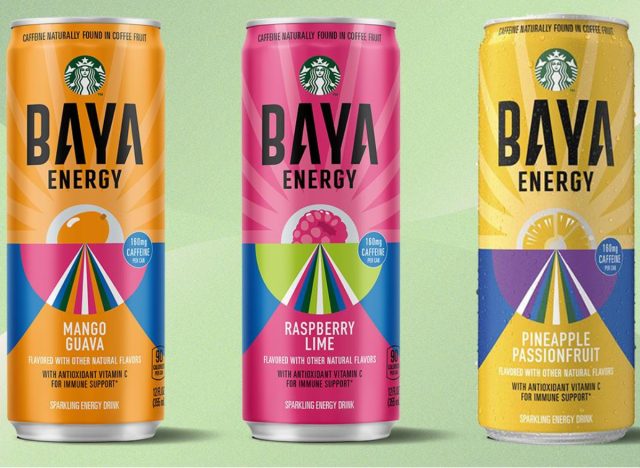 Per 12 fl oz bottle
: 90 calories, 17 grams sugar, 23 grams carbs, and 160 milligrams caffeine. 
Pepsi and Starbucks are joining hands to enter the booming market for energy drinks with their new BAYA Energy line of products. The two developed the brand through their joint ready-to-drink (RTD) venture, the North American Coffee Partnership (NACP).
Using natural coffee fruit for its caffeine — 160 mg per 12 oz. can — and fortified with vitamin C, Chanda Beppu, the vice president of Channel Development Americas at Starbucks, said the company is "thrilled" to introduce BAYA Energy.
BAYA will offer customers "a refreshing, fruit-flavored boost of feel-good energy, in a way only Starbucks can deliver," he assures.
It is Starbucks ' first entry into the $28.25 billion energy drink market. PepsiCo already has a presence with energy brands including Rockstar.
Compared to Rockstar, BAYA could be considered "light," with a calorie count of 90 compared to Rockstar's 200. It comes in three flavors: mango guava, raspberry lime, and pineapple passion fruit.
BAYA is available in grocery stores, convenience stores, gas stations, Starbucks, and online for a suggested retail price of $2.89.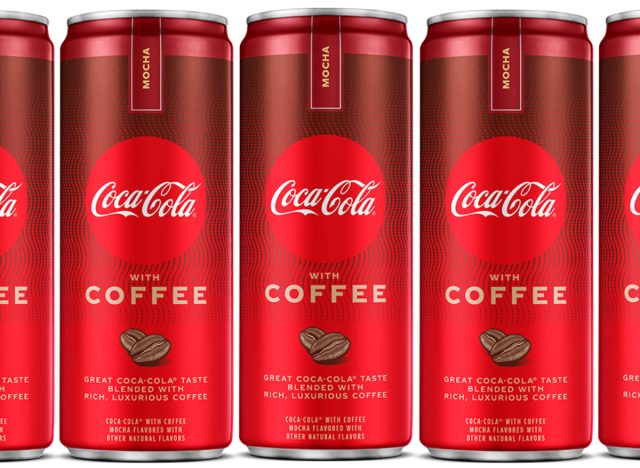 Per 12 fl oz bottle
: 70 calories, 36 grams sugar (0 grams, if it's a Coke Zero product), 18 grams carbs, and 69 milligrams caffeine.
Last year Coke with coffee arrived — a "breakthrough innovation," said the Coca-Cola Company, adding that it "sips like a Coke and finishes like a coffee." The launch brought four flavors to the java-loving consumer: vanilla, dark blend, caramel, and vanilla zero sugar.6254a4d1642c605c54bf1cab17d50f1e
This year, mocha flavor debuts. Ingredients include, of course, high-fructose corn syrup and powdered coffee from Brazilian coffee beans.
Rolled out first in 2018 in Japan, the Coke coffee brand is a "true hybrid innovation," said Brandan Strickland, the brand director of Coca-Cola Trademark. He also suggests that Coke coffee is filling a need as the "perfect solution for that mid-afternoon pick-me-up that we all want."
Available now in stores, mocha Coke fulfills another need — it's made with no high-calorie or stomach-churning cream.
These aren't the only new items you'll find in grocery stores soon. America's Largest Grocery Chain Is Adding More of These Products to Its Lineup.