Costco Just Quietly Downsized This Product
Shoppers say it reminds them of other items...remember half gallons of ice cream?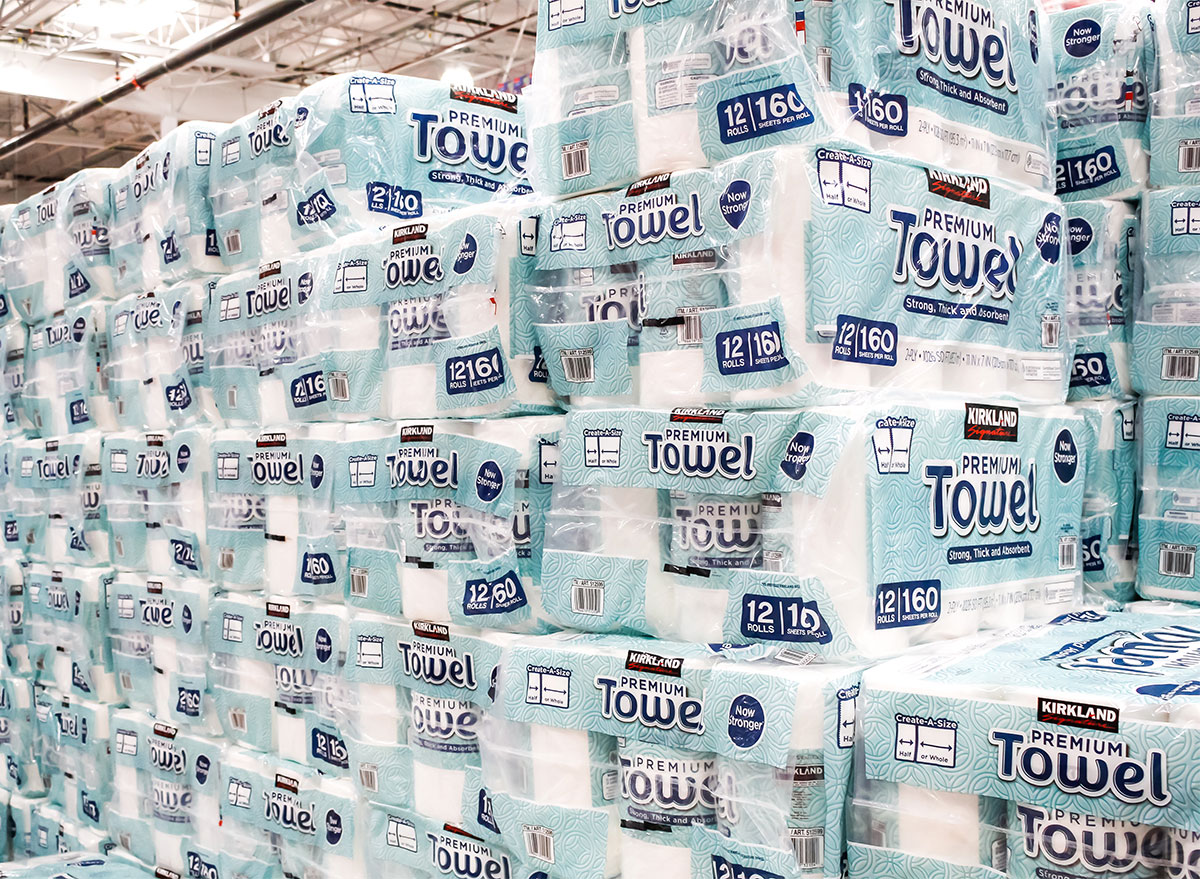 There's no doubt the grocery shopping experience is different now because of the coronavirus. Costco recently lifted a pandemic rule put in place in March 2020 and is bringing back samples (there's a twist, though). But now there's evidence that products themselves are also changing, and some customers say it's not for the better.
Costco paper towels are a favorite in the warehouse (and they were right there with toilet paper when the pandemic started), but an eagle-eyed shopper just noticed the Premium rolls now come with 20 fewer sheets. (Related: Costco Foods You Should Always Avoid, According to Nutritionists.)
Inflation first happens without raising prices

Costco paper towels. Same price as the previous several times buying them. Now with 20 fewer sheets.
140/160= .875
Inflation rate: 8.75%https://t.co/4T6Cn4MiO6 pic.twitter.com/5Vf5EDRHTS6254a4d1642c605c54bf1cab17d50f1e

— Galactic Trader ?⚒? (@Galactic_Trader) April 26, 2021
Costco says the change is temporary because of the demand for paper towels. "This change enabled us to increase the number of sell units we can provide to our members and provide better in stocks so that members can more easily find the product in our stores," a spokesperson said in a statement to Eat This, Not That!. "We do want to assure you that we did not increase the price per sheet to our members…We recognize this change is not ideal and hope to return to the original 160 sheet per roll item as soon as possible."
The 160-sheet rolls were $16.99, but the chain says the 140-sheet rolls are $14.79, which keeps the price per 100 sheets at $0.88. Online the Kirkland 2-ply paper towels come with 140 sheets per roll and the 12 roll pack is $19.99. With the downsize, that's 240 fewer sheets in the entire pack. Typically online items are more expensive because of delivery and shipping costs.
Costco shoppers on Reddit have commented on the change, saying they aren't surprised, and that it reminds them of a few other grocery items that have seen size changes in the last few years.
If you do need to stock up on paper towels, and even toilet paper, at Costco, you're in luck because there is no limit to how many packs you can get. But while some grocery items are shrinking, others are going up in price. Get ready to pay more for summer cookout staples like hot dogs and bacon, experts say.
To get all the latest Costco news and more delivered right to your email inbox every day, sign up for our newsletter!
Amanda McDonald
Amanda has a master's degree in journalism from Northwestern University and a bachelor's degree in digital journalism from Loyola University Chicago.
Read more about Amanda