This Popular Southern Restaurant Chain Faces Major Backlash Over a Polarizing Menu Item
The item was intended to appeal to a younger audience.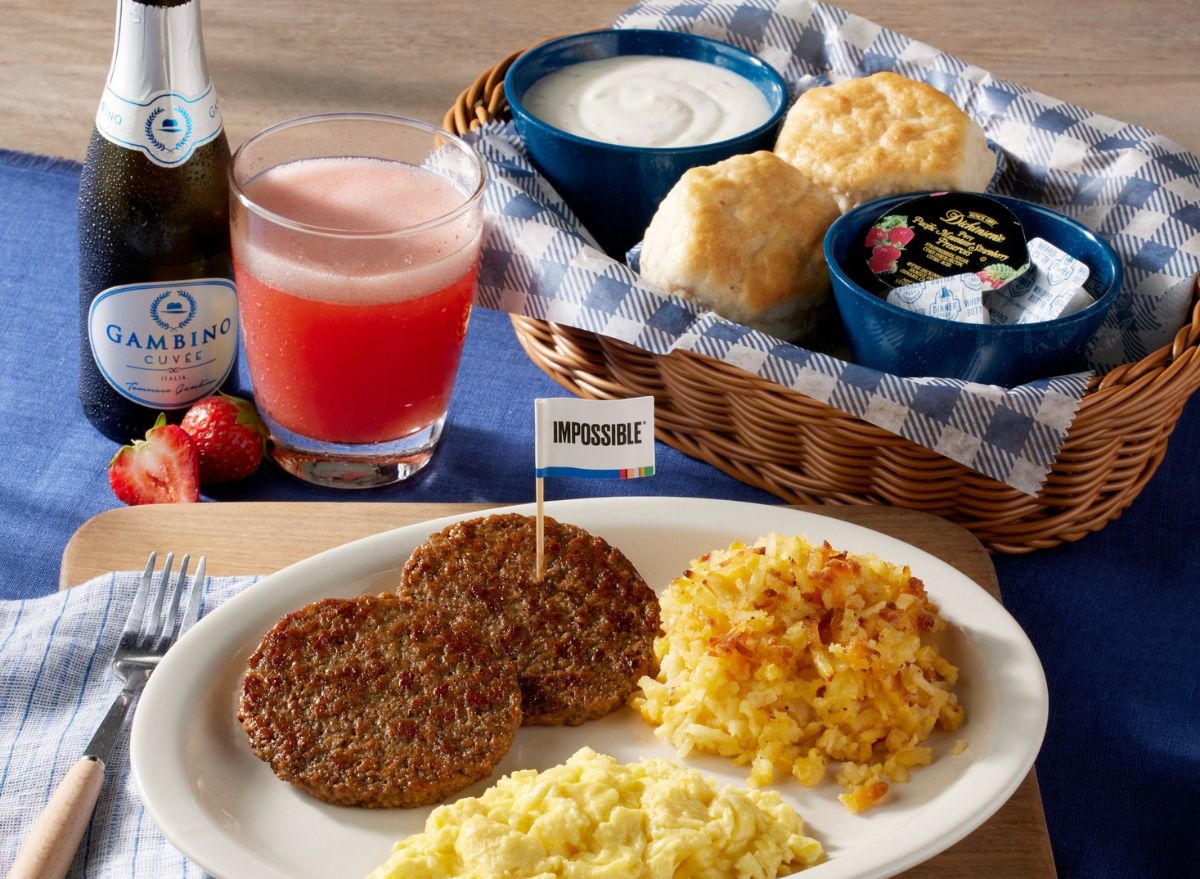 When Cracker Barrel decided to shed its dated image and attract a younger crowd with an updated menu of mimosas and trendy stuffed pancakes—it wasn't expecting to incite culture wars on social media. But that's exactly what it did.
The chain's Facebook page is currently host to a heated discussion taking place in the comment section of its latest post. And the even more surprising part is that a simple menu addition sparked all the backlash the chain is currently facing. So what was this polarizing item that so divided the chain's customers? The new plant-based breakfast meat.
The post in question, which was published on Monday in order to promote the Impossible Sausage recently added to the chain's breakfast menu, is looking at almost 6,000 comments and 900 shares. 
The addition was intended to appeal to the growing number of vegan, vegetarian, and flexitarian eaters—who are far more likely to belong to a younger generation. One in five 18-to-24-year-olds describing their diet as not containing any meat. In contrast, 80% of the 65-and-up age group are meat eaters.
When Cracker Barrel's social media team announced the addition on its Facebook page, many meat-eating customers did not find the option in line with who they thought the company should be marketing to.
"Are you kidding me?" said one Facebook user. "Who do you think your customer base is? I still order the double meat breakfast and it's not even on the menu anymore."
But for many, it wasn't really about the addition of plant-based meat. It was about feeling like the restaurant itself was changing and leaving them behind.  
"You can make it available for the folks who want fake food." one disappointed commenter said. "I have been a breakfast fan of Cracker Barrel for years. If you insist on getting fake, I'll go elsewhere."
However, there was plethora of positive reactions as well. Most were surprised at the negative comments and expressed gratitude for the chain's inclusion of those who don't eat meat.
"It's amazing the snowflakes here getting triggered by a meat alternative showing up on a menu," said one commenter. "Y'all can still order regular meat, you know that right? Some of y'all need to grow a backbone immediately."
"Thank you, Cracker Barrel, for thinking of those of us who do not eat meat," another said. "I appreciate you and will be ordering the Impossible Meat when I eat breakfast there again."
While Cracker Barrel didn't chime in on the Facebook post, the company did send a statement to The Washington Post regarding the incident.
"We appreciate the love our fans have for our all-day breakfast menu. At Cracker Barrel, we're always exploring opportunities to expand how our guests experience breakfast and provide choices to satisfy every taste bud—whether people want to stick with traditional favorites like bacon and sausage or are hungry for a new, nutritious plant-based option like Impossible Sausage."
Amber Lake
Amber Lake is a staff writer at Eat This, Not That! and has a degree in journalism from UNF in Jacksonville, Florida.
Read more about Amber