This Is the One Spot You Can Swim With Manatees in North America
This active experience is healthy, stress-relieving, and fun!
Crystal River, aka the "Manatee Capital of the World," is situated on the Western coast of Florida, about 1 1/2 hours north of Tampa. It's home to bathtub-like 72° to 74° F Gulf water, sparkling lakes, amazing fishing ops, and some of the best cycling trails. Plus, it just so happens to be the one and only spot in all of North America where you can do something quite extraordinary, active, and healthy! At King's Bay and Three Sisters Springs in Crystal River, you can legit take a mind relaxing, amazing swim with manatees. "That means, look, but don't touch," explains Discover Crystal River Florida.
Anywhere from 500 to 1,000 of these exquisite mammals migrate to this part of Florida during the winter months, and up to 100 manatees stay in the area all year long. (We don't blame them!) Known to be slow-moving, gentle, and quite docile, a dip alongside these beauties is the ultimate experience of a lifetime. Read on to learn more about your upcoming swim with manatees, and next, be sure to check out The 6 Best Exercises for Strong and Toned Arms in 2022, Trainer Says.
Have the best manners while swimming with manatees—feel free to observe them, but don't touch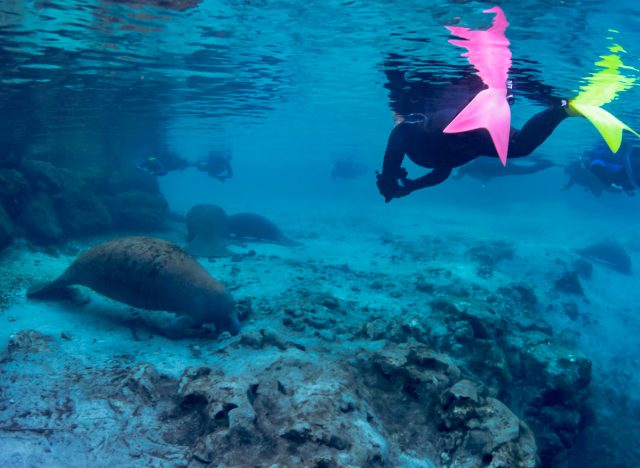 Note that this active experience would follow a brief instruction on how to (and how not to) interact with these adorable creatures. Again, feel free to observe them along your swim, but do not touch. "Touching, disturbing, or otherwise harassing these protected creatures can get you a citation," is something Discover Crystal River Florida stresses. Having the best manners throughout the experience is key as you hang out with these cute manatees and soak up the all-around incredible experience.6254a4d1642c605c54bf1cab17d50f1e
Related: These 5 Destinations Can Help Reverse Aging and Promote a Healthy Life
Some fun facts about these adorable "gentle giants"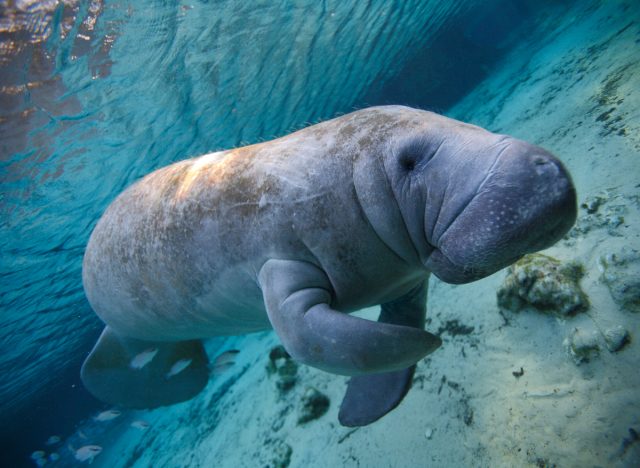 Some fun facts about these magnificent, peaceful creatures? According to Visit Florida, this endangered species consumes aquatic plants—in fact, as much as 10 to 15% of their body weight each day. They come up for air while moving around about twice each minute. But while they're catching some Z's, these big guys only surface around every 20 minutes.
Interacting with animals brings on a plethora of goodness
Why should this spectacular adventure be a priority on your bucket list? Well, aside from making memories and taking pictures unlike many others, the activity is really healthy for you. Research has proven that interaction with animals brings on a plethora of goodness. The benefits include a lower risk of cardiovascular disease, blood pressure, loneliness, and even death. It's shown to provide some solid emotional support, too.
When it comes to the benefits of spending time frolicking with manatees? Well, studies show that mammals thrive best near humans. And it works the other way around as well. Humans are better when close to the biodiversity of wildlife in close proximity.
Related: 5 Easy Ways To Burn Fat Without "Exercising," Trainer Says
Swimming in the sea relieves stress, boosts your mood, heals your skin, and helps you build endurance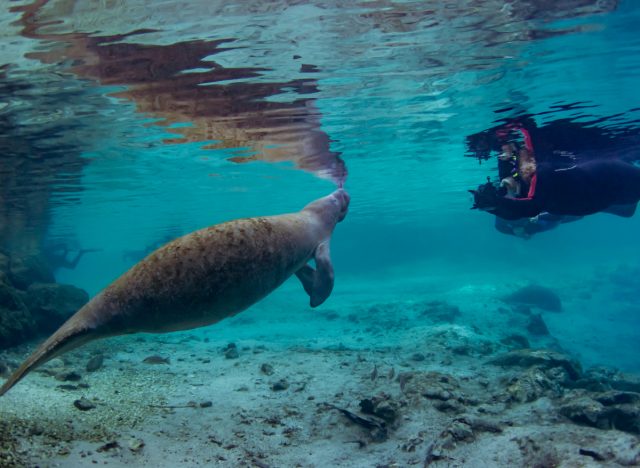 Besides, swimming in the sea is proven to be amazing for you. It's an excellent "feel-good" kind of exercise. When you swim, your brain releases endorphins, which help give your mind a positive boost, relieving any stress or discomfort you may have. The activity also increases the blood flow to your brain, which will improve your memory, overall focus, and cognitive ability. Taking a dip in the sea can also enhance your strength and endurance, and it's been linked to incredible healing properties for your skin.
Best of all? By jumping into the fun, you'll feed what's known as your "Blue Mind." Research has found an ocean jaunt can work wonders on your body and your mind, creating an inner peacefulness and calmness. Since the human body is made up of around 70% water, research has found our brains react in all good ways when near water (via Quartz).
Author of Blue Mind, marine biologist Dr. Wallace J. Nichols, explains to Quartz that one's body and mind react so positively when in or near the water. The sea has special powers that can help lower anxiety, make you happier and calmer, provide a greater sense of wellness, and more. Nichols reveals these benefits indicate swimming in the sea can often boost your brain's neurochemicals. The result? A more physically fit, happier, calmer, and healthier version of you.
Be right back—we're putting on our swimsuits for a date with some pretty sweet manatees!
Alexa Mellardo
Alexa is the Mind + Body Deputy Editor of Eat This, Not That!, overseeing the M+B channel and delivering compelling fitness, wellness, and self-care topics to readers.
Read more about Alexa