Drew Barrymore & Cameron Diaz Are Obsessed With These Healthy Zucchini Fries
These best friends hopped on camera to show us how to make this tasty snack!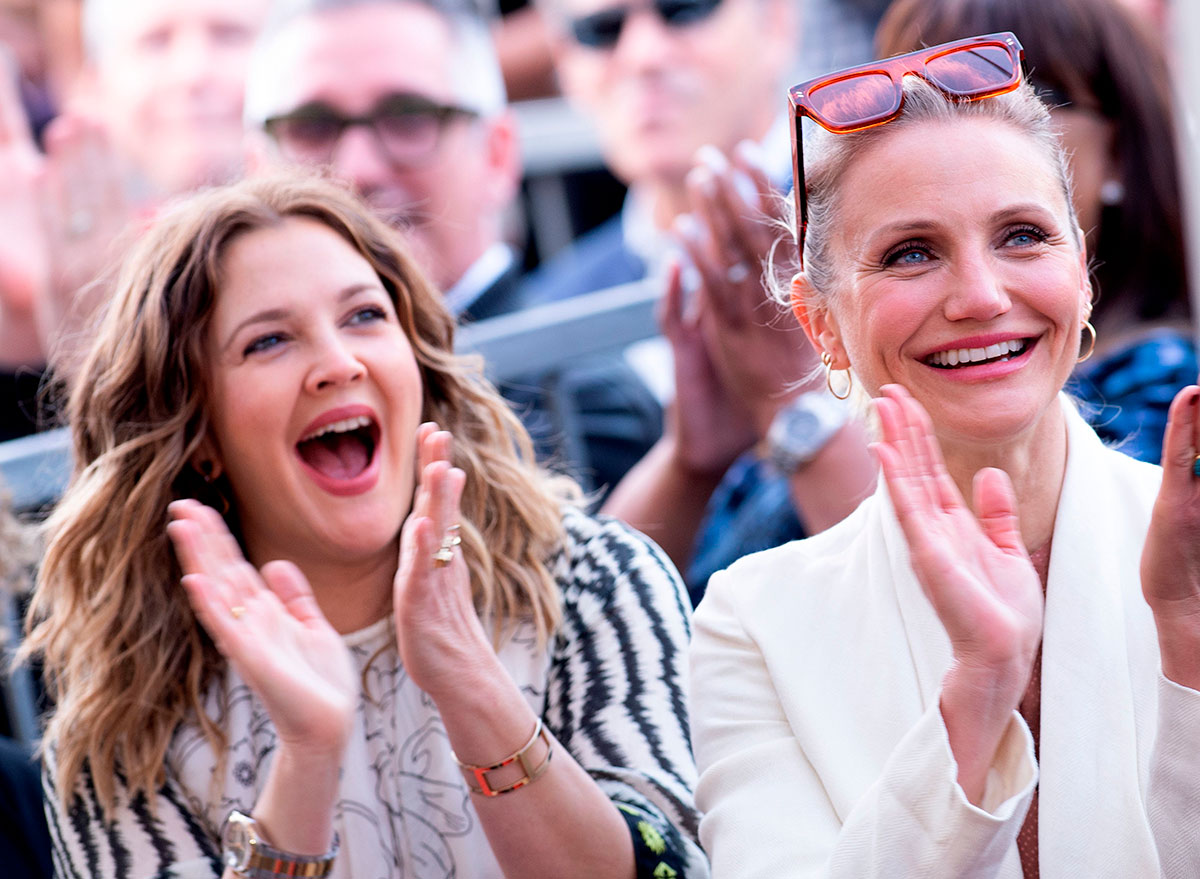 Drew Barrymore has been quite the kitchen goddess lately. From launching her Beautiful Kitchenware appliances at Walmart to sharing all of her top air fryer tips, Barrymore truly is a gift that keeps on giving. Especially when she teams up with bestie Cameron Diaz, actress and recent co-founder of Avaline wines, to make delicious treats on camera. On May 27, Barrymore and Diaz hopped on Instagram Live to show the rest of the world their 'Best Friend' Zucchini Fries with Tzatziki Sauce, and let me tell you, these fries look amazing.
The two cooked away, sipped on drinks, and made a few jokes as they taught the audience how to make this incredibly healthy snack, using Barrymore's Beautiful Kitchenware Touchscreen Air Fryer to fry them to perfection.
As they cooked, dipping zucchini into the batter before tossing them into the air fryer, they also got real about getting older and talking about their bodies, which is a topic Diaz is passionate about after publishing The Body Book: The Law of Hunger, the Science of Strength, and Other Ways to Love Your Amazing Body.
"People are so worried and afraid about getting older, but really, all getting older is is gaining more memories and experience and love and laughter and adventures and all these things you get to have for the rest of your life and your being," says Diaz.
"I grew up in Hollywood, and I saw that the chase of the dragon for vanity and youth was not for me," says Barrymore. "I couldn't play in that sandbox. It was uncomfortable and I felt like I was wasting my time fighting a losing battle…do what makes you feel good enough, and think outwards! Stop festering inside."
We loved how these two friends got real on camera with the rest of the world, sharing love for their bodies and love for good, delicious, nutritious food. Luckily for us, we were able to get our hands on the recipe so you can also make this tasty, crunchy snack!
Here's how to make Cameron Diaz & Drew Barrymore's 'Best Friend' Zucchini Fries with Tzatziki Sauce, and if you're looking for even more healthy recipes, check out our list of 100 Easiest Recipes You Can Make.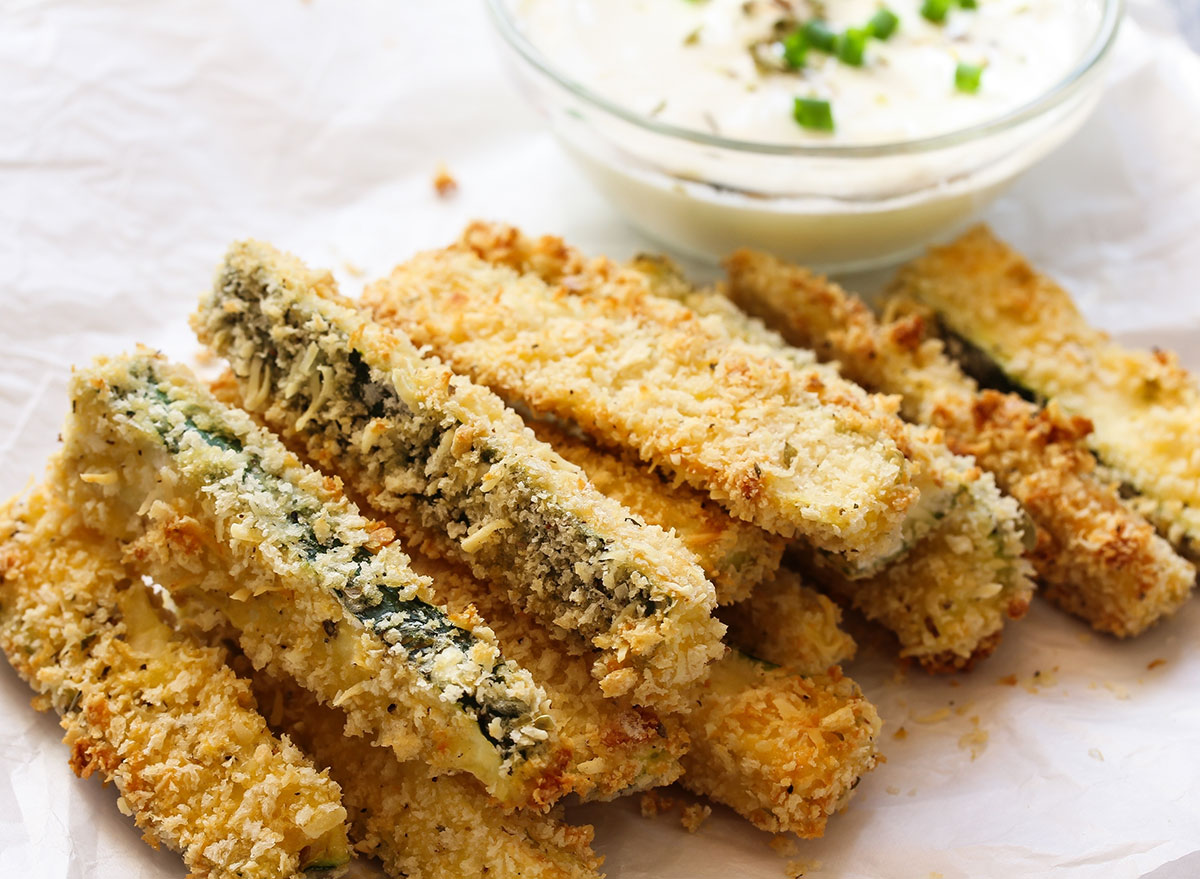 Zucchini Fries Recipe
You'll Need:
3 medium zucchini
1/3 cup of flour
2 eggs
1 Tbsp of milk
1-2 cloves of garlic, minced
1 cup of panko (can also use breadcrumbs)
1/2 cup Pecorino Romano or Parmesan Cheese (freshly grated)
2 Tbsp parsley (Italian flat leaf, fresh, minced)
1 tsp oregano (fresh, minced)
1/2 tsp paprika
Salt and pepper, to taste
Lemon juice (optional)
Additional grated cheese and minced parsley for garnish
How to Make It:6254a4d1642c605c54bf1cab17d50f1e
Preheat the air fryer to 400° F.
Rinse the zucchini and trim off the ends. Leave the peel on.
Cut in half. Cut again in half, lengthwise, and finally into ½-inch sticks. Depending on the size, you should have 12-16 pieces.
Prepare 3 shallow plates or bowls.
In the first plate, whisk or sift the flour.
In the second plate, whisk the eggs with the milk and the minced garlic.
In the third plate, combine panko, cheese, parsley, oregano, paprika, salt, and pepper.
Coat each zucchini stick lightly with flour, followed by a dip in the egg wash and finally rolled lightly in the panko mixture.
Place each zucchini stick in the air fryer basket (not touching).
Continue this process for all the zucchini sticks.
Air fry at 400°F for 15 minutes.
Remove from air fryer and serve with your favorite sauce.
Tzatziki Sauce Recipe
You'll Need:
3/4 English cucumber, partially peeled (striped) and sliced
1 tsp of kosher salt, divided
4-5 garlic cloves, peeled, finely grated, or minced (you can use less if you prefer)
1 tsp of white vinegar
1 Tbsp of Greek extra virgin olive oil
2 cups of Greek yogurt
1/4 tsp of ground white pepper
How to Make It:
Prep the cucumber. In a food processor, grate the cucumbers, toss with 1/2 teaspoon of kosher salt. Transfer to a fine-mesh strainer over a deep bowl to drain. Spoon the grated cucumber into a cheesecloth or a double thickness napkin and squeeze dry. Set aside briefly.
In one large mixing bowl, place the garlic with the remaining 1/2 teaspoon salt, white vinegar, and extra virgin olive oil. Mix to combine.
Add the grated cucumber to the large bowl with the garlic mixture. Stir in the yogurt and white paper. Combine thoroughly. Cover tightly and refrigerate for a couple of hours.
When ready to serve, stir the tzatziki sauce to refresh and transfer to a serving bowl, drizzle with more extra virgin olive oil, if you like.
Get even more healthy recipes and celeb news in your inbox by signing up for our newsletter!